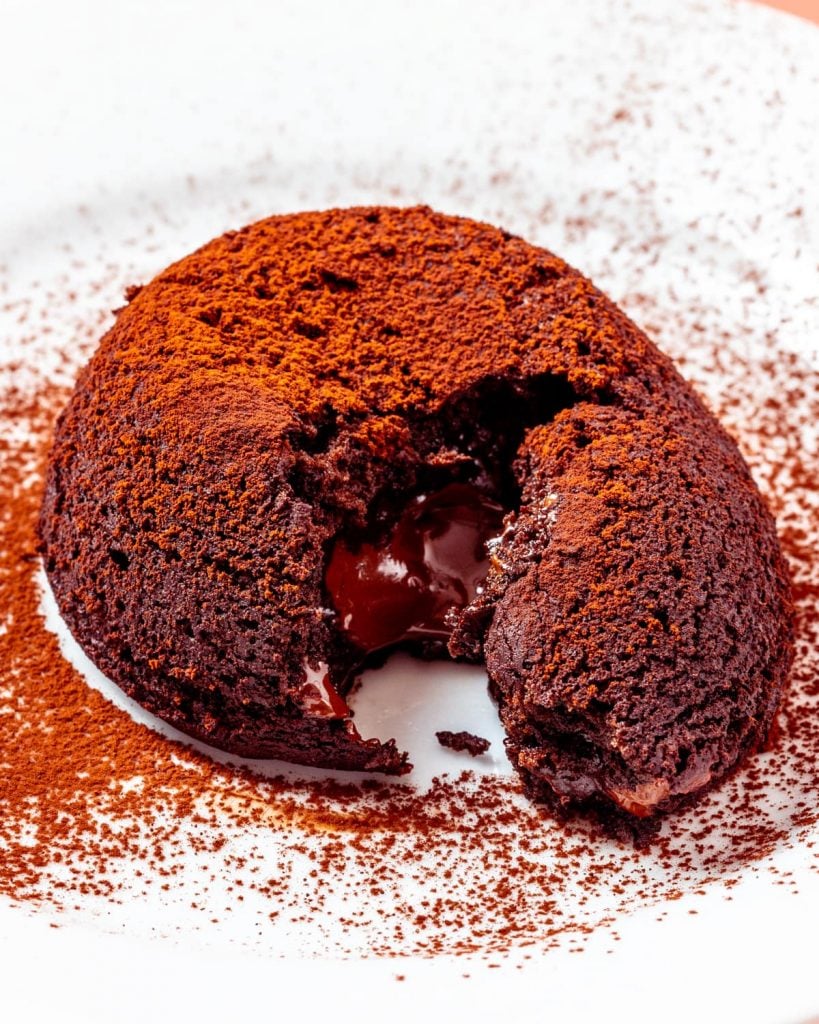 Vegan chocolate lava cakes with a rich, dark chocolate molten centre. Easy to make and perfect every time!
---
Is it a coincidence that I'm posting this vegan chocolate lava cakes recipe just DAYS before valentines? Yes – completely coincidence. Is it a CONVENIENT coincidence though? ABSO-LICKIN-LUTELY!
If there's any recipe on my website that's going to get pulses racing and hearts fluttering, it's this one. Come to think of it, is a fluttering heart a good thing? Probably not. Promise me you'll go see a doctor if that happens after eating these vegan chocolate lava cakes? Good, ok, we can continue.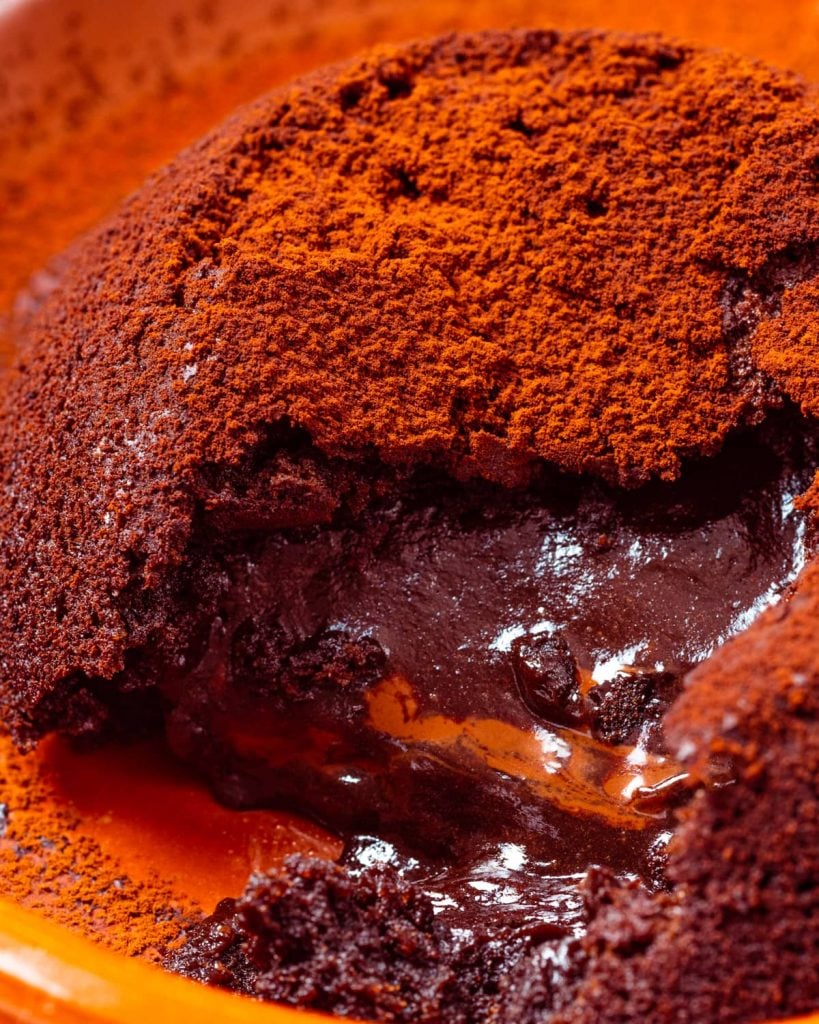 What are vegan chocolate lava cakes?
If you've never had the joy of experiencing a chocolate lava cake, I'm sorry. Truly, from the bottom of my heart, I apologies for the cards you've been dealt in life. Now let's stop this PITY PARTY and change your fortunes STARTING NOW!
Also known as a chocolate fondant, chocolate lava cakes are the most insane cake experience imaginable. I'm talking gentle chocolatey sponge which is BARELY holding in a deliciously gooey, runny molten chocolate centre. Many recipes (particularly the vegan ones) use a cheats method by making a ganache, freezing it, then inserting it into the batter before baking. MY RECIPE DOESN'T DO THAT!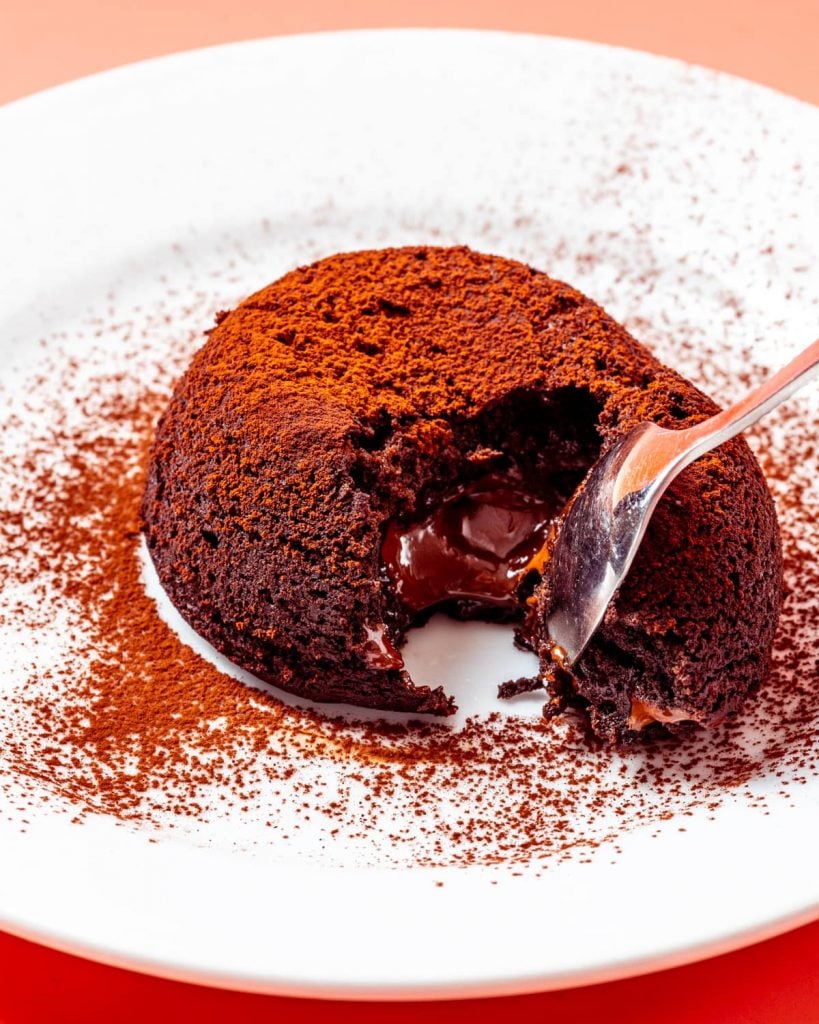 I keep things classy and follow the classic method for a chocolate fondant which involves making a PERFECTLY melty batter then baking for the exact amount of time to ensure the outside is fluffy and baked while the inside is PURE MOLTEN CHOCOLATE LAVA!
Now, I know, I've made things sound easy so far (and they are – for you) but this recipe was tricky to veganise! Traditional recipes rely on eggs, butter and milk to get the perfect consistency, but we've switched things up for 2022 baby! Here's how to make em!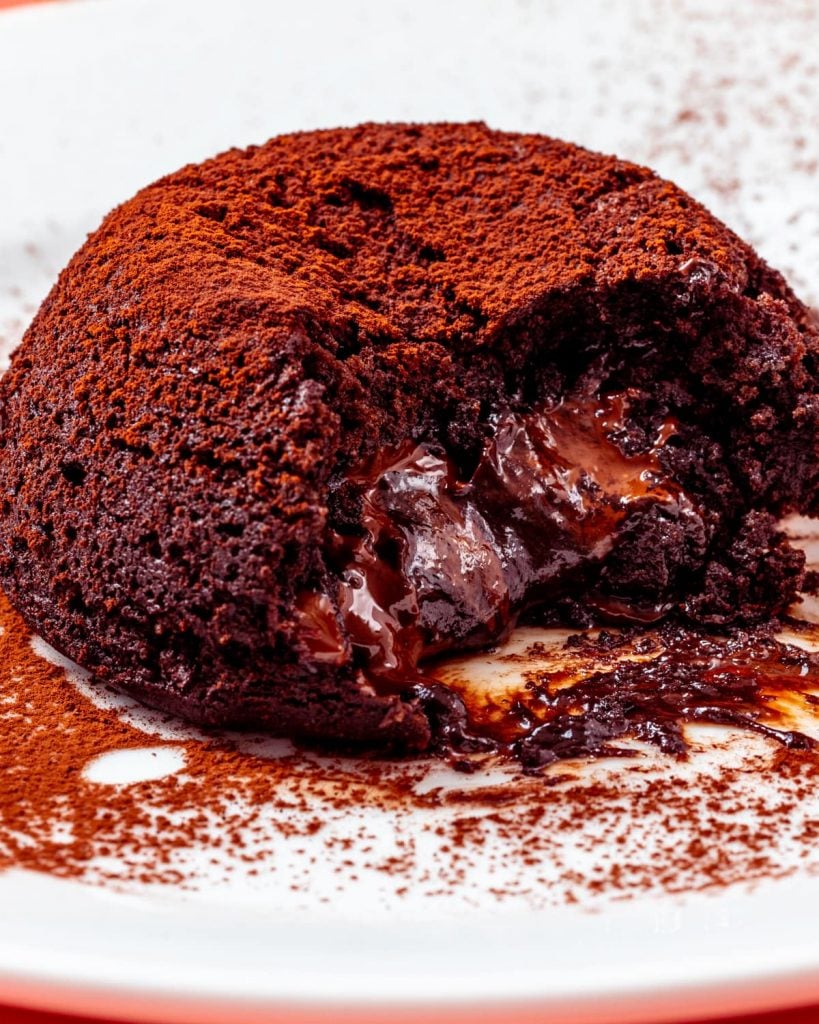 How do I make vegan chocolate lava cakes!?
If you're panicking, trying to find the recipe and you SIMPLY CAN'T BEAR the thought of reading another paragraph of this nonsense, don't worry. As always **THE RECIPE IS AT THE BOTTOM OF THE PAGE** so just keep scrolling. Regardless, I'm positive I'll receive AT LEAST 6 DMs claiming that I forgot to include the actual recipe on my page. Anyway, rant over.
~ Prologue ~ Prep your moulds!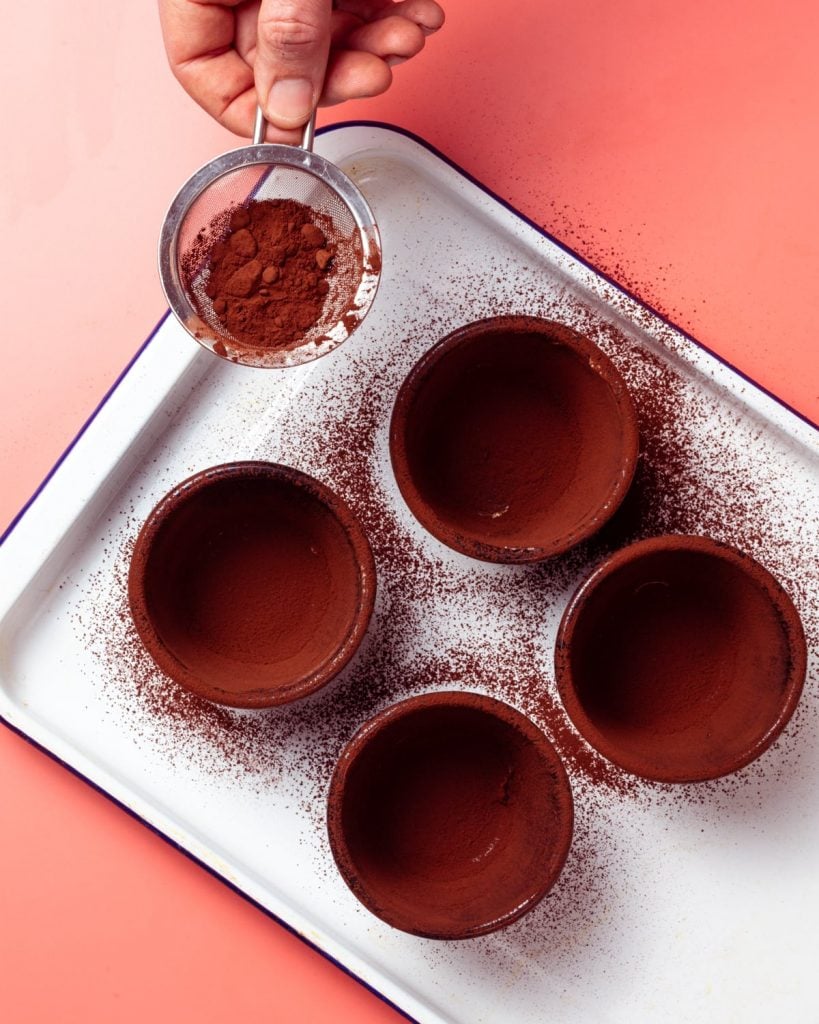 Possibly the most important part of this recipe – You MUST MUST MUST prep your moulds. Whether you're using a pudding tin, dariole mould or a ramekin, you gotta grease the inside with vegan butter THEN dust the inside with cocoa powder. Before you even preheat your oven, DO THIS! OK?? Good.
1. Combine your dry ingredients!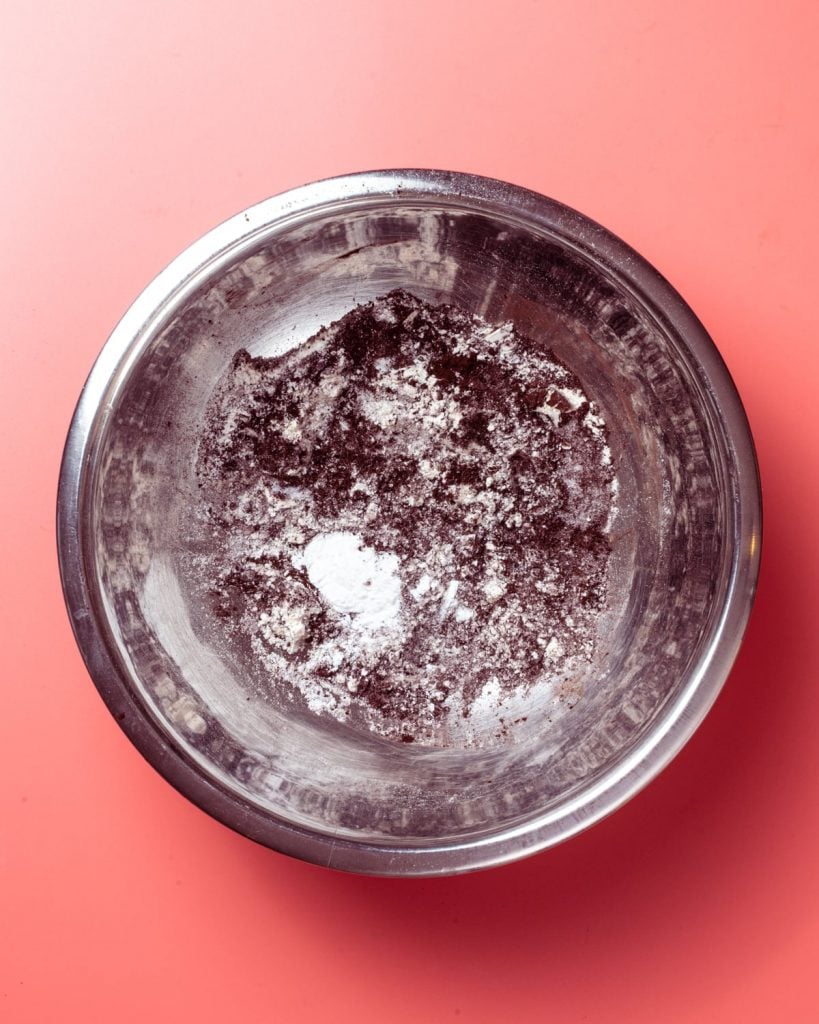 This recipe is super low on flour to help keep things gooey. You'll also notice I suggest using Dutch-process cocoa powder. Don't worry if you can't get hold of it though. It's essentially just a darker coloured, slightly less bitter cocoa powder (the reason why oreos are so dark, basically). I find it makes these cakes super appealing to look at and even more appealing to eat.
Sieve everything together (no, I don't want no lumps, a lump is a guy that can't get no love from me) then set aside.
2. Blend up your wet ingredients!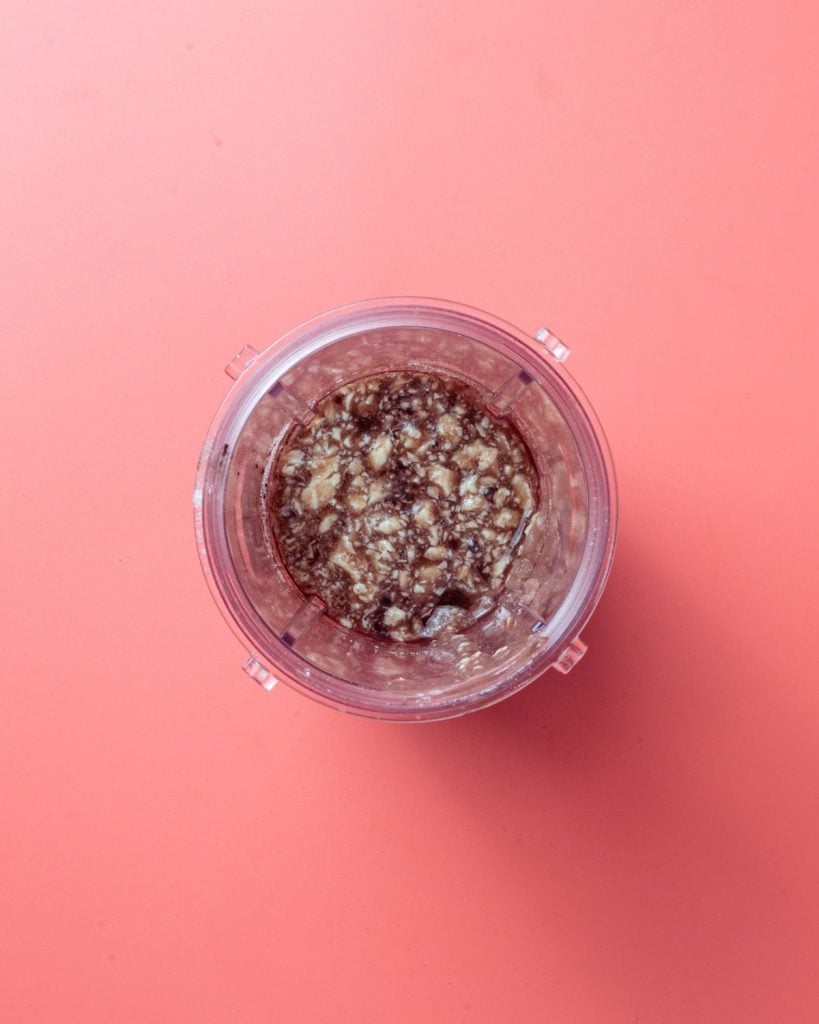 The bulk of our wet ingredients for these vegan chocolate lava cakes comes from silken tofu. It's high in protein so it behaves like egg when baked. For this reason, we're going to need to blend everything up until nice and smooth. A stick blender will work perfectly too, if you don't have a cup blender. I'd love to say you can use something without soy in this scenario, but unfortunately I haven't tested that method, so refuse to put my neck on the line. Soy milk and tofu contains lecithin which is a natural emulsifier and I have a sneaky feeling that's why this recipe works so well…
3. Melt your chocolate and butter!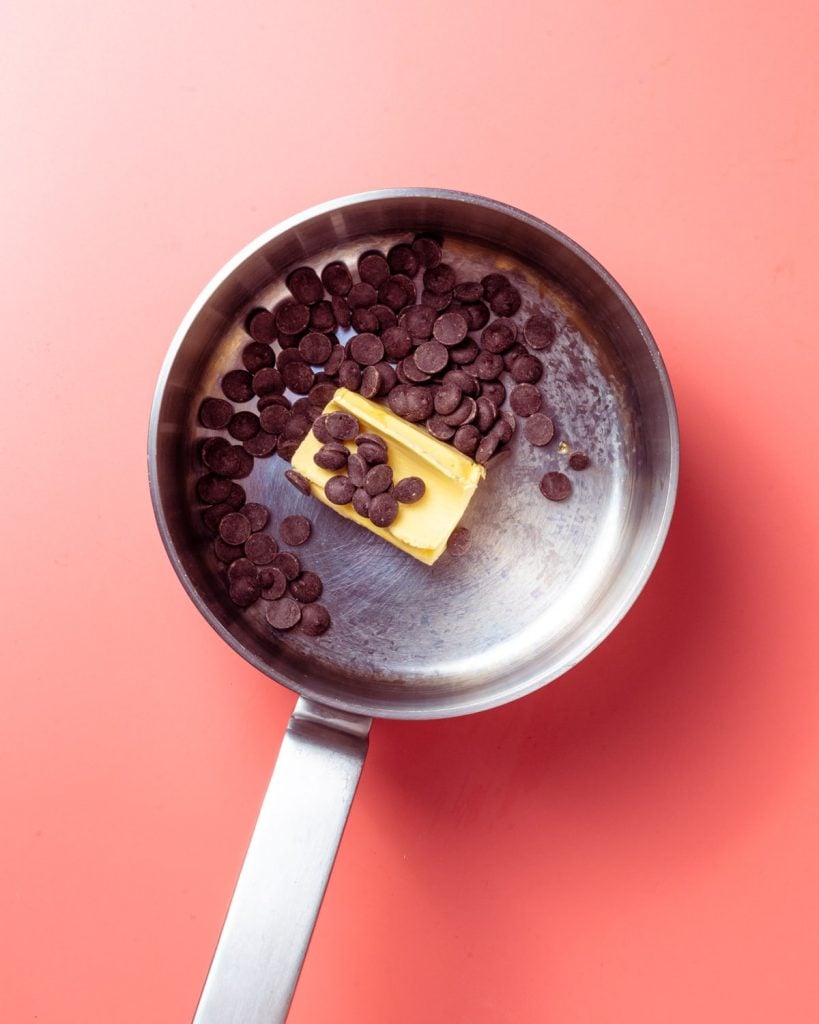 Here's where things get CHOCCY!! We're going to pop our chocolate and vegan butter into a saucepan and melt it over a LOW heat. Don't try to rush this process or avoid stirring while melting – the chocolate will burn and your house will stink of burn and regret.
Take it slow, stir constantly and I promise everything will come together.
4. Make your batter!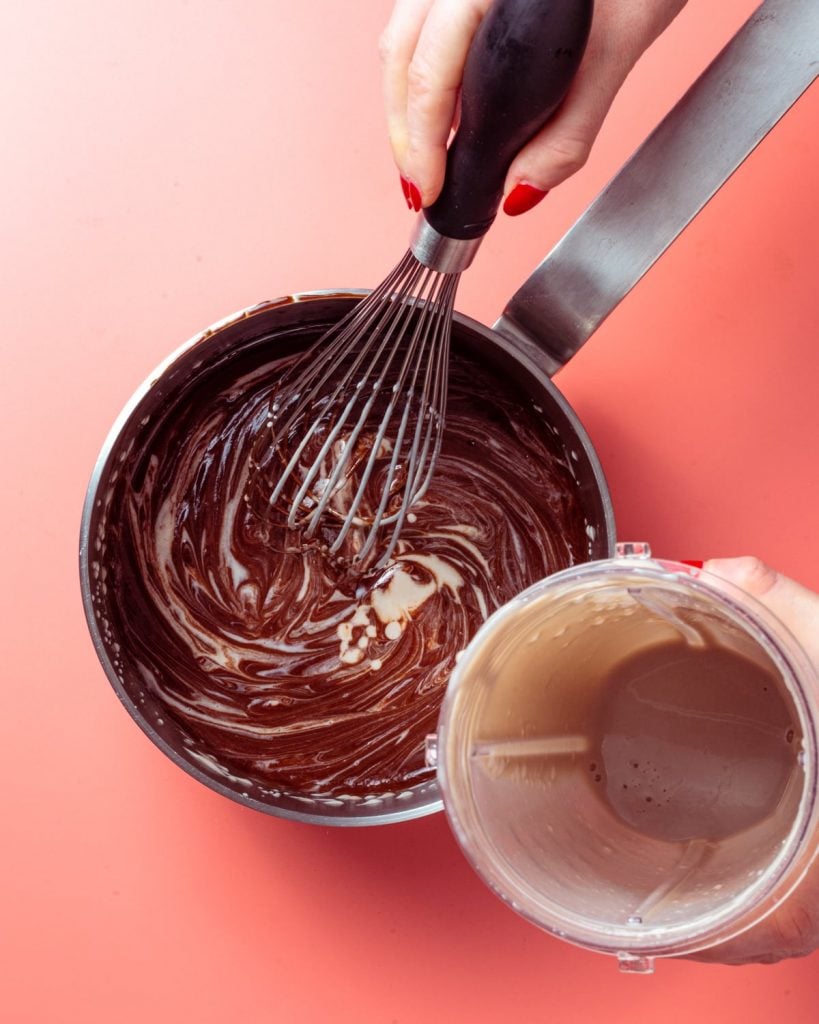 Now you have your three elements of your gorgeous batter: Your dry ingredients, your blended wet ingredients and your melted chocolate mixture. We're going to combine everything in a specific order, ok? First, whisk the blended wet ingredients into the melted choc mixture. Once fully combined we're going to add HALF of this mixture to the dry ingredients. Mix until it's no longer lumpy then add the remaining half. TADAA! Vegan chocolate lava cakes batter!
5. Bake!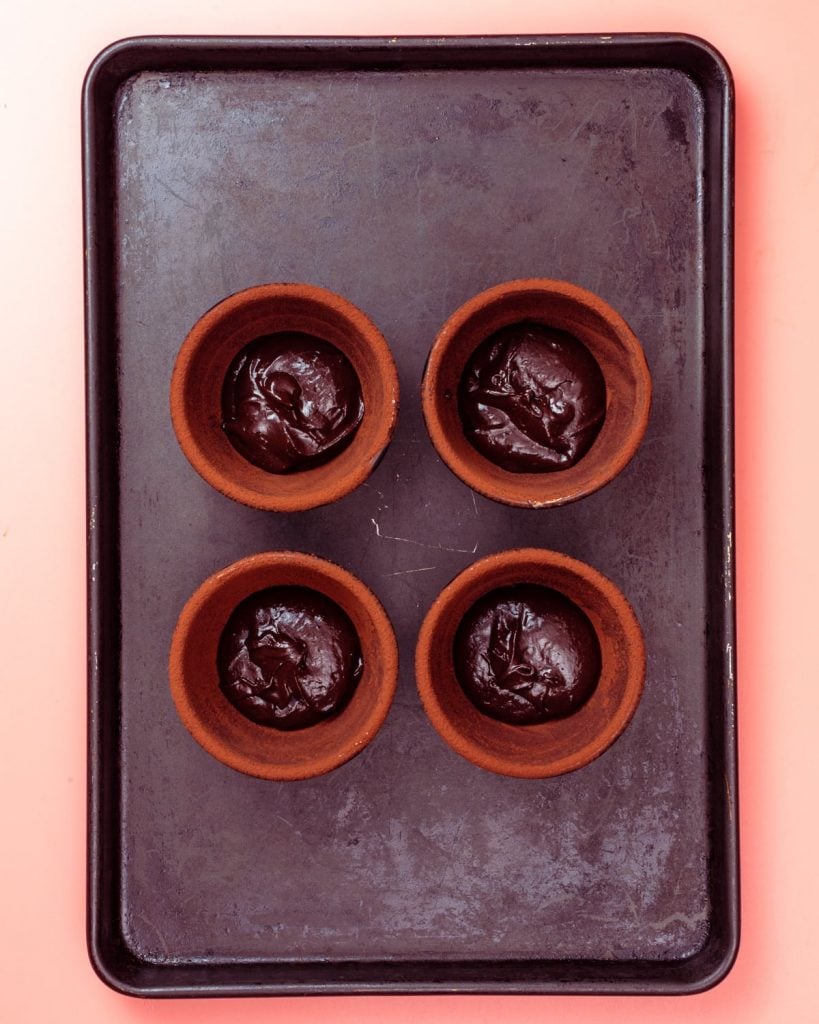 We're nearly ready to bake! But first, we're going to get a bit of extra chocolate involved. You should've already greased and dusted the inside of some pudding moulds (or dariole moulds) with cocoa powder to make sure the cakes don't stick. Now we're going to put a spoonful of batter at the bottom of each one. Add some vegan chocolate chips and do your best to keep them in a neat little heap in the centre of the mould.
Now top with the remaining batter to enclose them, and you're ready! Pop in the oven to bake for LITERALLY JUST 9 minutes! Fastest cakes ever! Any longer and they won't be molten inside. Any shorter and they will collapse as soon as you remove them from the oven.
6. De-mould and serve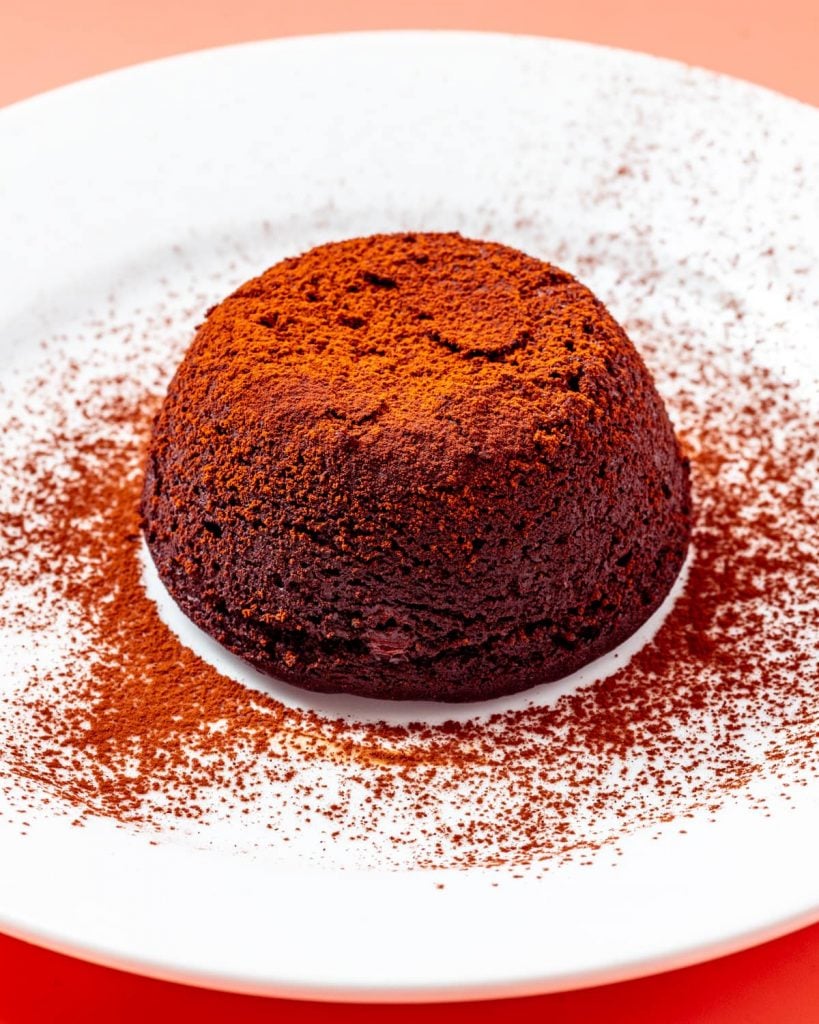 Because you were REALLY WELL BEHAVED and followed my instructions TO THE LETTER, your cakes will come out of their moulds VERY EASILY. If you forgot to dust the moulds, chances are you'll have a hard time getting them out. Sorry bout it.
To get the cakes out, I put a plate on top of the mould then flip upside down. Tap on the counter and the cake will plop down, happily in one piece! Yippee!
And that's how to make vegan chocolate lava cakes!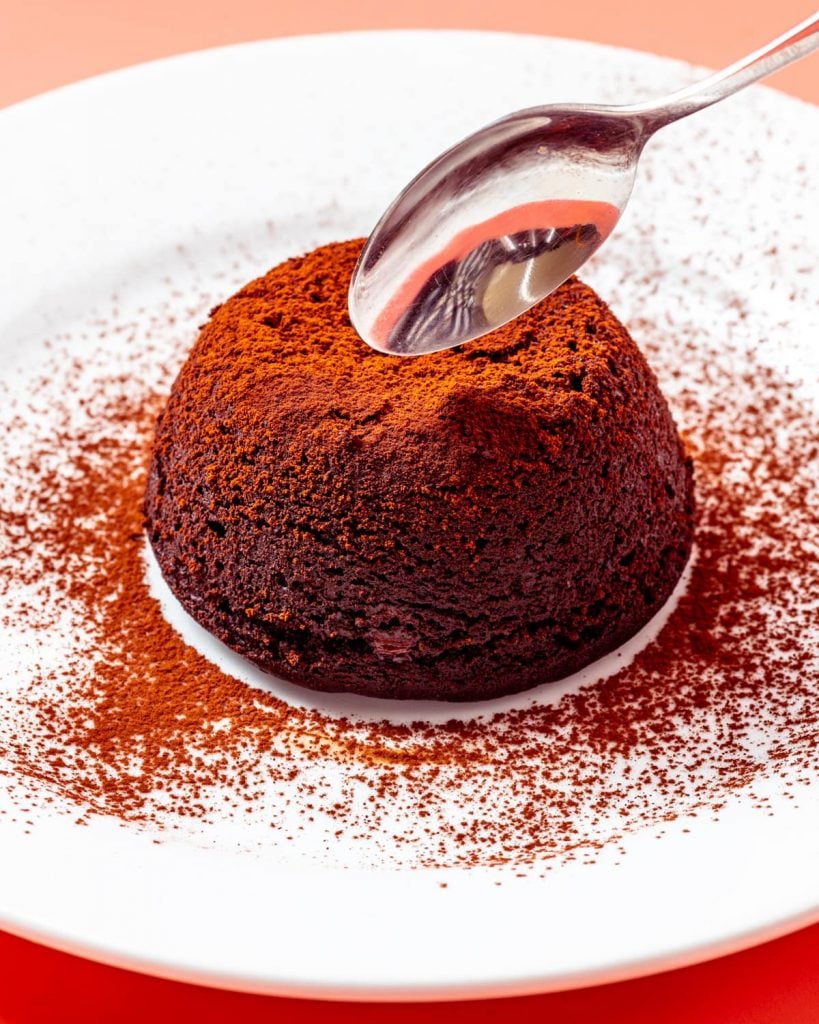 I deliberately made the recipe serve 4. Here's why. You and your VALENTINE can have two each and stop pretending there's any happiness in pretending to be a person who doesn't enjoy dessert. OR, you and your GALENTINES can all get together for an ANTI-VALENTINE supper and have one each! Love is love baby! You do you!
WANT MORE CHOCCY RECIPES!?
Why not try:
Chocolate and Passionfruit Bars (Vegan & Gluten Free!)
Vegan Chocolate Chip Sheet Cake