Your new go-to vegan chocolate cake! Sandwiched with home-made vegan whipped cream and enrobed with vegan chocolate cream cheese frosting.
---
It's here, you've been searching, look no further – it's the vegan chocolate cake of your dreams. I'm talking Roald Dahl style, Augustus Gloop level, cartoon appeal indulgence. It's technically a cream cake, because the middle layer is MY BRAND NEW HOMEMADE VEGAN WHIPPED CREAM but be sure to also expect some big chocolate flavours.
The sponge is light in its loafers like you wouldn't believe and the frosting *removes glasses*, the frosting, is something else (please don't tell me high-school English teacher about my use of commas in this sentence, I'm emotional and gay). You've most likely tried cream cheese frosting before, but add chocolate to the mix and you've got an entirely new experience – glossy, swirly, bittersweet goodness!
What makes this THE vegan chocolate cake??
I'm not one to blow my own trumpet, *hides freshly blown trumpet behind back* but this cake has the potential to be your new go-to for a vegan chocolate cake. It's rich yet light, sweet with a hint of bitter dark chocolate and everything just… works!
It's also worth noting this isn't actually one recipe, it's THREE in one. Here's what I worked on FOR THREE DAYS STRAIGHT in order to get this cake ready for your STUPID BIRTHDAY:
The chocolate sponge – OK so full disclosure, I had already developed a chocolate sponge recipe for Olive Magazine back in the day. It's delicious and works great with a classic buttercream, but it needed a few tweaks to be consaidered THE vegan chocolate cake.
The whipped cream – I've always been a fan of cakes with cream in the middle, but veganism makes that a little tricky. Sure, you can whip chilled coconut cream but it's tempremental and doesnt hold its whip for very long. It also tastes like coconut, which doesn't always work. SO I INVENTED A BLOOMIN VEGANWHIPPED CREAM RECIPE! It works like an ABSOLUTE TREAT and has such a smooth, delicious mouthfeel.
The chocolate cream cheese frosting – I have a tendency to overcomplicate recipes, but this isn't one of those recipes. This frosting is EASY and uses only 3 ingredients! You're gonna cry when you see how smooth it is!
How do I make the perfect vegan chocolate cake sponge!?
As always, the full recipe is at the bottom of this page but let me break down the process for baking the perfect sponge cake!
1. Make your buttermilk
Buttermilk: keeps your cakes moist and helps em rise! Except we're not actually using buttermilk, we're using VEGAN buttermilk. All you need is some soy milk, lemon juce and vegetable oil. Whisk together until smooth and set aside. Bingo!
When we add this to the batter late on it'll introduce some fat to help make the cake rich, some liquid to help make it moist and a little acidity which will react with the bicarbonate of soda and make the cake rise!
2. Cream the butter and sugar
Obvs we're not using real butter, but the process is the same! Make sure your butter is the block variety, not margarine. Also make sure it's at room temperature otherwise the cake batter might split. Next you'll want to add your "egg replacement". 
For this we're using psyllium husk powder. It's possible this will make the cake batter split in the mixer, but don't worry if that happens. We'll be adding some flour in the next step which will bring everything back together. 
3. Add the dry ingredients and buttermilk
Next we're going to add our dry ingredients BUT WAIT! Don't do it all at once! To help prevent the batter from splitting, add half of the dry ingredients then add half of the buttermilk. Repeat until completely smooth but don't overwork the batter or you'll get a tough cake!
When picking your cocoa powder, make sure it's a nice dark variety. We want a gorgeously bittersweet cake, not an overly sweet one.
4. Bake your sponges
This is a two layer cake, so you'll want to divide the batter between two 20cm springform cake tins. Don't be tempted to open the oven while the cakes are baking. The batter can be rather sensitive and is liable to sink in the middle if you open the oven.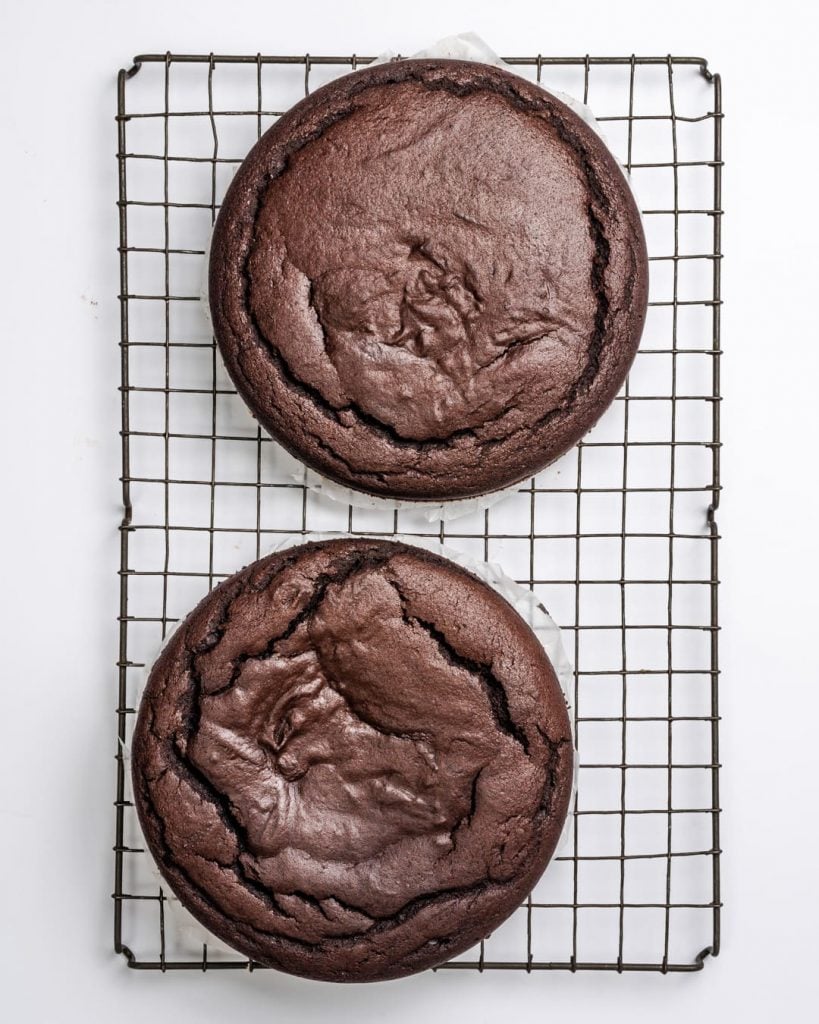 5. Get frosting!
Once your cake is baked and cooled, it's time to get frosting! This recipe uses my BRAND NEW VEGAN WHIPPING CREAM RECIPE for the middle layer, but if you'd rather skip this and just use the delicious vegan chocolate buttercream as the middle layer, then you do you sis!
And that's it!
It's honestly one of the most delicious cakes I think I've ever baked and I hope you feel the same way too! 
Need some more cake recipes?!
You got it sis!! Why not give these bad boys a try!?
Vegan Sweet Potato Cake with Toasted Marshmallow Fluff
Vegan Chocolate Chip Sheet Cake
Vegan Chocolate Cake
Your new go-to vegan chocolate cake! Sandwiched with home-made vegan whipped cream and enrobed with vegan chocolate cream cheese frosting. It's perfect for a celebration (or just a Tuesday!)
Equipment
High Speed Blender

stand mixer
Ingredients
For the Whipped Creme
135

g

deodorised coconut oil

(aka "refined coconut oil")

145

g

soy milk

(unsweetened and unflavoured, at room temperature)

25

g

icing sugar

(sifted)

1/2

tsp

vanilla bean paste
For the Chocolate Sponge
300

g

soy milk

(unsweetened and unflavoured, at room temperature)

1

tsp

lemon juice

100

g

vegetable oil

220

g

plain white flour

100

g

cocoa powder

2

tsp

baking powder

1

tsp

bicarbonate of soda

(aka "baking soda")

1

tbsp

instant espresso powder

70

g

vegan butter

("block" variety, not margarine, at room temperature)

250

g

caster sugar

(aka "superfine sugar")

60

ml

water

(at room temperature)

2

tsp

psyllium husk powder

(or sub for 3 tbsp ground flax seeds)
For the Chocolate Cream Cheese Frosting
180

g

dark chocolate

(at least 60% cocoa solids)

240

g

vegan cream cheese

(violife works best, at room temperature)

200

g

icing sugar
Instructions
To Make the Whipped Creme
Place the coconut oil in a microwave safe bowl. Melt the coconut oil in ten second bursts in the microwave until just melted. If the oil gets hot, set aside to cool to just above room temperature.

Place the room temperature soy milk and just melted coconut oil in the cup of a high-speed blender. Blend until completely smooth and combined, remove and shake the cup then blend again. Place the creme in the fridge along with the bowl of a stand mixer to chill for a minimum of 3 hours, ideally overnight.

Once the bowl and the creme are completely chilled, remove from the fridge. Pour/spoon the creme into the chilled mixing bowl and fit the stand mixer with the whisk attachment.

Whisk on medium speed until soft peaks form. Add the icing sugar and vanilla then whisk again until stiff peaks form. Do not overwhip as the creme will split.

Cover and place in the fridge while you bake the cake.
To Make the Cake
Preheat the oven to 180c/155f (fan). Line two 20cm/8 inch springform cake tins with baking parchment. Set aside.

In a measuring jug, whisk together the soy milk, lemon juice and vegetable oil. Set aside.

In a medium bowl, sieve together the plain white flour, cocoa powder, baking powder, baking soda and instant espresso. whisk to combine and set aside.

Place the vegan butter and caster sugar in the bowl of a stand mixer fitted with the creaming paddle attachment. Beat on medium speed until combined into a smooth paste.

In a small bowl, whisk together the water and psyllium husk powder then immediately add to the stand mixer and beat on medium speed until combined – don't worry if the mixture looks split at this stage.

Add half of the flour mixture to the stand mixer and beat on low speed until just combined. Add half of the soy milk mixture and beat again. Repeat until all the flour mixture and soy milk mixture is added.

Divide the batter between the two cake tins. Shake and tap the tins gently to create an even layer of batter. Place in the oven to bake for 30 minutes.

When baked, remove from the oven and set on a wire cooling rack for 10 minutes. Carefully remove the cake tin and leave on the rack again to cool completely. Meanwhile make the chocolate cream cheese frosting.
To Make the Chocolate Cream Cheese Frosting
If using bar chocolate, chop it into fine chunks. Place the chocolate in a microwave safe bowl. Melt the chocolate in ten second bursts in the microwave until just melted, stirring well after each burst. Set aside to cool slightly.

In a separate medium bowl, add the vegan cream cheese and whisk until smooth. Add the melted chocolate and whisk again. Finally add the sifted icing sugar and whisk again until completely combined. You should have a smooth, glossy frosting. Cover and set aside at room temperature until you're ready to assemble the cake.
To Assemble the Cake
Place one layer of sponge on your serving plate and top with the whipped cream, spread into an even layer. Follow with the second layer of sponge.

Frost the top and sides of the cake with the chocolate cream cheese frosting and pipe decorations on top if desired.
Nutrition
Sodium:
232
mg
Calcium:
119
mg
Vitamin C:
3
mg
Vitamin A:
374
IU
Sugar:
45
g
Fiber:
7
g
Potassium:
391
mg
Cholesterol:
1
mg
Calories:
611
kcal
Trans Fat:
1
g
Saturated Fat:
24
g
Fat:
38
g
Protein:
7
g
Carbohydrates:
70
g
Iron:
4
mg
Love this recipe?
Let me know on Instagram!