Publised on 23/09/2023 by Richard. Last Updated on 08/11/2023 by Richard.
The most perfectly light vegan birthday cake made from vegan vanilla cake, vanilla buttercream frosting and sprinkles!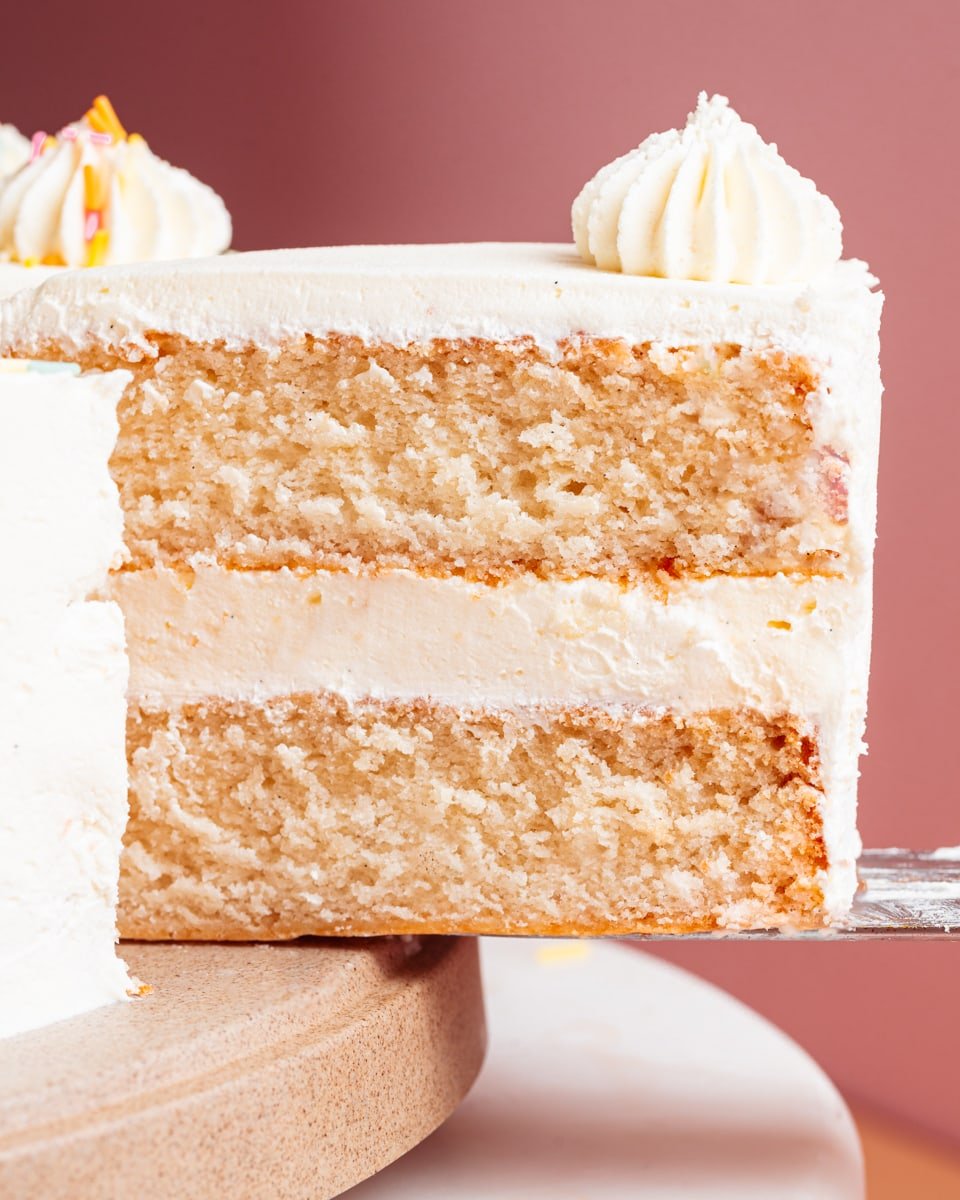 If you follow me on instagram, you know I've been working on this vegan birthday cake recipe for literally months! I wanted to make sure it had the most perfectly light vanilla sponge which was packed with flavour but also suitable for other occasions other than birthdays (like Tuesdays, Tuesdays are a nice cakey day).
And so here we are. I'm calling this the most perfect vegan birthday cake because I truly stand by this recipe. There are a few ingredients that just guarantee perfection every time. The texture of the vegan vanilla cake is insanely light and fluffy and it balances beautifully with my vegan vanilla buttercream. Trust me, I couldn't believe how delicate this cake turned out.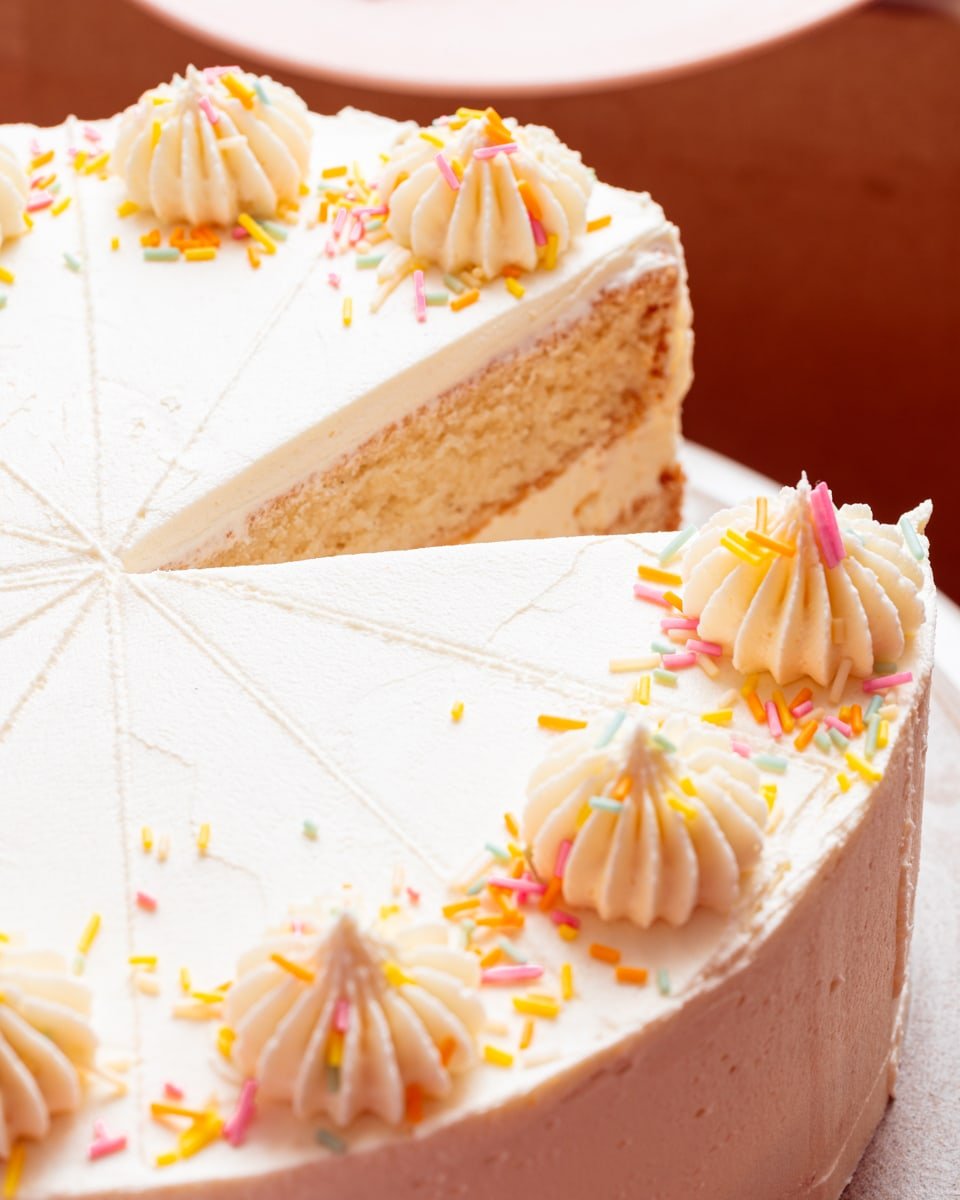 Jump to:
🧈 Vegan Birthday Cake Ingredients
OK so there may be one or two unfamiliar ingredients in this vegan birthday cake recipe, but don't worry - I'll explain what they are, why they're here and where to get them below!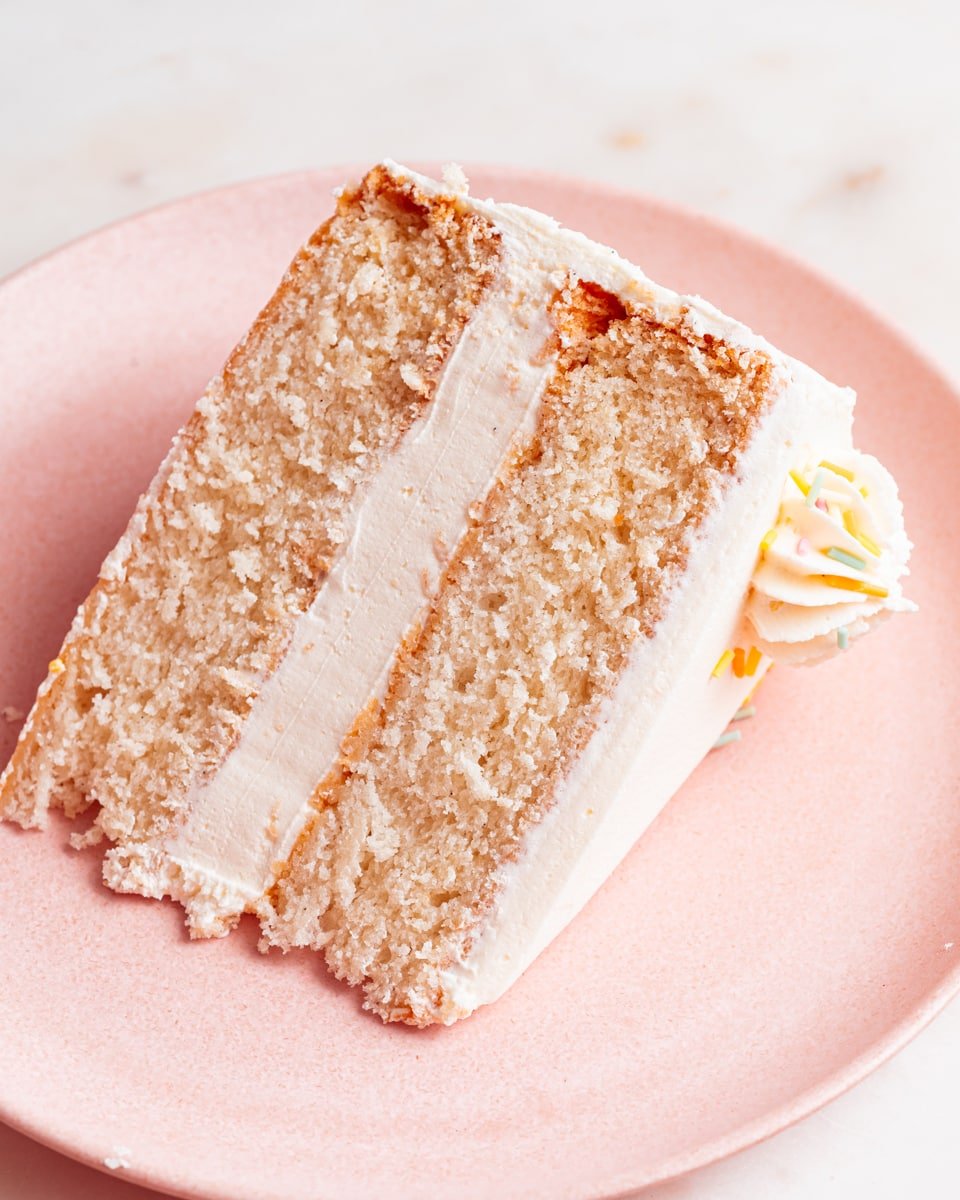 Caster sugar - In the US, this is also known as superfine sugar. Be sure to use white sugar in this recipe to preserve that fluffy cloud-like sponge!
Vegetable shortening - I tried this recipe with vegan butter and with oil, and both worked well, but BY FAR the lightest vegan cake came from vegetable shortening. In the UK you can use TREX and in the US you can use Crisco. Make sure it's at room temperature before you begin.
Vanilla extract - Vanilla is the only flavouring used in this cake, so be sure to use a high quality one. If you have access to vanilla bean paste, go for it!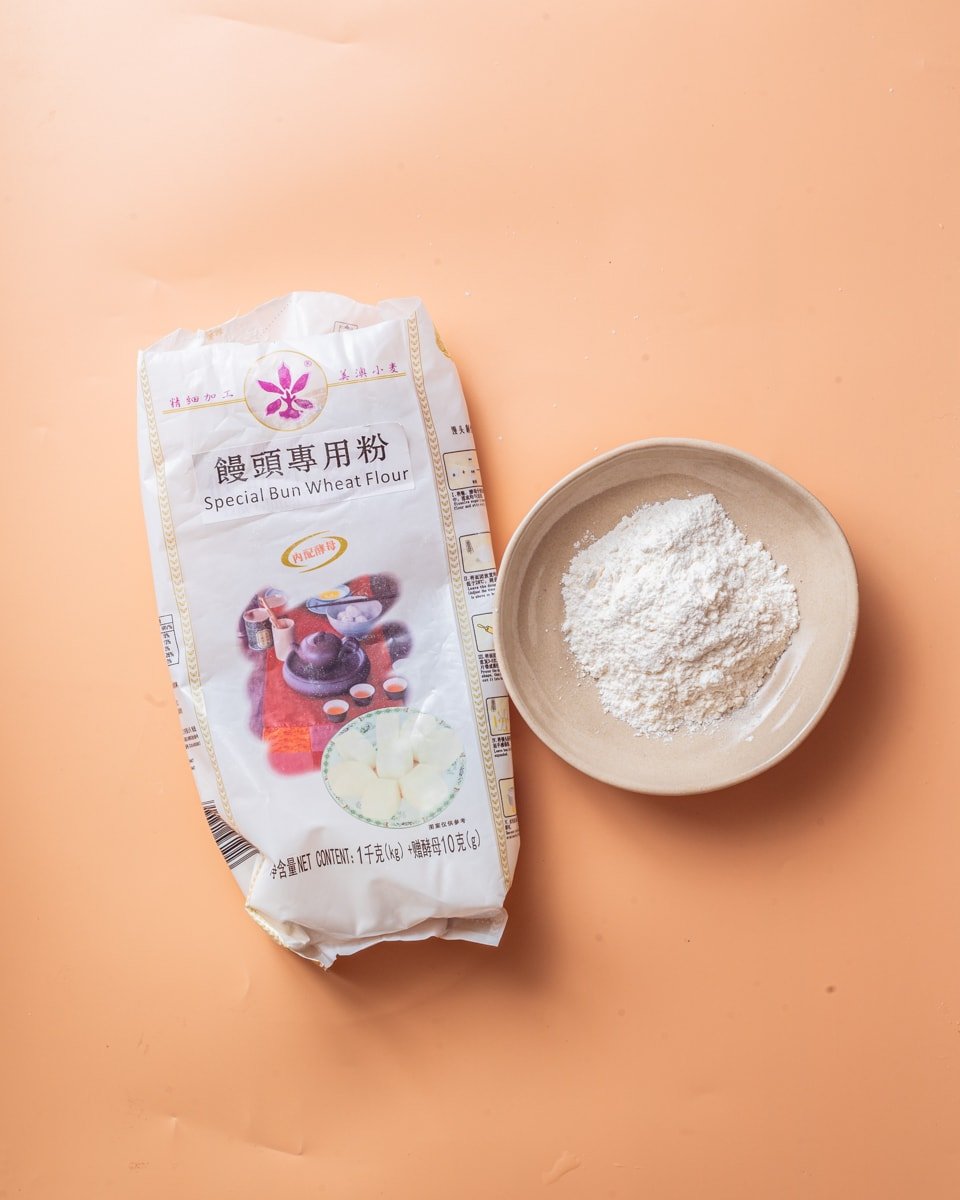 🧈 Ingredients Continued...
Cake flour - Cake flour is a type of wheat flour that's very finely milled and has a lower gluten content which helps to create a lighter fluffier cake. It's very common in the US but not so much in the UK. You can order it from amazon OR do what I did and purchase "Special Bun Wheat Flour". I got this from my local Asian supermarket and it's normally used for making soft Bao buns. It contains 8% protein (aka gluten) and is super fine, which makes it identical to cake flour!
Cornstarch - Also known as cornflour in the UK.
Baking powder
Baking soda
Fine sea salt
Vegan yoghurt - Be sure to use a thick "Greek-style" variety that's unflavoured and unsweetened. I use Coconut Collaborative natural yoghurt. Oh and make sure it's room temp.
Plant milk - Any variety will do, just make sure it's unflavoured and unsweetened and room temperature.
Vegan vanilla buttercream frosting - You'll need a double batch of this frosting, so whip this up before you get started on the vegan birthday cake.
Coloured sprinkles - This is totally optional, but it just helps to jazz things up a bit!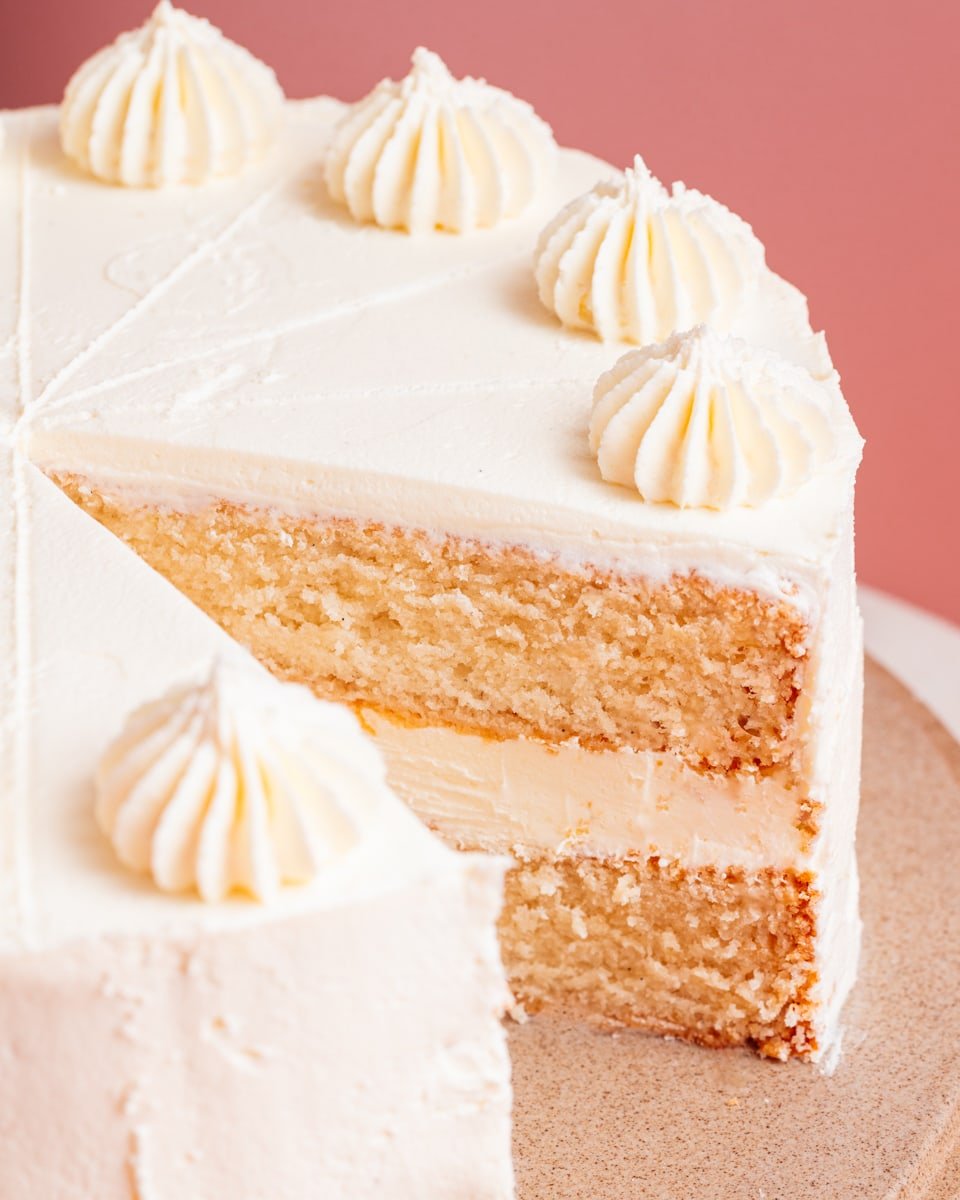 🔀 Ingredient Substitutions
I wouldn't advise making subs or swaps with this vegan birthday cake recipe. The vegan vanilla cake is super delicate and I've really tailored it to be the perfect texture, so you'll inevitably end up with different results if you make swaps. However, if you truly HAVE to, here are my suggestions.
The Cake Flour - In a pinch, you can replace this with all purpose/plain white flour. The cake won't be as fine and light, but will still be delicious.
The Vegan Yoghurt - If you can't get hold of any vegan yoghurt here's my suggestion. Place 50g of silken tofu and 50ml of plant milk in a blender with 1 tablespoon lemon juice. Blend until smooth and use this to replace the yoghurt.
Vegetable Shortening - This can be replaced by vegan butter or vegetable/canola/rapeseed oil but it will impact the texture of the cake. If making this sub, I suggest using half vegan butter and half oil.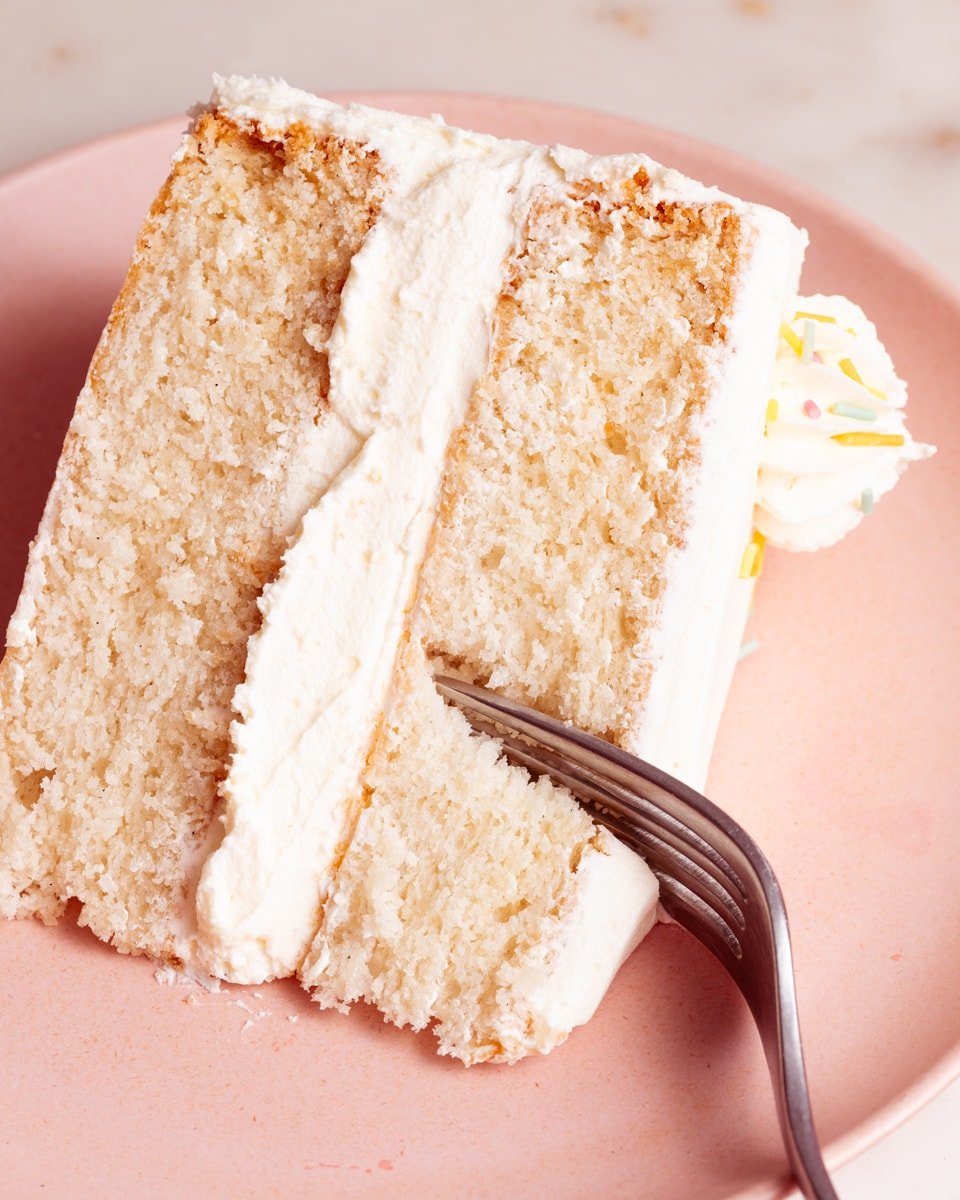 🎂 Making the Vegan Vanilla Cake
Here's a little breakdown of how to make the best vegan vanilla cake opn the planet (my mum agrees...)
1. Beat the shortening, sugar and vanilla together until very light and fluffy. This will activate the flavour of the vanilla extract AND introduce lots of tiny air bubbles to the batter. I use a stand mixer for this step but feel free to use an electric hand beater!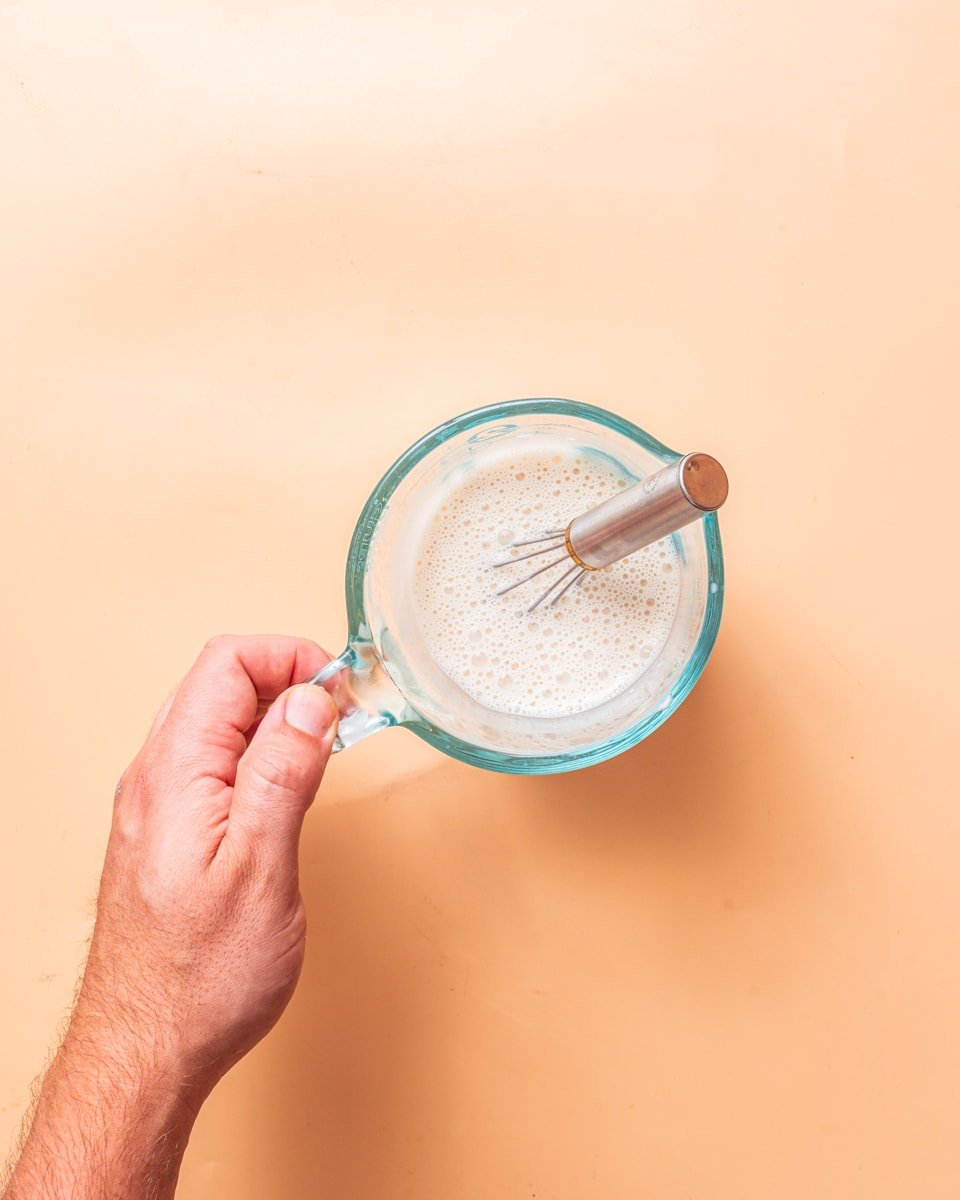 2. Add the wet ingredients and dry ingredients in increments. I like to add half of the wet ingredients followed by half of the dry, and so on! This stops the batter from splitting and helps to make sure the sponge has a beautiful rise.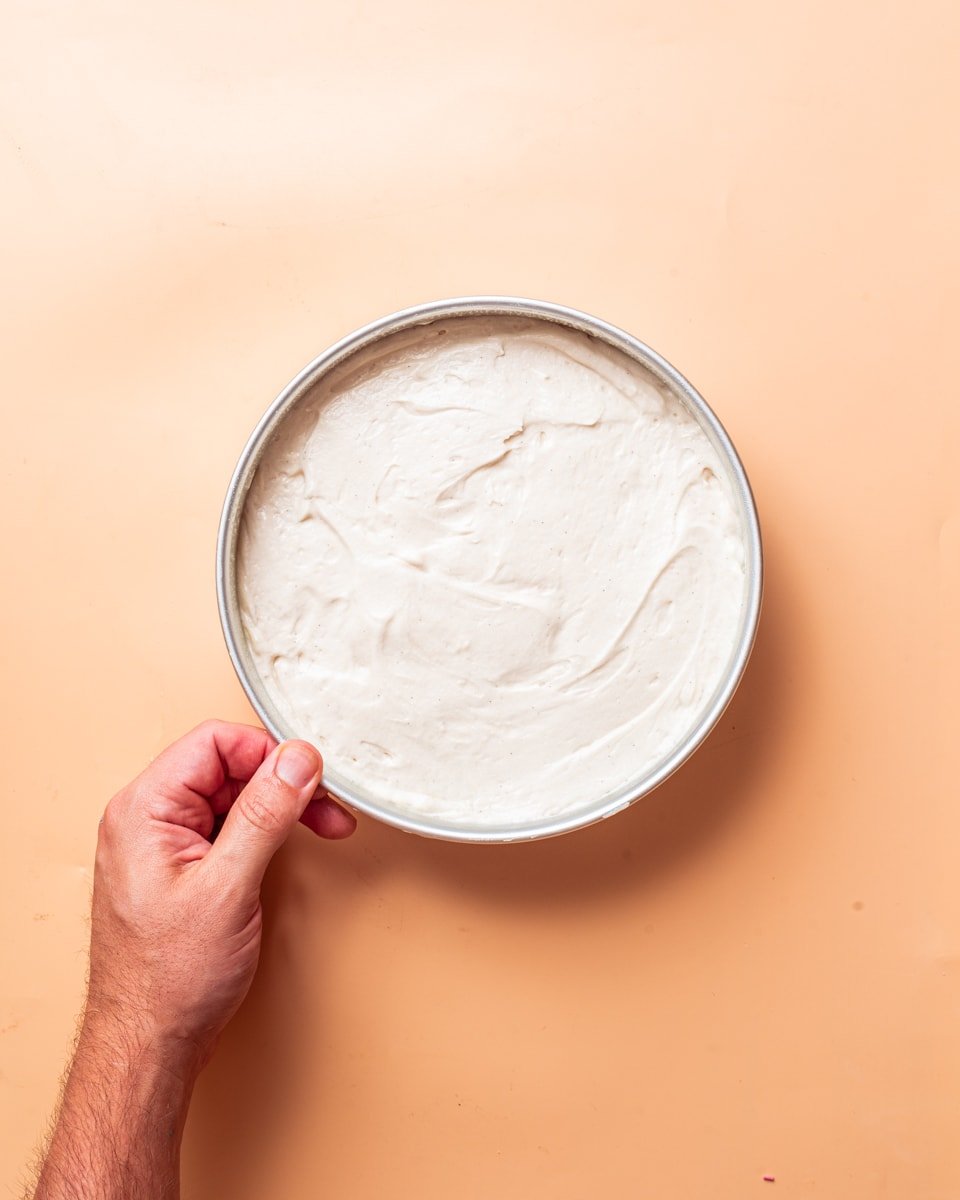 3. The batter will be quite thick and creamy, so spread it into a prepared cake tin and spread flat to ensure an even rise. I even tap the pan on the counter a few times to make sure the batter fills any air bubbles which may have formed.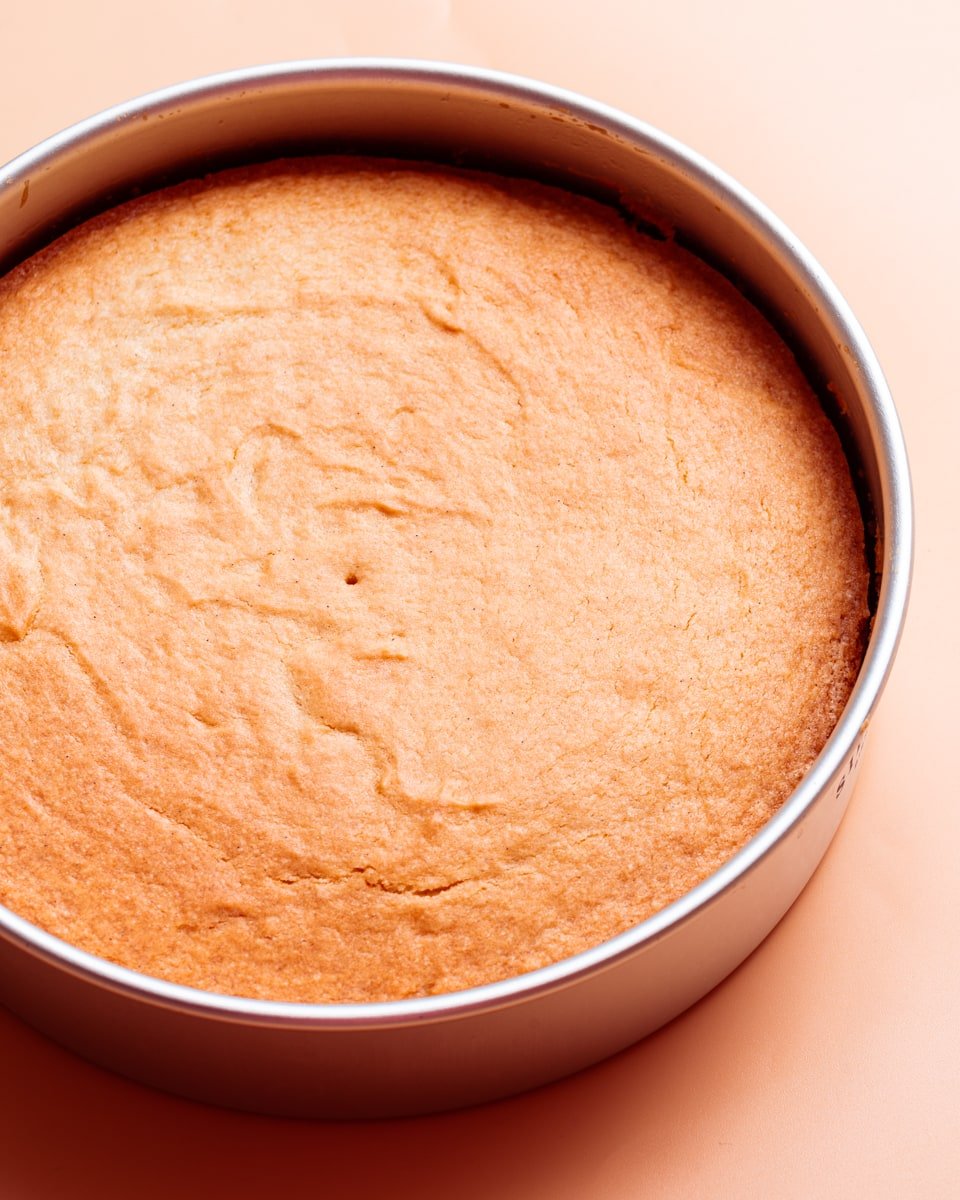 4. Finally we bake our vegan vanilla cake. 25 minutes at 170c/340f is perfect, but make sure you're using the convection/fan setting of your oven. The cakes bake up pretty flat, which is great because there's no need to trim them before stacking!
🎂 Decorating the Vegan Birthday Cake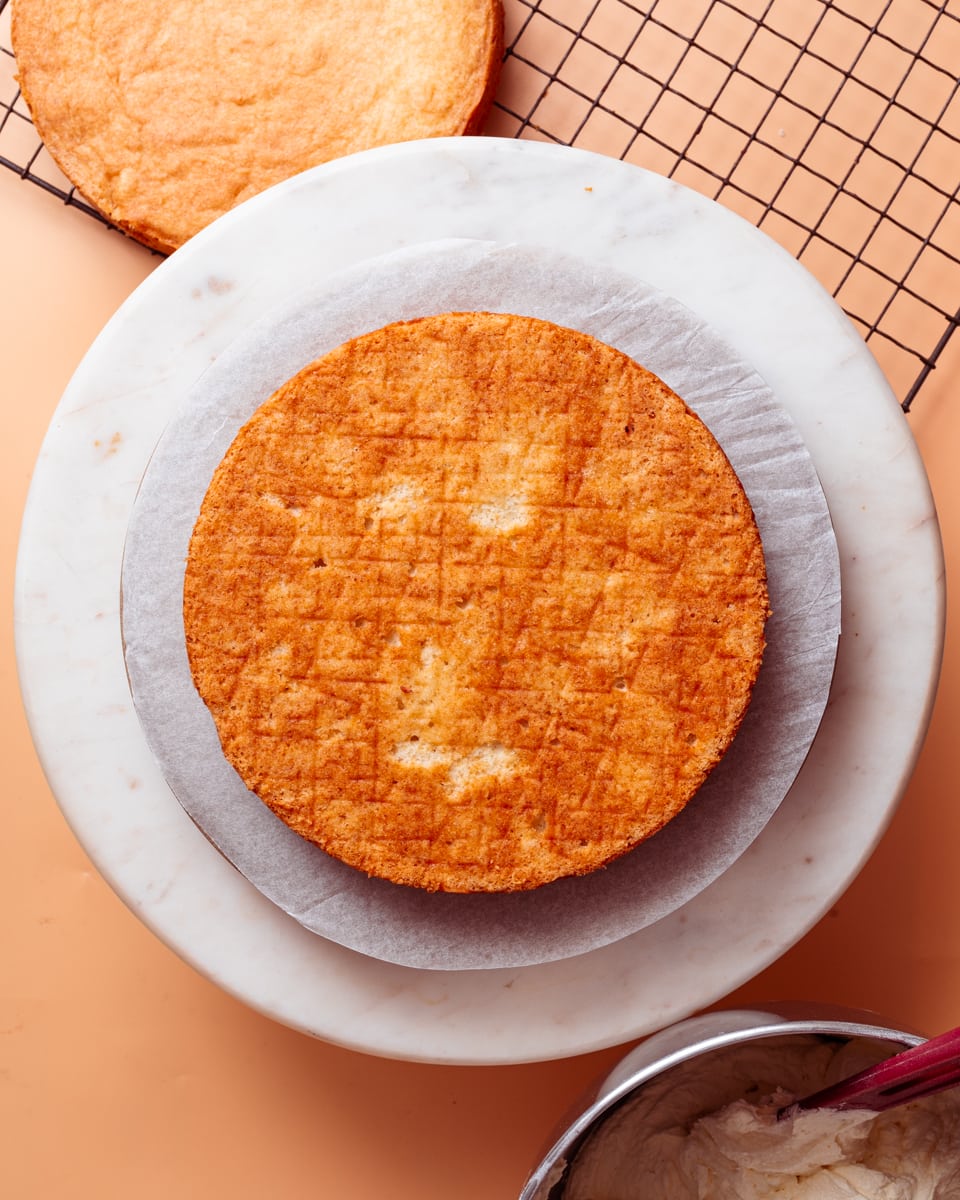 1. To take this from a vegan vanilla cake to a vegan birthday cake, you'll need to whip up a double batch of vegan vanilla buttercream frosting. I'd also recommend making sure your cake is completely cooled before decorating. I even refrigerate my sponges for an hour as it makes them easier to work with and less likely to crack or break.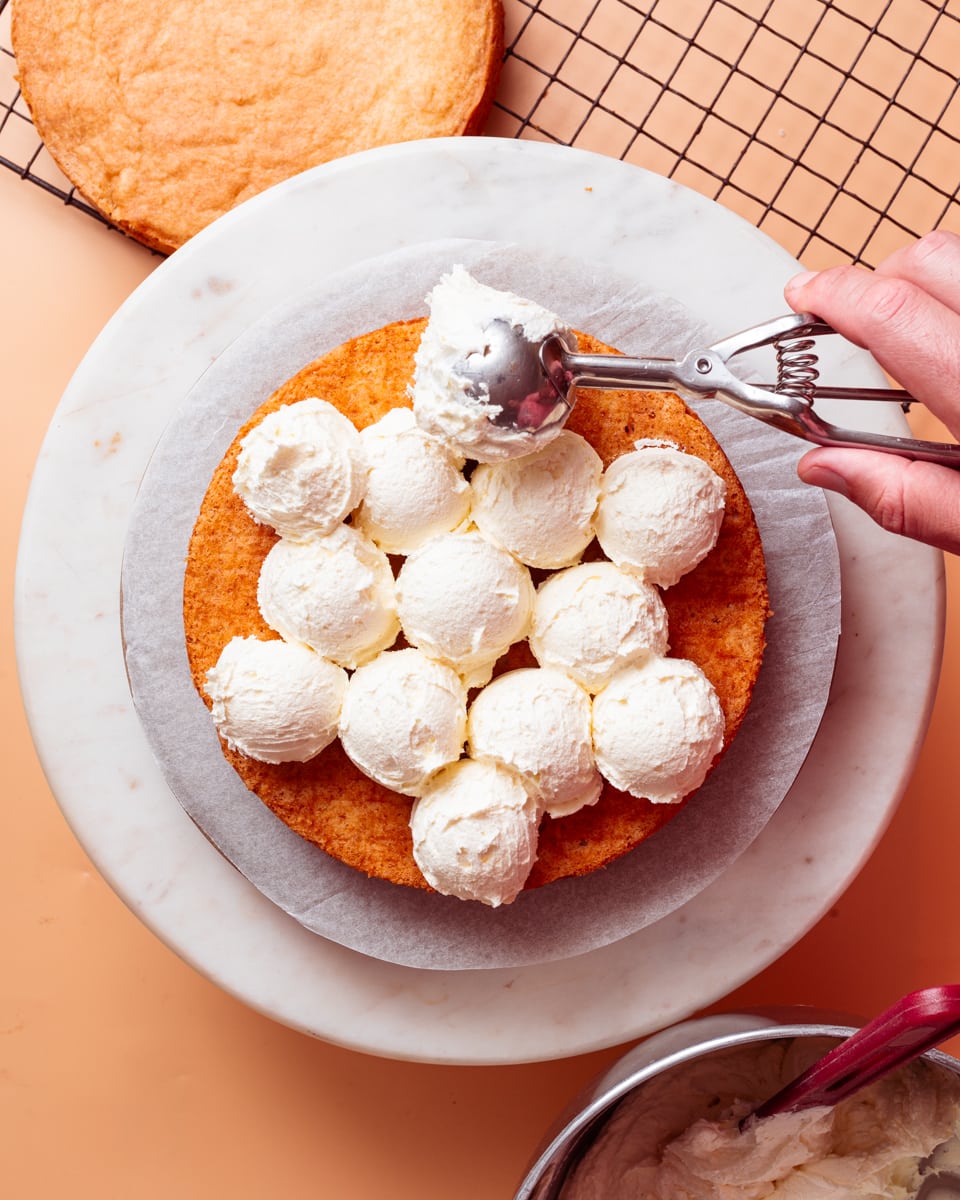 2. Add a good layer of vegan vanilla buttercream in the centre. I like to use a cookie scoop to make sure it's an even layer then spread out using a pallet knife. Alternatively you can pipe this layer using a piping bag. My preference is for a thick layer of buttercream in the centre and a thin layer on the outsides of the cake, but you do you!
3. Next you're going to top the vegan vanilla buttercream with the second layer of vegan vanilla cake and add the outside coat of vegan vanilla buttercream. You'll get the most even layer by piping the buttercream at this stage, but you can also you spoon and spread with a pallet knife.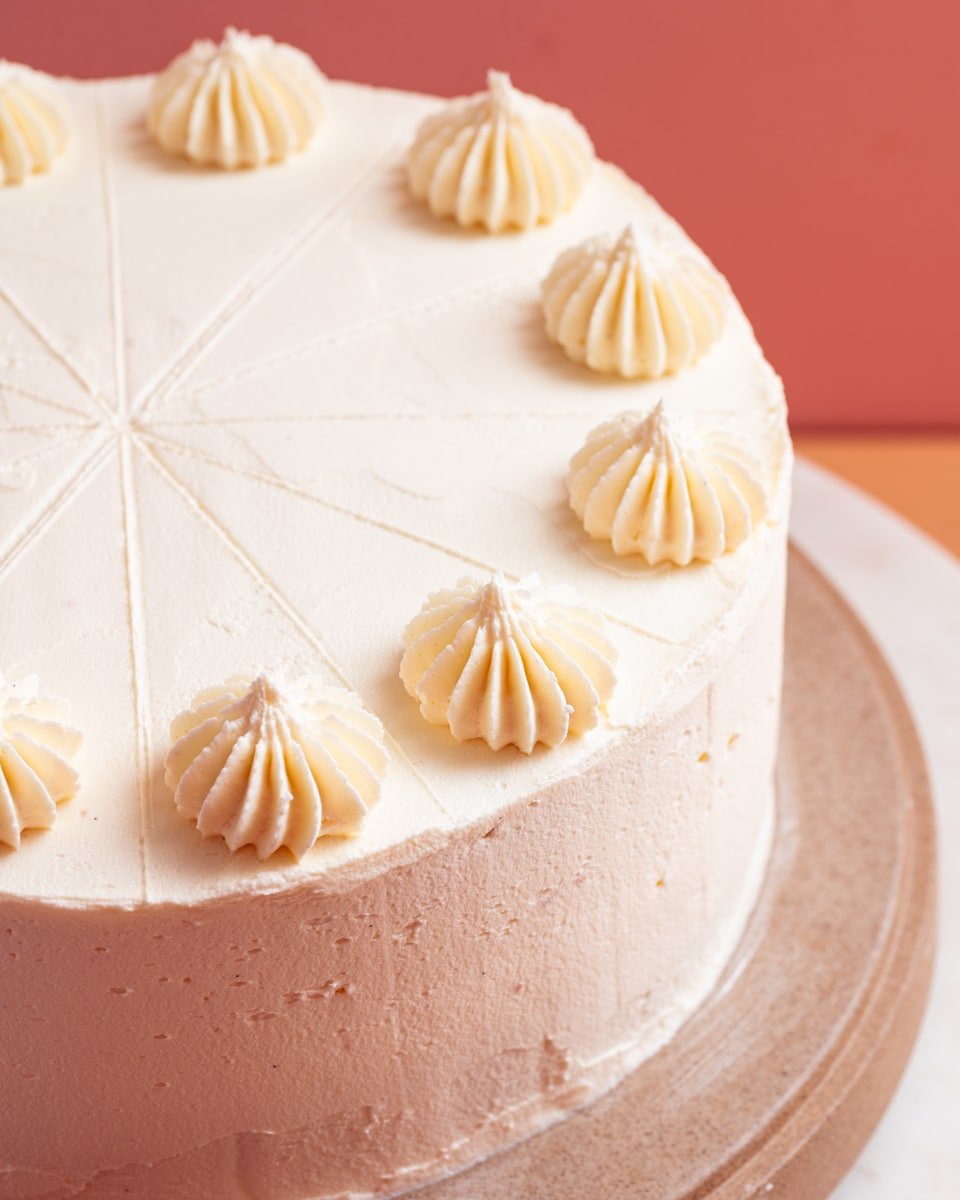 4. Finally, decorate the top with a few flourishes. I do this with a simple fluted piping bag tip. I also like to score the top of the cake to indicate the size of the slices. This guarantees everyone gets an extra little blob of frosting!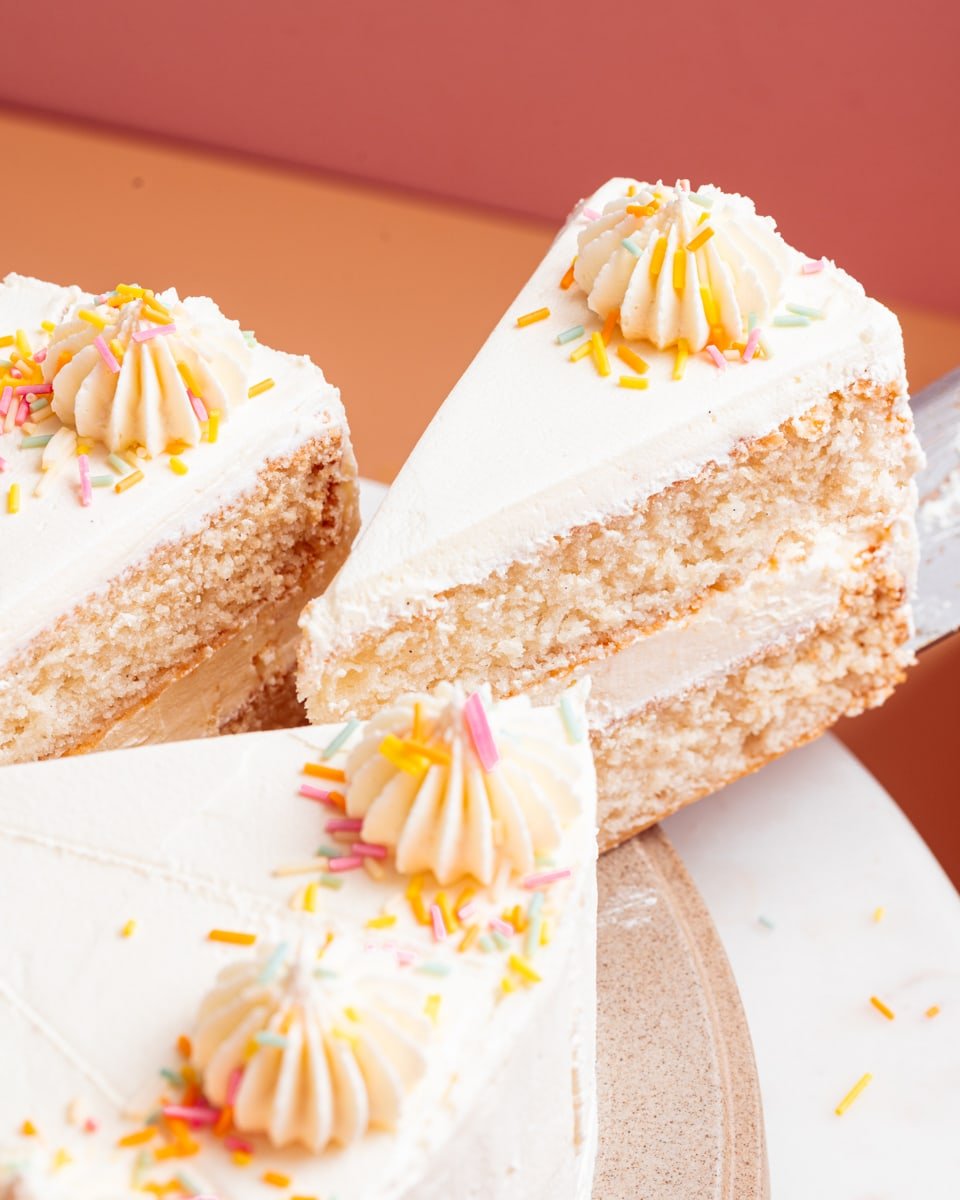 🤷‍♀️ Vegan Birthday Cake FAQs
Q: What do vegans use instead of eggs in cakes?
A: Corn starch works great as an egg replacer in most cake recipes. It acts as an emulsifier which stops the cake batter from splitting while baking, and also gives the sponge a nice springy texture.
Q: Is vanilla extract the same as vanilla essence?
A: No. Vanilla extract is a natural product extracted from real vanilla beans. Vanilla essence is a synthetic version of vanilla flavour that's been made with various chemicals and artificial flavours. Vanilla extract or vanilla bean paste are far superior products.
Q: Is buttercream vegan?
A: Traditionally buttercream is made with butter and icing sugar, which means it's not vegan. However vegan butter makes an easy plant-based substitution. Some icing sugars (aka confectioners sugars) aren't vegan, so be sure to research your brand before purchasing.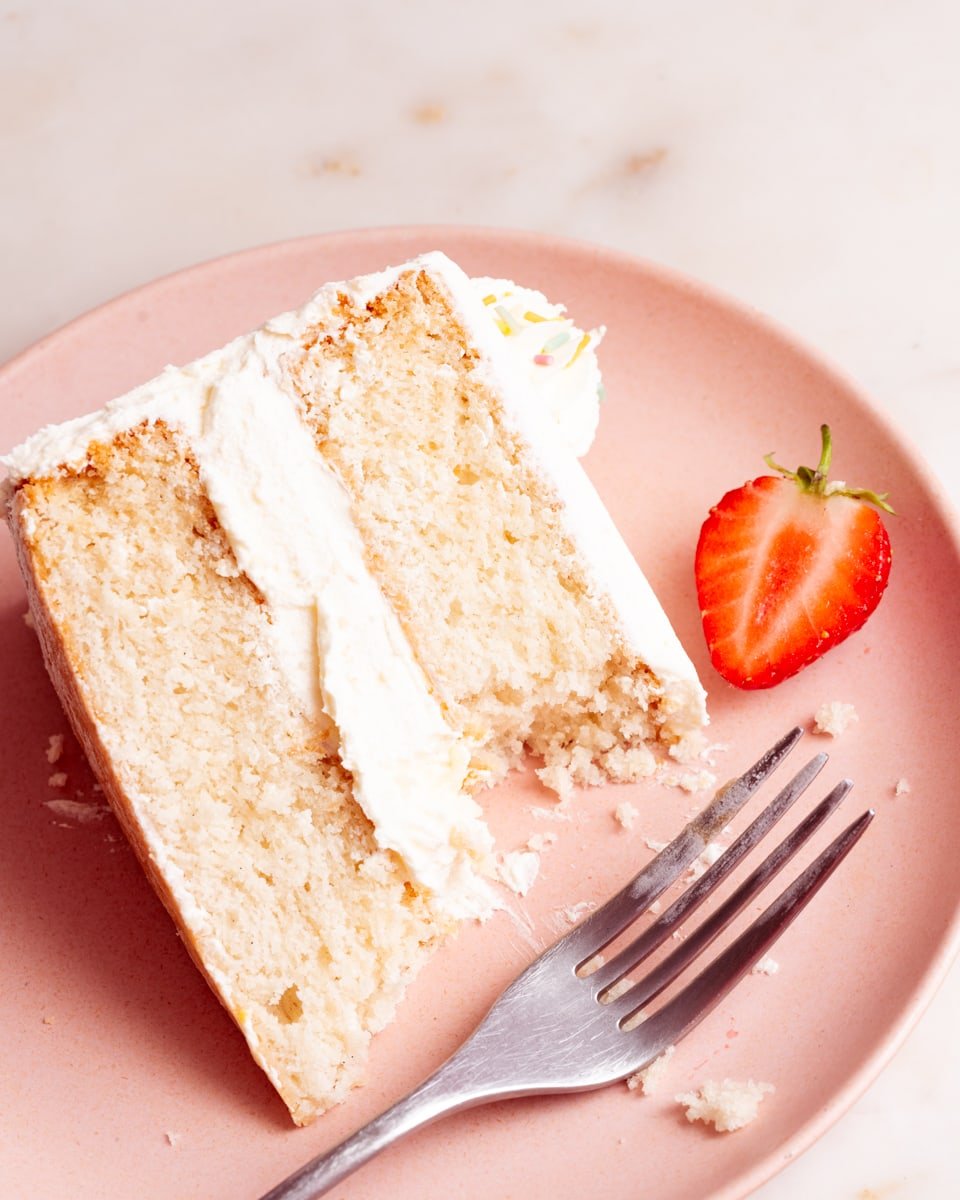 And that's it! The perfect gift for a very happy birthday!
Looking for some more classic bakes? Why not whip up a vegan pound cake, some delicious vegan blondies or some vegan snickerdoodles?!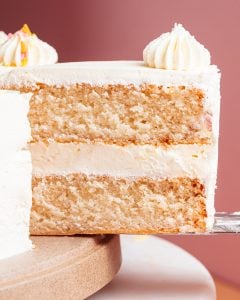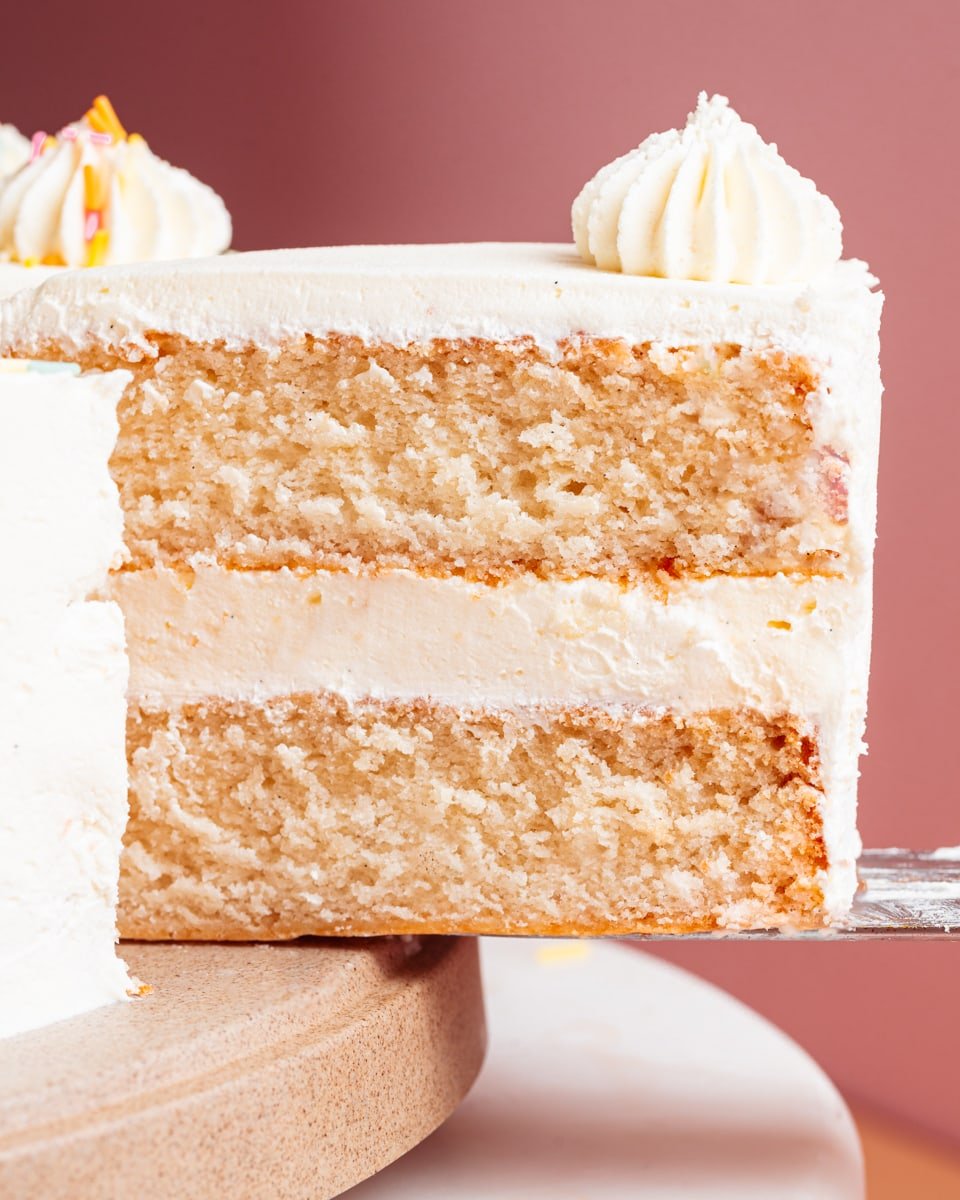 Vegan Birthday Cake
A deliciously simple vegan birthday cake made from vegan vanilla cake, vanilla buttercream and sprinkles!
Ingredients
300

g

caster sugar

(aka superfine sugar)

80

g

vegetable shortening

(must be at room temperature. See notes in blog post above)

2

teaspoon

vanilla extract

(or vanilla bean paste)

300

g

cake flour

(see notes in blog post above)

4

tablespoon

cornstarch

(aka corn flour)

2

teaspoon

baking powder

¼

teaspoon

baking soda

½

teaspoon

fine sea salt

200

g

vegan yoghurt

(must be at room temperature. I use Coconut Collaborative brand. use a thick Greek-style variety that's unflavoured and unsweetened)

120

ml

plant milk

(must be at room temperature. Unflavoured and unsweetened)

2

batches

vegan vanilla buttercream frosting

2

tablespoon

coloured sprinkles

(for topping)
Instructions
Preheat the oven to

170

°C

(fan/convection). Line the bottom of two 20cm/8 inch cake tins with baking parchment and grease the sides. Set aside.

If you haven't already, make the vanilla buttercream frosting and set aside in a medium bowl covered with film wrap.

In the bowl of a stand mixer fitted with the whisk attachment, add the caster sugar, vegetable shortening and vanilla extract. Cream together on high speed for at least 3 minutes or until pale and fluffy. Alternatively use an electric whisk.

300 g caster sugar,

80 g vegetable shortening,

2 teaspoon vanilla extract

In a medium bowl, sieve together the cake flour, cornstarch, baking powder, baking soda and fine sea salt.

300 g cake flour,

4 tablespoon cornstarch,

2 teaspoon baking powder,

¼ teaspoon baking soda,

½ teaspoon fine sea salt

In a measuring jug, whisk together the vegan yoghurt and plant milk until smooth.

200 g vegan yoghurt,

120 ml plant milk

If using a stand mixer, replace the whisk attachment with the paddle/beater attachment and switch to medium speed. Add half of the vegan yoghurt mixture and beat until combined. Add half of the flour mixture and beat again until combined. Repeat with the remaining yoghurt mixture followed by the remaining flour mixture, until you have a smooth, thick batter.

Divide the batter evenly between the two cake pans (I recommend using kitchen scales for this) and smooth the surface with a spatula. Place both cake pans in the oven to bake for 25 minutes.

Remove the cakes. A skewer to the centre should come out clean - if not, place back in the oven for a further 5 minutes. Allow the cakes to cool in their tin for 5 minutes before carefully removing from the tin and leaving to cool fully on a wire cooling rack.

Frost the cakes with the vanilla buttercream (you may not need to use all of the buttercream and there will be plenty left for decorating the top) then sprinkle with the coloured sprinkles before serving.

2 tablespoon coloured sprinkles,

2 batches vegan vanilla buttercream frosting
Notes
Note: This recipe uses this frosting recipe. Since this is a separate recipe, the nutritional data displayed above is for the sponge cakes alone, and not for the frosting. The nutritional data for the frosting is displayed separately on the frosting post.
Nutrition
Calories:
138
kcal
Carbohydrates:
23
g
Protein:
2
g
Fat:
4
g
Saturated Fat:
1
g
Polyunsaturated Fat:
1
g
Monounsaturated Fat:
1
g
Trans Fat:
0.4
g
Cholesterol:
0.5
mg
Sodium:
67
mg
Potassium:
54
mg
Fiber:
0.3
g
Sugar:
13
g
Vitamin A:
25
IU
Vitamin C:
0.4
mg
Calcium:
33
mg
Iron:
0.2
mg
Love this recipe?
Let me know on Instagram!