Publised on 10/01/2022 by Richard. Last Updated on 07/11/2023 by Richard.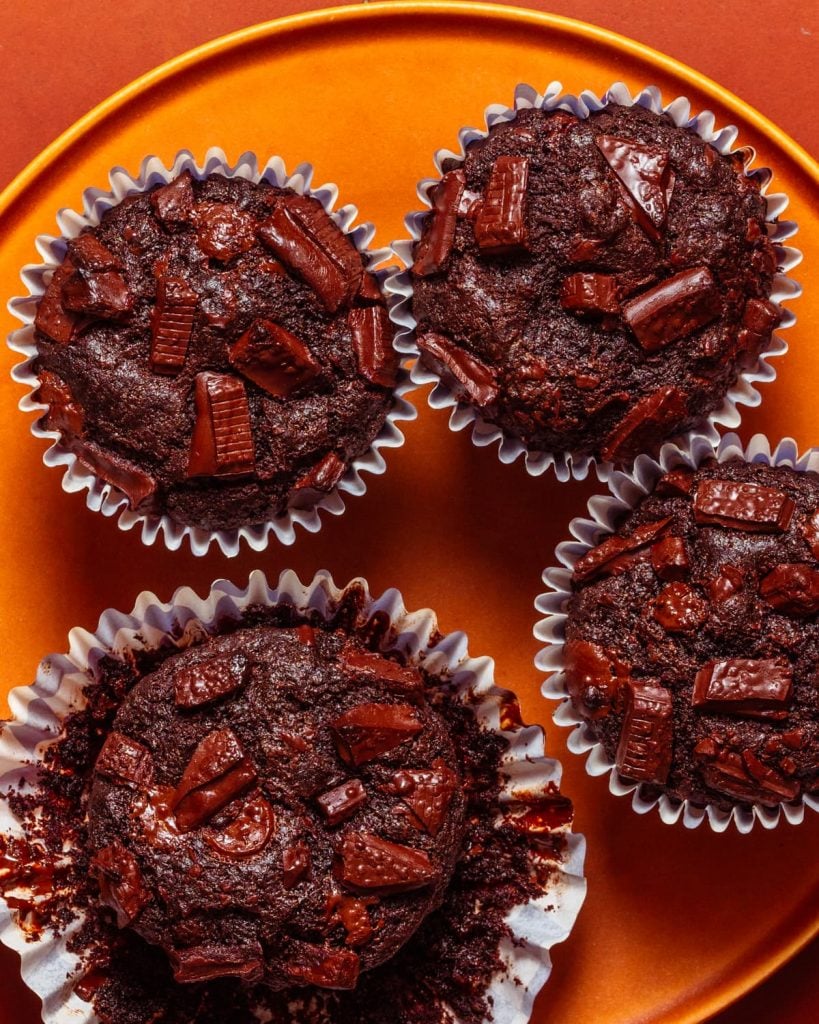 Easy vegan chocolate muffins, packed with chocolate chips and cocoa for a deliciously dark and indulgent muffin!
---
Look, if we're going to be friends I need you to agree that vegan chocolate muffins are better than cupcakes. Need convincing? OK then, let me spit this hot take! Muffins are infinitely better than cupcakes because:
They're easier to make - drys meet wets, don't overmix, bake. The end!
They're simple and humble but have been ignored for years while y'all put bacon on mountains of maple syrup frosting and wondered why you felt sick an hour later. 
Nobody, and I mean NOBODY, is mad at a craggy vegan muffin top. 
Agreed? Already tried my vegan strawberry muffins, vegan blueberry muffins and chocolate chip muffins?? Then you need to try these!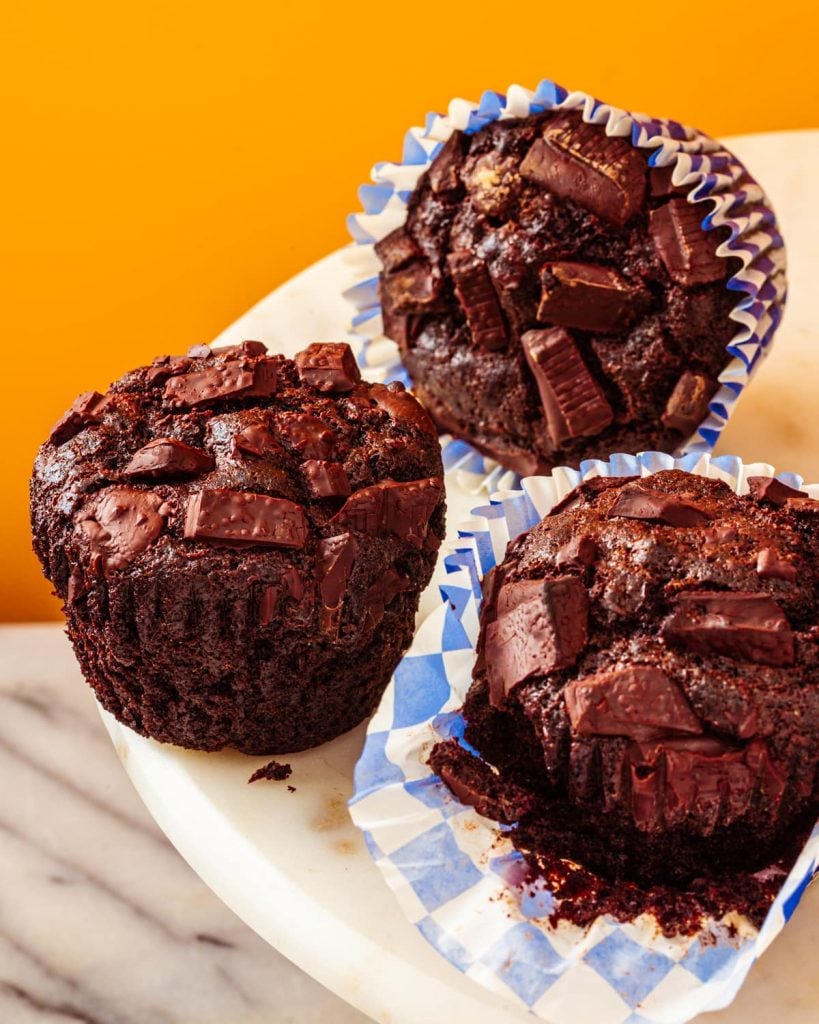 Why are these vegan chocolate muffins special!?
These guys are special for loads of reasons, but really you only need one: they're EASY! Easy on the eye, yes, but also easy to make. I'd also argue that (like me) they're easy to love. With a gorgeous chunky texture and a dark, rich chocolatey vibe, they're perfect for with your afternoon coffee break - what could be more loveable?? (besides me).
I'm also aware that some of my bakes are, how to put it, STRESSFUL! With lots of expert-level kit and weird unusual ingredients which sound like a village in a Zelda game, and I wanted to switch things up. I've kept these fellas as uncomplicated as possible, and hopefully that means a lot of you make them and rate them 5 stars!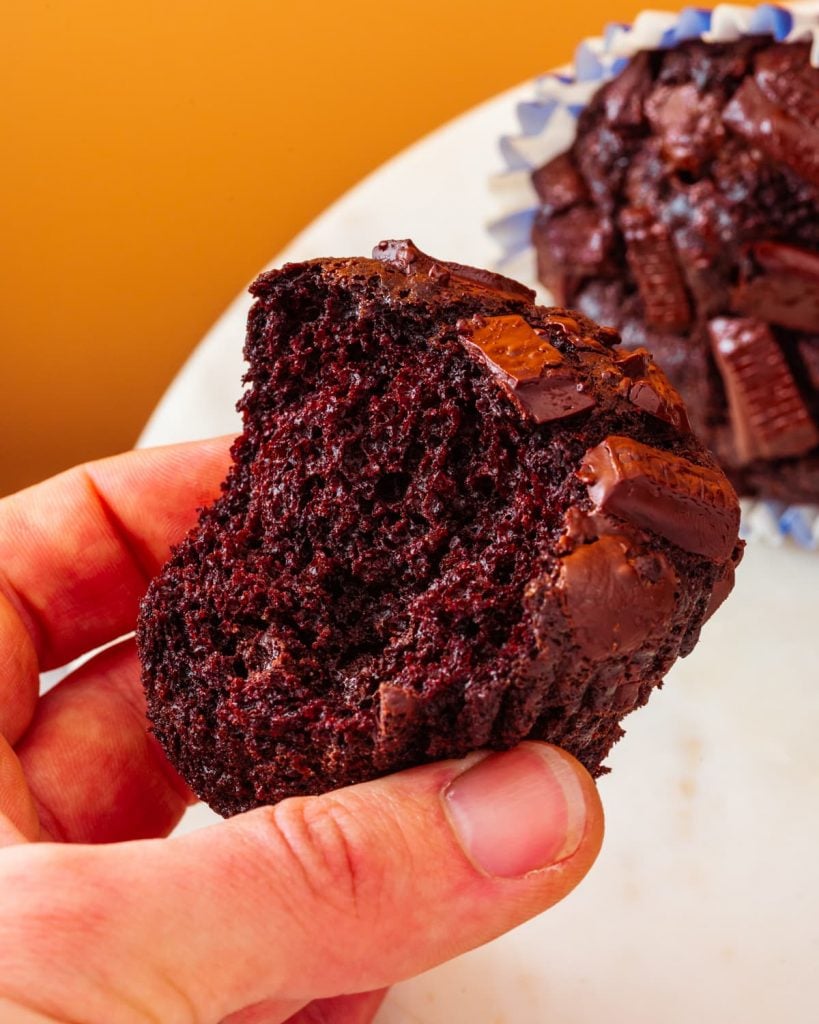 So how do I make vegan chocolate muffins??
Well if you'd stand still for like one second instead of practicing your tiktok dances I'll bloody well tell you! As always I've popped the full recipe at the bottom of this page, but because I need to pay rent, I've also broken things down into four steps, to make extra room for ads. (I know you've been wondering why all recipes on the internet have such a long intro - and now you know - us recipe developers gotta eat too my friend!)
1. Combine your dry ingredients
Nothing crazy or unusual here, we're just gonna whisk together the dry ingredients for our vegan chocolate muffins. That means flour, sugar, salt, baking soda and powder and cocoa all go in one bowl. Sometimes cocoa can get a bit clumpy, so I recommend sifting everything together, just to ensure a nice smooth batter.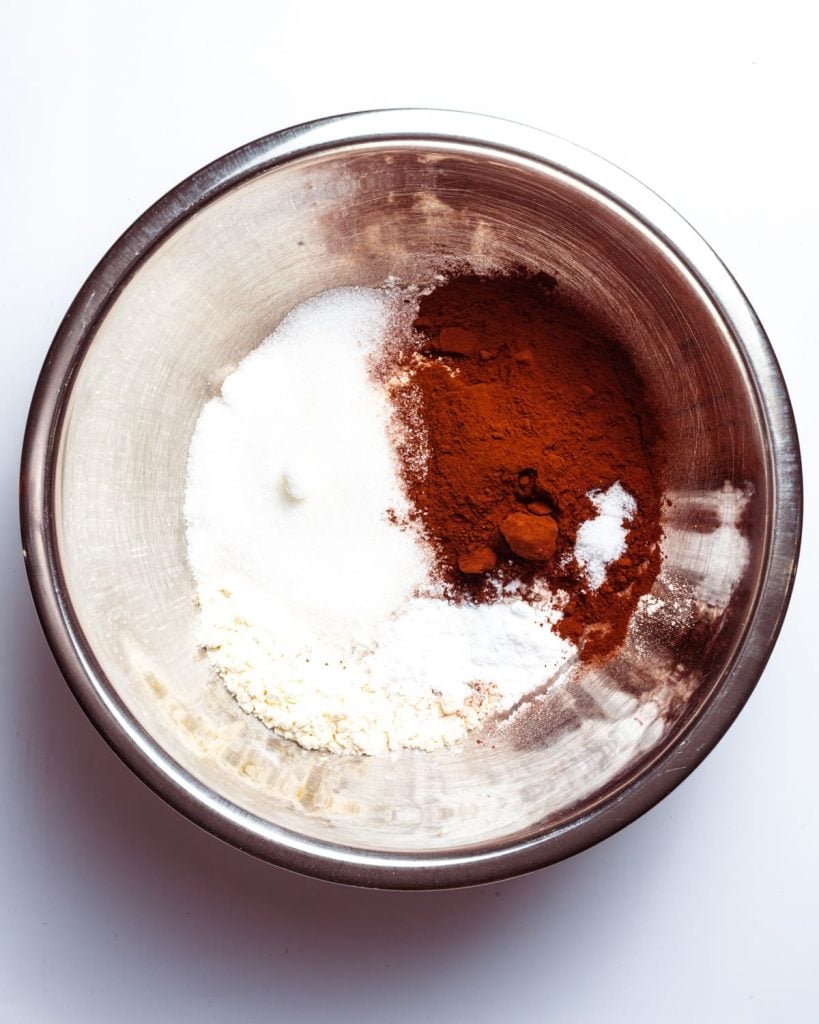 2. Blend your wet ingredients
Things get a little unusual here because we're gonna use a blender, but let me explain why. Our egg replacement in this recipe is psyllium husk powder (or, if you're scared, ground flax seeds). As a rule, psyllium (and flax) loves to CLUMP together and ruin any bake you put it in, if you're not careful. So it's essential that it gets blended in with your wet ingredients.
Just bung everything in a blender, blend until smooth and you're ready to go.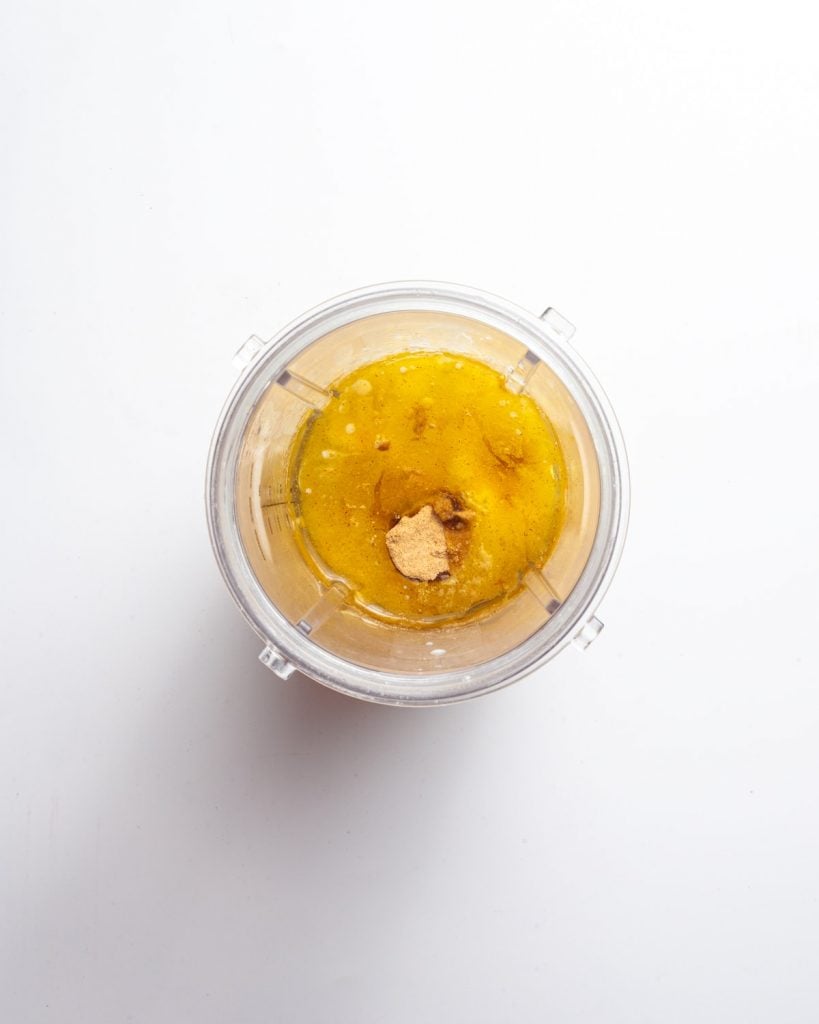 3. Mix together and portion out
I tend to add the wets to the dry ingredients, but honestly it doesn't make a difference. At this stage you're also going to add some chocolate chips, which will distribute through the batter. Make sure you don't overmix, just briefly until everything is combined, then portion out into 6-8 muffin cases (depending on how big your muffin cases are). Right before popping in the oven we're also going to top with the chocolate chunks, for some texture variation!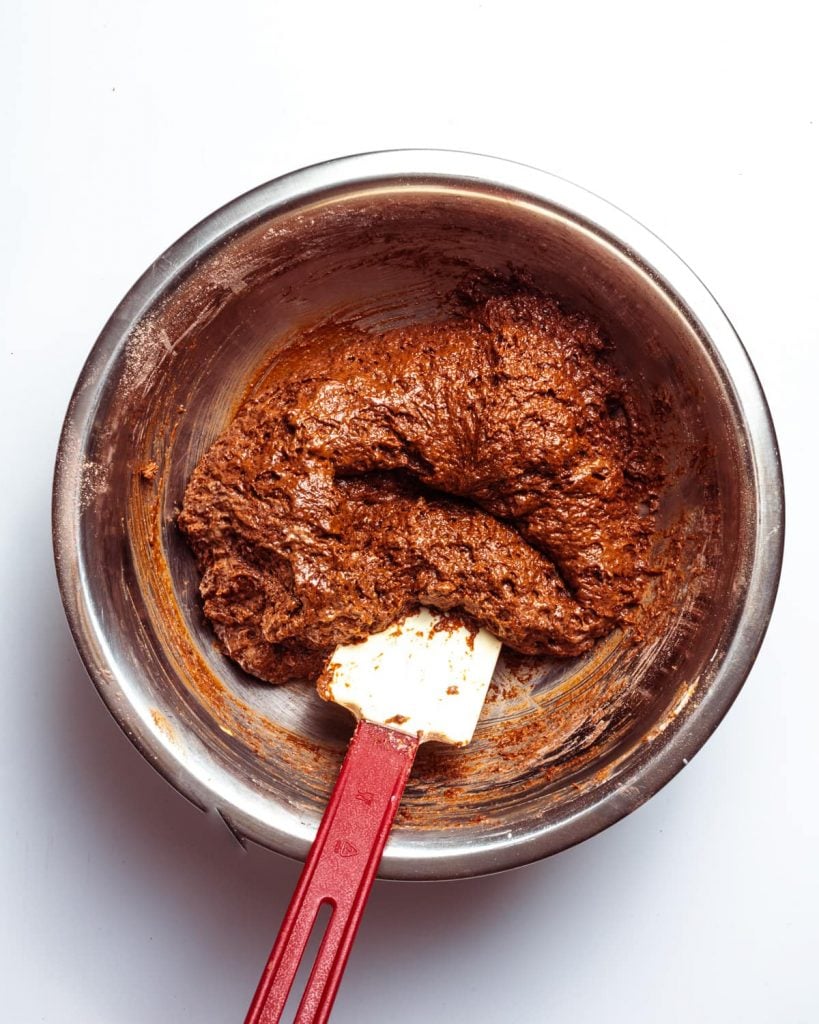 4. Bake em good!
We're gonna bake at 170 for 20 minutes. These guys puff up nicely and you'll notice the chocolate chunks on the surface will melt but shouldn't burn or lose their shape at this oven temperature. AND THAT'S IT!!!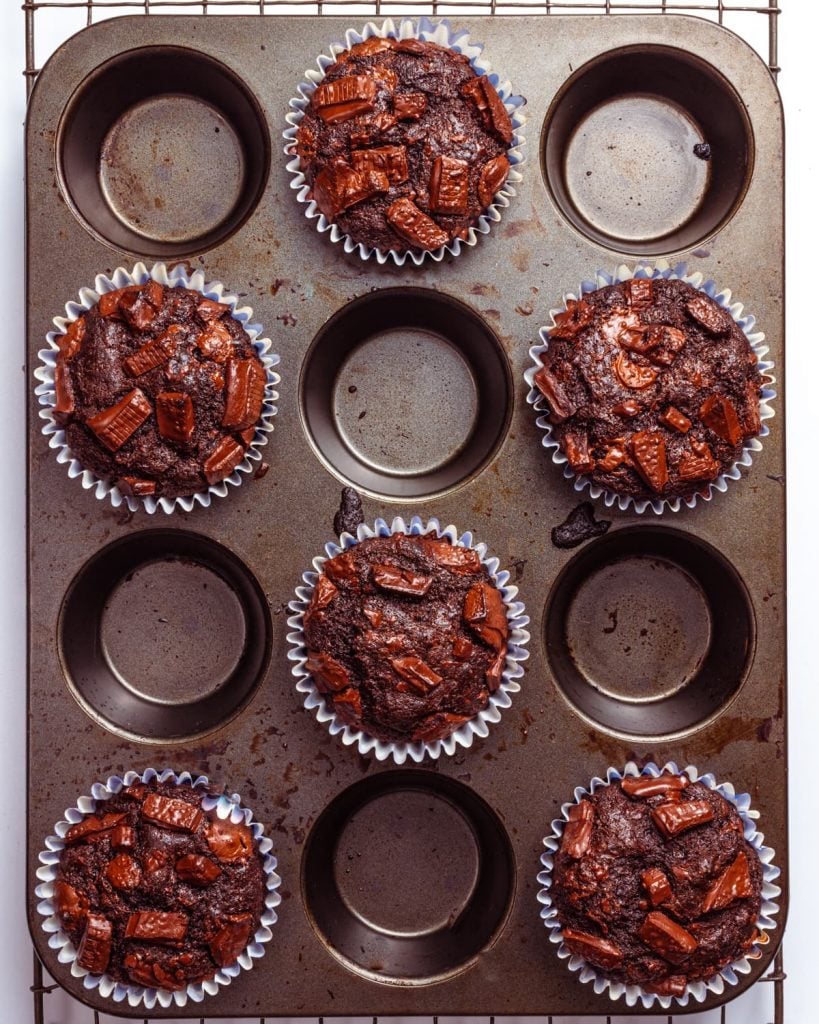 Easy peasy right??
I reckon even your stupid ex who couldn't even make beans on toast could make these. Don't call them to ask though, you're better off without them - plus they didn't even get any of your spice girls references. Onwards and upwards!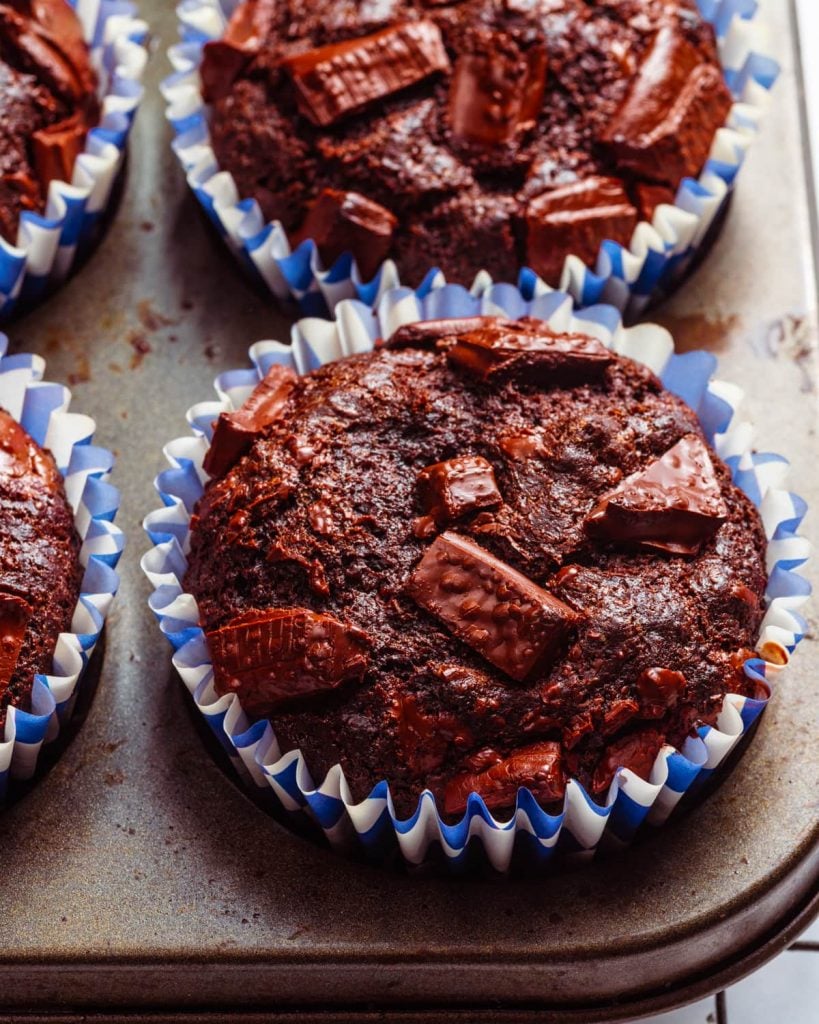 Need some more CHOCOLATE recipes??
You got it pal!! Why not give these baddies a try!?
Vegan Chocolate Chip Sheet Cake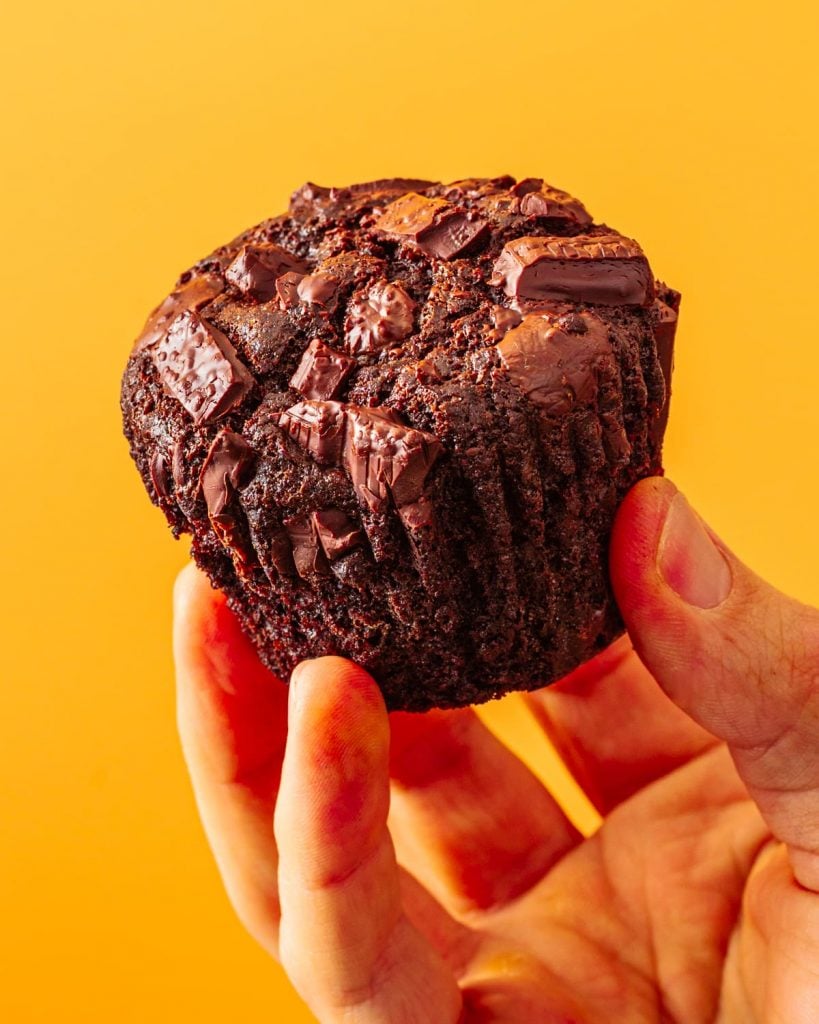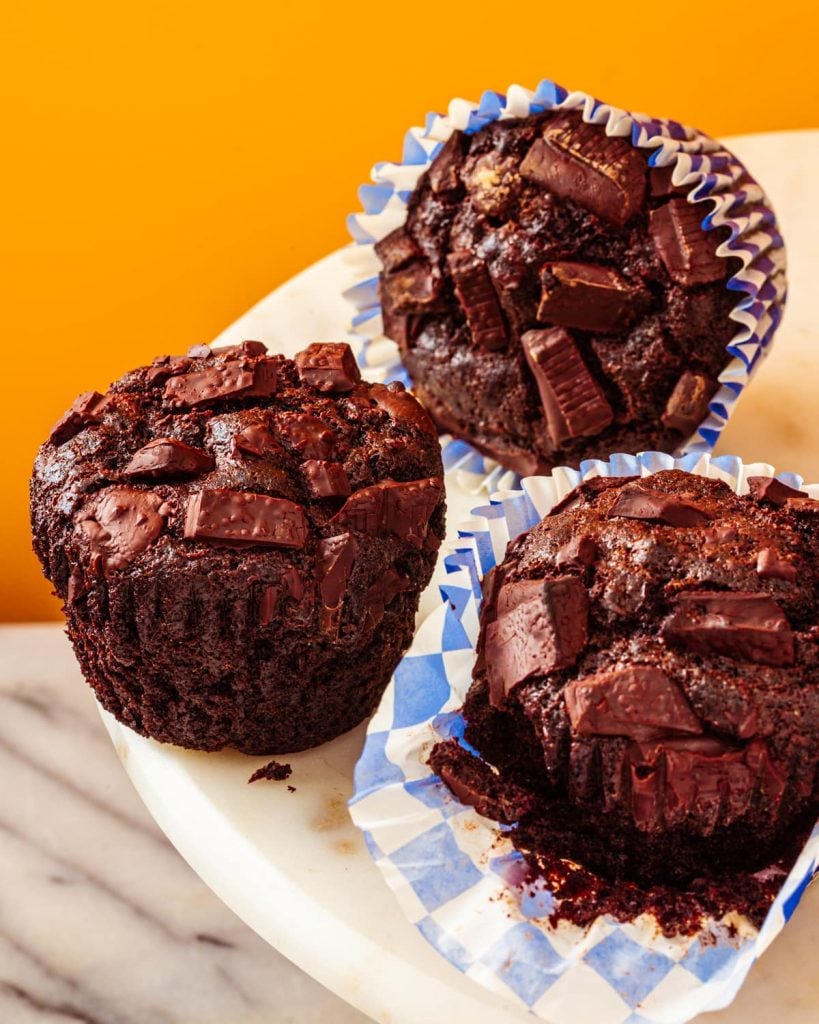 Vegan Chocolate Muffins
Easy vegan chocolate muffins, packed with chocolate chips and cocoa for a deliciously dark and indulgent muffin!
Ingredients
190

g

plain white flour

((aka all purpose flour))

150

g

granulated sugar

45

g

cocoa powder

1.5

teaspoon

bicarbonate of soda

((aka baking soda))

1

teaspoon

baking powder

¼

teaspoon

fine sea salt

165

g

silken tofu

120

g

soy milk

((at room temperature))

120

g

vegetable oil

((or any neutral oil))

1.5

tablespoon

lemon juice

1.5

teaspoon

vanilla extract

1.5

teaspoon

psyllium husk powder

((or sub for finely ground flax seeds))

150

g

dark chocolate chips

((most chocolate chips over 50% cacao are vegan but check the label if you're unsure))

50

g

dark chocolate chunks

((or just roughly chop a bar of dark vegan chocolate))
Instructions
Preheat the oven to 170c/338f (fan) and line a muffin tray with 6-8 muffin cases (using 6 will yield larger muffins).

In a medium bowl, sieve together the plain white flour, granulated sugar, cocoa powder, bicarbonate of soda, baking powder and fine sea salt. Mix to combine then set aside.

In the cup of a blender, place the silken tofu, soy milk, vegetable oil, lemon juice, vanilla extract and psyllium husk powder. Blend until very smooth.

Add the blended wet ingredients to the dry ingredients and mix together briefly or until just combined with a spatula. Add the dark chocolate chips and mix again.

Divide the batter between the muffin cases and top with the chocolate chunks. Place in the preheated oven to bake for 20 minutes.

Remove from the oven and allow to cool fully before serving.
Nutrition
Serving:
1
grams
Calories:
329
kcal
Carbohydrates:
56
g
Protein:
7
g
Fat:
10
g
Saturated Fat:
8
g
Polyunsaturated Fat:
2
g
Cholesterol:
1
mg
Sodium:
309
mg
Fiber:
4
g
Sugar:
28
g
Love this recipe?
Let me know on Instagram!