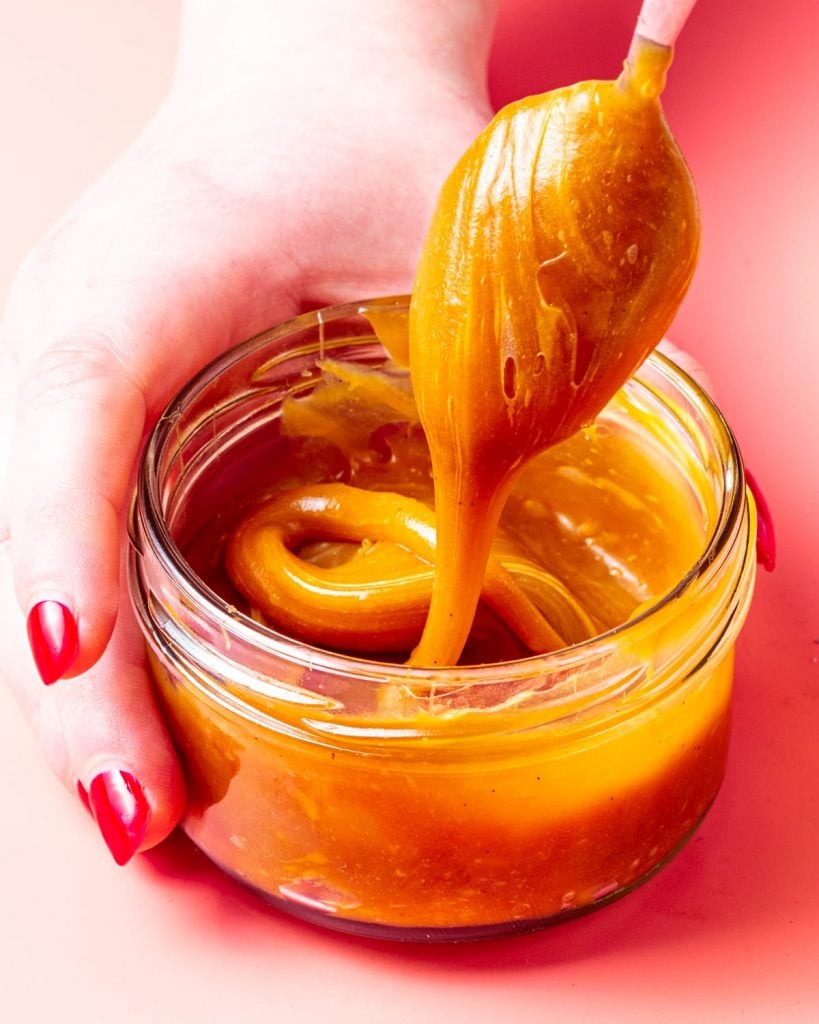 This three ingredient vegan caramel sauce, is glossy, luxurious and studded with vanilla pods and flecks of flaky sea salt.
---
Your SECOND valentines friendly recipe for 2022 is this VEGAN CARAMEL SAUCE and honestly, you're welcome. Whether you're wooing your high-school sweetheart or engaging in a self-care 4 hour bubble-bath, this vegan caramel sauce is an essential element. 
And before you ask, NOPE: there's no dates, no cashews and no maple syrup. This is real caramelised sugar with a blended, velvety coconut cream, so it's a REAL CARAMEL which would make a pastry chef very happy (which is useful if you're trying to woo a pastry chef). As you know, I already ADORE caramel, even in savoury dishes, so this recipe was an inevitability.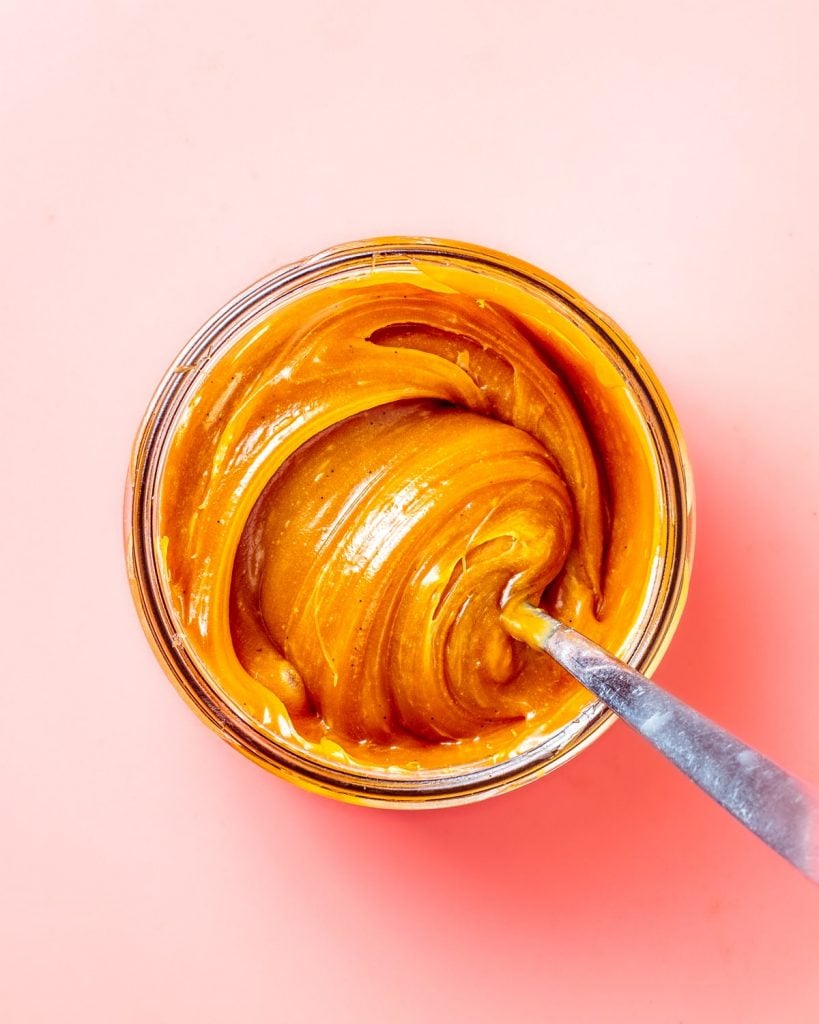 What makes real vegan caramel sauce?
Look, I'm not about to shame anyone because their vegan caramel sauce doesn't meet my achingly high standards, but I WILL alert you to the fact that my sauce is better. People (cough cough vegans cough) often make caramel sauce by blending dates and maple syrup into a brown paste. You do you, obvs, but that aint caramel.
Real caramel sauce involves caramelising sugar until it's beautifully smoky and golden brown then adding cream to introduce fat and liquid which keep it runny and glossy. Obvs we can't do this with real cream, because it's gross, so we're using a blend of coconut cream and melted vegan butter.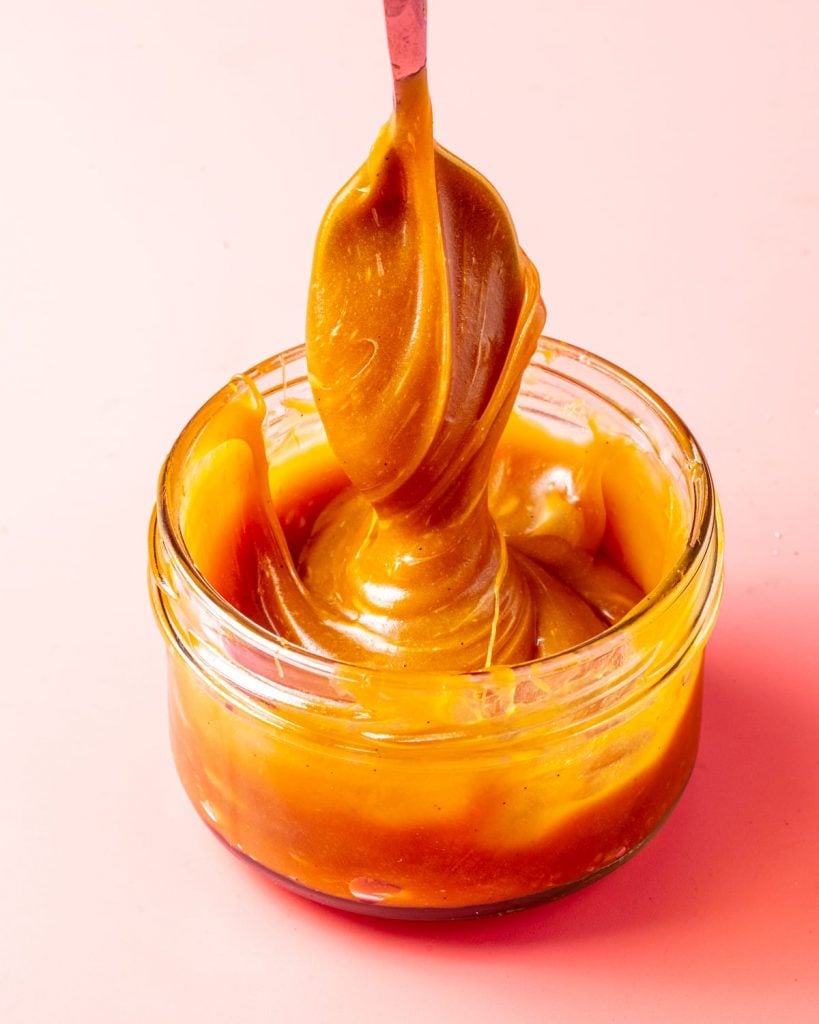 The result is runny and glossy when warm but creamy and thick once chilled and will stretch almost like the caramel you get in a mars bar! Goodness gracious! I like to keep a jar of my vegan caramel sauce in the fridge so that I can dosh some on top of the nearest dessert WHENEVER I CHOOSE TO! It goes especially well on my vegan chocolate lava cakes! ZZAPP! Instant joy!
Another gorgeous trick for vegan caramel sauce is to spread some peanut butter on toast, followed by some caramel and a sprinkle of flaky salt. Trust me, you won't regret it – it's perhaps not a daily breakfast vibe but maybe a BIRTHDAY BREAKFAST??
How do I make vegan caramel sauce!?
As you know, I love to talk about my creations, so if you're in a hurry, just scroll to the bottom of this page for the recipe. Bingo, enjoy your life, see ya, thanks for nothing. If you're nice and maybe a bit of a teachers pet and you wanna get full marks on the pop quiz next week, read these break-down steps for vegan caramel sauce:
1. Make your vegan cream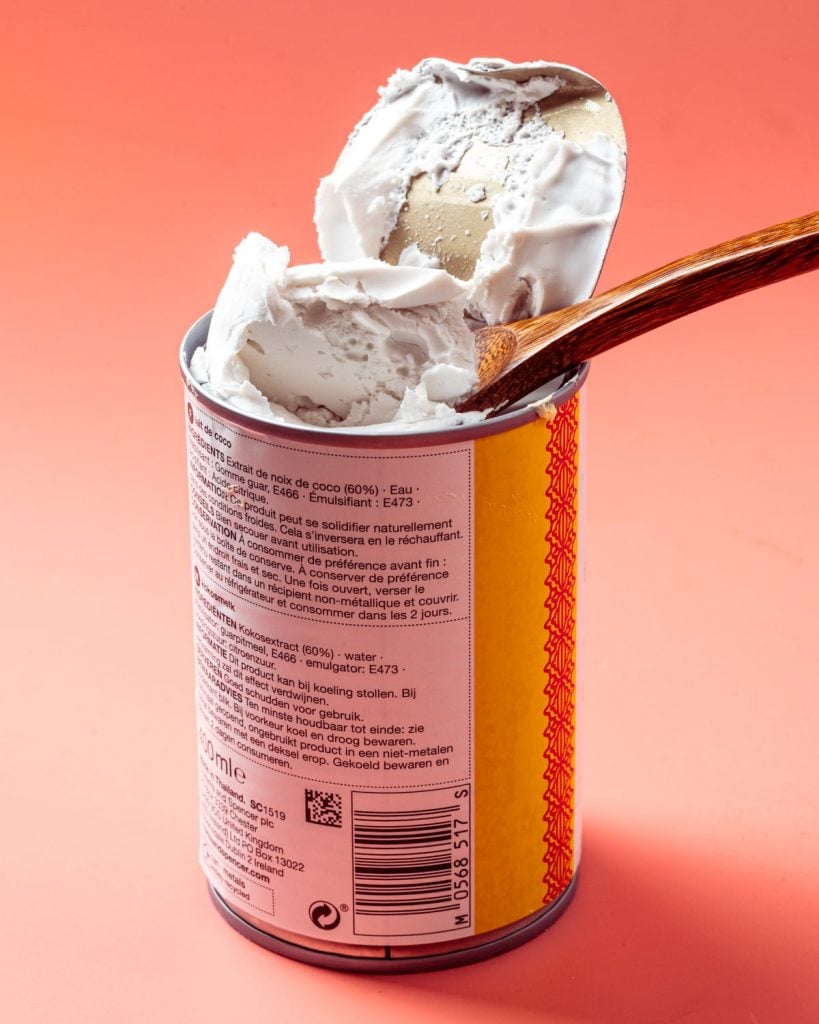 As I mentioned before, the cream in this recipe is a mixture of coconut cream and melted vegan butter. Remember, coconut cream is JUST THE HARD WHITE STUFF at the top of a can of FULL FAT COCONUT MILK. I recommend refrigerating your can of coconut milk for at least 4 hours before opening as it'll make scooping the cream off WAY easier.
Then, I tend to put both the coconut cream and the butter in the cup of my ninja blender and zap them until just melted in the microwave before adding to the vegan caramel sauce. Then you're going to blend them together until super smooth and set aside. Easy so far? Yes.
2. Caramelise your sugar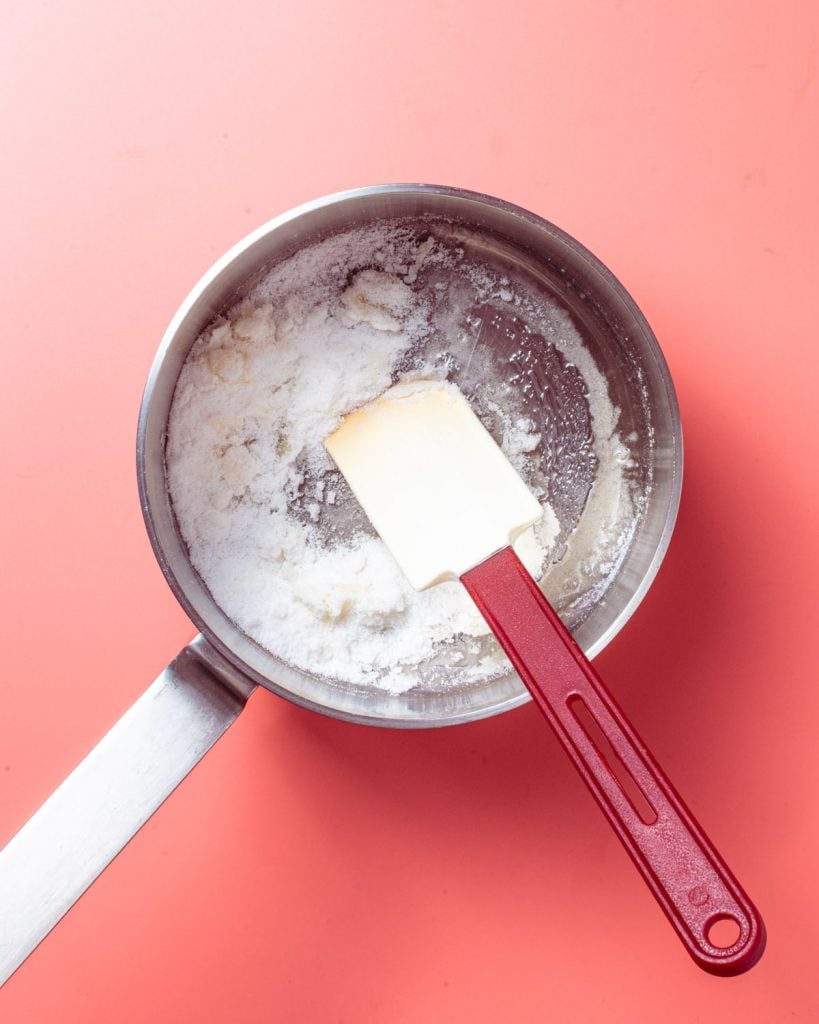 I find that caster sugar (aka superfine) works best for vegan caramel because it doesn't clump as much as granulated sugar. This way you get an even vegan caramel. All we're going to do is put the sugar in a saucepan and place over low/medium heat (depending on how comfortable you are with caramelising sugar).
When it caramelises, sugar gets SUPER HOT (like WAY hotter than boiling water) so do not be tempted to touch or taste it at any stage until the caramel has cooled completely later on. For now, just take it until all the sugar has dissolved and turned golden brown, stirring constantly with a silicone spatula.
3. Add the blended cream to the vegan caramel sauce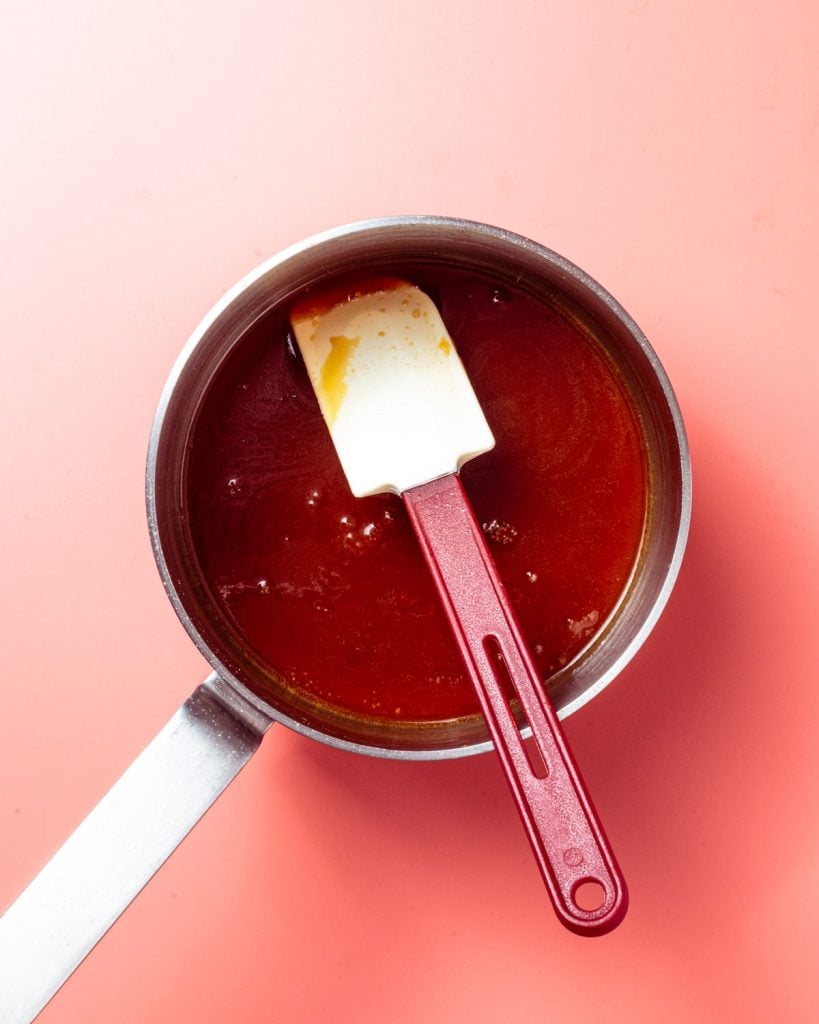 Here's where things get a little spooky. When you add the cream, it'll very rapidly come to a boil as all the water content tries to evaporate (remember, that caramel is super hot!) so the caramel will get SUPER spluttery. It'll also kick off a lot of very hot steam. Just be careful, ok? Pour the cream into the vegan caramel sauce slowly and confidently and keep your hand out of the steam's way.
Don't stir the pot until the caramel has stopped spluttering.
3. Add vanilla and salt (if you want!)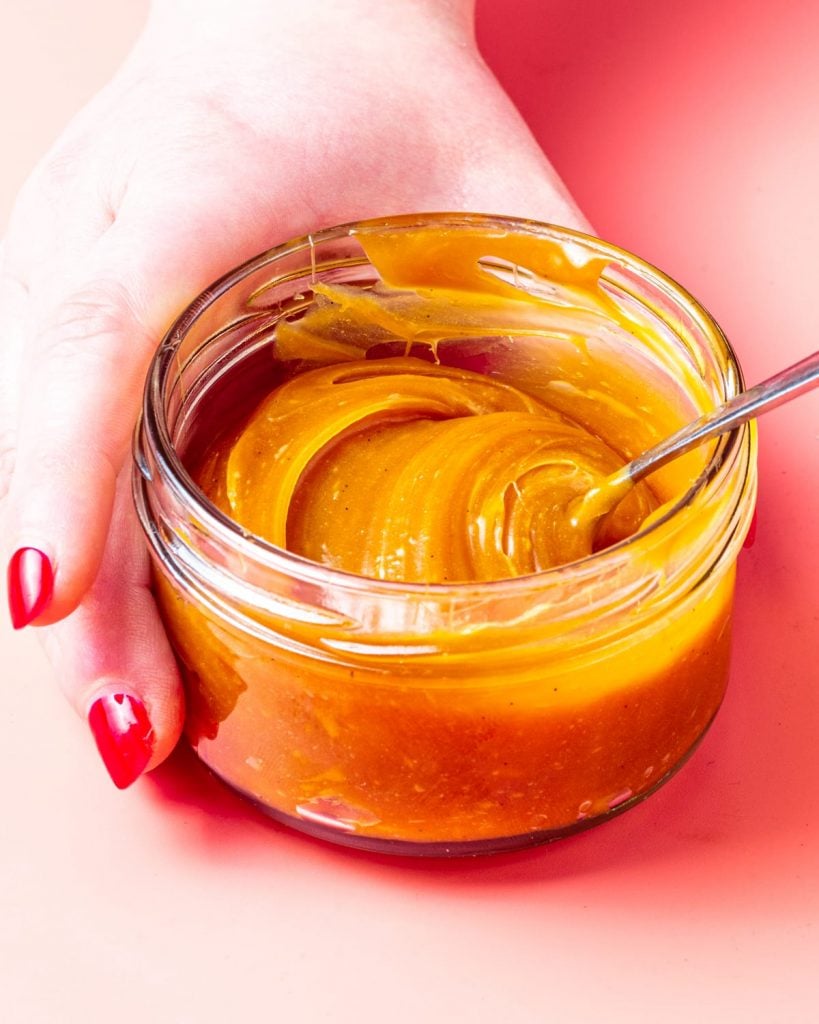 Personally I love my vegan caramel sauce a little salty and a little vanilla-y, so I recommend adding some nice vanilla extract or bean paste and a pinch of flaky sea salt. Flaky salt is a must because it stays in crunchy little bursts of salt, rather than dissolving and making the entire caramel taste salty.
And that's how to make vegan caramel sauce!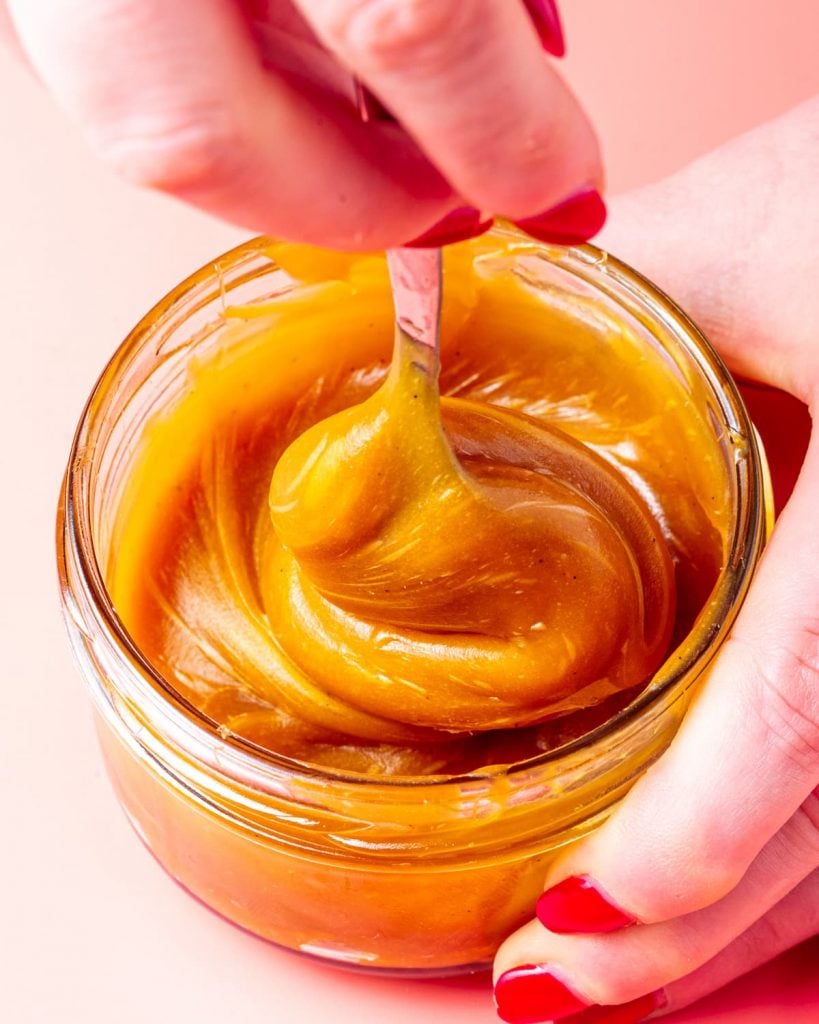 Since this is a basic recipe with loads of different uses (dunking pretzels or adding to hot chocolate???) I've just called this recipe "one serving". You'll get around 200g of caramel from this recipe but feel free to double the quantities wherever and whenever you feel like it. It's your bloody life!!
If you love the look of this recipePLEASE DO ME A MASSIVE FAVOUR AND RATE IT 5 STARS BELOW! You can also leave a nice comment or review if you like!
WANT MORE VEGAN CARAMEL RECIPES!?
Why not try:
Vegan Cinnamon Swirls with Salted Caramel and Pecan Glaze
Hi-Hat Cupcakes – Vegan Caramel Filled!