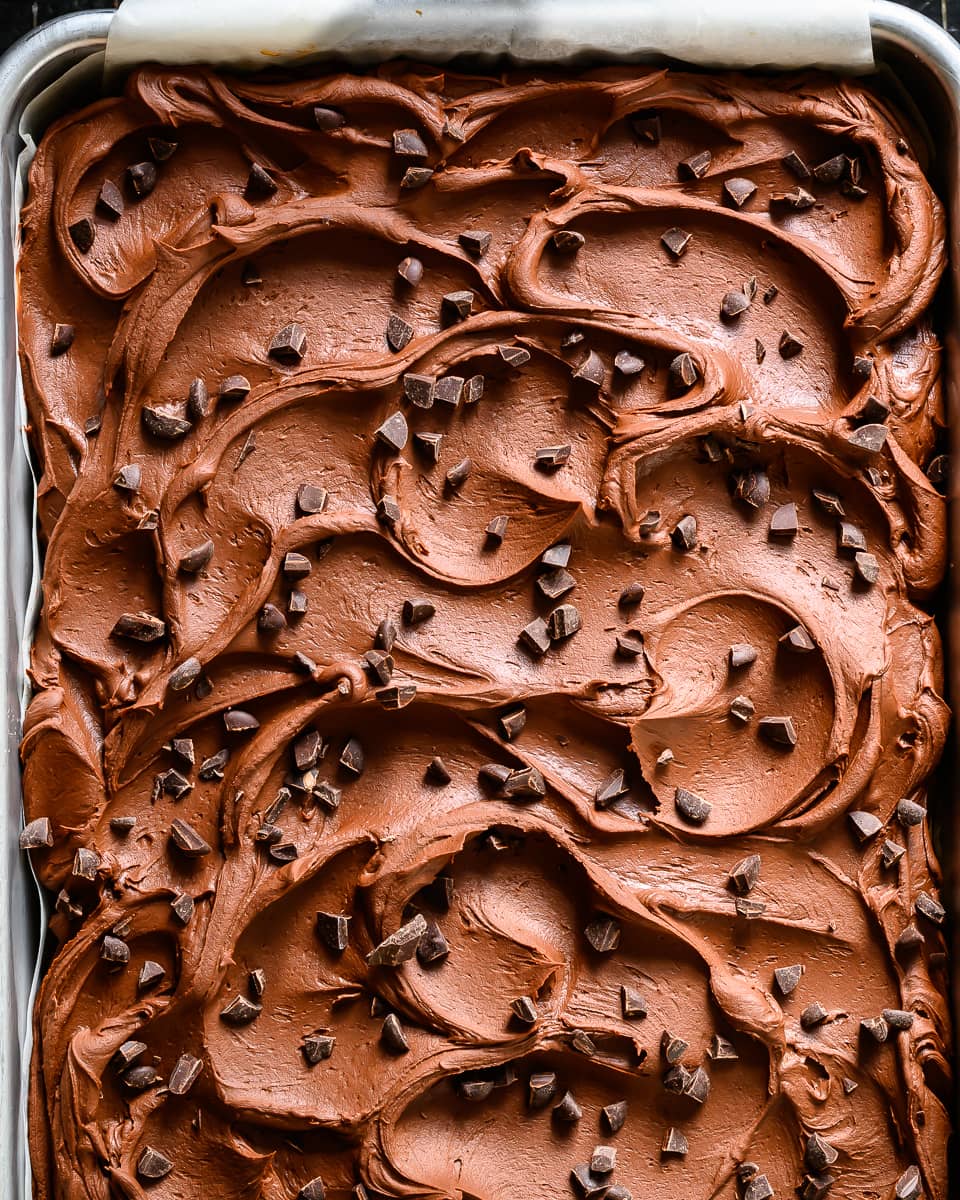 An insanely moist and decadent vegan chocolate chip sheet cake, topped with silky smooth dark chocolate ganache. Super easy and quick to rustle up!
---
This vegan chocolate chip sheet cake is designed for people who hate making cakes. There, I said it! I have admitted this on the blog a few times but it bears repeating: I hate making cakes. I can't quite put my finger on where that particular aversion comes from but it's there and it's strong. It has a lot to do with how tricky it is to make something which tastes good AND looks amazing – and you only get one shot at making it! Screw up and you've blown it!
This vegan chocolate chip sheet cake, does NOT trigger my cake hatred. For one, the fact that it's a sheet cake means I don't have to worry about sandwiching and layering – it's just cake + ganache! But more importantly, the recipe is FOOL PROOF! I've never messed up this recipe – even that silky chocolate ganache! Cake dread BE GONE!
What's a "Vegan Chocolate Chip Sheet Cake"?
I first came across the term "sheet cake" in the US. I had a scoop of vegan ice cream from Jeni's which was "Texas sheet cake" flavour (and it was damn fine!). In the UK we'd call it a traybake, but it's essentially the same thing: a simple, single layer cake, baked in a sheet pan, topped with some sort of icing.
Texas sheet cake, I'm led to believe, is pure chocolate. Moist chocolate sponge, chocolate frosting and sometimes topped with pecans. This sheet cake is the most vanilla packed, gorgeously bouncy vanilla sponge with chocolate chips, topped with a silky smooth dark chocolate ganache.
What's so good about this "Vegan Chocolate Chip Sheet Cake"?
I know I use hyperbole a lot in this blog, but I promise you, this sheet cake will BLOW your MIND! I've worked super hard on getting this recipe PERFECT. The most important part, for me, was getting the texture right. The sponge is (everyone's fave word) MOIST with a capital MOIST, that ganache is SMOOTH as butter and the chunky chocolate chips add just a LITTLE bit of texture to the cake. Guys, seriously you're gonna love it.
I DO have some tips for you though. There are a couple of techniques you really can't skip in order to end up with that perfectly sliceable vegan chocolate chip sheet cake.
Tips for a PERFECT vegan chocolate chip sheet cake.
1. Blend the wet ingredients
My first tip for getting a perfectly moist and bouncy, light sponge is to BLEND YOUR WET INGREDIENTS. If you're used to baking with eggs, this will seem kind of strange, but bear with me – I'll explain.
Instead of eggs, we're using psyllium husks (or flax seeds if you'd prefer). When beating psyllium husks or flax seeds into a mixture, they tend to clump together and therefore don't distribute throughout the batter properly. This can lead to a lumpy batter and, even worse, to a split, curdled batter. When blended, all the wet ingredients become completely homogenised and smooth. This takes you one step closer to a silky, bouncy cake.
2. Use small chocolate chips
My first attempt at making this sheet cake was a disaster. Not because the sponge was bad, but I used extra large chocolate chips. Yes ladies and gentlemen – gravity still exists inside an oven – this is something I forgot! The chocolate sank straight to the bottom and destroyed the texture of the cake. So, when sourcing ingredients, try to find chocolate chips around the same size as a garden pea. They should stay nicely distributed throughout the vegan chocolate chip sheet cake.
If you only have large chocolate chips (like I did), tip them out onto a chopping board, line them up with the side of your knife and slice them in half. They'll lose their shape when they melt in the cake anyway, so don't worry about them looking slightly irregular!
3. Don't overwork the batter
You've heard this before, but it's an important one. As soon as you add the flour mixture to the wet mixture, the moisture will activate the gluten in the flour. This is fine, as long as you don't agitate the batter too much. Overworking the batter will act in the same way as kneading a bread dough and will engage the gluten. Unlike with bread though, this isn't a good thing for cake!
The key is to FOLD in your flour mixture and ANYTHING ELSE you add to the batter after this point. That means adding your chocolate chips gently!
4. Line your sheet pan (and reserve some chocolate chips!)
The number one mistake people make with sheet bakes is assuming they'll be easy to remove from the pan. DON'T MAKE THIS BOOBOO! Be sure to grease and line your sheet pan before transferring your batter. Trust me – it's HEARTBREAKING when these things stick!
Also, I always like to reserve some chocolate chips for on top of the cake. Once you've poured your batter into the pan, sprinkle with a few extras. These guys will stay at the top and when the cake cools, will offer a nice chunky variation in texture.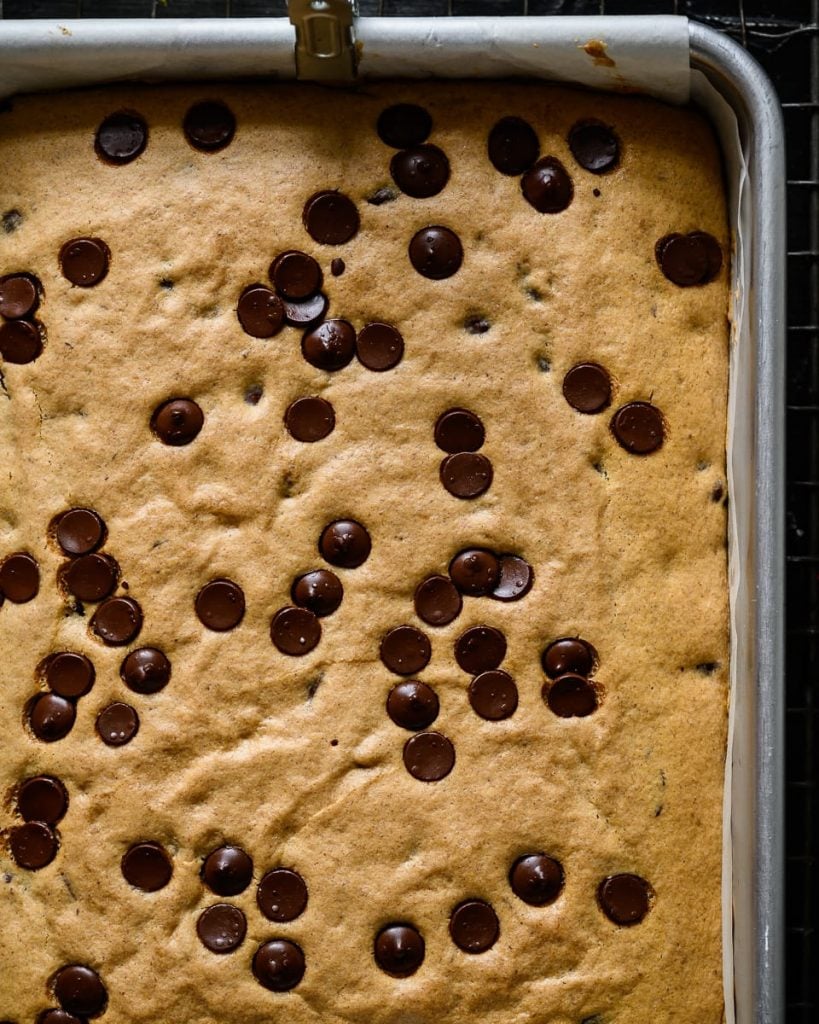 4. Be patient with the ganache!
Unlike dairy ganache, this vegan ganache is SUPER simple, but it does take a little patience. Heat your FULL FAT coconut milk up to ALMOST boiling, add your sugar or agave syrup and whisk to combine. Follow with the chocolate chips, cover and then DO NOTHING! I repeat DO NOTHING! For 15 minutes!
You need to really give the chocolate time to melt otherwise you won't end up with a nice smooth, silky ganache. Once the 15 mins is up, whisk well and you'll have a silk ganache. At this stage, it'll be super runny and glossy. You can either pour it straight over the cake at this stage (perfect for a level layer of smooth ganache) OR you can cool it slightly until it becomes more firm and then dollop it on top of the cake like buttercream frosting (perfect for a swirly, swooshy look!).
If you're planning to do the latter, sit the saucepan of ganache in a bowl of ice water and whisk constantly. It'll thicken up in no time. If you take it too far, don't worry, just place the pan in some warm water and whisk until you've got a perfect texture for frosting.
Need More Cake Recipes??
You came to the right place! Check out some of my fave recipes below!
Vegan Coconut and Lemon Cake
Vegan Ginger Cake with Roasted Rhubarb
Vegan Chocolate Fudge Cake Ice Cream