Publised on 05/10/2023 by Richard. Last Updated on 08/11/2023 by Richard.
My classic delicious, super moist vegan pound cake (aka vegan madeira cake or vegan loaf cake) with the most perfect tight crumb and mellow vanilla flavour.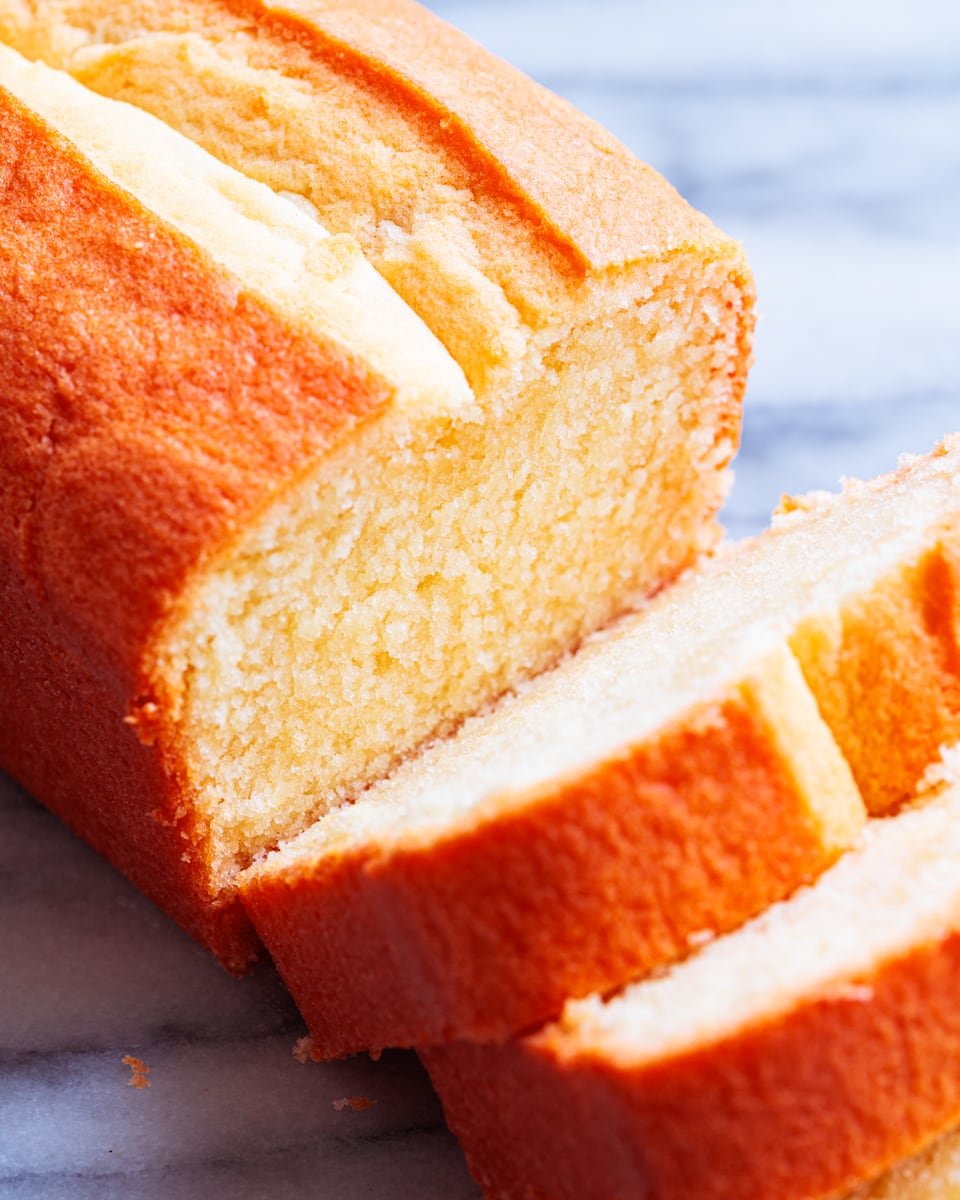 Some call it vegan pound cake, some call it vegan madeira cake - I don't care what you call it, just make this recipe! I promise, you won't be disappointed. This vegan pound cake (also sometimes called vegan loaf cake) is IDENTICAL to the non-vegan version. Surprisingly, for such a simple looking cake, this recipe took AGES to perfect.
Most vegan cakes rely on baking powder and baking soda to rise, but pound traditionally uses only eggs to help it to rise. This means that it was slightly trickier to veganise this recipe than I had first anticipated, but after MANY failed attempts - here we are! The PERFECT vegan pound cake!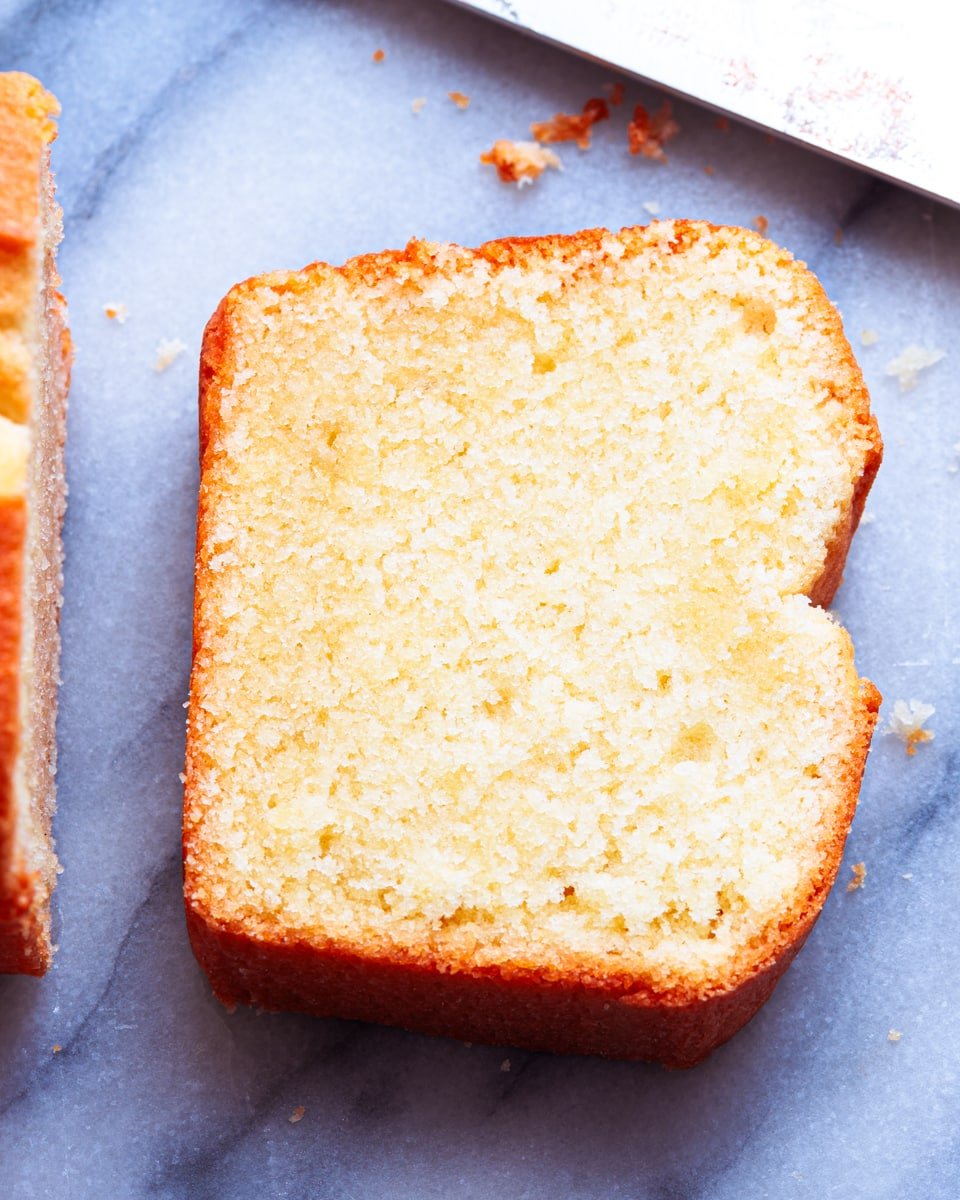 Jump to:
🧈 Vegan Pound Cake Ingredients
As mentioned above, this is the PERFECT vegan pound cake. By that I mean that the texture and flavour is SPOT ON! This cake has a nice tight crumb but without being dry or stodgy. Here's everything you'll need to achieve vegan loaf cake perfection!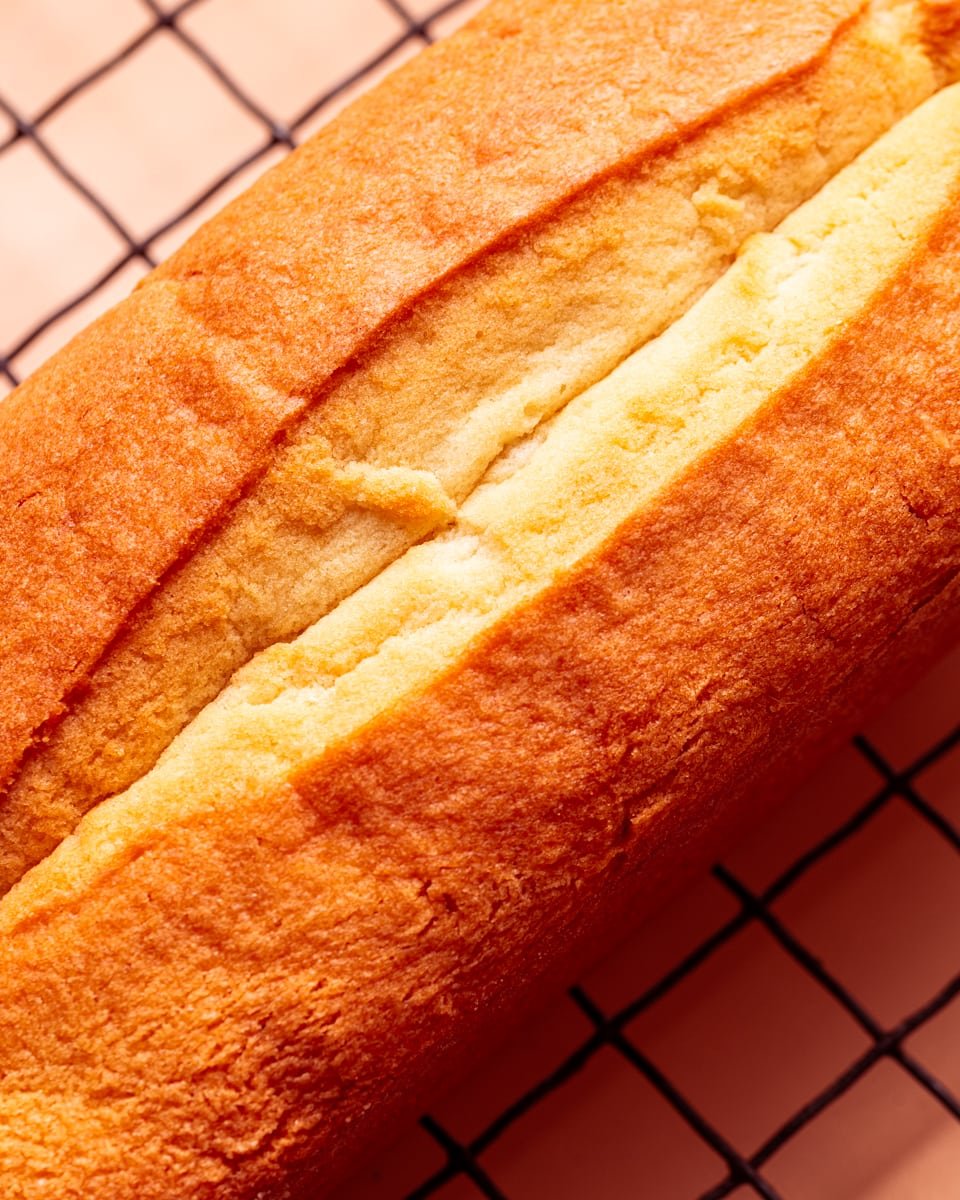 Plant milk - Make sure it's unsweetened and unflavoured and also at room temperature. Soy works best but feel free to experiment.
Soft silken tofu - Again, make sure it's at room temp, otherwise your batter may split!
Vanilla extract - Or vanilla bean paste, if you're fancy!
Cake flour - (see note below)
Corn starch - Aka cornflour in the UK!
Caster sugar - Aka superfine sugar in the US!
Baking powder
Fine sea salt
Vegan butter - One last time - at room temperature please!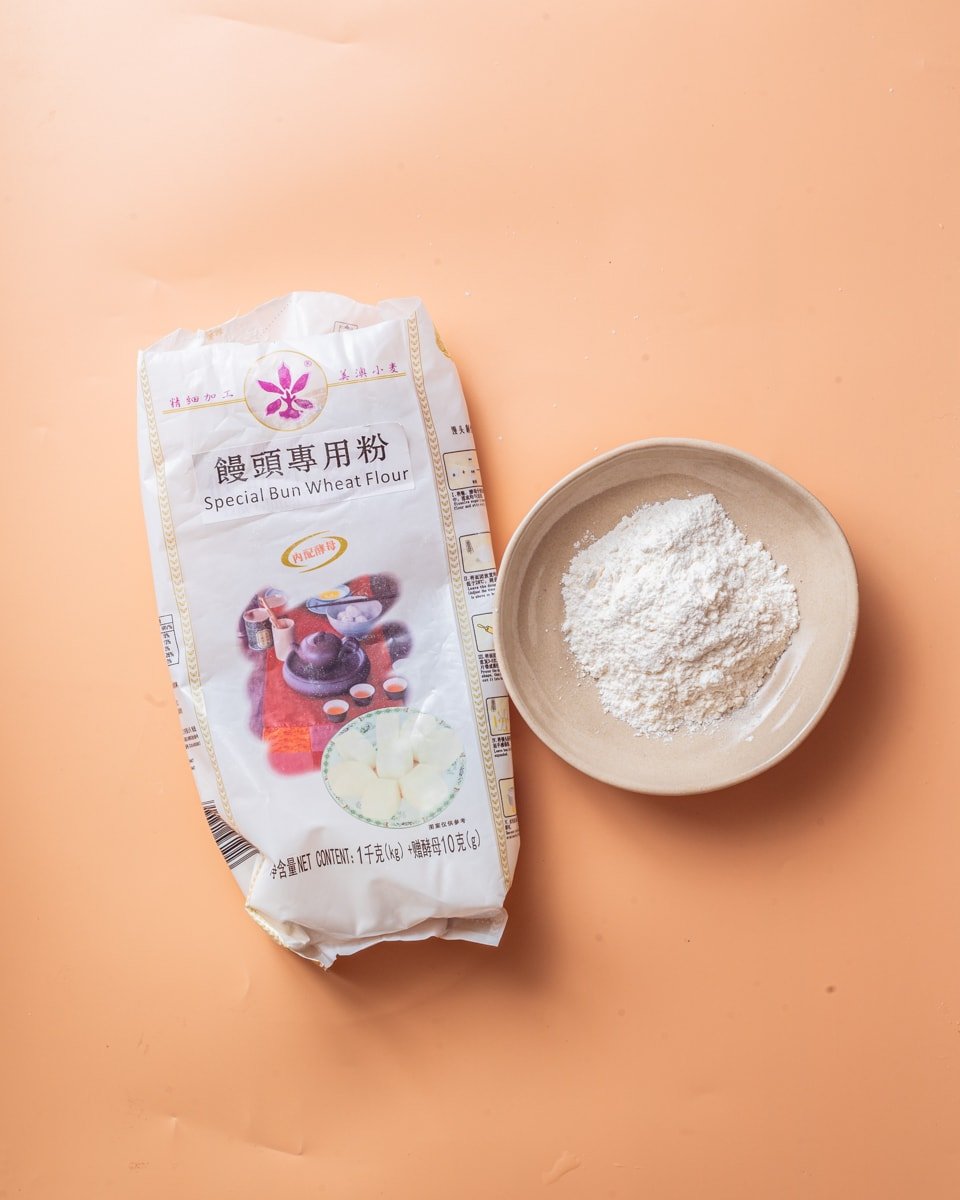 🎂 A Note on Cake Flour...
Cake flour is a type of wheat flour that's super finely milled and has a lower gluten content which helps to create a lighter fluffier cake. It's very common in the US but not so much in the UK.
You can order it from amazon OR do what I did and purchase "Special Bun Wheat Flour". I got this from my local Asian supermarket and it's normally used for making soft Bao buns. It contains 8% protein (aka gluten) and is super fine, which makes it identical to cake flour! I also use cake flour in my vegan birthday cake!
If you can't find cake flour - DON'T WORRY - you can replace it for all purpose flour, but this will affect the texture and colour of the final vegan pound cake (or vegan madeira cake).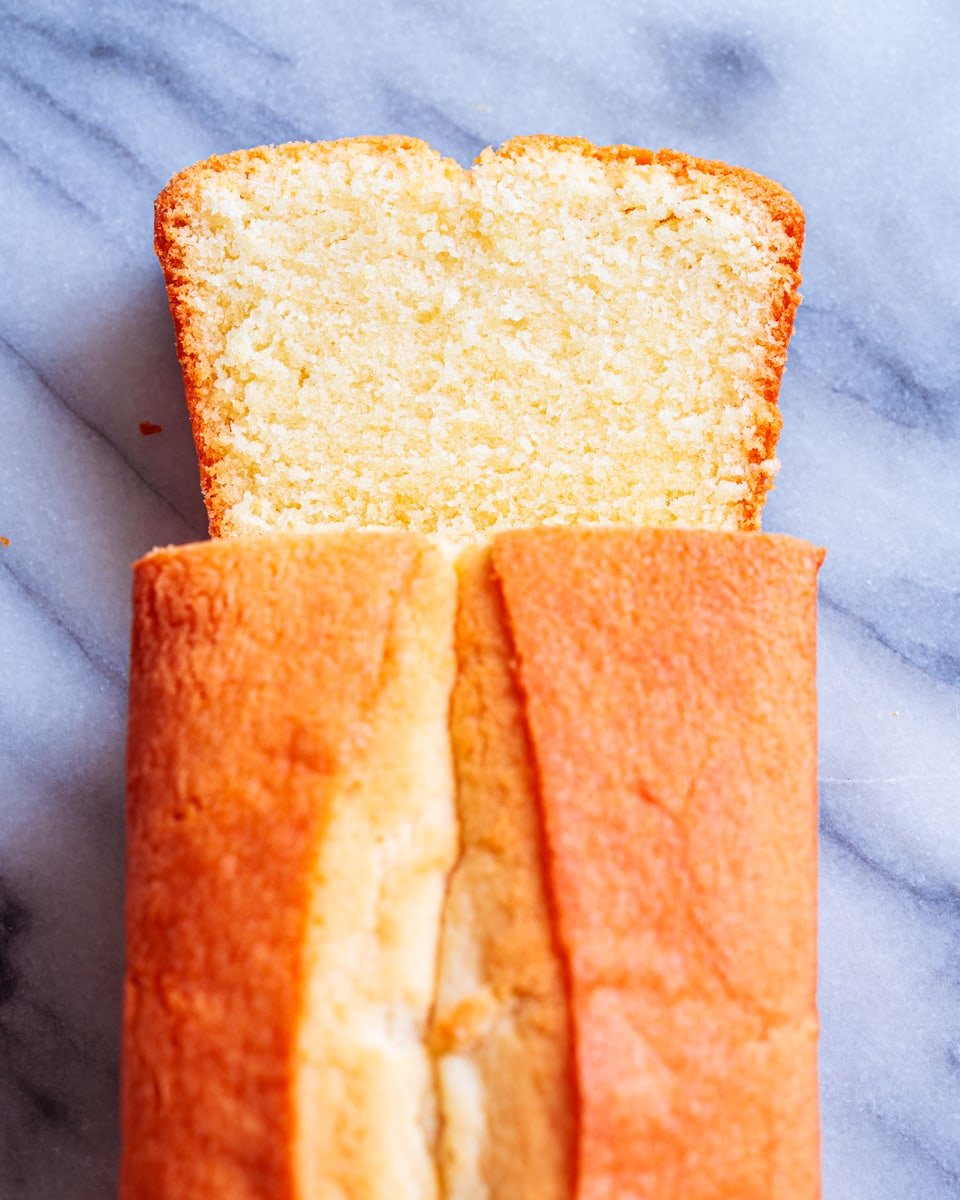 🔀 Ingredient Substitutions
I'll be honest - it always makes me sad when people make subs and swaps with my recipes, but look! I understand! Sometimes you just gotta! So for those people, here are my suggestions.
The Cake Flour - As mentioned above, you can replace this with all purpose/plain white flour. The cake texture will be altered, but will still be delicious.
Vegan Butter - This can be replaced by vegetable shortening or (in a pinch) some sort of neutral oil, like sunflower or canola. However, it will impact the texture of the cake and you make end up with something closer to a regular degular sponge rather than a vegan pound cake.
Silken Tofu - This can be replaced for a nice thick vegan yoghurt. I'd recommend using a nice thick greek style variety.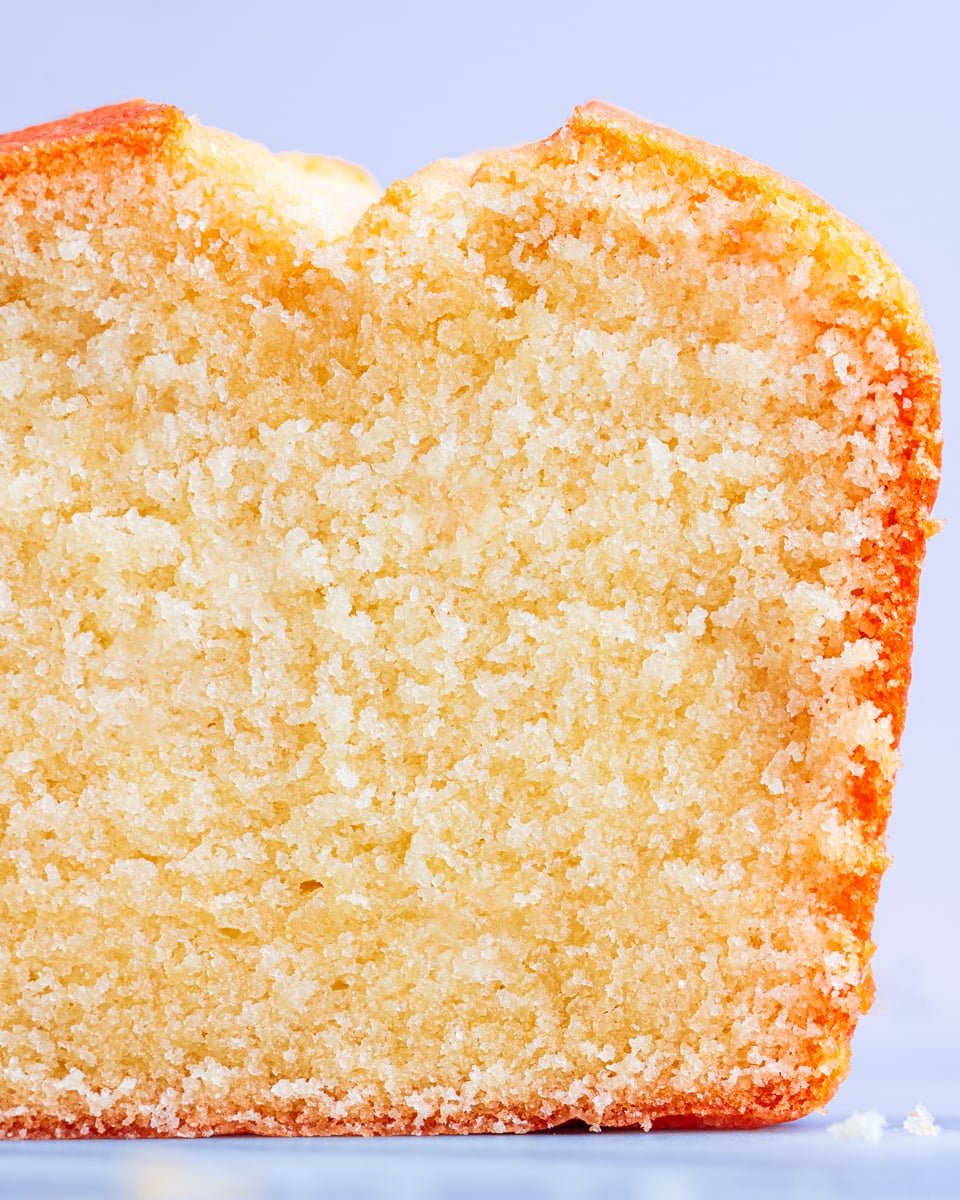 🍰 Making the Vegan Pound Cake
Again, NONE of us can agree on whether to call this a vegan pound cake, a vegan loaf cake, or a vegan madeira cake - but the method is the same regardless! Here's how to make THAT CAKE!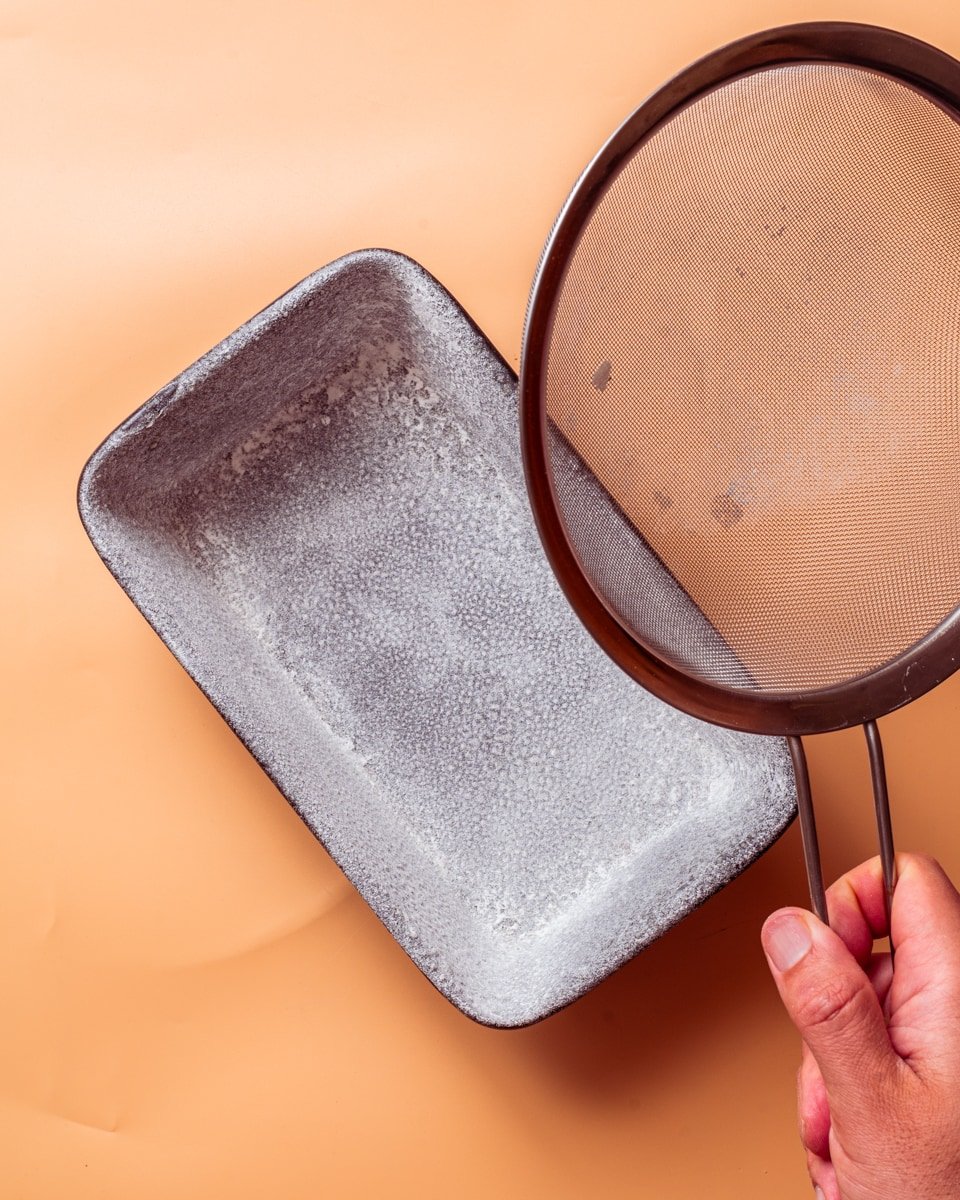 1. Grease a 20 x 10cm loaf tin (or any 1lb loaf tin) then sprinkle with flour and shake out any excess. I like to use a non-stick spray oil because it gets into the corners beautifully! The flour helps the cake batter to avoid sticking as well.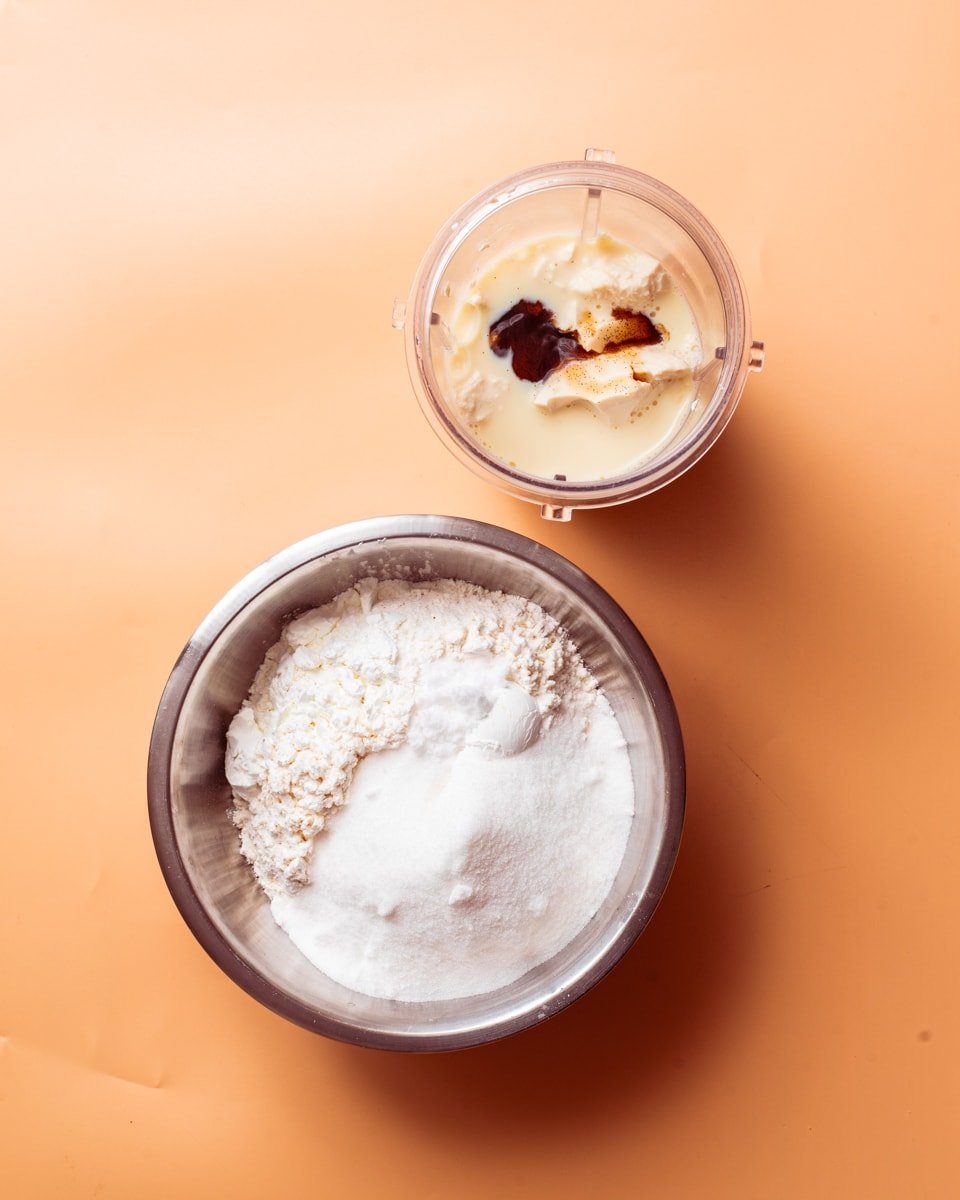 2. Make the batter! I use an unusual method for this recipe which involves beating the dry ingredients with the vegan butter and HALF of the wet ingredients for a good 3 minutes. This helps to build the gluten structure of the cake. If you're using all purpose flour instead of cake flour though, you don't need to bean for this long. Maybe just for 20-30 seconds.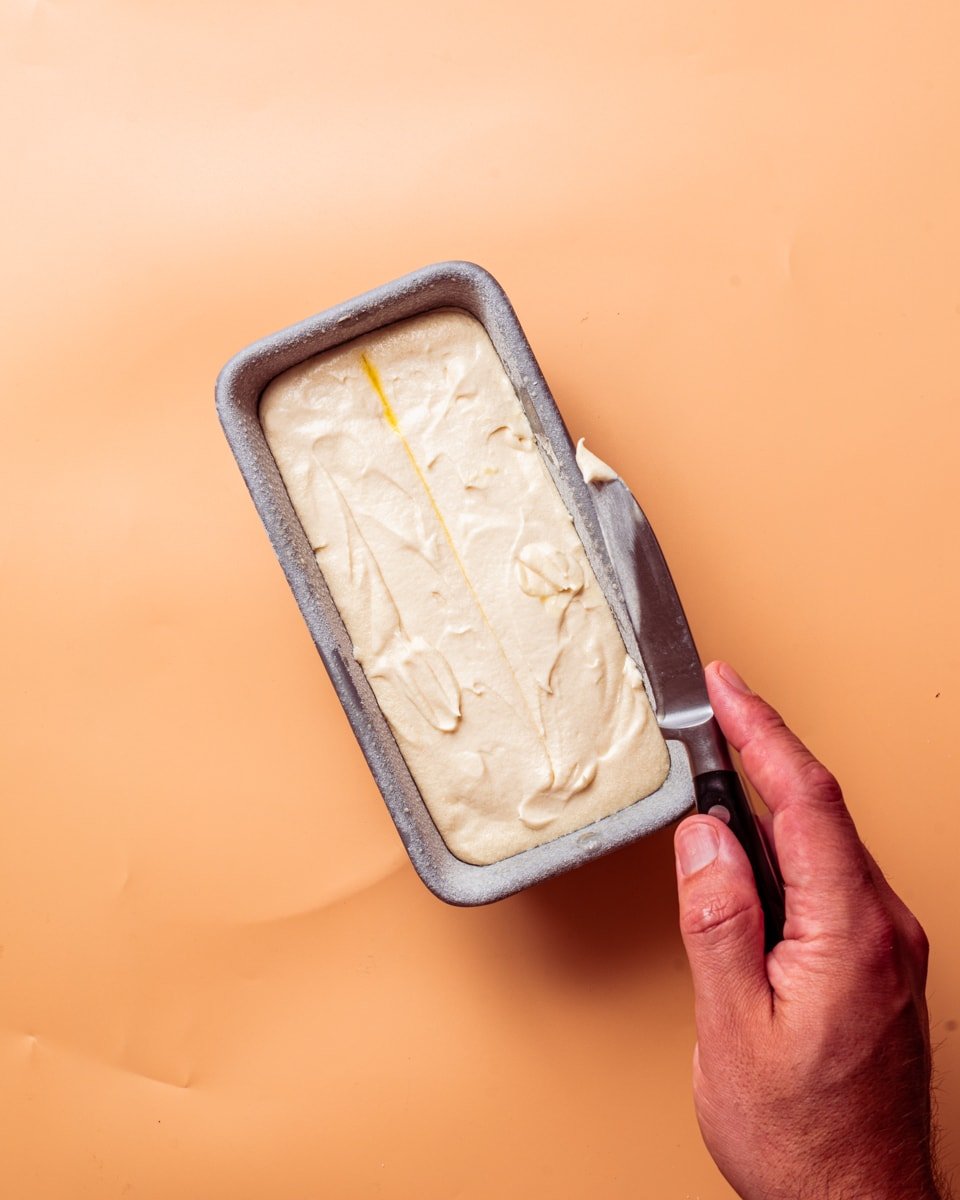 3. Once the batter is in the loaf tin, use a knife that's been dipped in melted vegan butter to score a line down the centre of the batter. This will make sure the cake rises and cracks in a nice even way!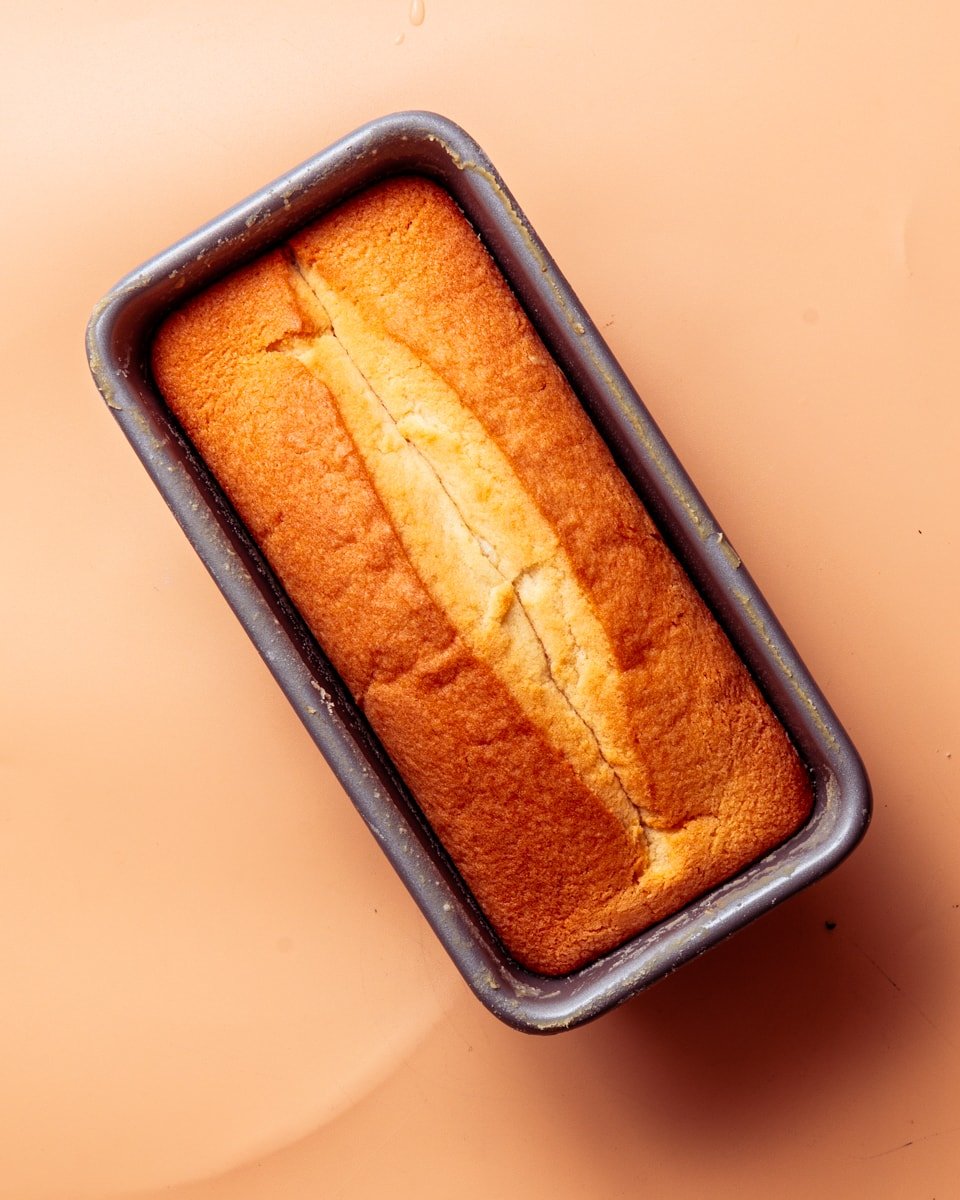 4. Finally we bake! Because this cake has no eggs, it needs a little extra spring from a 10 minute extra hot bake at the start of the process. After this, we reduce the temperature for the remaining bake time!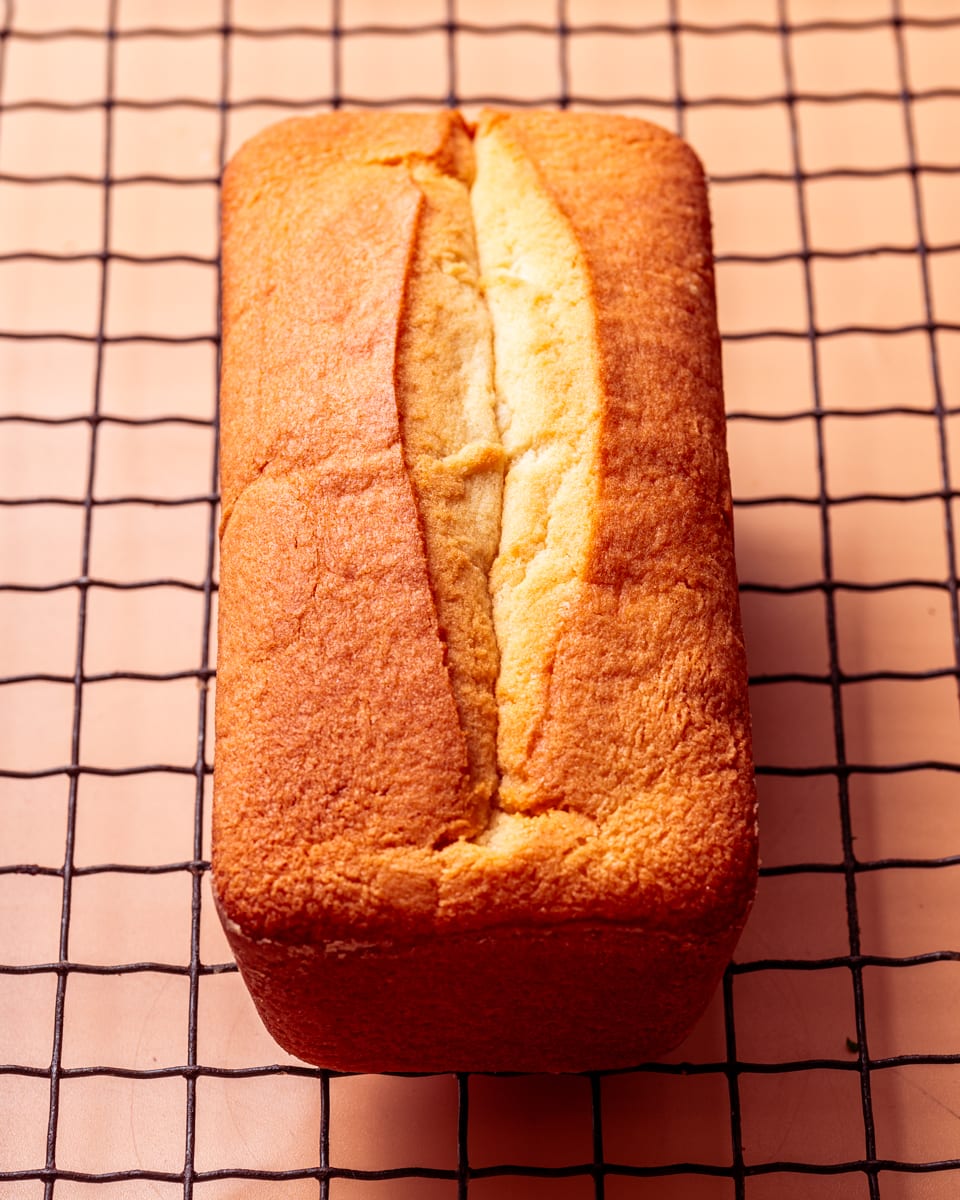 And that's it! Super easy! I love serving this with a drizzle of vegan custard (I know, very naughty) but feel free to serve as it is!
🤷‍♀️ Vegan Pound Cake FAQs
Q: What is a pound cake?
A: Pound cake is a type of cake traditionally made with a pound of each of four ingredients: flour, butter, eggs, and sugar. For our vegan version, the eggs are replaced with silken tofu and corn starch.
Q: Is vanilla extract the same as vanilla essence?
A: No. Vanilla extract is a natural product extracted from real vanilla beans. Vanilla essence is a synthetic version of vanilla flavour that's been made with various chemicals and artificial flavours. Vanilla extract or vanilla bean paste are far superior products.
Q: What is pound cake called in the UK?
A: In the UK pound cake is known as "Madeira Cake". Although a different name is used, the cake is the same: sweet flavoured, tight crumbed and deliciously moist.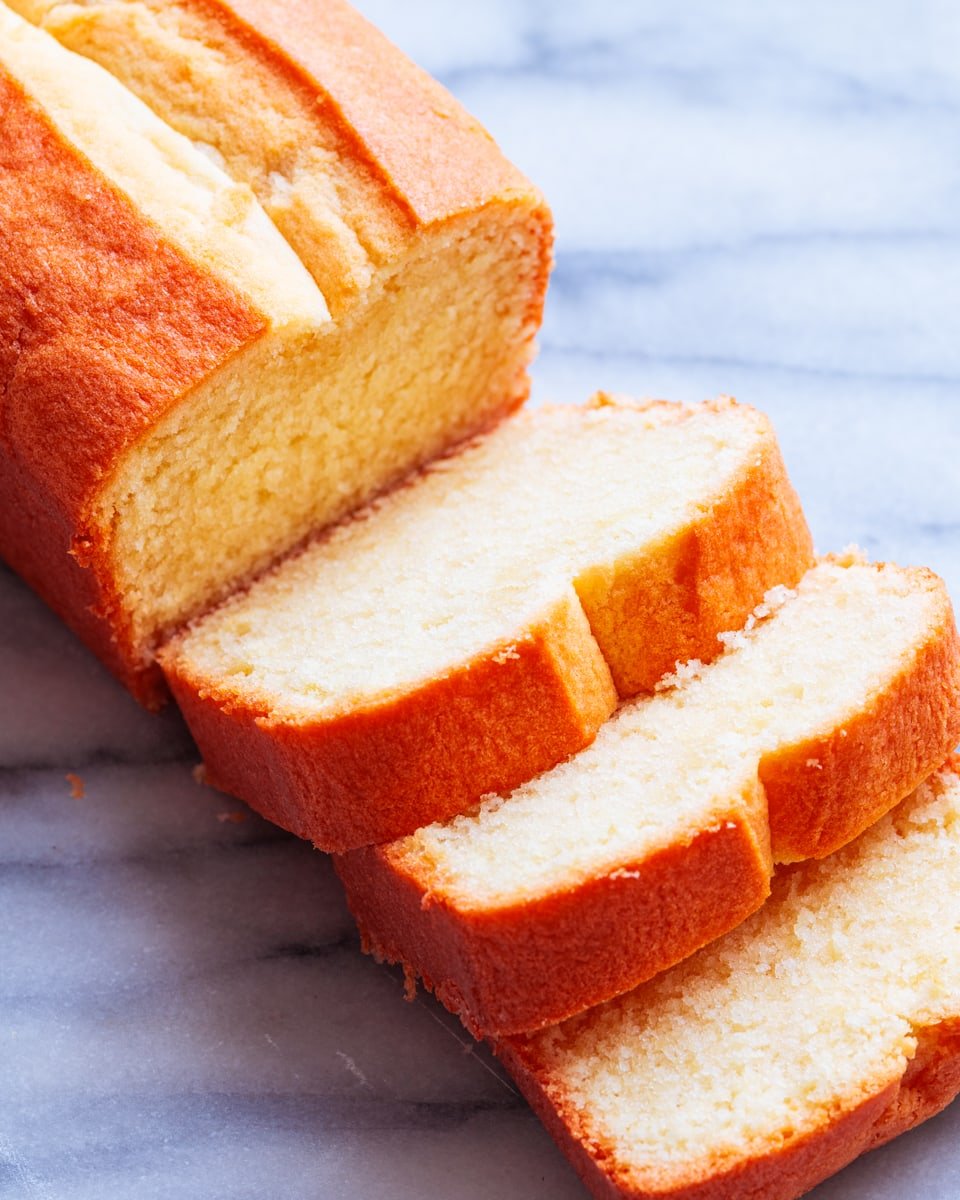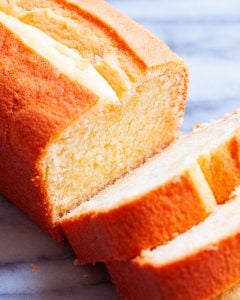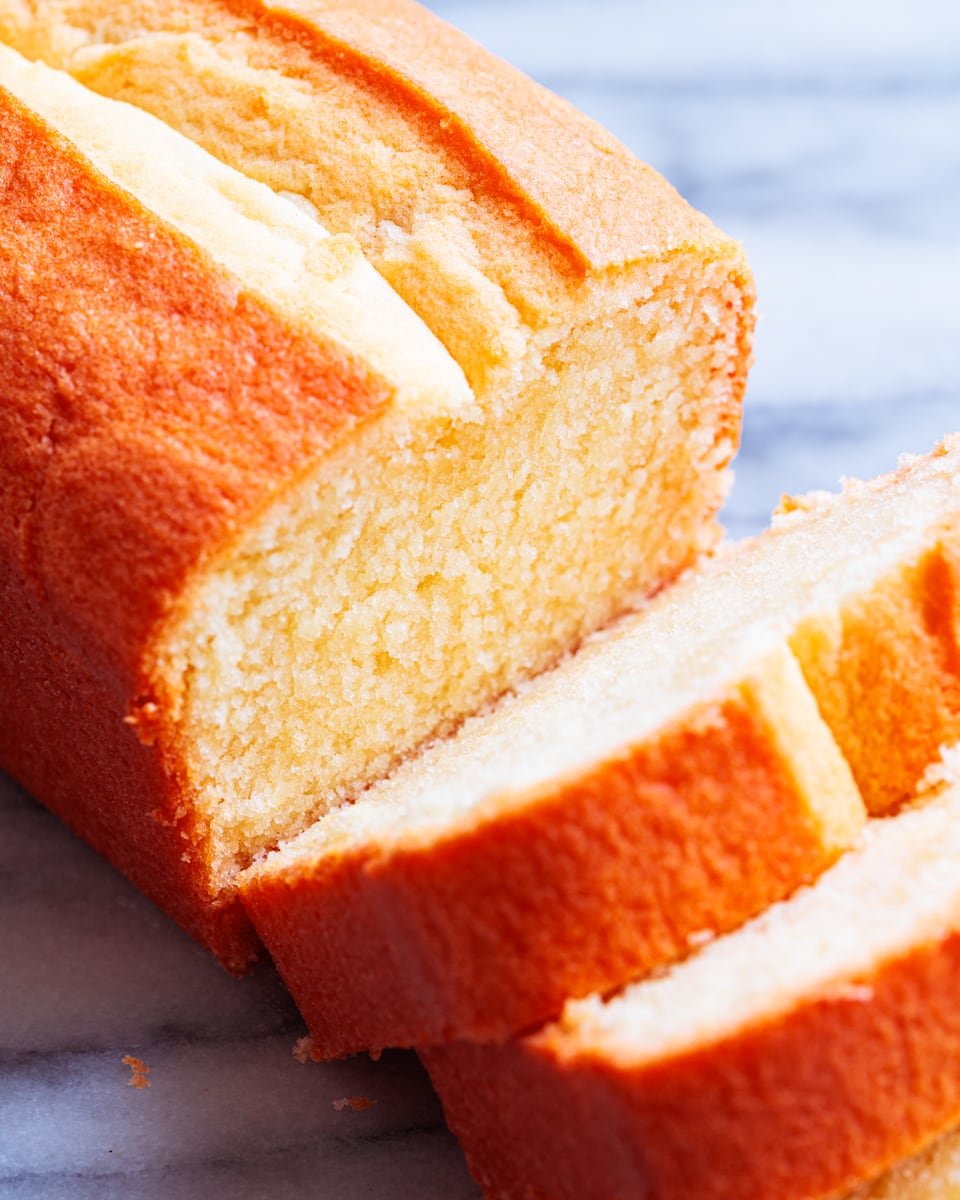 Vegan Pound Cake (Vanilla)
A classic vegan pound cake with the most perfect tight crumb and mellow vanilla flavour.
Ingredients
3

tablespoon

plant milk

(unsweetened and unflavoured at room temperature)

120

g

soft silken tofu

(at room temperature)

1.5

teaspoon

vanilla extract

150

g

cake flour

(see note below)

1

tablespoon

corn starch

150

g

caster sugar

(aka superfine sugar in the US)

1

teaspoon

baking powder

¼

teaspoon

fine sea salt

90

g

vegan butter

(at room temperature, plus 1 tablespoon extra melted)
Instructions
Preheat the oven to 200c/390f. Grease a 20 x 10cm loaf tin (or any 1lb loaf tin) then sprinkle with flour and shake out any excess.

In the cup of a blender, combine the plant milk, silken tofu and vanilla extract.

3 tablespoon plant milk,

120 g soft silken tofu,

1.5 teaspoon vanilla extract

In the bowl of a stand mixer, sieve together the flour, corn starch, caster sugar, baking powder and fine sea salt then mix together to combine.

150 g cake flour,

1 tablespoon corn starch,

150 g caster sugar,

1 teaspoon baking powder,

¼ teaspoon fine sea salt

Add the vegan butter and half of the blended soy milk mixture. With the paddle attachment fitted, beat on low speed until combined then increase speed to medium for 3 minutes. At this stage the batter should have the consistency of buttercream frosting.

Pause the mixer, scrape down the sides of the bowl, add the remaining blended soy milk mixture and beat again for 1 minute on medium speed.

Transfer the batter into the prepared loaf tin and smooth the top with a spatula. Dip a sharp knife in the melted vegan butter and slash the batter down the very centre in a 4 inch line.

Place the loaf tin in oven and bake for 10 minutes then reduce the heat to 170c/340f and bake for a further 30 minutes or until a bamboo skewer inserted into the centre comes out clean.

Place the loaf tin on a wire cooling rack for 10 minutes then remove the cake from the tin and cool completely before serving.
Notes
Note: This recipe uses this frosting recipe. Since this is a separate recipe, the nutritional data displayed above is for the sponge cakes alone, and not for the frosting. The nutritional data for the frosting is displayed separately on the frosting post.
Nutrition
Calories:
178
kcal
Carbohydrates:
27
g
Protein:
3
g
Fat:
7
g
Saturated Fat:
2
g
Polyunsaturated Fat:
2
g
Monounsaturated Fat:
2
g
Trans Fat:
0.04
g
Sodium:
120
mg
Potassium:
87
mg
Fiber:
0.4
g
Sugar:
15
g
Vitamin A:
362
IU
Vitamin C:
0.3
mg
Calcium:
30
mg
Iron:
0.3
mg
Love this recipe?
Let me know on Instagram!