Publised on 20/10/2023 by Richard. Last Updated on 08/11/2023 by Richard.
My creamy homemade vegan banana pudding, made with just a handful of ingredients. Delicious, dairy free and completely vegan.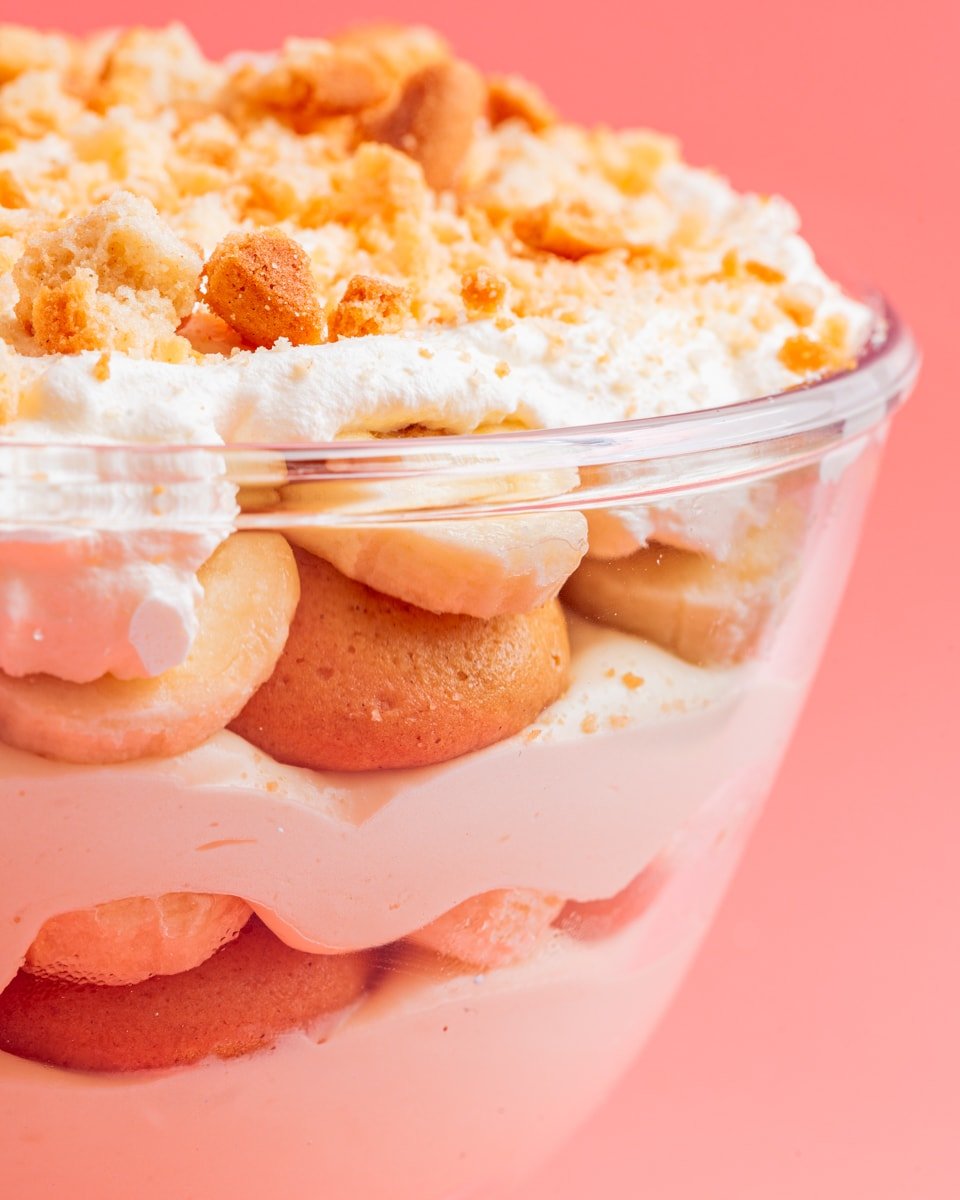 A stunningly creamy vegan banana pudding - such a classic simple dessert, made completely dairy free, egg free and entirely plant based. Made with the perfect whipped delicious vegan vanilla pudding, layered with vegan vanilla wafers and fresh, sliced banana. It's like a delicious alternative to a classic trifle!
Did you love my vegan tiramisu recipe? This is another easy no-bake dessert, ideal for an assembly over delicious treat. Perhaps you're catering a big party. Perhaps you're in need of an easy family dessert! Vegan banana pudding is your dessert!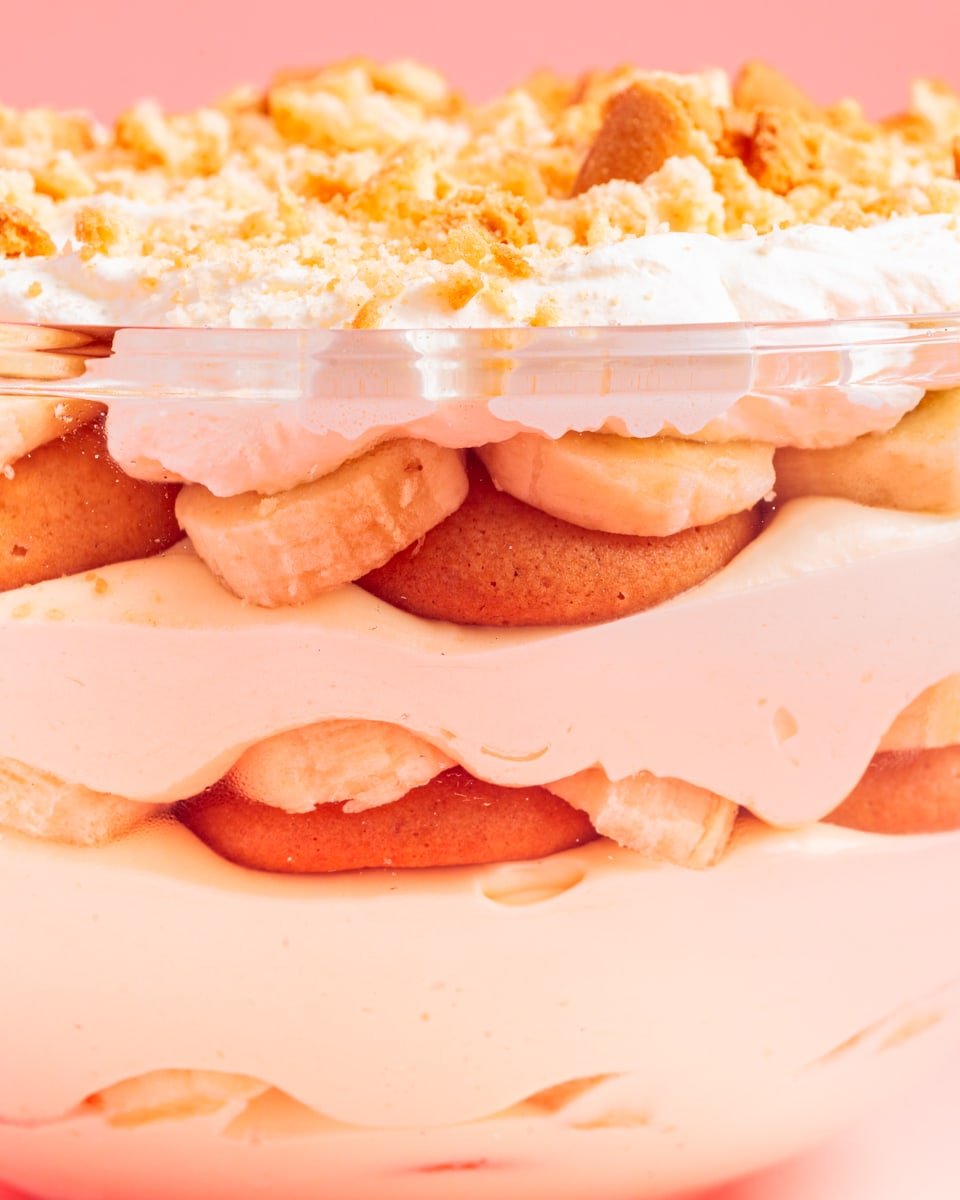 Jump to:
🧈 Vegan Banana Pudding Ingredients
Here's everything you'll need to make my vegan banana pudding. Unless you're using store-bought vegan alternatives (which is 100% totally fine too!) you'll need to whip up a batch of my vegan whipped cream and my vegan vanilla wafers. Don't forget - full recipe is at the bottom of the page!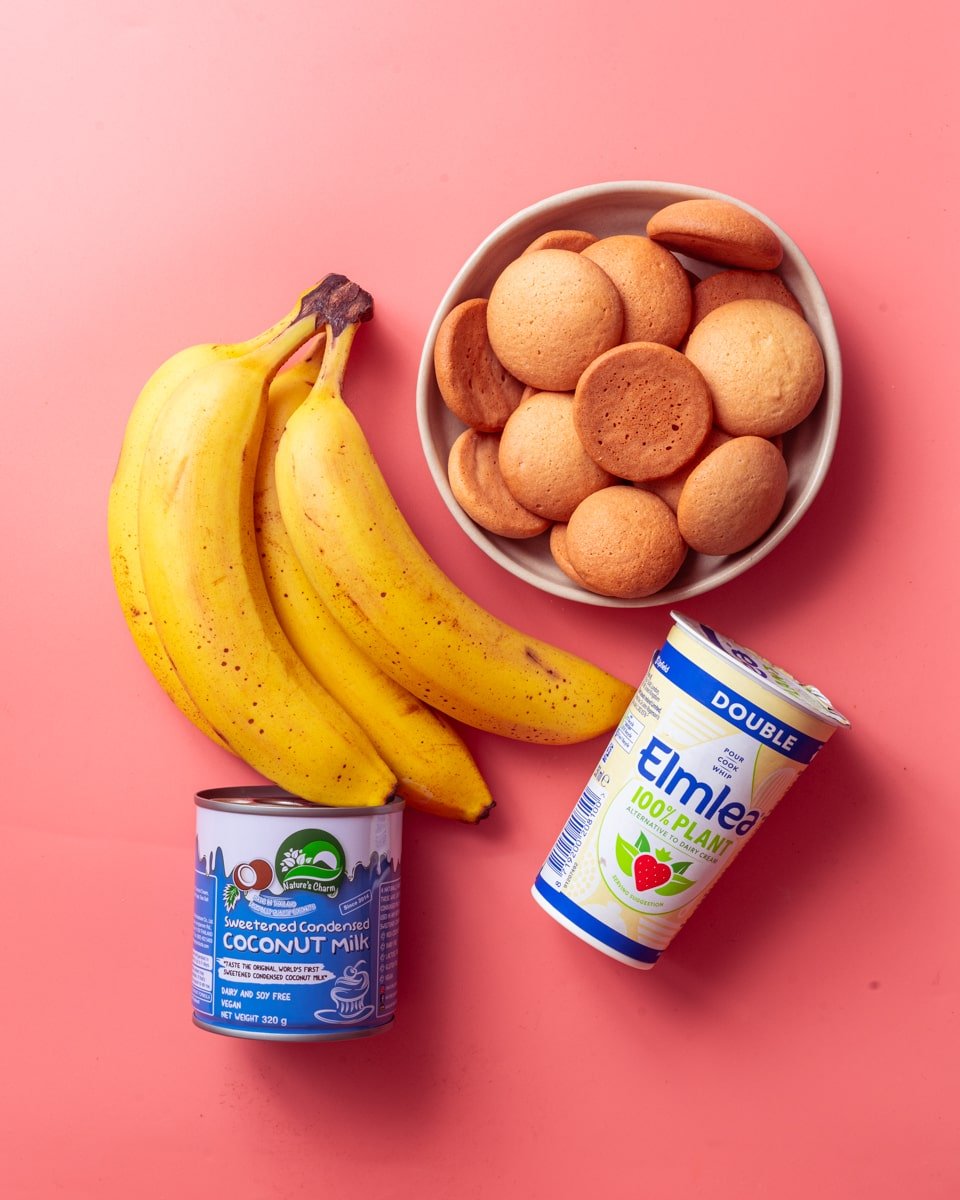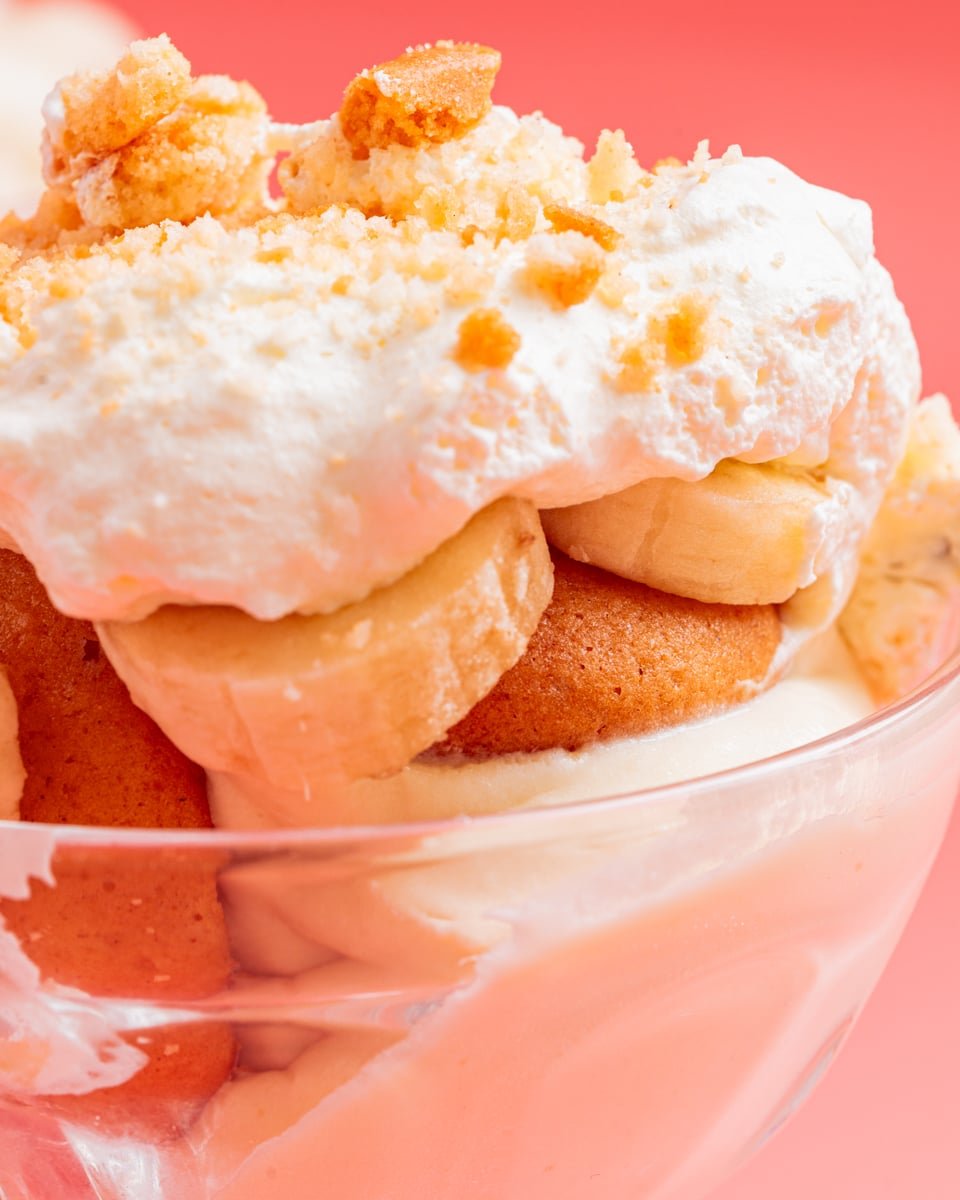 🔀 Ingredient Substitutions
Here are my recommendations for any subs and swaps you may want to make!
Plant Milk - Soy milk works best for this recipe, but feel free to sub this for any plant milk.
Caster sugar - Don't worry if you cant get hold of caster (aka superfine) sugar. Just use regular granulated sugar instead.
Vegan Butter - This can be replaced with vegan double cream or with deodorised coconut oil.
Sweetened condensed coconut milk - This can be replaced with any brand of vegan condensed milk. Carnation now make a vegan alternative which also works great.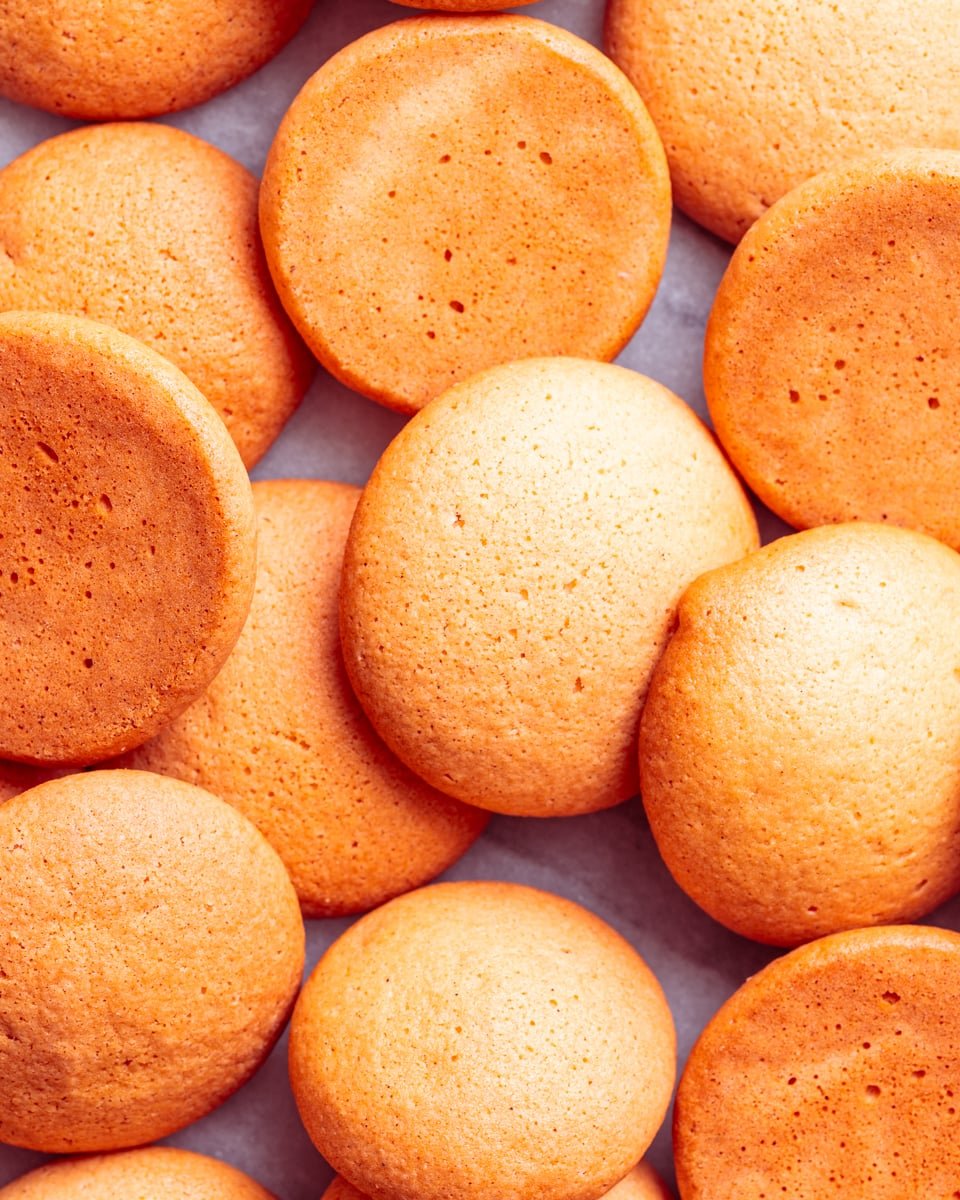 🍰 Making Vegan Banana Pudding
You're just a few steps away from the perfect vegan banana pudding! Here's how! Don't forget, I always include the full recipe at the bottom of the page. This is just a little step by step breakdown for you! Enjoy!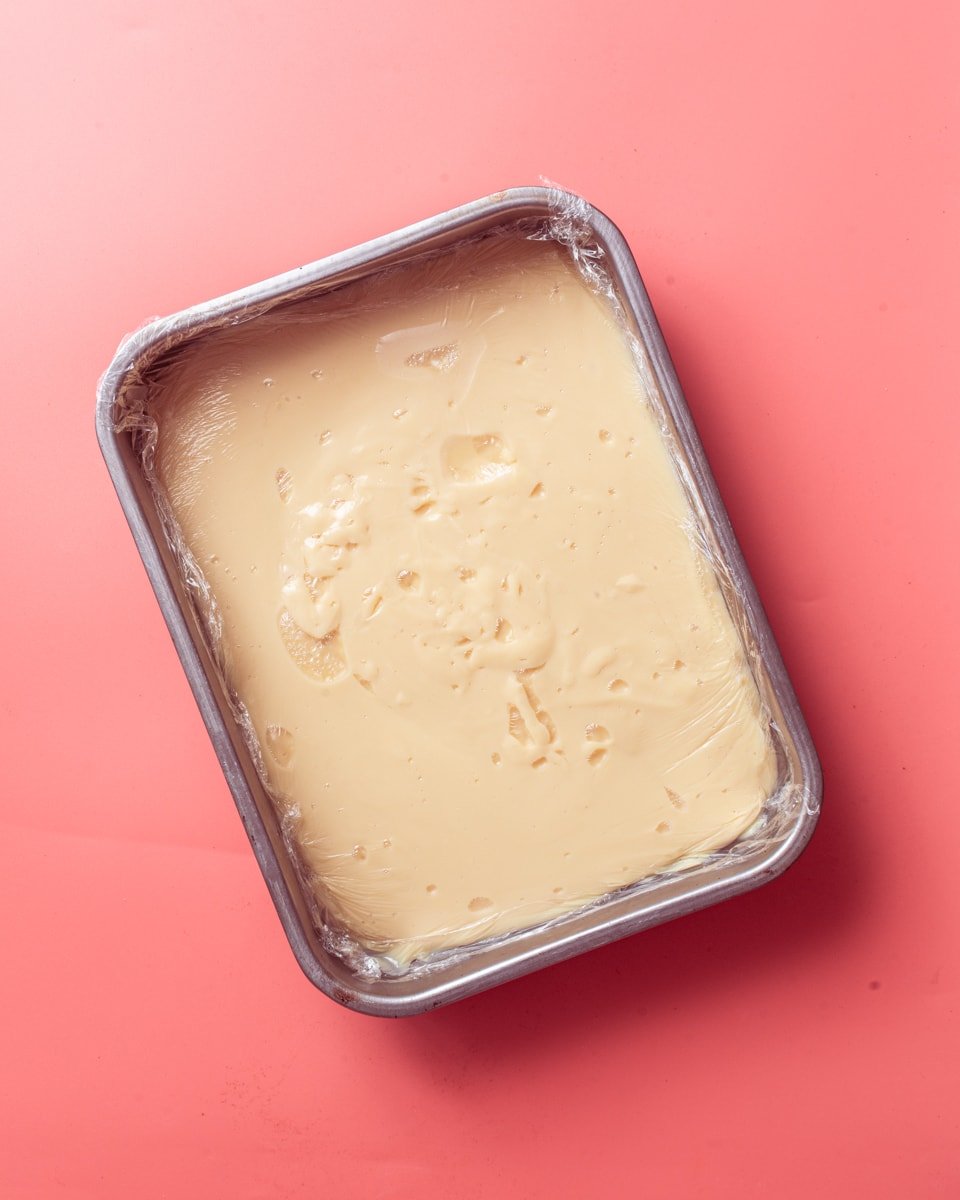 1. Make the custard! This is the base of our pudding. It's similar to my vegan custard recipe but sets when refrigerated. This helps to create a silky smooth banana pudding layer in this dessert. Be sure to cover the top with plastic wrap when chilling to avoid the dreaded custard skin!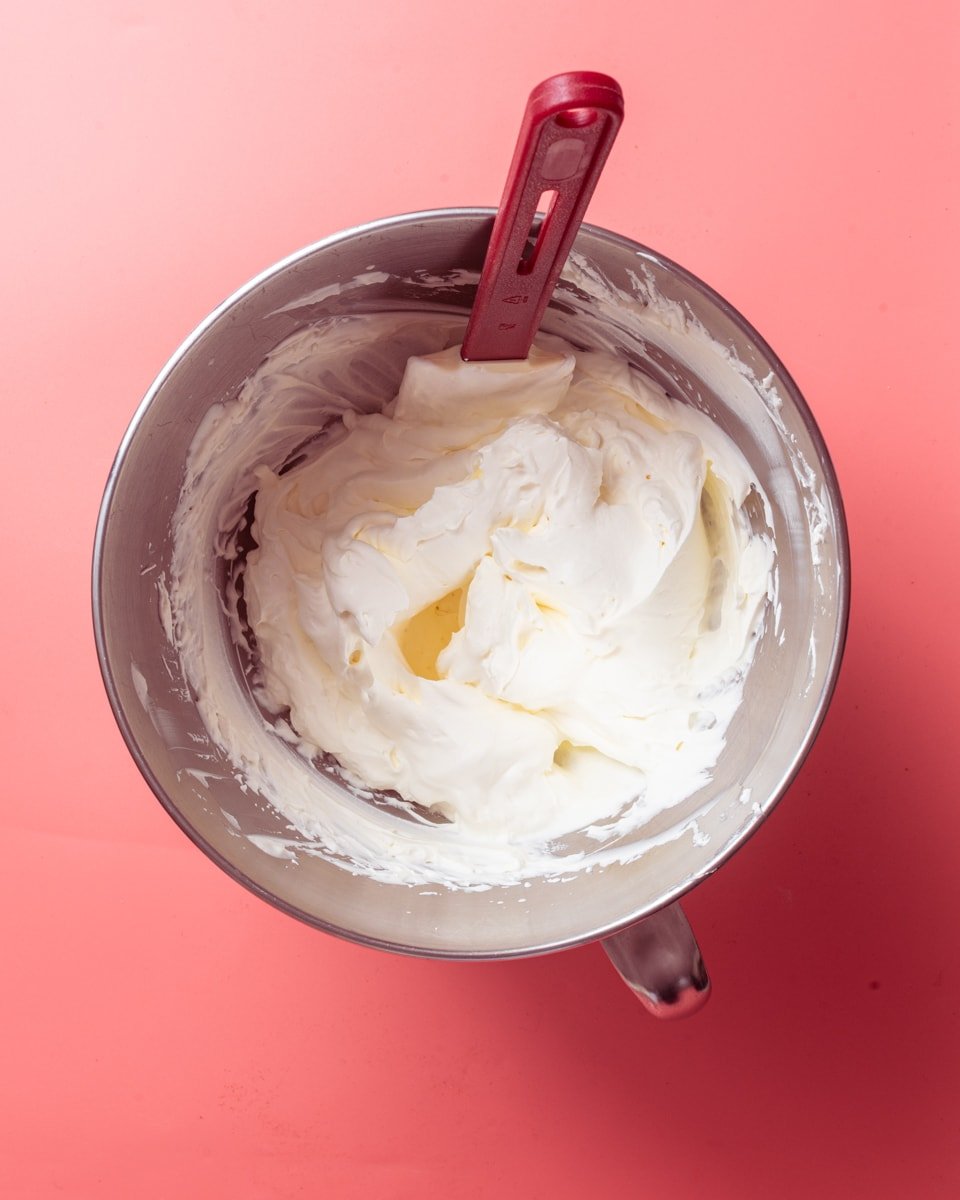 2. Whip the cream. We're obviously using vegan cream. This serves two purposes. 1. To add lift to our vegan custard and 2. To serve as a topping to our vegan banana pudding!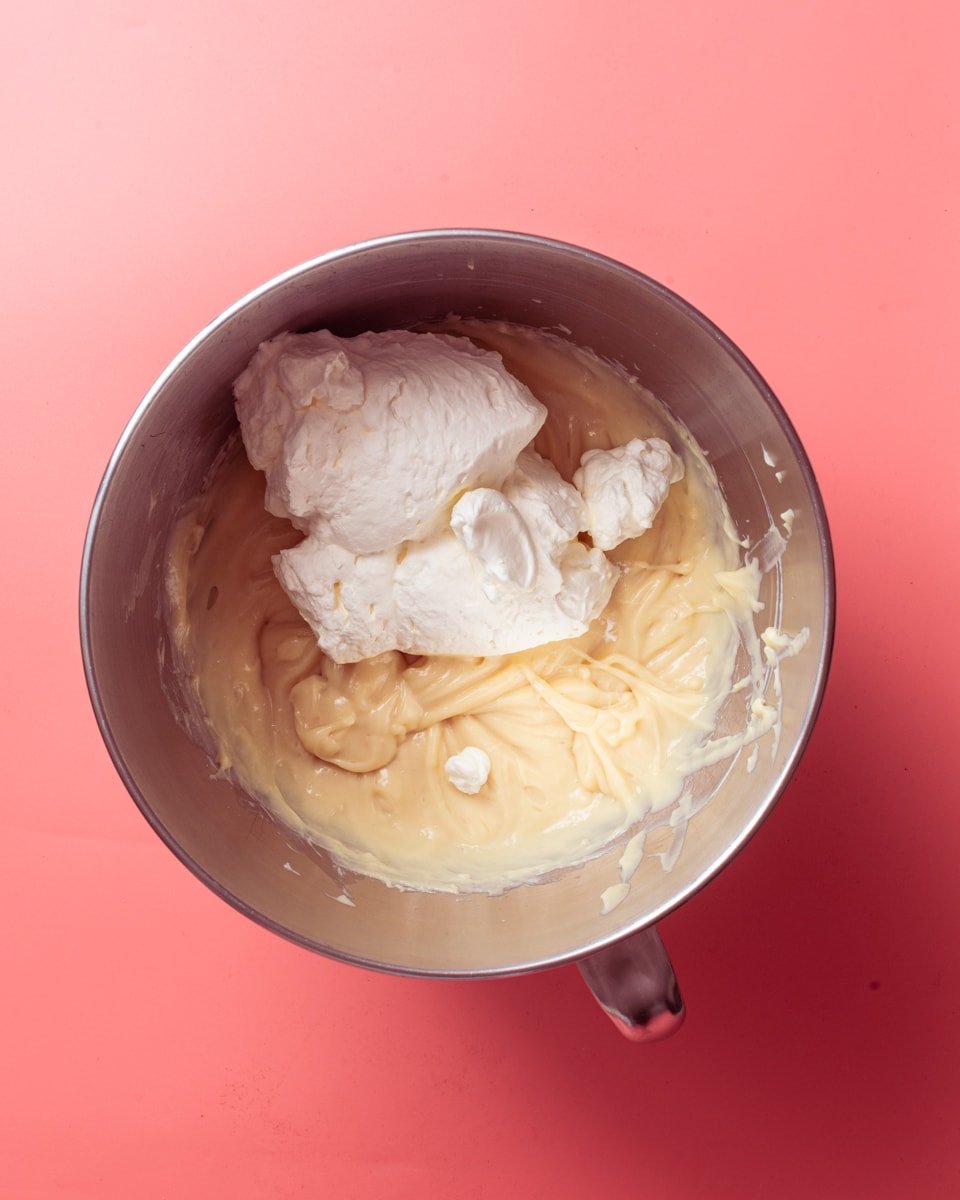 3. Around half of the whipped vegan cream gets added to the vegan custard along with some condensed coconut milk, while the rest becomes the topping.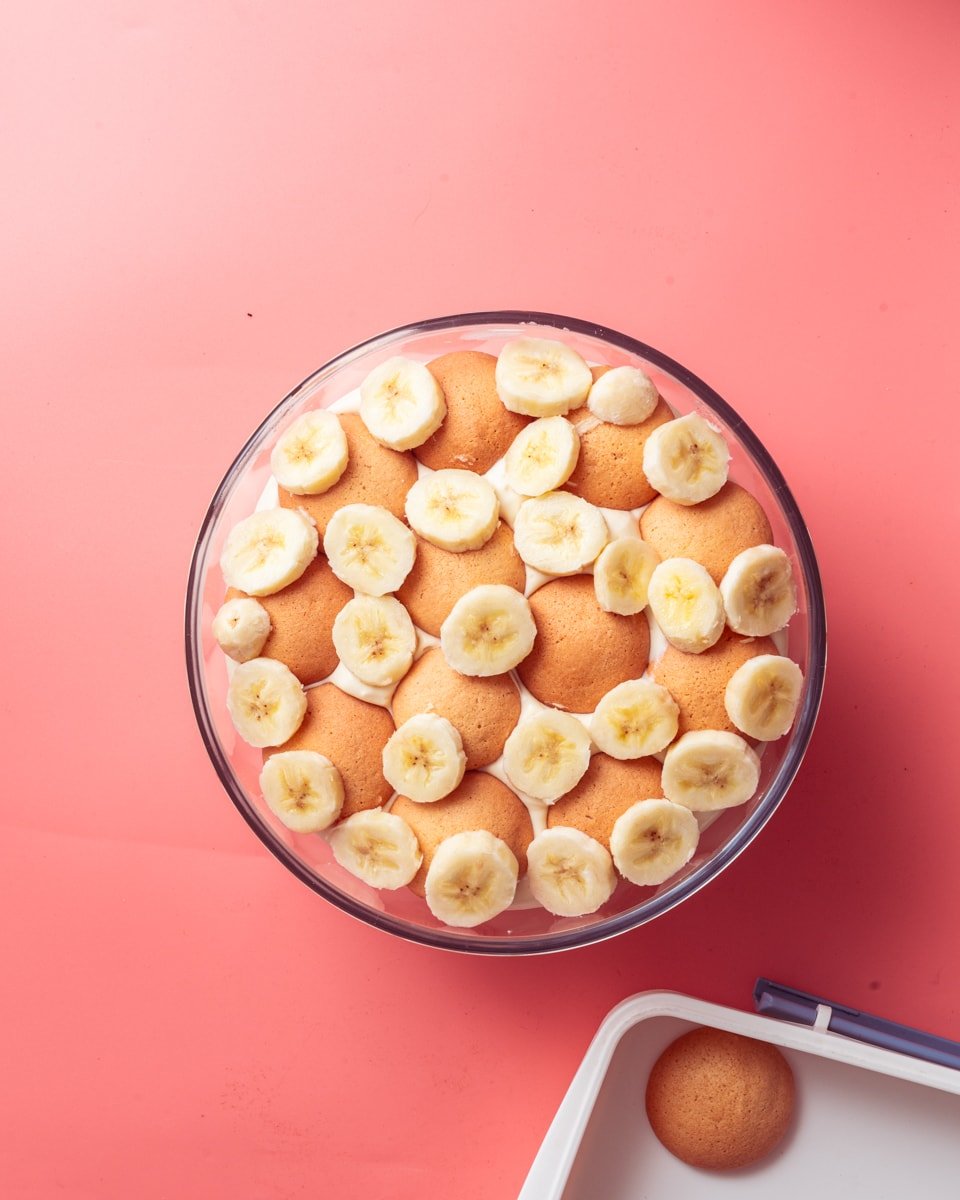 4. Now we just need to layer up the vegan banana pudding! Start with a layer of pudding, then vanilla wafers, then banana. Repeat until everything has been used up then top with the remaining whipped cream. Crumble a few wafers on top and bingo!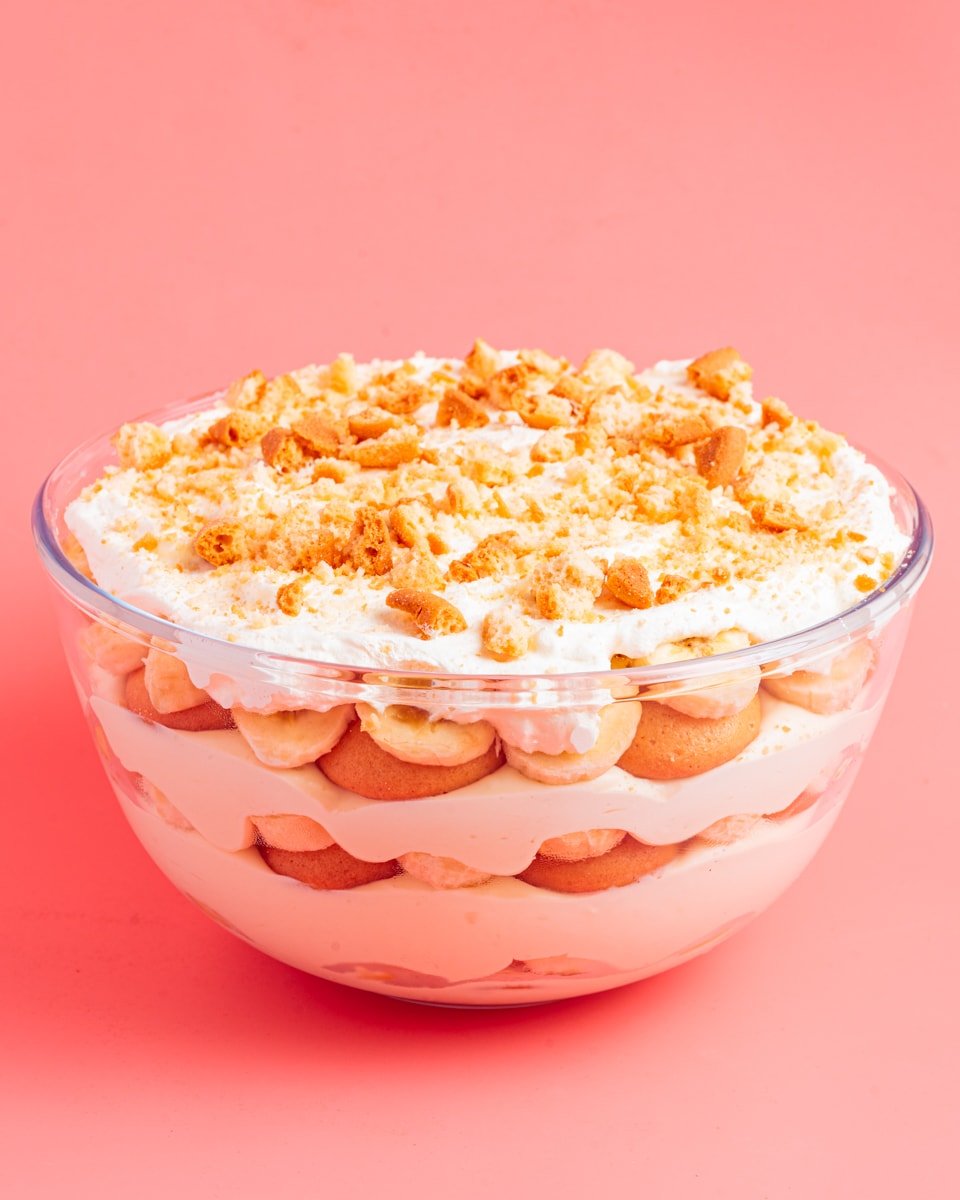 🍌 Serving and Storage Suggestions
Vegan banana pudding can be made ahead by up to 3 days. In fact, The texture of the vanilla wafers improves dramatically over the first 48 hours, so I'd consider leaving it to sit for at least a day before serving. It should be covered and stored in the fridge.
You can also make the vegan vanilla wafers up to a week in advance. Be sure to store in an airtight container to stop them from going soggy!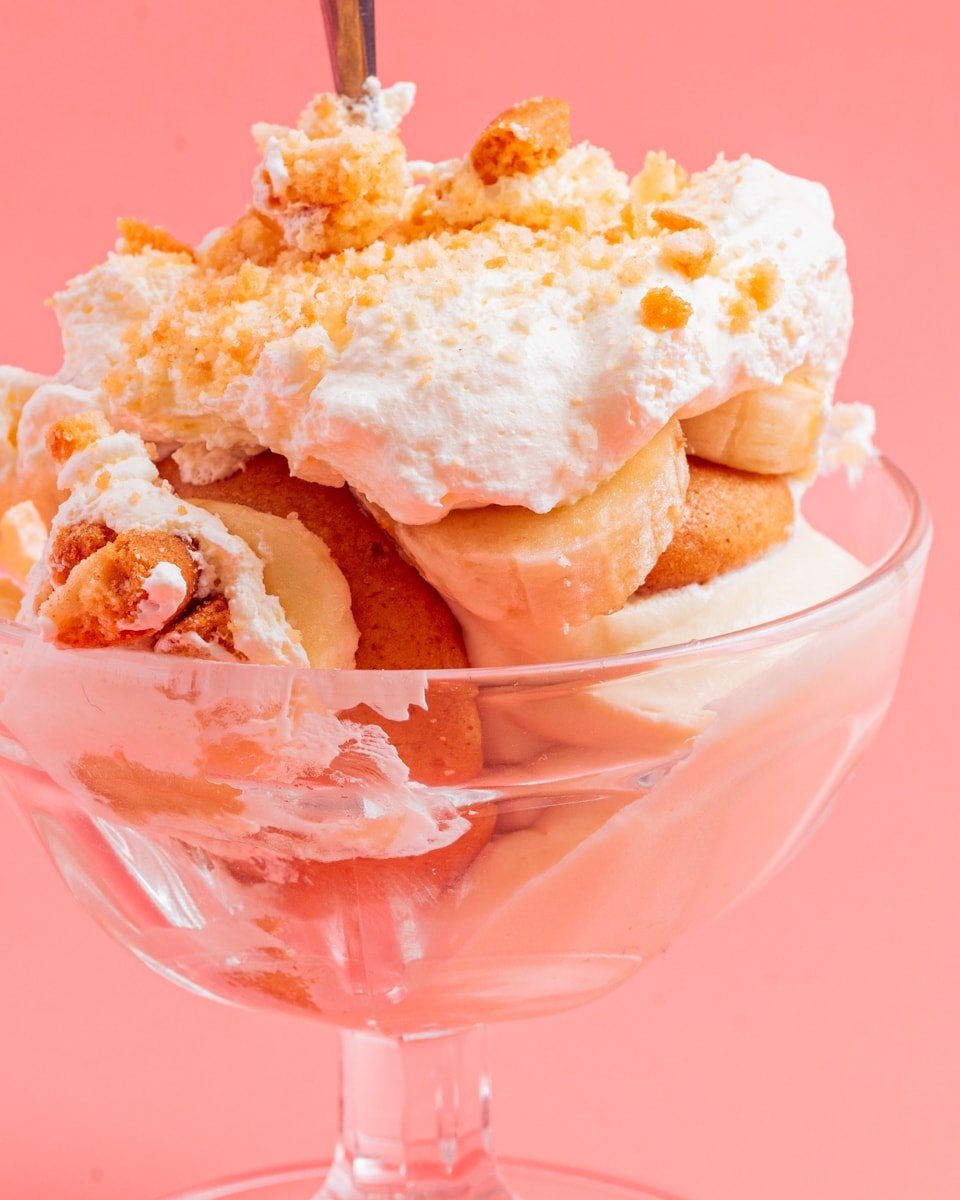 🤷‍♀️ Vegan Banana Pudding FAQs
Q: What is banana pudding?
A: Banana pudding is a classic US dessert, made from layers of whipped banana pudding, vanilla wafers and sliced banana. It's similar to a layered trifle except with banana instead of strawberries.
Q: Is custard the same as pudding?
A: custard tends to be thickened using eggs, whereas pudding uses starches like cornstarch. Traditionally neither are vegan, but this recipe is a vegan version of the classic banana pudding.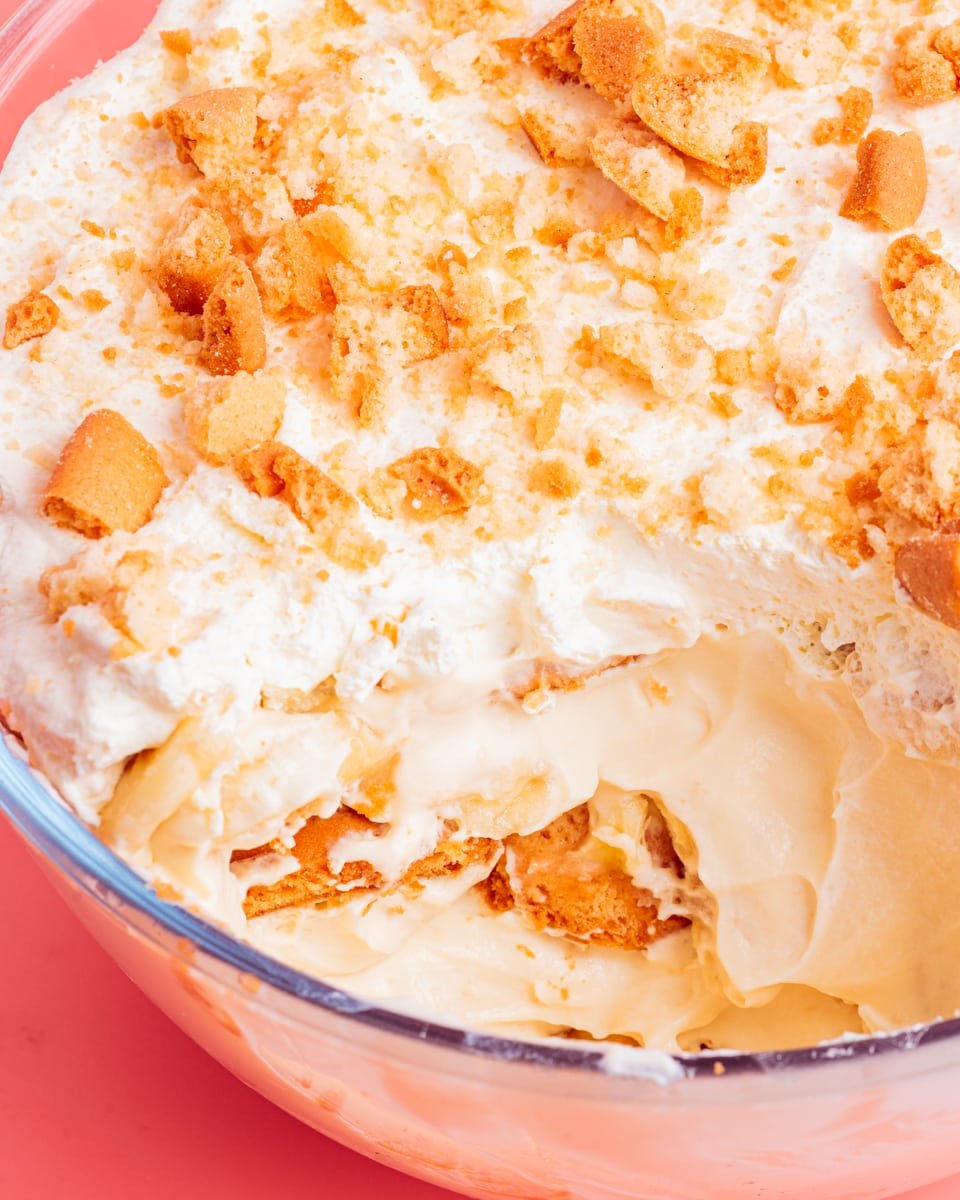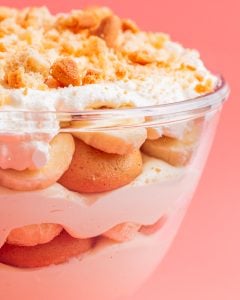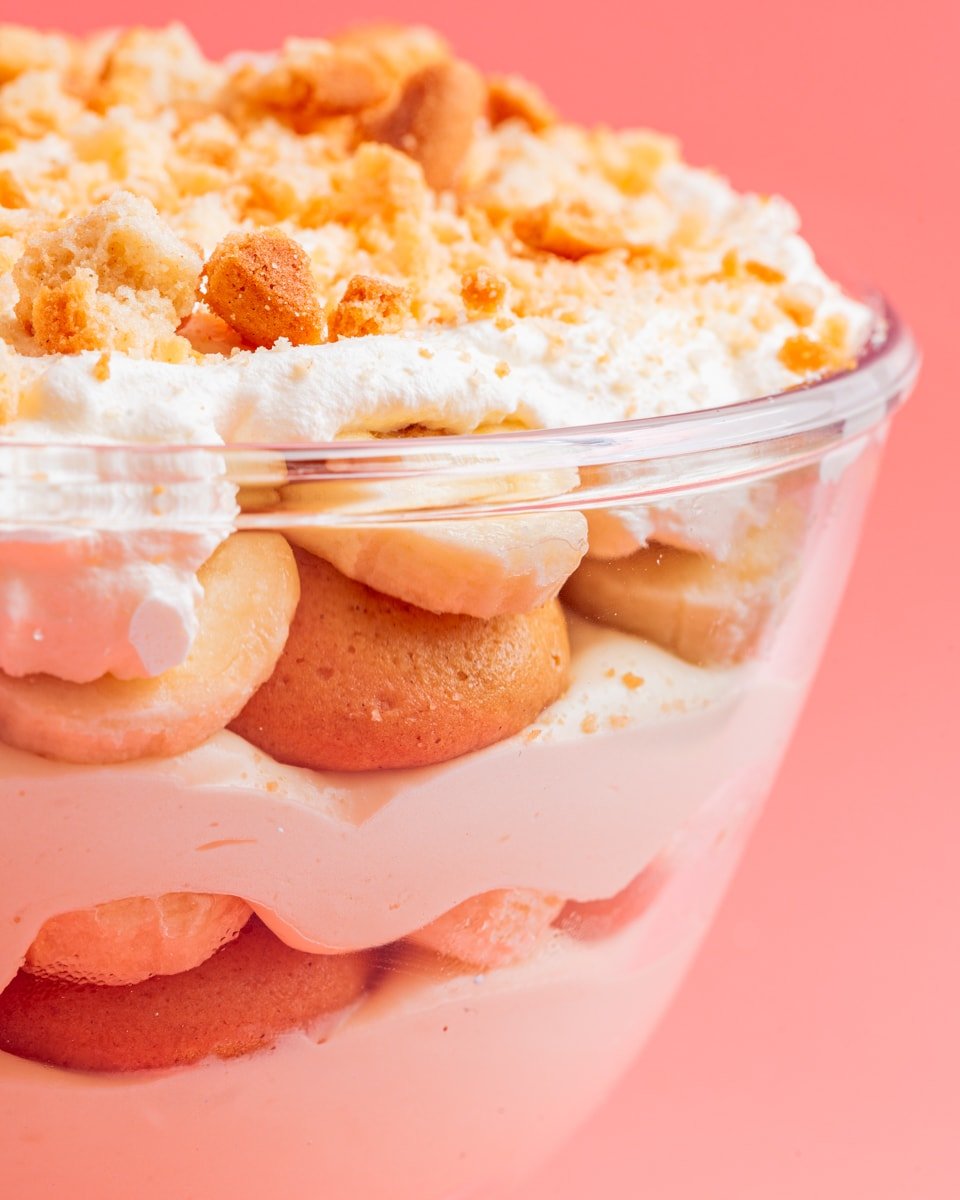 Vegan Banana Pudding
My creamy homemade vegan banana pudding, made with just a handful of ingredients. Delicious, dairy free and completely vegan.
Instructions
In a medium saucepan, whisk together the cornstarch and 50ml of the plant milk. Once smooth, add the remaining plant milk, vanilla extract and caster sugar.

4 tablespoon cornstarch,

450 ml plant milk,

3 teaspoon vanilla extract,

50 g caster sugar

Place over medium low heat and stir constantly until the custard thickens.

Remove the pan from the heat then immediately add the vegan butter. Stir vigorously until fully melted and incorporated into the custard.

Transfer the custard to a shallow dish or tray and cover with plastic wrap so the wrap sits directly on the surface of the custard. Cool to room temperature then transfer to the fridge for at least one hour.

Once the custard has chilled, place the vegan whipping cream in the bowl of a stand mixer fitted with the whisk attachment. Alternatively place in a bowl if using hand-held electric beaters.

250 ml vegan whipping cream

Whip to the stiff peaks stage then transfer to a separate large bowl.

In the bowl of the stand mixer, place the sweetened condensed coconut milk and the custard and whisk together on medium speed until combined.

210 g sweetened condensed coconut milk

Take 2 cups (around 450ml) of the whipped vegan cream and whisk into the custard mixture until combined into a light fluffy "pudding".

In a 2.5 litre bowl or trifle dish, layer the pudding, vanilla wafers and banana (in that order) until you've used everything up except for 2-3 vanilla wafers.

1 batch vegan vanilla wafers,

4 bananas

Place in the fridge to chill for at least 3 hours, ideally overnight.

Right before serving, top the vegan banana pudding with the remaining vegan whipped cream and crumble over the reserved vanilla wafers. Serve and enjoy.
Nutrition
Calories:
282
kcal
Carbohydrates:
33
g
Protein:
4
g
Fat:
15
g
Saturated Fat:
8
g
Polyunsaturated Fat:
2
g
Monounsaturated Fat:
4
g
Trans Fat:
0.02
g
Cholesterol:
36
mg
Sodium:
92
mg
Potassium:
338
mg
Fiber:
1
g
Sugar:
24
g
Vitamin A:
823
IU
Vitamin C:
8
mg
Calcium:
142
mg
Iron:
0.4
mg
Love this recipe?
Let me know on Instagram!