Publised on 19/01/2022 by Richard. Last Updated on 25/10/2022 by Richard.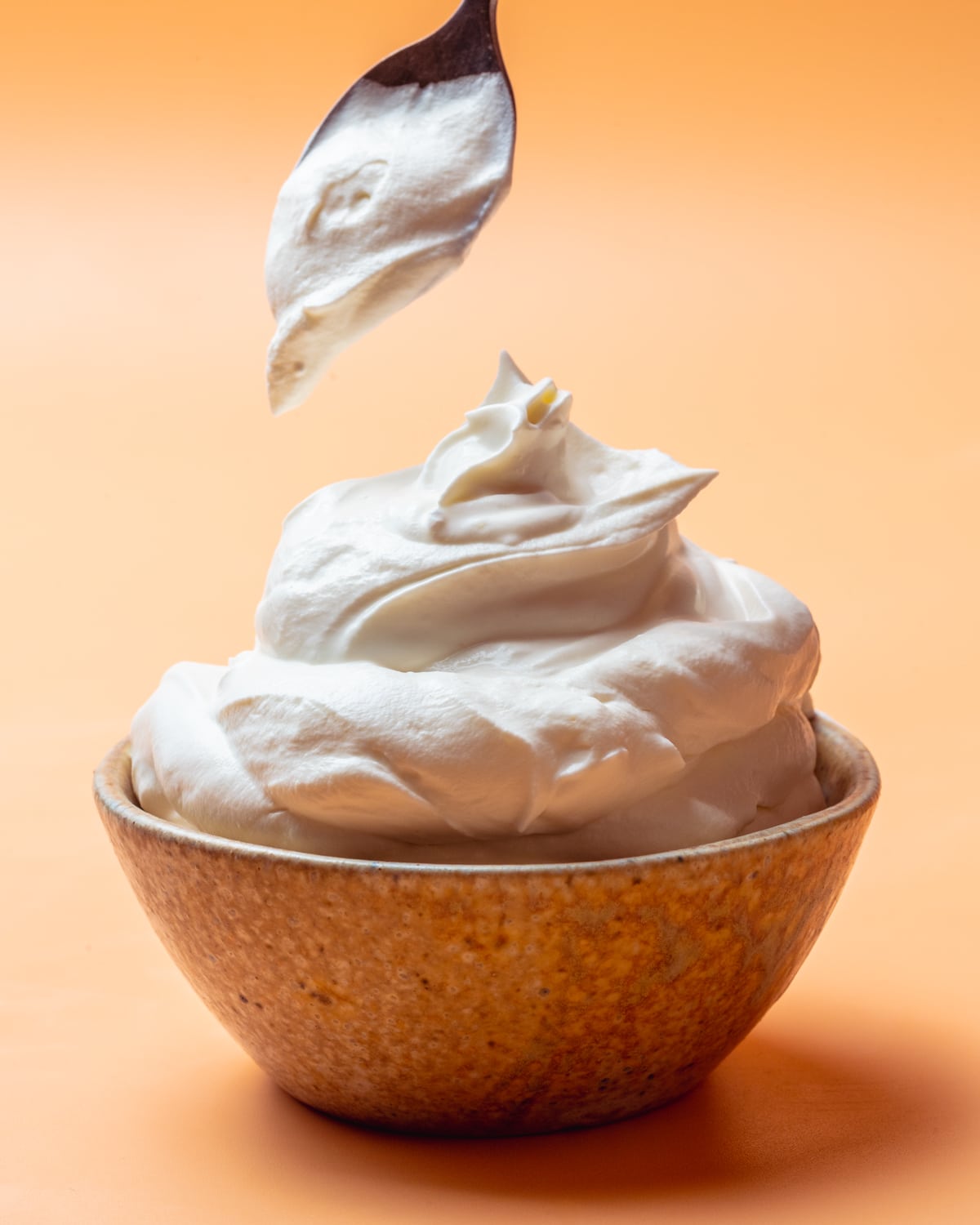 Light and fluffy vegan whipped cream made without coconut milk - ideal for cakes, scones and even for topping coffee!
Ask anyone who's ever tried to make vegan whipped cream and you're likely to hear a rather traumatic story of loss, pain and sorrow. Countless people have been DUPED by the idea of "whipped coconut cream" - wow how wonderful! You just chill it, stick it in a stand mixer and whip away - great - EXCEPT IT'S NOT GREAT IS IT!!??
In fact, raise your hand if you've ever been personally victimised by a "whipped coconut cream" recipe…A MILLION HANDS RAISE SIMULTANEOUSLY. See! Proof! My vegan whipped cream, on the other hand, is fool-proof and super smooth!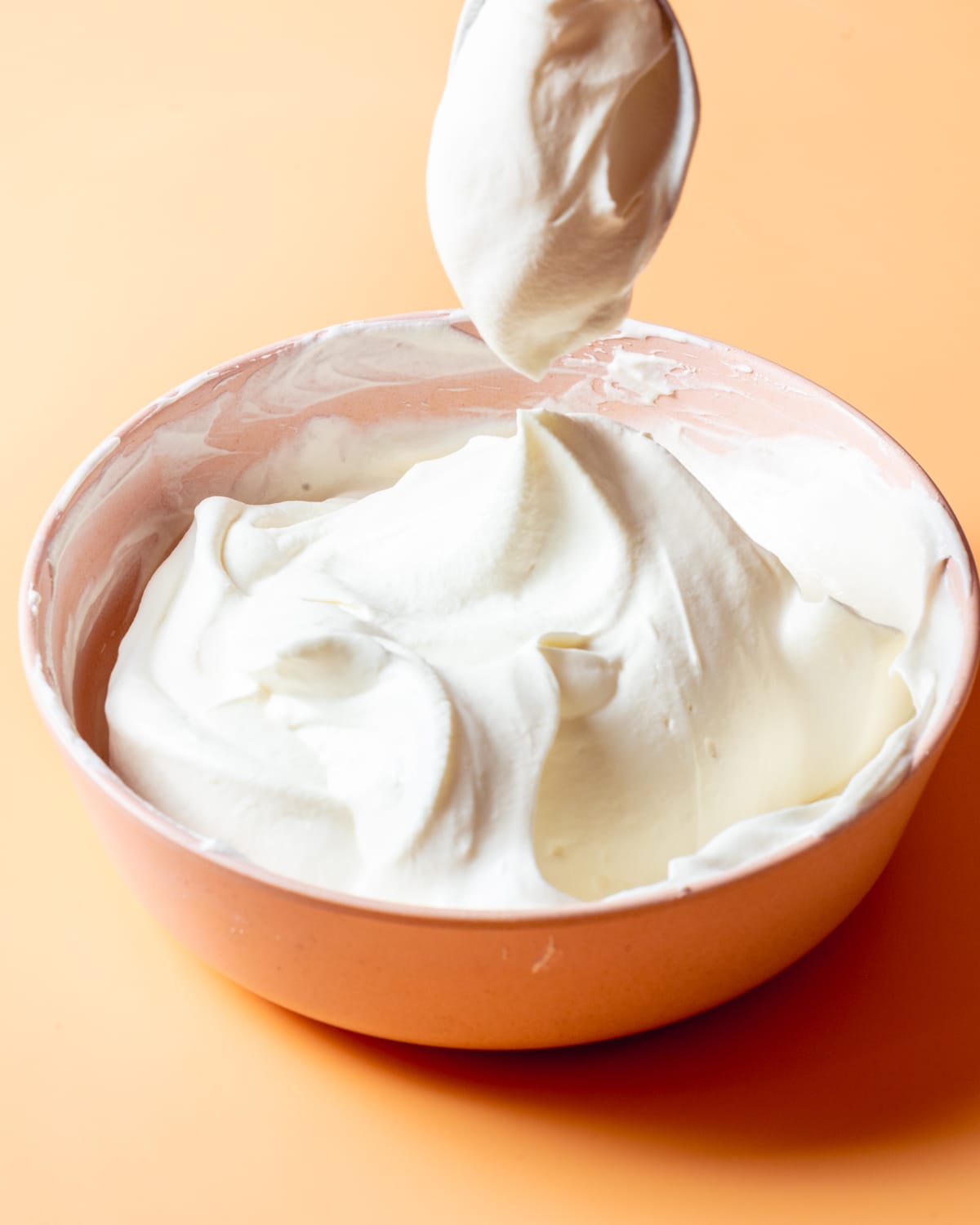 Jump to:
Vegan Whipped Cream Ingredients
Honestly, the magic of this vegan whipped cream is that it only really requires two ingredients! Soy milk and coconut oil! The key is to get the quantities right (which is why I really recommend using a set of kitchen scales for this recipe).
It's also a good idea to use unsweetened and unflavoured soy milk. Ideally also use deodorised or "refined" coconut oil! This way your vegan whipped cream won't taste like coconut!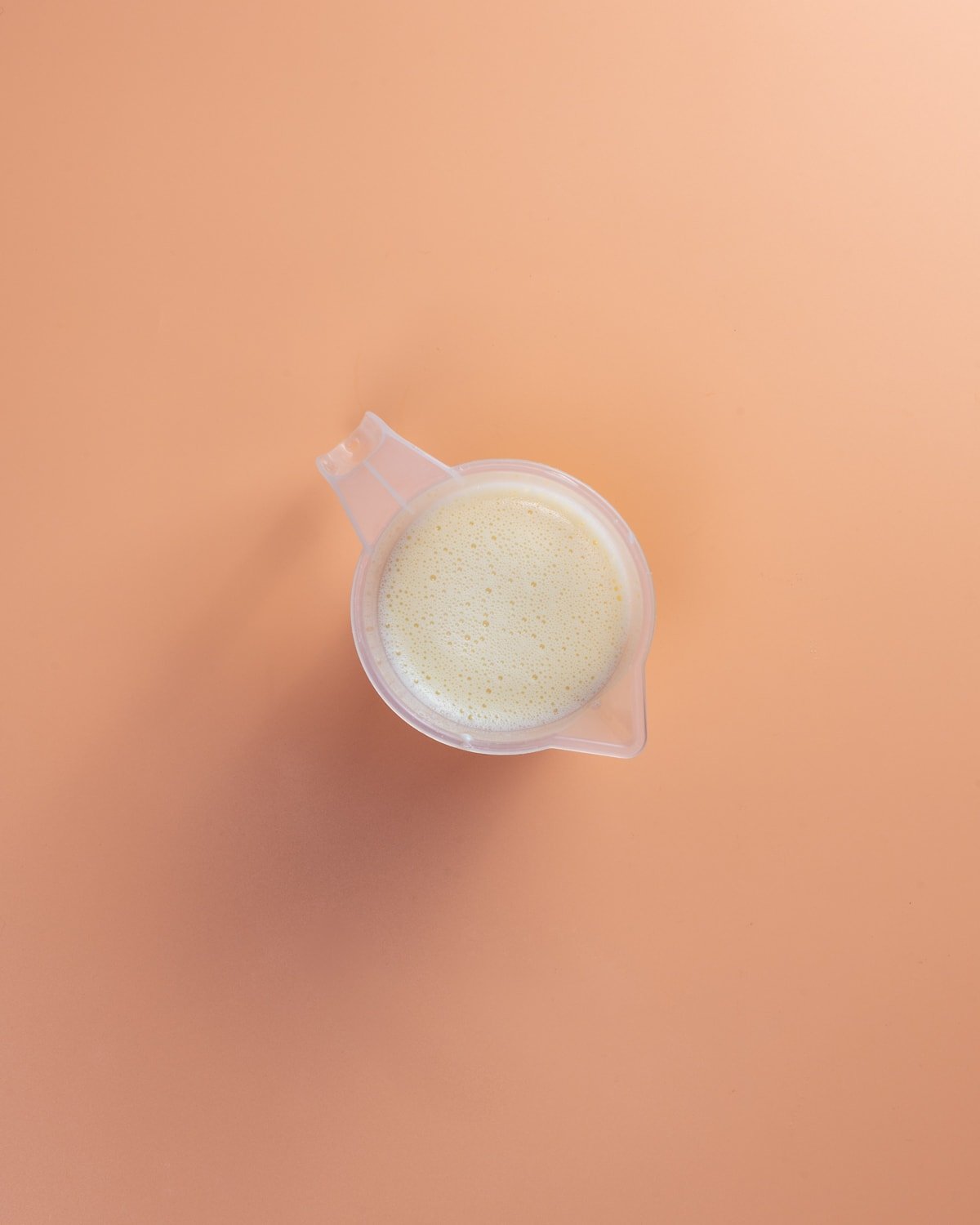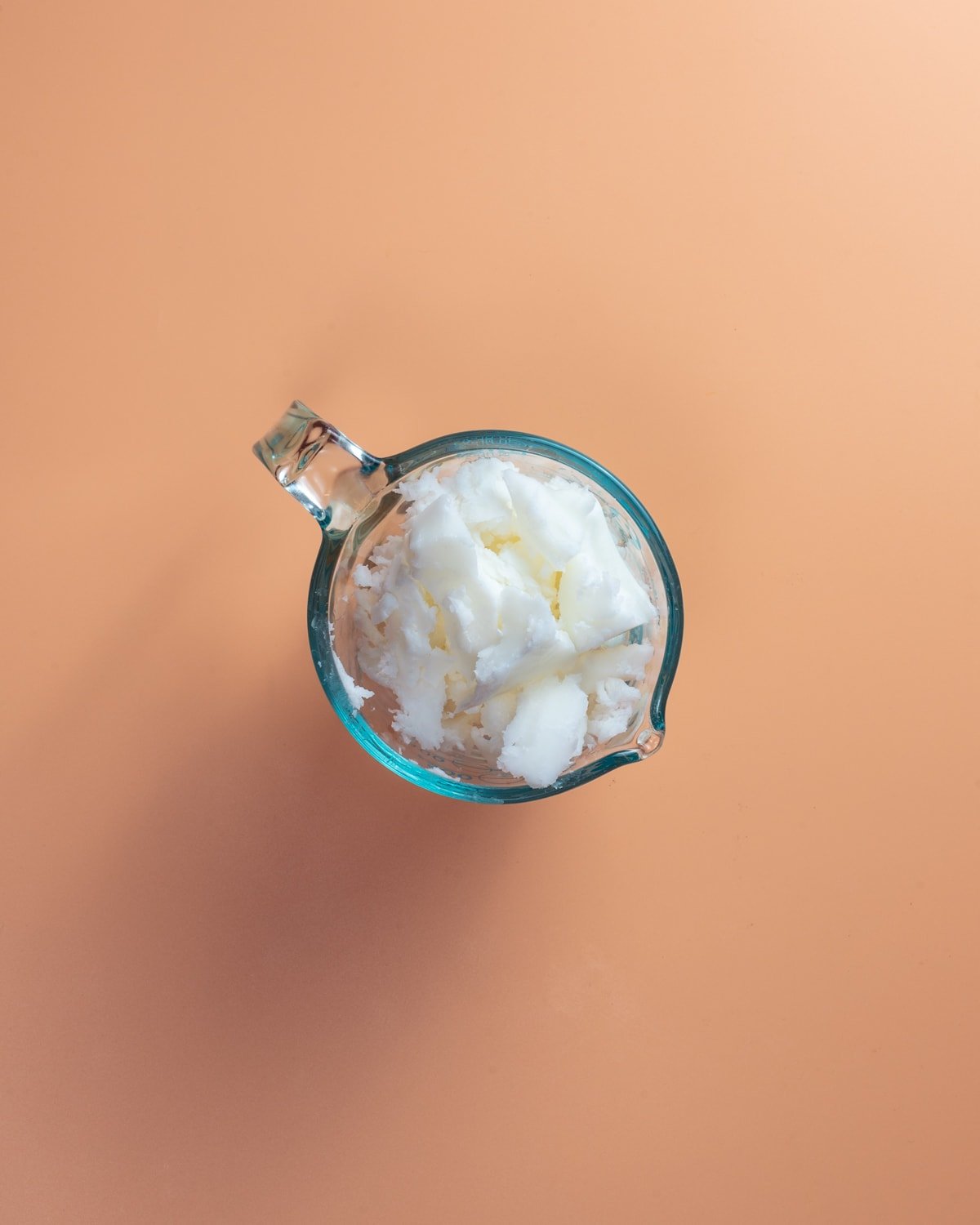 As always, the full recipe with quantities etc is at the bottom of the page!
Instructions
The process is simple to make my vegan whipped cream but you need to pay attention to a few specifics, otherwise it won't whip. I've broken everything down into 4 steps to make things easier to follow.
1. Melt the coconut oil and warm the soy milk. This recipe only works if the two ingredients are similar temperatures at the point of blending. Using fridge-cold soy milk is a recipe for disaster!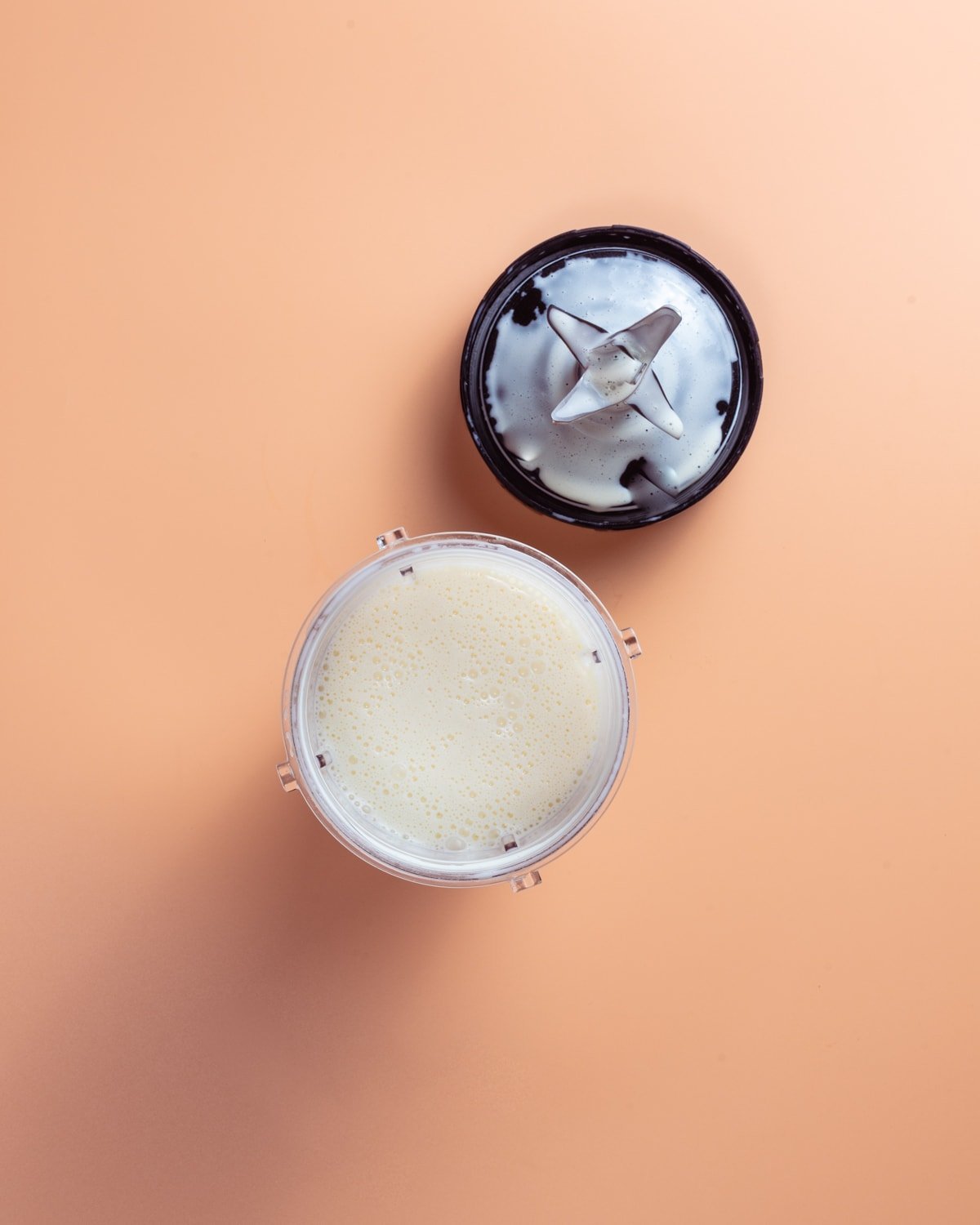 2. Blend the ingredients. This is the point where we emulsify the two ingredients together. You'll need a high-speed blender ideally, but you can also blend using an immersion blender.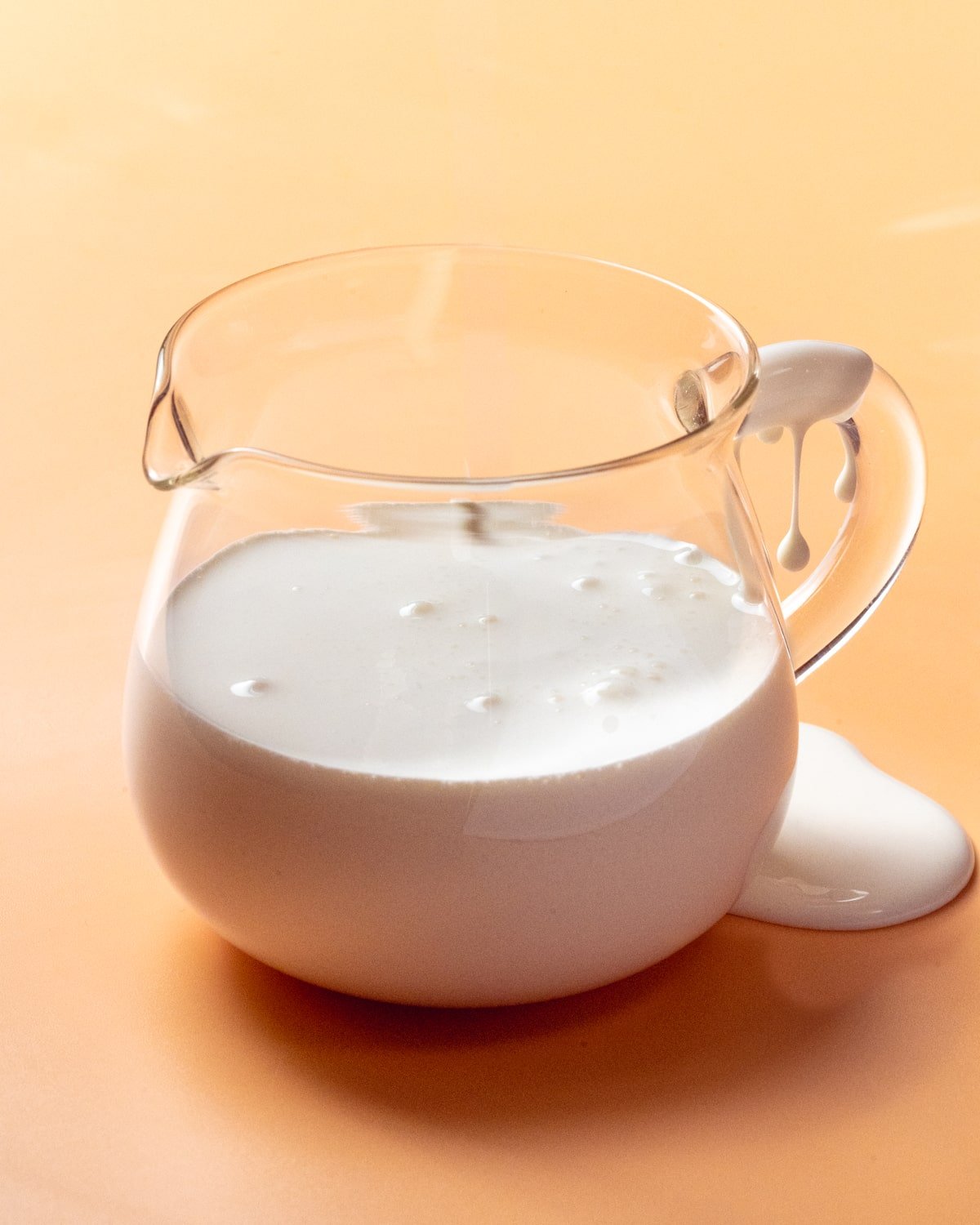 3. Refrigerate the vegan whipping cream. This recipe will only work if the mixture is thoroughly chilled. I recommend chilling for a minimum of 4 hours, but really you should aim for an overnight chill.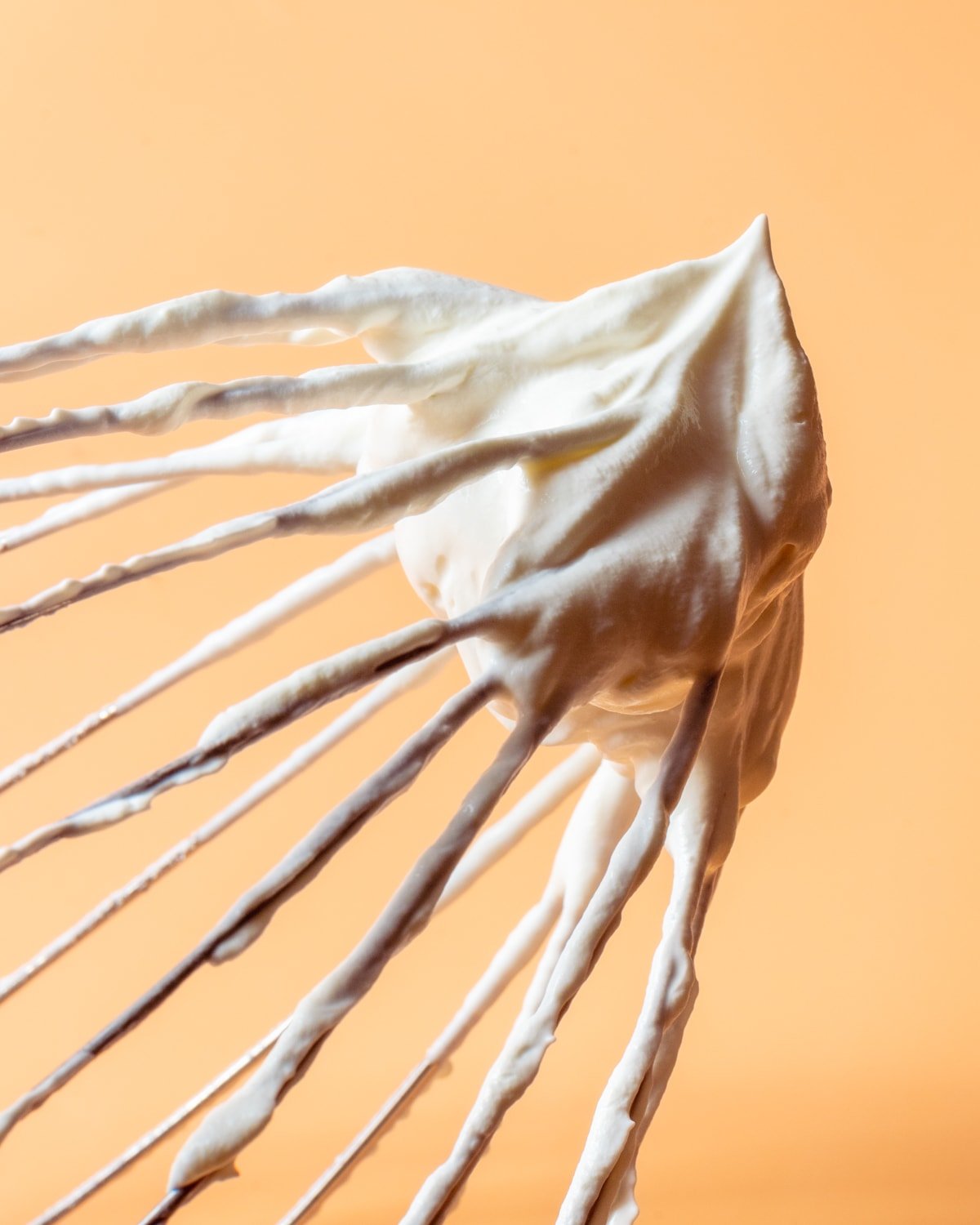 4. Whip the cream. It's finally time! I like to use my stand mixer, fitted with the whisk attachment, but a hand whisk will do the same job! As you're whisking you'll add the final two ingredients: sugar and vanilla!
Hint: If your vegan whipped cream heats up too much while you're whipping it, it won't pick up the bubbles necessary to get all light and fluffy! Fro. this reason, make sure your mixing bowl or the bowl of your stand mixer are chilled before use! Guaranteed success!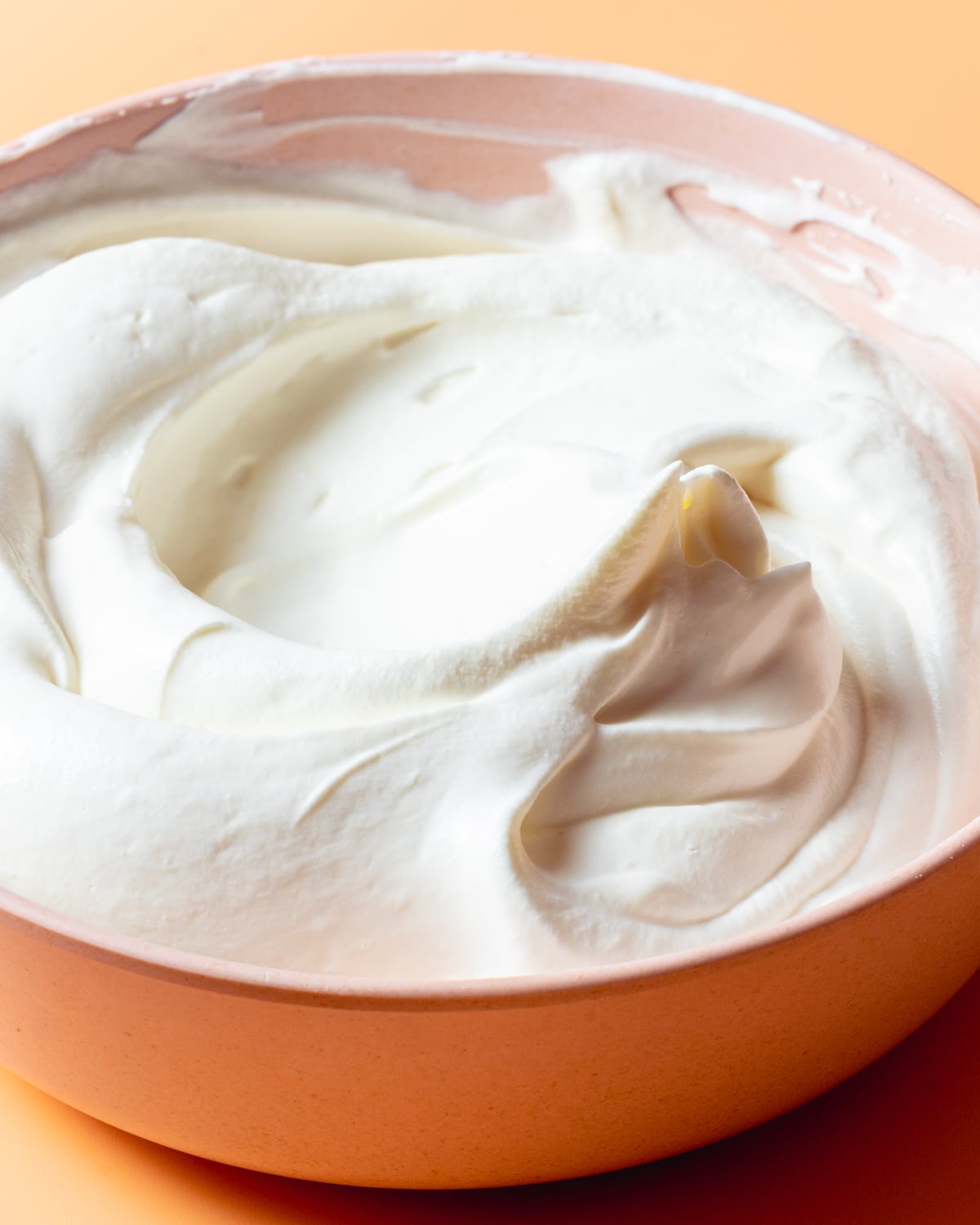 Substitutions and swaps
I haven't tested any subs or swaps for this recipe. However, I'm told by followers that the following worked in their personal experimentations!
Soy milk - instead of soy milk, some people have tried using other plant milks including almond and oat milk. Again I haven't experimented myself, but people tell me these work too!
Coconut oil - Vegetable oil or sunflower oil ALSO work instead of coconut oil. I always believed that coconut oil works best because it solidifies at room temperature, but turns out this isn't the case!
I love to hear about your experimentations, so if you do try any subs or swaps while making my vegan whipped cream, let me know! Can't wait to hear what you get up to!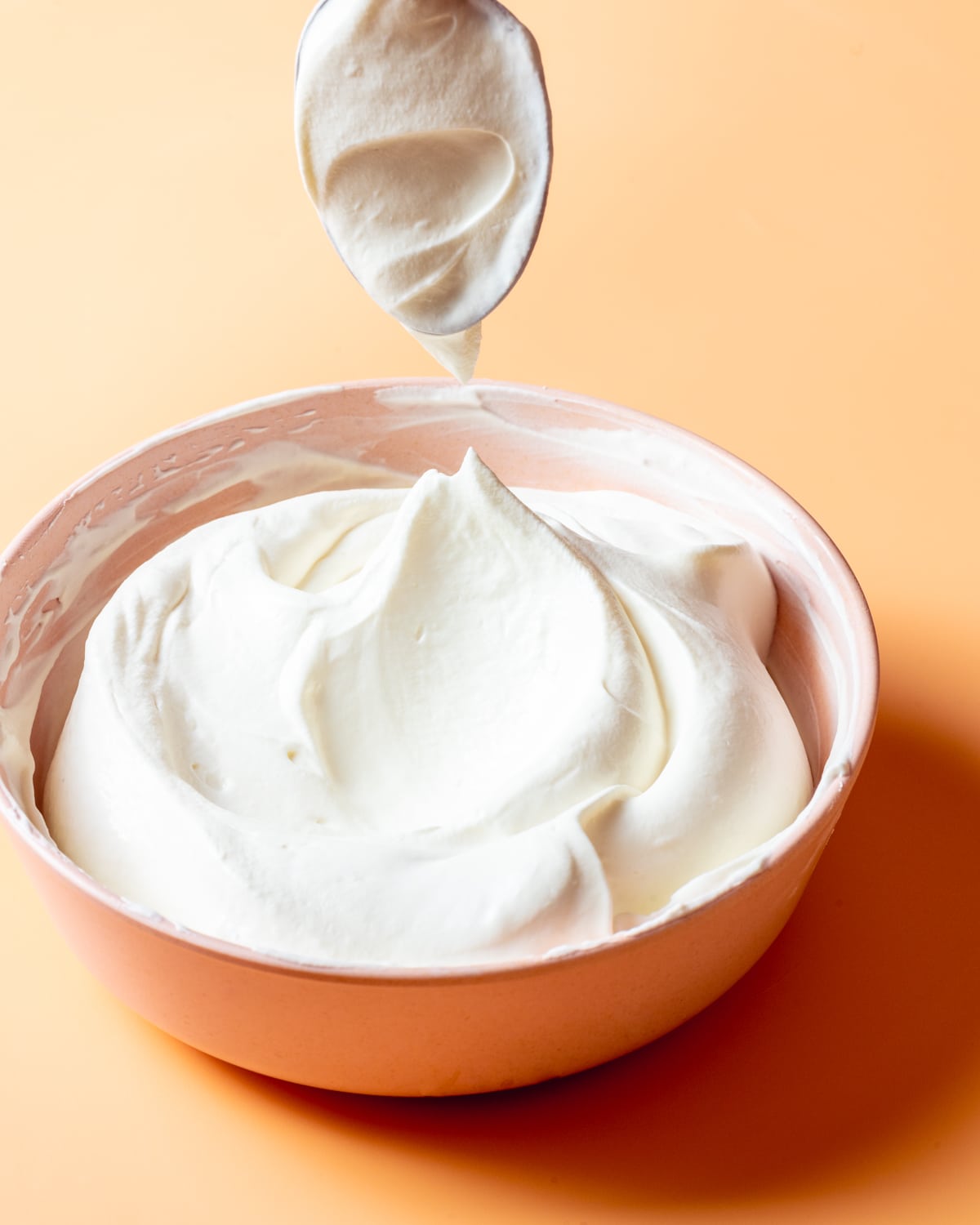 Vegan Whipped Cream Variations
You're now free to use this vegan whipped cream in any way you'd like! It works just like real cream and can be flavoured and piped etc!
Boozy - For Christmas, why not try adding a few tablespoons of vegan Baileys to your vegan whipped cream? Ideal for topping a vegan mince pie!
Coffee - add a tablespoon of instant espresso powder to vegan whipped cream ingredients as it blends. Once whipped you'll have a subtle delicious coffee kick to your whipped cream! Ideal for vegan hot chocolate!
Almond - Add a dash of almond extract to the vegan whipped cream while whipping! It'll give it a tasty nutty kick!
If you're looking for things to serve your new favourite vegan whipped cream with, here are my all time faves! Start with my vegan scones (see below for a beauty shot), then work your way up to my vegan chocolate cake, which has a whole layer of whipped cream in the middle!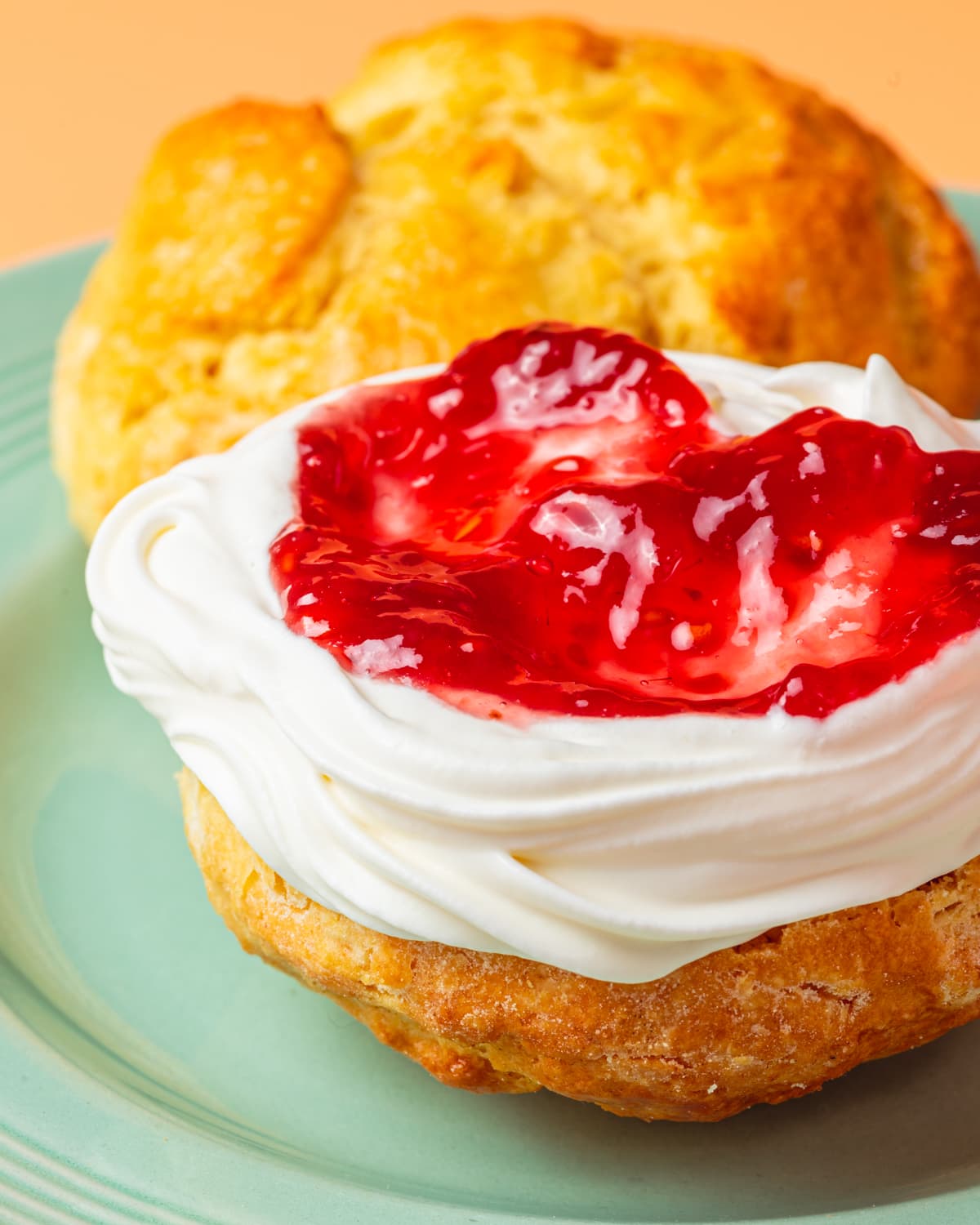 Equipment
There are two pieces of must-have equipment for this recipe. First, you'll need some sort of blender! Ideally a high-speed blender like a Ninja or Nutribullet but if you don't have one, a stick blender/immersion blender will do the job!
Secondly you'll also need a way to actually whip the cream. A stand mixer is my equipment of choice, fitted with the whisk attachment. Alternatively you can use an electric hand whisk.
Storing Vegan Whipped Cream
The best thing about the recipe (besides how great it tastes) is how well it stores. You can either keep it sealed and unwhipped in the fridge for a week (just give it a good shake before whipping). Alternatively, you can whip the cream and store in the fridge. It will keep its whip even longer than regular double cream if refrigerated and stored in a sealed container!
Pro tip!
When whipping, make sure that the bowl and whisk you use are spotlessly clean! Give them a good wash in hot soapy water (even if you're using them straight from the cupboard) then wipe a wedge of lemon around the bowl and around the bars of the whisk. The acidity of the lemon juice will break down any residual grease and allow the cream to whip to its full potential!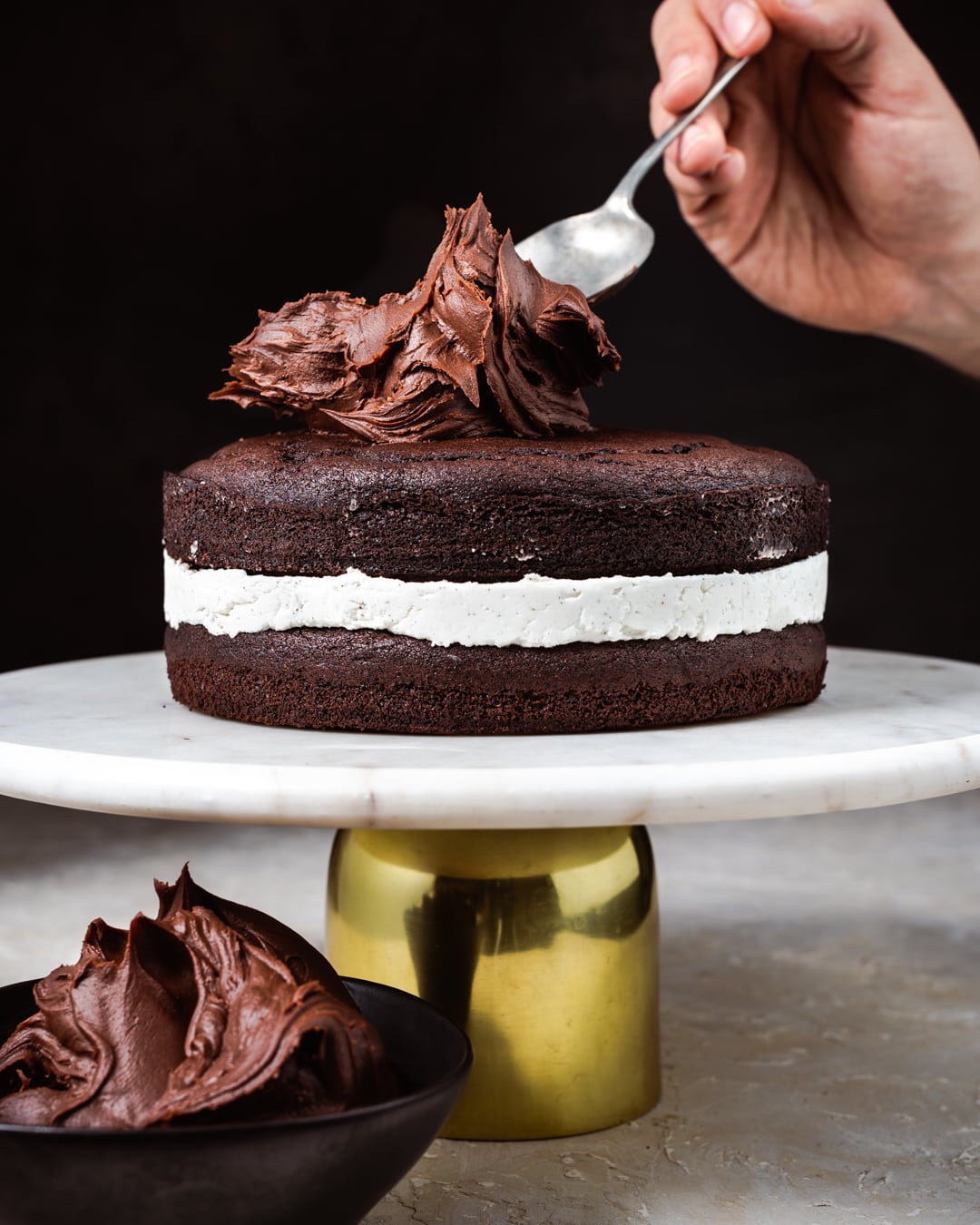 SNV FAQ
Q: What is vegan whipped cream made of?
Many people use whipped coconut cream in place of dairy cream. This is famously unreliable and tricky to master. This recipe uses a blend of soy milk and coconut oil which is much more stable and reliable.
Q: Can I use vegan whipped cream on coffee?
Yes! This recipe can be used however you'd use dairy whipped cream.
Vegan Whipped Cream
Light and fluffy vegan whipped cream made without coconut milk - ideal for cakes, scones and even for topping coffee!
Ingredients
235

g

soy milk

((unflavoured and unsweetened))

200

g

deodorised coconut oil

(melted (aka refined coconut oil))

25

g

icing sugar

((aka confectioner's sugar))

½

teaspoon

vanilla extract
Instructions
Heat the soy milk in 10 second bursts in the microwave until lukewarm (it should feel warm to the touch but not hot). Place the soy milk in the cup of a high speed blender followed by the melted deodorised coconut oil. Blend together on the highest speed until smooth.

235 g soy milk,

200 g deodorised coconut oil

Cover and transfer to the fridge and chill for a minimum of 4 hours, but ideally overnight. Alternatively you can blend the cream and refrigerate up to 5 days in advance before moving onto the next step.

With the lid still on, shake up the refrigerated cream to re-homogenise it then transfer to the bowl of a stand mixer. If using a hand-mixer, transfer to a large bowl. Starting with the mixer on low speed and working your way upwards gradually, whip the cream until the texture has thickened and the cream falls from the beaters in ribbons.

Add the icing sugar and vanilla then whisk again on high speed until soft to stiff peaks form. Don't over whisk or the mixture will curdle, like real cream, into butter.

25 g icing sugar,

½ teaspoon vanilla extract

Serve immediately or cover and refrigerate for up to a day.
Nutrition
Serving:
1
grams
Calories:
469
kcal
Carbohydrates:
9
g
Protein:
2
g
Fat:
51
g
Saturated Fat:
41
g
Polyunsaturated Fat:
2
g
Monounsaturated Fat:
3
g
Sodium:
30
mg
Potassium:
84
mg
Fiber:
0.2
g
Sugar:
8
g
Vitamin A:
231
IU
Vitamin C:
4
mg
Calcium:
83
mg
Iron:
0.3
mg
Love this recipe?
Let me know on Instagram!