Light and fluffy vegan whipped cream made without coconut milk – ideal for cakes, scones and even for topping coffee!
---
Ask anyone who's ever tried to make vegan whipped cream and you're likely to hear a rather traumatic story of loss, pain and sorrow. Countless people have been DUPED by the idea of "whipped coconut cream" – wow how wonderful! You just chill it, stick it in a stand mixer and whip away – great – EXCEPT IT'S NOT GREAT IS IT!!??
In fact, raise your hand if you've ever been personally victimised by a "whipped coconut cream" recipe…*A MILLION HANDS RAISE SIMULTANEOUSLY*. See! Proof! 
So what's the solution!?
I'll tell you! It's my recipe of course! My recipe for vegan whipped cream is
easy to make with minimal ingredients.
stable – it lasts in the fridge for days, whether whipped or not whipped!
reliable AF (literally has never let me down!)
versatile – you don't even need to whip it! You can use it to drizzle on puddings or pie – whatever works for you!
Are you curious yet!? Are you clawing at your own face to simply catch a GLIMPSE of the ingredients?? Or are you unfollowing me on social media as we speak because I'm wasting your precious time with this intro? Whatever you're doing, chill the F out! Here's how to make it!
So how do I make it??
Well aren't we an eager beaver! I saw how you pushed that toddler away by the face to get closer to my secrets – and I liked it. That's exactly the kind of go-getter spirit we need around here!
The full recipe (as aaaaaalways) is at the bottom of this page, but here's a breakdown of the method because I JUST KNOW that someone named Elspbeth will ignore my detailed work and then complain in my DMs that the recipe failed. No Elspbeth-with-a-p-and-a-b, YOU failed!
1. Blend it up!
There are only TWO essential ingredients to this recipe: soy milk and deodorised coconut oil (sometimes called "refined" coconut oil). I highly doubt this recipe will work with other plant milks or oils, but if you have the time and patience, by all means test it out and let me know.
Here are some things you MUST DO at this stage to make this recipe work. 
the coconut oil MUST be melted, so either zap in the microwave for a minute or melt in a saucepan.
the soy milk MUST be warm. If the soy milk is at room temperature or below, the coconut oil will solidify and the mixture won't blend smooth. I zap my soy milk in the microwave in 10 second bursts, giving a stir between each zap, until it feels warm to the touch.   
you MUST use a high-speed blender. No, you can't whisk these two ingredients together, nor can you use your Nanna's magnolia food processor that she won at the bingo twenty four years ago. We love you Nanna, but a high-speed blender is essential for this recipe
2. Chill it down!
You should now have a gorgeously smooth, creamy mixture which is glossy and white with a few frothy bubbles on top. Good? OK great, let's continue.
Cover the mixture or pop a lid on your blender cup and stick it in the fridge. The mixture will not whip unless it is chilled thoroughly, and since we melted the oil and warmed the soy milk, this will take a little time. If you can, leave the mixture in the fridge overnight, or at very least for four hours (this is the shortest length of time I've tested chilling the cream for, so if you know what's good for you, err on the side of caution and chill for longer).
The good news is that you can do this up to four or five days in advance, so if you're planning to serve tea and scones with whipped cream to your Dungeons and Dragons club on Sunday, you can blend up your cream on Tuesday and it'll be ready to whip whenever you are.
3. Whip it good!
Your chilled cream should be thick and gorgeous, like real double cream. It should be smooth with no lumps and should coat a spoon nicely. At this stage, it's ready to use! You can pour over pie or pudding OR you can WHIP IT! Transfer it to the bowl of a stand mixer, or a large bowl if you're using a hand mixer.
Starting at a low speed and working your way up to high, you'll notice the texture changing rather slowly, but not painfully slowly. When the mixture is starting to thicken and it falls off the whisk in a ribbon, you'll want to add your only two other ingredients: icing sugar and vanilla extract. Then, you whip until you reach a texture you're in love with! Using a stand mixer, the batch featured in these pictures took 5 mins and 25 seconds to whip from start to finish – use that as your guide. 
4. And that's it!
Your whipped cream is ready to serve! You can even cover it and stick it in the fridge until tomorrow! It'll stay beautifully whipped. I haven't tried storing it in a whipped state for longer than this (simply because I eat it very quickly) but it's very possible it could keep for even longer.
Easy peasy recipe right??
I'm hoping this vegan whipped cream recipe will change your life in the way it has changed mine (namely that I eat more vegan whipped cream-based snacks now). I understand that the above guidance has been rather big-brotherly at times, but I do it because I love you. I want this recipe to work for you, so please, PLEASE follow all the steps listed. You won't regret it and soon it'll become second nature so you can make whipped cream in your sleep!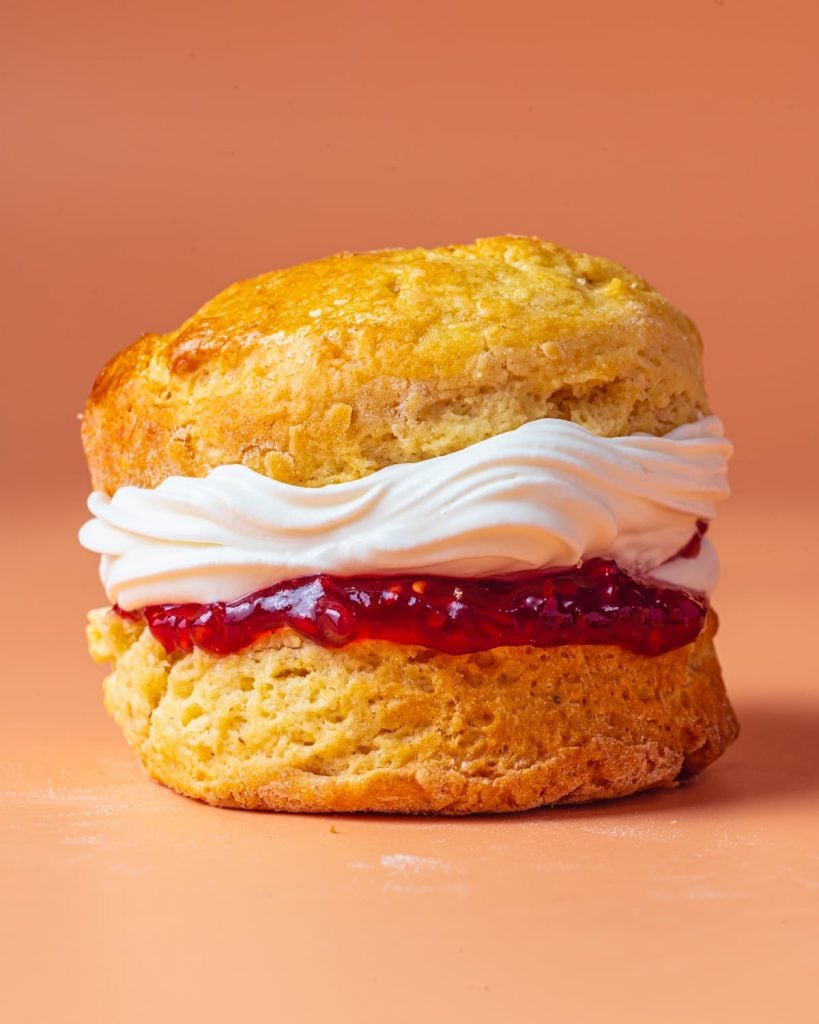 Still looking for a dessert??
You got it pal!! Why not give these baddies a try!?