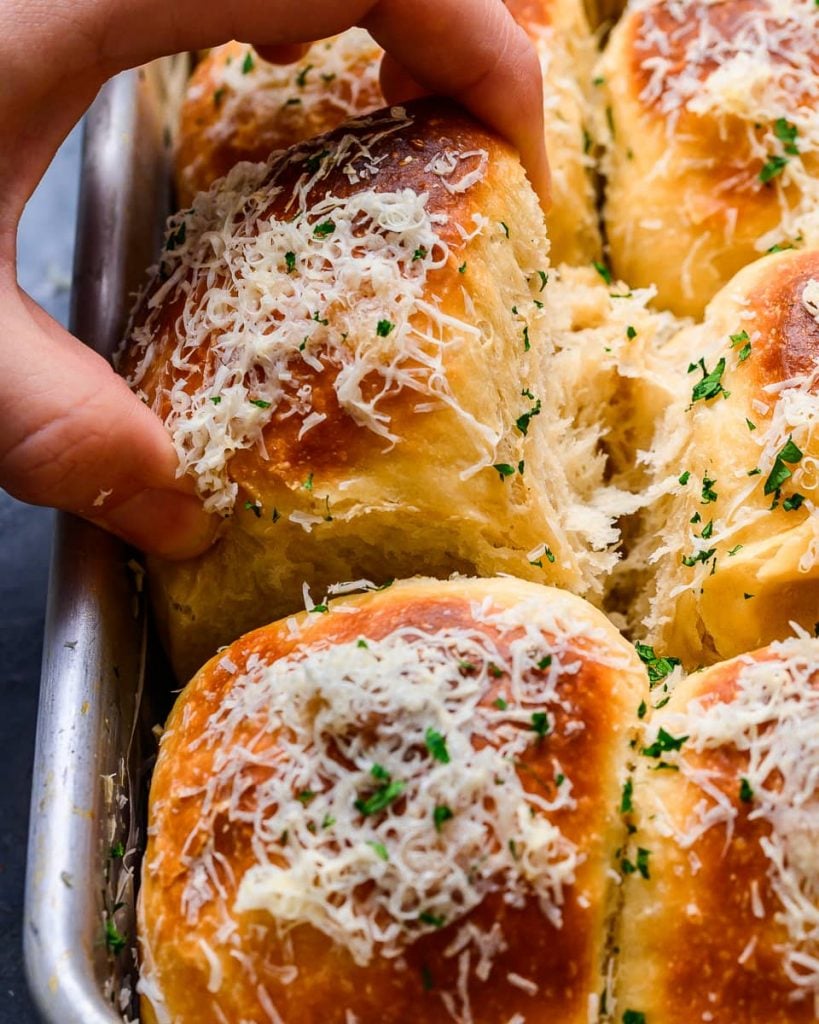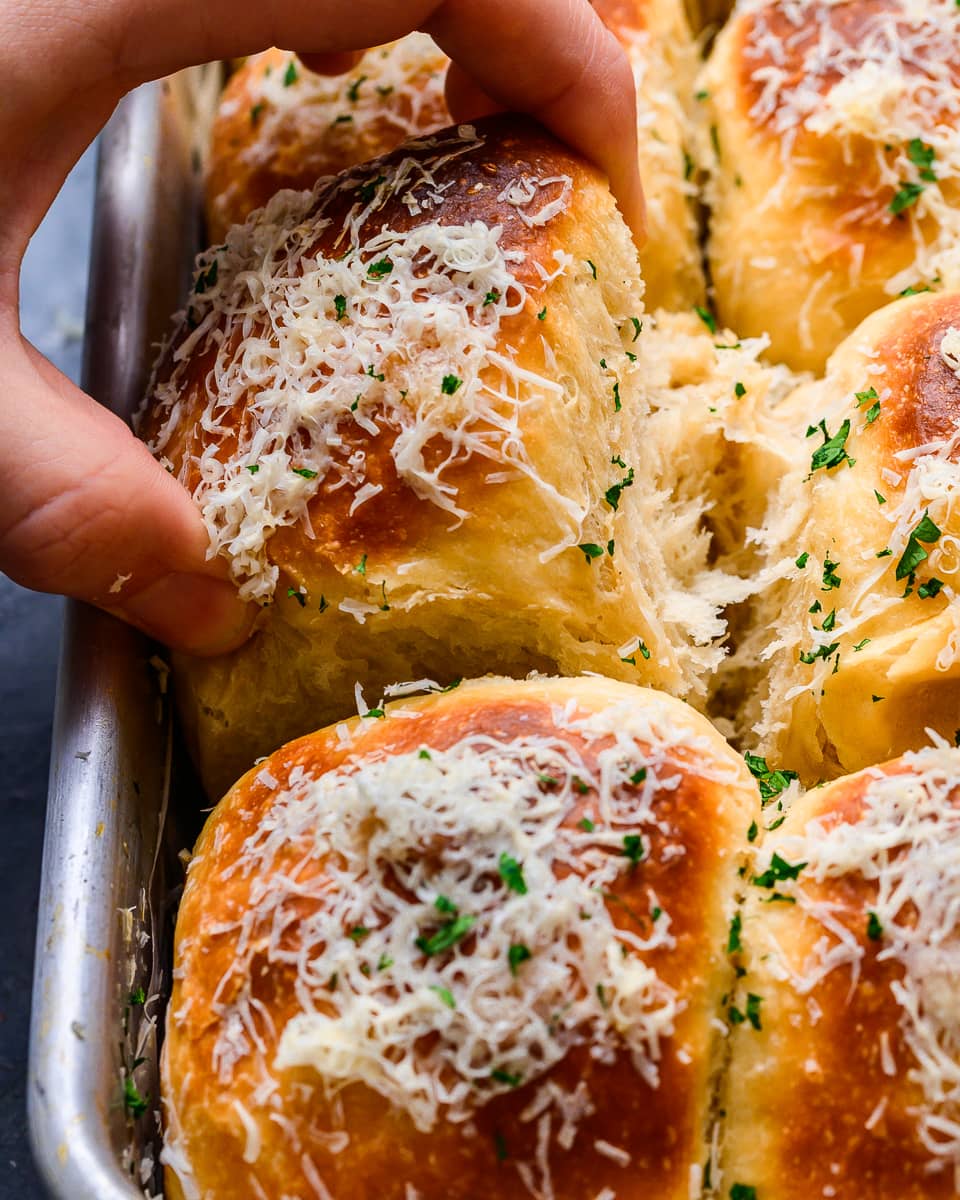 Delicate, fluffy cheesy vegan beer rolls. A gently crispy golden cheesy top with a ridiculously soft pull-apart centre. The PERFECT bread roll!
---
I've been meaning to make these cheesy vegan beer rolls for ABSOLUTELY YONKS now. What can I say? I'm a skill tier four procrastinator. But now that I have, and they're sat all snuggly in the tray looking up at me like a set of little doughy babies, I'm BLOODY GLAD I've made them.
In my house, the food pyramid has a strong sturdy base of bread, so it's vital that we find as many ways as possible to keep things interesting. These cheesy vegan beer rolls DO NOT DISAPPOINT! They're PERFECT for sandwiches (perhaps with my vegan fried chicken??) or for with big family dinners!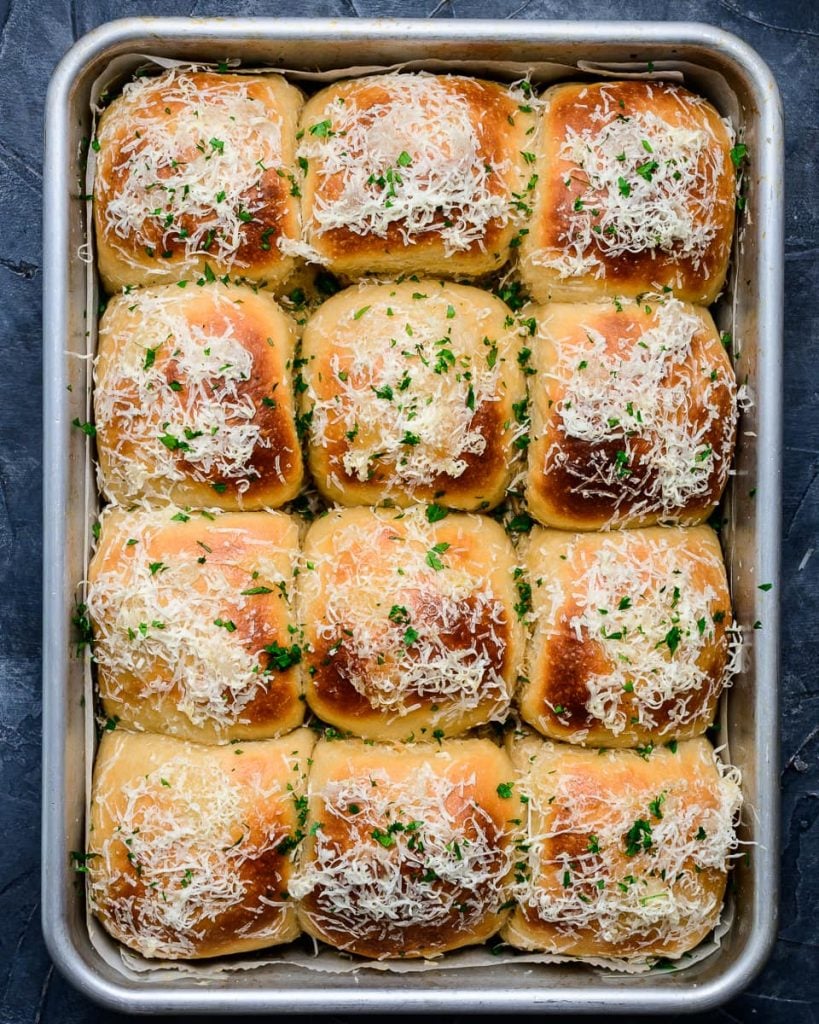 What even ARE cheesy vegan beer rolls?
I'll be honest. The idea of beer rolls was actually pretty new to me too. I believe this is maybe more of an American tradition. Don't get me wrong, us Brits have been putting beer in as many things as possible (including bread) for a very long time. But the idea of a small, delicate sweet beer roll as a side for with a big slap-up dinner - that sounds like something from across the pond.  
Regardless, the important thing is that THEY'RE fricking DELISH! They're SO soft and delicate inside. They pull apart almost like a milk roll or a beautifully baked shokupan and they're gently sweet with a hint of bitterness from the beer. Depending on the vegan cheese you decide to use, they can be mildly cheesy or strong and sharp. I like to use my grateable vegan cheese for this recipe, because it melts and browns beautifully.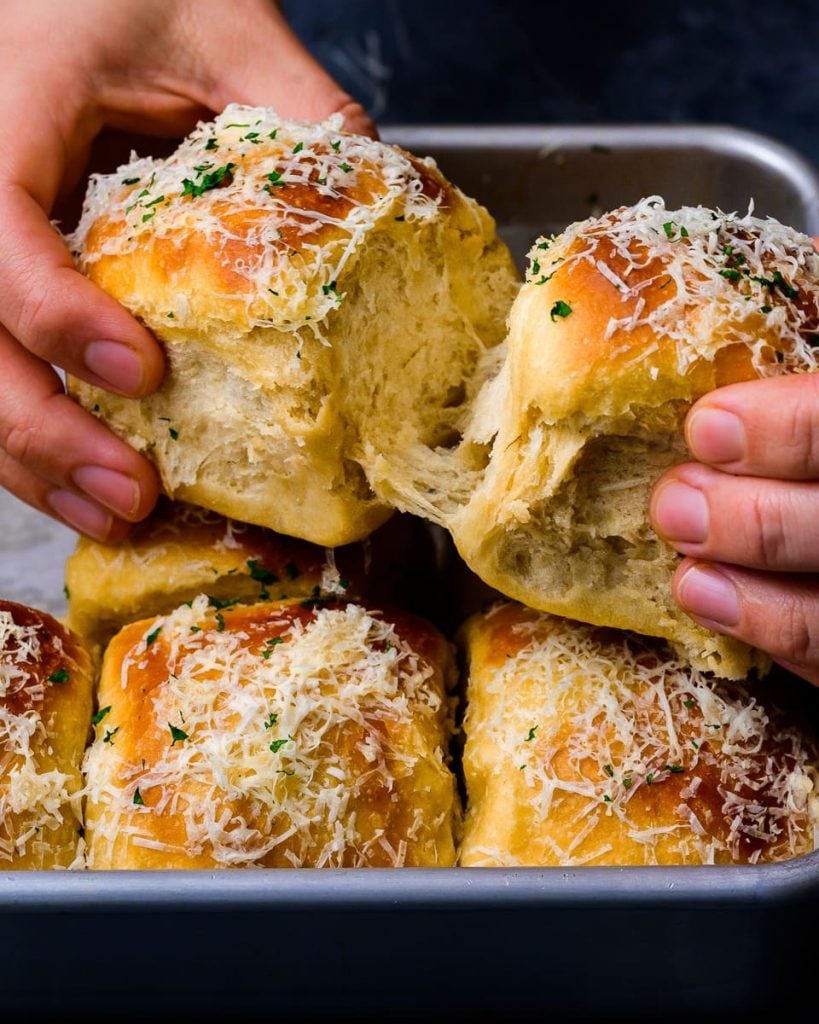 How do I make em?
Let's cut to the good stuff shall we? How to make these gorgina cheesy vegan beer rolls?? As always, there's a full, proper recipe at the bottom of this page (yep - just keep on scrolling) but for those of you who are killing time OR who like a little more guidance when it comes to yeasted bakes, here's a little break-down of the process.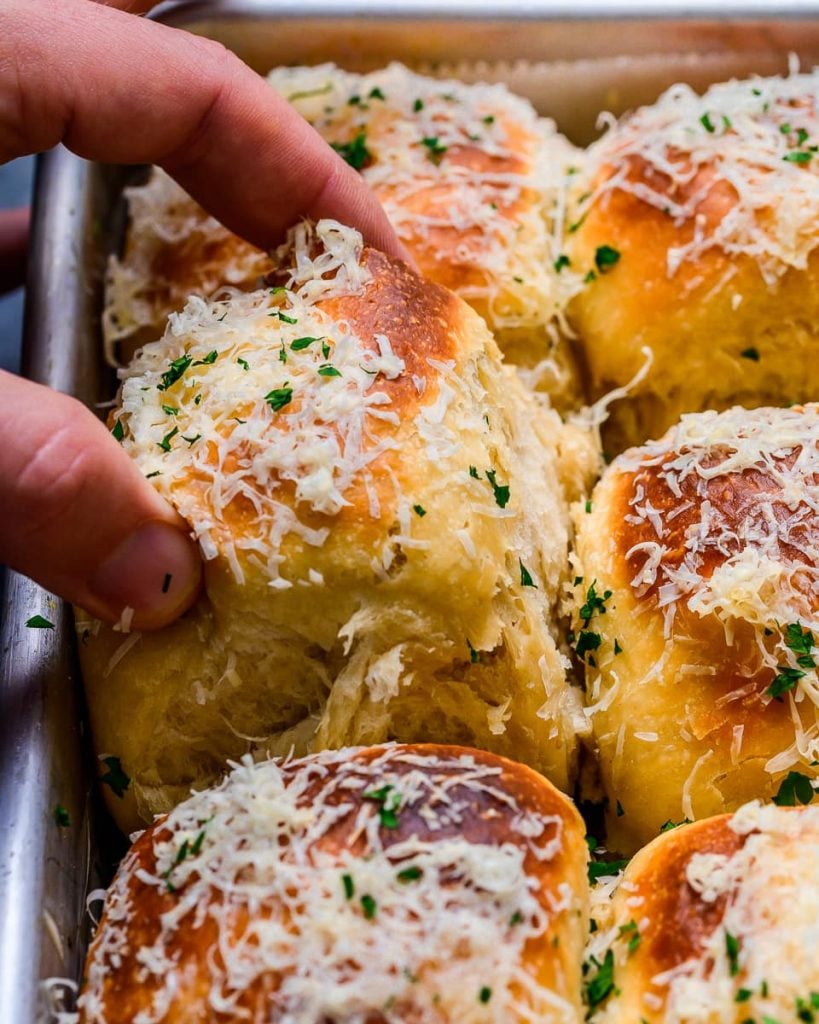 1. Start with the dry ingredients.
I like to make these rolls in a stand mixer, but it's not essential. A stand mixer keeps your hands clean, for one, but also provides a really good, strong knead for the dough. If you're in the market for a mixer which does a million and one other things, consider the Kenwood Cooking Chef (which you can investigate via this affiliate link) - of and be sure to use code SCHOOLNIGHT if you buy one - they'll throw in a spare bowl worth £100 for you! 
I digress! Get your dry ingredients (this time including the soft vegan butter) into the stand mixer and fit it with a paddle attachment. If you don't have a stand mixer, just pop them in a bowl and set aside.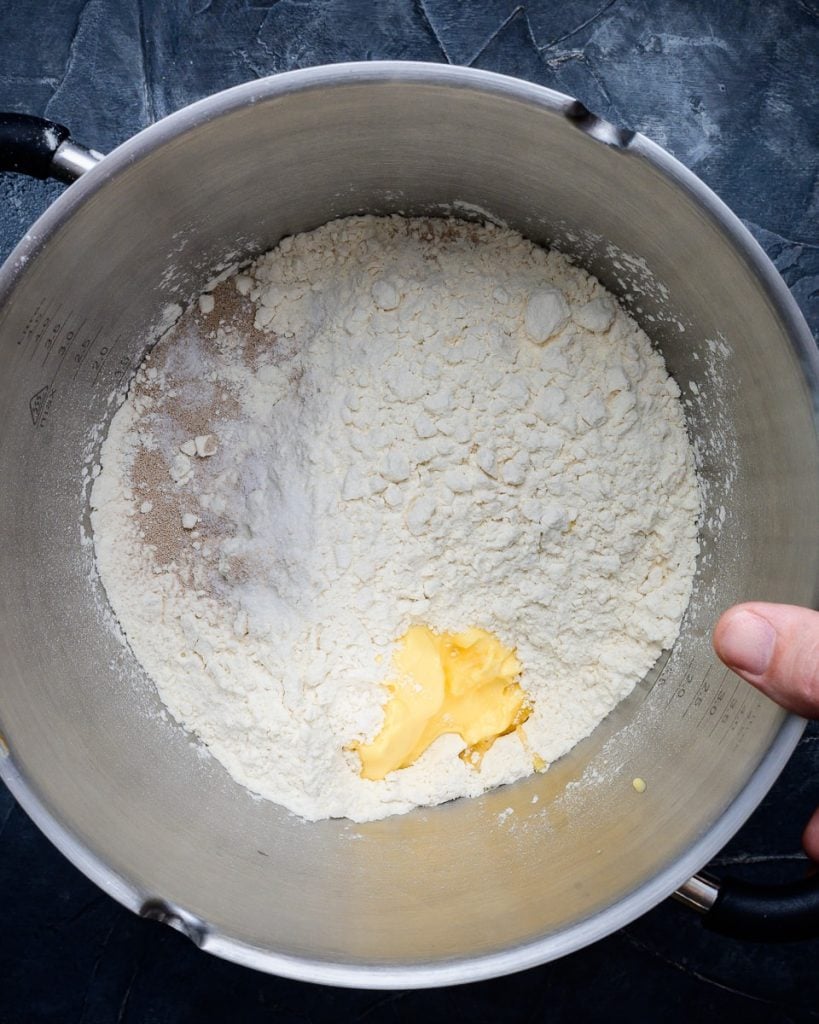 2. Combine your wet ingredients.
Next you need to combine your wet ingredients. You can do this in a measuring jug or, if you're a perfectionist, in a blender to make sure everything's SUPER smooth. 
One thing to be careful with is your beer. It's best (if possible) to use flat, room temperature beer. I leave my beer out on the counter (possibly even poured into a bowl) overnight, loosely covered to make sure it's not chilled and has lost most of its gas. I find this makes much tastier, even textured rolls.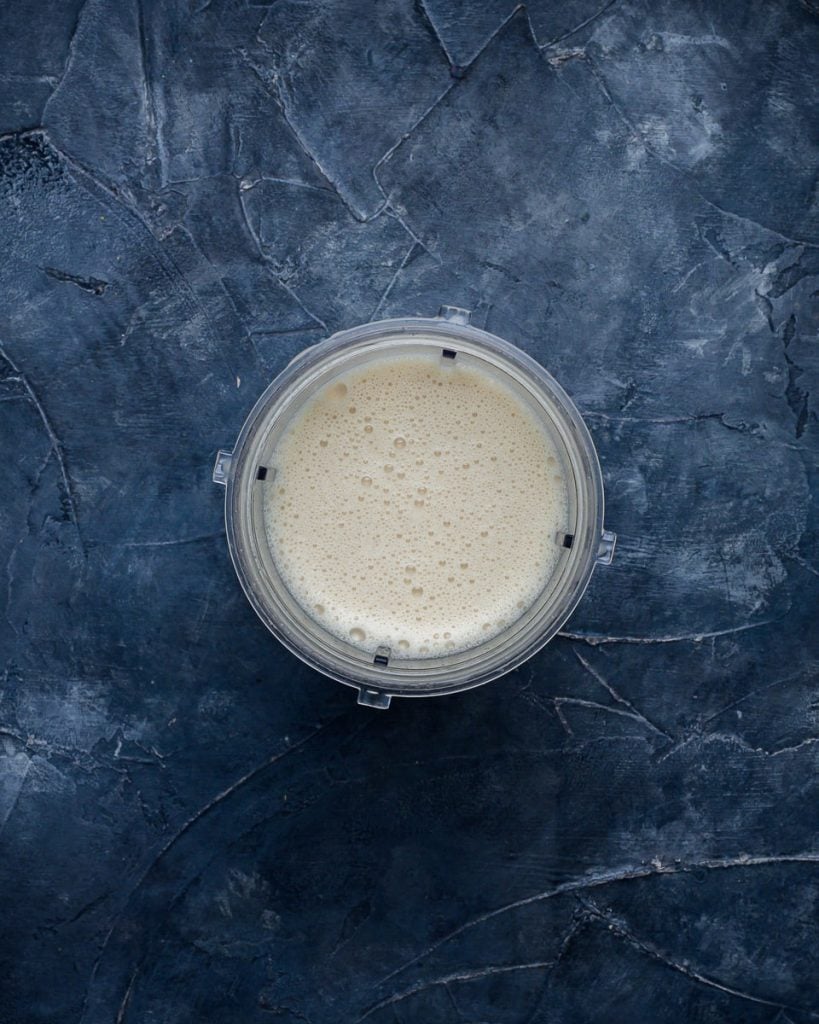 3. Combine the two and knead.
Now, to bring our cheesy vegan roll dough together, it's time to combine the wet and dry ingredients. If using a stand mixer, run the dough hook at low speed until everything comes together in a shaggy ball. If using the Kenwood Cooking Chef I like to use the "Dough Kneading" preset option, which is the perfect speed for building strength in the dough. 
If you don't have a stand mixer, just combine the ingredients with a spatula in a large bowl until you have a good, shaggy mix. Turn out onto a clean surface and knead until everything comes together into a ball. 
I like to give my dough time to hydrate fully, so after a quick knead (whether by hand or by mixer) I like to cover the dough and leave it to rest for ten minutes (a tip I learnt from Dan Lepard). After ten mins, give it another knead and you'll notice it's MUCH smoother. Now it's time to let it rise!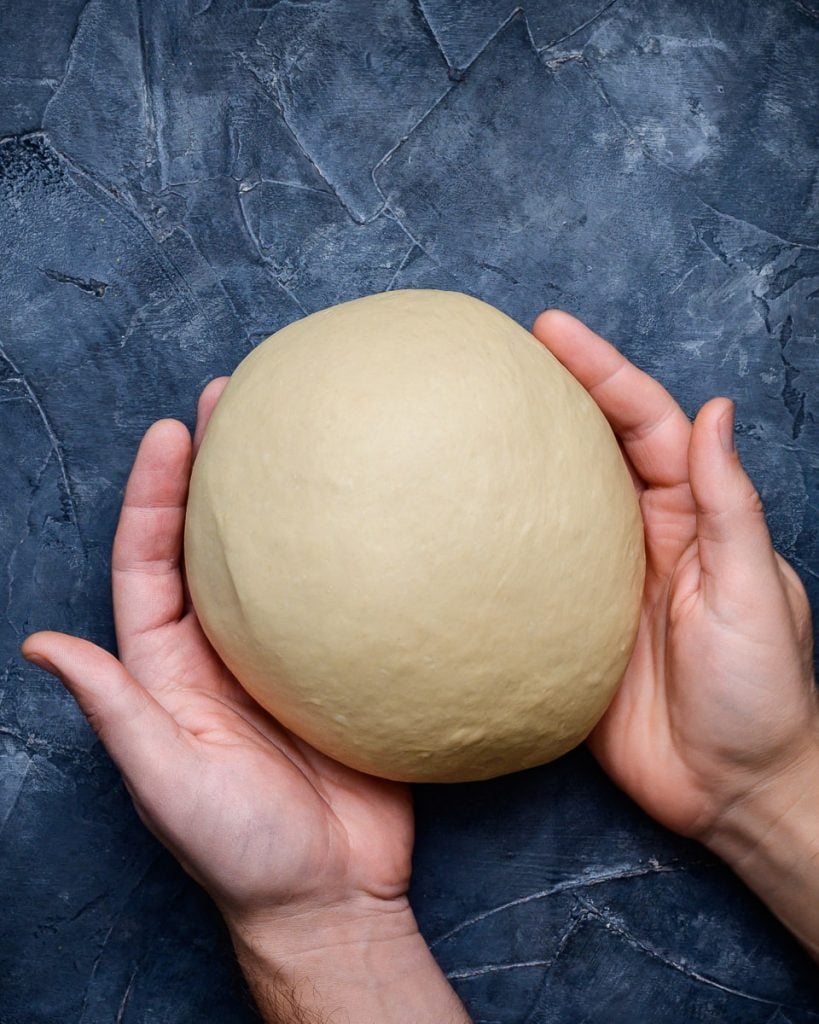 4. First proof
For the first proof, we're going to cover the dough and let it rise for around an hour or until doubled in size. It's best to do this at room temperature. Again, shameless plug for my fave kitchen appliance EVER, but if you're using the Kenwood Cooking Chef, it has a "dough proving" preset, where it actually heats the bowl to PERFECT proofing temperature.
Once it's risen, you'll need to punch down the dough to get out any of the large air bubbles *BIFF!*
5. Shaping the dough
Now that our dough has had a good proof and punch down, it's time to shape the dough into the rolls. I'm borderline obsessive so I tend to weigh out my dough as a whole then divide it by 12. And what do I use to weigh my dough?? You guessed it! My Kenwood Cooking Chef! That's right! It has a weighing scale BUILT IN, so It's easy to calculate exactly how much each roll should weigh.
Divide the dough and form each piece into a neat little ball. I like to do this by stretching the piece of dough out into a rough circle on a clean work surface. I then pinch an edge and fold it into the centre and repeat until all edges are folded into the middle. Flip the folded piece of dough upside down so it has a smooth top then place a cupped hand over the top of the dough so you're gently touching the top and sides. Finally drag your cupped hand around the surface in a circular motion, which should make the surface of the dough really taught and smooth. 
Place your balls of dough evenly spaced on a large, lined metal baking tray  and cover for their final proof. 
6. Final proof
Once covered, leave the dough to proof for a further 45 minutes. This is also a good time to get your oven going - nice and warm! Preheat to around 180c. Before putting the dough in the oven, you'll want to brush it evenly with melted vegan butter and sprinkle with some nice meltable vegan cheese.
My grateable vegan cheese is the ideal recipe for these rolls. Whip some up in advance and let it set before grating on top of the rolls. 
7. Baking
The final step! Bake these cheesy vegan beer rolls like there's no tomorrow! Well, for around 20-25 mins really. If the rolls look like they're browning too quickly, cover the pan with some tinfoil. This'll help them to rise to their full potential without burning. 
Once out of the oven, let your rolls cool for around 20 minutes. Top with a little more vegan cheese, a sprinkle of fresh parsley and serve!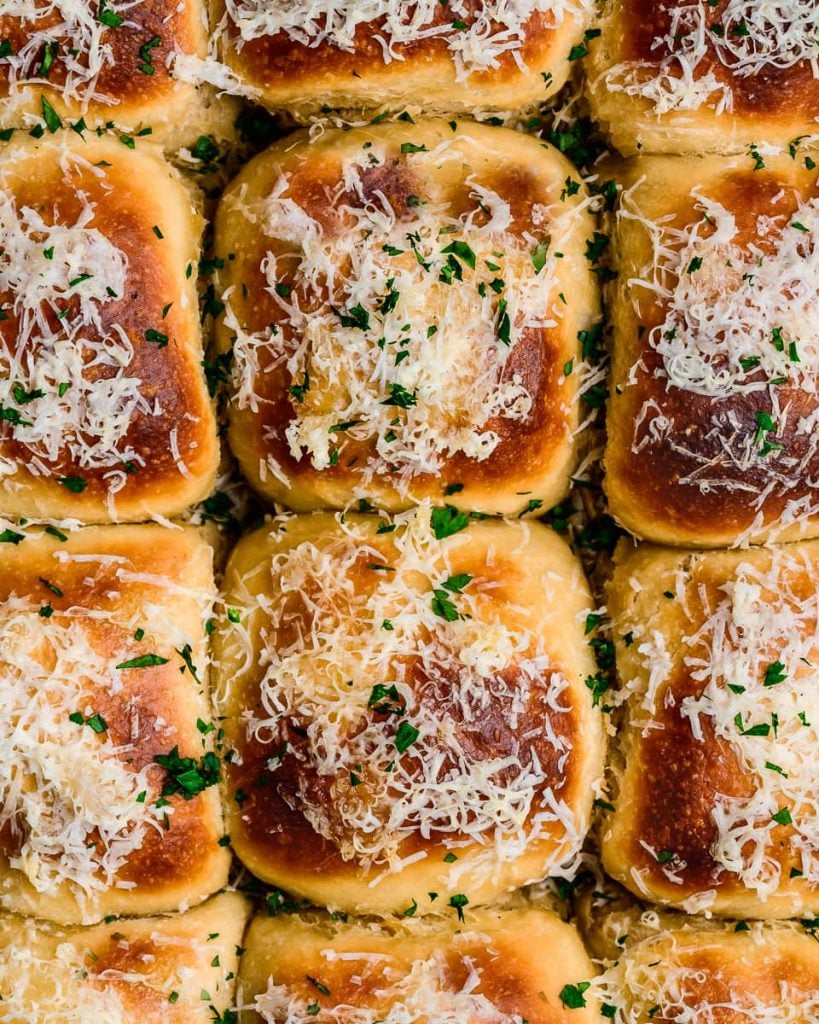 And that's it! It really is super easy! You're gonna love these guys so much I can feel it in my bones! Give this recipe a go and let me know what you think over on my instagram.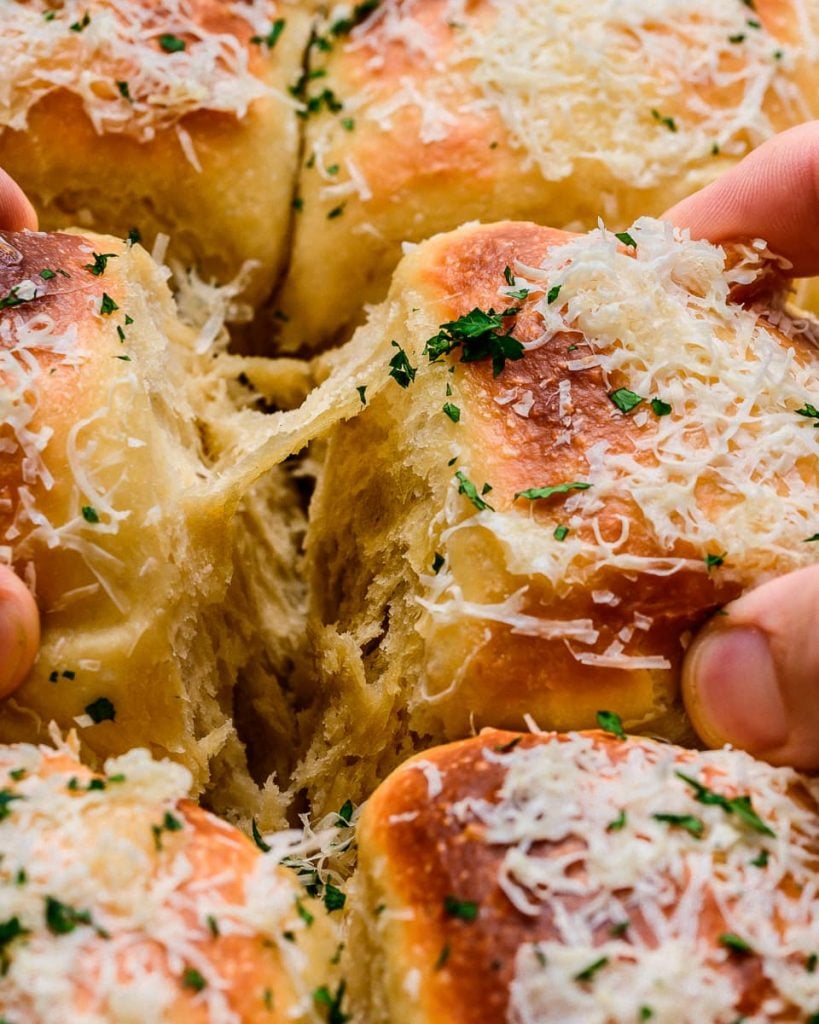 Need more BREAD recipes??
Then you came to the right place! Why not give these bad boys a try!?
Sourdough For Beginners
Sourdough Focaccia
Vegan Monkey Bread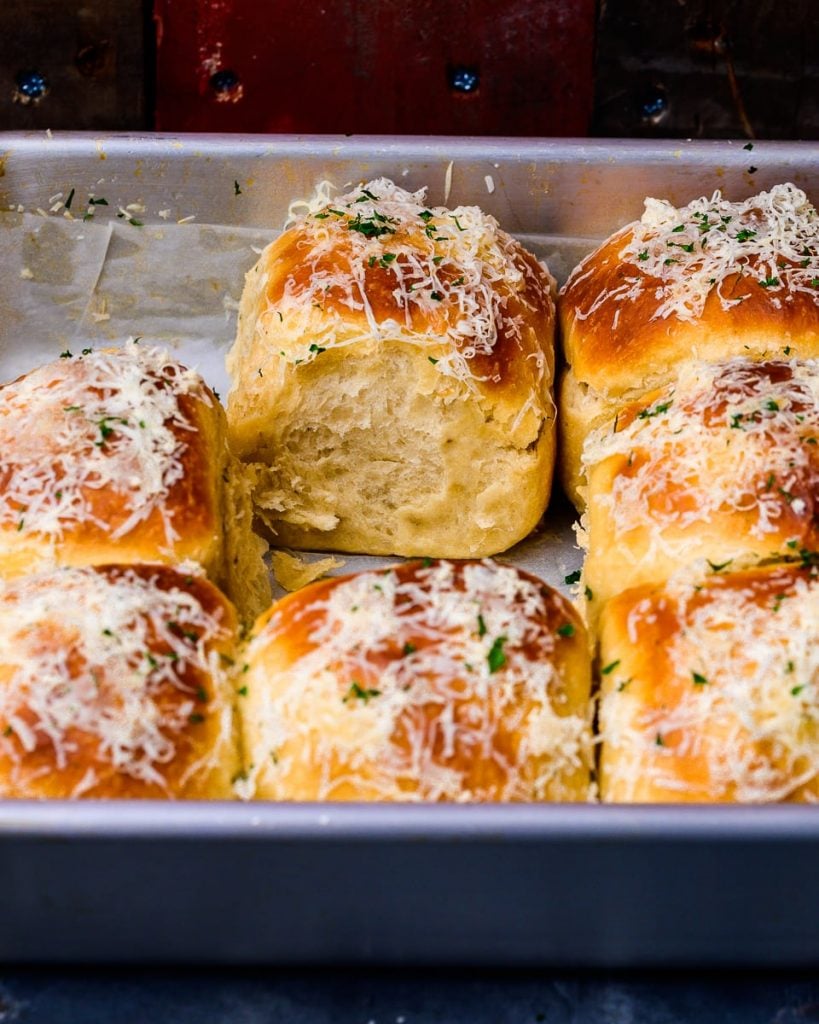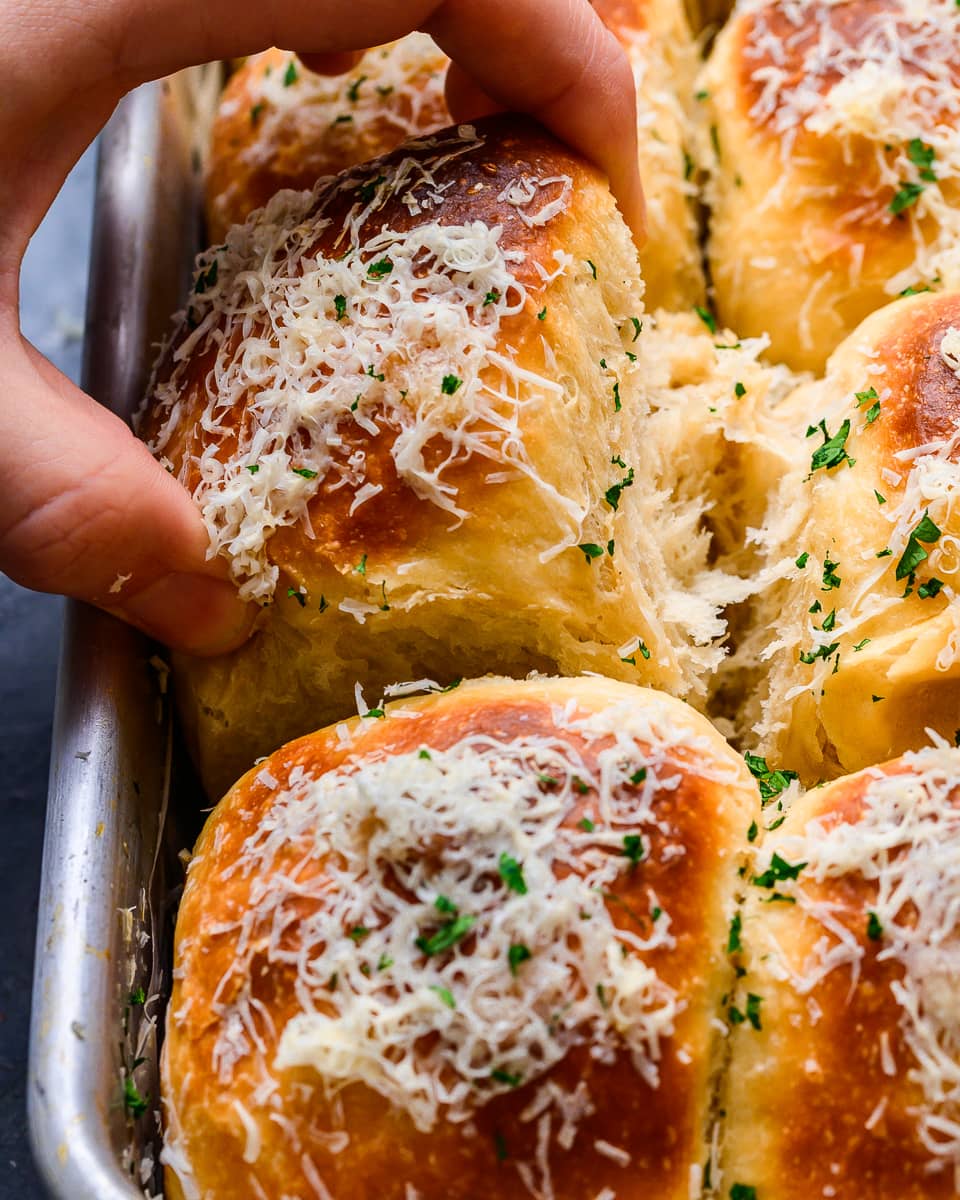 Cheesy Vegan Beer Rolls
Delicate, fluffy cheesy vegan beer rolls. A gently crispy golden cheesy top with a ridiculously soft pull-apart centre. The PERFECT bread roll!
Ingredients
600

g

strong white bread flour

200

g

plain white flour

2

teaspoon

instant yeast

1

teaspoon

fine sea salt

65

g

vegan butter

((at room temperature))

1

tablespoon

vegan butter

((melted))

3

tablespoon

agave syrup

350

ml

beer or ale

((at room temperature, make sure it's vegan))

100

ml

plant milk

((make sure it's full fat))

3

tablespoon

nutritional yeast

1.5

tablespoon

white miso

100

g

vegan cheese

((my Grateable Vegan Cheese recipe works best))
Instructions
Line a 25 x 30 cm deep baking tray with baking parchment. Set aside.

In the bowl of a stand mixer, combine the flours, yeast, sea salt and 65g of vegan butter at room temperature.

In a measuring jug, whisky together the agave syrup, beer, oat milk, nutritional yeast and white miso paste.

Add the liquid ingredients to the stand mixer and set to knead on low speed with the dough hook attachment until the dough comes together into a shaggy ball. Stop the mixer and cover the bowl with a damp teatowel. Leave to rest for 10 minutes.

Once 10 mins have passed, knead the dough again for around two minutes or until the dough looks very smooth. Stop the mixer, cover with the damp teatowel again and leave to proof for an hour at room temperature.

After an hour, the dough should've doubled in size - if not, give it a little longer to rise. Punch down the dough to remove any large air bubbles. Remove the dough from the bowl and place on a clean surface. Divide the dough into 12 equal pieces (I like to weigh mine).

Roll each piece of dough into a ball and arrange in the lined baking tray. Once all the dough is arranged, cover the tray with plastic wrap or a damp teatowel and leave to proof again for 45 minutes.

While your dough proofs, preheat the oven to 180c (fan). Make sure your remaining 1 tablespoon vegan butter is melted and your vegan cheese grated.

Once the dough is proofed, use a pastry brush to apply the melted vegan butter to the tops of each roll. Top the rolls with half of the grated vegan cheese and place in the oven. Bake for 22 minutes or until golden brown on top. Remove from the oven and top with the remaining vegan cheese. Leave to cool for 20-30 minutes before serving.
Nutrition
Calories:
357
kcal
Carbohydrates:
59
g
Protein:
10
g
Fat:
8
g
Saturated Fat:
2
g
Sodium:
407
mg
Potassium:
149
mg
Fiber:
3
g
Sugar:
4
g
Vitamin A:
284
IU
Vitamin C:
1
mg
Calcium:
30
mg
Iron:
2
mg
Love this recipe?
Let me know on Instagram!