Publised on 01/01/2021 by Richard. Last Updated on 27/09/2023 by Richard.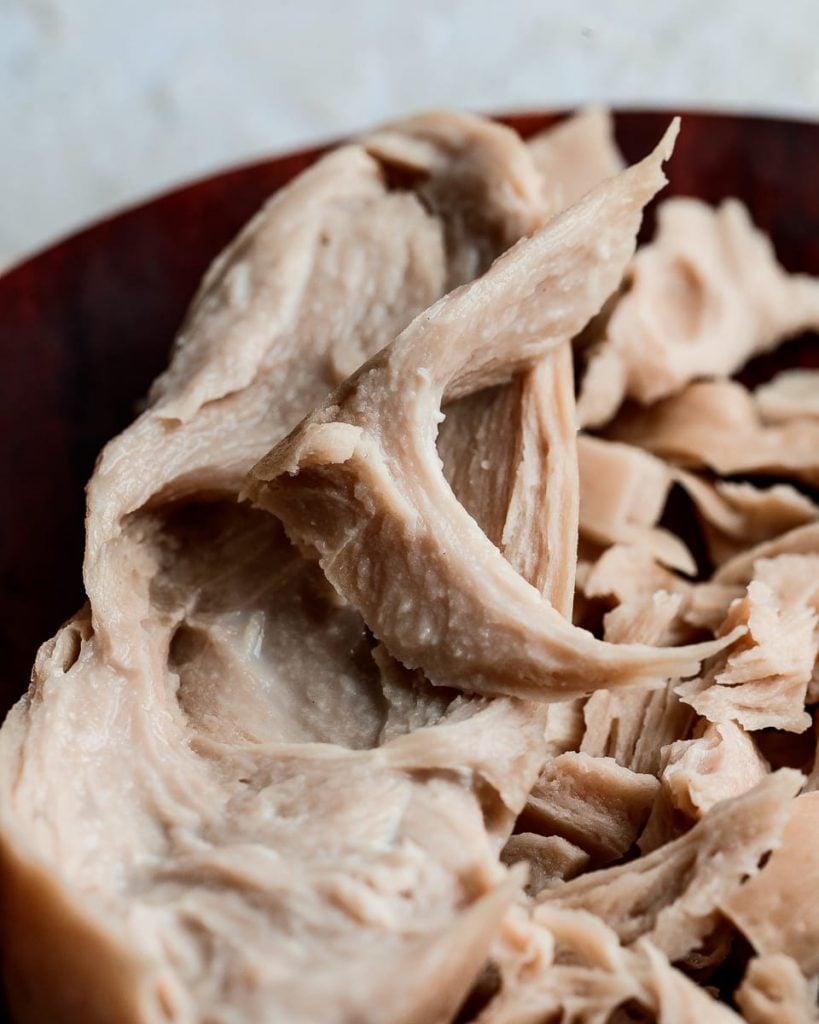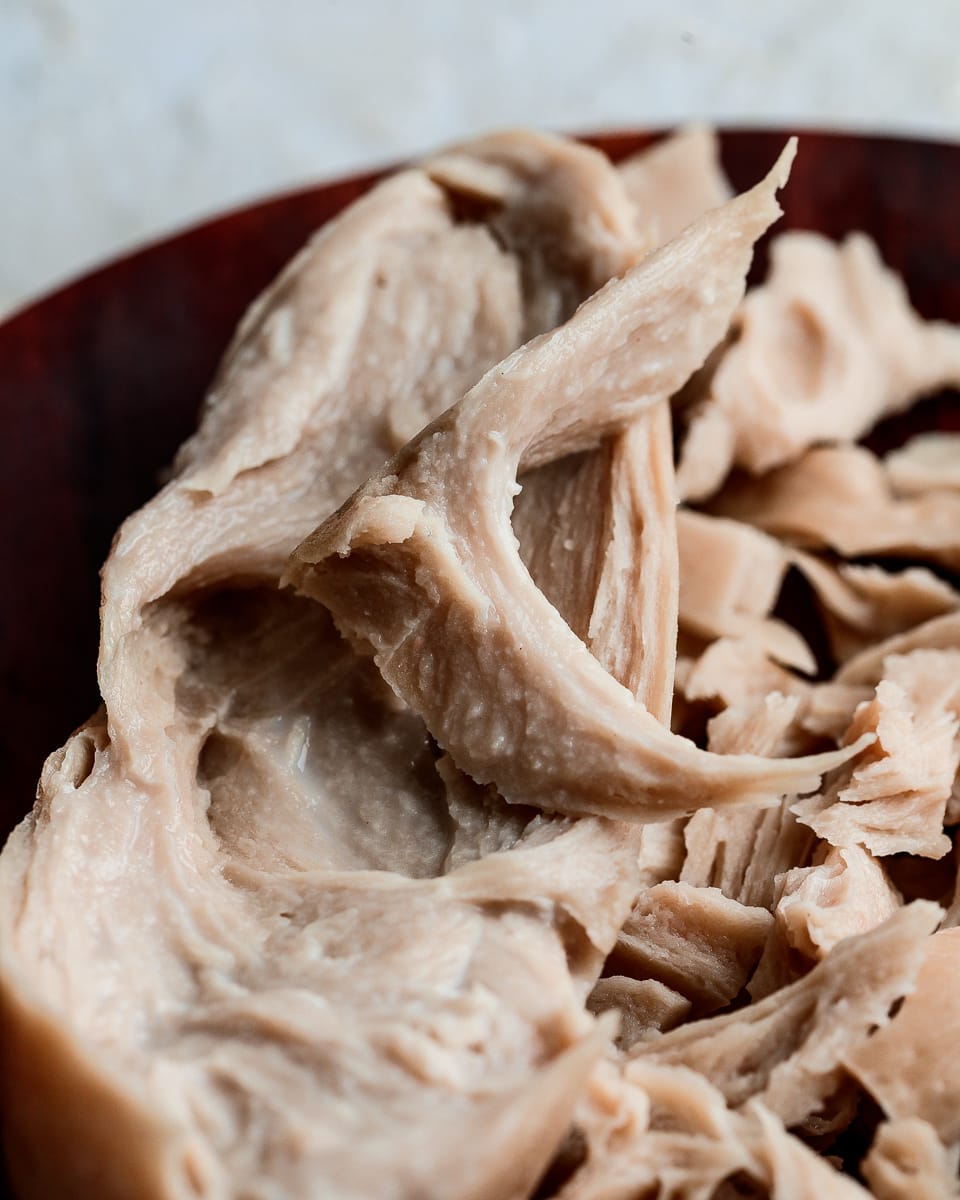 Delicious, versatile vegan chicken! Made from seitan, it's ideal for stir fries, fried chicken, kebabs - you name it!
---
Ohhhhh hello and welcome to ENTRY ONE in my Vegan Essentials series: VEGAN CHICKEN - your new favourite vegan meat!
In anticipation of VEGANUARY 2021, I asked y'all on instagram which recipes you would've loved as a new vegan. Over 400 answers later and I've thrown together my list of ESSENTIAL "month one" vegan recipes, which I'll be sharing across the month on January.
If you're one of those brave souls jumping from omnivore to vegan this year - this vegan chicken (aka seitan chicken) is a great starting point for you. It's made from a blend of vital wheat gluten and a bunch of other exciting ingredients, much like my vegan fried chicken and my vegan beef roast!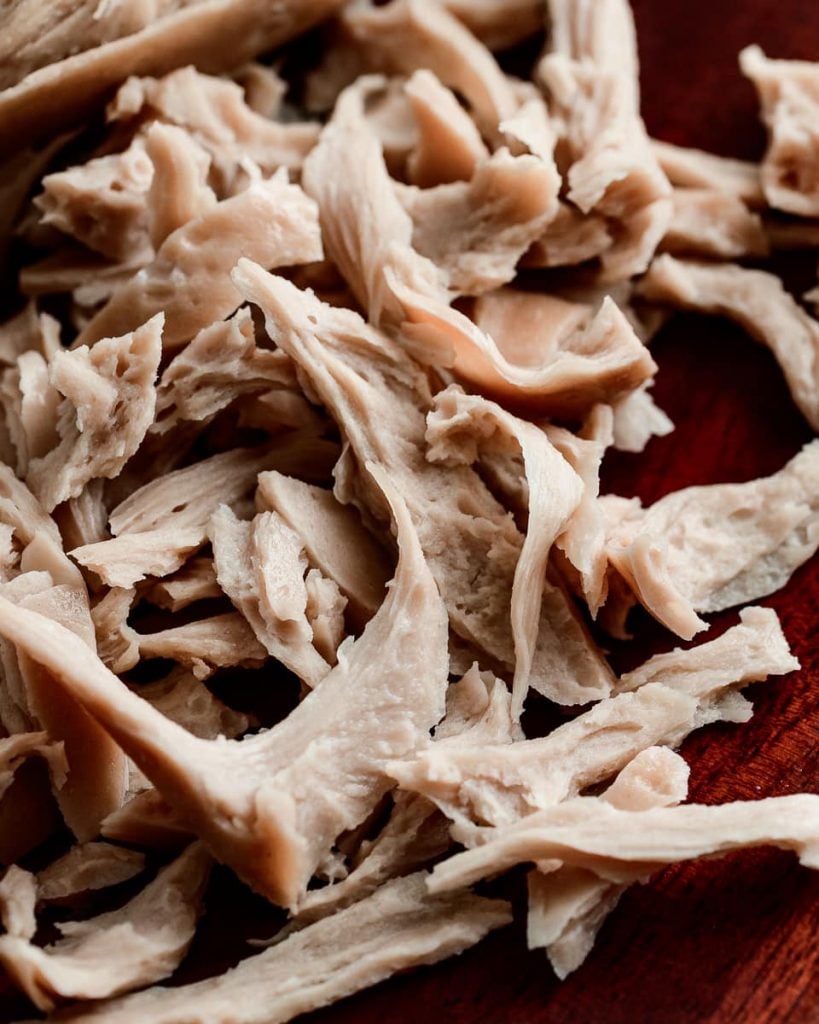 What Is Vegan Chicken??
This vegan chicken recipe is made from seitan. Don't get scared if this is the first time you've heard that word! It's just a very old name for cooked wheat gluten! People eat wheat gluten as a protein source in lots of countries but originated in China, where Buddhist monks consumed it instead of meat.
The texture is REMARKABLY meaty and can be easily packed with flavours to help mimick all sorts of non-vegan meals. For this recipe, I like to keep the flavours simple and do my best to replicate the versatility of real chicken.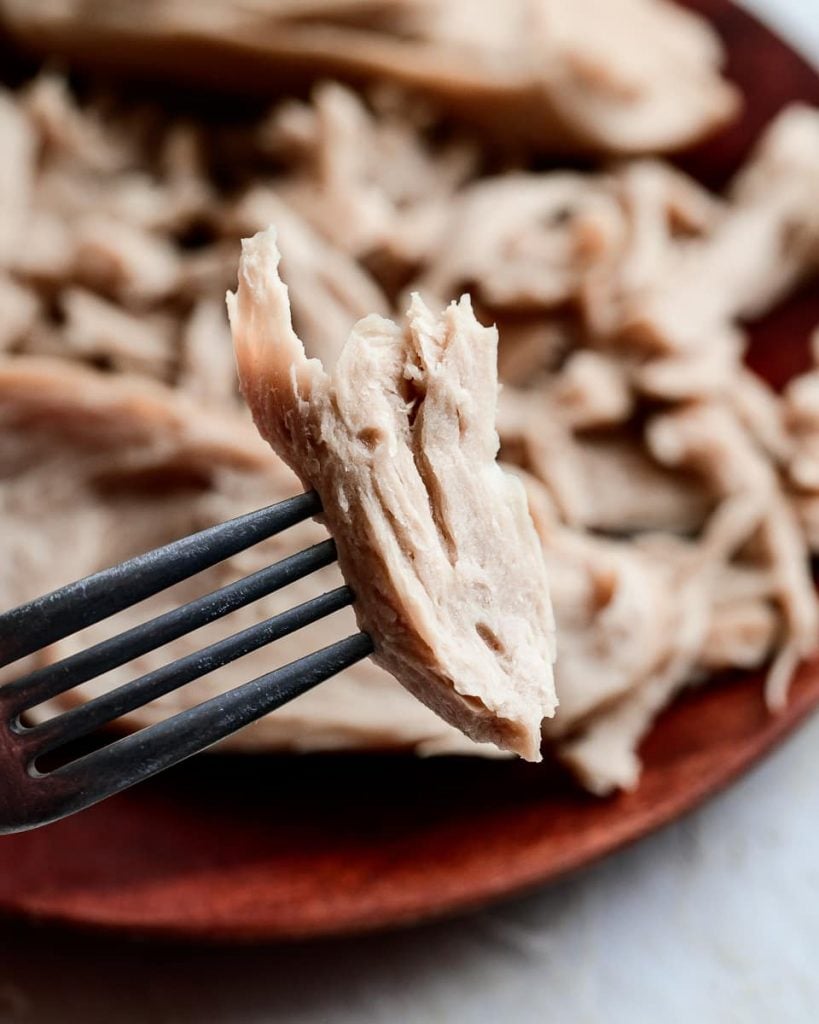 Why Chicken??
Some vegans believe that meat replacements are somehow simply no-go for a plant based diet, and might be skeptical of my vegan chicken. And hey, good for them! I feel differently. I also know that a lot of people eager to make the switch from omnivore to vegan wind up craving meat so badly that they fall off the wagon.
If I can create something which even comes CLOSE to satisfying those early day cravings for you, then hopefully we'll have one one more vegan on board at the end on January! That's my aim for this vegan chicken.
According to your responses on instagram, chicken is by far your most used meat in home-cooking. So in my opinion, this plant based alternative is a great place to start!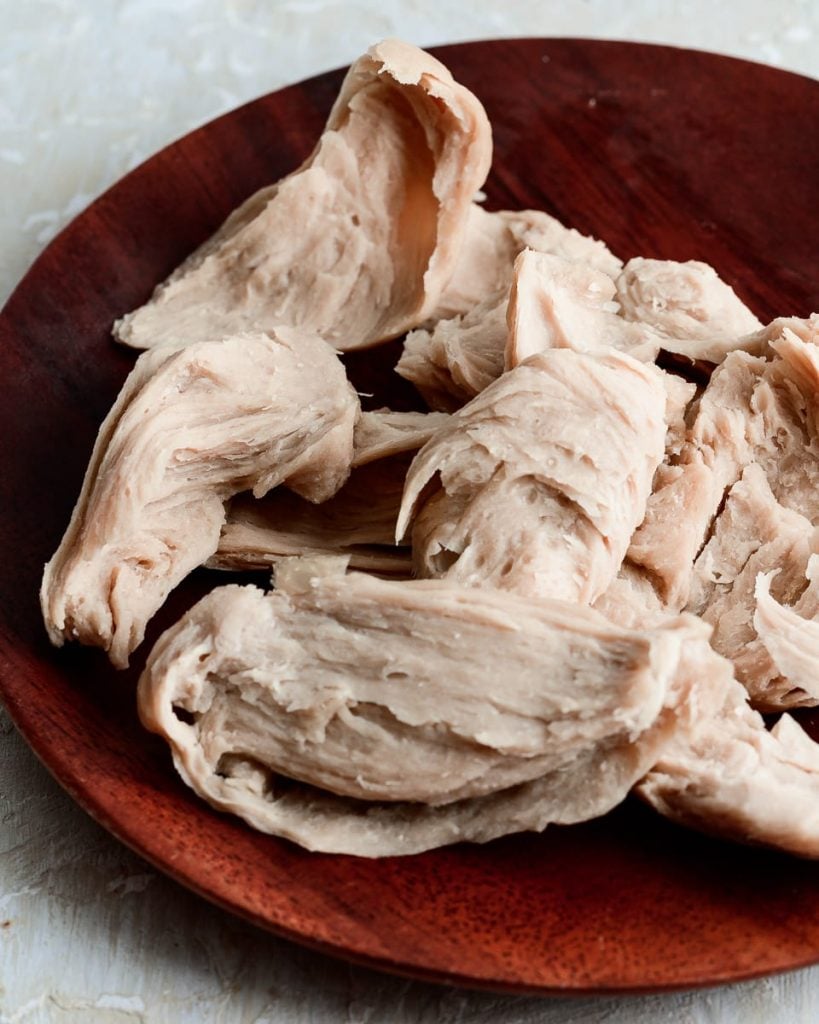 Why Make You Own??
Trying to eat vegan in 2021 is going to be a WHOLE different ball game compared to ten years ago. The number of vegan products in supermarkets has exploded over the last few years. And don't get me wrong, this can ONLY be a good thing! Vegan chicken is for sale in a bunch of different places these days!
But here are some of the issues with store-bought meat alternatives: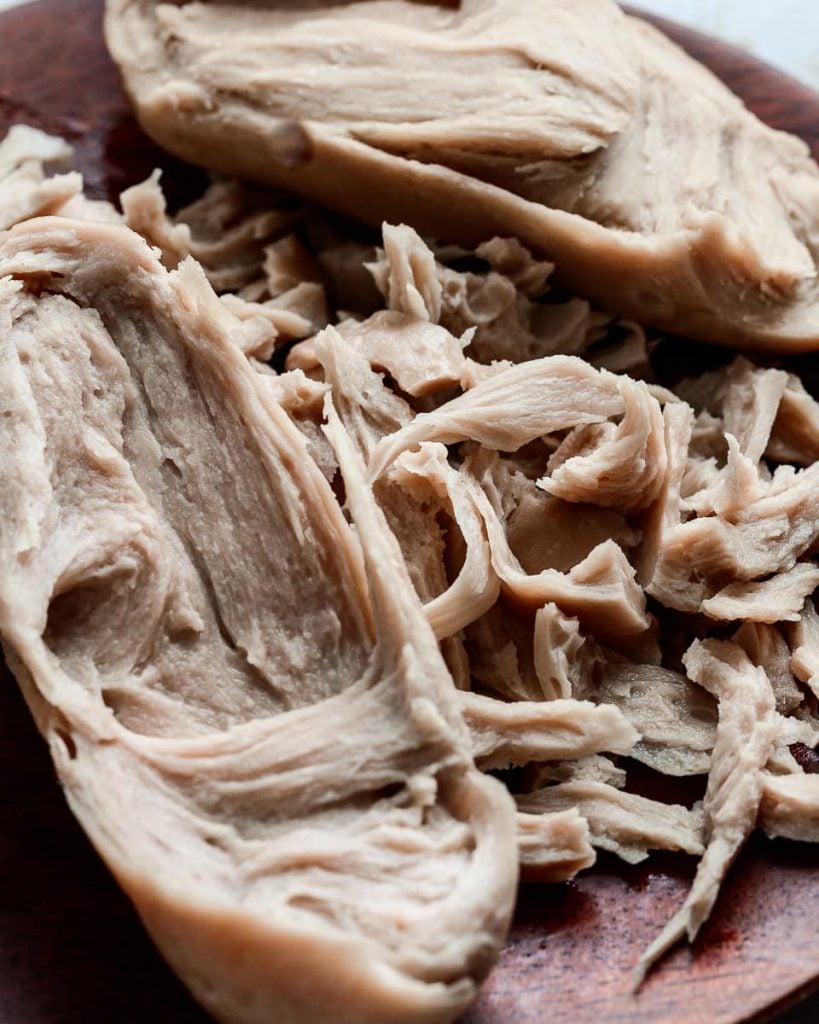 Vegan meat alternatives can be super pricey (although brands like Plant Chef at Tesco have some super cheap vegan chicken options).
Some people are dubious of the big long words you find in the ingredients lists. They're also often high in fat and sodium.
Not all countries or regions have a huge variety of options when it comes to plant meats.
Many vegan meat alternatives are already flavoured and seasoned and usually pre-shaped which limits the kind of recipes you can use them in.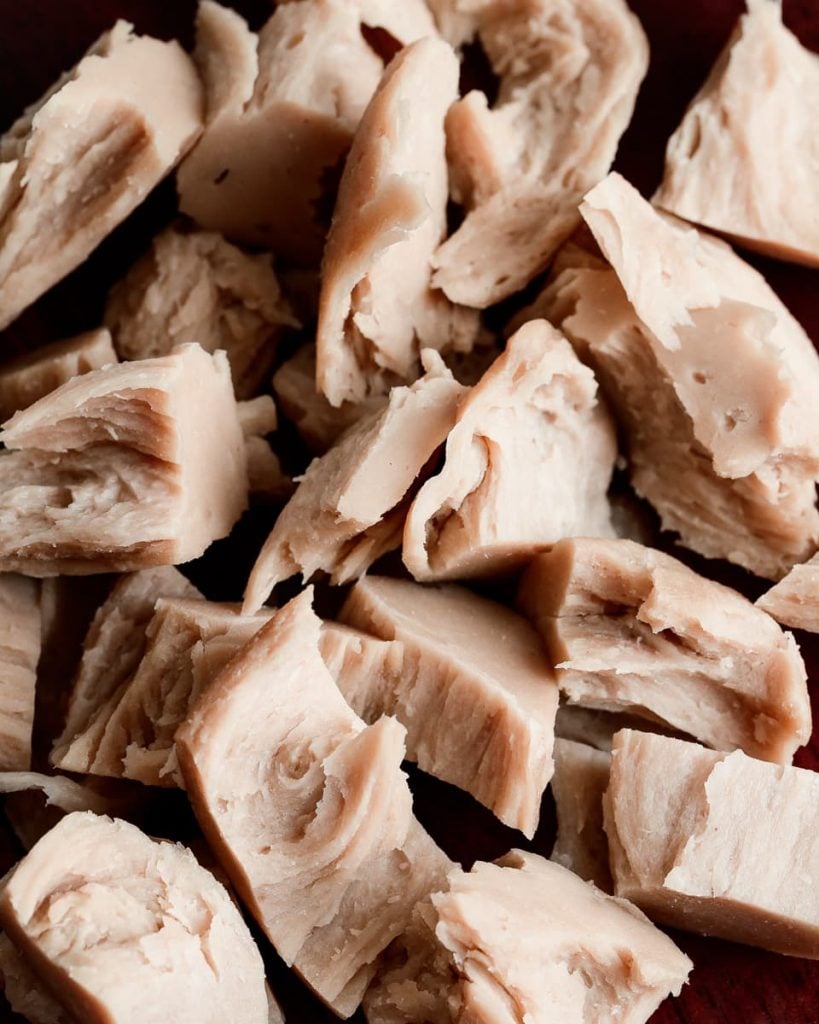 On the other hand, this vegan chicken recipe is:
Super versatile! The flavours are bold and delicious but will work just as nicely in a butter chicken curry as they might in a caesar salad!
Super convincing! The texture is absolutely bang on! This vegan chicken pulls apart, slices and shreds just like real chicken, so it'll really hit the spot for those month-one-cravings!
Easy to make! Sure, it takes time, but the steps in this process are very easy to follow.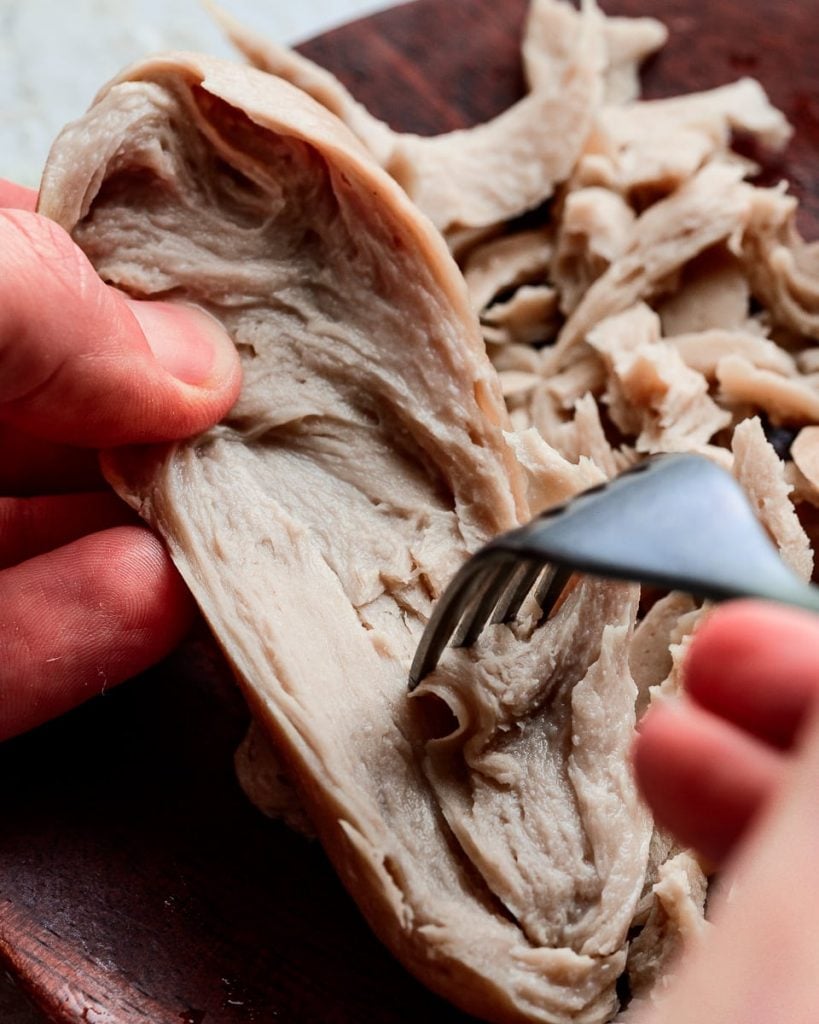 HOW DO I MAKE VEGAN CHICKEN??
The full recipe, as always, is at the bottom of this page, but here are the main steps towards making PERFECT vegan chicken.
1. Blend up the wet ingredients
This is where most of the flavour comes from. At this point we get loads of miso paste, and rice vinegar involved which gives our vegan chicken a great umami kick-start. Blend everything together until you've got a super creamy liquid.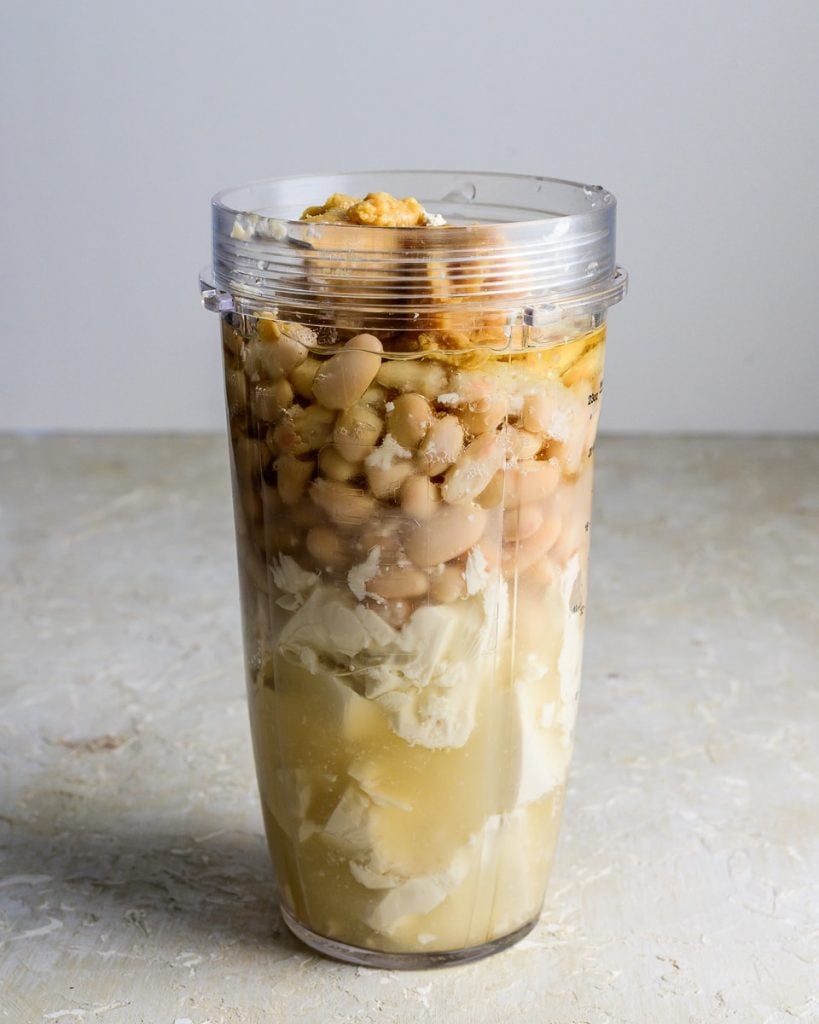 If you think the mixture could be thicker, blend it again! Keep going until it's silky smooth and then sieve the mixture. At this stage I recommend transferring from the cup attachment on my blender to my jug attachment, just because it has much more space to add the wheat gluten. Oh, and I like to use a Ninja for my blending - not sponsored! I just think they're great!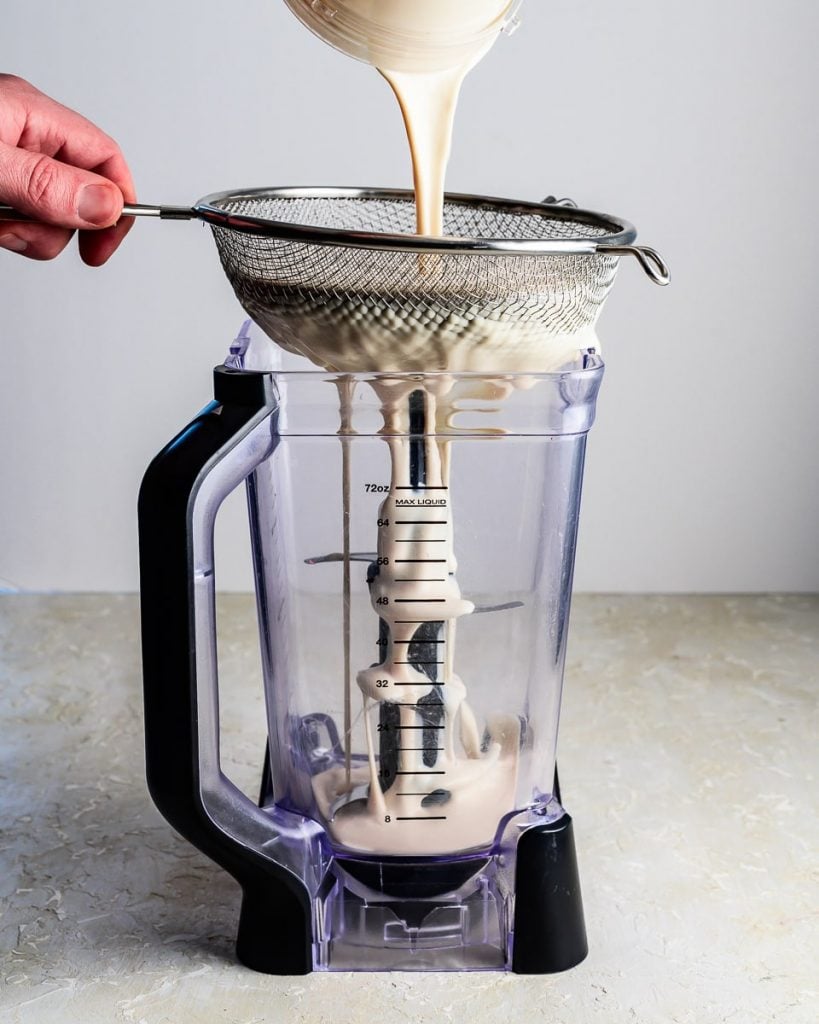 2. Add The Wheat Gluten
This is where the texture comes from. The wheat gluten hydrates on contact with the creamy liquid ingredients and then once you keep blending, you'll find it forms a super stretchy, stringy dough.
It won't look appetising at this point, but trust me, it will be once your vegan chicken is finished!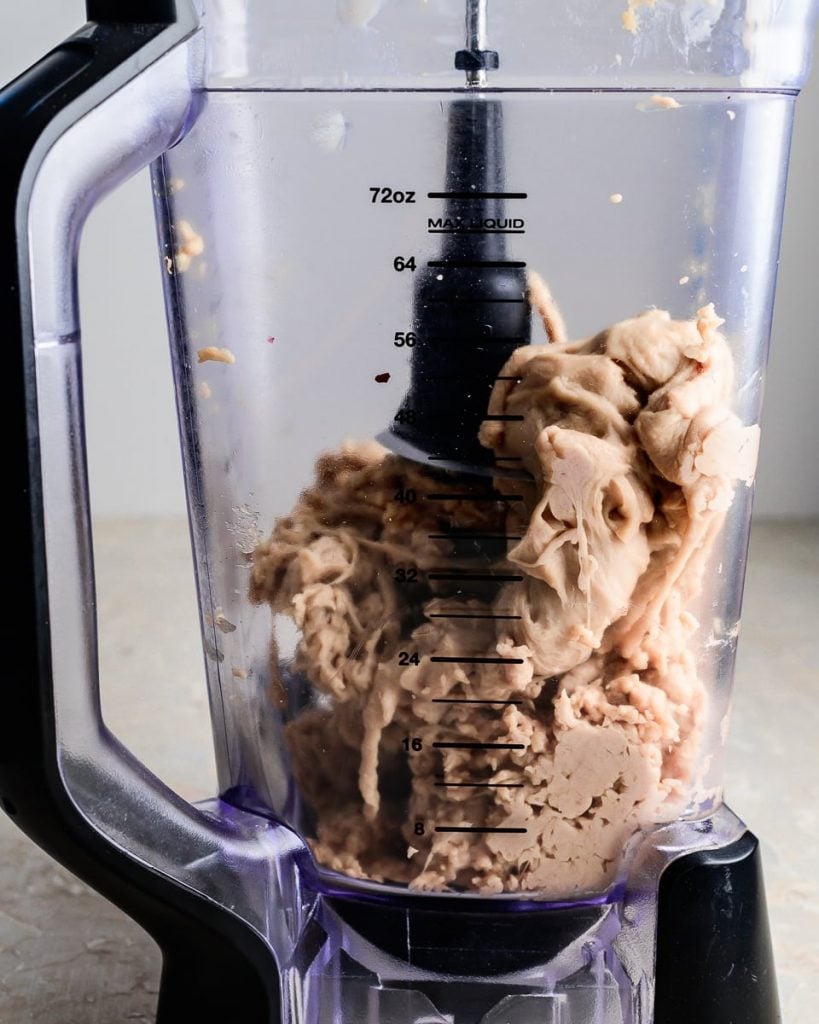 Now we have a nice, smooth, stretchy dough, it's time to form it into vegan chicken "breasts" or "fillets". Yes, I know they look more like little potatoes. But the purpose of this is to help the seitan to steam more quickly.
Once you've formed 8 seitan vegan chicken fillets, wrap them up as tightly as you can using greaseproof paper or muslin and then pop them in the steamer. All seitan needs to be cooked twice, FYI. The first time you cook the seitan alone to help it form its shape and improve the texture. The second time is when you add it to whatever dish you are cooking.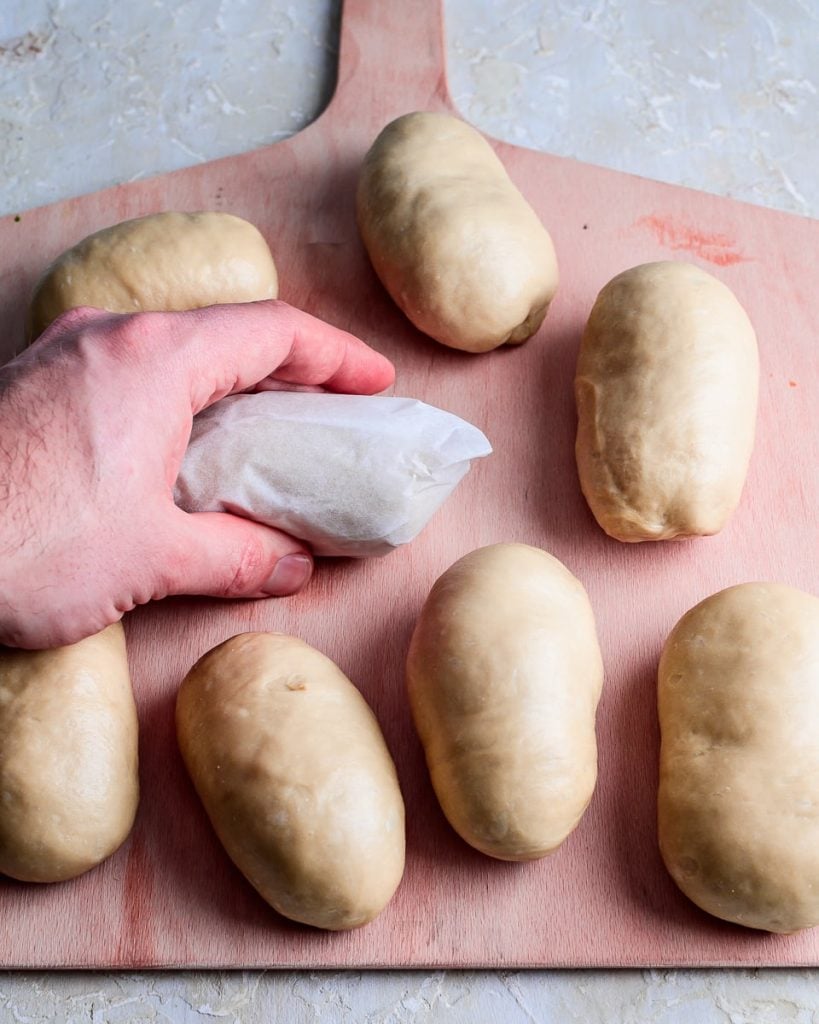 3. Steam the vegan chicken!
For our first cooking, we steam our seitan. Steaming is perfect for seitan because the "meat" gets heated right the way through meaning it has a lovely, consistent texture. Unlike boiling, it also means the seitan doesn't absorb too much liquid and become a big soggy sponge. Instead it stays meaty and delicious.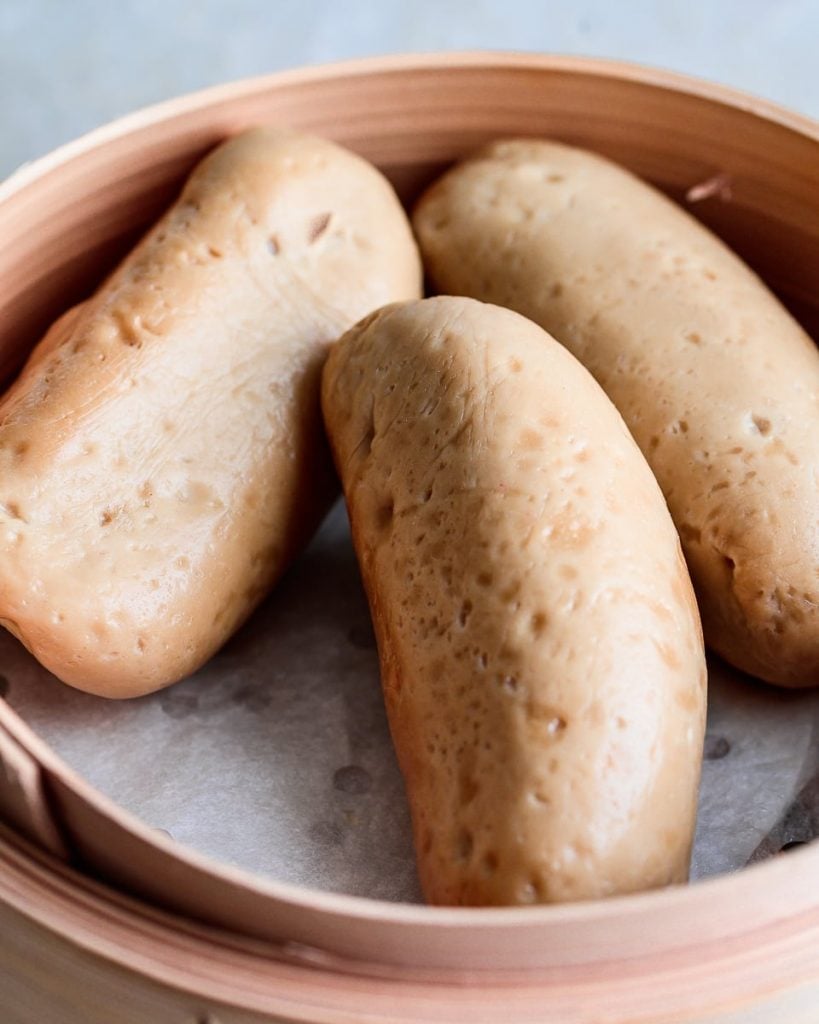 4. Marinade It!
Here's where things get SUPER meaty. We've already got a beautifully textured vegan chicken, now let's pack it with flavour. The combination of the wine, miso paste and sugar draws out all the natural umami flavours in the seitan as well as acting as a tenderiser.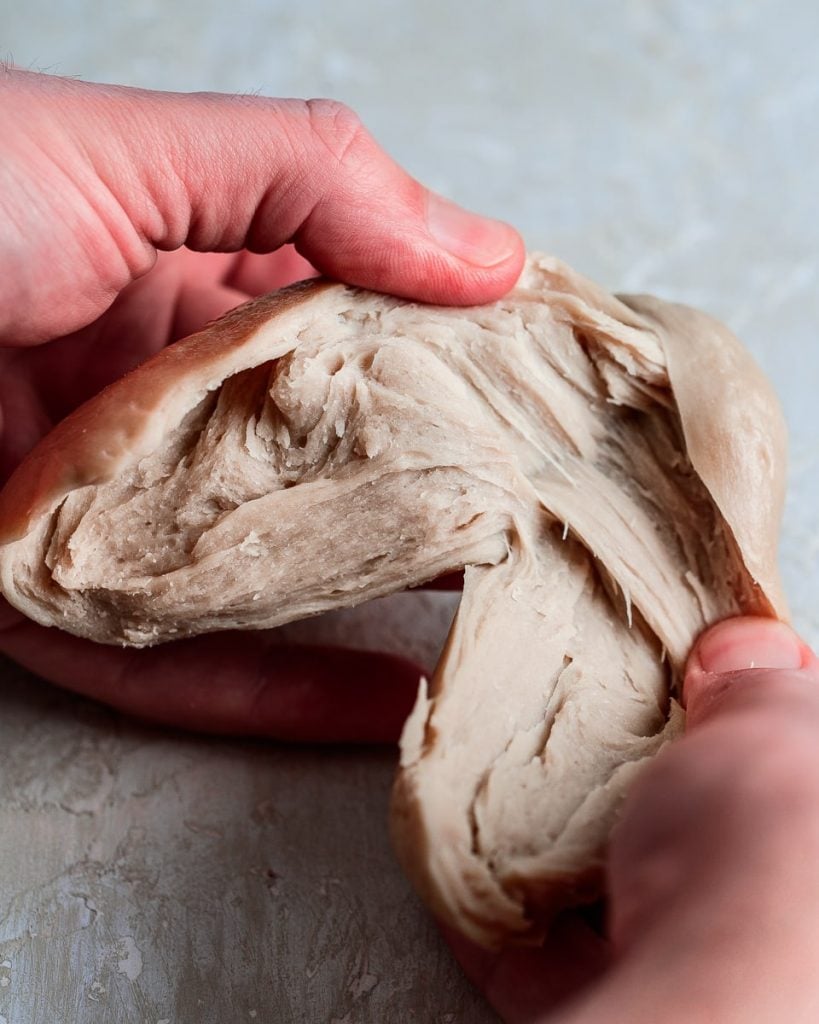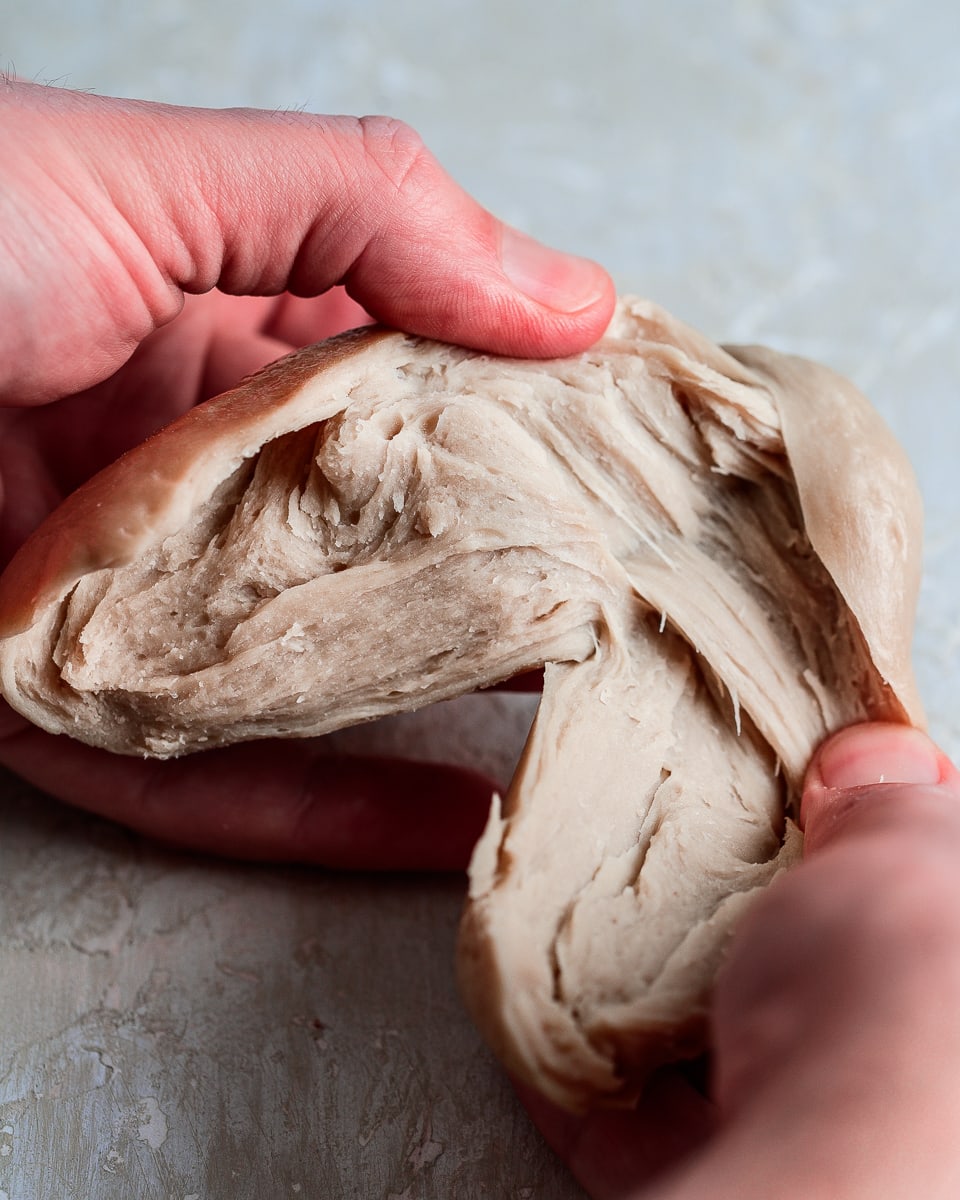 Pull the vegan chicken "fillets" in half before marinating them. This helps them to absorb more flavour. I marinate my vegan chicken in the fridge overnight before using.
5. Use Like Real Chicken!
Once marinated, you can use this vegan chicken as though it were real chicken! You can use it in a butter chicken recipe or maybe even a tikka masala? You could tear it into wings and batter and fry it for the best ever vegan fried chicken or a vegan chicken katsu sandwich! The world's your oyster!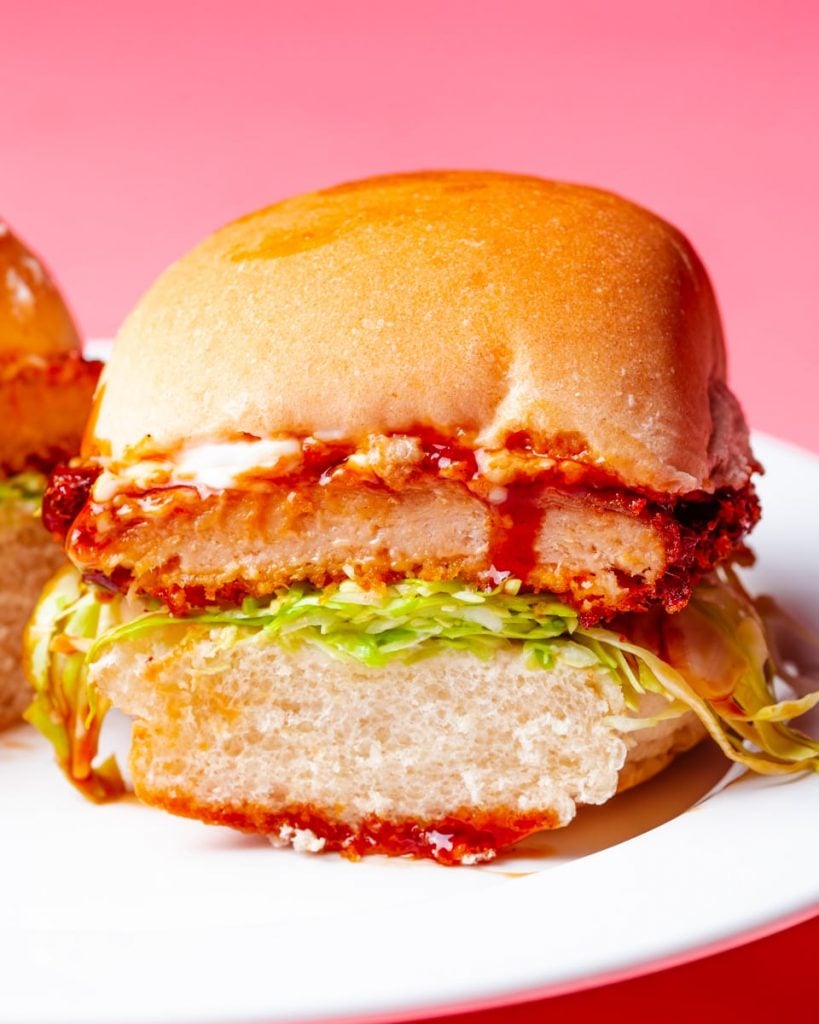 Need some ideas for vegan chicken recipes?!
Then you came to the right place! Why not give these bad boys a try!?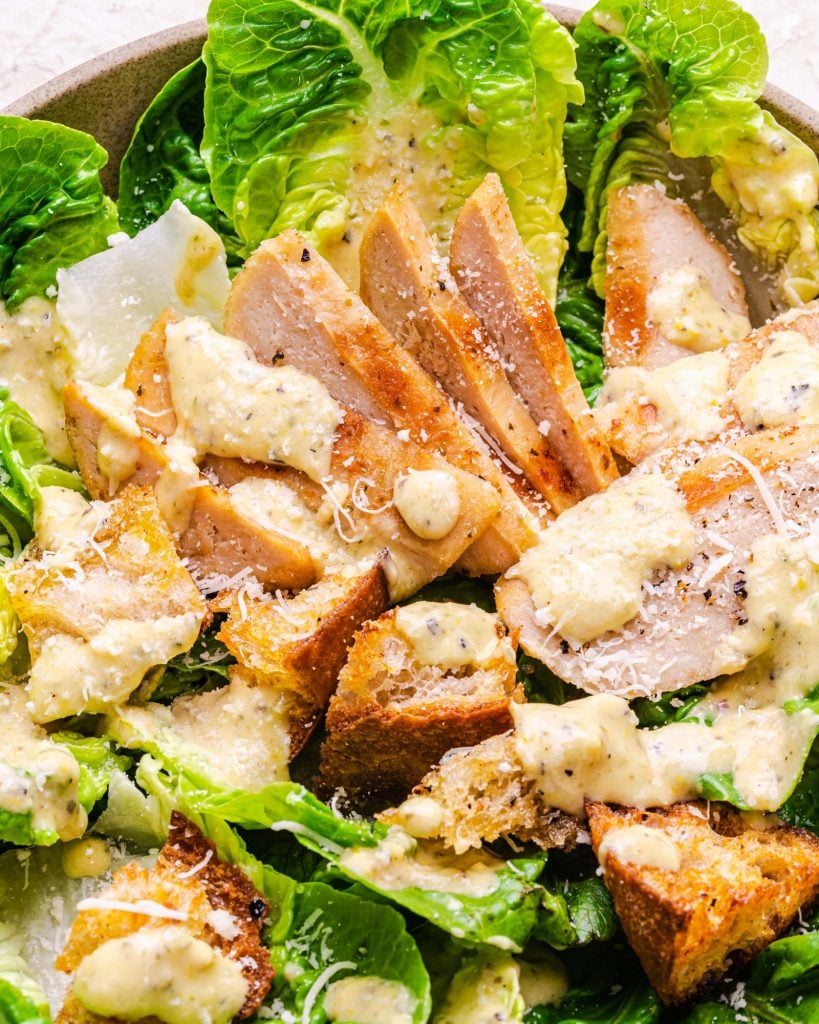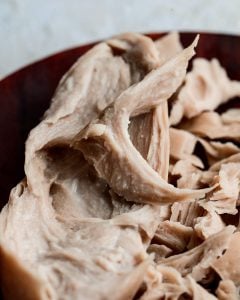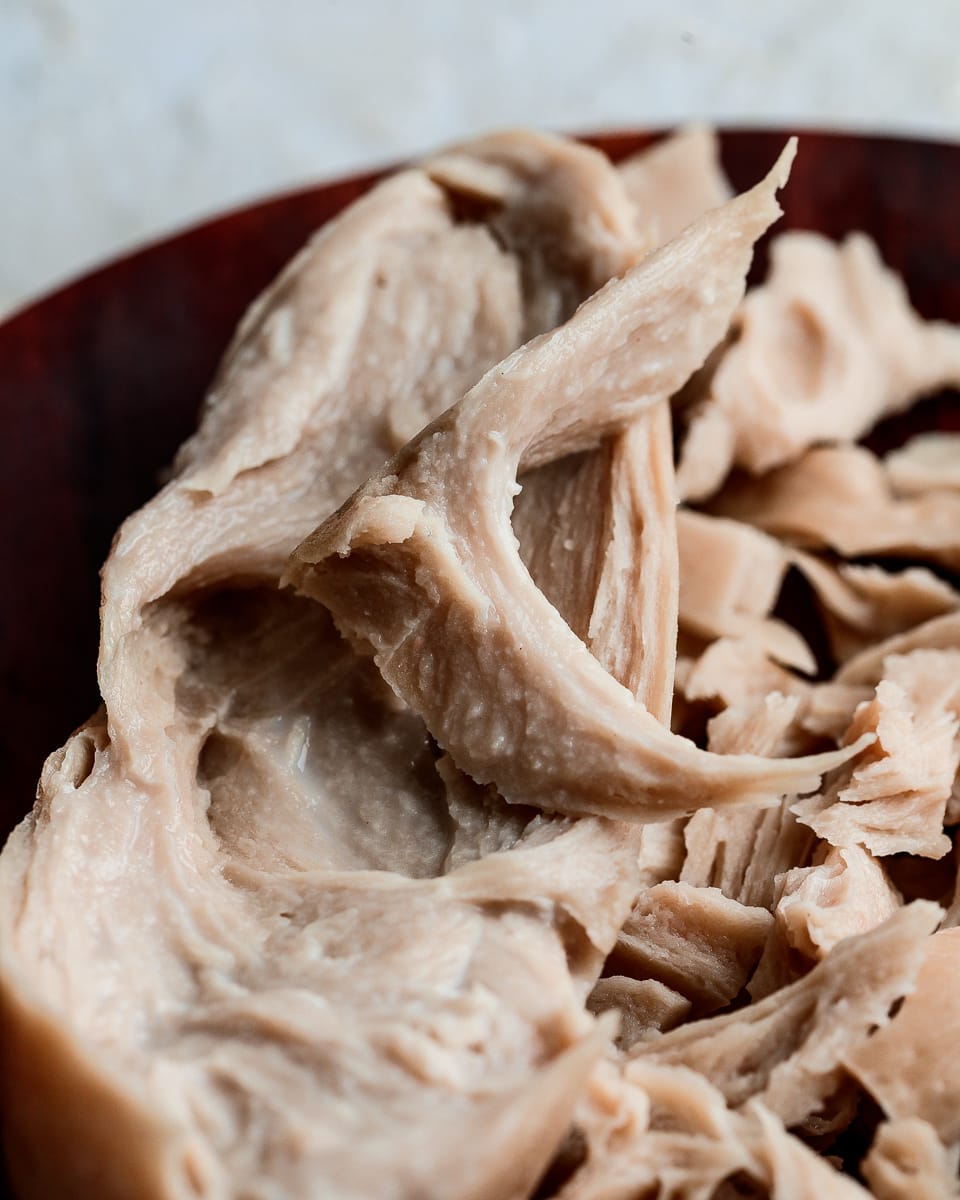 Vegan Chicken
Delicious, versatile vegan chicken! Made from seitan, this is recipe number one in my Vegan Essentials series for Veganuary 2021! It's ideal for stir fries, fried chicken, kebabs - you name it!
Equipment
High Speed Blender

Steamer or Steamer Basket
Ingredients
For the Vegan Chicken
439

g

pack of silken tofu

400

g

tin of cannellini beans

((including the soaking water))

6

tablespoon

vegetable oil

((make sure it's neutral flavoured: sunflower, rapeseed, canola will do))

2

teaspoon

flaky sea salt

2

tbsp

white miso paste

2

teaspoon

rice vinegar

((alternatively use apple cider vinegar or white wine vinegar))

380

g

vital wheat gluten

1

teaspoon

garlic powder
For the Brine
3

cloves

garlic

((crushed))

4

tablespoon

white miso paste

120

ml

dry white wine

((make sure it's a vegan variety))

2

tablespoon

sugar

500

ml

just boiled water

2

tablespoon

mushroom bouillon

((or 2 mushroom stock cubes))

2

teaspoon

flaky sea salt

4

bay leaves
Instructions
To Make the Vegan Chicken
Place the tofu, cannellini beans (and their water), 3 tablespoon of the vegetable oil, sea salt, miso paste and rice vinegar into the largest cup or jug attachment of a high speed blender. Blend on high speed for a minimum of 1 minute. Remove the cup, shake it well or use a spatula to make sure no chunks are stuck to the side then blend again for another 30 seconds until very smooth and creamy.

Add the vital wheat gluten and the garlic powder to the mixture and blend until the mixture is smooth and very stretchy. Add the remaining 3 tablespoon vegetable oil and blend again for at least 30 seconds. At this stage, the seitan dough should be very stringy – almost like the texture of tough chewing gum (don't worry – this is correct – it won't be like this once cooked!).

Divide the seitan chicken dough into 8 pieces, roughly 150g each. Working with one at a time, pinch the edges of the piece of seitan and tuck it over and into the centre, making one smooth side and one folded, tucked side. Roughly shape the dough into a fillet. Repeat with the remaining pieces.

Lay a sheet of greaseproof paper on a clean surface and place the fillet on top. Fold the sides of the greaseproof paper over and wrap tightly. Alternatively you can use muslin/cheesecloth to wrap the seitan and bind it tightly with string.

IMPORTANT: it's essential that each fillet is wrapped as tightly as possible otherwise the seitan will expand and become spongy rather than firm and meaty.

Place the tightly wrapped seitan chicken "breasts" into a steamer. A bamboo or an electric steamer will work fine. Steam for at least 1 hour. After an hour, give the fillets a little prod. They should be firm and bouncy rather than soft and doughy.

Once steamed, remove the seitan chicken from the steamer and without unwrapping, leave to cool for at least 20 minutes. While the chicken cools, prepare the marinade.
To Make the Brine
Put the crushed garlic, miso paste, dry white wine and sugar in a medium bowl and whisk together until a smooth paste forms. Set aside.

Once your vegan chicken is cooled, unwrap it and use your hands to pull apart each piece into two (don't slice with a knife as the torn, meaty texture helps the chicken to soak up flavour).

Place the vegan chicken into a large tupperware container with a lid or a large deep baking tin. Pour over the miso/wine mixture and use your hands to rub the marinade into the vegan chicken.

Add the just boiled water to a large measuring jug and add the remaining brine ingredients. Pour over the chicken pieces while the brine is still hot and use a fork to make sure all the chicken is covered in liquid. Cover with reusable wrap or a lid and allow the brine to cool to room temperature on the counter. Once cooled, place in the fridge and leave to marinate for a minimum of 8 hours, ideally 12 if you can.

Once the chicken has marinated for a minimum of 8 hours, it is ready to use.

For shredded chicken, use a fork to pull apart the marinated vegan chicken into fine shreds. For chunks either pull the vegan chicken apart by hand for a rough texture or slice into pieces with a knife.
Nutrition
Calories:
192
kcal
Carbohydrates:
11
g
Protein:
22
g
Fat:
7
g
Saturated Fat:
4
g
Sodium:
750
mg
Potassium:
205
mg
Fiber:
2
g
Sugar:
1
g
Vitamin C:
1
mg
Calcium:
65
mg
Iron:
2
mg
Love this recipe?
Let me know on Instagram!