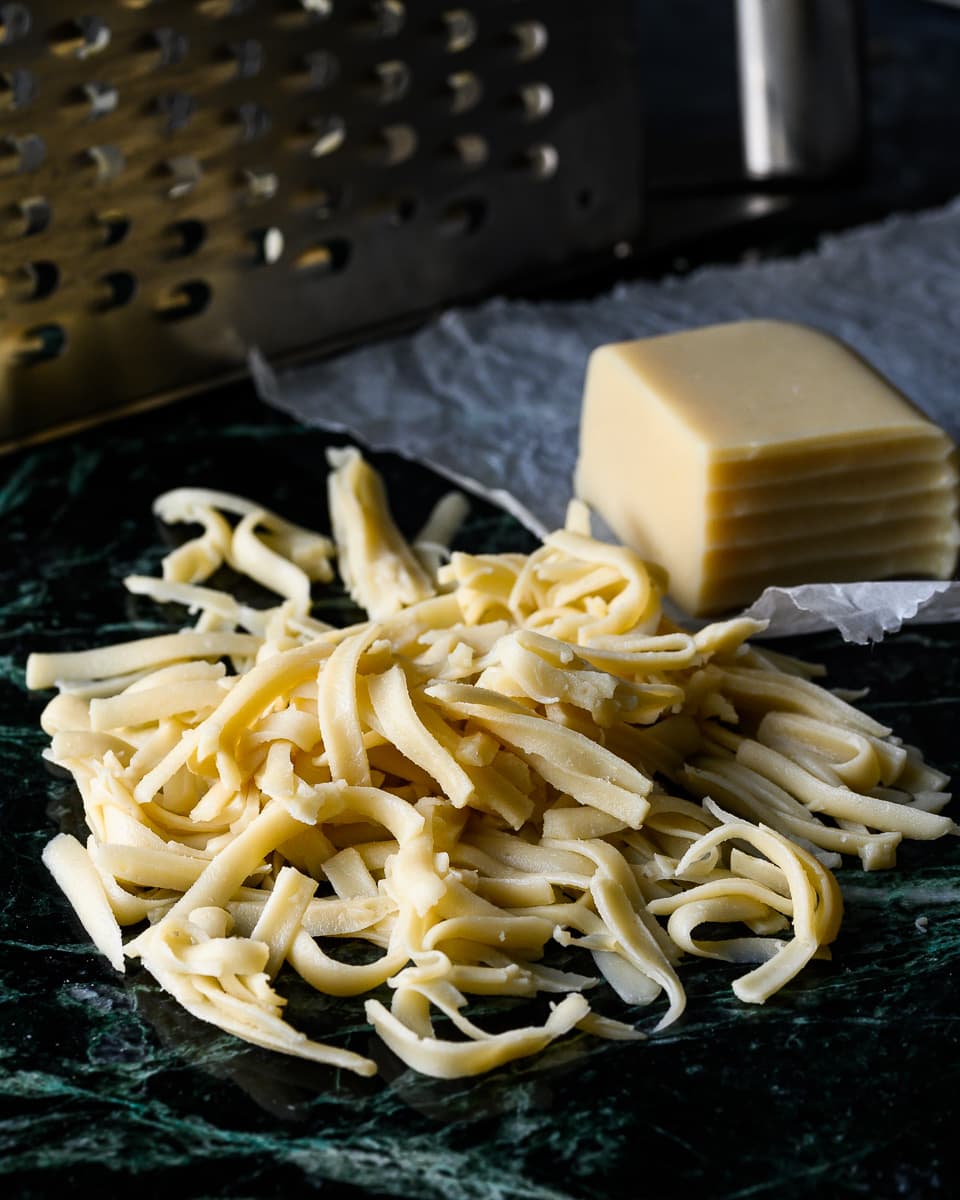 Meltable, shreddable, grateable vegan cheese with a beautifully delicate flavour. Lightly tangy, creamy and super smooth like you wouldn't believe.
---
OH what a bloody challenge it's been to make this grateable vegan cheese for y'all. You WOULD NOT BELIEVE the lengths I've gone to to figure this bad boy out. It's obvs a bit of a vegan holy grail; grateable vegan cheese which ACTUALLY melts and has a delicious cheesy vibe and sharp tang. But guess what, I'VE CRACKED IT!
I've basically built upon my original vegan mozzarella recipe (which you guys went a bit bonkers over). But I set myself a few new challenges:
This cheese MUST be firm and grateable (unlike my original mozz which was soft). We're not talking parmesan firm, but something close to cheddar or firm mozzarella.
It MUST still melt to a delicious stretchy, gooey cheese (perfect for in grilled cheese sandwiches, on pasta etc)
It MUST be creamy and smooth but with a sharp tang (so slightly closer to a cheddar than a mozzarella in flavour).
Stick around to see if I manage it…
Did the grateable vegan cheese work??
HECK YES IT DID! I've absolutely slayed this one – no brag! HEre's how I killed those three challenges I set myself.
Firm and Grateable: This one was tricky. I used a bunch of different things in recipe trials (such as agar agar, guar gum, xanthan gum) to help make sure the cheese sets firm and grateable. But almost always, they meant that the cheese wouldn't melt properly. Finally I tried an ingredient called "kappa carrageenan" which is a thickening agent made from red seaweed. It worked beautifully. It sets up nicely when cool but melts and stretches when heated – just like dairy cheese. I buy kappa carrageenan online. It's useful for loads of stuff, so it's worth having for other vegan cooking!
Melty and Stretchy: As above, this was a tricky one to balance with the whole firm and grateable vibe. The solution was a mix of tapioca starch and psyllium husk powder. Tapioca starch helps make the cheese super stretchy like mozzarella when melted, while the psyllium husk powder adds fibre to the recipe – making the cheese deliciously stringy! I find all of these ingredients either at health food stores or my local Asian supermarket.
Creamy and Tangy: The creaminess comes from a blend of soaked cashews and coconut oil. The tang comes from rice vinegar and vegan lactic acid powder. If you can't get hold of lactic acid powder, don't worry – I get that this is a specialist ingredient. Use double the rice vinegar instead.
Grateable Vegan Cheese in FOUR Steps!
Four steps away from melty, grated shredded goodness! CAN YOU BELIEVE IT!? You'd BETTER believe it! Here goes nothing! Full recipe at the bottom of the page, but here's a lil breakdown of the four main steps!
1. Make a cashew milk
Sounds harder than it is. You just need to soak some cashews until soft and blend em up! I like to add my psyllium husks at this stage as they can be tricky to blend until smooth. Add them now and you're guaranteed a super duper smooth cheese.
2. Add the flavour bringers!
By flavour bringers, I mean all the ingredients that bring the FLAVA! I'm talking nutritional yeast, miso paste, rice vinegar, salt etc etc. Give these a really good blend in with the cashew milk. You'll notice a change in the colour because of the nooch, but don't worry. It won't be this yellow when you're done!
3. Add the kappa carrageenan
Final ingredient is the carrageenan along with some boiling water. This is going to start the thickening process super quickly, but it's not enough to take it all the way there (that's step 4). For now, blend everything together one last time.
4. Thicken, form and chill!
OK last step is the most crucial. Now everything is blended together we need to work quickly and thicken the mixture up. Transfer it to a saucepan and whisk while you heat. It'll become stringy and stretchy and will start to set. Pour the mixture into a tub and leave it to cool. Once cooled, chill in the fridge until set.
EXTRA NOTE: This cheese is absolutely destined to be melted. Although it's totally great sliced in a sandwich, it's 100% tastier when heated. So consider turning that sandwich into a grilled cheese sandwich?!
Also, keep in mind that this vegan cheese EVEN BROWNS. So if you're making a pasta bake or cheese on toast, whack that grill/broiler on and use liberally! It'll bubble and melt and then brown and crisp. It really does melt just like real cheese! Just without the guilt and animal abuse!
Need more CHEESY recipes??
Then you came to the right place! Why not give these bad boys a try!?
Vegan Mac and Cheese Bites
Vegan Twice Baked Potatoes
Arancini with Pesto and Mozzarella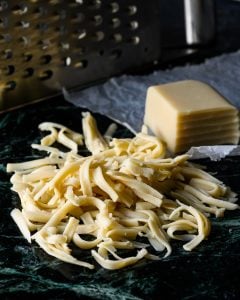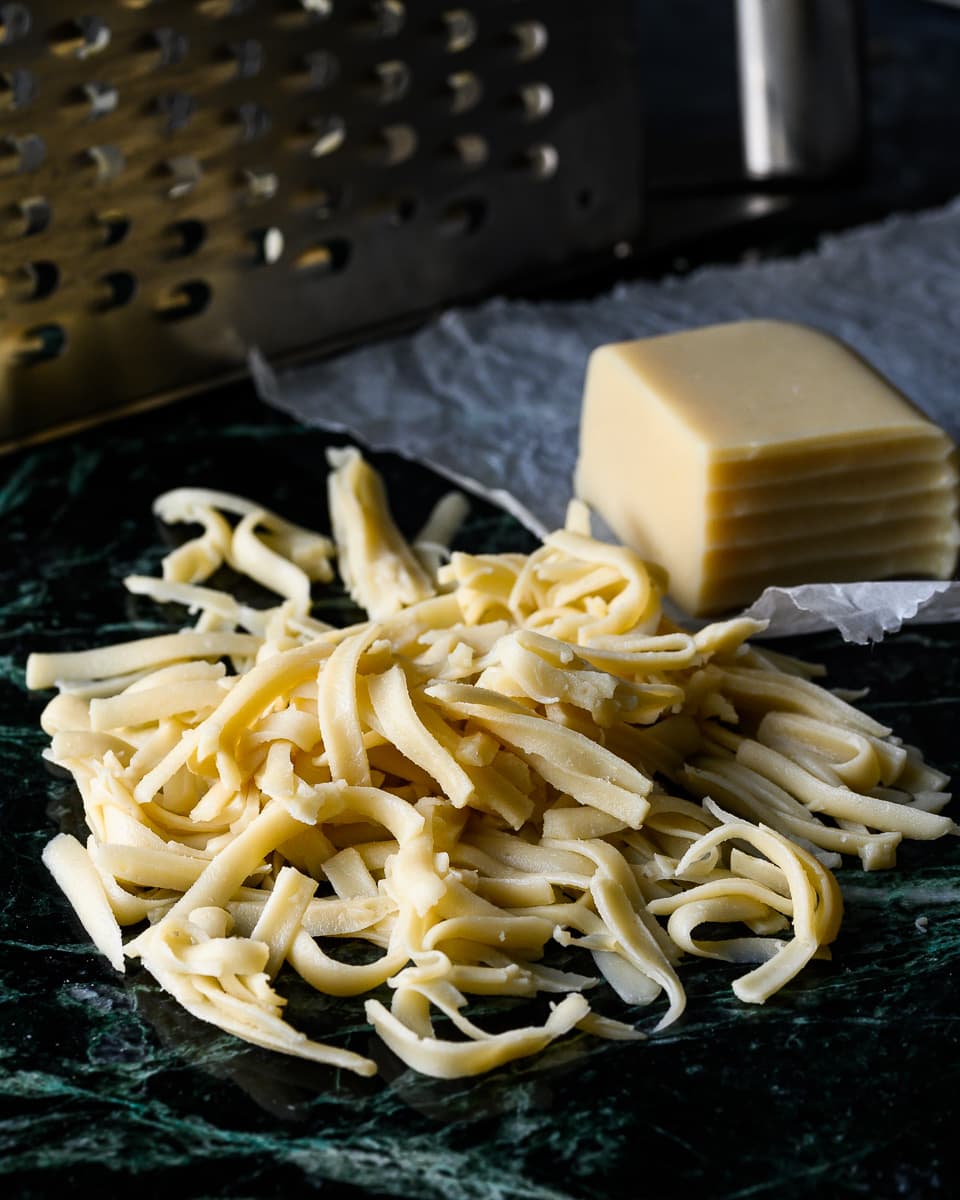 Grateable Vegan Cheese
Meltable, shreddable, grateable vegan cheese with a beautifully delicate flavour. Lightly tangy, creamy and super smooth like you wouldn't believe.
Ingredients
50

g

raw cashews

150

ml

cool water

1/4

tsp

psyllium husk powder

1/2

tsp

agave syrup

((or brown rice syrup))

2.5

tbsp

nutritional yeast flakes

3

tbsp

tapioca starch

1¼

tsp

fine sea salt

70

g

deodorised or "refined" coconut oil

((melted))

1/2

tsp

rice vinegar

1

tbsp

white miso paste

1/2

tsp

vegan lactic acid powder

1.5

tbsp

kappa carrageenan powder

150

ml

boiling water
Instructions
Set aside a tub with around a 450ml capacity (a deep plastic take away tub works fine) and keep it handy. You'll need this close by to transfer your mixture to when it's ready.

Place the cashews in a bowl and cover with just boiled water. Cover with a plate or lid and leave to soak for a minimum of 2 hours. If you're in a hurry, instead of soaking the cashews, bring a medium saucepan of water to a boil. Add the cashews and boil for 10 minutes. Turn off the heat, cover with a lid and leave for a further ten minutes.

Place the psyllium husk powder in a small bowl along with 3 tsp tap water and mix to combine. Set aside to thicken for two minutes.

Drain the cashews and add them to the cup of a high speed blender. Add the cool water and thickened psyllium husk paste. Blend on the highest speed for around 30 seconds. Stop the blender, shake the cup to dislodge any trapped chunks of cashew and blend again at the highest speed for 30 seconds. You should be left with a very smooth, pale cashew milk.

Add the agave syrup, nutritional yeast flakes, tapioca starch, fine sea salt, melted coconut oil, rice vinegar, miso paste and vegan lactic acid powder. Blend again until completely smooth.

Add the kappa carrageenan to the cup. Boil a kettle of water and measure out the 150ml. Quickly (so the water doesnt have time to cool) pour the boiling water over the kappa in the cup. Add the lid and blend for a final time on high speed.

Working quickly, transfer the mixture to a medium saucepan and place over a low heat on the hob. Heat the mixture, whisking constantly, until it's smooth, glossy and stretchy like melted mozzarella.

Quickly pour the mixture while still hot into the tub you set aside earlier. Leave it to cool without a lid at room temperature for around 20 minutes before transferring to the fridge (still without a lid) to set completely. Allow it to set in the fridge for roughly 2 hours. The vegan cheese is now ready to slice, grate and shred.
Nutrition
Calories:
108
kcal
Carbohydrates:
5
g
Protein:
2
g
Fat:
9
g
Saturated Fat:
6
g
Sodium:
355
mg
Potassium:
74
mg
Fiber:
1
g
Sugar:
1
g
Calcium:
2
mg
Iron:
1
mg
Love this recipe?
Let me know on Instagram!