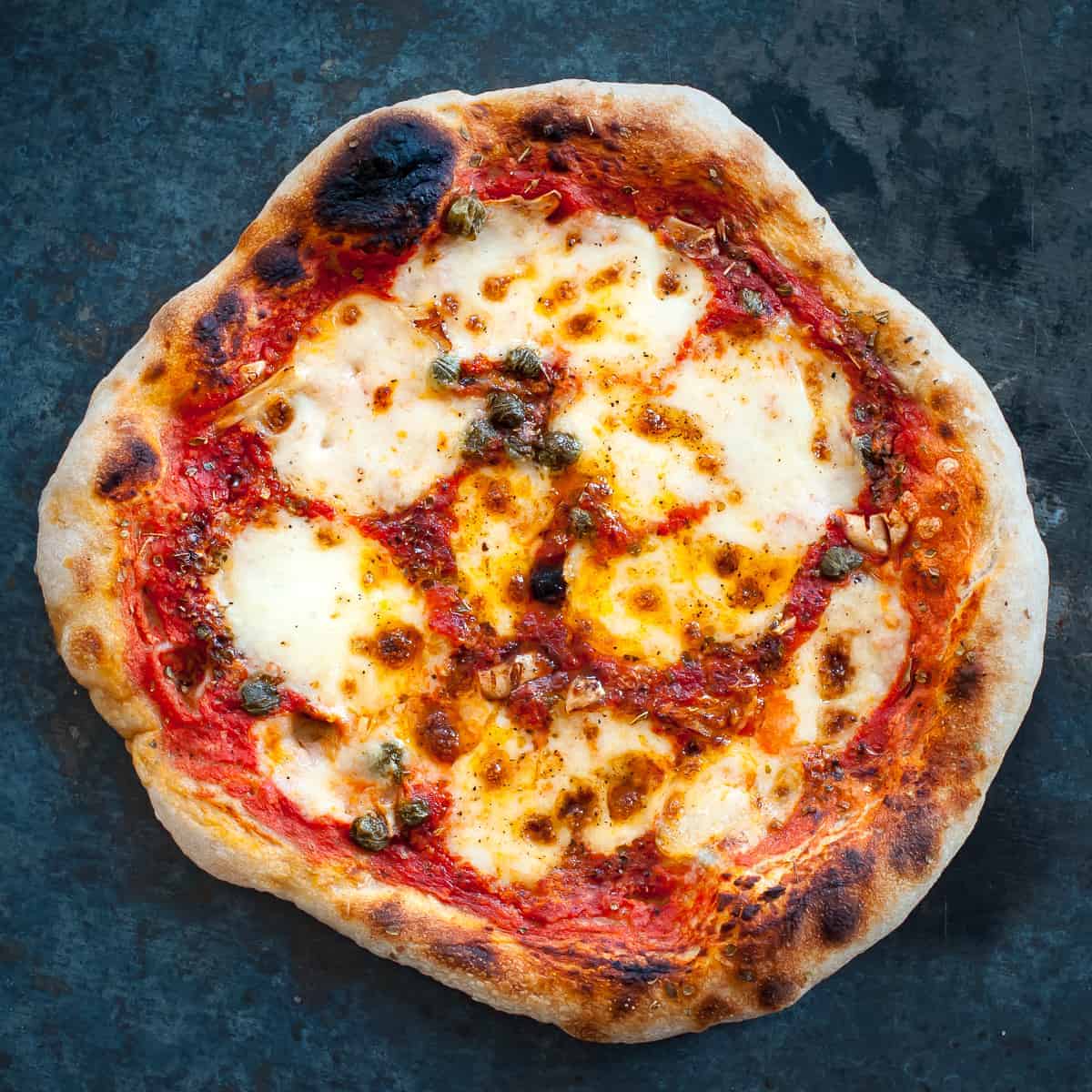 Vegan mozzarella cheese which melts, browns and stretches like the real thing! Revolutionise your vegan pizza game in minutes!
---
Too GOUDA to be true??
The words "vegan mozzarella" are pretty charged in the plant-based scene. Why? Because vegan mozzarella tends to be the most hit and miss element of vegan dining – but more often than not it's a miss.
Shop bought stuff has that chemically flavour which lingers and has a tendency to stick to your front teeth and the room of your mouth.
Home-made varieties aren't much better: usually MEGA salty, not melty and DEFINITELY not stretchy. But here's where that nightmare ends!
Why's it so good?!
Trust me – this vegan mozzarella is going to blow your mind. I've tried a LOT of vegan mozzarella recipes and made about 55 variations of this recipe and the texture is never quite right. Here's five reasons why my vegan mozzarella is better:
It's ACTUALLY stretchy! Once melted, this stuff pulls apart just like the real deal!
It DOESN'T stick to your teeth. Such a smooth customer!
It tastes delicious. No weird chemically vibe and not too much salt – it's just right!
It literally takes MINUTES to make! No waiting for it to set for seventy hours – just bung it straight on a pizza and you're good to go!
It keeps in the fridge AND is freezer friendly!
Surely this is witchcraft?!
No witchcraft involved, and don't call me Shirley! The solution to the best ever vegan mozzarella came to me recently almost by accident.
As you may have noticed, I use psyllium husk in baking all the time as an egg replacer. It acts as a binding agent and holds things together really well.
I was recently developing a brownie recipe and while mixing together the psyllium husk and the melted vegan butter I noticed how stringy everything got!
I'm no scientist but it seemed like the high fat content and the binding action of the psyllium made a rather mozzarella like texture!   
What's the process?
This really is a surprisingly easy recipe to follow! Before no time you'll have one of the best vegan mozzarella recipes NAILED! Trust me, you're going to ACTUALLY enjoy making this (but not as much as you'll enjoy EATING it).
Step 1
For your first step you're going to need to soak some cashews in boiling water. This vegan cheese is cashew based but we're only using 35g. Before you go doubling this recipe, I'd suggest you make one batch first, because you end up with a LOT of cheese from just 35g cashews.
You also need to combine your psyllium husks with some water and leave it to thicken at this stage.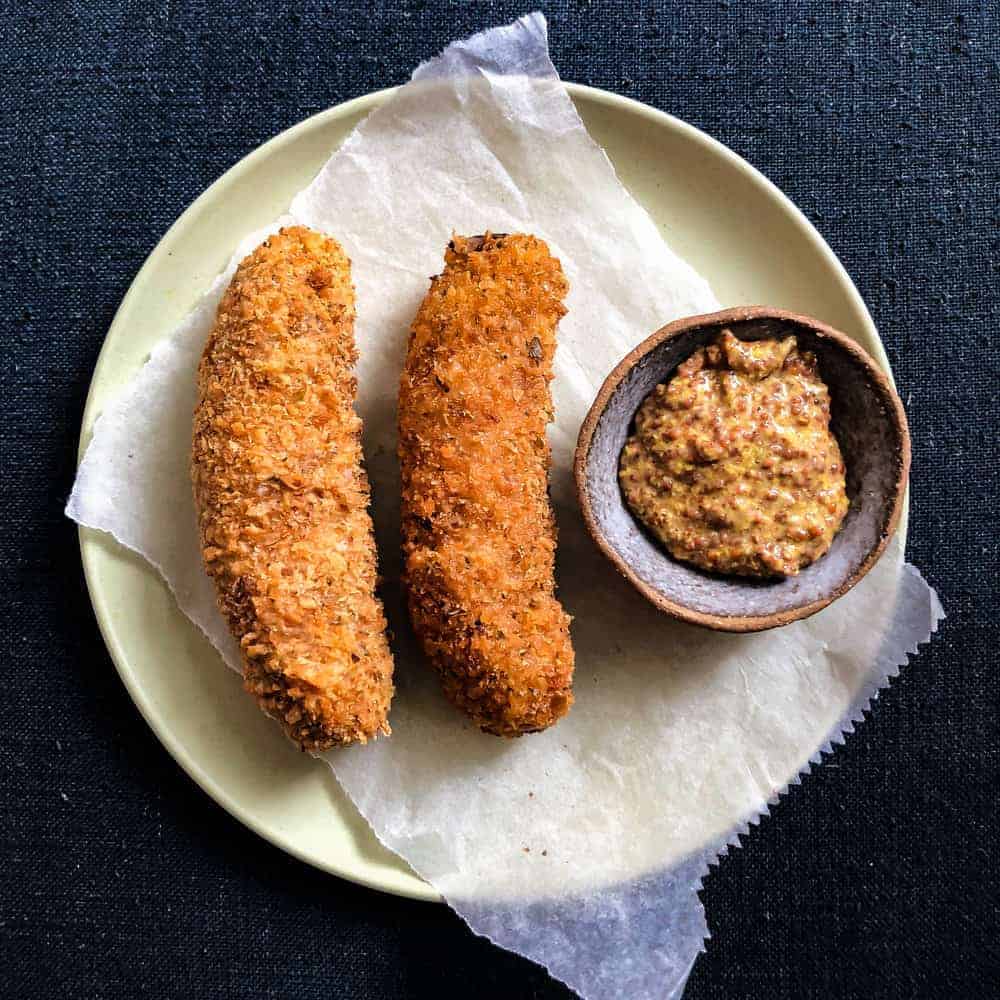 Step 2
Ok, step two! You're going to combine everything together in a high speed blender. When I say high-speed, I mean high-speed. Not some 30 year old portable fan with plastic blades.
I'm talking about a Ninja or a Nutribullet!
I honestly can't recommend getting a high-speed blender enough. They're so important for vegan cooks who plan on making their own nut-milks and cheeses. 
Step 3
Step 3 is where the magic happens – we're going to add our blended mix to a saucepan and cook it. Whisking constantly! You'll see it thicken before your very eyeballs! Keep cooking until it's super stringy and stretchy. You now have your vegan mozzarella!
I advise that you let your cooked vegan mozzarella cool for 10 minutes before using it in pasta or on a pizza. It's easier to work with this way. But otherwise, let your imagination go wild! Use it in anything.
Magic ingredients!
Here are some of the ingredients you really need 100% in order to make this recipe!
Psyllium Husks



In my baking recipes I'd say that you can replace the

psyllium husk

with flax seeds, but not here! I've tried and the texture is gloopy instead of stretchy and stringy.
Deoderised Coconut Oil



The flavour of regular coconut oil is way too strong and blocks out the cheesiness. 
Tapioca Starch

Similar to when you use corn starch to thicken stews etc, tapioca starch helps to THICKEN and EMULSIFY this vegan mozzarella. It also helps to make it stretchy!

Agar Powder

Agar powder is a natural gelling agent made from a type of seaweed. It helps to make the vegan mozzarella set when cool so it is more malleable.
If you'd like to store the cheese, pour straight from the pan into a Tupperware box, allow to cool fully on the counter before sealing and storing in the fridge for up to a week. You can also freeze the cheese for a long time and defrost when needed!
I've also added an ingredient variation for making a smoky Gouda style cheese which works amazing grilled on top of vegan burgers!
Make it and let me know how you get on in the comments below.
Now you've made it…
Here are some recipes to use your NEW FAVE vegan mozzarella in!
---
Please keep in mind…
I love sharing my food with you – it seriously gives me so much joy! As a result, I put a huge amount of time and energy into creating these recipes. This recipe right here is my lil baby and I wouldn't change a single thing about it. As such, I won't give advice on any ingredient swaps, substitutions, omissions or changes to the method described above (how dare you talk about my baby like that!)
But seriously, if this recipe doesn't do it for you and you want to customise it – that's cool – no probs. Put that finely honed chef's intuition to good use and tailor the recipe to suit you! Regardless of whether you make any changes or not, let us know how you get on in the comments below.