Vegan fried chicken like you've never tasted before – seriously. It's meaty, flavoursome, moist inside and super crispy outside. Call your mates – it's the big one!
---
Yes, yes, you've been waiting for this vegan fried chicken! I first posted a hint about this recipe almost six months ago, and you guys LOST IT. The reason for the delay? I'm a perfectionist, OK?
But don't fret because you know what that means? THIS RECIPE IS DAMN NEAR PERFECT! I've literally been working on this almost weekly for six months (oddly I'm still REALLY interested in EATING IT!).
This is a seitan recipe, but please don't add this to the "spongey fake meat" pile in your recipe folder. This chicken is next level – with no sponginess, just a beautiful tender meatiness which I've never come across anywhere else. 
What makes THIS vegan fried chicken special?
There are many vegan fried chicken seitan recipes out there, so the pressure is AWN! But here's the deal, I've tried them ALL, and this is better. Here's what makes mine different:
Chickpeas!
Most vegan seitan recipes use chickpea flour to stop the gluten from becoming too stringy and gummy. This is good! Unfortunately chickpea flour is also super dry, and what you end up with is a chewy dry piece of sponge. My recipe uses tinned chickpeas along with the whole can of aquafaba! This helps to keep everything super moist!
The LAYERS!
My recipe is unique (as far as I've seen) because it's layered! I dreamt this up when I was making laminated pastry a while ago. I wondered if I can stack layers of pastry with layers of vegan butter to get a great layered flaky pastry, maybe I can do this with seitan!? So, this recipe is slightly fiddly, but believe me, this makes a huge difference to the texture, so don't skip this step!
The SPICES!
My recipe is NOT over-spiced! Almost every seitan recipe I've ever made has relied super heavily on spices to make it flavoursome. Mine doesnt! I use vegetable bouillon which, strangely, when combined with all the other ingredients, TASTES LIKE CHICKEN SOUP!
Don't believe me? Make the recipe! It will BLOW your mind!
And that coating tho!?
The coating took me EQUALLY long to perfect – seriously, who knew this was so difficult! The challenge with the coating is that most fried chicken is dipped in egg, before being dredged in flour.
Replacing that egg was a nightmare. I also wanted to give the coating that hint of buttermilk, like with traditional southern fried chicken! 
I used gram flour and plant milk to make the egg mix and by jove it works wonders! The whole thing has a vibe of buttermilk thanks to some added acidity from the cider vinegar! BINGO!
The flour mix is gently spiced with old bay seasoning! This is a staple for most vegan pantries, so if you don't have any, your vegan card has been REVOKED! Just kidding. Head over here for a recipe to make your own! 
Need more junk food!?
Why not try these guys:
Please keep in mind…
I love sharing my food with you – it seriously gives me so much joy! As a result, I put a huge amount of time and energy into creating these recipes. This recipe right here is my lil baby and I wouldn't change a single thing about it. As such, I won't give advice on any ingredient swaps, substitutions, omissions or changes to the method described above (how dare you talk about my baby like that!)
But seriously, if this recipe doesn't do it for you and you want to customise it – that's cool – no probs. Put that finely honed chef's intuition to good use and tailor the recipe to suit you! Regardless of whether you make any changes or not, let us know how you get on in the comments below.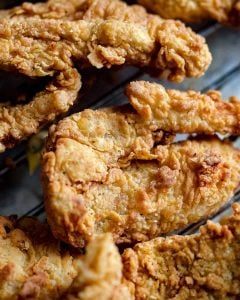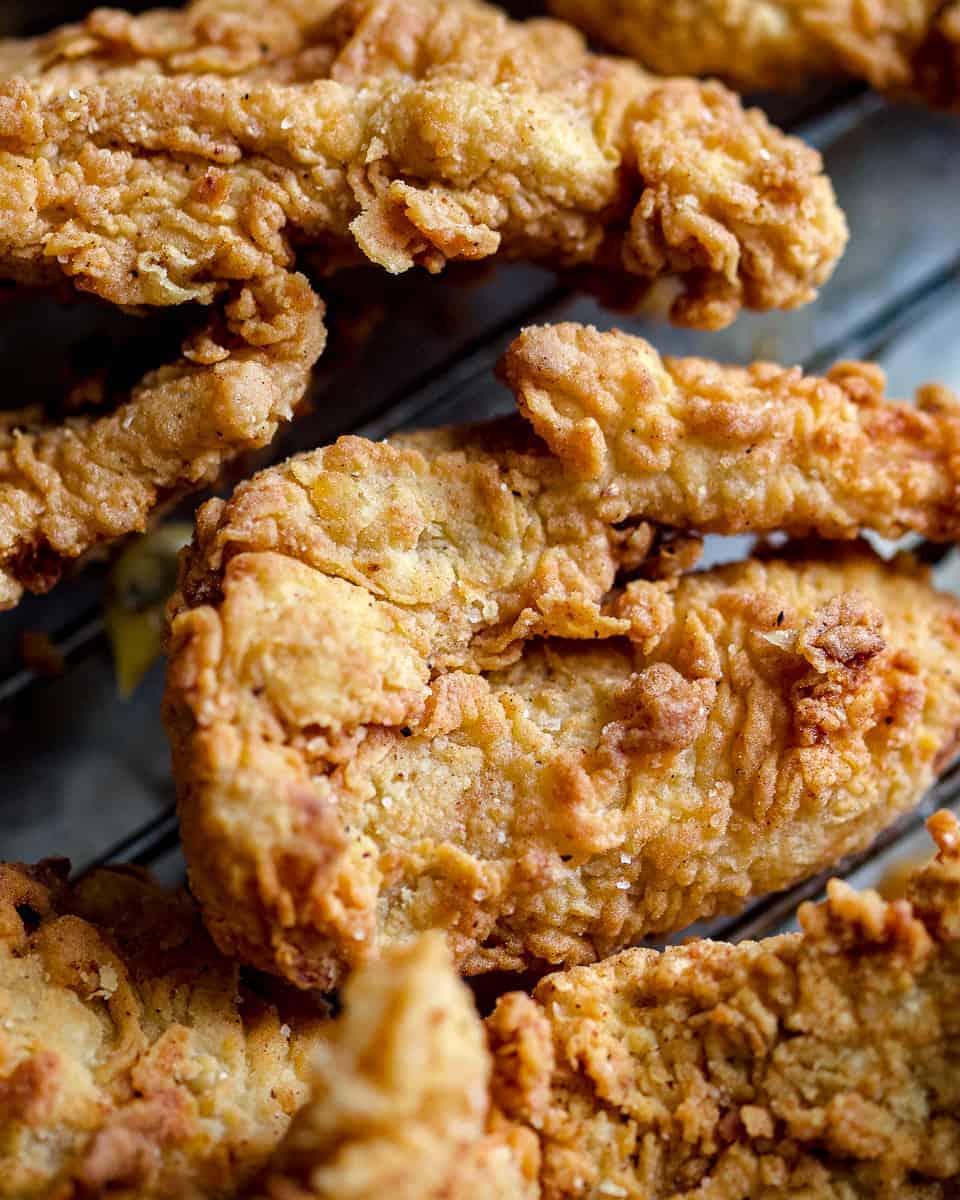 Vegan Fried "Chicken"
Vegan fried chicken, super crispy, super meaty - the best you'll taste!
Equipment
High Speed Blender

Steamer
Ingredients
1

400g can

chickpeas

((including their water))

35

ml

water

1

tbsp

bouillon powder

1

tbsp

white wine vinegar

2

tsp

onion powder

1

tsp

garlic powder

50

g

silken tofu

200

g

vital wheat gluten
For the Egg Coating
4

tbsp

gram flour

200

ml

plant milk

1

tsp

cider vinegar

1/2

tsp

sriracha
For the Spiced Flour
300

g

plain white flour

3

tbsp

corn flour

2

tsp

fine sea salt

2

tsp

old bay seasoning

((If you can't get hold of old bay, here's how to make your own))

1/2

tsp

ground black pepper
For Frying
vegetable oil

((for frying))
Instructions
To Make the Chicken
In the cup of a high speed blender, combine the chickpeas (including their soaking water), the water, bouillon powder, white wine vinegar, onion powder, garlic powder and silken tofu. Blend until very smooth.

In the bowl of a stand mixer, fitted with the dough hook, combine the vital wheat gluten and the blended liquid. Knead on medium speed with the dough hook for no less that 5 minutes. The seitan dough should be smooth and stretchy.

Cover the mixing bowl and leave to rest for ten minutes.

Once rested, remove the dough from the mixer and slice into three even sized pieces. Return two of the pieces to the covered bowl. Take the one piece of dough and slice it into six separate pieces (don't worry if they're all different sizes - just roughly the same is fine).

Lay out a piece of baking parchment and take one of the small pieces of dough. Place the dough on the left hand side of the baking parchment, then fold over to cover the dough. With a rolling pin, roll out the dough as thinly as you can. Unfold the parchment and peel off the thin piece of seitan. Stretch it out with your fingers and place it flat on a plate. Brush it very lightly with vegetable oil.

Repeat the process with the next piece of dough - roll it out very thinly then remove from the parchment. Stretch it out with your fingertips and place it in top of the first piece, pushing down lightly with the flat of your hand to remove any air bubbles between the two pieces of seitan. Brush the top piece lightly with oil then repeat the process with the remaining small pieces of dough.

Once all six small pieces of dough are layered, stretch the top piece of dough down and over the other layers to envelop them and tuck under the bottom layer. Place the layered piece of seitan on a new large piece of baking parchment and fold it up tightly. Wrap tightly with tin foil and set aside.

Repeat the process with the other two large pieces of dough.

Bring a steamer to the boil and place all three pieces of seitan in the steamer. Steam for a total of 90 minutes, flipping and moving the pieces around half way.

Once the seitan is steamed, carefully remove it from the steamer and allow it to cool to room temperature (20 minutes) before placing in the fridge for at least an hour. Do not unwrap.

Once cooled fully, unwrap the seitan and tear apart into whatever size shreds you'd like. (If you're planning to make fried chicken, I'd suggest keeping the shreds quite large. If you're using in a curry, I'd go a bit smaller).

Keep sealed in the fridge for up to a week or in the freezer for 2 months.
To Fry the Chicken
Take the pieces of shredded chicken out of the fridge.

In one medium bowl, combine the gram flour, plant milk, cider vinegar and sriracha. Whisk well to combine. This is your egg mixture.

In another medium bowl, combine all the spiced flour mixture ingredients. Mix to combine.

Place a medium, high sided frying pan over a medium heat or turn on a deep fat fryer. Bring the oil to 170c.

Assigning your left hand to the egg mix and your right hand to the spiced flour, dunk a piece of chicken in the flour and toss to coat. Then, with your right hand, place the floured chicken in the egg mixture. Use your left hand to coat the chicken and then pick it up and place back in the flour. Very carefully coat for a second time in the flour mixture then place carefully in the hot oil.

Fry the chicken piece for around 2-4 minutes or until completely golden brown. Using a spider or a slotted spoon, remove the chicken from the fryer and place on a few pieces of kitchen towel to drain. Repeat the process with the remaining chicken.
Nutrition
Calories:
442
kcal
Carbohydrates:
63
g
Protein:
40
g
Fat:
3
g
Saturated Fat:
1
g
Cholesterol:
1
mg
Sodium:
1242
mg
Potassium:
246
mg
Fiber:
3
g
Sugar:
2
g
Vitamin A:
173
IU
Vitamin C:
3
mg
Calcium:
137
mg
Iron:
6
mg
Love this recipe?
Let me know on Instagram!