Publised on 14/08/2019 by Richard. Last Updated on 28/09/2023 by Richard.
Vegan fried chicken like you've never tasted before - seriously. It's meaty, flavoursome, moist inside and super crispy outside. Call your mates - it's the big one!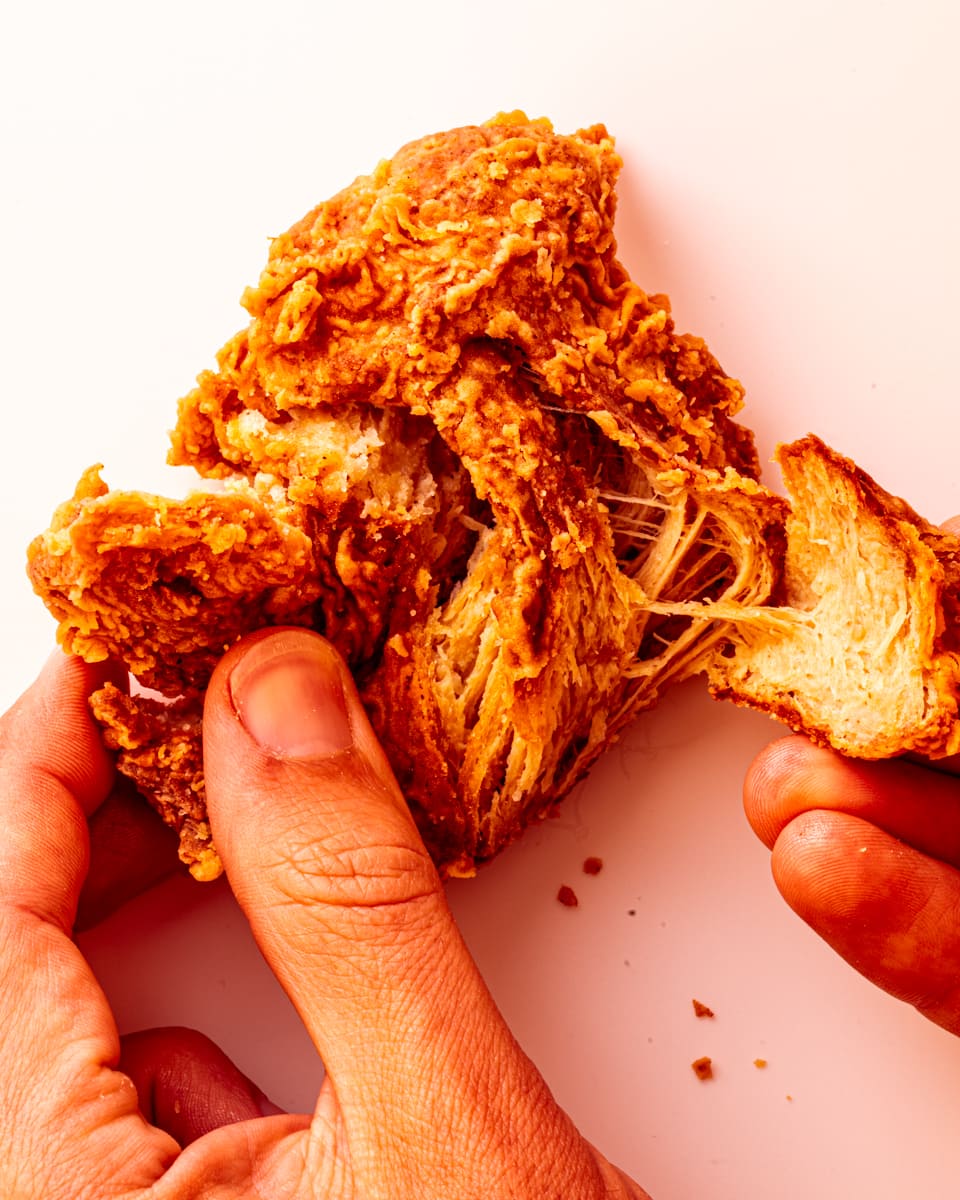 This vegan fried chicken recipe is BY FAR the most popular on School Night Vegan. Could it be down to that crispy, crunchy batter which doesn't require any egg or dairy? Quite possibly! Could it be that this is the most fun way to cook and eat my vegan chicken? Almost certainly!
Whatever your reasons for wanting to make my vegan fried chicken, I'm glad you're here and I hope this batch of chickeny heaven makes you very happy! Alright, let's get crackin!
Jump to: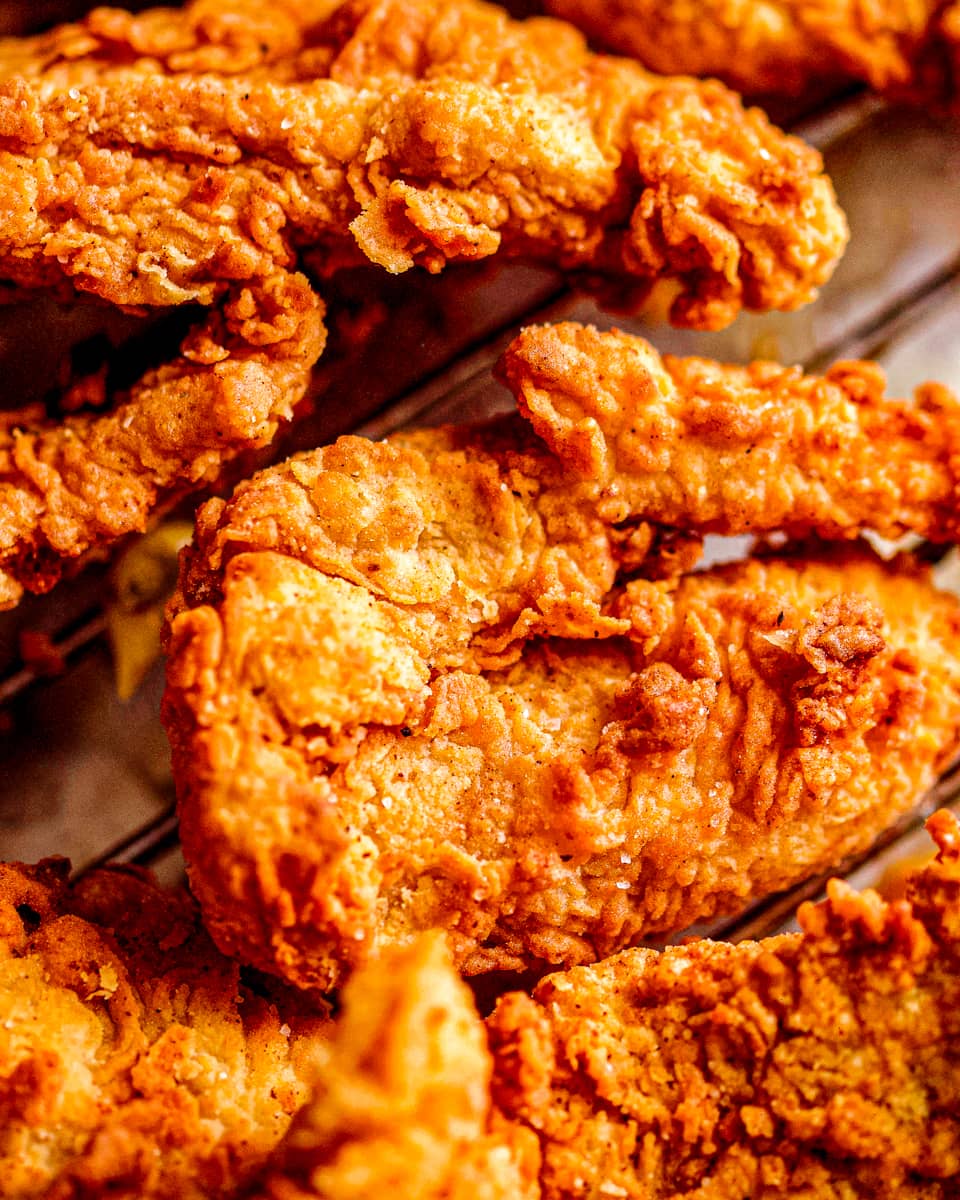 Vegan Fried Chicken Ingredients
This vegan fried chicken recipe was the first ever vegan meat alternative I made from home. Originally it involved a rather elaborate process of rolling out thin layers of seitan to create a chicken-like texture. I quickly realised this was overkill and so this version of the recipe uses my much improved vegan chicken recipe for the meat replacement. Other than this, you'll need:
Gram flour - aka chickpea flour or besan. this is to help thicken our vegan fried chicken batter. It acts similarly to egg which is why it's used in many traditional Indian batters such as onion bhajis!
Plant milk - any will do! Just make sure it's unflavoured and unsweetened.
Cider vinegar - this helps to split the plant milk, which makes it thicker, resulting in a most substantial batter.
Sriracha - to give the batter a tiny spicy kick, any hot sauce will do!
Plain white flour - used for "dredging" the vegan fried chicken to make the batter coat it better!
Corn flour (aka cornstarch) - keeps things crispy and helps with browning.
Sea salt - for obvious reasons!
Old bay seasoning - If you can't get hold of old bay, here's how to make your own
Black pepper - because BP makes everything better!
See the recipe card at the bottom of the page for quantities.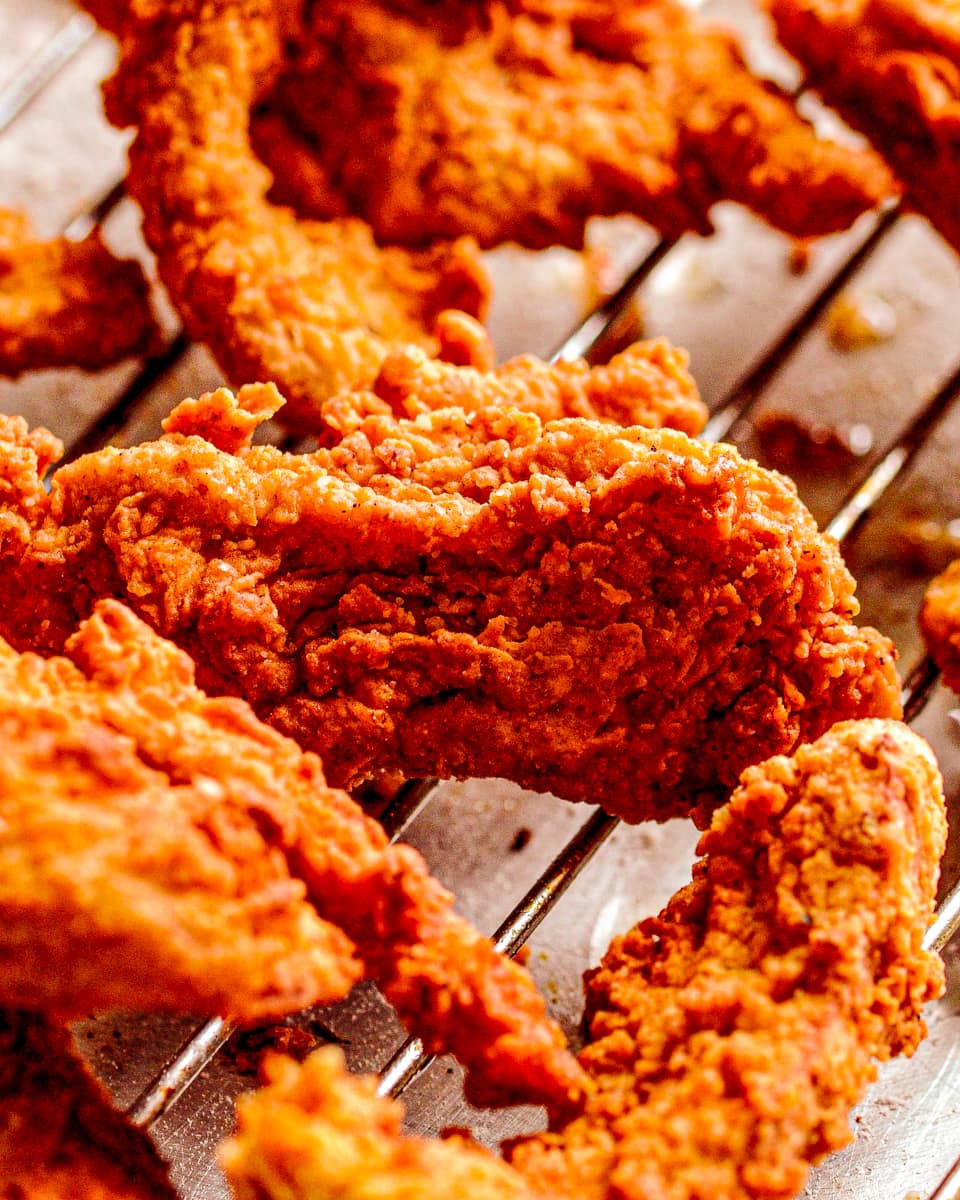 Instructions
You've likely made this vegan fried chicken before, but if not, HI AND WELCOME! Here's a little visual guide on how to actually make this recipe. From start to finish! Obviously the full recipe is at the bottom of the page, but feel free to guide your cooking process with these HANDY PHOTOGRAPHS!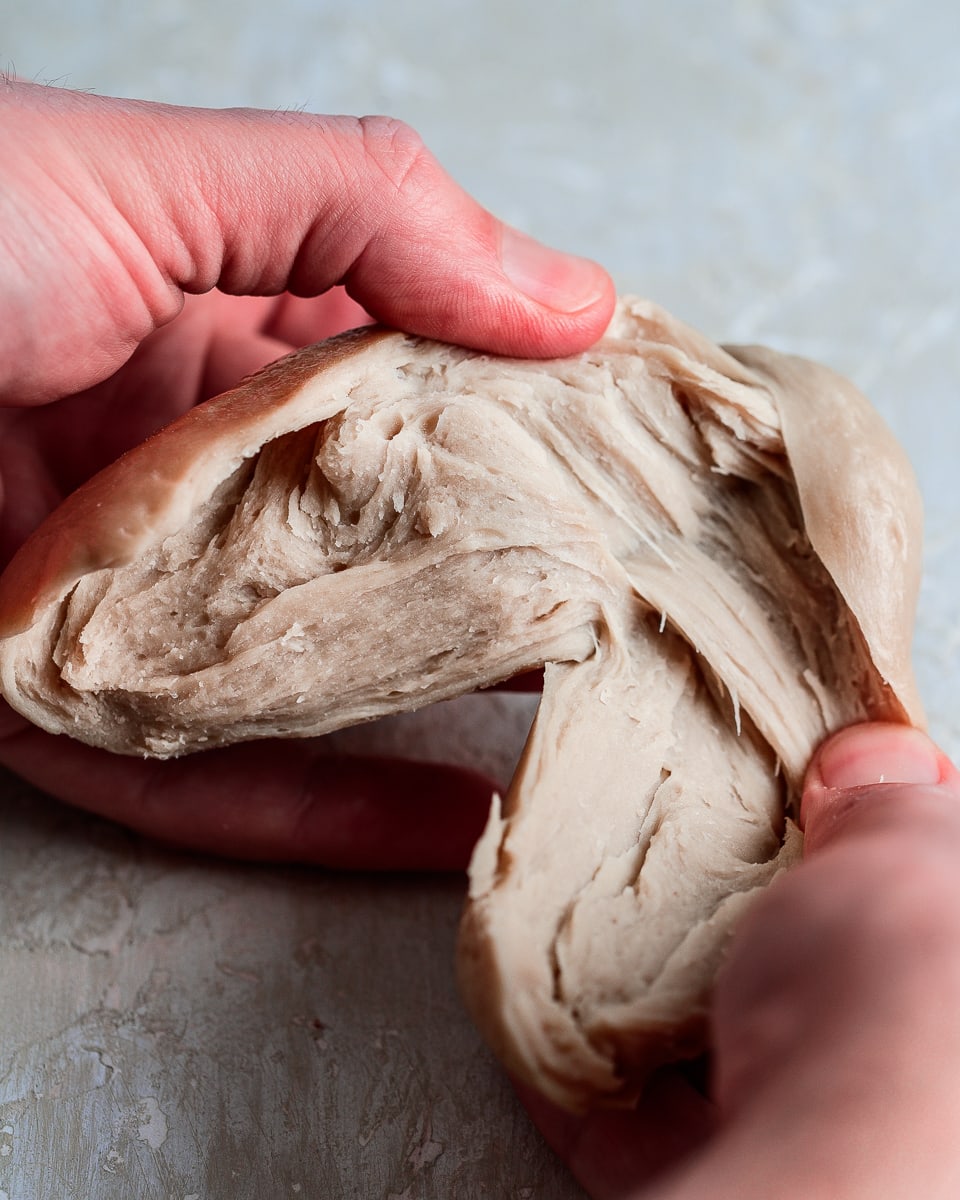 1. Make the vegan chicken! You'll need to do this in advance (unless you're using a store-bought alternative or mushrooms instead). This recipe is a simple seitan chicken and can be used in a bunch of other recipes, like my tikka masala, so you can't really make too much!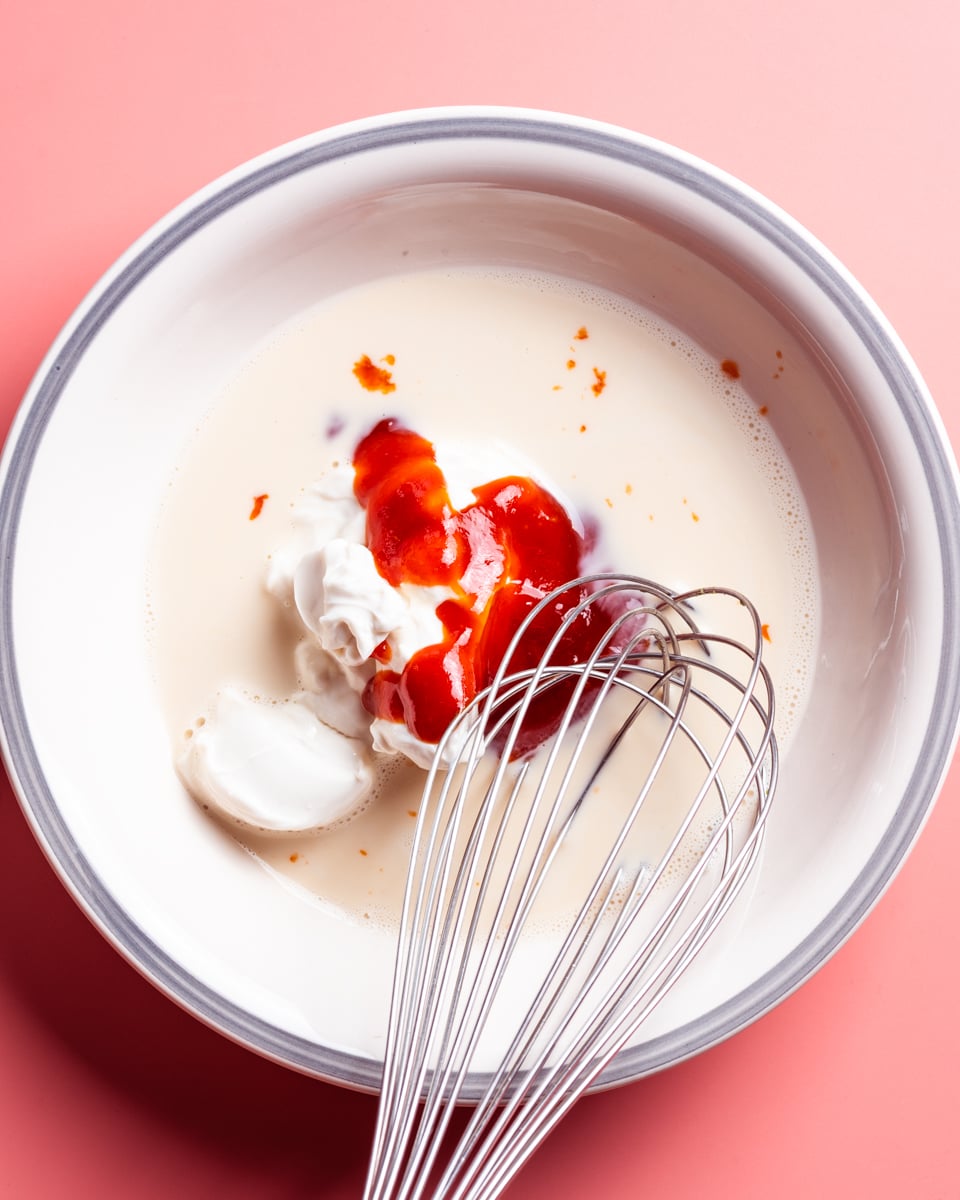 2. Make the batter! For this recipe our batter is a tale of two mixing bowls! We're going to make a wet batter and a dry flour dredge. The flour helps the wet batter to stick to the vegan chicken and when combined with the cornstarch and gram flour, it keeps everything crispy and golden brown.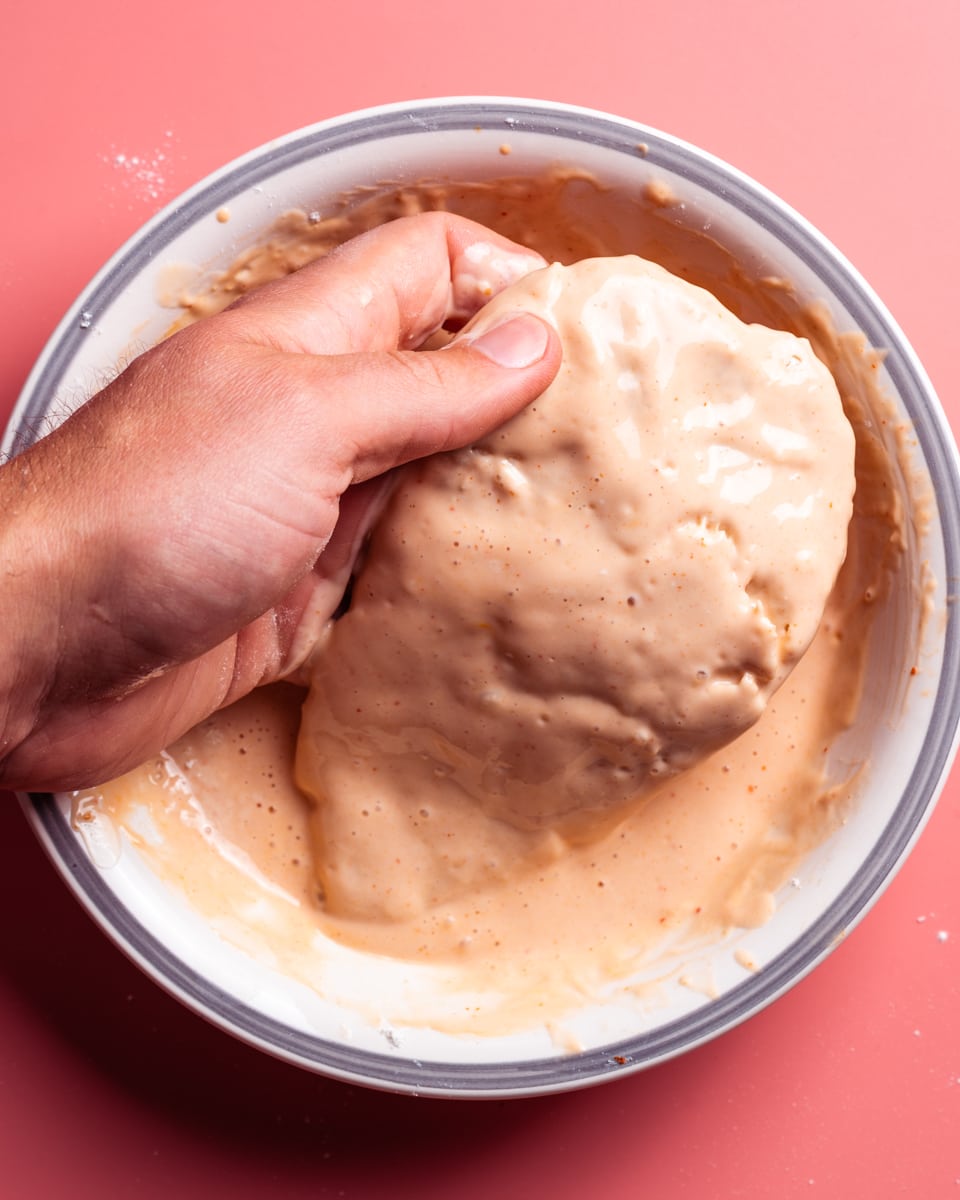 3. Coat the vegan chicken! It's a good idea to tear your vegan chicken into wings, strips or tenders before frying, so do this first. Then dunk in the flour mixture, then into the wet batter then BACK into the flour mixture. This double coating method keeps everything super crunchy!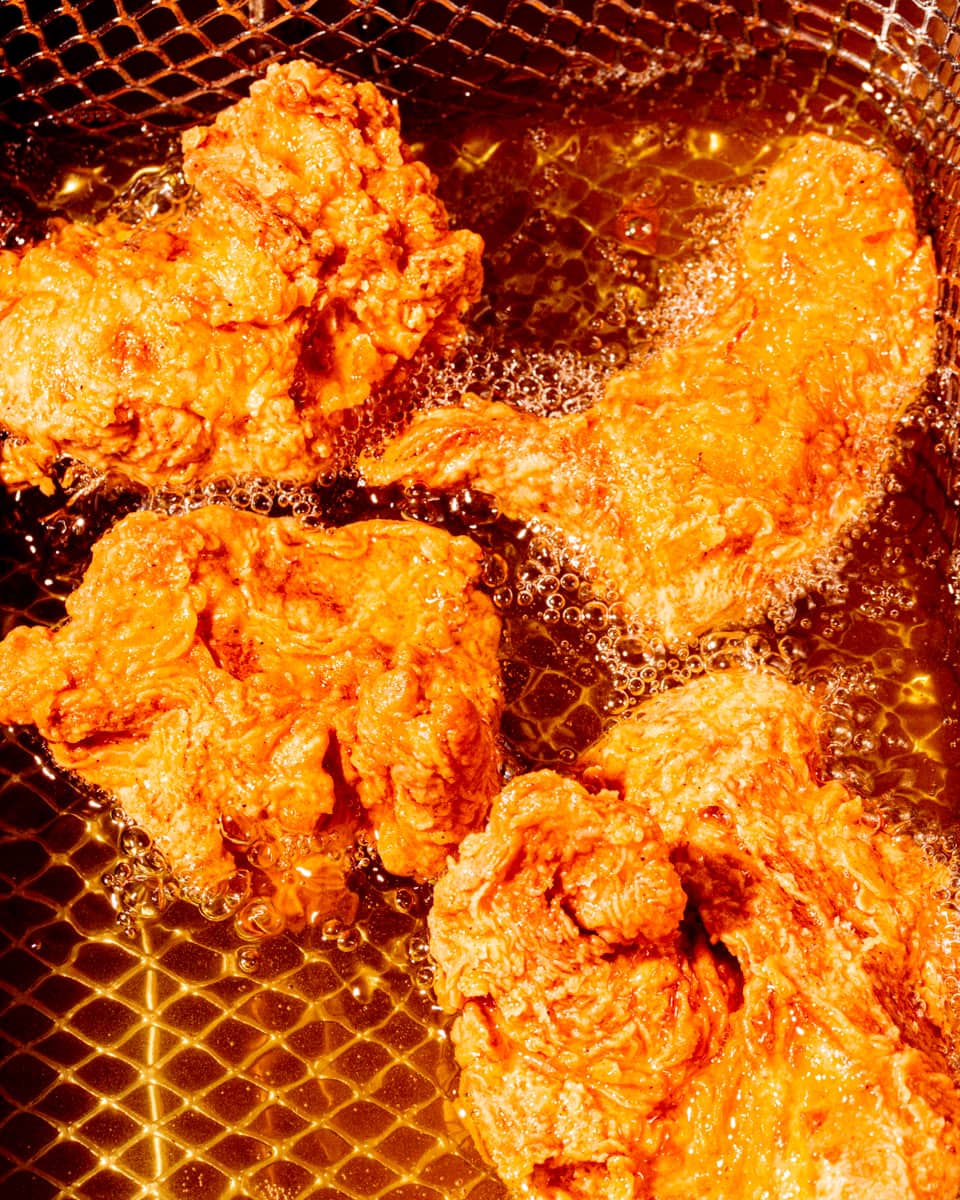 4. Fry the vegan chicken! The best oil for deep frying is either plain vegetable oil or sunflower oil. You want to get it up to around 170c/340f so a chef's thermometer comes in handy here. Fry a few pieces at a time (depending on the size of your fryer/pan).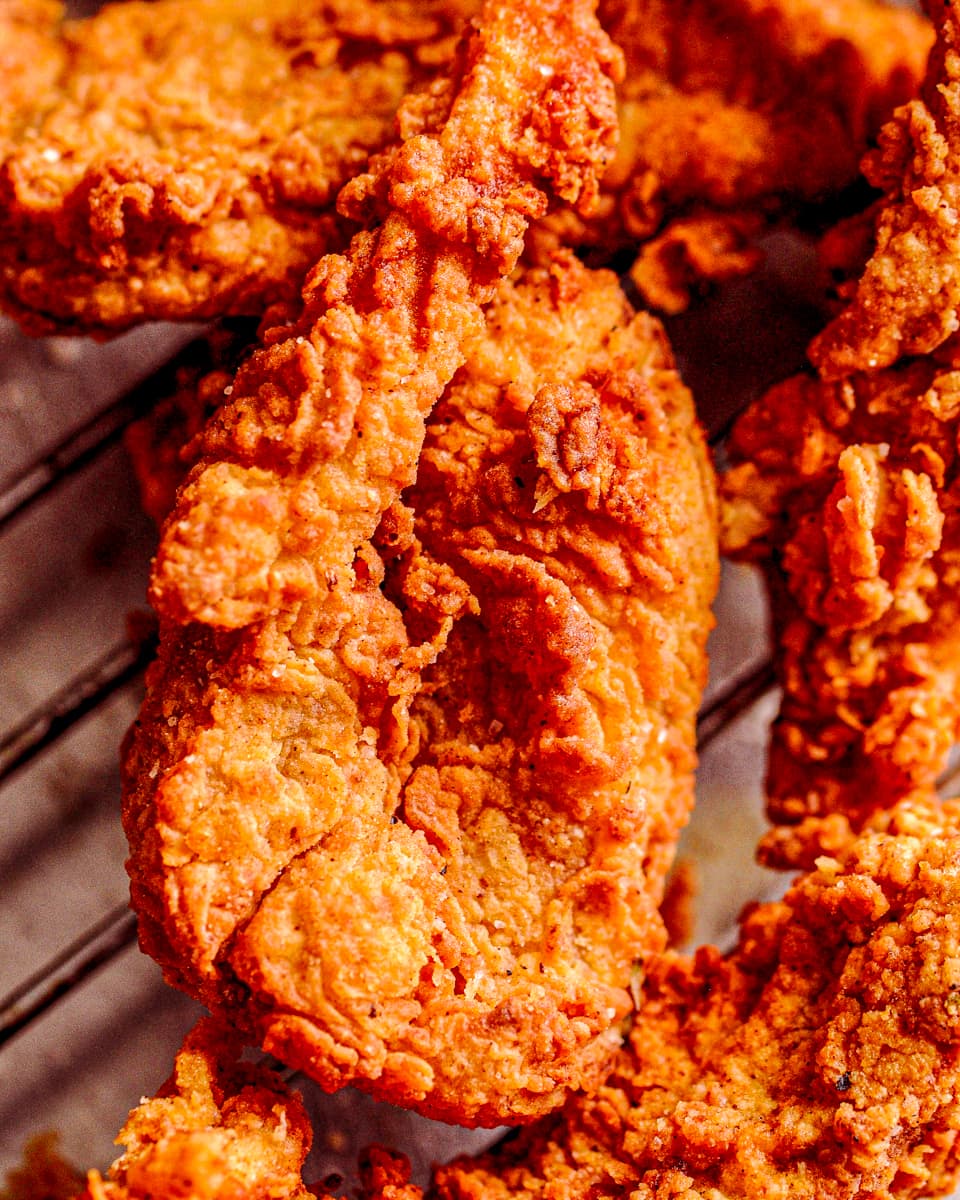 Substitutions
Here are some ways to customise this recipe to your specific diet! EVERYONE deserves vegan fried chicken, so let's make this friendly for everyone!
Gluten free? - This recipe can be made gluten free, but you'll need to start by swapping out the vegan chicken. Either use a store-bought GF alternative or simply use clusters of oyster mushrooms! You'll also need to swap out the plain flour for a gluten free variety. My favourite brand is Freee or Bob's Red Mill.
Soy free? - This is very easily done! Again, you'll need to use a store-bought GF alternative for the actual chicken or simply use clusters of oyster mushrooms instead. Just be sure to avoid soy milk in the batter - any plant milk will do!
Kid friendly! - If your kids aren't great with spice, ten feel free to leave the sriracha out of the batter ingredients. The spice levels of this recipe are actually SUPER low, so if your kids are up for an experiment, go with the flow!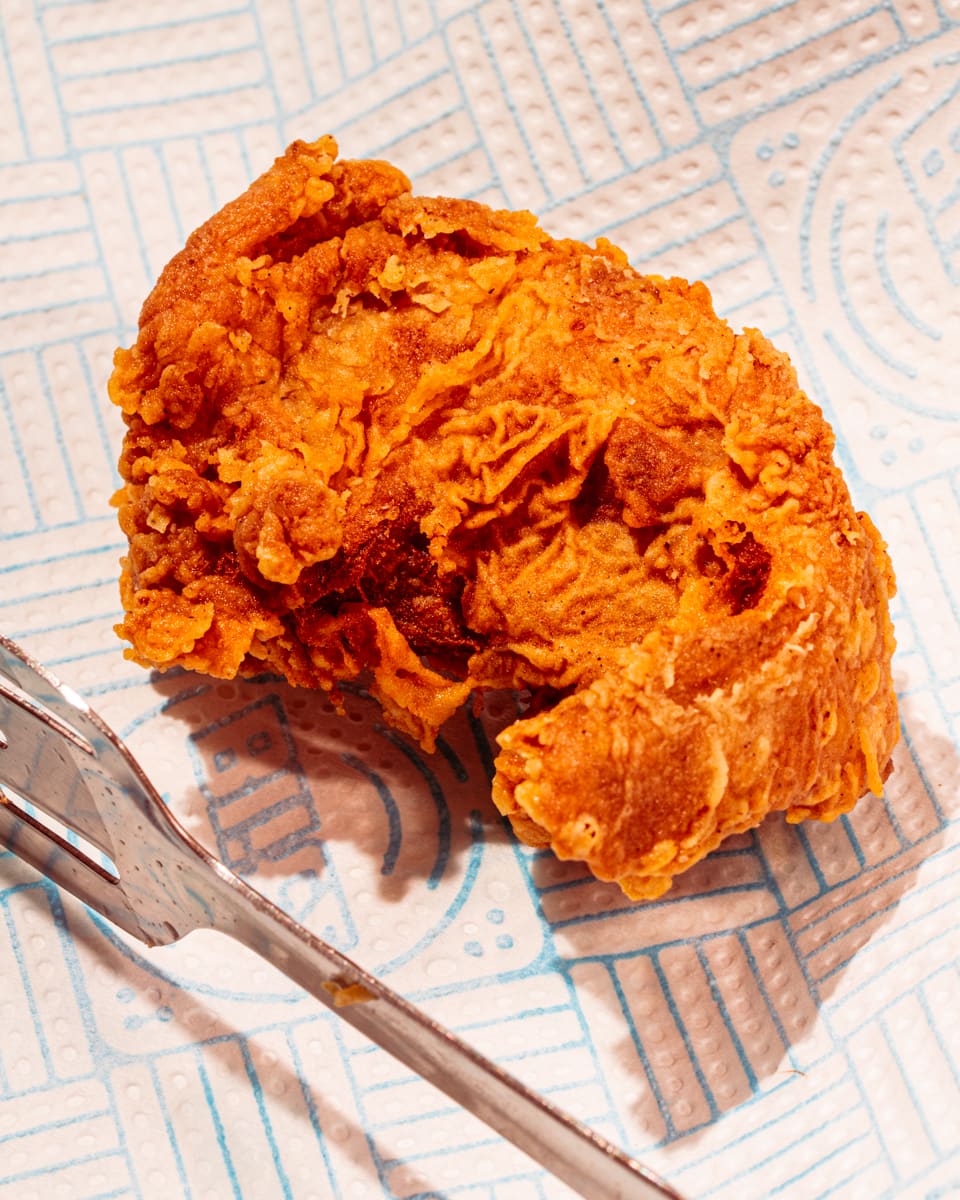 Vegan Fried Chicken Variations
I can't tell you the possibilities you've unlocked by making this vegan fried chicken! SO exciting! Now you can have a go at customising the recipe for yourself!
Korean BBQ! - Why not drench your crispy fried vegan chicken in this vegan Korean BBQ sauce before serving? My friend Lisa has got your back with this insanely good recipe!
Sammich time? - This fried chicken works so beautifully in a fried chicken sandwich! Why not follow the instructions in my katsu chicken sandwich recipe and make some magic!
Buffalooo - Looking for some wings for the big game?! Why not whip up a batch of vegan buffalo sauce from this recipe here and get dunkin!
If you make any variations and you think they're a success, be sure to tag me in a pic on instagram! I'd love to see how you get on!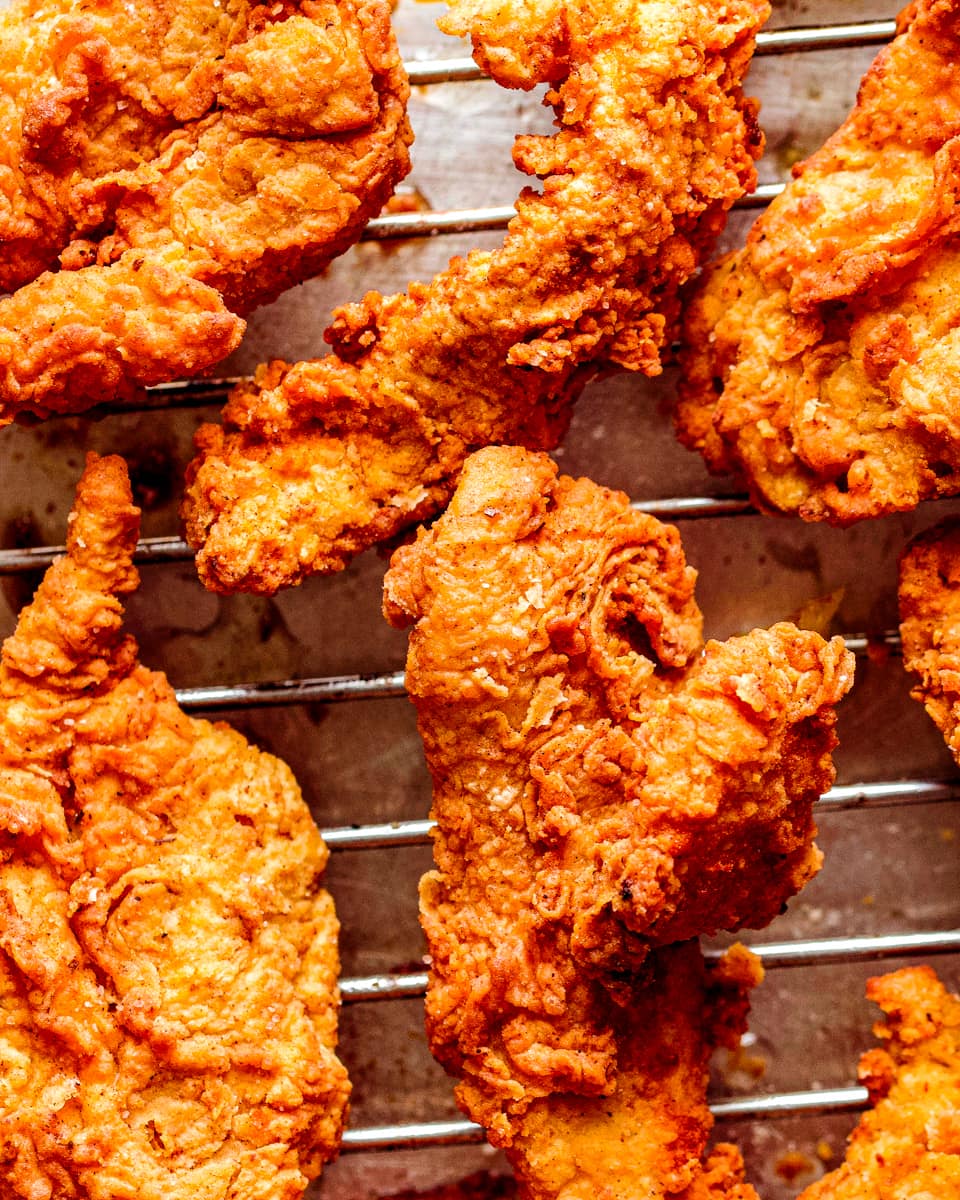 Equipment
Here's a peek at the equipment you'll need for this recipe. Just a heads up - you do NOT need a deep fat fryer to make this recipe. You can just as easily fill a high-sided frying pan with an inch or so of oil and fry the vegan fried chicken in that. Personally I use this tefal deep fat fryer because it automatically filters and stores the cooking oil for you, so it can be used again in another recipe!
2 x medium bowls
1 x high sided frying pan or
1 x deep fat fryer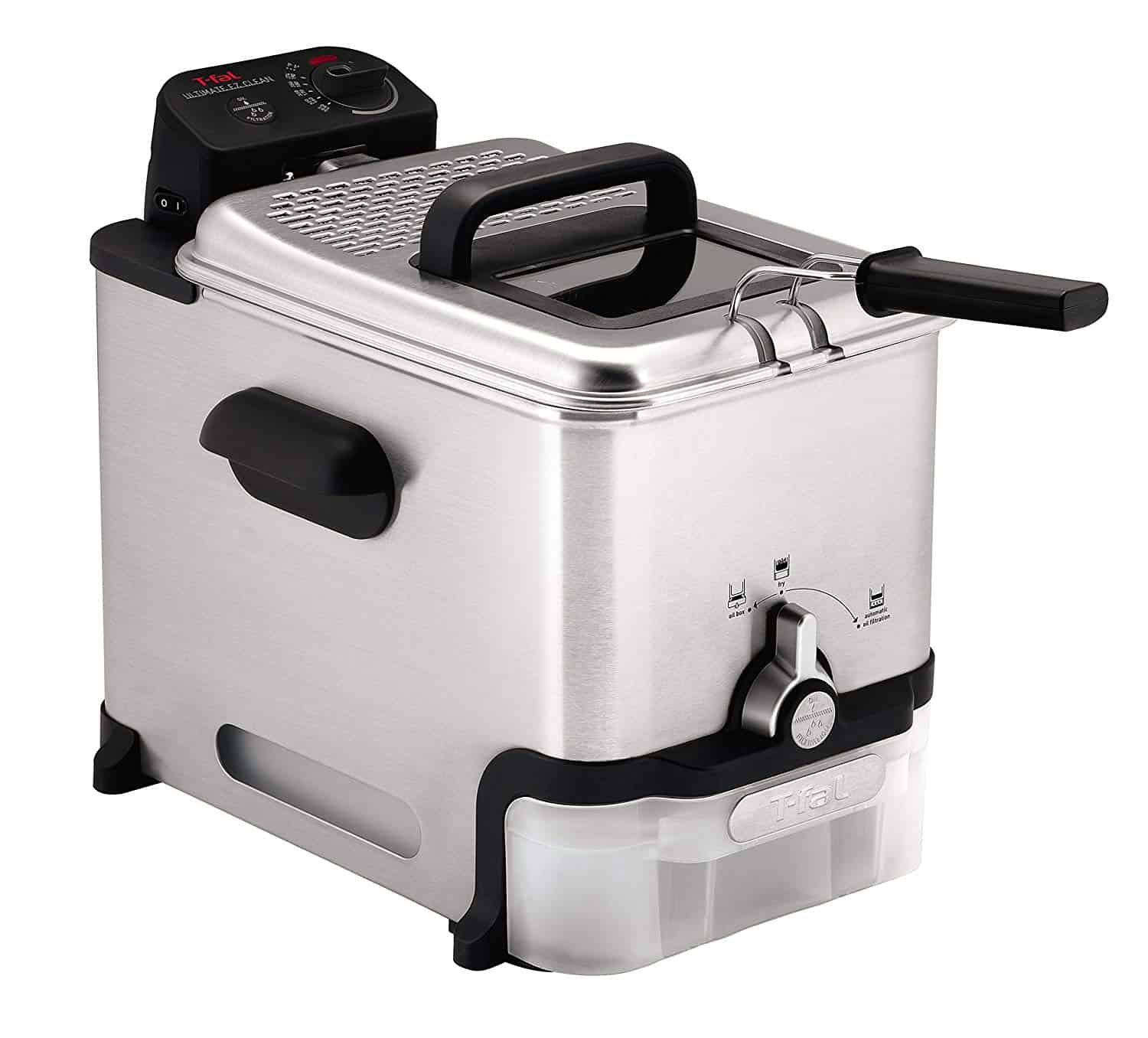 Storage
Unfortunately, like regular fried chicken, vegan fried chicken down't age too well. You want to eat it almost immediately after frying, if possible. However, you can make the vegan chicken ahead, store in broth in a sealed container then either store in the fridge or freezer.
Top tip
It's a good idea to drain the vegan fried chicken on a sheet of kitchen roll immediately after frying. Not only does this remove some of the residual oil, but it also helps the vegan fried chicken to stay crispy even longer. To make things EXTRA crispy, sprinkle the freshly fried vegan chicken with salt right afterwards.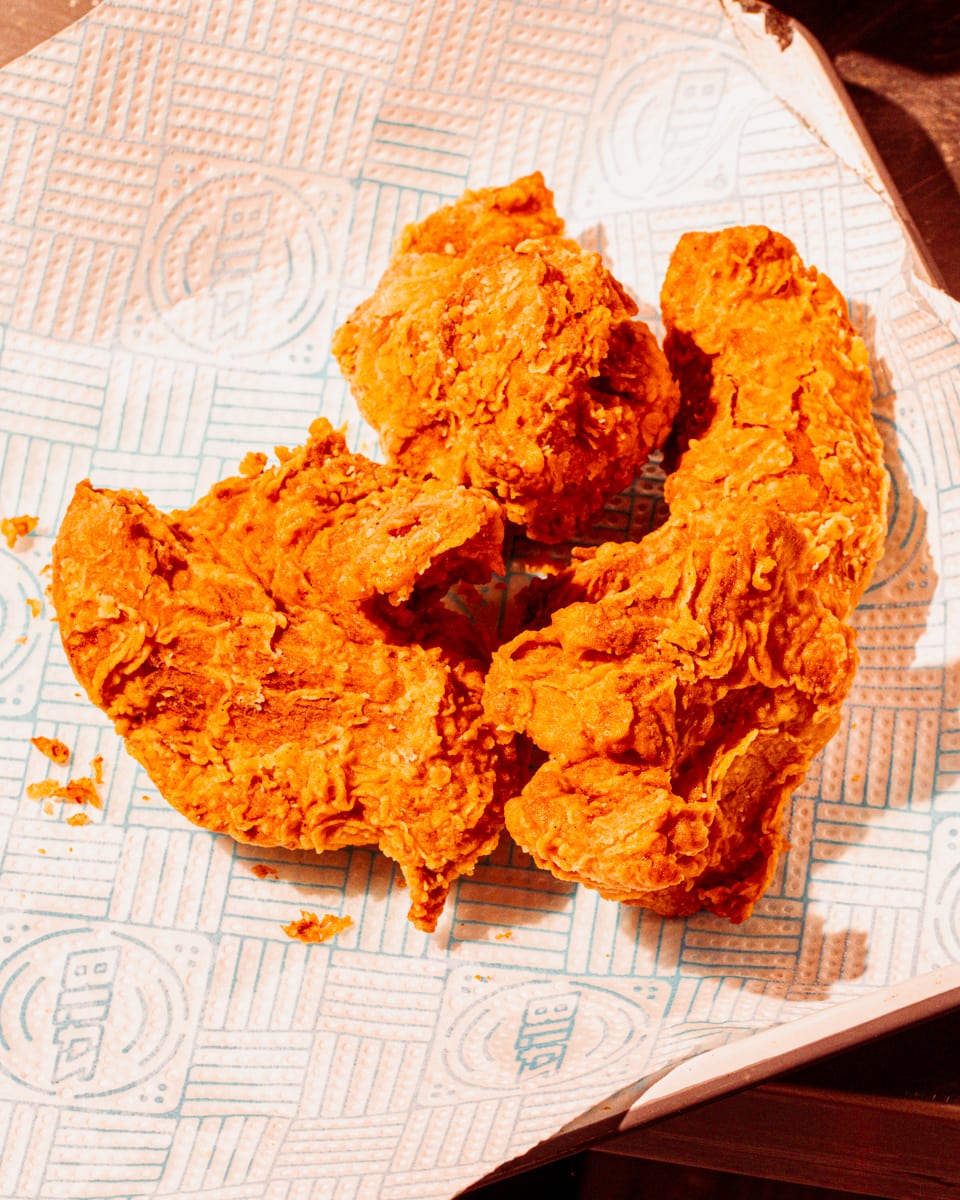 Vegan Fried Chicken FAQ
What is vegan fried chicken made of?
Seitan, in this case. However this really depends on which recipe or product you use. Some recipes use pea protein or soy protein. Alternatively you can simply used clusters of oyster mushrooms, since their texture is naturally so meaty.
What's the best vegan fat for frying?
Vegetable oil or sunflower oil. These work best for frying as they have a high smoke point, meaning the oil won't burn in the time it takes your food to get crispy.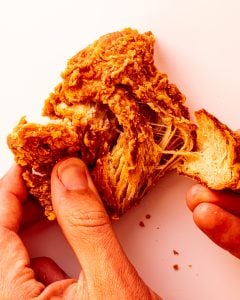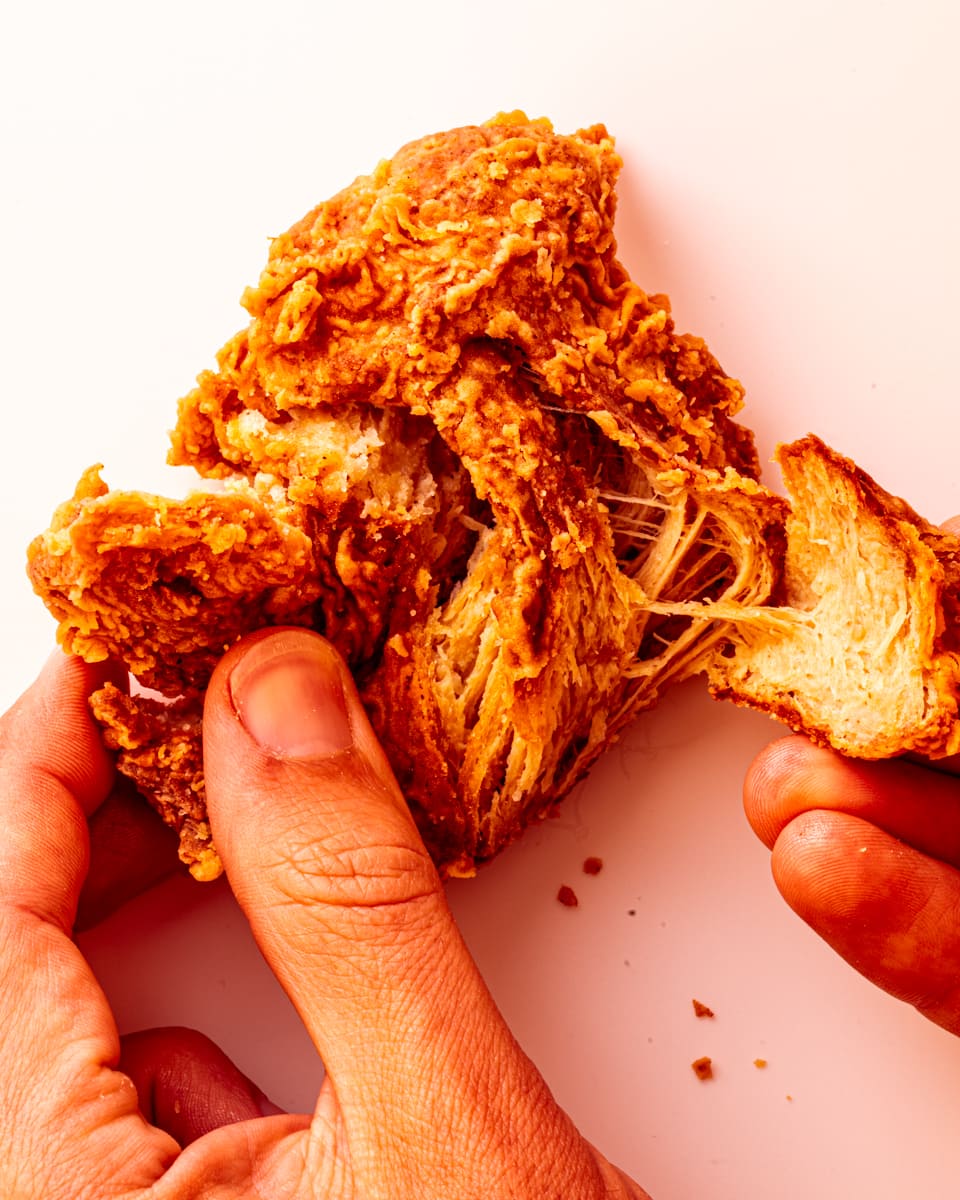 Vegan Fried Chicken
Crispy vegan cried chicken made from seitan, fried in a traditional southern-style batter with a gentle spicy hint and crunchy texture!
Equipment
2 x medium bowls

1 x high-sided frying pan OR

1 x deep fat fryer
Ingredients
For the Vegan Chicken
1

batch

vegan chicken

(or alternatively use store-bought vegan chicken OR oyster mushrooms)
For the Egg Coating
4

tablespoon

gram flour

(aka chickpea flour or besan flour)

200

ml

plant milk

(unflavoured and unsweetened)

1

teaspoon

cider vinegar

(or any white vinegar)

½

teaspoon

sriracha

(or any hot sauce)
For the Spiced Flour
300

g

plain white flour

(aka all purpose flour)

3

tablespoon

corn flour

(aka cornstarch)

2

teaspoon

fine sea salt

2

teaspoon

old bay seasoning

(If you can't get hold of old bay, here's how to make your own)

½

teaspoon

ground black pepper
For Frying
vegetable oil

(or sunflower oil for frying)
Instructions
To Prepare the Vegan Chicken
To Fry the Chicken
In one medium bowl, combine the gram flour, plant milk, cider vinegar and sriracha. Whisk well to combine. This is your egg mixture.

4 tablespoon gram flour,

200 ml plant milk,

1 teaspoon cider vinegar,

½ teaspoon sriracha

In another medium bowl, combine all the spiced flour mixture ingredients. Mix to combine.

300 g plain white flour,

3 tablespoon corn flour,

2 teaspoon fine sea salt,

2 teaspoon old bay seasoning,

½ teaspoon ground black pepper

Place a medium, high sided frying pan over a medium heat or turn on a deep fat fryer. Bring the oil to

170

°C

, testing the temperature with a chef's thermometer.

Assigning your left hand to the egg mix and your right hand to the spiced flour, dunk a piece of chicken in the flour and toss to coat. Then, with your right hand, place the floured chicken in the egg mixture. Use your left hand to coat the chicken and then pick it up and place back in the flour. Very carefully coat for a second time in the flour mixture then place carefully in the hot oil.

Fry the chicken piece for around 2-4 minutes or until completely golden brown. Using a spider or a slotted spoon, remove the chicken from the fryer and place on a few pieces of kitchen towel to drain. Repeat the process with the remaining vegan chicken.
Nutrition
Calories:
281
kcal
Carbohydrates:
56
g
Protein:
9
g
Fat:
2
g
Saturated Fat:
0.2
g
Polyunsaturated Fat:
1
g
Monounsaturated Fat:
0.3
g
Sodium:
966
mg
Potassium:
181
mg
Fiber:
3
g
Sugar:
2
g
Vitamin A:
182
IU
Vitamin C:
3
mg
Calcium:
77
mg
Iron:
4
mg
Love this recipe?
Let me know on Instagram!