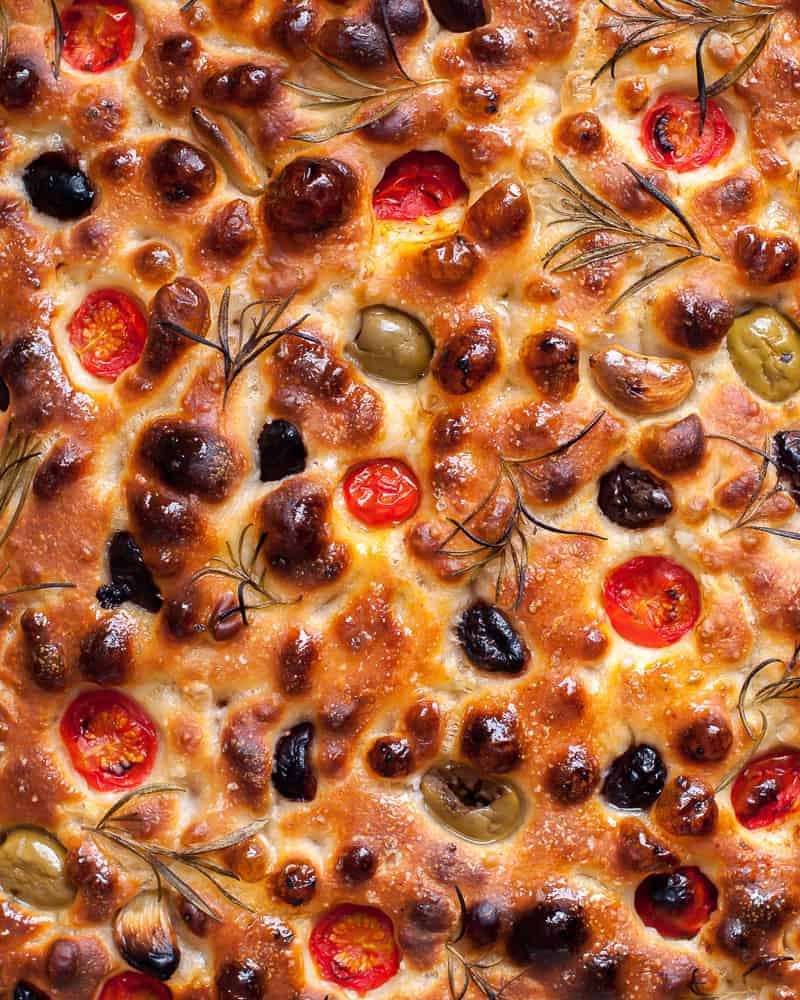 Sourdough focaccia like you've never tasted before! Crispy on the outside with a salty crust and oh so soft inside.
---
This was the first sourdough focaccia I ever made! Yeah, I like to go from zero to hero pretty quickly! I had just acquired my first ever sourdough starter and I needed to put him (he's called Chewbacca) to good use! I had made loads of loaves of bread before but never anything as ambitious as this.
I'm pleased to say that it worked beautifully and I've now made this recipe roughly 3 times a month since then!
What makes it so good??
I made sure this sourdough focaccia has just the right texture. I use some type '00' flour, which is usually reserved for pizzas and pasta. This makes it really super soft on the inside! I also like to give this sourdough focaccia a GOOD overnight prove. This really helps with flavour development, so it's not just a pretty face – it has FLAVA too!
Sourdough notes!
Two notes before you start this one!
1. This recipe involves a 4 hour prove and an 8 hour prove. It's worth it, but this is DEFINITELY a 2 day recipe, so maybe start making the dough around 4pm the day before you plan to eat it!
2. This recipe uses sourdough starter to make it rise, not shop-bough yeast. You'll need to get a nice, well established starter going before you make this. There are loads of recipes on the interweb for a starter and you won't look back once you get it going! I recommend this one!
Trust me, this is one of the best things i've ever baked, so it's worth doing things properly with this one!
Final notes!
Last few things – promise!
Please promise me you'll go out and buy a really nice extra virgin olive oil for this recipe. So much of the flavour AND texture for this bake comes from the olive oil, so please make sure you're using good stuff, and not a bottle of vegetable oil from the back of the cupboard!
The toppings are also super important! Good olives maketh a focaccia… or something like that! I use olives, cherry tomatoes, garlic and rosemary, but feel free to go rogue with this. If you're using garlic, I'd recommend soaking it in a bowl of water with a pinch of salt over night before use. It helps it not to burn in the oven and takes away some of the sharpness!
Serve this sourdough focaccia alongside my vegan cannelloni for a super dreamy dinner!