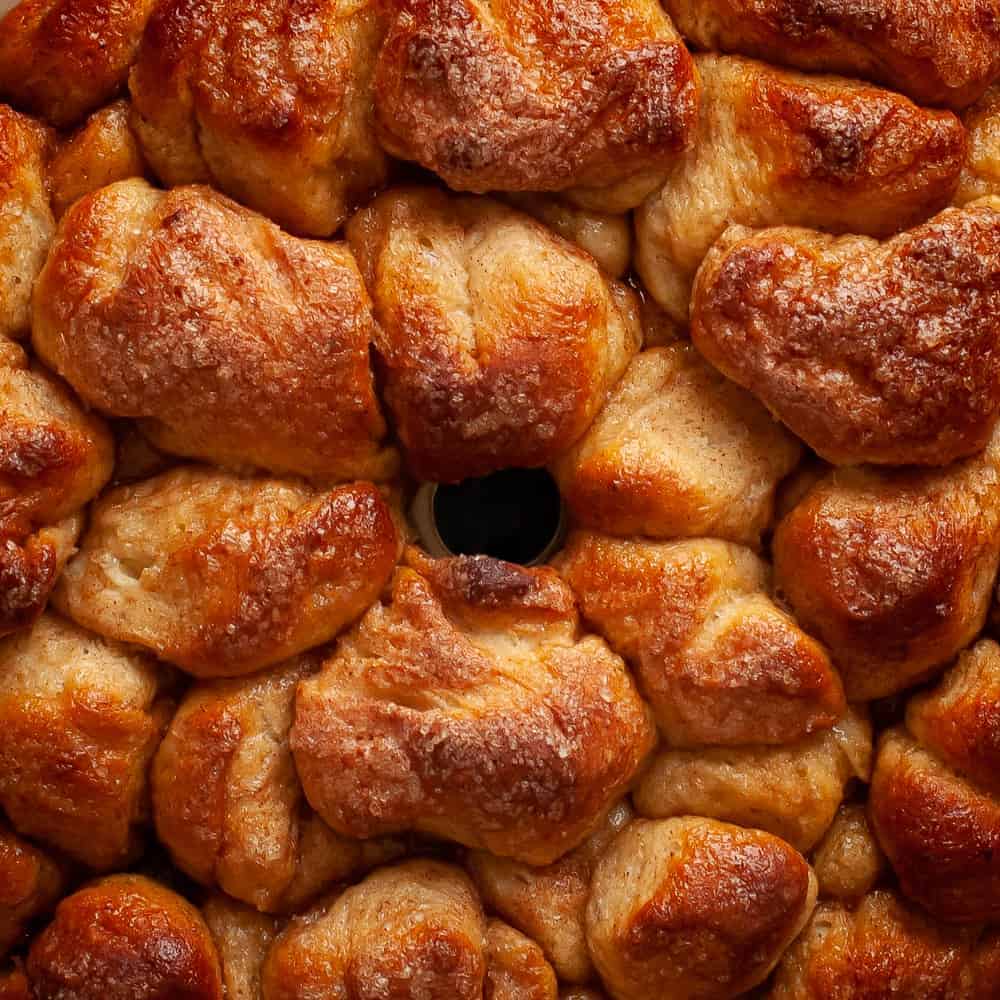 Vegan monkey bread with a deliciously sweet and smokey caramel. This pull-apart dessert is perfect for sharing with friends!
---
Get ready to get sticky because this vegan monkey bread is irresistible! If you haven't had monkey bread before, you're in for a treat! This yeasted dessert is essentially chunks of sweet bread dough, rolled in cinnamon and sugar then baked in a deliciously rich caramel sauce.
This vegan monkey bread must not be sliced. It's against the law. It has to be torn apart (hence sticky fingers) and I promise you, it tastes SO much better for it!
For those of you who're a little spooked of baking with yeast, don't sweat it! This is probably one of the easiest yeasted desserts you'll come across, so it's a great opportunity to give yeast a try!
What does vegan monkey bread taste like?
It's basically a really big, really messy cinnamon roll! The caramel sauce (which the vegan monkey bread is literally BAKED in) is the only real source of sweetness, so although it looks super indulgent, this recipe is not over-sweet.
In fact, I would even recommend making double the caramel sauce recipe and reserving half for dipping! You won't regret it!
If proved properly, the monkey bread should be lightly crisp on the outside and beautifully soft inside. Perfect for pulling apart and dipping!
What's the process?
This guy isn't too tricky at all and I just KNOW you're going to nail this recipe! Before you scroll to the recipe, I'd recommend reading through these steps to familiarise yourself with the process.
1. Make the dough!
This bit is made so much easier by a stand mixer, however, the first time I made this recipe I did everything by hand, so it definitely can be done! 
Start by melting your vegan butter. I use Miyokos when I'm in the states and Naturli when I'm in the UK. Add it to the vegan milk and mix in the sugar. The mixture should be about body temperature so give it a quick zap in the microwave if it's too cold. Sprinkle the yeast over and allow it to bloom for a few minutes.
Mix together the flour, salt and yeasty milk! Just mix until it's sticky and messy then cover and leave for ten minutes. After ten minutes, turn the dough out onto a floured surface and knead for around ten minutes. Return the dough to the bowl and leave to prove for an hour. 
2. Divide and assemble the dough!
At this stage, make sure you've greased and floured a bundt tin. I like to use a bundt tin for this recipe because the hole in the centre make sure the dough is exposed to the heat of the oven thoroughly. This way you get a nicely baked bread.
Once the dough is proved, you want to divide it into lots of little blobs of dough. The easiest way to do this is to divide the dough into quarters and then roll a quarter of dough into a long snake, then divide into 16 blobs.
Roll the dough balls in a mixture of granulated sugar and cinnamon then arrange in the prepared bundt tin. Don't pack them in too firmly, you want there to be some space between the blobs of dough. Once all the dough is added, cover the tin and prove for around 40 minutes.
3. Make the caramel!
Once your dough is finished proving, preheat the oven to 170c.
To make the caramel simply combine the vegan butter and the sugar in a saucepan and bring to a boil, whisking constantly, until you have a nice smooth caramel.
4. Bake the monkey bread!
Pour the caramel sauce over the proved dough in the bundt tin and then bake in the preheated oven for around 30 minutes.
Allow the bread to cool slightly before inverting the dough and removing the monkey bread. I'd recommend eating while still warm. Your friends are going to LOVE you!
Feeling brave!?
Now you've got this nice yeasted dessert under your belt (literally!) why not give these other recipes a go! They're some of my favourites and I think you're going to love them!