Simple, classic vegan scones, just like Mam used to make! Perfect with jam and my vegan cream!
---
I have been searching far and wide for vegan scones that taste like home. My Mam is what we affectionately call a "scone hound", meaning that we'll be driving along the motorway at 80MPH and you'll see her nostrils start to twitch. She'll suddenly wrestle the steering wheel out of your hands and swerve you off the road and through the front window of a tea room. Her desire for scones knows no bounds and she refuses to let ANYTHING stand in her way when the scent of fresh scones wafts before her.
But guess what? She's vegan now, so she's been hankering for some scones in a way that can only inflict long-lasting trauma. I HAVE A SOLUTION MAM – IT'S MY VEGAN SCONE RECIPE!!
What are vegan scones?
Some cultures don't appreciate scones, but I won't hold that against them. I actually weirdly understand it. In many ways, scones are actually pretty bland and kinda dry. But what people don't realise is THAT'S THE POINT! The scone is essentially the PUREST VESSEL for transporting jam and (vegan) cream to your mouth hole!
Done correctly, vegan scones are buttery, golden brown little craggy mountains of joy. Like a slightly sweetened, less flaky version of an American biscuit, made with plenty of vegan butter and ready to be cut open while still warm and slathered with jam.
In the UK scones are served everywhere from garden centres to funeral homes. Once I was served a scone in the middle of being sentenced to 40 years in prison for a crime I didn't commit. THAT'S how important scones are to anyone in the UK. They're a fundamental human right!
So how do I make em??
As Queen Elizabeth the First once said "When making scones, less is more, binch". And she was right! Less truly is more when it comes to scones. They're surprisingly easy and quick to make EXACTLY BECAUSE they're so low maintenance. The full recipe is below, but here are the steps to making perfect vegan scones broken down with pretty images.
1. Dry ingredients!
Sieve together them dry ingredients my friend, sieve em good! Or, don't, actually you could very easily do a bodge job of sieving and you'd still end up with stunning scones. You'll see in the recipe that I call for self-raising flour. This is a standard when it comes to vegan scones recipes, but if you don't have any, don't worry. You can absolutely make your own by following these instructions.
2. Add your vegan butter!
Next up you want to add your cubed vegan butter. work it into the flour with your fingers until you have a nice sandy textured looking mixture.
I can guarantee I'll get loads of people asking to sub the vegan butter with something I've never heard of like wild orchid treacle milked in the light of a waning moon. My advice is to NOT DO THIS. Scones need butter baby, even if that butter is vegan! So find your best sub. Ideally vegan block butter, but if you have to use margarine, that's fine too.
3. Add your wet ingredients
This is where our vegan scones dough comes together. Our wet ingredients are essentially just soy milk, vanilla and a little lemon juice to help activate the baking powder. Yes, I'm sure you can use another plant milk in this recipe. No, I haven't tried any others. Yes, I will still attend afternoon tea at your house when the vegan scones inevitably turn out perfect because you have better baking skills than you give yourself credit for!
Form a dough but DON'T OVERMIX THE DOUGH! I mean seriously, it should be very shaggy and crumbly, like my sense of humour. 
4. Cut out the vegan scones
Once you've got a vegan scone dough that's JUST ABOUT holding together, you'll want to cut out your scones. I've advised using 5cm cookie cutters. Another tip – don't use cutters with wobbly sides. Plain circle cutters result in the best rise on your vegan scones, so don't get fancy – there's no need.
Another tip – it's a good idea to dunk your cutter in flour before cutting out each vegan scone. It just stops it from sticking to the dough and helps keep things smooth. 
5. Bake the vegan scones!
The next bit is easy! Just bake em! The rule for vegan scones is hot and quick! I have my oven at 200ºc usually and bake for only around 10-12 mins – just until they're golden on top. Speaking of golden tops, the key to a nice one is your vegan egg wash. Mine uses plant milk (pref soy) and some maple syrup. That's it. It'll help everything to brown beautifully.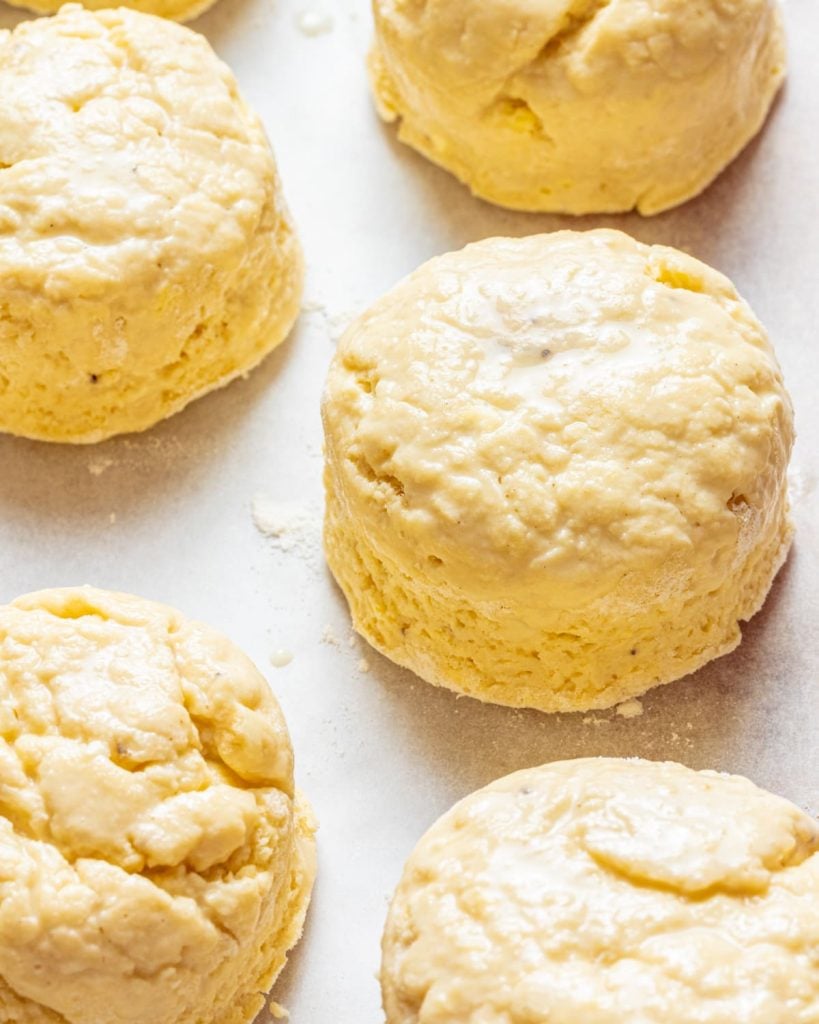 5. Cool Em!
You're nearly there! You want to serve your vegan scones just warm, so I advise letting them cool for 5 mins before slicing them. This also helps the insides to dry out slightly. Slicing them right after baking will be messy and a bit sad.
5. Fill em!
That's it! Now it's time to fill your scones with some stuff! Traditional is either raspberry or strawberry jam and cream. I'd advise you use my vegan whipped cream, because it was LITERALLY CREATED FOR THIS PURPOSE!
Now dive in! Wrap your gob around the entire thing and wash it down with a cup of hot tea! Ahhhh, HAPPY NOW MAM?!?
As always, I'm SO grateful you're here and chose to use this recipe. If you have a sec, please rate my scones 5 stars on the recipe below! You can even leave a comment or review. This really helps my vegan scone recipe to reach more people. 
You can also tag me on instagram if you happen to post a picture of your scones! I'd love to see em!
Want more VEGAN BAKES?
Why not try: