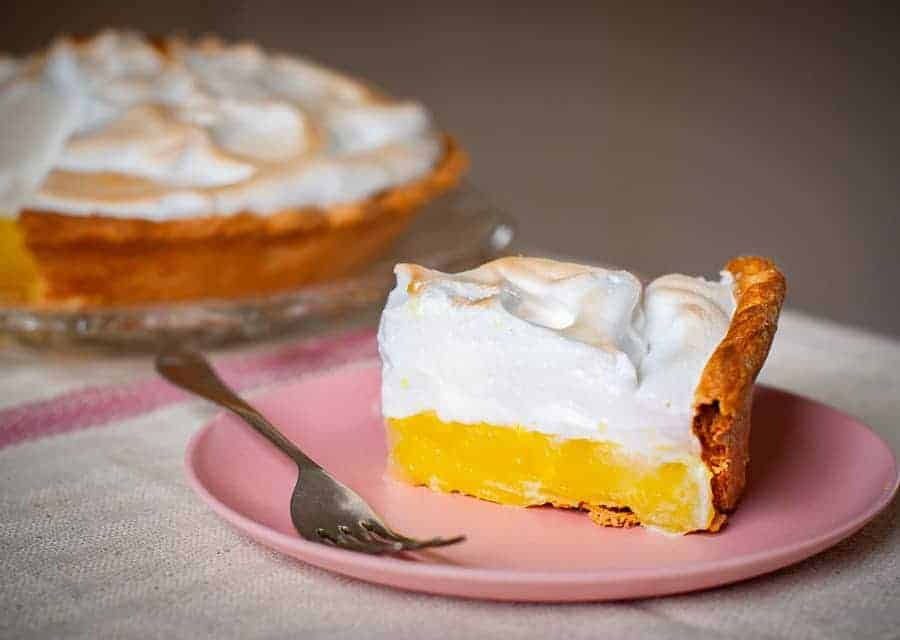 Vegan lemon meringue pie, made with the freshest vegan lemon curd and torched aquafaba meringue!
---
What could be better than a super classic vegan lemon meringue pie! The base is crisp and the lemon filling is just sharp enough but extremely smooth. And if you haven't made aquafaba meringue yet, you're in for a treat, because it works PERFECTLY on this pie!
Ok, so this recipe looks rather complicated but it's actually surprisingly simple. Break it into the component parts (pastry, curd, meringue) and get cracking. You can even use store bought pastry if you like. The majority of them are vegan, but just double check the packaging.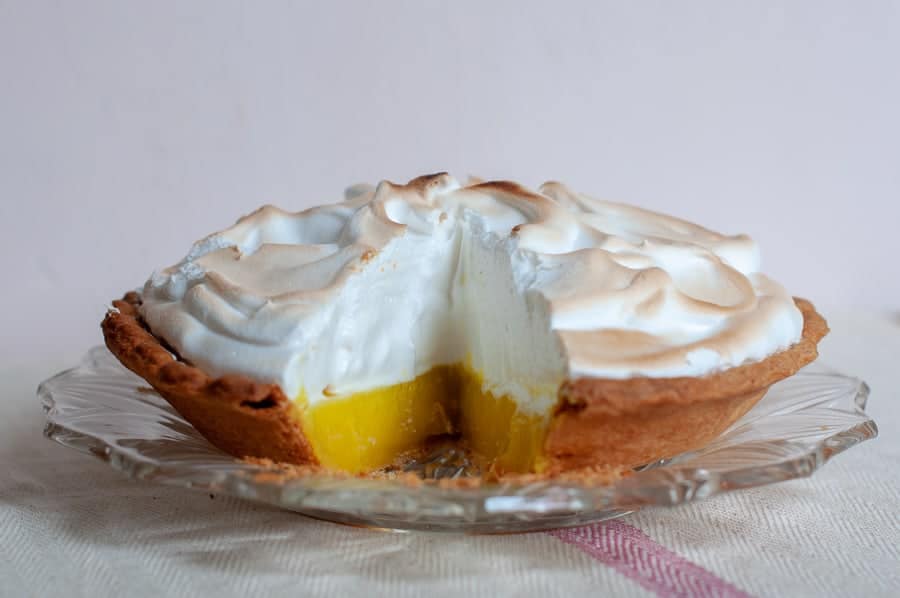 Why lemon meringue?
This entire recipe was a double challenge for myself. Challenge 1 was to successfully veganise a dessert which is basically 100% butter and egg – you can judge whether I succeeded.
Challenge 2 was to make myself ACTUALLY LIKE lemon meringue pie. Yep – unpopular opinion: I wasn't a massive fan of LMP UNTIL I developed THIS RECIPE!
It's SO refreshingly zingy – the lemon flavour is insane! The aquafaba meringue is absolutely delicious and so much easier to eat in massive quantities than normal meringue. And the pie crust is satisfyingly salty alongside the two other sweet components. All three of the parts of this recipe are good skills to master in the kitchen, so give it a go!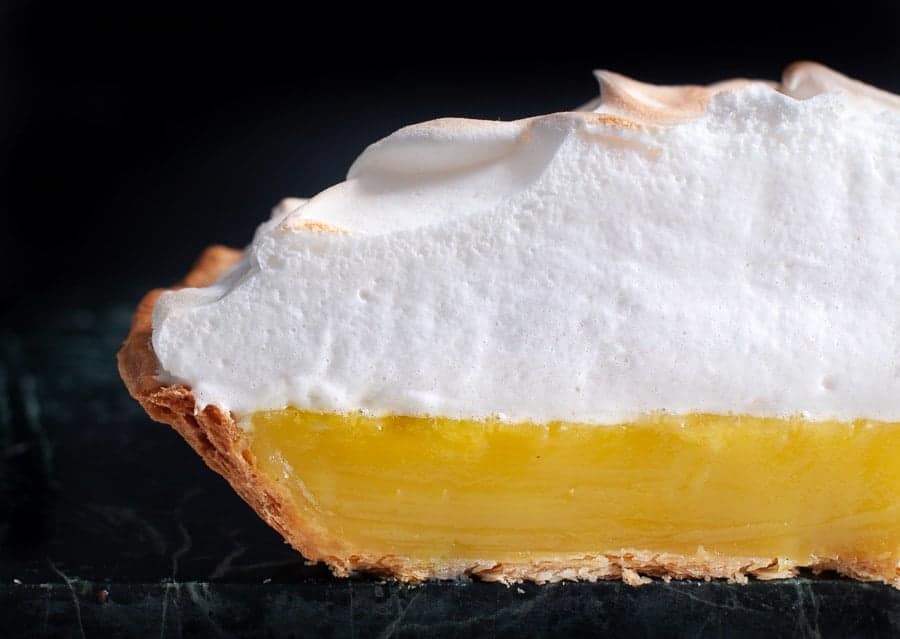 Scared of Aquafaba??
Yes, I know, it comes from chickpeas, but I promise you it does not taste like chickpeas! I'm no scientist, but I believe the reason aquafaba whips the way it does is because it has a relatively high protein content (like egg whites) which means it holds onto air bubbles very well.
Here are a few things you can do to make sure your aquafaba doesn't let you down:
Use a stand mixer or electric whisk – doing this by hand will ruin your wrist and knock you out from exhaustion. That's not how we like to bake!
Refrigerate your aquafaba! Before you drain off the chickpeas, be sure to place your can in the fridge overnight! It increases the viscosity and makes it more likely to whip up beautifully.
Wipe the inside of your bowl with a slice of lemon. The absolute worst enemy of aquafaba (and egg whites for that matter) is oil! Even the grease from your fingers will affect how much it whips, so use a lemon wedge to help break down the oils.
Once youve got the hang of it, you can use it in all sorts of things, such as Apricot and Frangipane Tarts and these Chocolate Creme Donuts!
Please keep in mind…
I love sharing my food with you – it seriously gives me so much joy! As a result, I put a huge amount of time and energy into creating these recipes. This recipe right here is my lil baby and I wouldn't change a single thing about it. As such, I won't give advice on any ingredient swaps, substitutions, omissions or changes to the method described above (how dare you talk about my baby like that!)
But seriously, if this recipe doesn't do it for you and you want to customise it – that's cool – no probs. Put that finely honed chef's intuition to good use and tailor the recipe to suit you! Regardless of whether you make any changes or not, let us know how you get on in the comments below.