Publised on 19/07/2022 by Richard. Last Updated on 20/11/2022 by Richard.
My classic vegan Victoria sponge cake - two vanilla sponge layers sandwiched with vegan buttercream or vegan cream, jam and fresh strawberries!
---
Name a better summery sweet treat than a vegan Victoria sponge cake! See, you can't because it's perfect. I grew up with Victoria sponge cakes (because I'm English) particularly when I was at my Nan's house. It's almost WEIRD that they work so well because they're SO SIMPLE! Vanilla sponge, jam and cream (or buttercream) should NOT taste this good together - so this cake is definitely greater than the sum of its parts!
This veganised version is no different. The strawbs are essential though, in my opinion - so although these are a slightly untraditional addition, I will fight to the death over their inclusion in this recipe. They also make the final cake deliciously messy, which is what I need from my Vicky sponge!
Depending on who you ask, this recipe is supposed to be made with EITHER whipped cream or vanilla buttercream. For me, either work fine, and I have a vegan recipe for each of them (links above) so knock yourself out either way!
How do I make vegan Victoria sponge cake!?
As always, the FULL RECIPE is at the bottom of the page - scroll on down if you're in a hurry. If you've got time or want some extra pro-level tips on perfect Victoria sponge cakes, keep reading!
1. Make a soy buttermilk!
You'll have seen me use this method before if you've made one of my vegan baking recipes. The idea is that we need to introduce some acidity to help activate the baking powder in the sponge mixture. Traditionally we could use buttermilk but obvs that's not vegan so we'd go to jail. Instead we're gonna use a simple vegan buttermilk made from soy milk and lemon juice. It thickens in a few seconds and will help your cake to rise beautifully.
2. Measure the dry ingredients for your vegan Victoria sponge cake!
I like to sieve my dry ingredients for sponge recipes as it really helps to get a nice even crumbed cake. Measure everything out in a large bowl as we'll be adding our wet ingredients to this bowl.
3. Combine the two!
To make the batter we need to combine the wet and the dry ingredients. However this batter is particularly runny, so if you're not careful you may end up with lumps! The best way to avoid lumps is to add half of your wet ingredients to your dry ingredients, mix until no lumps remain, then add the remaining wet ingredients.
4. Bake!
Finally it's time to divide the batter between two cake tins (spring form if you have them) and bake. I like to bake my cakes on a baking sheet as it helps to keep everything level but also it helps to conduct more heat through the base of the cake - resulting in a better rise.
5. Cool the sponges!
It can be super tempting to top the sponges before they're fully cooled, but please refrain if you can POSSIBLY help it. Otherwise everything will melt into a big soggy mess and your hard work will have all been for nothing. Also remember I am omnipresent so I will know *eerie music*.
6. Layer everything up!
Finally you want to layer everything up. First you'll add the jam, then either my Vegan Vanilla Buttercream or my Vegan Whipped Cream. Then I like to top with some strawberries followed by the second layer of sponge. If you wish (and if you have enough cream left) you can decorate the top of the cake with extra cream and strawbs! Your vegan Victoria sponge cake is done!
And there you have it! A delicious vegan Victoria sponge cake! There's nothing more summery and sweet on the British Isles!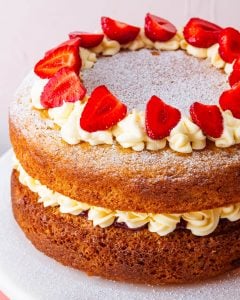 Vegan Victoria Sponge Cake
My classic vegan victoria sponge cake - two vanilla sponge layers sandwiched with vegan buttercream or vegan cream, jam and fresh strawberries!
Equipment
2 21cm/8 inch cake tins

Blender
Ingredients
480

ml

soy milk

(unflavoured and unsweetened)

2

tablespoon

lemon juice

450

g

plain white flour

4

teaspoon

baking powder

1

teaspoon

bicarbonate of soda

(aka baking soda)

¼

teaspoon

fine sea salt

310

g

caster sugar

(aka superfine sugar)

160

ml

vegetable oil

2

teaspoon

vanilla extract

4-8

tablespoon

strawberry jam

2

tablespoon

icing sugar

(for dusting)

150

g

fresh strawberries

1

batch

vegan vanilla buttercream OR

1

batch

vegan whipped cream
Instructions
First, make either the

Vegan Vanilla Buttercream

or the

Vegan Whipped Cream

in advance. Transfer to a piping bag fitted with a nozzle. If using buttercream, leave the piping bag at room temperature. If using the vegan whipped cream place in the fridge

1 batch vegan vanilla buttercream OR,

1 batch vegan whipped cream

Preheat the oven to

160

°C

. Grease and line two 21cm cake tins with baking parchment. 

In a measuring jug, whisk together the soy milk and lemon juice. Set aside.

480 ml soy milk,

2 tablespoon lemon juice

In a large bowl sieve together the plain white flour, baking powder, baking soda and salt then stir to combine.

450 g plain white flour,

4 teaspoon baking powder,

1 teaspoon bicarbonate of soda,

¼ teaspoon fine sea salt

Place the sugar, vegetable oil, vanilla extract and soy milk mixture in a medium bowl or the cup of a blender. Blend or use an immersion blender to blend together until smooth and emulsified. Add half of the blended mixture to the dry ingredients and stir together until combined and no lumps remain. Add the remaining blended mixture and stir until just smooth.

310 g caster sugar,

160 ml vegetable oil,

2 teaspoon vanilla extract

Divide the cake batter between the two tins and place on a baking tray (or two separate trays if required). Bake for 35 minutes then remove from the oven and set on a wire cooling rack until room temperature. While the cake layers are cooling, slice the strawberries in half.

Once cooled completely, spread one layer with the strawberry jam before piping on most of the buttercream/cream. Top with most of the sliced strawberries then top with the second layer of cake. Pipe the remaining buttercream/cream in rosettes on the top of the cake then top with the remaining strawberries. Dust the top with the icing sugar before serving.

4-8 tablespoon strawberry jam,

2 tablespoon icing sugar
Nutrition
Serving:
1
g
Calories:
286
kcal
Carbohydrates:
46
g
Protein:
4
g
Fat:
10
g
Saturated Fat:
2
g
Polyunsaturated Fat:
6
g
Monounsaturated Fat:
2
g
Trans Fat:
0.1
g
Sodium:
122
mg
Potassium:
193
mg
Fiber:
1
g
Sugar:
23
g
Vitamin A:
119
IU
Vitamin C:
8
mg
Calcium:
92
mg
Iron:
2
mg
Love this recipe?
Let me know on Instagram!
WANT MORE VEGAN CAKES!?
Why not try: