Publised on 06/09/2022 by Richard. Last Updated on 20/11/2022 by Richard.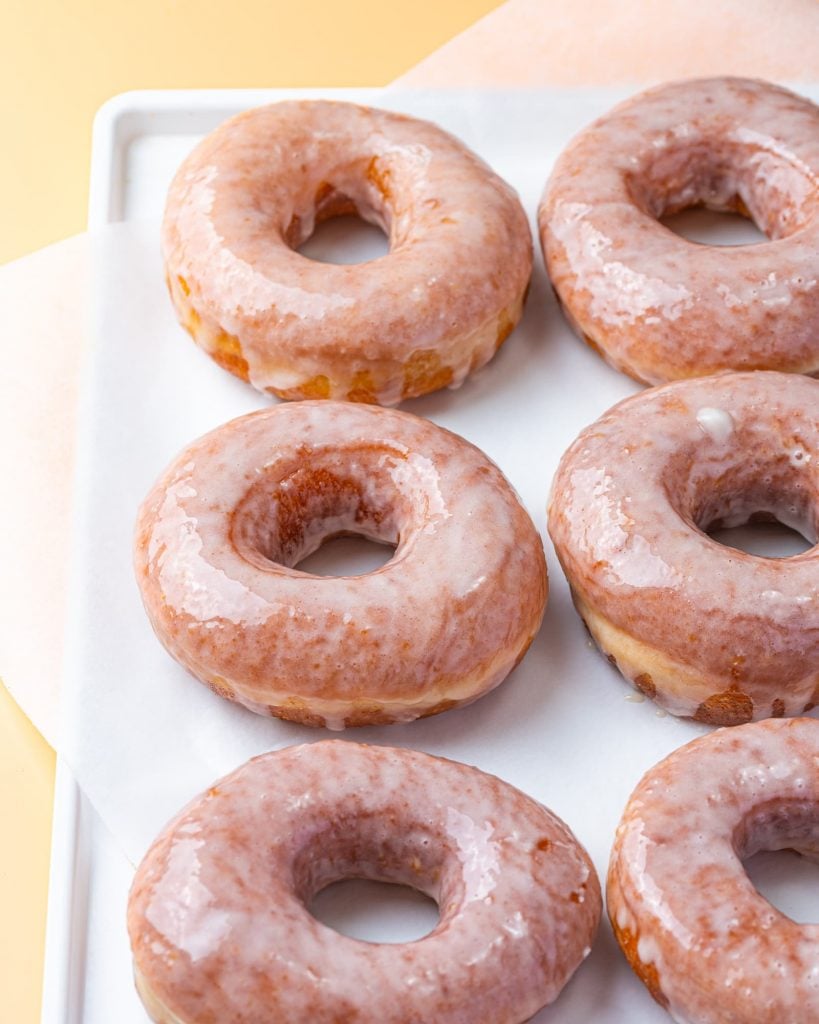 Classic vegan donuts with a krispy kreme style glaze which crackles as you bite through. Beautifully soft with a gentle chew, these guys are easy to make and delicious with coffee.
---
You can stop holding your breath now, you've got a vegan donuts recipe with a glaze to rival krispy kreme and I guaran-damn-tee that these little angels will change your life (for the better obvsie). They're a yeasted donut but don't let that put you off making them - they're so blooody easy and will bring a tear to your eye they're so good.
In fact, I gave a bunch to my friend Kelly recently and she sent me a text ten minutes later saying "Jebus those donuts are insane". She had got 2 minutes down the road and been overpowered by the smell and popped an entire one in her mouth. No regrets! Donuts are always the right move.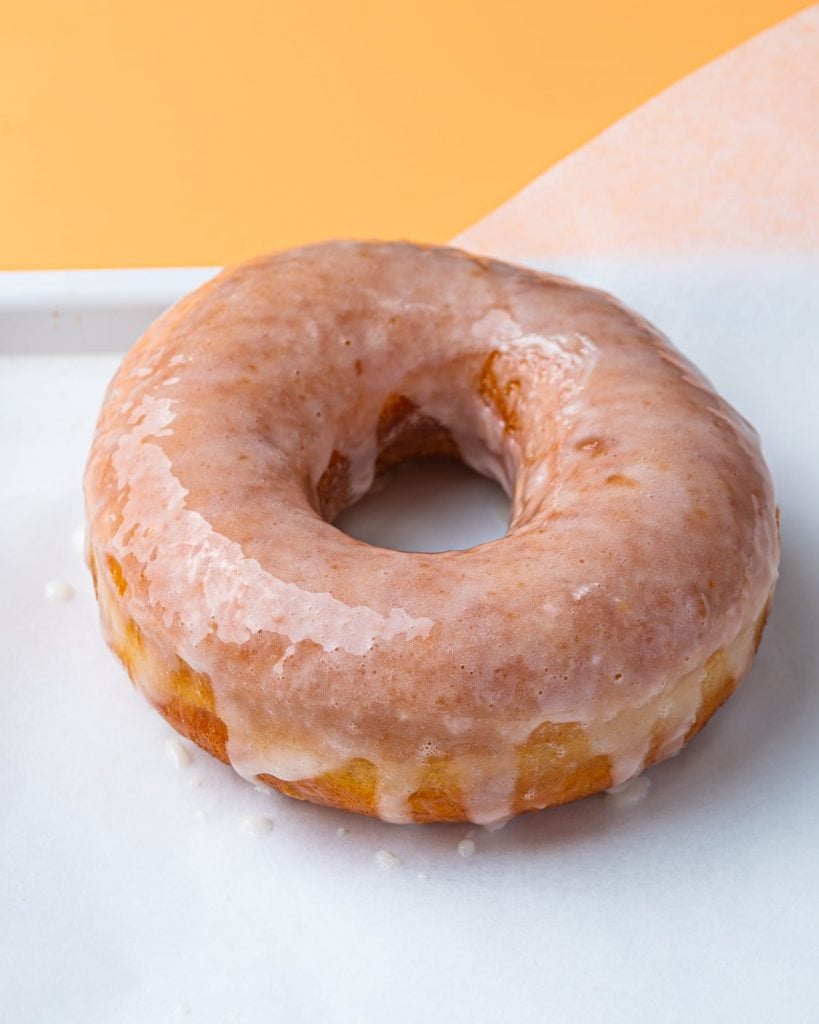 I honestly can't overstate how light and fluffy these vegan donuts are. The key to perfect vegan donuts is something I learned from chatting with my internet friend who runs vegan donut spot Air + Day Donuts. You basically have to come as close to overproving your dough as possible. This means a good hour for the first prove and a good hour for the second.
When I followed these instructions, I found that my donuts bobbed on the oil like those graceful swan pedal boats and when flipped, they had that wonderful pale line around the circumference (which is a sign of a properly proved donut!).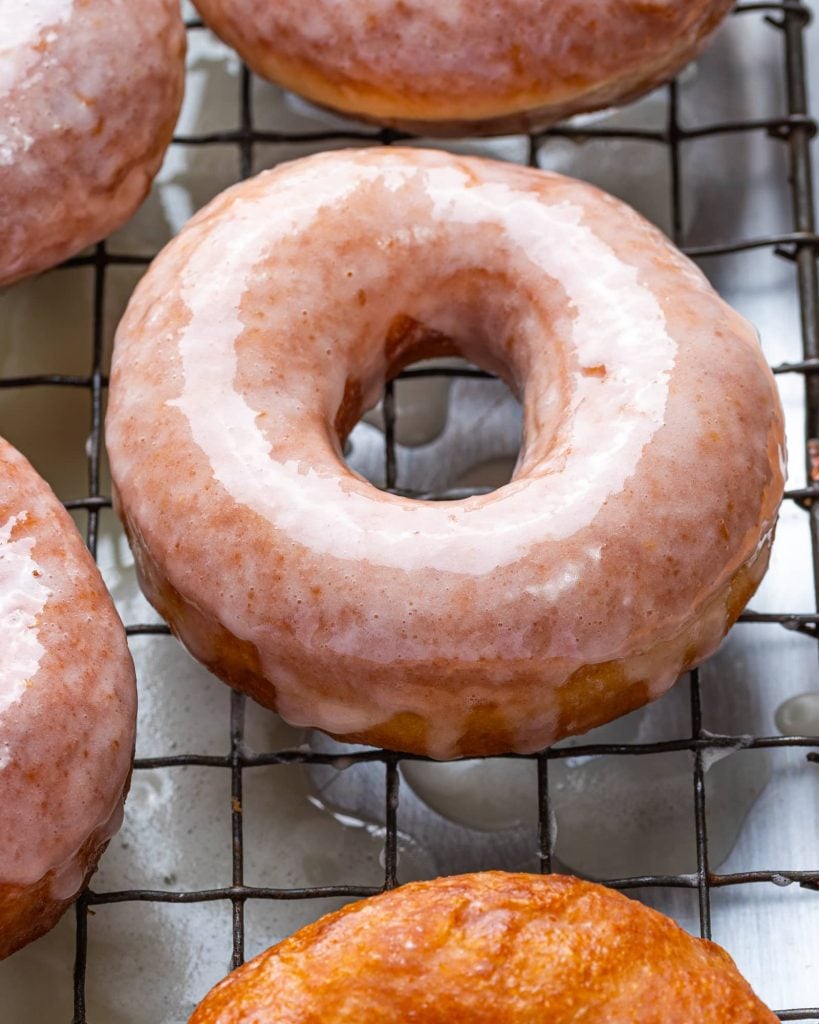 How do I make glazed vegan donuts!?
As always, the FULL RECIPE is at the bottom of the page - we're going to spend a bit of time up here talking about how these guys get made, but if you think you're better than us, then feel free to scroll down that way!
OK, now we've weeded out the skippers, let's get cracking. Here are the steps for making the best glazed vegan donuts on planet earth!
1. Bloom that yeast!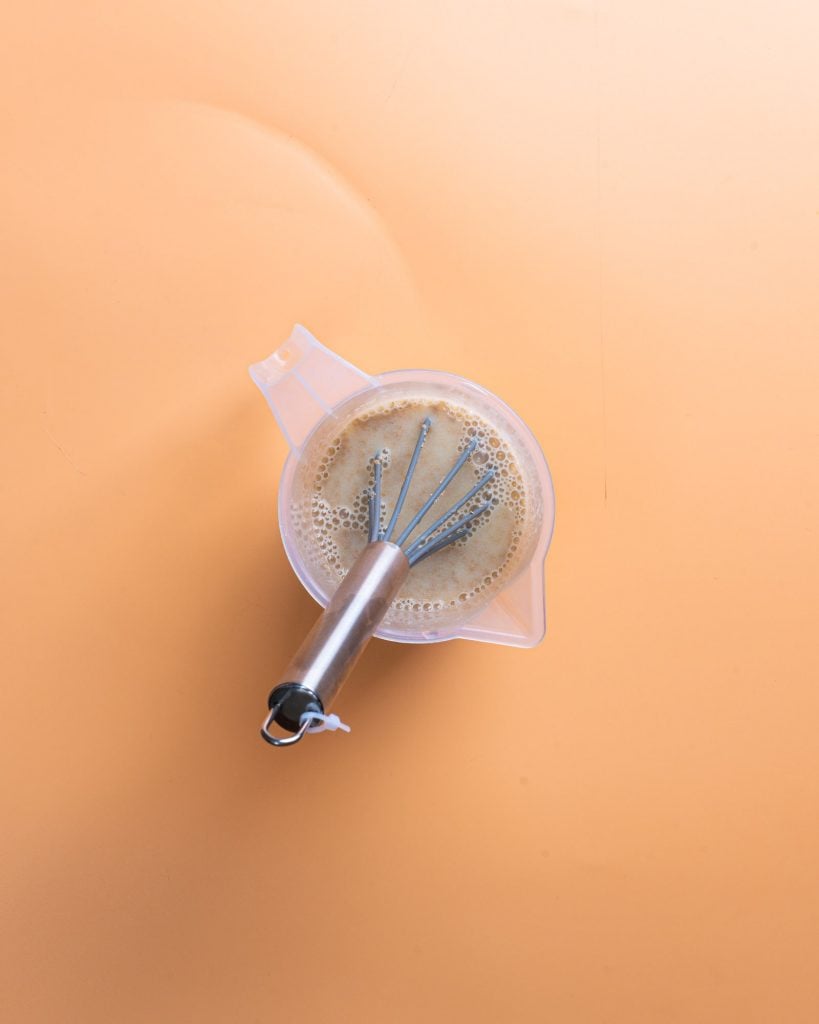 I like to use easy bake yeast for my bakes. This means there's strictly no need to bloom your yeast (the process of allowing the yeast to activate in a liquid before adding to your dough) but here's why I still choose to do it. Yeast, even when packaged properly, doesn't last forever. It loses power over time (kind of like me, an introvert, at a party) so it's important to check that things are still alive and kicking in that little sachet.
So mix things together in some slightly warmed soy milk with a bit of sugar and wait for things to get foamy!
2. Combine the dry ingredients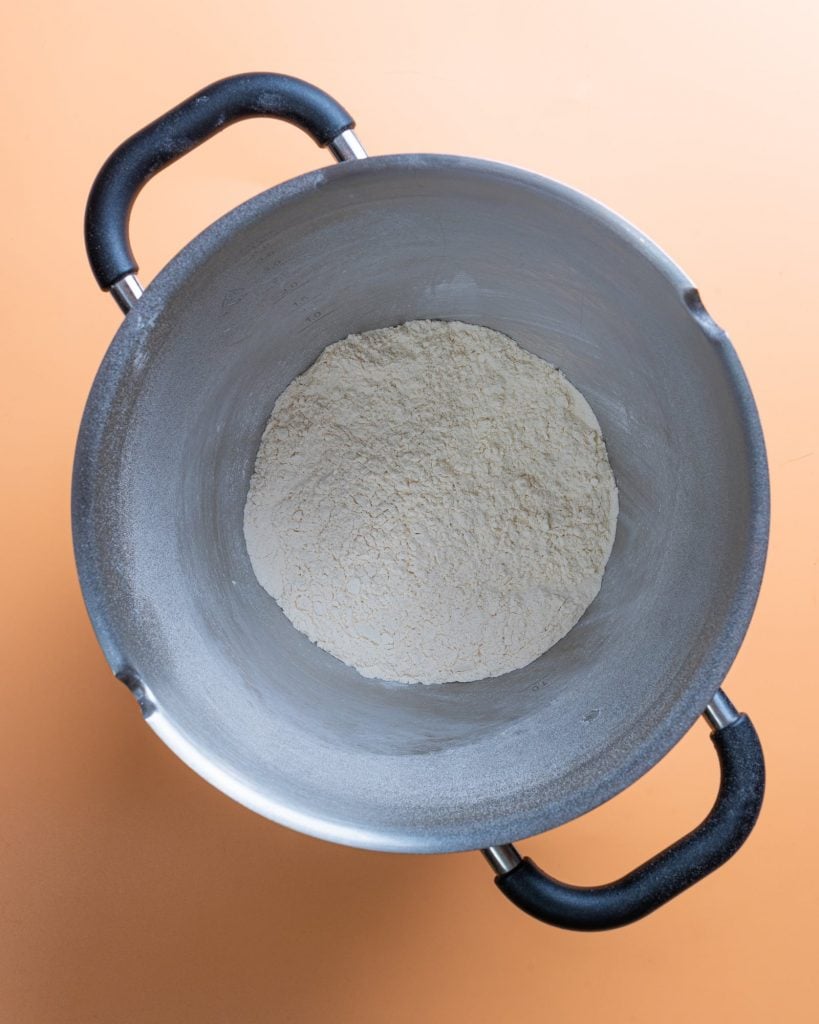 For our dry ingredients, we're going to blend together a combo of plain flour and strong white flour. This gives our dough a little extra gluten which helps to keep things lovely, light and chewy. Also we're going to use psyllium husk powder as our egg replacement. In the past, I've advised blending the powder with water to make a gel, but I've experimented recently and found you get a more even distribution if you just whisk the powder into the flour. BINGO! An easier solution!
If you can't get hold of psyllium husk powder, try ground flax seeds or ground chia seeds instead. You'll need to adjust the quantities slightly, but I've included the conversion in my recipe below.
3. Prep the dough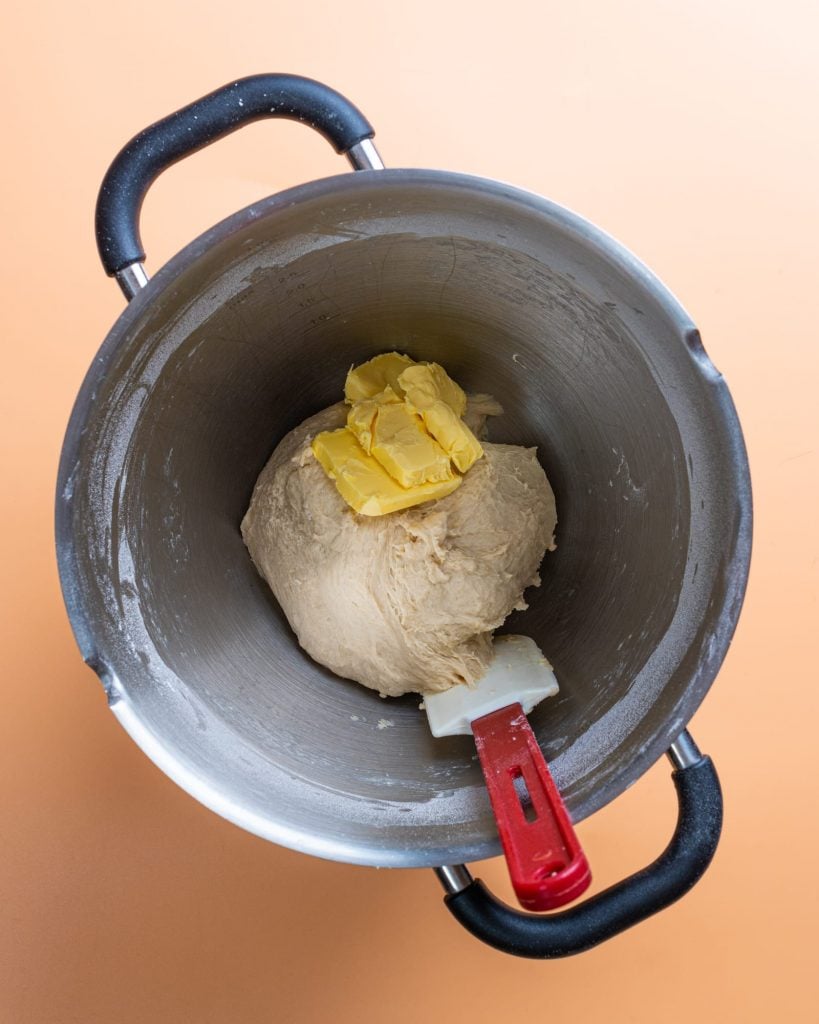 The dough will need two kneads (it's SO needy!) but don't worry, it won't take long. First knead is just to combine the dry and wet ingredients. Second knead is to really smooth out the dough and get everything lovely and smooth. This will also activate the gluten in the vegan donuts which is the magic ingredient for light yet bouncy donuts.
Before the second knead we're also going to add the vegan butter. This is to "enrich" the dough. This just means that the dough has added fat (in the form of vegan butter) which will help to keep things deliciously moist and moreish (all technical terms, I promise you).
4. Prove the dough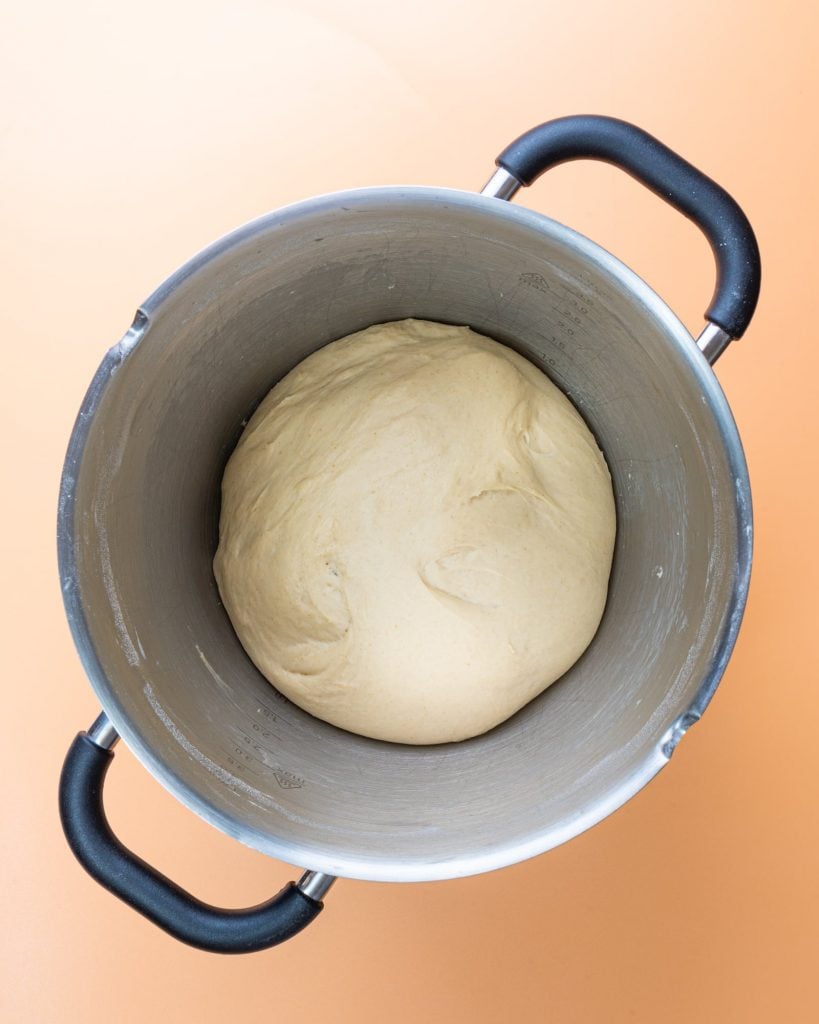 Next we need to do our first prove of the dough. This is easy and hands-free! Yas - slay sis work gawd tongue pop! We're just going to cover the dough and leave it for an hour. Easy.
Oh and before you tell me it's "proof" not "prove", have a little read of this and remember I'm English. TLDNR? Proof is American, prove is English. The end.
5. Shape the vegan donuts and prove again!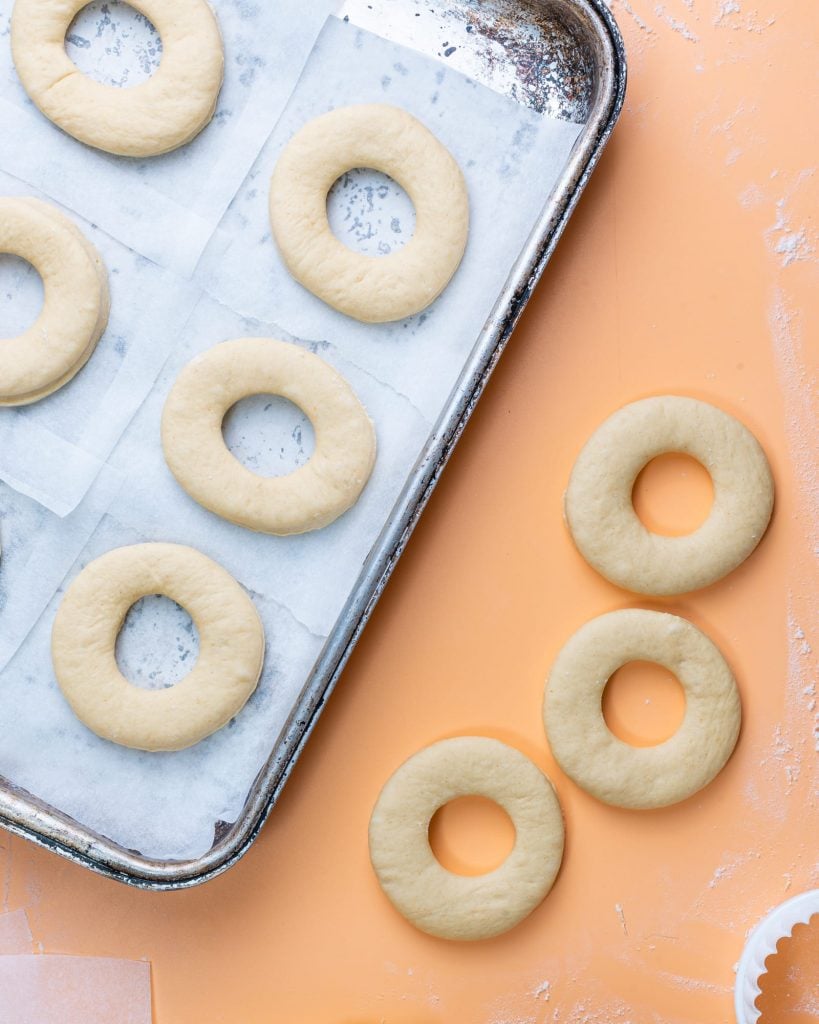 For the second prove you'll need to shape the donuts first. No sweat! This is easy too. All you're going to do is push out the large air bubbles and flatten the dough with a rolling pin. Once flattened to about 3cm, you need to cut out the donuts with two cookie cutters.
Place the donuts on individual squares of baking parchment and set on a baking tray to prove again for an hour, remembering to cover it up of course.
5. Fry the vegan donuts!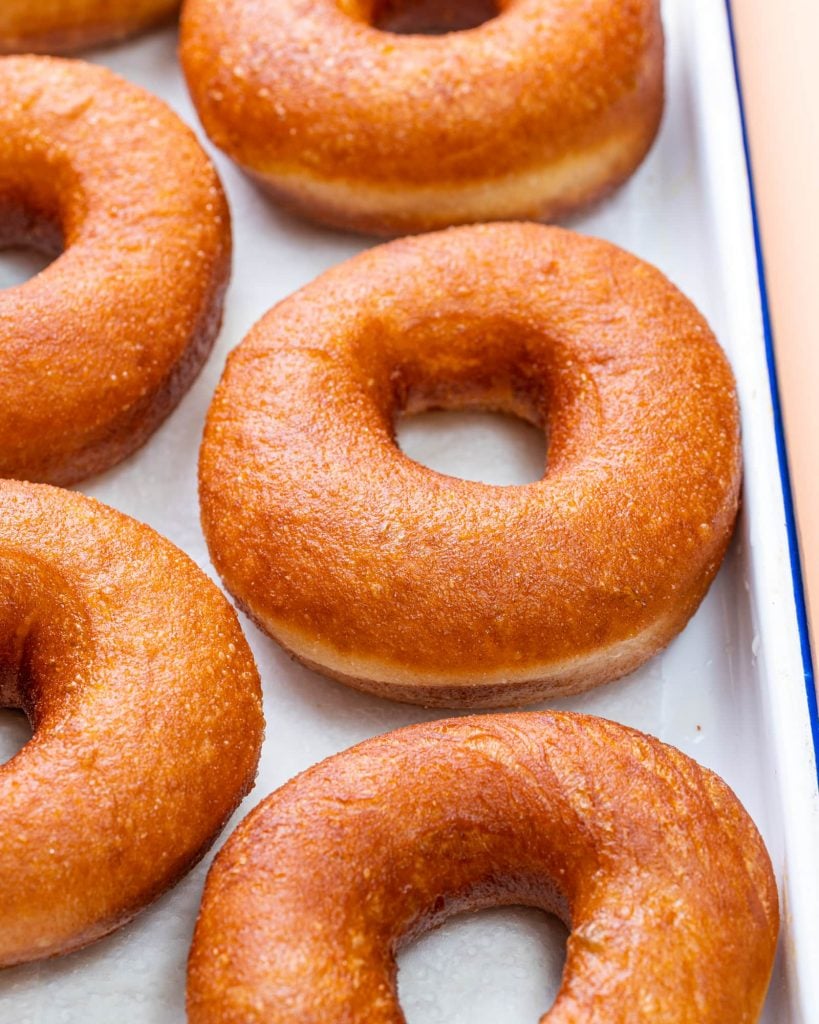 I like to fry vegan donuts in vegetable oil or sunflower oil. Make sure you get your oil to a good 180c before frying, otherwise the dough will absorb too much oil. If proved properly, over half of the donut should bob above the oil. This means that when you flip the donut and fry the other side, you'll be left with a nice pale line around the circumference which indicates that you SLAYED this bake!
Once fried, it's a good idea to place the donuts on kitchen roll to absorb any excess oil, then transfer to a wire cooling rack to cool.
5. Glaze em good!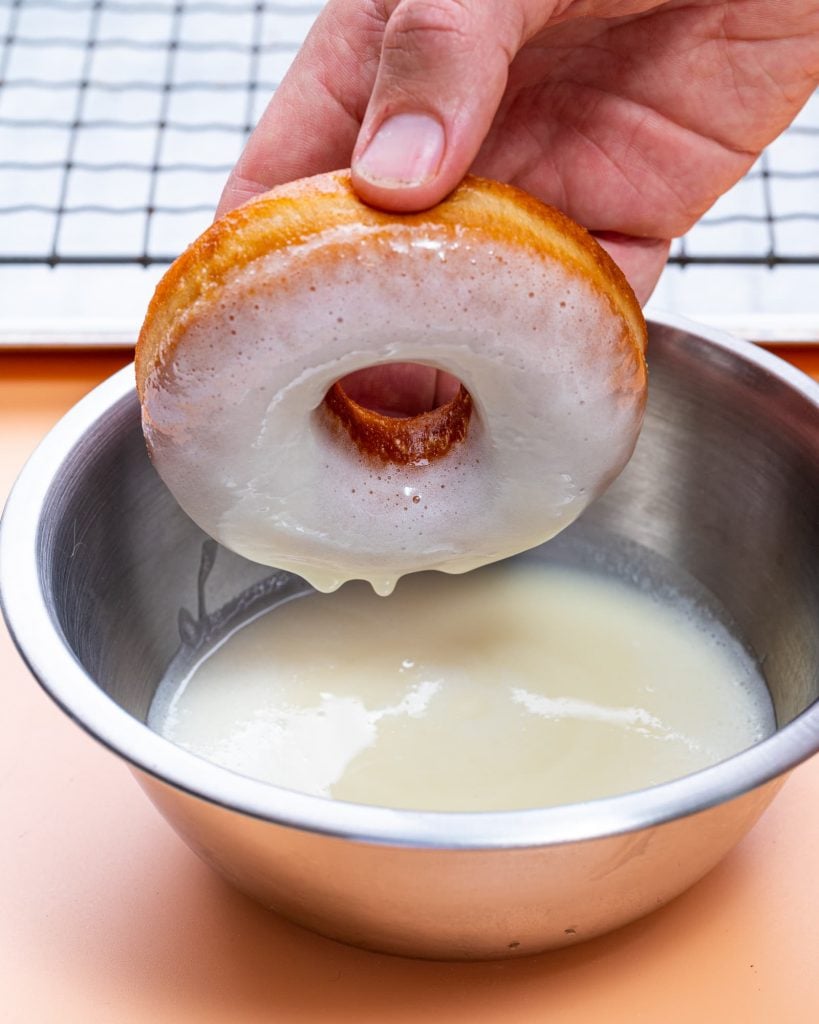 We're just using a classic simple vanilla glaze this time, so my only advice here is to make sure you allow plenty of time for your glaze to set. You want that crunchy crack like a krispy kreme original glaze donut, so you'll ned to give it a good 15 - 20 mins to set.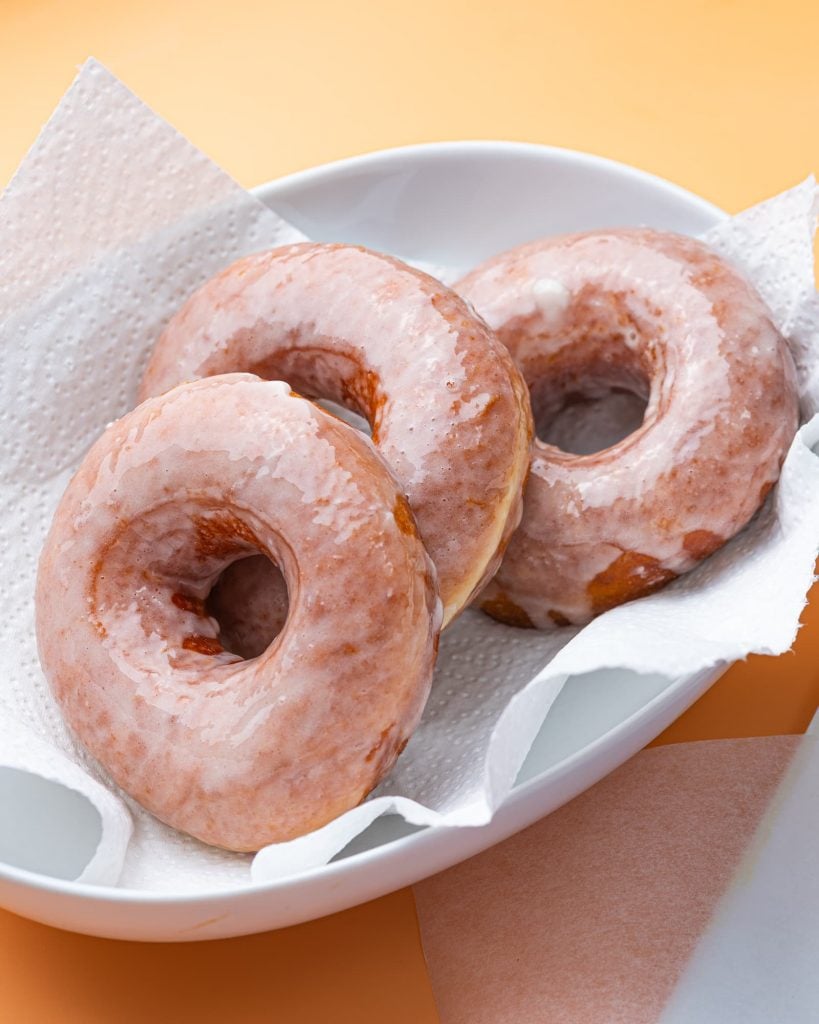 And there you have it! A delicious batch of vegan donuts! Perfect for with a nice cup of joe - or maybe served with vegan bacon?! That's a thing some people do right?!
It's also worth noting that these donuts freeze REALLY well when stored in an airtight container, and can be defrosted in about 10 seconds in the microwave!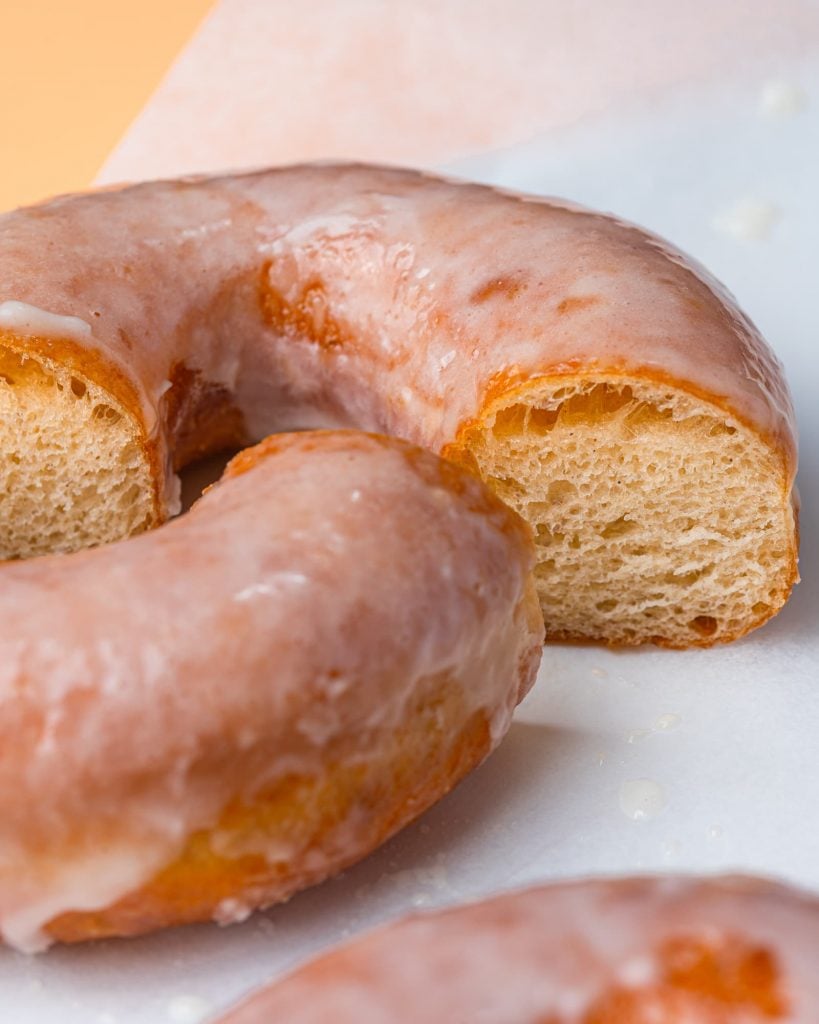 As always, it helps me MASSIVELY if you can rate and review this recipe below. This blog only exists because people like you actually use it and cook these recipes, so it would mean a massive amount to me if you could let others know that you rate this recipe or that you're just excited to make it!
Alternatively, take a picture and pop it on instagram! Be sure to tag me though – I can't wait to see how you use this recipe!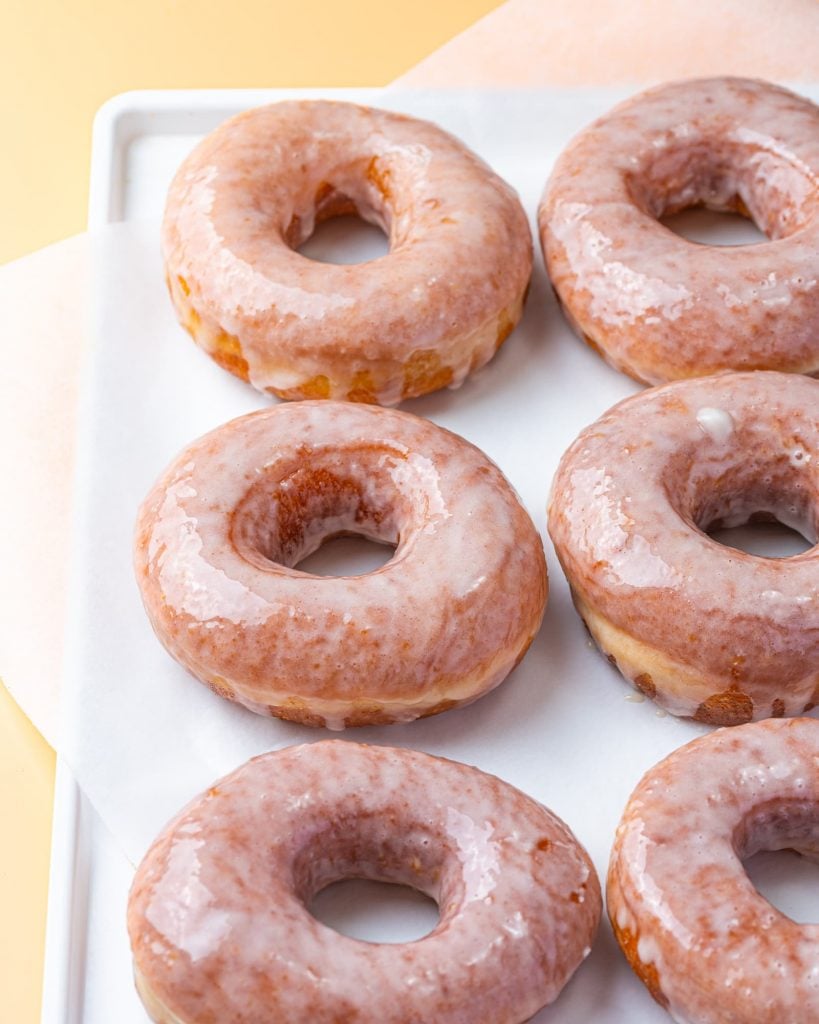 Vegan Donuts, Glazed
Classic vegan donuts with a krispy kreme style glaze which crackles as you bite through. Beautifully soft with a gentle chew, these guys are easy to make and delicious with coffee.
Ingredients
75

ml

water

240

ml

soy milk

60

g

caster sugar

2

teaspoon

quick yeast

1

teaspoon

psyllium husk powder

(or 1 tablespoon finely ground flax or chia seeds)

320

g

strong white bread flour

140

g

plain white flour

(plus extra for dusting)

1

teaspoon

fine sea salt

60

g

vegan butter

(at room temperature)

vegetable oil

(for frying)

300

g

icing sugar

(sifted)

4

tablespoon

soy milk

2

tablespoon

glucose syrup

(aka corn syrup)

2

teaspoon

vanilla extract
Instructions
In a small microwaveable bowl, place the water, soy milk and caster sugar. Mix well then place in the microwave for 10-30 seconds. The mixture should feel warm to the touch but not hot. Add the yeast to the milk mixture and mix well. Set aside for 10 minutes to allow the yeast on the surface to become frothy.


75 ml water,

240 ml soy milk,

60 g caster sugar,

2 teaspoon quick yeast

Meanwhile, in the bowl of a stand mixer, combine the psyllium husk powder, flours and the salt and mix well. Fit the dough hook and add the yeast mixture to the flours. Knead until you have a shaggy dough ball, around 2 minutes.
 

1 teaspoon psyllium husk powder,

320 g strong white bread flour,

140 g plain white flour,

1 teaspoon fine sea salt

Add the vegan butter (which should be nice and soft) and knead the mixture on medium speed for around 5 minutes or until the dough looks smooth. Remove the dough and place in a lightly oiled medium sized bowl. Cover with a damp kitchen towel and leave to prove for one hour or until the dough has nearly doubled in size.


Once the first prove is over, very lightly dust a clean work surface with flour. Turn out the dough and gently push out any larger air bubbles with your fingertips. Using a rolling pin, roll out the dough into a sheet around 3cm thick. Use a circular cookie cutter around 8-10cm wide to cut out the donuts. Use a much smaller circle (I use the large end of a piping nozzle) to cut out the centre. You should get roughly 12 donuts.


Note: Don't twist the cutters as you push down. This prevents even rising and you'll end up with wonky donuts.

Place each donut on a small square of parchment paper and carefully transfer to a deep baking tray. Cover with cling film or a damp kitchen towel. Don't discard the remaining dough: use the piping nozzle to cut out more donut holes. Cover the donut holes too and allow everything to prove for a further 40 minutes.


Once 40 minutes are up, add around 2-3 inches of vegetable oil to a deep, heavy-bottomed saucepan (I use a cast-iron dutch oven) and place over medium heat. Using a probe or candy thermometer bring the oil temperature to 180c. Alternatively, fill and heat a deep fat fryer to 180c.


Working one donut at a time, gently lift the donut from the baking tray (along with the baking parchment) and carefully slide it into the oil. The parchment will float off and can be removed with tongs immediately. Fry the donut for around a minute before flipping and frying the other side.


Remove from the oil with a spider or slotted spoon and lay on a baking tray lined with kitchen roll to absorb any excess oil then transfer to a wire cooling rack placed over a baking tray.


Allow the donuts to cool to room temperature. Meanwhile, prepare the glaze by whisking the icing sugar with the soy milk, liquid glucose (or corn syrup) and vanilla extract. Dunk the donuts one at a time in the glaze then set back on the wire rack to set. Once the glaze has fully hardened, the donuts are ready to serve. 

300 g icing sugar,

4 tablespoon soy milk,

2 tablespoon glucose syrup,

2 teaspoon vanilla extract
Nutrition
Serving:
1
g
Calories:
309
kcal
Carbohydrates:
62
g
Protein:
5
g
Fat:
4
g
Saturated Fat:
1
g
Polyunsaturated Fat:
1
g
Monounsaturated Fat:
1
g
Trans Fat:
0.02
g
Sodium:
244
mg
Potassium:
77
mg
Fiber:
1
g
Sugar:
31
g
Vitamin A:
290
IU
Vitamin C:
2
mg
Calcium:
41
mg
Iron:
1
mg
Love this recipe?
Let me know on Instagram!
WANT MORE VEGAN DONUTS!?
Why not try: