Soft and delicate vanilla vegan donut holes. Perfect for a bite-size snack with your PM coffee!
---
I've been dreaming about these vanilla vegan donut holes for a while now. Not just because they're insanely delicious, but because I've been struggling to know what to call them…
I mean, technically they're not even donut holes – a name usually reserved for the bit of dough you're left with when you cut out ring donuts. These guys are no by-product – they're the MAIN EVENT!
I guess we could call them donut balls, but that one doesn't sit right on my tongue… for obvious reasons. So for now, let's stick with donut holes until I can come up with something better.
Why vanilla vegan donut holes?
At time of writing, we're still in a lockdown situation thanks to Covid-19. We're all coming to terms with the reality of cooking/baking with limited ingredients and I guess I was trying to come up with a recipe which felt like a treat, without baking an entire layer cake.
These guys are just the right size for snacking on during your afternoon "fika" and they give you that awesome donutty vibe without you actually eating a whole massive donut. Obvs if you eat seventeen donut holes in one sitting (like me) it kinda defeats the object, but you do you – no judgement here!
How tricky are they?
I would say these guys are a 2/5 on the difficulty scale. Aside from being a rather sticky dough, this recipe is actually super straightforward.
The other good thing about them is that you don't need any speciality flour to whip them up. They work perfectly well with plain white flour – no fancy bread flour required – and I promise you'll be happy with that yeasted donut texture (no cake-ieness here…).
Any tips on the perfect vanilla vegan donut hole?
There are a couple tricks you can try to make sure your donut holes work out perfectly. Like I said above, this recipe aint rocket science, but if you're looking to up your dough game, these tips are a good place to start.
1. Be patient with the dough.
Because the dough contains a fair bit of sugar and fat, you'll find it's rather sticky to work with – at least to begin with. My tip is to be patient. You'll find that after the first proof, the dough is much easier to handle. This is because the flour has had some time to become fully hydrated and therefore not quite so sticky.
Obviously if you're using a stand mixer you'll find things much easier, but for those of you who don't have one – keep your hands nice and moist with a little splash of water and you'll find the dough doesn't stick to you so much.
2. Fry in small batches.
When your dough is ready to go, be sure to fry in small batches of around 3-4 donut holes. If you fry too many in one go, you'll reduce the temperature of the oil, which will affect the way the donut holes rise and brown.
Keep your batches small and check the temperature of your oil regularly to make sure you're within that 170-180c window. I like to use one of these probe thermometers to be sure!
3. Get that glaze right!
Be sure to sieve your icing sugar before blending with the milk. Otherwise things will get clumpy lumpy. Also make sure you use either real vanilla, vanilla bean pasta, or vanilla extract. NO VANILLA ESSENCE! EVER!

Oh and finally – make sure the donut holes are cool before you glaze them! otherwise the glaze will melt straight off!
Need more treats??
You've come to the right place! Check these bad vegan dudes out!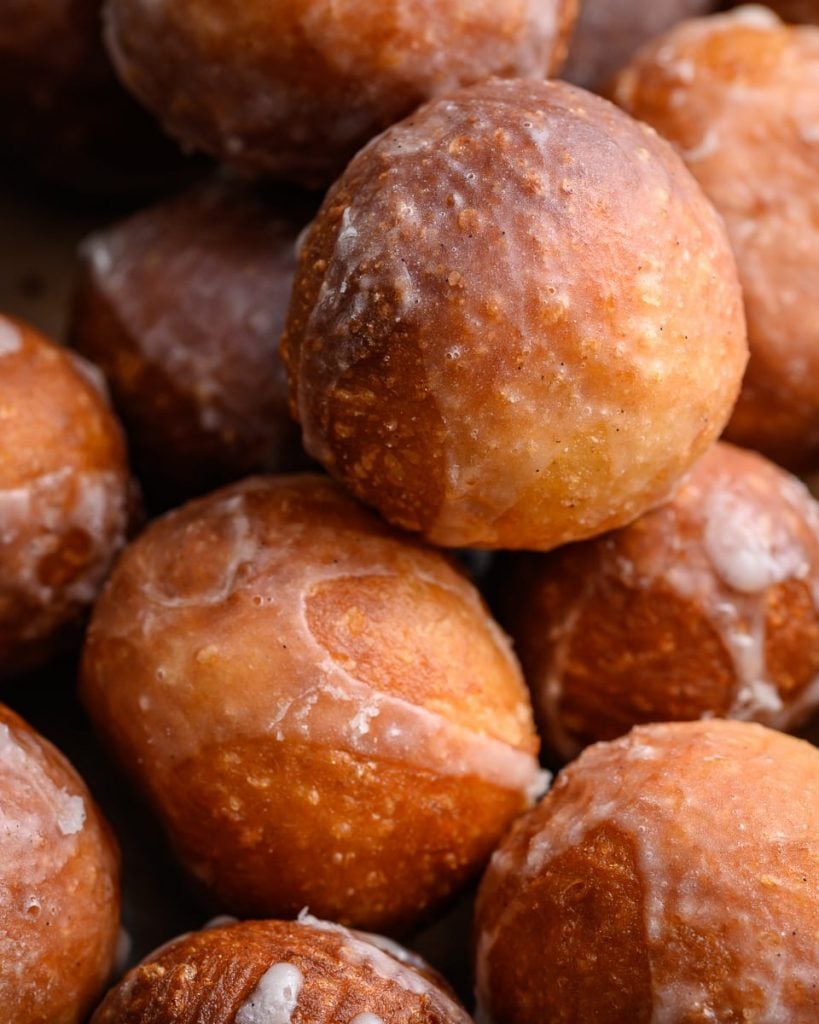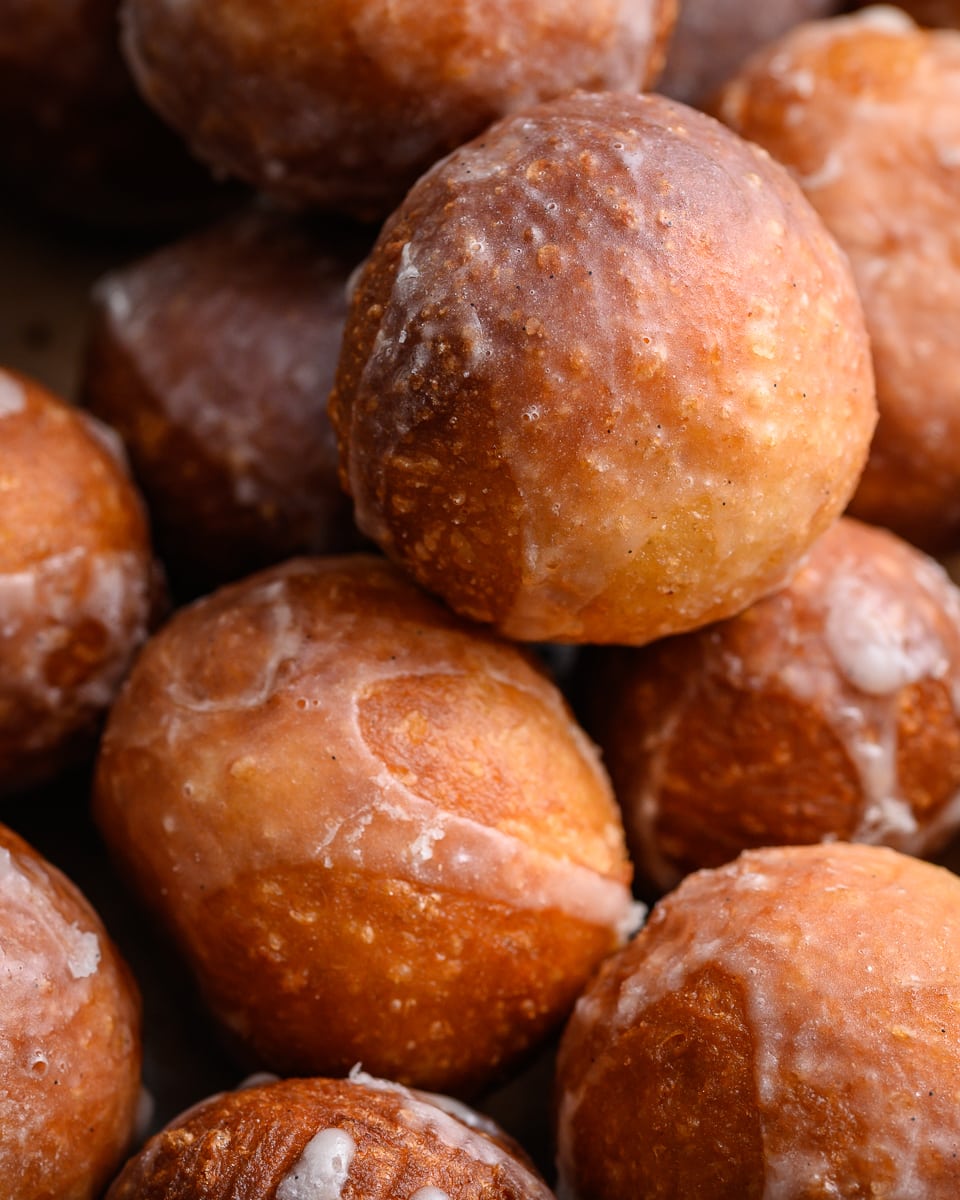 PLEASE KEEP IN MIND…
I love sharing my food with you – it seriously gives me so much joy! As a result, I put a huge amount of time and energy into creating these recipes. This recipe right here is my lil baby and I wouldn't change a single thing about it. As such, I won't give advice on any ingredient swaps, substitutions, omissions or changes to the method described above (how dare you talk about my baby like that!)
But seriously, if this recipe doesn't do it for you and you want to customise it – that's cool – no probs. Put that finely honed chef's intuition to good use and tailor the recipe to suit you! Regardless of whether you make any changes or not, let us know how you get on in the comments below.