Publised on 10/09/2022 by Richard. Last Updated on 25/10/2022 by Richard.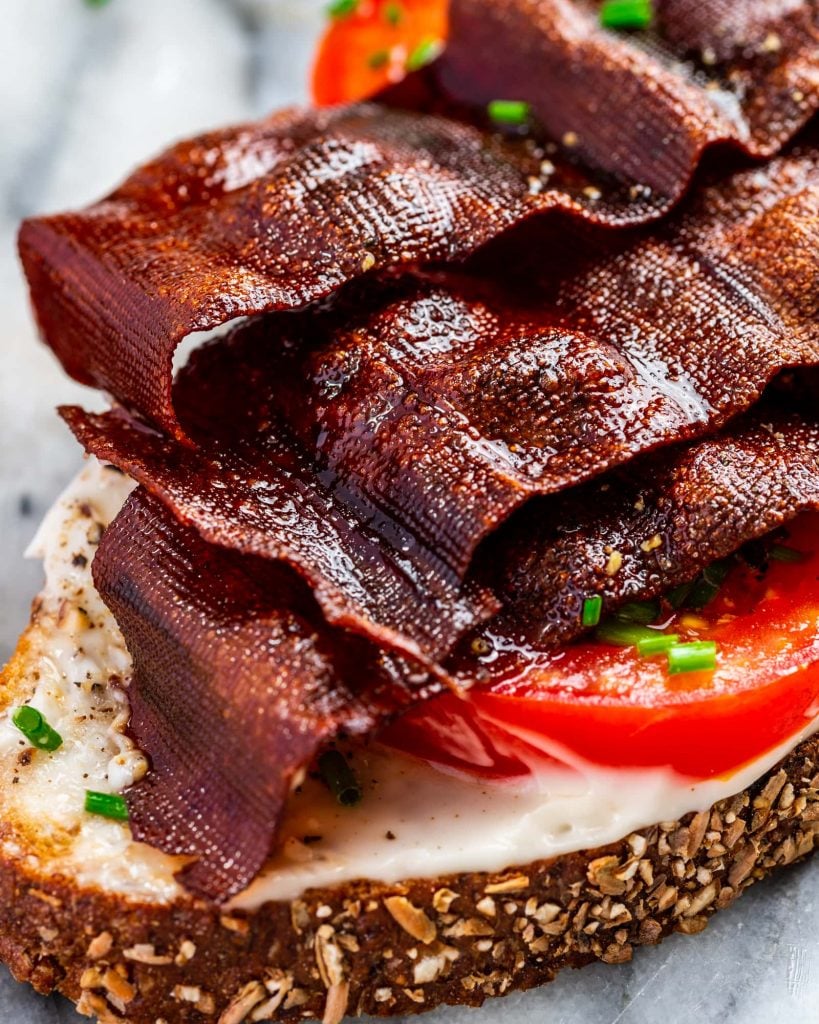 My smoky vegan bacon is crispy, chewy and super easy to make. It even bubbles and crackles like real bacon.
---
I know, I know, it's literally insane that I haven't made a vegan bacon recipe yet, but we're here now and I'm holding your hand as an apology. I make my vegan bacon out of a really really special ingredient which is about to change the way you cook. But hang tight on that reveal.
I was about 5 when I stopped eating meat and weirdly bacon is one of the only things I actually remember the flavour of. I guess that makes sense, since it's so flavoursome and umami. Anyway, my job is to try to replicate that flavour from memory using ONLY PLANTS! Shall we do it?? LET'S DO IT!!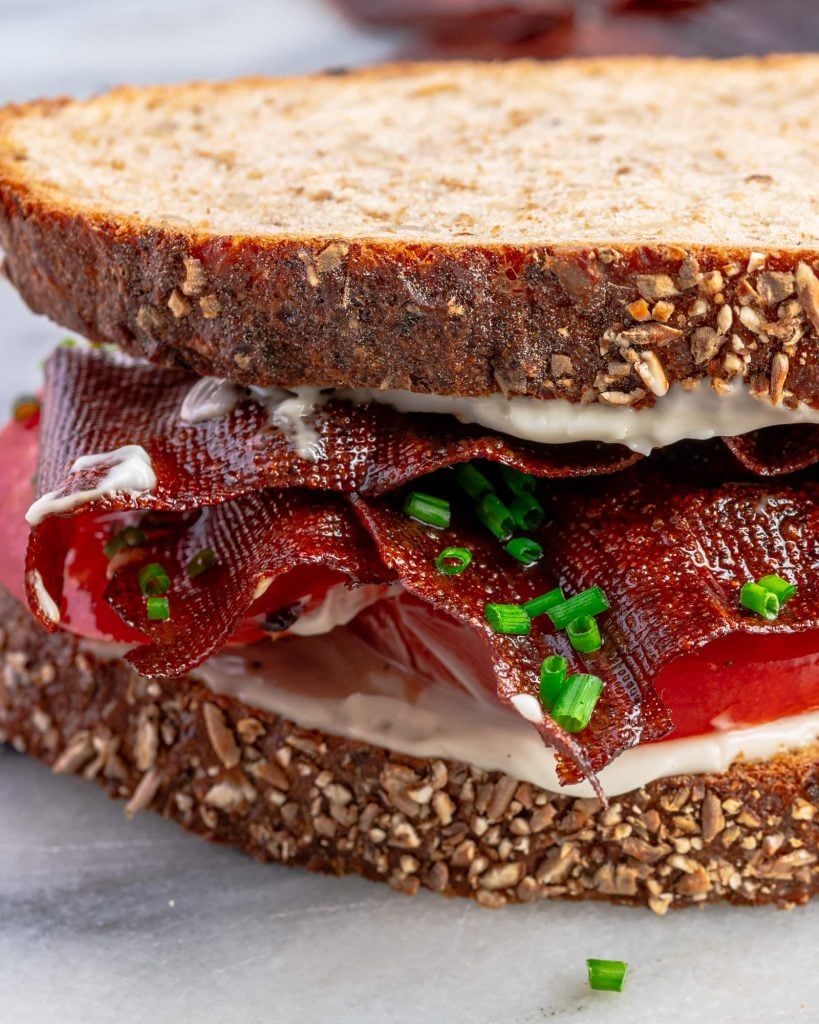 What is this vegan bacon made from?
Famously vegans will try to make bacon out of everything. I've seen vegan bacon made from mushrooms, rice paper, aubergine - ALL SORTS OF THINGS! But here's my issue - I want a vegan bacon that's actually high in protein, as well as being able to soak up a whole bunch of bacony flavours!
So, personally, I like to use paper tofu! It's a kind of bean curd made in thin sheets. It's thicker than yuba (which weirdly is more like paper thickness) but it really comes into its own when marinated! It soaks up so much flavour and when you grill it, it pops and bubbles like REAL bacon.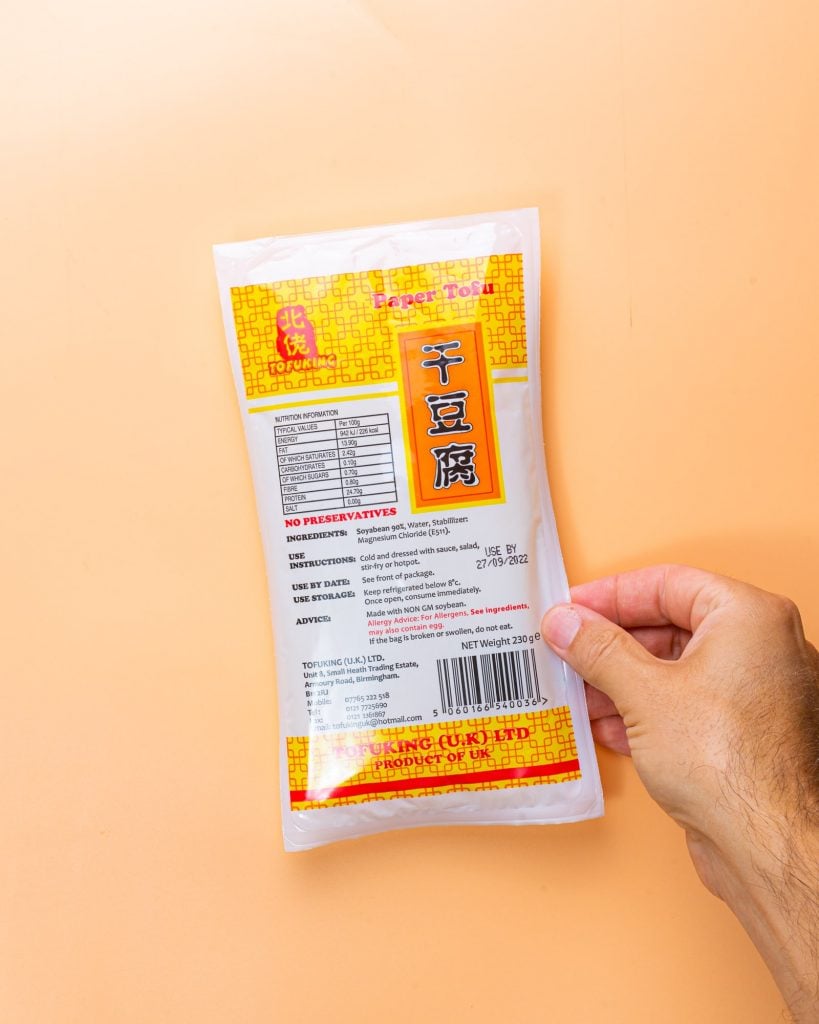 How do I make vegan bacon?
As always, the FULL RECIPE for my vegan bacon is at the bottom of the page – If you're skipping forward because it's breakfast time and you're starving, then don't worry! Just go for it!
Alternatively, here's a bit of a breakdown below!
1. Create your "vegan rashers"
Paper tofu is thin and easy to tear. You'll get a much more natural bacon-y shape if you tear the tofu instead of slice with a knife. You want to pull it into strips about 4 inches long and 1.5 inches wide.
Set them aside in a baking tray while you prepare your marinade.
2. Prepare your marinade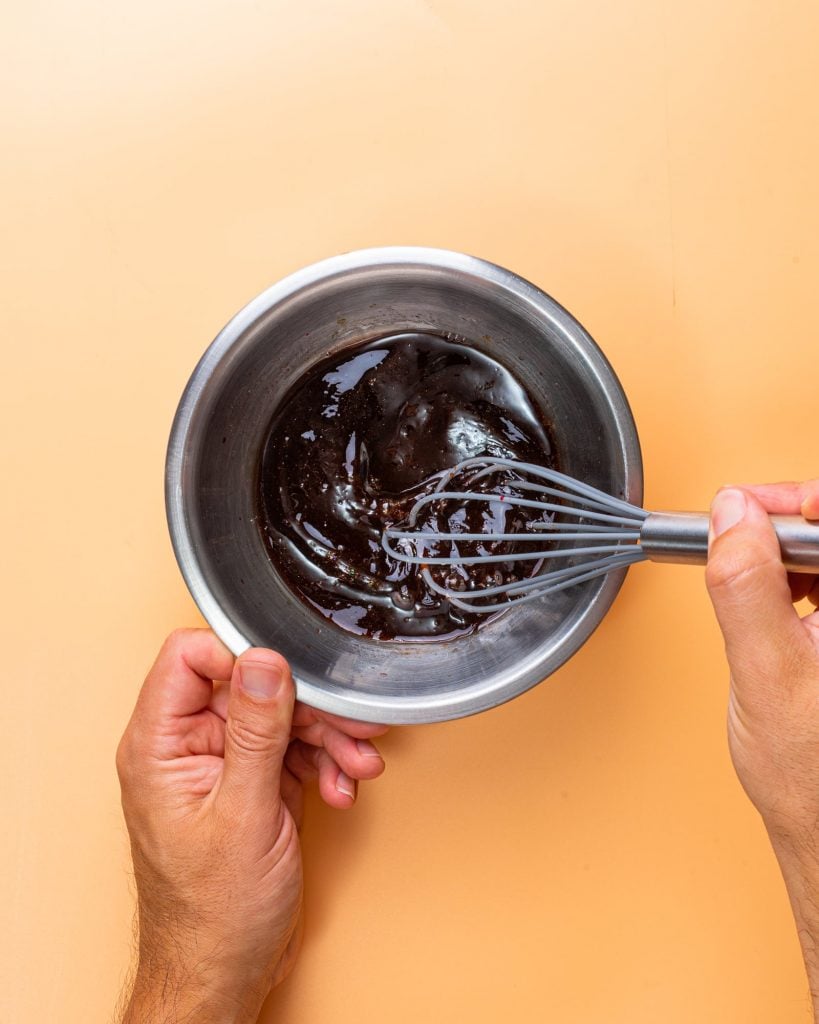 The marinade for the vegan bacon is all about getting that balance between sweet, salty, smoky and umami! Dark soy sauce brings the umami and the saltiness, we use liquid smoke for the smokiness and maple syrup for the sweetness.
I also like to use some beetroot juice too, to make sure the paper tofu takes on a bacon-y redness! You can leave this out if you like, but I'll know, and I'll judge you, silently.
3. Marinate your paper tofu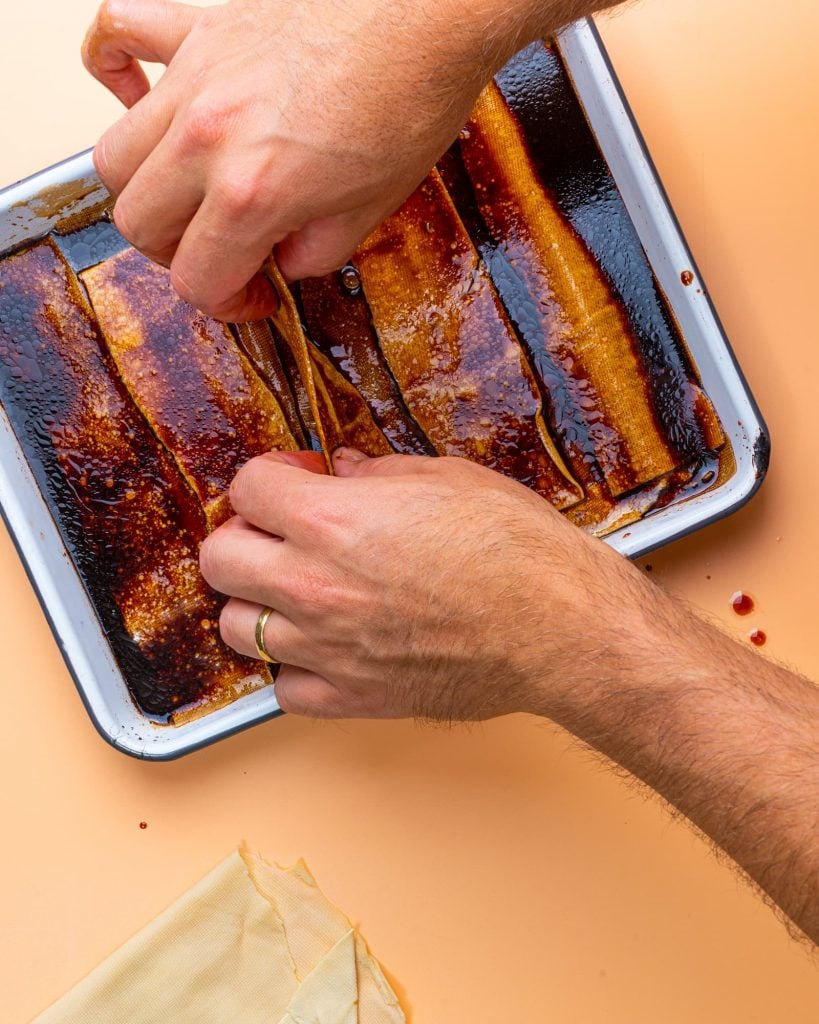 How long you marinate your tofu for is REALLY up to you, but I'd really recommend giving it at least 2 minutes. I think the optimal time is about an hour in the fridge, but if you want to prepare in advance, you can marinate the tofu overnight in the fridge! That way it's ready for grilling as soon as you wake up!
4. Grill the vegan bacon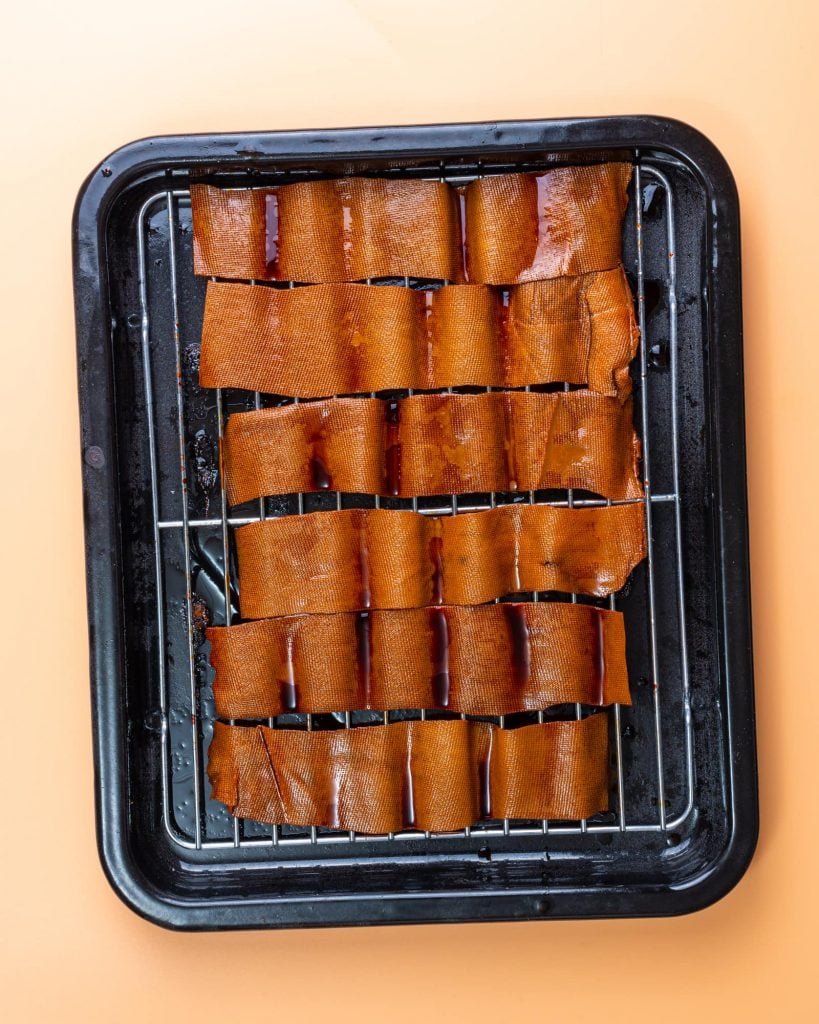 To get gorgeous ripples in your vegan bacon, you'll want to make sure it's slightly folded while you grill it. I like to lay it over the bars of a grill rack and push down slightly. This way, when you brush the vegan bacon with extra marinade before grilling, it'll pool in the troughs and help to give a nice variation in colour and texture across the rasher.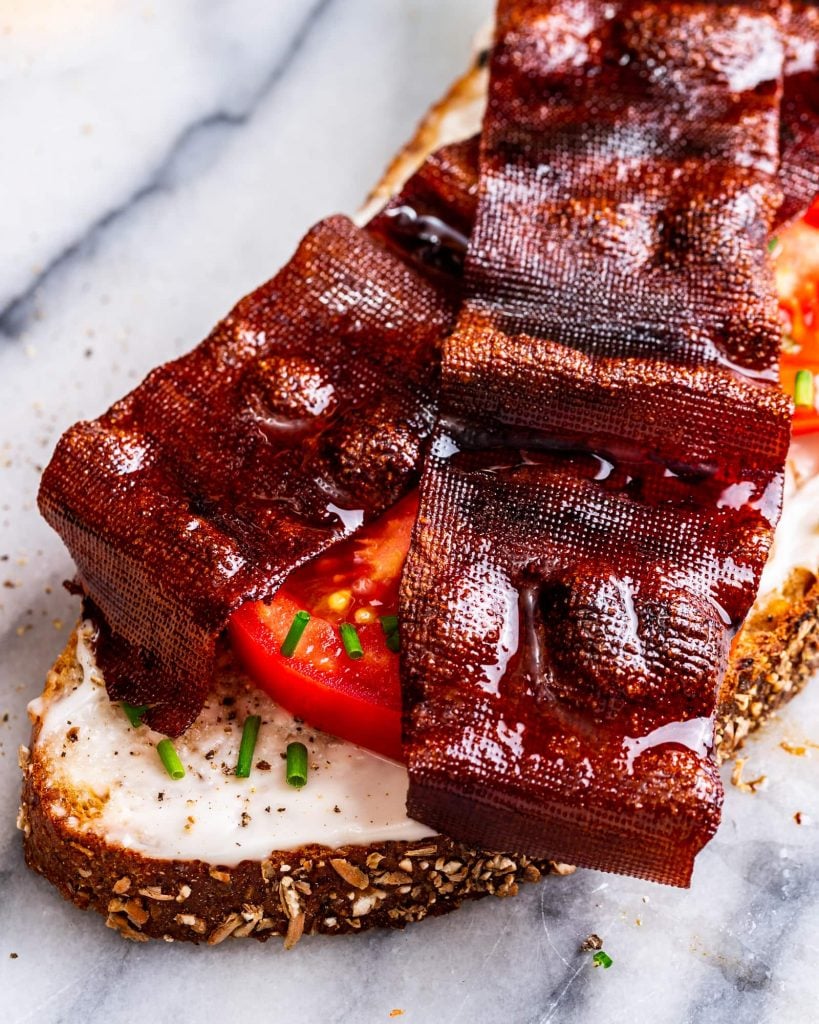 And that's it! This recipe can burn quite easily, so watch it like a hawk, but otherwise, have fun! You can now make an incredible vegan BLT, a killer full English breakfast - ALL without any animal products!
What else can you make with an insanely good vegan bacon? Maybe carbonara??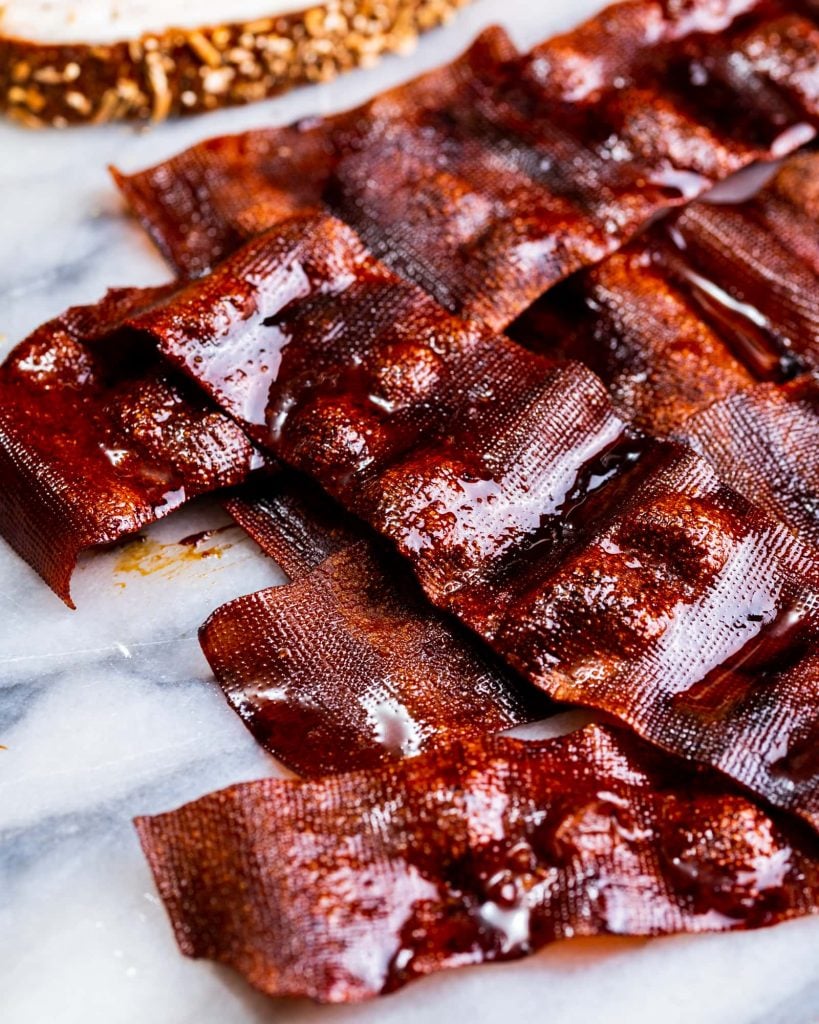 As always, it helps me MASSIVELY if you can rate and review this recipe below. This blog only exists because people like you actually use it and cook these recipes, I'd absolutely love it if you could let others know that you rate this recipe or that you're just excited to make it!
Alternatively, take a picture and pop it on instagram!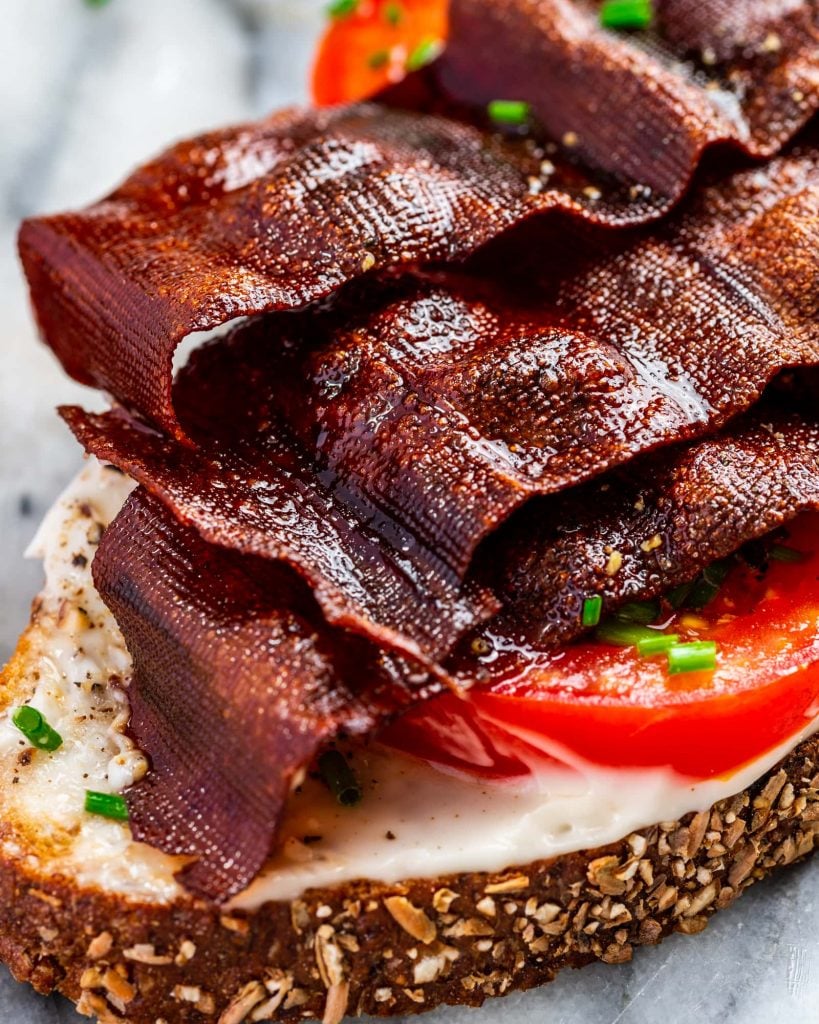 Vegan Bacon
My vegan bacon never lets me down! Bubbles and crisps like real bacon and takes only minutes to prepare!
Ingredients
2

sheets

paper tofu

(see ingredients notes below)

60

ml

dark soy sauce

4

tablespoon

vegetable oil

3

tablespoon

liquid smoke

1

tablespoon

maple syrup

2

tablespoon

beetroot juice

(see ingredients notes below)

2

teaspoon

potato starch
Instructions
To make the vegan bacon, carefully tear the sheets of paper tofu into rasher-sized strips. 

In a medium bowl, whisk together the remaining ingredients.

60 ml dark soy sauce,

4 tablespoon vegetable oil,

3 tablespoon liquid smoke,

1 tablespoon maple syrup,

2 tablespoon beetroot juice,

2 teaspoon potato starch

Place the vegan bacon rashers in a small baking tray or container and pour over the marinade. Cover and leave to marinate for at least 2 minutes. Alternatively, place in the fridge for up to 8 hours, but this is not required.

When ready to cook, preheat the grill (aka broiler) to its highest temperature. Place a grill rack on a grill tray and spread the vegan bacon over the rack, allowing it to ripple and fold over the bars of the rack. Brush with some of the remaining marinade. Drizzle with a little extra oil. Place under the grill for 4 minutes then remove, flip, brush again with marinade and grill the other side. The paper tofu is liable to burn easily, so don't take your eye off it. 

Remove the vegan bacon and serve hot. 
Notes
1. Paper tofu is a form of bean curd which is formed in thin sheets. You'll find it in the refrigerator section of most Asian supermarkets, usually in a sealed plastic packet.
2. The beetroot juice in this recipe is mostly for colour, so it can be omitted if necessary. If you plan to use it, you can avoid buying a whole bottle of beetroot juice and instead just buy a vacuum pack or jar of cooked beetroot. These usually come with a few tablespoons of beet juice inside.
3. It's also possible to fry this vegan bacon if you wish. My advice is to use a low heat as the bacon burns or crisps very quickly.
4. It would seem obvs that the longer you marinate your vegan bacon, the more it'll taste of bacon. But honestly this only really matters for about 8 hours. After this point I've found the paper tofu sort of gets saturated with flavour and it stops soaking up the marinade. You can even just brush the marinade onto the paper tofu and grill straight away, but I'd really recommend letting it marinade for at least two mins, if you have the time.
Nutrition
Calories:
146
kcal
Carbohydrates:
5
g
Protein:
2
g
Fat:
14
g
Saturated Fat:
2
g
Polyunsaturated Fat:
8
g
Monounsaturated Fat:
3
g
Trans Fat:
0.1
g
Sodium:
848
mg
Potassium:
52
mg
Fiber:
0.2
g
Sugar:
3
g
Vitamin C:
0.04
mg
Calcium:
9
mg
Iron:
0.4
mg
Love this recipe?
Let me know on Instagram!
WANT MORE BREAKFAST!?
Why not try: