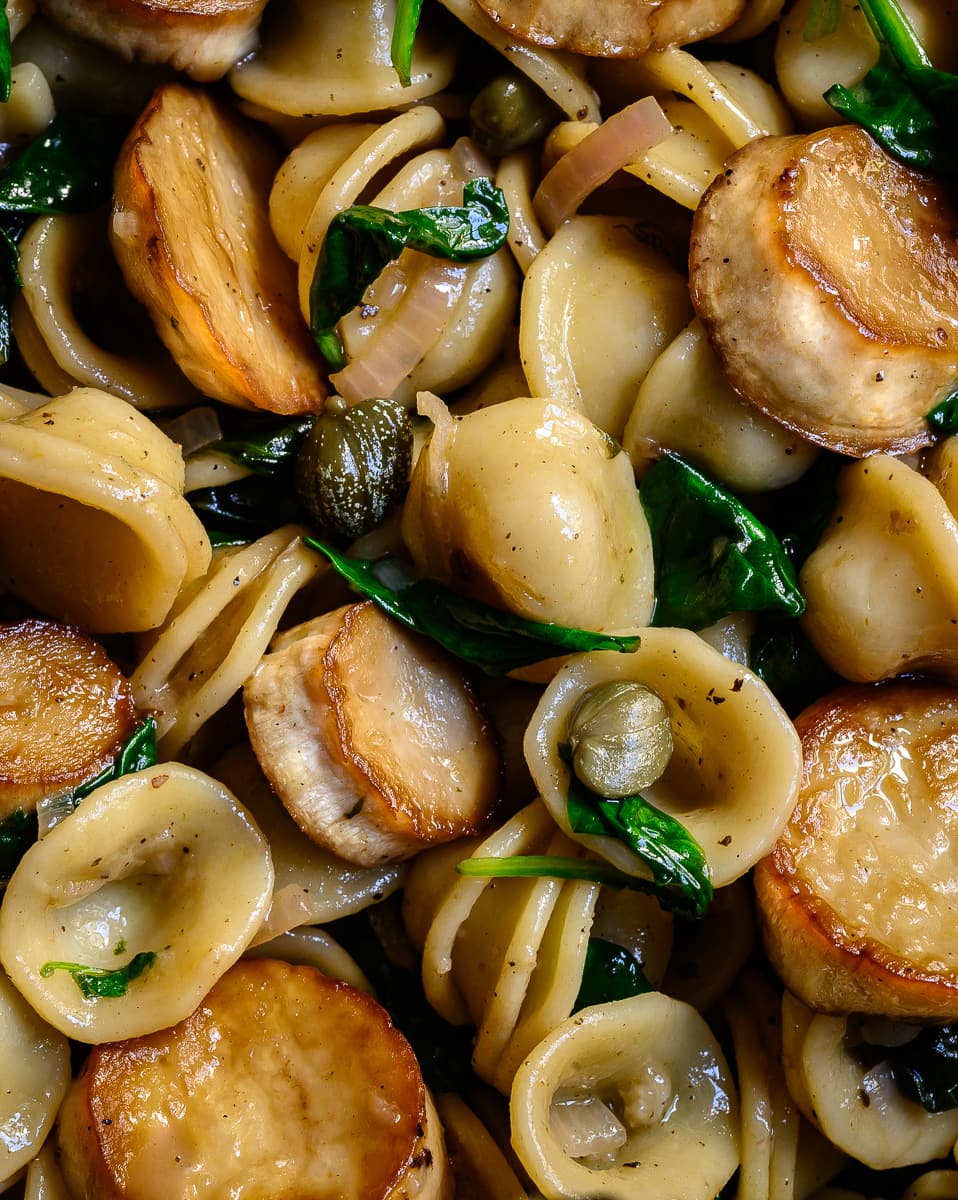 Super simple vegan scallop pasta made from king oyster mushrooms. Dressed in a glossy white wine sauce with spinach and capers. Perfect for a light summer meal!
---
Oh boyyyyyy have I got a quick-fire treat for you called vegan scallop pasta! Nope, no real scallops harmed in the making of this pasta, just king oyster mushrooms which have been SEARED TO PERFECTION!
Oh and did I mention everything is brought together in a glossy, white wine, spinach and caper sauce?? WELL I DID NOW! This one is gonna blow your mind, not only because it's so tasty but because it's so quick, easy and versatile! It's one of my fave pastas to make in summer, because it's light, citrusy and feels like you're sat at a taverna somewhere in a vegan alternate universe version of Greece.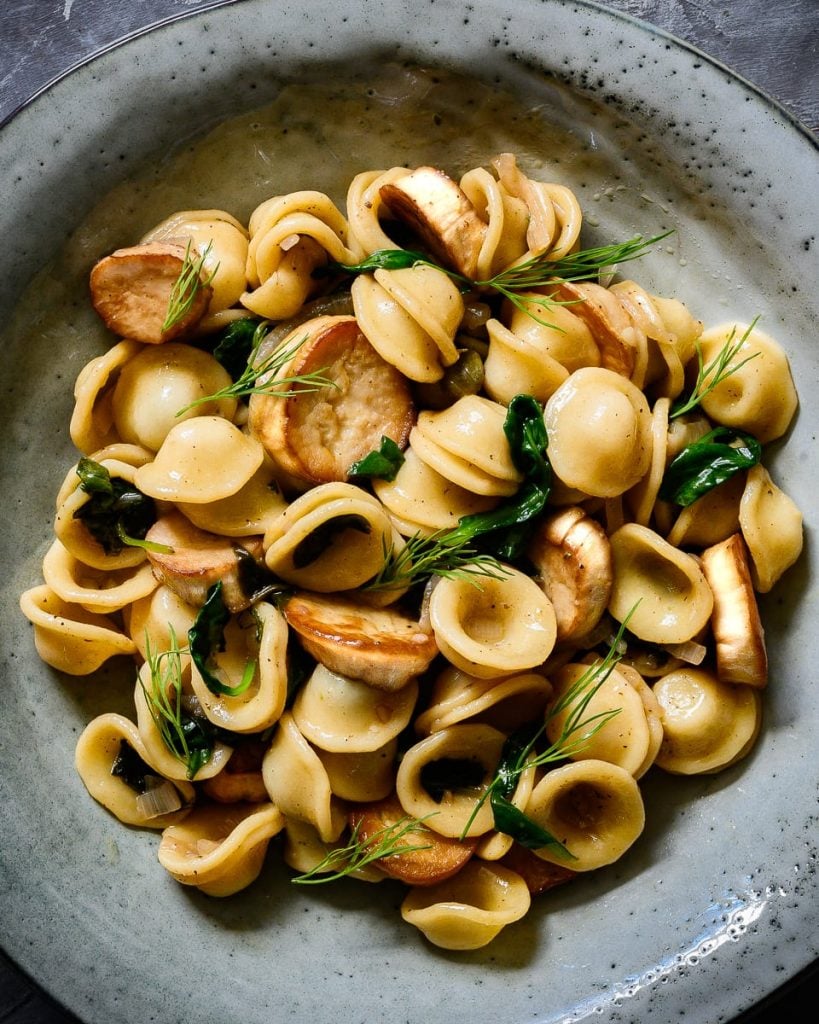 What the Hell is Vegan Scallop Pasta??
This is one of those recipes I thought I'd never be able to eat as a vegan, because, let's be honest, vegan scallops aren't something you find in the supermarket right? That was until I saw the inimitable Derek Sarno from Wicked Healthy frying up sliced king oyster mushrooms like they were ACTUAL CERTIFIED SCALLOPS!
If you've tried this cooking method, you have Derek to thank. If you haven't tried it, then hold onto your knickers Sister Mary Clarence because things are about to get delicious! The bounce you get from pan-seared oyster mushrooms is an almost identical texture to scallops and they work SO DAMN WELL in herby, zesty pasta dishes.
Vegan Scallop Pasta in FOUR Steps??
Would I lie to you?? well, yes. I probably would. BUT NOT ABOUT THIS! When I'm talking about pasta, I'm ALWAYS truthin. See how easy this pasta recipe is. As always, full recipe is at the bottom of this page, but here's a visual breakdown of the four main steps:
1. Sear the Vegan Scallops
To start with, we want to get some colour on those vegan scallops. All you need is a ripping hot pan and some olive oil. Slice of the tops and bottoms from the king oyster mushrooms, (reserve those bits for another recipe) and whack them cut-side down in the hot pan. 
Sear for a few mins on each side then remove from the pan and set aside. We'll be using these later. 
2. Start Your Sauce
Now we want to get cracking on our sauce. It couldn't be easier, just heat the frying pan back up which you just used for your vegan scallops and add a little more oil. Fry up some shallots and garlic then throw in your capers and some nice dry white wine. 
You want to simmer this for a while so the wine can reduce, but don't let your pan dry out. Just keep the heat low.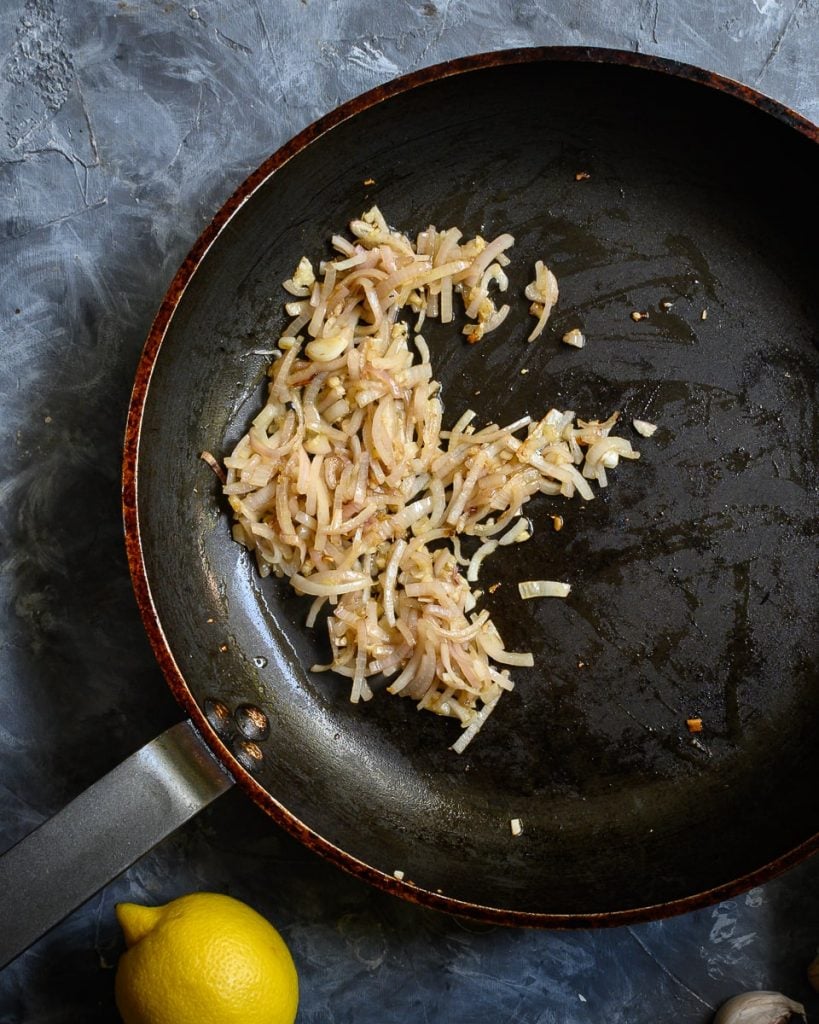 3. Boil your Pasta
Probably the most important step in this vegan scallop pasta recipe is making the damn pasta! You can really use any shape or kind of pasta, but I love orecchiette. It works particularly well in this recipe because those little pasta belly-buttons kind of SUCKER onto the vegan scallops.
Just be sure to salt your pasta water well and DON'T THROW IT AWAY when the pasta is cooked – it's an essential part of the sauce recipe. 
4. Finish That Sauce
Your pasta's cooked! Now you've just gotta finish that sauce. The wine should be nicely reduced now so it's time to add our final ingredients. Toss some pasta water into the frying pan to deglaze the pan, and follow with the seared vegan scallops, spinach, nutritional yeast, lemon juice, dill and some salt and pepper. 
We're going to let this simmer down again for a while until the sauce is beautifully glossy, then TOSS EVERYTHING TOGETHER!
It's that easy! That gorgeous glossy sauce is going to stick to all that pasta like an ELEGANT BALL GOWN and you're going to SCREAM with joy when you first bite into one of the vegan scallops. Well, maybe not SCREAM but perhaps sighhhh.
If you'd like to make the sauce a little creamier and perhaps a little higher in protein, consider adding some cannellini beans along with the spinach. 
Need more PASTA??
Then you came to the right place! Why not give these bad boys a try!?