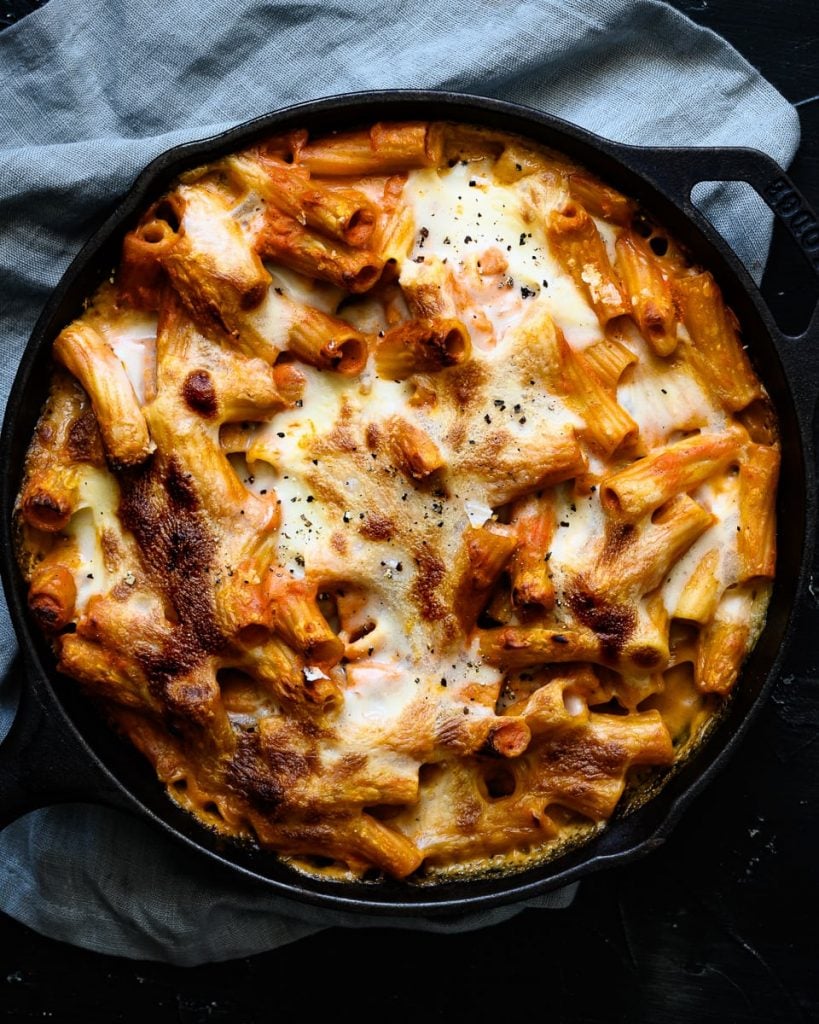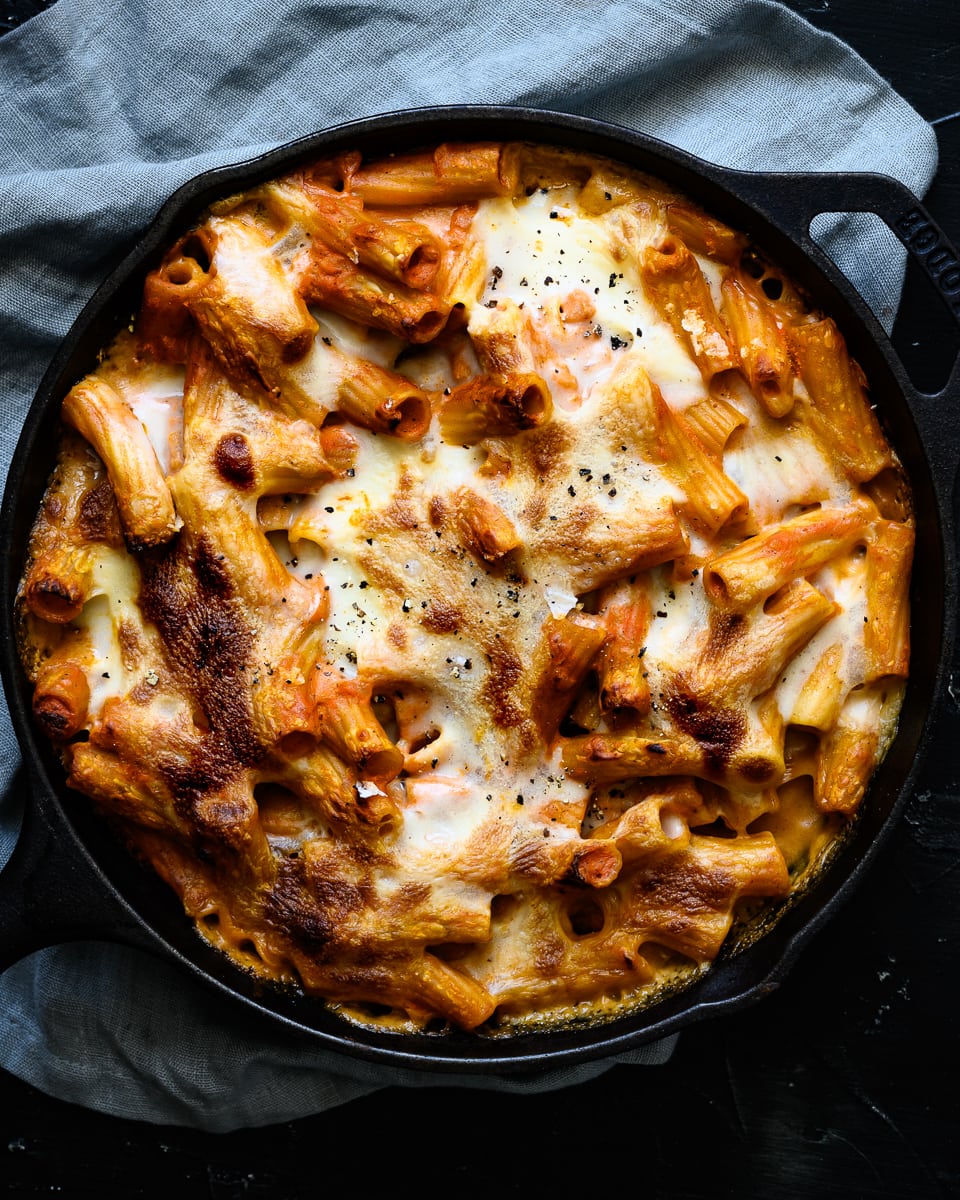 A deliciously spiced baked rigatoni dish, packed with garlic, smoked paprika and cayenne pepper. It's spicy, creamy and baked to crispy perfection in all the right places. Not to mention - it's 100% vegan!
---
Sometimes nothing hits the spot other than a big bowl of baked pasta - and that's why this vegan chorizo spiced rigatoni bake exists. It's not for those days when you need a plate full of veggies. It's not for those days where you're craving something "meaty" and protein packed. It IS however, for those days when only carbs will do. Hot, spicy, creamy, baked carbs.
You can of course serve it as a side dish, as part of a more balanced meal - or you can make, bake and demolish the entire pan by yourself. You choose, because you're the master of your own destiny!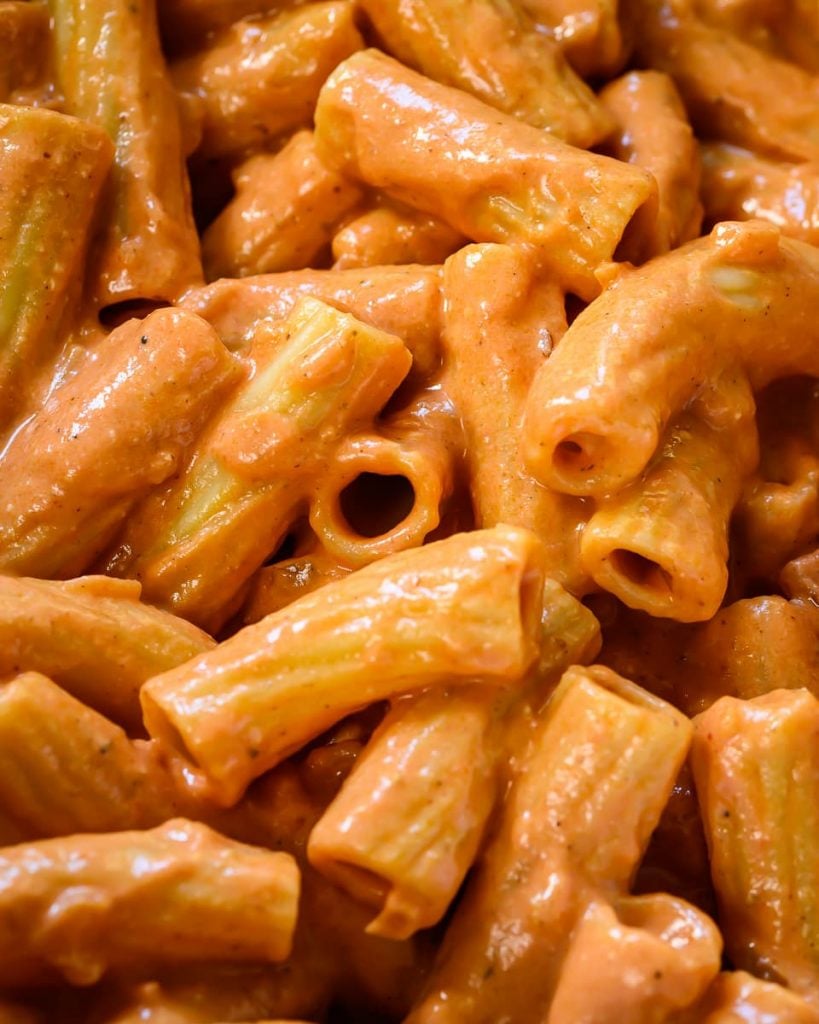 Why "Chorizo Spiced" Rigatoni Bake?
As someone who hasn't eaten meat since they were a wee wee wee babby, chorizo is one of those things I've never actually tasted. However, the PROMISE of flavour that those traditional spices in chorizo deliver to basically any dish are some of my all time faves. In this recipe it elevates a potentially boring pasta bake to something completely unique.
Look up a handful of recipes for "chorizo spice blend" and you'll find a whole bunch of different blends. This stumped me for a while, so I decided to do a little research into why this might be.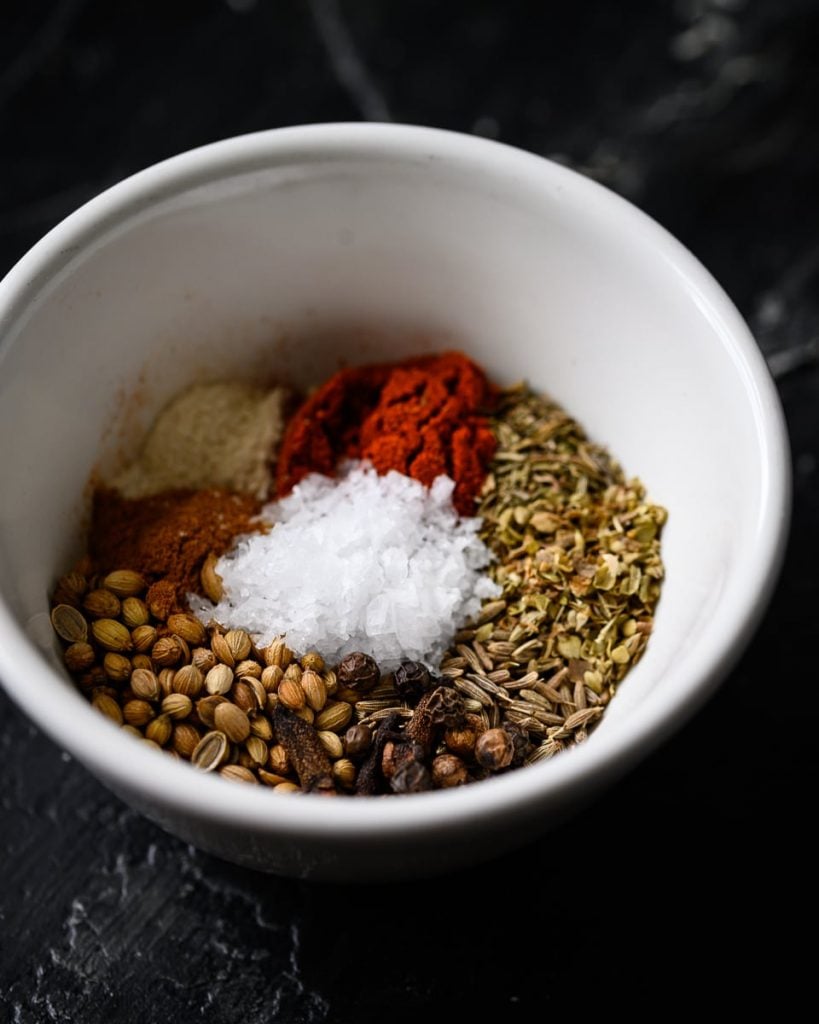 The answer, unfortunately, has a lot to do with colonialism. Types of Chorizo sausage have been found in Spanish and Portugese culture for hundreds of years. Spain and Portugal were responsible for hundreds of years of colonialism all over the globe and as a result you can find varieties of chorizo in South America, Central America, North America and South East Asia.
These regional varieties of chorizo seem to have been influenced by the indigenous or local cuisine, which accounts for the huge variations in the spice blends. Spanish and Portuguese chorizo is heavy on the garlic and paprika while Mexican varieties tend to add chilli peppers to up the heat. In Ecuador they introduce cinnamon to chorizo, while in Goa the spices include cumin, turmeric, cloves and black pepper.
My version of the chorizo spice blend is sweet and smoky with paprika and garlic. It's hot thanks to cayenne pepper but aromatic with hints of oregano, cumin, thyme and fennel. If you have your own version, feel free to mix things up!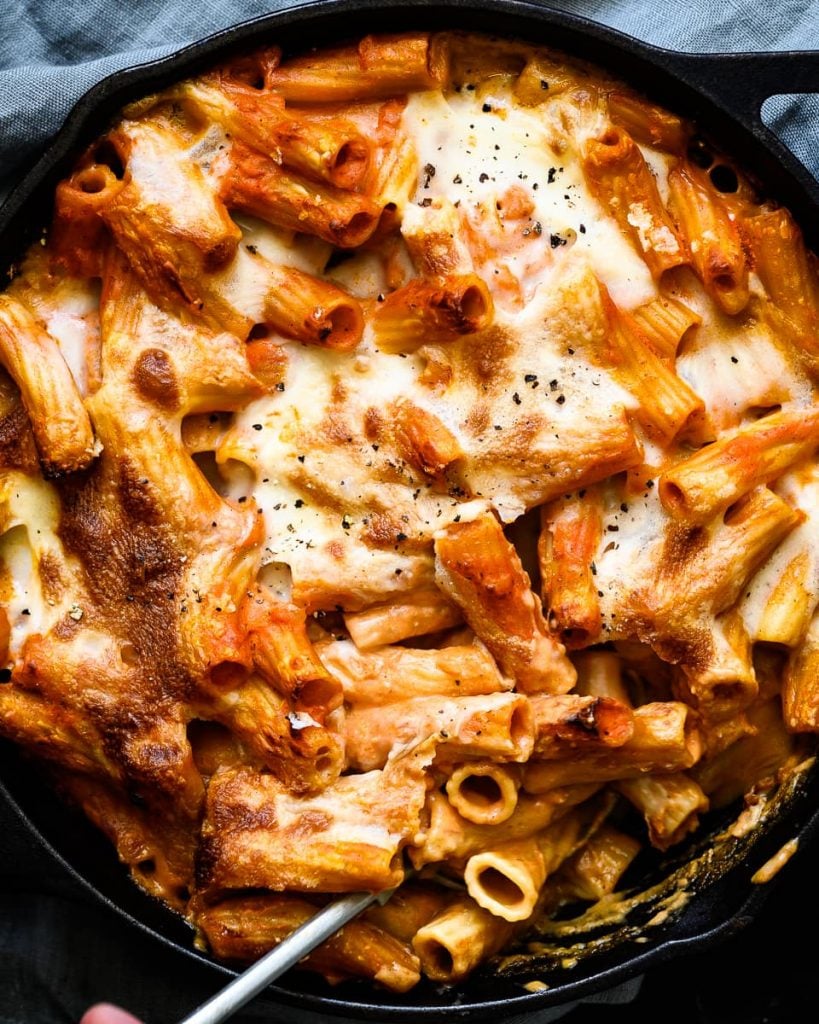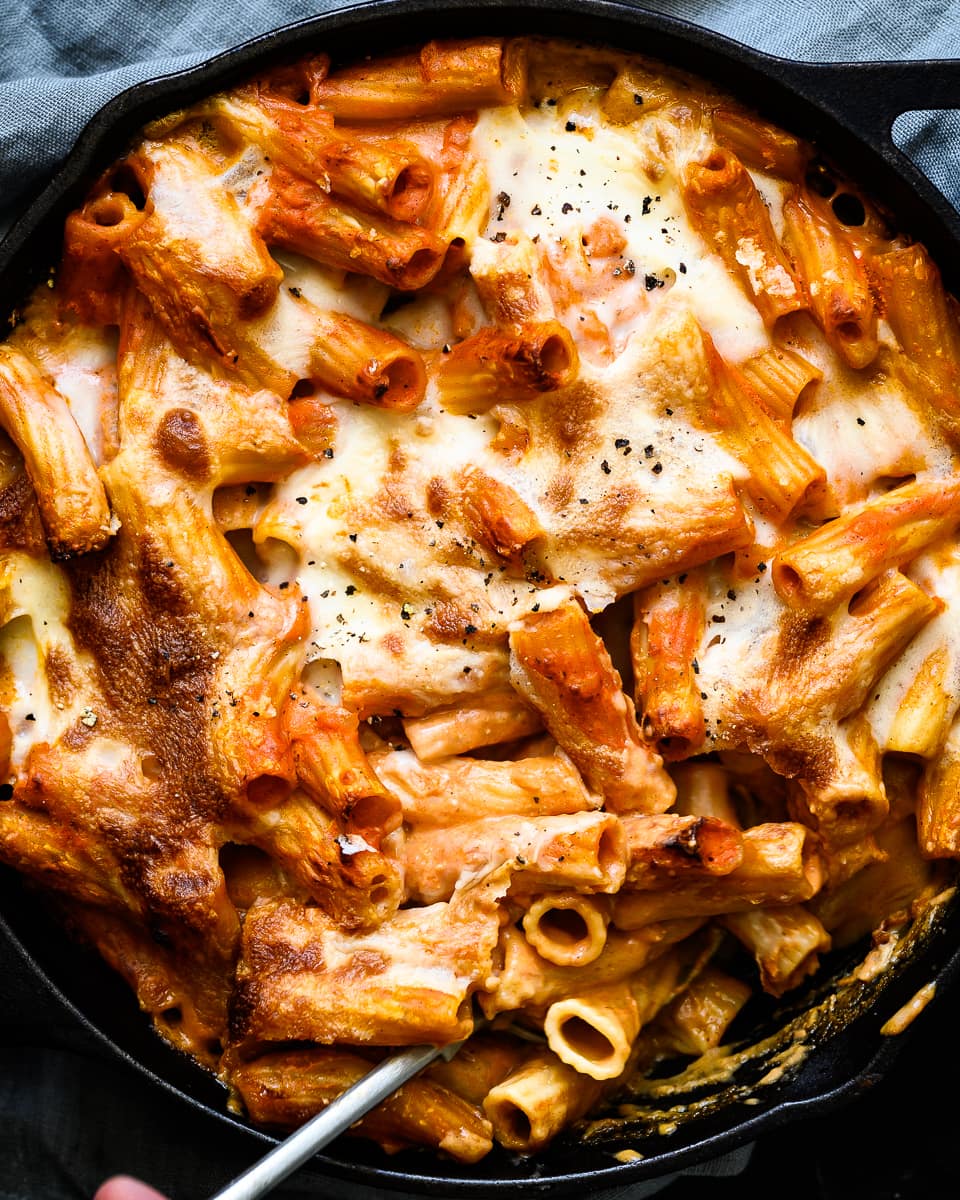 How Do I Make a Vegan Chorizo Spiced Rigatoni Bake??
As always, there's a full recipe below, so keep scrolling if you're in a hurry. If you're not - great! Here's a breakdown of the main steps involved in this rigatoni bake!
1. Make the Vegan Cream
To balance out the spices, I decided to make this recipe nice and creamy. The blend of spices, beautifully cooked passata and a gorgeous plant-based cream makes for a wonderful pasta bake. 
To make the cream, you can either use cashews or sunflower seeds. Alternatively, if you'd like to save on time, by all means try using a store-bought vegan cream. I've tried this recipe with Oatly cream and it worked great! If you choose this route, you'll need around 200ml of vegan cream.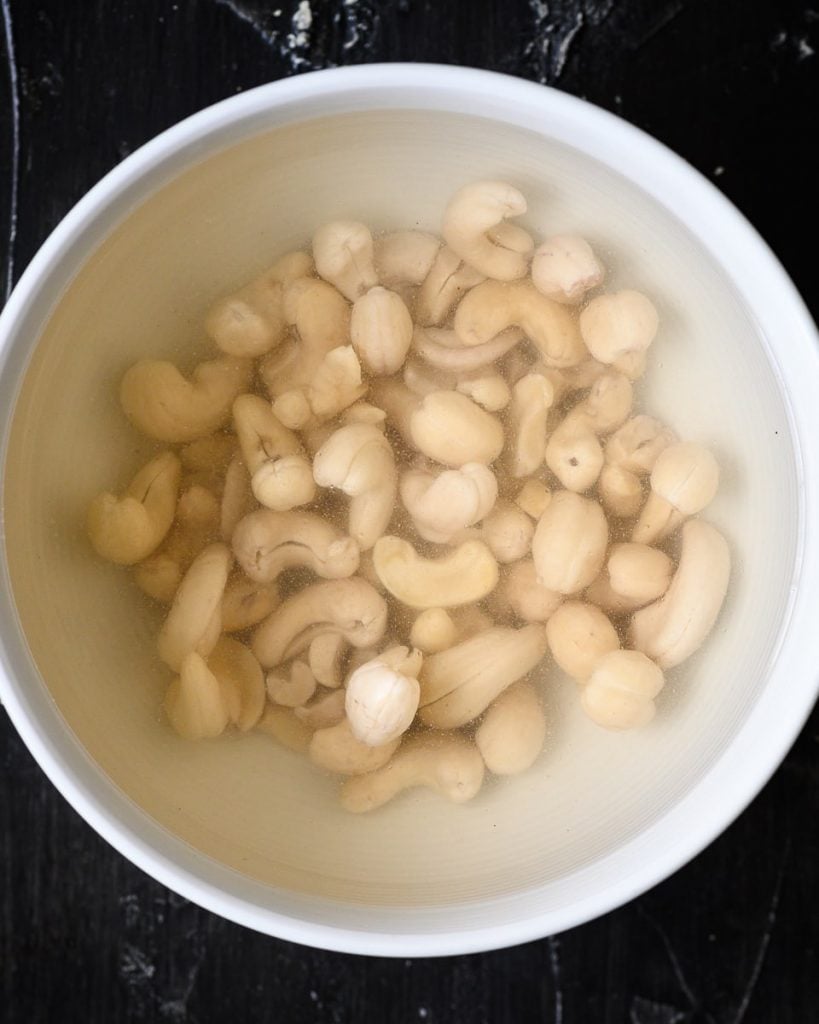 If making your own plant-based cream, just soak the cashews or sunflower seeds in just-boiled water for at least an hour. Drain off the water, transfer the soaked nuts/seeds to a blender with some extra water and blitz until super smooth.
Set it aside for later.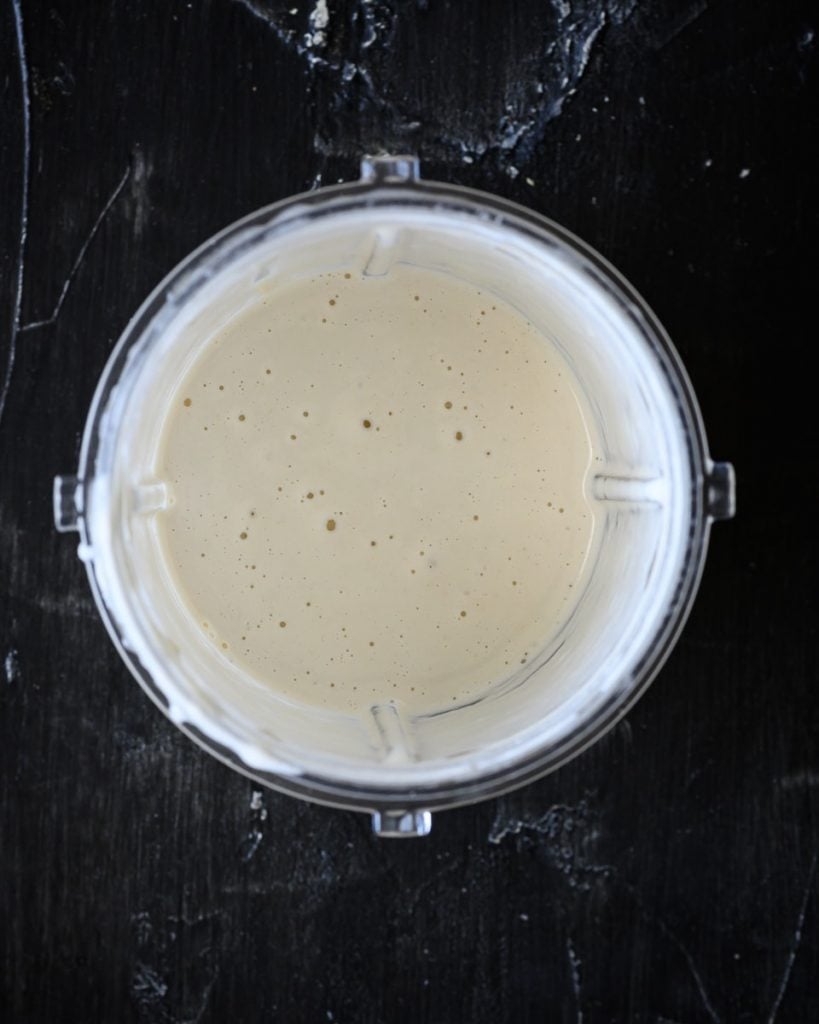 2. Make the Spice Blend
Next up you'll want to make your chorizo spice blend. This part's super easy and just involves putting all your spices in a blender or spice grinder and blitzing everything up.
Before you do though, be sure to toast your cumin and fennel seeds in a dry frying pan. This really brings out the flavour and wakes up the spice blend. Don't let them burn though!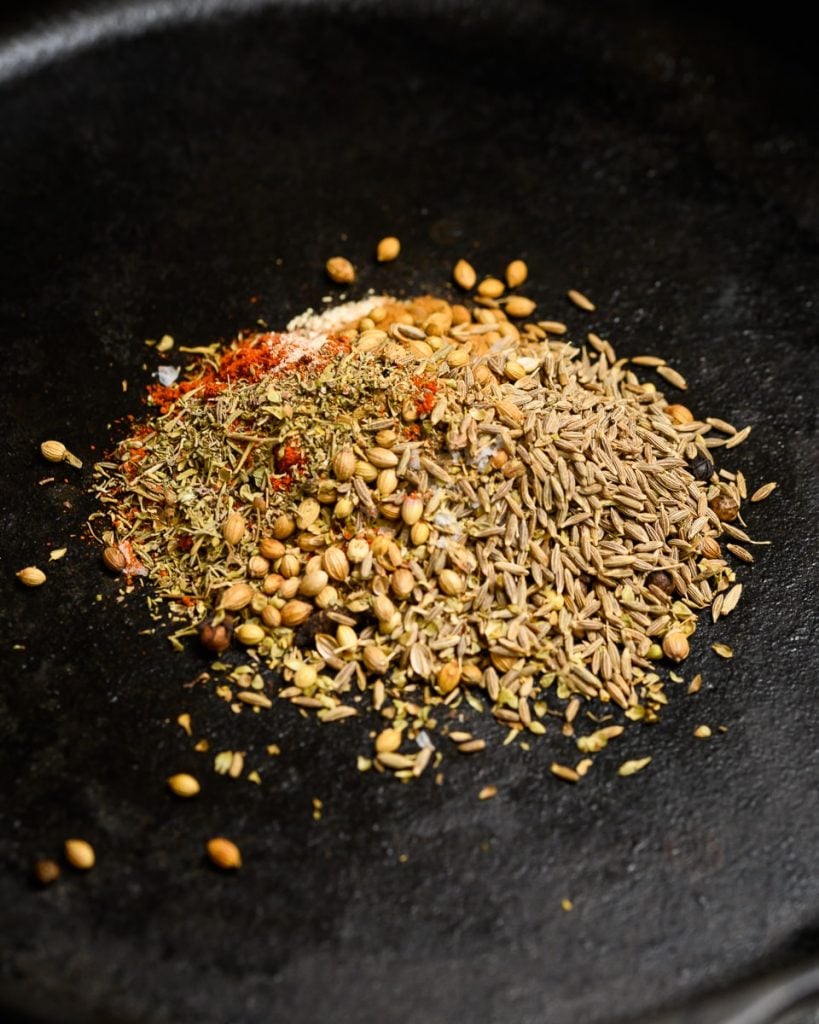 3. Cook the Sauce
The sauce is super simple. First you'll want to fry off some onions and some garlic in a little oil before adding a few teaspoon of your prepared spice blend. Follow with some passata and cook it down until it's nice and reduced.
While this is cooking, get some rigatoni in a pan of boiling water and cook until al dente. When the passata is looking nice and dark, thin it out with some pasta water and you'll notice it becomes gorgeous and glossy.
Finally, add the vegan cream and stir well. Bingo! There's your sauce!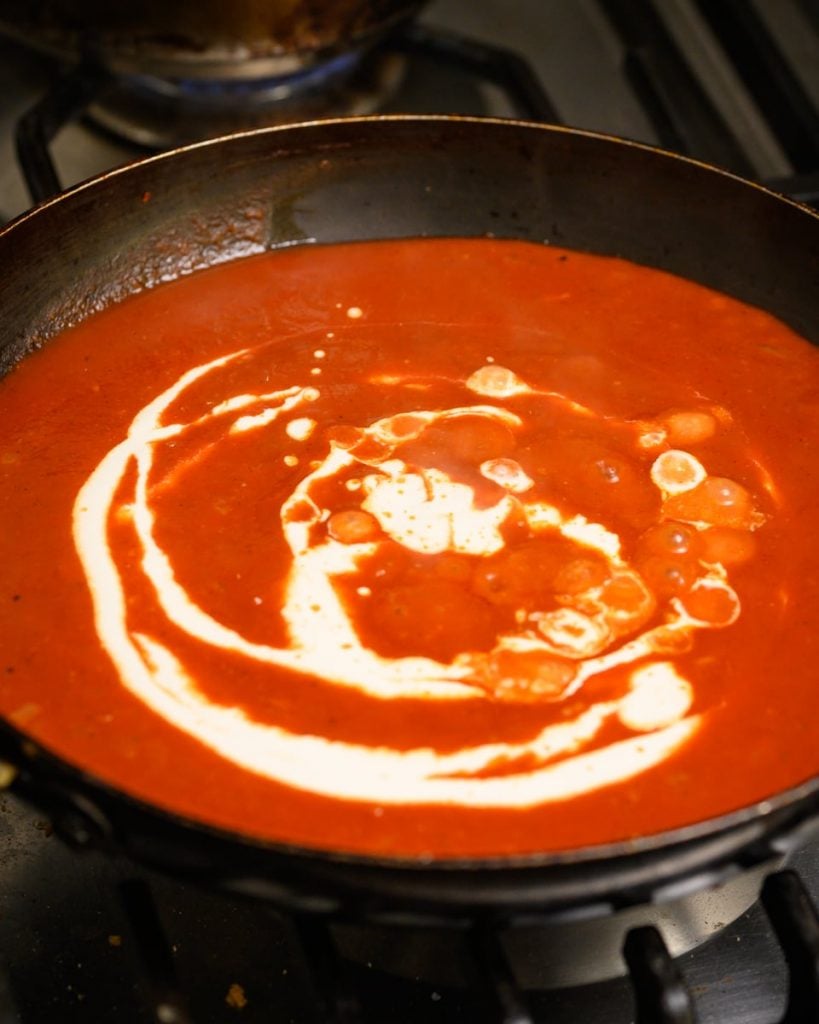 4. Sauce up the Rigatoni and Bake!
Now all that's left to do is dress that pasta and get it in the oven. I like to top my pasta with some vegan cheese for extra LUXXXURY! If you have the time, why not whip up some of my vegan mozzarella - you can find the recipe here!
Stick your saucy rigatoni in an oven-proof dish, top with mozz and pop it in the hot oven to bake. It's done when the cheese has melted and gone golden brown and the rigatoni is crispy on top.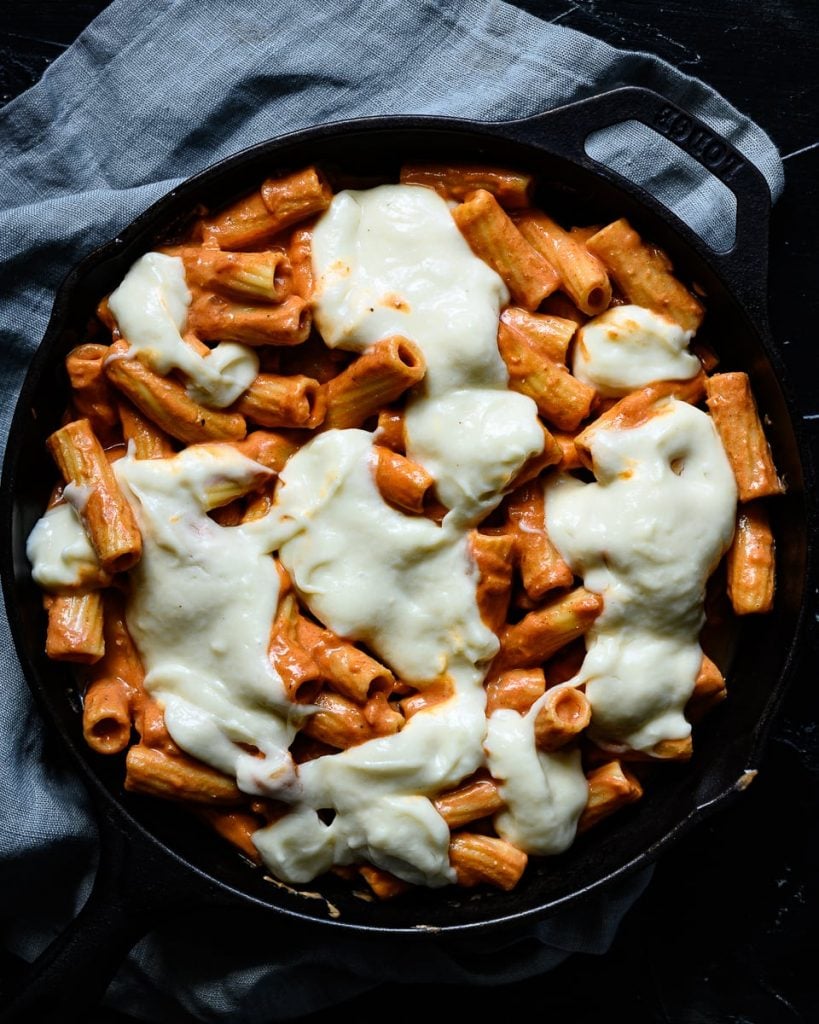 Need More Pasta Recipes??
You came to the right place! Check out some of my fave recipes below!
Vegan Ricotta Stuffed Pasta Shells with Chive Pesto
Vegan Miniature Mozzarella Ball Pasta Salad
Vegan Gnocchi Verdi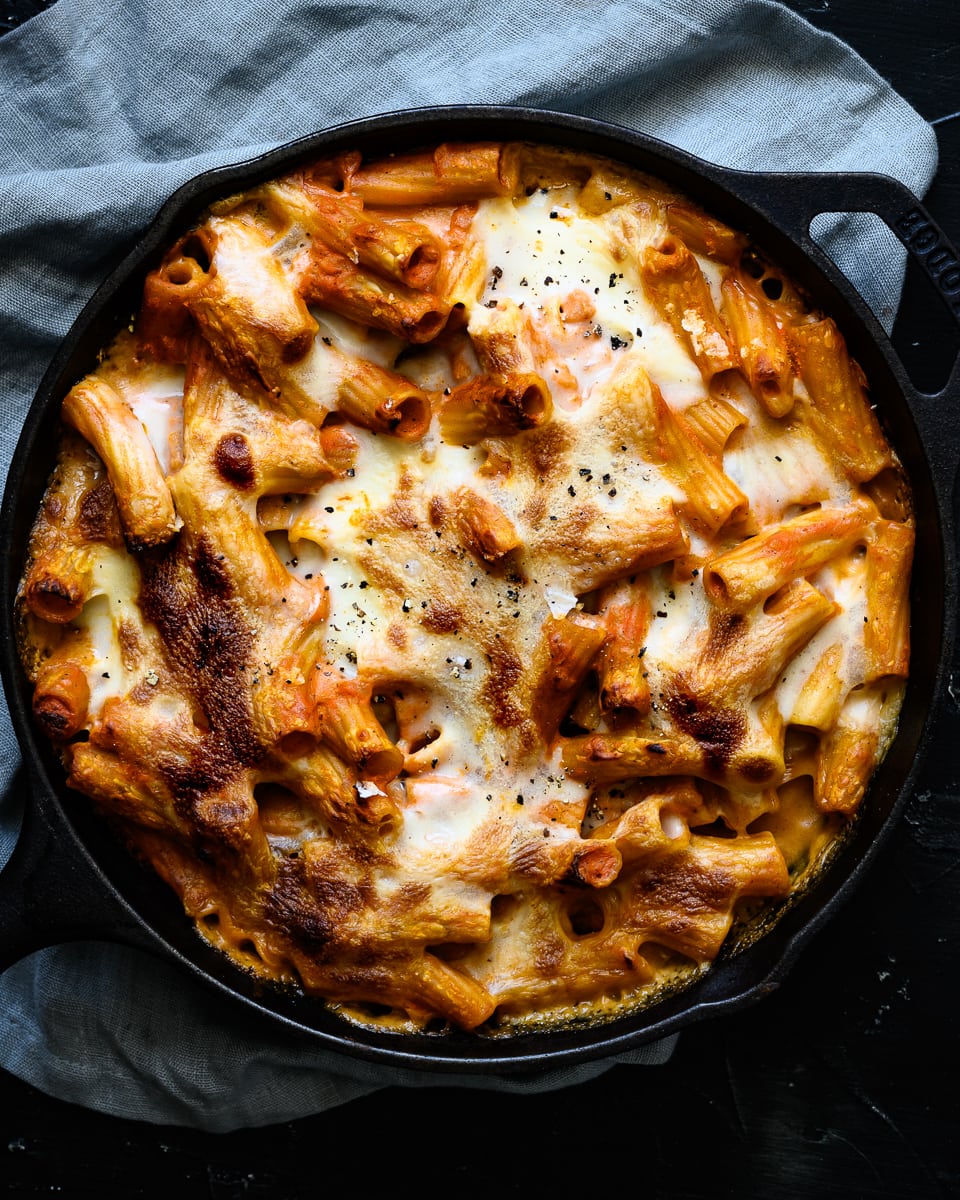 Vegan Chorizo Spiced Rigatoni Bake
A deliciously spiced baked rigatoni dish, packed with garlic, smoked paprika and cayenne pepper. It's spicy, creamy and baked to crispy perfection in all the right places. Not to mention - it's 100% vegan!
Ingredients
For the "Cream"
80

g

unsalted cashews or sunflower seeds

((or 200ml vegan cream - see subs section above))

120

g

water
For the Chorizo Spice Blend
½

teaspoon

cumin seeds

½

teaspoon

fennel seeds

1.5

teaspoon

smoked paprika

½

teaspoon

garlic powder

½

teaspoon

dried oregano

½

teaspoon

dried thyme

1

teaspoon

flaky sea salt

¼

teaspoon

cayenne pepper

4

black peppercorns
For the Rigatoni Bake
300

g

rigatoni

((make sure it's a vegan variety with no eggs))

1

onion

((small, finely chopped))

2

cloves of garlic

((peeled and crushed))

2

teaspoon

chorizo spice blend

((as above))

350

ml

passata

100

ml

reserved pasta water

½

batch of school night vegan mozzarella

((or your favourite store-bought vegan cheese))
Instructions
To Make the "Cream"
Boil a kettle of water. Place the cashews or sunflower seeds in a medium bowl. Cover with around a litre of water and cover the bowl with a plate or a lid. Leave to soak for at least 1 hour.

Once soaked, drain off the water and reserve the soaked nuts/seeds. Place the nuts/seeds in the cup of a high speed blender along with 120g fresh water (do not use the water you soaked the nuts/seeds in). Blend until completely smooth and set aside.

If you have access to a good vegan cream alternative and would rather use this, skip the steps above and measure out 200ml of vegan cream. Set aside.
To Make the Chorizo Spice Blend
Place a small, dry frying pan over a medium heat. Add the cumin and fennel seeds to the pan and toast gently until fragrant. Do not allow them to burn - stir them constantly.

Remove the seeds from the pan and place in a high speed blender along with all the other chorizo spice blend ingredients. Set aside.
To Make the Rigatoni Bake
Preheat your oven to 200c/180c fan.

Bring a large pot of salted water to the boil. Add the rigatoni and bring to a simmer. Meanwhile place a medium saucepan over medium heat. Add a drizzle of olive oil and bring to temperature.

Add the onion to the pan and fry gently for a few minutes before adding the garlic. Fry for another few minutes and add 2 teaspoon of the chorizo spice blend. Stir to coat the onions.

Add the passata and bring to a simmer. Cover the pan with a lid and allow to bubble away nicely, stirring occasionally, until the passata has reduced, thickened and darkened in colour slightly (around 8-10 minutes).

By this point, your pasta should be almost 'al dente'. Being sure to reserve around 100ml of pasta water, drain off the rigatoni and toss in a little oil to keep it from sticking together. Add the reserved pasta water to the sauce in the frying pan.

Stirring often, allow the sauce to simmer for a further few minutes until smooth and glossy. Finally, add the cashew/sunflower cream or vegan cream alternative and stir well to combine. Add the sauce to the drained pasta and stir to combine.

Transfer the pasta and sauce to an ovenproof dish (I used a deep, cast iron skillet) and top with some SNV mozzarella (or your favourite store-bought vegan cheese).

Place in the oven and bake for 35 minutes until golden brown and crisp on top.
Nutrition
Calories:
442
kcal
Carbohydrates:
74
g
Protein:
16
g
Fat:
10
g
Saturated Fat:
2
g
Sodium:
617
mg
Potassium:
741
mg
Fiber:
6
g
Sugar:
9
g
Vitamin A:
868
IU
Vitamin C:
12
mg
Calcium:
55
mg
Iron:
5
mg
Love this recipe?
Let me know on Instagram!