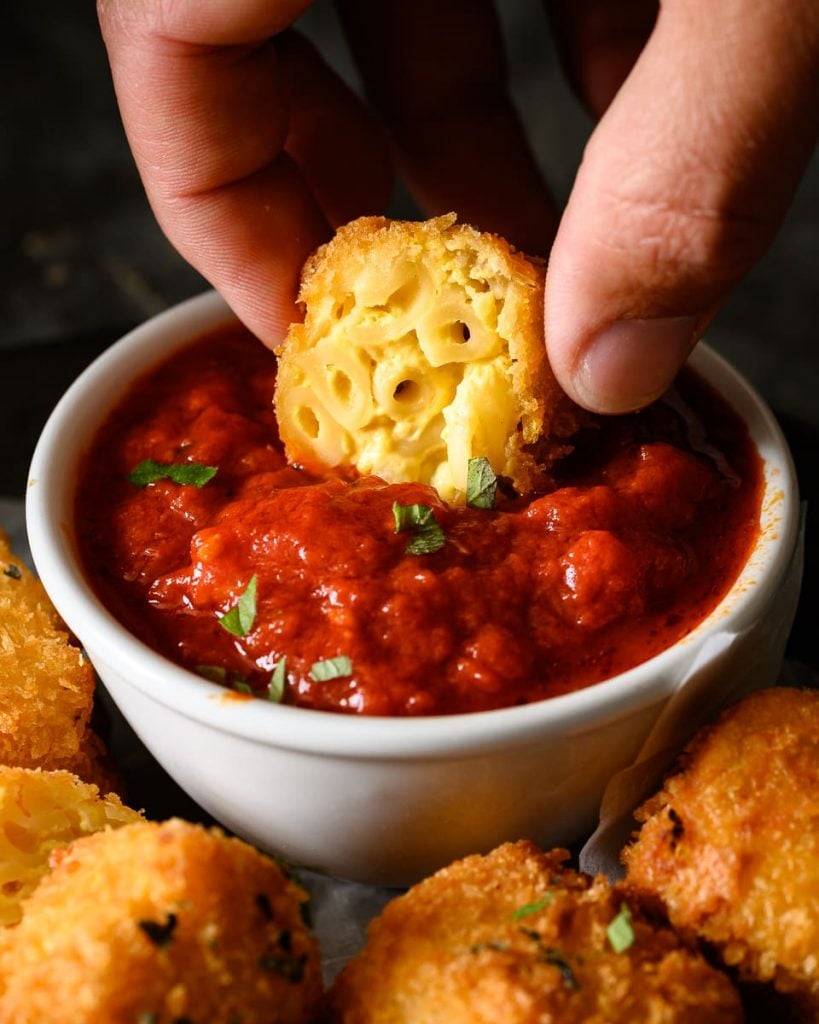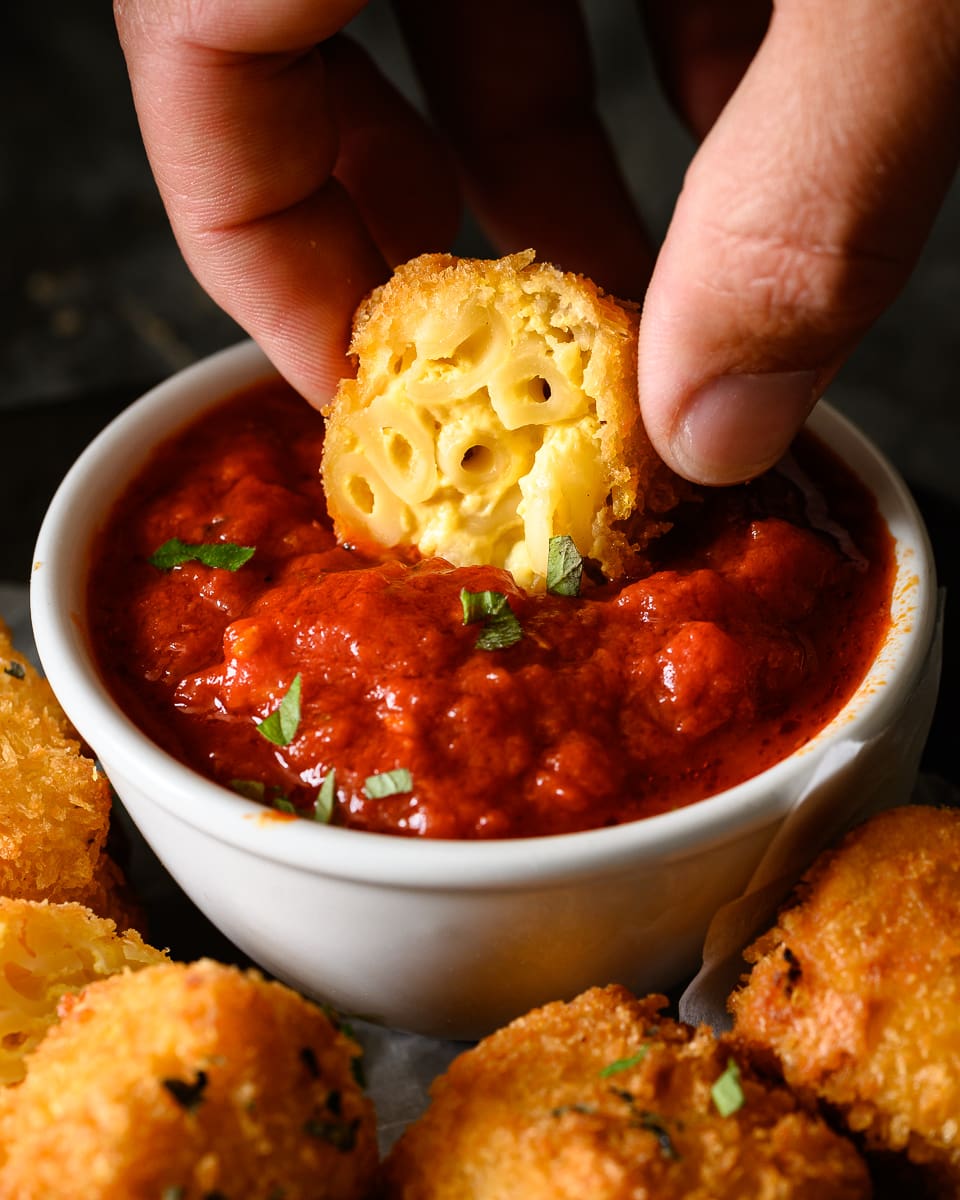 Crispy on the outside, silky smooth on the inside – these vegan mac and cheese bites really do pack a cheesy punch! Pair with this mega simple marinara sauce for dipping and you're all set for snack time!
---
I have to admit it, I was late to the party with mac and cheese, so I'm making up for it with these vegan mac and cheese bites (you're gosh-darn tootin welcome). I understand that (depending where you're from) mac and cheese is a super nostalgic dish for most people – but not me. It's just not something we ate in the north of England in the 90s. Cauliflower cheese – yes – mac and cheese – not so much.
But as an adult, I tried my first seriously good mac and cheese when I lived in San Francisco, back in 2012. Needless to say, I didn't take much convincing. So yeah, I'm a mac and cheese convert – and this recipe is my apology for sleeping on such a SNACK for so long.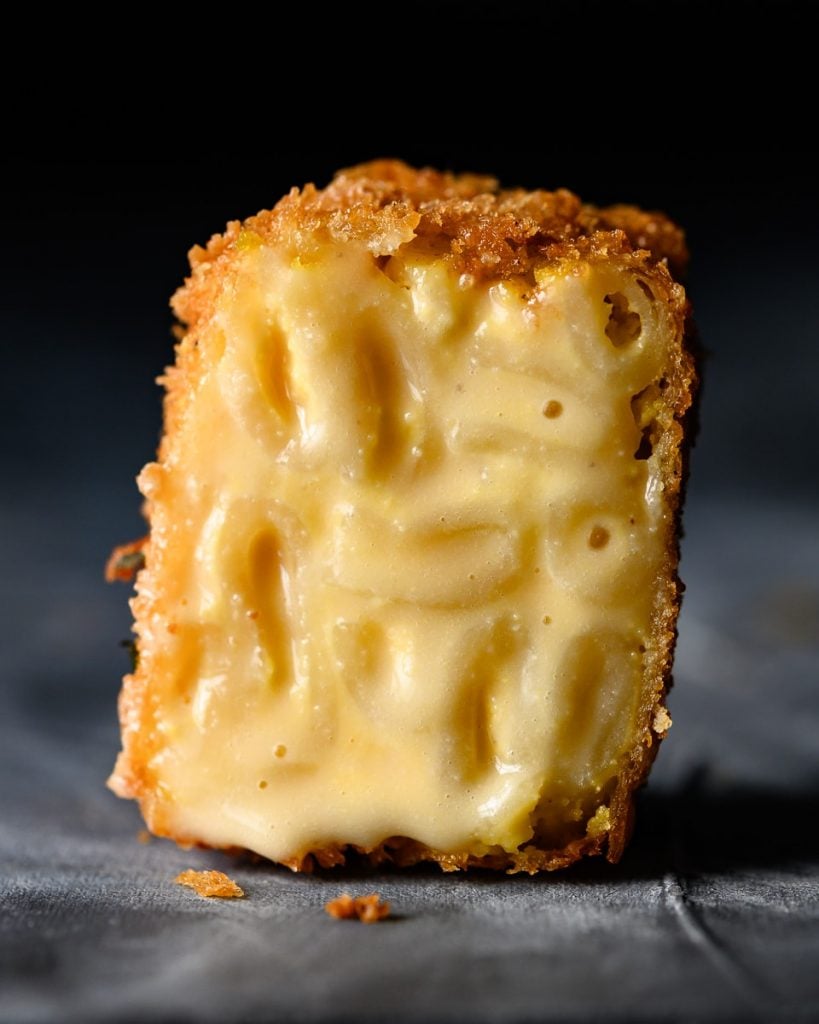 What the HECKERS is a Vegan Mac and Cheese Bite??
So, from the perspective of someone who's new-ish to mac and cheese, it could do with some tweaks – don't take offence – you know I'm right. For instance: EVERYONE agrees that mac and cheese with crispy breadcrumbs is best. EV-ERY-ONE! But even then, I think the pasta to crispy breadcrumb ratio is off. This recipe solves that problem.
The other problem with mac and cheese is THE CHEESE! It's 2020 and this is a bovine lactation free zone, thanks (every time I write that, the idea of drinking milk gets weirder and weirder…). So I got rid! Don't worry, these guys still taste creamy and sharp like cheddar. Trust me. I even tested it on some omnis and they got their damn life!
They're essentially mac and cheese masquerading as big-ass chonqy tater tots. The snack you didn't know you needed? Damn right!
The ace thing about this recipe is that you can prepare them in advance and keep frozen until you're ready to cook. You can also choose to fry OR bake them, so don't worry if you've not got a fryer or hate deep-frying.
How Do I Make Them?
As always, theres a full recipe at the bottom of this page, but here's a little visual walk-through for you, in case you're feeling intimidated. There are two main processes involved: making the mac & cheese, then coating them and frying/baking. So don't stress. It's easy peasy.
1. Boil the Carrot
Yeah! This mac and cheese recipe starts with a carrot – weirdly! It's important mostly for colour but it also adds a touch of sweetness to the cheese sauce. Boil it up good but keep the water – we're going to use that for our pasta.
2. Blend the Sauce Ingredients
Strain out the carrot and put it in the cup of a blender with all the remaining sauce ingredients. You'll need a super high speed blender, rather than a food processor, as you want this to be SUPER smooth. No chunks of carrot please.
Blast it in the blender until smooth.
3. Cook the Sauce
Until it's cooked, the sauce will be super runny. But once heated, if whisked continuously, it'll thicken into a super glossy, creamy sauce. Transfer the blended ingredients to a saucepan and place over medium heat. Whisk well while it's cooking or it'll end up lumpy.
Once it's thick enough to coat a fork or spoon, take it off the heat, cover and set aside.
4. Cook the Pasta and Combine
Using the water you cooked the carrot in, cook your pasta until al dente. It's going to be cooked again (either fried or baked) once it's in "bite" form so don't overcook the pasta. Once cooked, drain it and add it to the sauce.
Give everything a good stir and set aside.
5. Freeze the Mac and Cheese In Moulds
So obviously there's no such thing as a "vegan mac and cheese bite mould" so we're going to have to improvise here. I used a silicone finger cake mould (as pictured below) and then sliced them in half when frozen to get cubes. You want the bites to be around 2cm cubed (or oblong-ed) so if you don't have a silicone mould like the one in my picture, your best bet is probably some ice cube trays!
You can also use cupcake tins or MINI cupcake tins if you've got them, but they can be tricky to remove. You can also line a deep baking tray with cling film, fill with mac and freeze as a block then slice into bites once frozen. Either way, fill whatever you're using with the mac and cheese and allow it to cool to room temp before popping in the freezer for a good 5 hours.
6. Coat the Vegan Mac and Cheese Bites
There are two parts to this crispy coating – the wet batter and the breadcrumbs. So take two small bowls. In one, whisk together the gram flour and the water. In the other, whisk together the breadcrumbs and sea salt.
Working with the frozen chunks of mac, one at a time, dip it in the wet batter then into the breadcrumbs. The breadcrumbs will stick to the batter. Place it on a baking tray and repeat until you've coated all the bites.
You can now pop the coated bites back in the freezer to cook at a later date (be sure to wrap them up good) or you can fry/bake them straight away!
7. Fry or Bake the Bites
To fry these guys (my fave method) be sure to use a deep fat fryer or a high-sided saucepan with at least 2 inches of oil in the bottom. Place over medium heat and bring the oil to around 170c/340f. Be sure to fry in small batches or the oil will reduce in temperature. Fry for around 2-4 minutes until golden brown outside and piping hot inside.
To bake, place on a baking tray and pop in an oven which has been preheated to 190c/375f (fan) and bake for around 25-30 minutes. Again, they should be golden brown outside and piping hot inside. 
However you cook them – these guys are best served with marinara sauce (or ketchup if you'e lazy).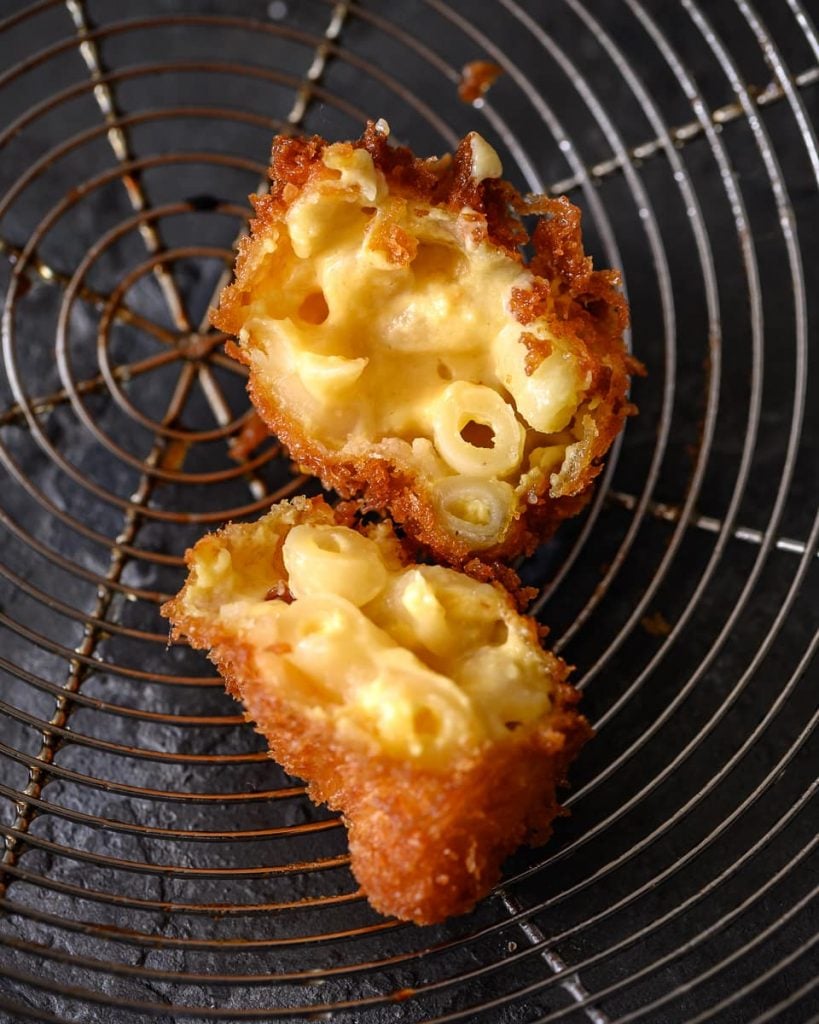 Need More Vegan Junk Food?
You came to the right place! Check out some of my fave recipes below!
Perfect Oregano Fries
Smoky Vegan Mozzarella Sticks
Vegan Burger Recipe

Oh, and Keep In Mind
I love sharing my food with you – it seriously gives me so much joy! As a result, I put a huge amount of time and energy into creating these recipes. This recipe right here is my lil baby and I wouldn't change a single thing about it. As such, I won't give advice on any ingredient swaps, substitutions, omissions or changes to the method described above (how dare you talk about my baby like that!)
But seriously, if this recipe doesn't do it for you and you want to customise it – that's cool – no probs. Put that finely honed chef's intuition to good use and tailor the recipe to suit you! Regardless of whether you make any changes or not, let us know how you get on in the comments below.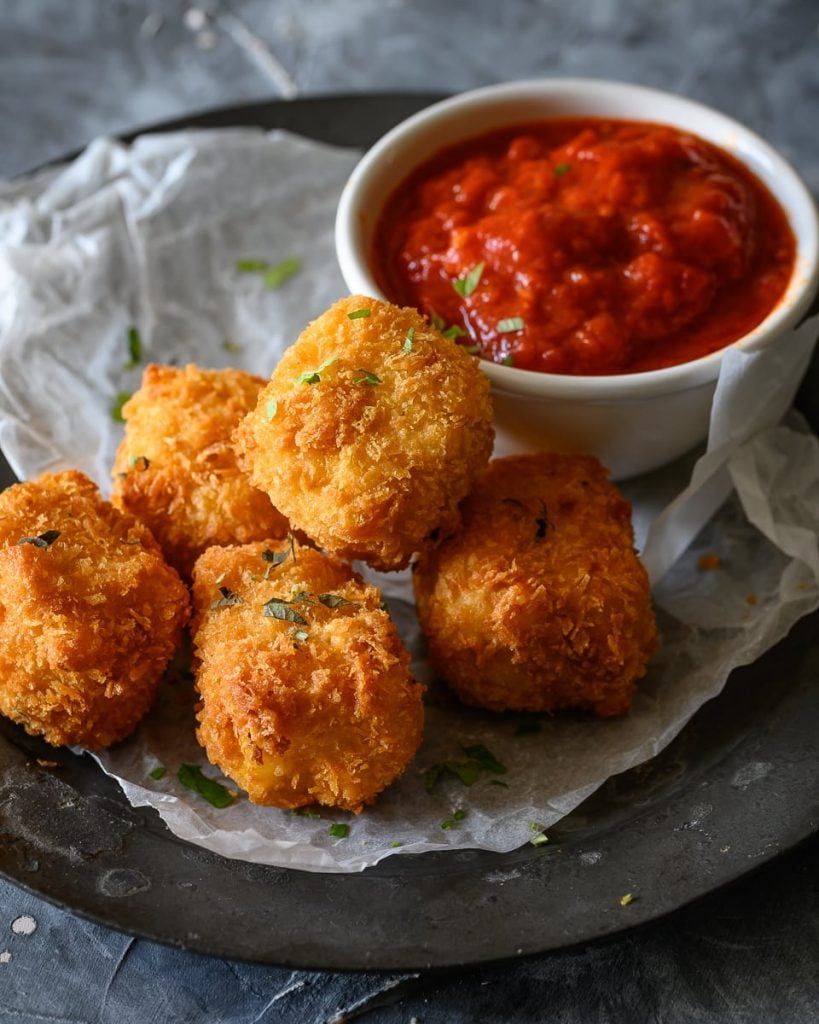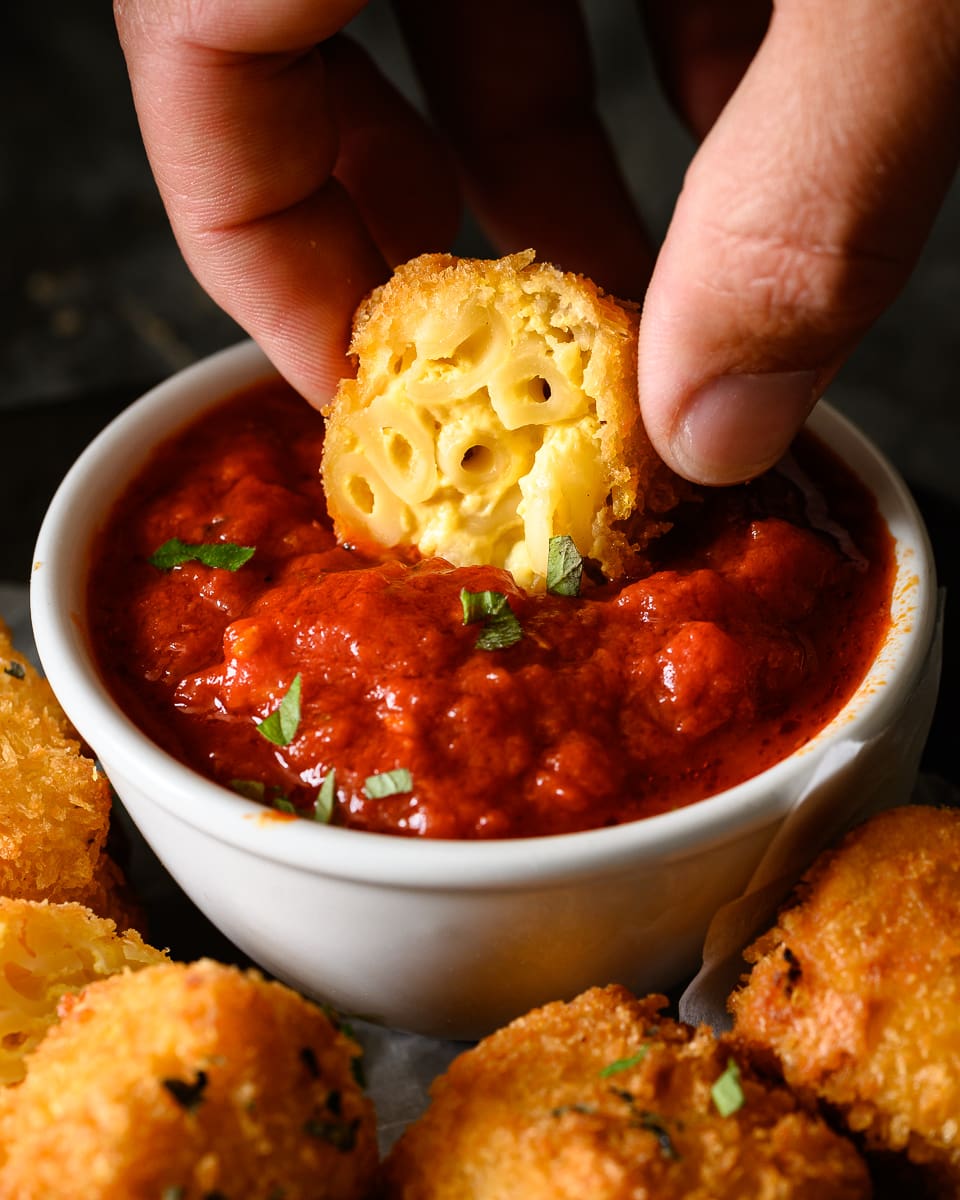 Ingredients
For the Mac & Cheese
1

small

carrot

(peeled and roughly chopped)

300

g

short pasta

(macaroni works best)

400

ml

plant milk

2

tsp

white miso

1

tbsp

nutritional yeast flakes

2

tbsp

tapioca starch

60

g

coconut oil

(odourless or "refined". Just melted)

1/2

tsp

fine sea salt

1/2

tsp

onion powder

1/4

tsp

mustard powder
For the Coating
100

g

gram flour

(aka chickpea flour)

170

ml

water

150

g

breadcrumbs

(I used panko)

1/4

tsp

flaky sea salt
Instructions
To Make the Mac & Cheese Bites
Fill a medium saucepan with water and bring to the boil. Add the chopped carrot and boil until soft and delicate (around 10 minutes).

Using a slotted spoon, remove the carrot from the water and place in the cup of a high speed blender.

Add a generous pinch of salt to the water in the saucepan and bring back to the boil.

Add the remaining mac and cheese ingredients to the blender cup with the carrot and blend until very smooth.

In a separate medium saucepan, add the blended sauce mixture and place over medium heat. Whisking constantly, cook until the mixture is thick and glossy. Remove from the heat and set aside.

In the saucepan of boiling water, cook the pasta until al dente (around 10 minutes). Once cooked, strain the pasta and discard the water.

Add the pasta to the sauce and stir well to coat. Set aside.

Find the mould you'd like to use for the bites – make sure it's freezer safe. Silicone works best. You can also use silicone baking moulds, cupcake tins or even ice cube trays. You want your bites to be around 2cm cubes/oblongs. Any bigger and they may not cook through properly.

Fill your mould with the mac and cheese, wrap and freeze for at least 5 hours.
To Make the Coating
In one small bowl, sieve the gram flour. Mix together the gram flour and the water. Whisk well until smooth. Set aside. In a second small bowl, mix together the breadcrumbs and flaky sea salt. Set aside.

Remove the mac and cheese bites from the freezer and (if necessary) cut them to size. Working quickly to prevent them from defrosting, drop a mac and cheese bite in the gram flour mixture and ensure it's coated completely. Remove with a fork and allow the excess to drip off. Drop the bite into the bowl of breadcrumbs and toss to coat thoroughly. Remove with a different fork and set aside on a baking tray. Repeat until all the mac and cheese bites are coated.

At this stage, you can fry or bake the bites as detailed below or you can wrap them and return them to the freezer and cook later. Always cook from frozen.
To Fry the Mac and Cheese Bites
Preheat the oven to 100c/212f and place a baking tray inside.

Heat up a deep fryer or place a large, high-sided saucepan over medium heat filled with around 2 inches of neutral vegetable oil – bring to 170c/340f.

Lay a few sheets of kitchen towel on a baking tray and set aside. Carefully, using a spider or slotted spoon, lower three frozen, coated mac and cheese bites into the hot oil. allow to cook for around 2-3 minutes or until golden brown on the outside and piping hot inside.

Once cooked, remove from the oil and place on the kitchen towel to absorb some of the excess oil. Transfer the cooked bites to the warm oven and continue to cook the rest. Serve with marinara sauce for dipping.
To Bake the Mac and Cheese Bites
Preheat the oven to 190c/375f (fan) and place the frozen, coated mac and cheese bites on a baking tray, lined with greaseproof paper. Spread the bites around a cm apart if possible. Drizzle with a little oil.

Once the oven is hot, bake for 25-30 minutes (flipping half way through) or until golden brown on the outside and piping hot on the inside. Serve hot with marinara sauce for dipping.
Nutrition
Nutrition Facts
Vegan Mac & Cheese Bites
Amount Per Serving
Calories 112
Calories from Fat 27
% Daily Value*
Fat 3g5%
Sodium 139mg6%
Potassium 103mg3%
Carbohydrates 17g6%
Protein 4g8%
Vitamin A 382IU8%
Vitamin C 1mg1%
Calcium 37mg4%
Iron 1mg6%
* Percent Daily Values are based on a 2000 calorie diet.