It's a bit of a mouthful: vegan ricotta stuffed pasta shells, but trust, it's worth it! So this recipe is a bit of a "long-read" – it's intended to be for those who are happy working for a while to achieve a delicious meal! If you're after a five minute belly-filler then I'm afraid this might be a bit too much of a hangry marathon for you! If you can plan ahead though, I promise this one's worth it!
The soy milk vegan ricotta is such a dream to eat. It's technically a very young tofu – the soy "curds" are split from the rest of the liquid and caught in a muslin or nut milk bag. Their texture is creamy and almost identical to a good fresh ricotta.
The pesto in this recipe was originally designed for use with wild chives! We've had a huge explosion of wild chives here in Hastings this winter and I wanted to put them to good use. Their flavour is so unique and mellow – almost like a hybrid between chives and wild garlic. The extra parsley in the pesto is just there to lift the flavour a little – the real big boy here is the chives. If you don't have any wild chives in your area, don't worry – normal ones will do fine, or if you're feeling adventurous, head to your local international supermarket and grab some "Chinese chives" – they have a much more interesting flavour.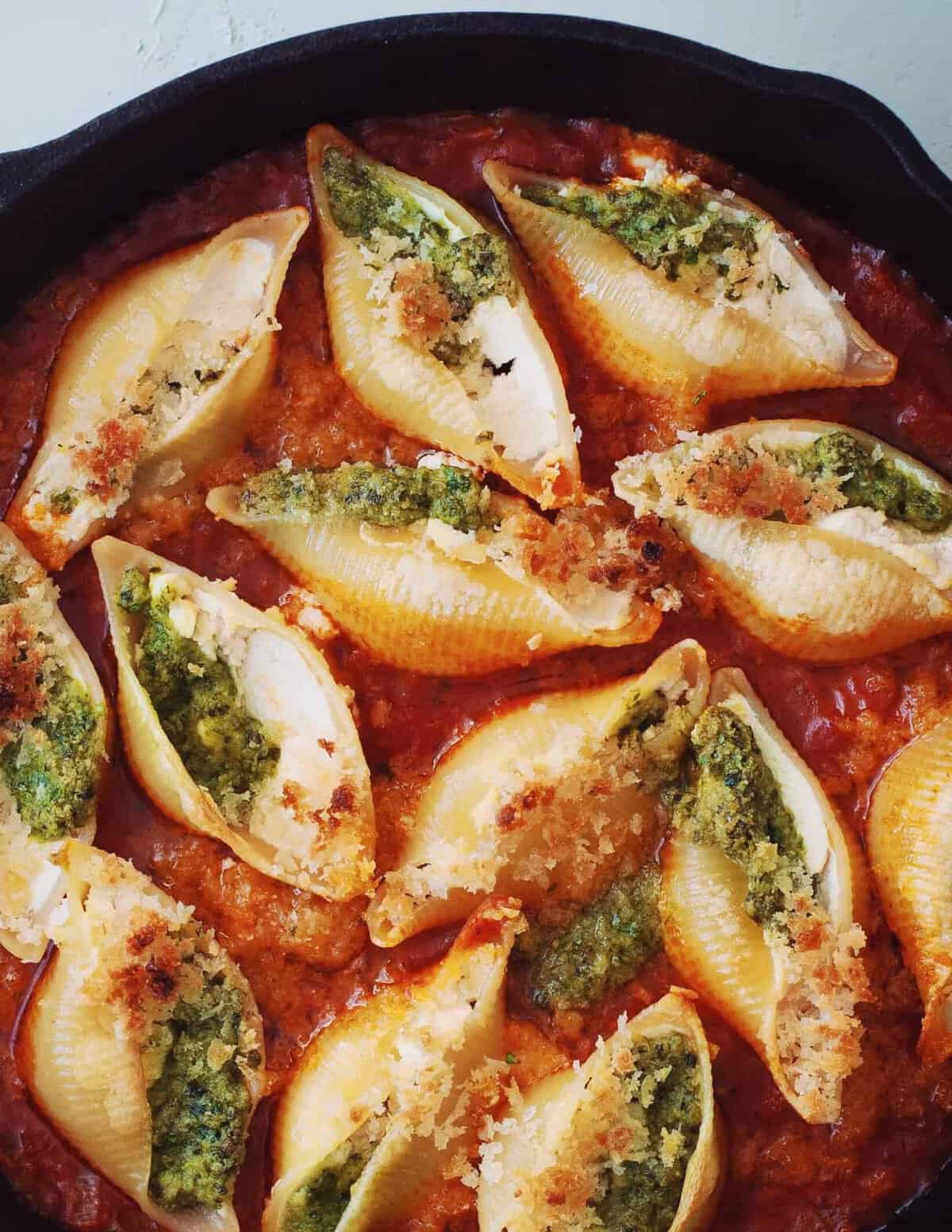 Ingredients
For the "Ricotta"
1

litre full fat soy milk

2

tbsp

white wine vinegar

1/4

tsp

salt
For the Chive Pesto
Small bunch chives

around 50g – use wild ones if you can find them – remember to forage responsibly

Small bunch parsley

about 100g

2

tbsp

nutritional yeast

1/8

tsp

sea salt

5

tbsp

extra virgin olive oil

2

tbsp

pine nuts or cashews

toasted
For the Tomato Sauce
2

tbsp

olive oil

1/2

white onion

finely diced

1

clove

garlic

crushed

1

tin good italian peeled plum tomatoes
For the Pasta and to Serve
250

g

Conchiglioni

2

tbsp

panko bread crumbs

1

tbsp

olive oil
Instructions
To make the "Ricotta"
In a medium pan, pour out the soy milk. Add the vinegar and stir to combine. Place on a low heat and gradually bring the temperature up, stirring constantly, until the milk splits and you can see visible flecks of soy "curds" (this may take a while, but be patient). Add in the salt and stir to dissolve.

Pour the soy milk through a fine muslin or nutmilk bag. Discard the water and keep the "ricotta" caught by the bag. Gently squeeze the muslin of "ricotta" to get rid of most of the water (don't squeeze too hard or the fabric may tear and you'll have a cheesy mess). When you open the muslin you should have a nice ball of "ricotta" textured curds. Place it in the fridge for up to 48 hours or use immediately if you like.
To Make the Pesto
Place all the ingredients in a mortar and pestle or a high speed blender and crush/pulse until blitzed. If the mix looks dry, add more oil. Set aside.
To Make the Tomato Sauce
In an oven proof deep frying pan or cast iron skillet, place the olive oil and place over a medium heat. Once hot, add the onion and the garlic. Fry for a few minutes until turning translucent then add the tin of tomatoes and half a tin of water. Crush the tomatoes lightly with a fork or potato masher, cover with a lid and reduce heat to low. Leave to simmer, stirring occasionally, until the sauce has reduced nicely (around 10 minutes).
To Make the Pasta and Serve
Preheat the oven to 200c.

Bring a large saucepan of water to the boil with a good pinch of salt. Add the pasta and boil until al dente. Drain the pasta and allow to cool for a few minutes.

Turn off the heat on the tomato sauce (it should be reduced nicely but not too thick). Fill each shell with a little "ricotta", a half tsp of pesto and place one by one into the skillet of tomato sauce. Sprinkle the top of each shell with panko and drizzle with oil.

Place the skillet in the oven and bake for around 20 minutes until the pasta is crispy and the breadcrumbs are golden brown.

Serve immediately and enjoy!
Notes
Can't find any wild chives? Your best option is to head to the international supermarket and grab some "Chinese Chives". If all else fails, grab some normal chives instead – the flavour will be different but still very, very delicious!