Vegan ricotta stuffed pasta shells, topped with chive pesto, baked in a chunky tomato sauce. It's next level Italian comfort food!
---
It's a bit of a mouthful: vegan ricotta stuffed pasta shells, but trust, it's worth it! So this recipe is a bit of a "long-read" – it's intended to be for those who are happy working for a while to achieve a delicious meal! If you're after a five minute belly-filler then I'm afraid this might be a bit too much of a hangry marathon for you! If you can plan ahead though, I promise this one's worth it!
The Soy Ricotta
For this recipe, i've whipped up a vegan ricotta. It's made from soy milk and it's such a dream to eat. It's technically a very young tofu – the soy "curds" are split from the rest of the liquid and caught in a muslin or nut milk bag. Their texture is creamy and almost identical to a good fresh ricotta.
My top tip with the ricotta is to use the most basic soy milk you can find. The more ingredients it has, the less likely it is to split properly (yep – we WANT it to split!). If you can get hold of raw, homemade soy milk (like this one) it'll work much better!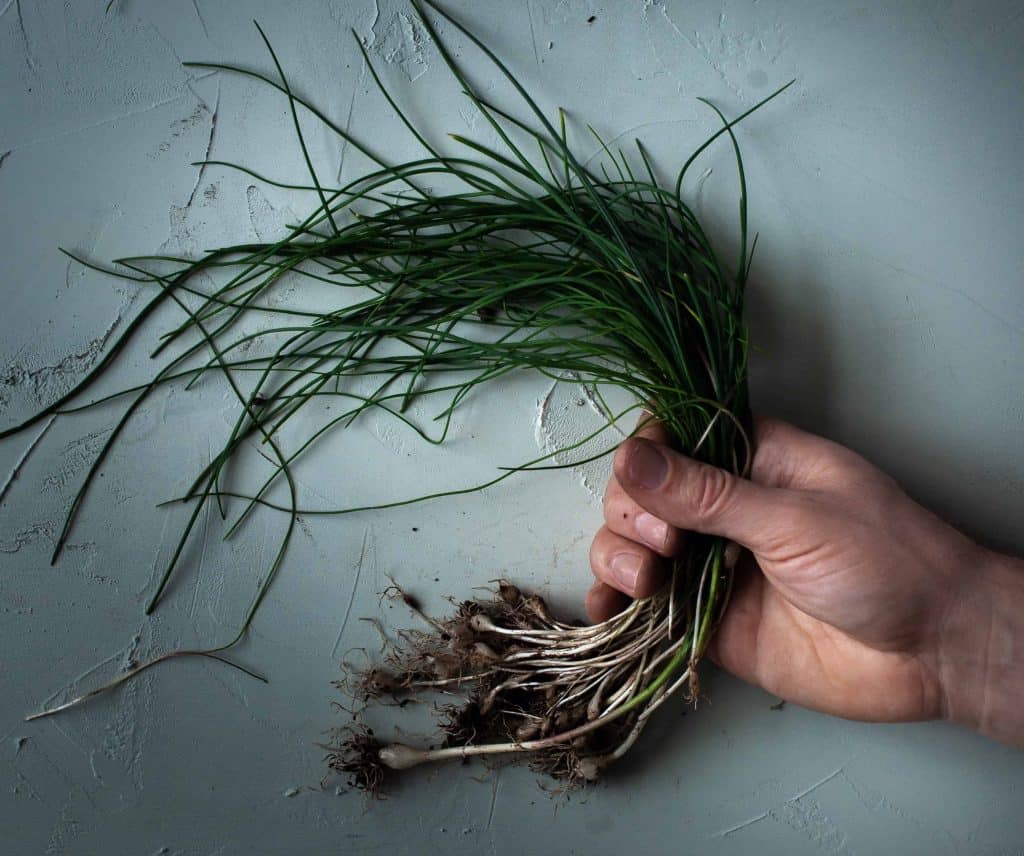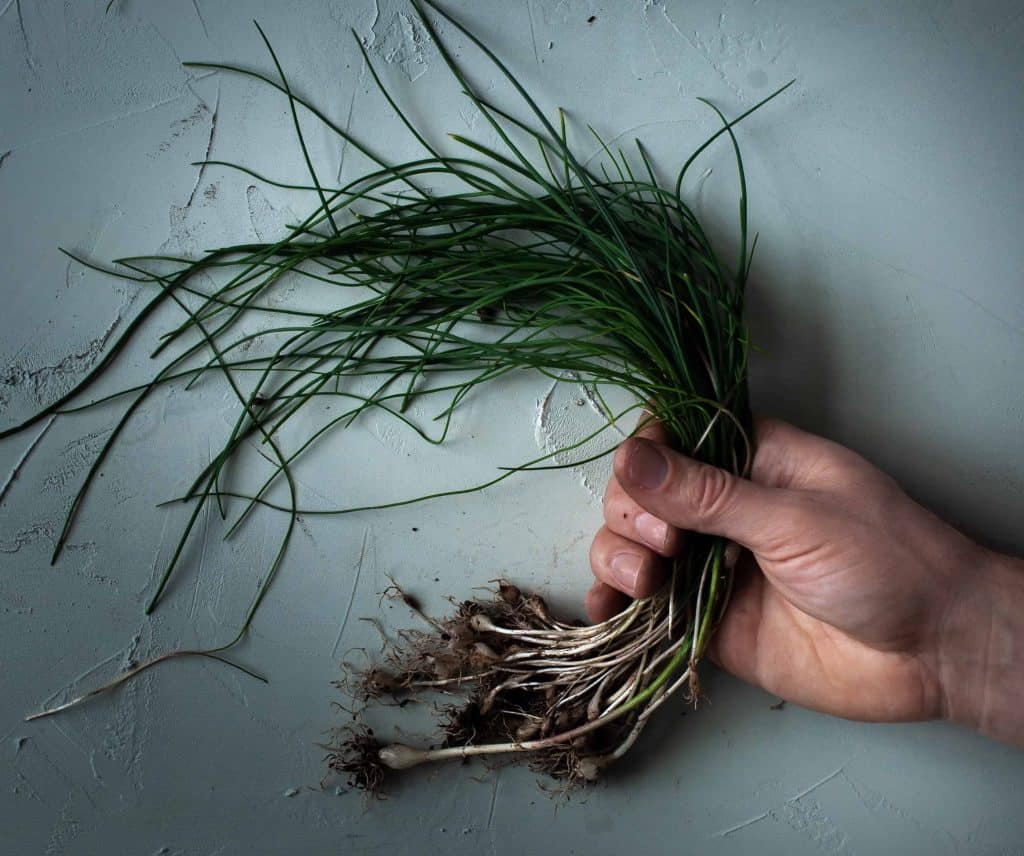 The Chive Pesto!
I regularly whip up a batch of this pesto just to stir through pasta and I originally made it specifically to use up some foraged wild chives.
We've had a huge explosion of wild chives here in Hastings this winter and I wanted to put them to good use. Wild chives have such a unique flavour – almost like a hybrid between chives and wild garlic.
I added the extra parsley in the pesto just to lift the flavour a little. The real big boy here is the chives. If you don't have any wild chives in your area, don't worry – normal ones will do fine, or if you're feeling adventurous, head to your local international supermarket and grab some "Chinese chives" – they have a much more interesting flavour.
The Chunky Tomato Sauce
This chunky tomato sauce is the guy who holds this entire recipe together. I eat this stuff by the spoonful! If you like it, you gotta make this meatball soup! These vegan ricotta stuffed pasta shells are literally baked in the stuff! 
I like to use peeled plum tomatoes instead of chopped tomatoes. You end up with a much more textured sauce and the flavour just seems to be much better. If you can get hold of some good Italian ones you'll notice a huge difference. 
You'll need to make sure that the tomatoes are properly cooked or your sauce will taste thin and won't have that rich, satisfying texture.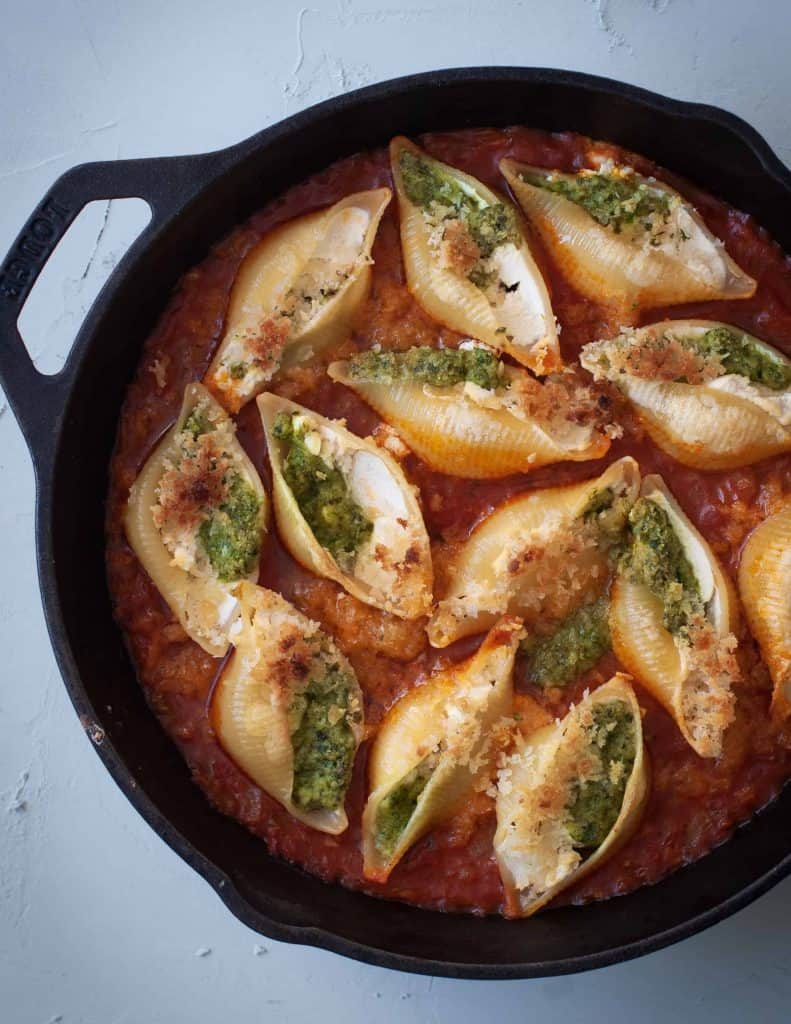 Let's look at the process!
Don't be daunted because I strongly believe you've GOT this! Listen up! Let's break this down into some component steps:
First you need to make the ricotta. This stuff needs a while to cool before you can use it properly and it's sort of the crux of the dish, so get this out of the way first!
Next you need to make the pesto. This pesto is delicious in any situation. I regularly spread it directly on toast or add it to some vegan mayo as a great sandwich filler. 
Third up, you need to get the pasta sauce made! Don't underestimate how long it takes to properly cook tomatoes. You want to get their sweetness to really kick, so make sure you simmer for a good while!
Finally, you need to bring everything together and bake until crispy. Stuff the pasta shells (nice and full) and you're good to go!