The softest, most aromatic vegan garlic knots you'll ever find! Tossed in garlic and parsley butter, these guys will melt your heart as they melt in your mouth!
---
I've been meaning to make these damn fine vegan garlic knots for absolutely AGES! I have a notes file on my phone because my memory is terrible. Every time I think of something I want to make, I add it to the file. The words "VEGAN GARLIC KNOTS" have been on that file for (no joke) about 9 months. I don't know why it's taken me so long to get round to this!
The thing I love about them is that they're SO simple to make but are absolutely one of the most satisfyingly delicious things to eat. They make a great starter, side dish or addition to a pot-luck and they dip so well in marinara sauce!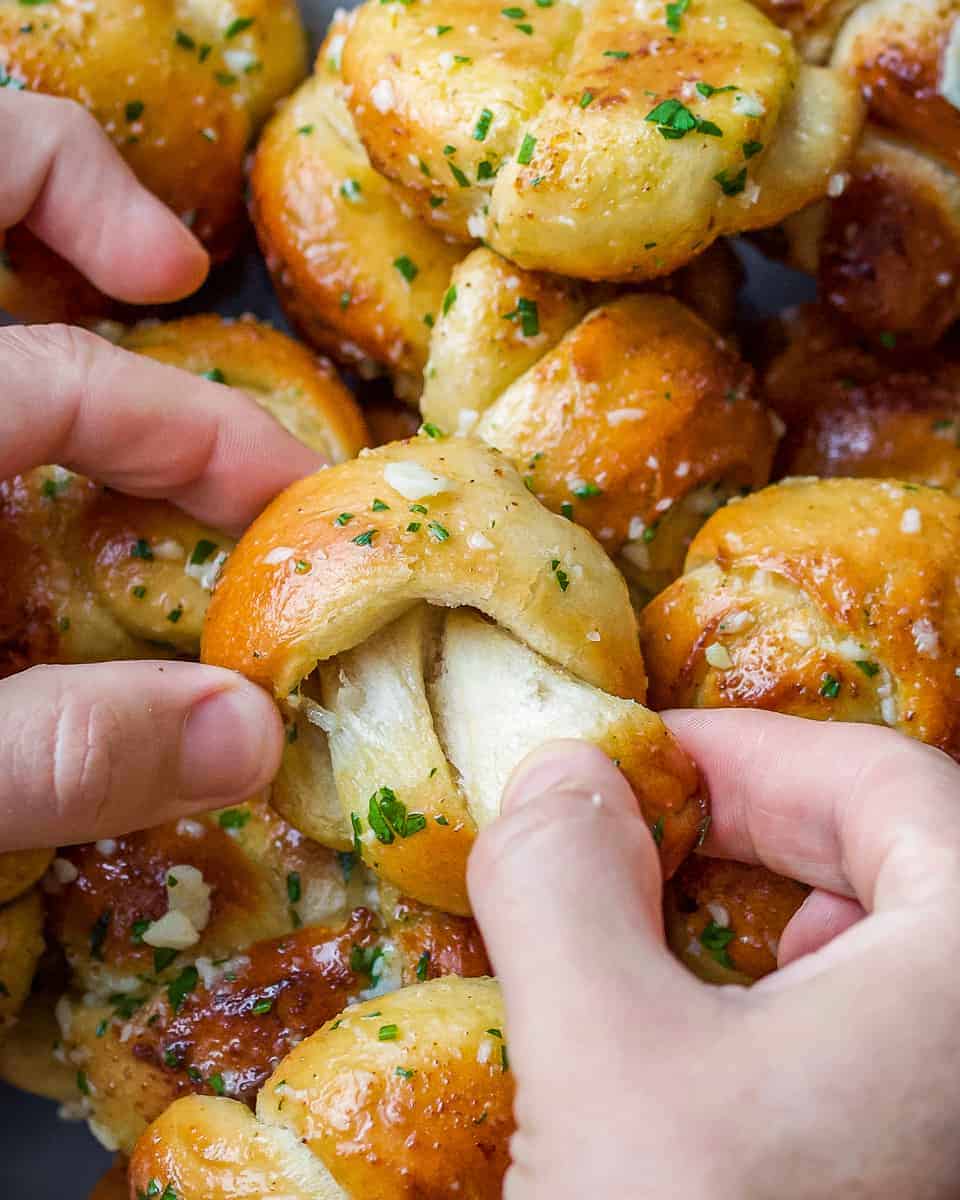 Why Vegan Garlic Knots?
I first had garlic knots in America, which makes sense! They're simply KNOT a thing here (ugh Dad joke) in the UK. We occasionally get dough balls, but they're different. Garlic knots are so special because of how they pull apart and how DRENCHED they are in that garlic butter.
There's the B word. The reason these guys have been off the menu for so long! Garlic knots are made with butter usually, which mean's they're not V-friendly. That's why I decided to treat y'all to my vegan garlic knots!
What's That Dough Like!?
I'm glad you asked! The dough is basically my go-to pizza dough. It's nothing fancy – no sourdough yeast or anything like that. Just straight up quick rise yeast. The dough includes a little olive oil, to keep everything moist and smooth and glossy. It also helps the dough to crisp up and brown on the outside!
If you're feeling extra fancy and want mega MEGA soft knots, replace the plain flour for type '00' flour. This stuff is reserved for pasta and pizza and is SUPER fine, meaning super soft once baked! You can get type '00' flour here and I'd highly recommend getting some!
Any Specialist Ingredients?
These vegan garlic knots are pretty damn simple on the ingredient front, but that's your opportunity to make sure you use the best quality ingredients you can get your buttery, garlicky mitts on!
There's only one ingredient I'd recommend you really use for this recipe: A GOOD PLANT MILK! Being the only liquid element of the dough, you'll find it has a huge effect on the flavour. Here are my two faves!
Bonsoy
Bonsoy has been my fave soy milk for a pretty damn long time. It has a really subtle flavour and a nice, creamy texture thanks to a high fat and protein content.

You can grab Bonsoy here!
Oatly Barista
Hopefully all the shortages of this magical milk have come to an end. These guys exploded onto the plant-milk scene a few years ago and I can honestly say this milk played a huge role in me making the transition to vegan. It works perfectly in this recipe and is the best milk for coffee!

You can grab Oatly Barista here!
---
How Do I Make It?
As usual, there's a full recipe at the bottom of this page, but I'm going to walk you through the steps to make the garlic knots below.
1. Make the dough!
Because of the slightly high liquid and oil content, the dough for these garlic knots can be a little sticky to begin with. However, if you leave the dough to hydrate properly, it'll be much more pleasant to knead and form.
Activate your yeast in the warm, sugary milk, then mix together all your ingredients until you have a really shaggy, sticky dough. Cover and leave for ten minutes. After ten mins it should be much easier to work with – NO MORE DOUGHY HAND PANIC!
Dough before hydration

Dough after hydration
2. Knead the dough!
My technique for kneading isn't hugely labour intensive. It involves kneading for a few minutes before allowing the gluten to relax for ten minutes. It's really not necessary to do this process more than twice, but if you'd like to experiment with the texture of your dough, feel free to do it a couple more times.
One thing to note is that you won't need to flour the surface at this stage. The oil in the dough should keep it from sticking. Once kneaded, it's time to prove the dough!
Tip out the dough

Knead and repeat
3. Prove the dough
The next stage is to allow the dough for the vegan garlic knots to rise or prove. The aim is to let it double in size, and this should take roughly an hour. I tend to place my dough in a bowl, cover with a damp tea-towel, then place in a cold oven.
If you like, you can put a small bowl of hot water at the bottom of the oven too. The steam stops the dough from drying out and also raises the temperature of the oven a little, to help speed up the proving.
4. Shape the dough!
Once proved, your dough is ready to shape. Push out some of the larger air bubbles with your fingers and divide the dough into two. Roll out one dough half into an oblong and slice into 10 ribbons. Sprinkle with a little mix of garlic granules and flour before tying in a knot.
Repeat with all of your dough and arrange the knots on a lined baking tray. Brush with a little oil. You now need to prove them again, this time I'd recommend only doing between 30 and 45 minutes. Meanwhile, prove your oven!
Push out air bubbles

Roll out and divide

Tie dough in knots

Brush with oil
5. Bake the knots!
Time for the oven! The proved knots should be nicely puffed and should jiggle when you shake the tin. Pop them in the pre-heated oven and bake for roughly 15 minutes, rotating the tray half way through baking.
When done they should be golden brown on the top and bottom. Remove from the oven and enjoy that smell!
Knots before baking

Vegan garlic knots after baking
6. Make the garlic butter and dress!
While the knots are cooling slightly, melt the vegan butter in a small pan and add the garlic. Allow it to cook for a minute or so but make sure that garlic doesn't brown! You want it nice and fresh tasting!
Stir in parsley and salt. Pop all the knots in one large bowl then drizzle over the butter. Toss or stir to make sure all the knots are dressed. you're ready to serve!
Garlic and parsley butter

Dressing the knots

Dressed knots
Made this recipe?
Did you give this a go!? I'd love to hear what you think! Either rate and comment on the recipe below or head over to my instagram and leave your thoughts over there!
I really enjoyed developing this one, and I hope you'll love eating it too!
Need more similar recipes!?
Not had your fill of Italian/American classics? Why not try these vegan bad-boys for your next cook-fest!
– Vegan Beyond Burger Lasagna
– The Perfect Vegan Pesto
– Vegan Ricotta Stuffed Pasta Shells
---
Disclosure: some of the links above are affiliate links, meaning at no additional cost to you, I may earn commission when you click through and make a purchase.