Publised on 11/09/2019 by Richard. Last Updated on 17/10/2022 by Richard.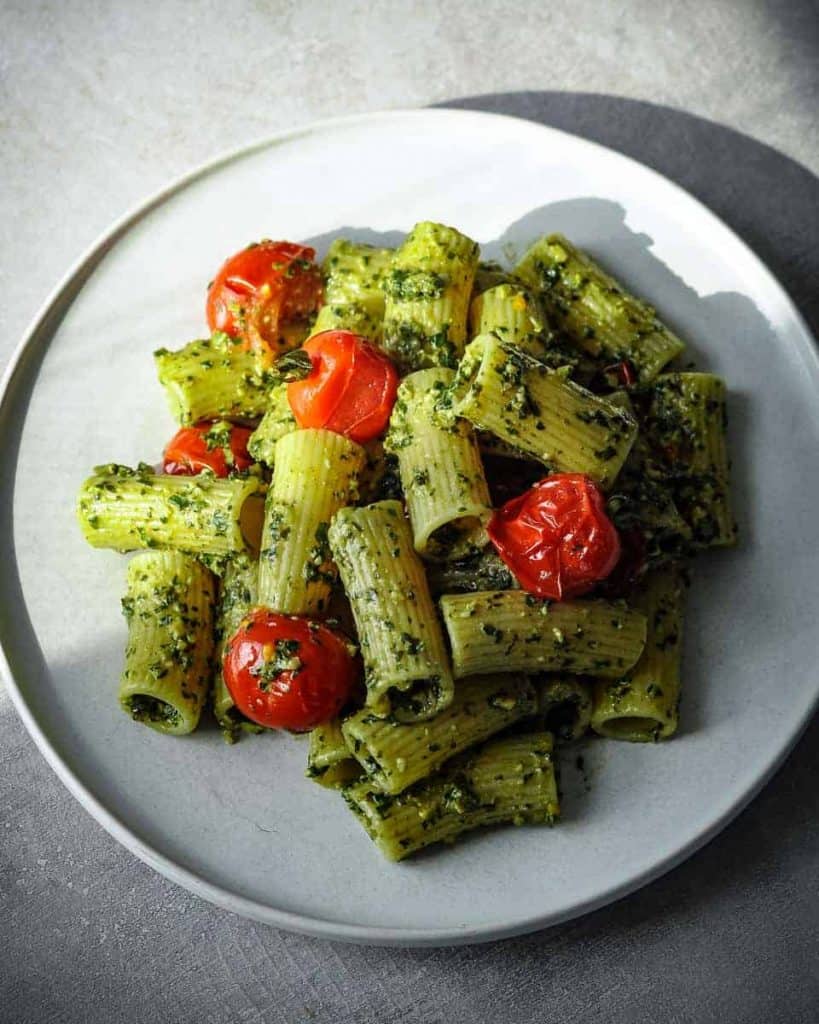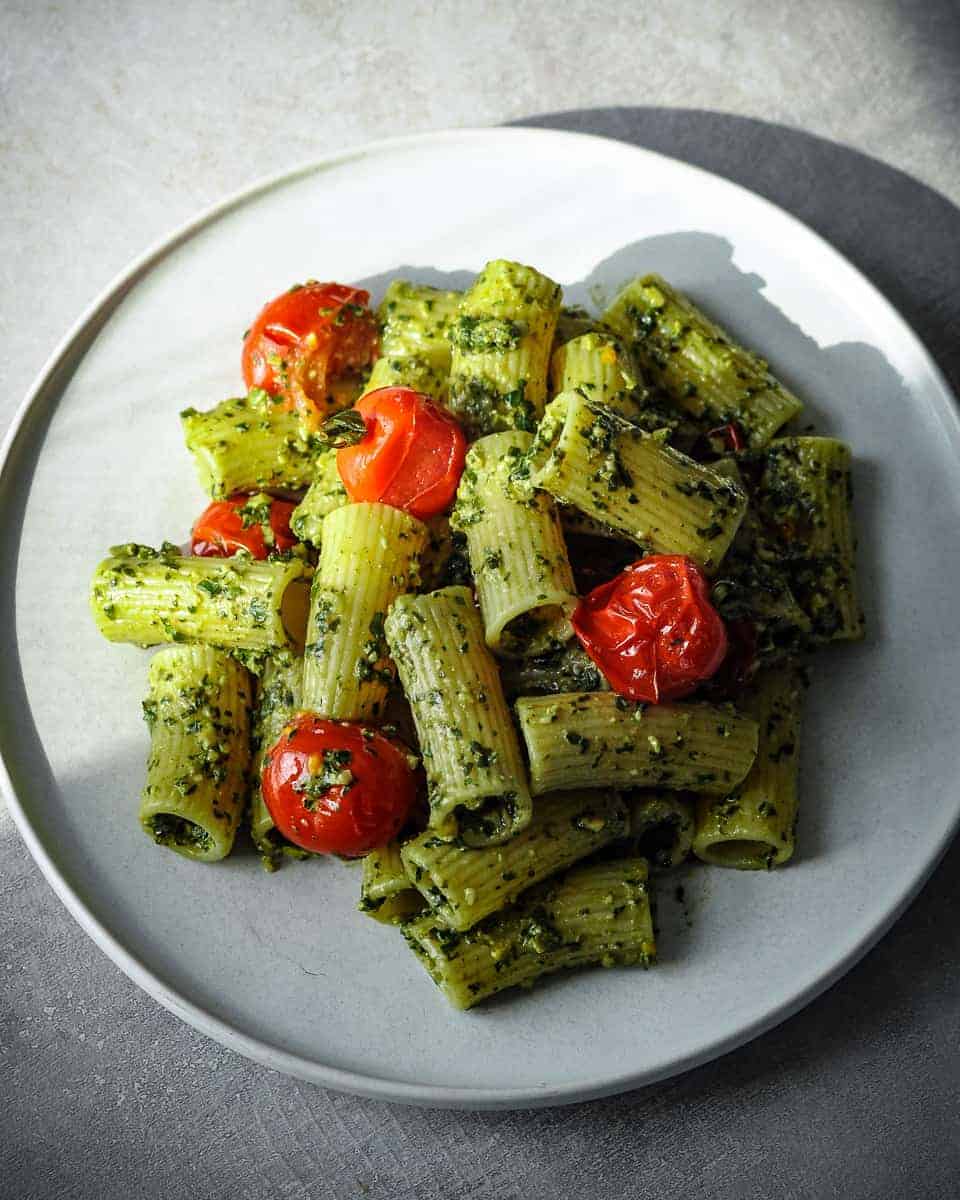 My ultimate vegan pesto recipe which I use basically weekly! Fragrant with fresh basil, zingy lemon and a mild kick of garlic!
---
I'm super stoked to share this vegan pesto recipe with you because I feel like this guy is basically my best friend. I have a tub in my fridge as we speak and, if I'm on top of my shiz, I like to keep it that way at all times!
One of my weekly "get on top of life" tasks which I try to do every Sunday is MAKE SOME PESTO! It lasts around a week in the fridge, it's a good way to use up fresh herbs and it's an absolute LIFE SAVER DINNER
Why it's so damn good?
Ok, this isn't 1990. We've all probably followed a pesto recipe before, maybe even a vegan pesto recipe! But this one's different, and here are two reasons why:
For this recipe I recommend that you go traditional and use a mortar and pestle. Sure, a blender is faster and less messy, but when you use a mortar and pestle you'll find the flavour is SO much stronger. Do a little experiment: take a basil leaf and slice it in half with a knife.

Give it a sniff. Nice right? Now take one of those halves and crush it between your thumb and forefinger - now sniff... POW!! It's like twenty times stronger! When you crush herbs instead of slicing them you break down the cell walls much more. This releases all the essential oils and flavours which make pesto taste AWESOME. A mortar crushes instead of slices and that makes this vegan pesto recipe next level!

This recipe is heavy on the lemon juice. I'd suggest you use the juice of a full lemon. This keeps the pesto lovely and loose (rather than too dry and chunky) and it adds bit time zing! With traditional pesto you'd use parmesan which is crazy sharp. The lemon juice helps to replicate that sharpness and elevates this vegan pesto recipe to the next level.
What's the process?
There are a few essential stages to this process and I really recommend you do them in this order (particularly if you're using a mortar and pestle). Here's the sequence of things!
The first thing you want to crush is your garlic. I then add salt and lemon juice. The coarseness of the salt helps to break down the fibres of the garlic, so you get a much smoother paste. The acidity of the lemon juice helps to cook the garlic slightly which removes some of that raw garlic kick from this vegan pesto recipe.
Next you want to toast your pine nuts (or cashews if you'd prefer) and crush them too. Again, these help to break down the basil in the next step because they're nice and coarse.
Bit by bit, you next want to add your basil. If you do it all at once, you won't have room in the mortar and it'll overflow. Work with small handfuls of basil at a time.
Finally you want to add your olive oil and nutritional yeast. The olive oil brings everything together and the nutritional yeast gives that cheesy parmesan style kick.
And that's it! It's really not a tricky recipe, but if you want to elevate your vegan pesto recipe above a simple supermarket deli pesto then THIS IS HOW!
What can I use this vegan pesto recipe for?
As you probably know, pesto is the most versatile Italian sauce you'll come across! Because it's so fresh and zingy, it works with cold OR hot dishes. I spread it on sandwiches with some vegan mayo and it makes me VERY HAPPY every time!
For the pasta pictured on this page, I kept things super simple. I took around 200g of rigatoni and boiled it until soft. I then turned my oven to 200c and roasted a good few handfuls of cherry tomatoes with some olive oil and flaky sea salt.
I then tossed everything together with my pesto and a ladle of reserved pasta water (because I'm FANCY!) and topped with some of my favourite vegan parmesan!
This has to be my favourite mid-week meal. For extra protein you can throw in a tin of borlotti beans or roast a couple of your favourite vegan sausages along with the tomatoes. It really is a versatile sauce!
For something a little more challenging, why not try my Soy Ricotta Stuffed Shells and swap out the chive pesto for this classic version!
You can also use this recipe for inside my Pesto Stuffed Arancini!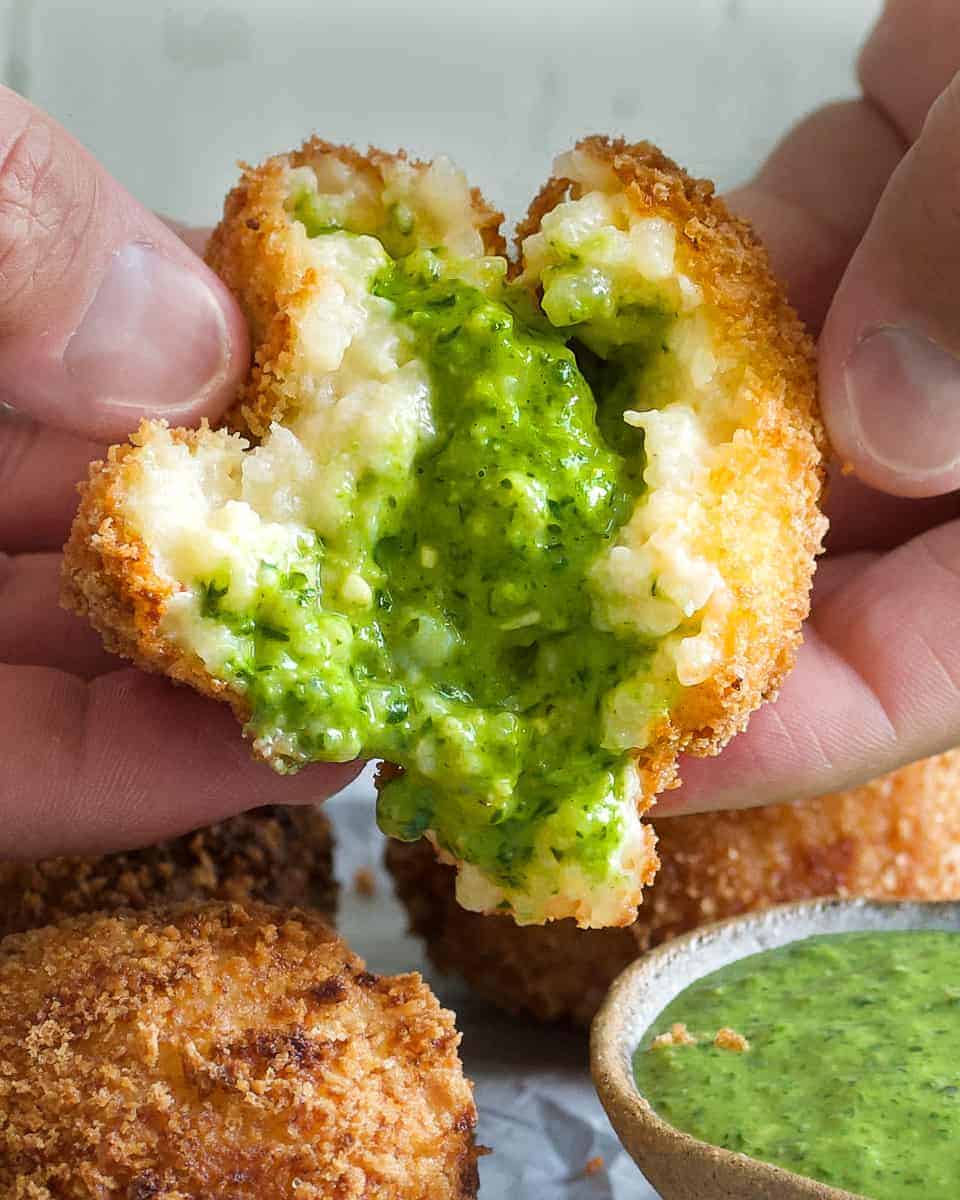 Variations, swaps and subs!
The simplicity of this recipe means it's easy to make variations and swaps! Here are some of my suggestions:
The Basil: I've also tried this recipe with parsley, chives, oregano and mint! All work very well, depending on how you intend to use the pesto. Mint pesto, for instance, works really well on top of a thick, chunky winter stew!
The Olive Oil: This recipe unfortunately relies on oil. It really wouldn't be the same without it. However if you want to switch things up, you can try other oils! Give avocado oil a go (especially if they grow locally) and if you're in the UK, rapeseed oil is a great zero airmile alternative!
The Pine Nuts: Pine nuts can be prohibitively expensive. That's why I use cashews (responsibly sourced whenever possible!). But for added flavour, you can try this recipe with macadamia, almonds and brazil nuts! Just make sure you're using a nut with quite a high fat content because fats where the favours at!
Made this recipe and got some suggestions, feedback or GLOWING PRAISE?? Leave your thoughts and ratings in the comments down below the recipe!
It really helps me to figure out what y'all are into and I post updated recipes often based on your suggestions! Thanks as always!
Richard
Disclosure: some of the links above are affiliate links, meaning at no additional cost to you, I may earn commission when you click through and make a purchase.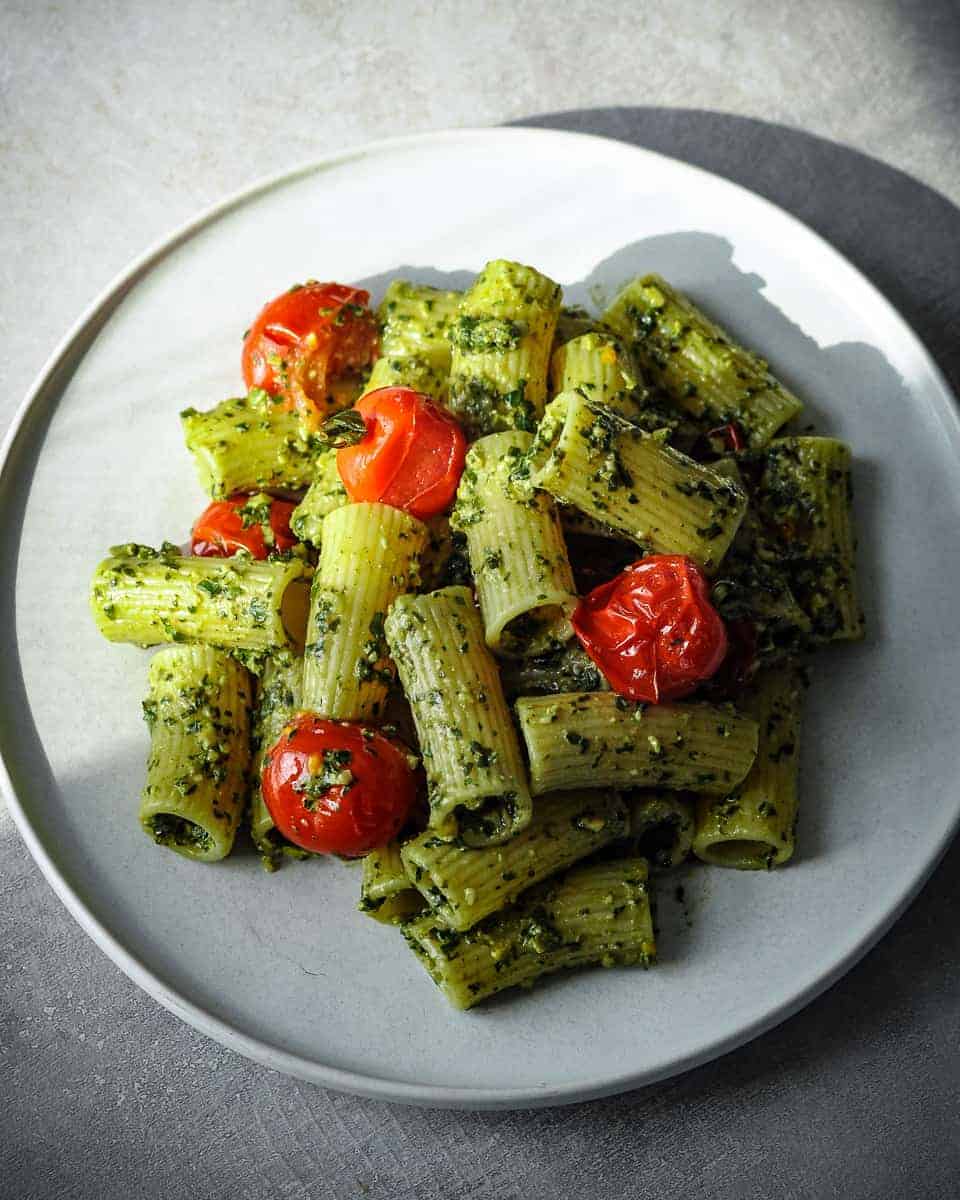 Vegan Pesto Recipe
My favourite vegan pesto recipe ever! I use a mortar and pestle to keep things as flavoursome and authentic as possible, but feel free to use a blender if you're in a hurry.
Ingredients
1

large garlic clove

3

tablespoon

lemon juice

1

teaspoon

flaky sea salt

50

g

pine nuts OR raw unsalted cashews

200

g

fresh basil

((stalks removed))

4

tablespoon

extra virgin olive oil

2

tablespoon

nutritional yeast
Instructions
Place the garlic in a mortar and use the pestle to crush well. Add the lemon juice and salt and continue crushing until everything has formed a coarse paste.

If using cashews, chop them roughly. Place a dry frying pan over medium-low heat and bring to temperature. Add the pine nuts or the chopped cashews and toast until gently browned and fragrant. Watch like a hawk because they'll burn very easily.

Add the nuts to the mortar with the garlic paste and crush until roughly ground (I like them quite chunky).

Working with small handfuls, add the basil to the mortar bit by bit, grinding well until dark green and nicely mushed. Continue until all your basil is added.

Add the olive oil. Grind again briefly until you have the desired consistency before adding the nutritional yeast and stirring into the pesto until dissolved.

The pesto is ready to use straight away (I like to stir through pasta with some roasted cherry tomatoes). You can also seal in an airtight container in the fridge for about a week.
Nutrition
Serving:
1
grams
Calories:
152
kcal
Carbohydrates:
4
g
Protein:
3
g
Fat:
15
g
Saturated Fat:
2
g
Sodium:
584
mg
Fiber:
2
g
Sugar:
1
g
Love this recipe?
Let me know on Instagram!