Publised on 21/08/2019 by Richard. Last Updated on 21/10/2022 by Richard.
A classic vegan lasagna, packed with a rich meaty ragu and a silky aromatic bechamel sauce. A perfect crowd pleaser!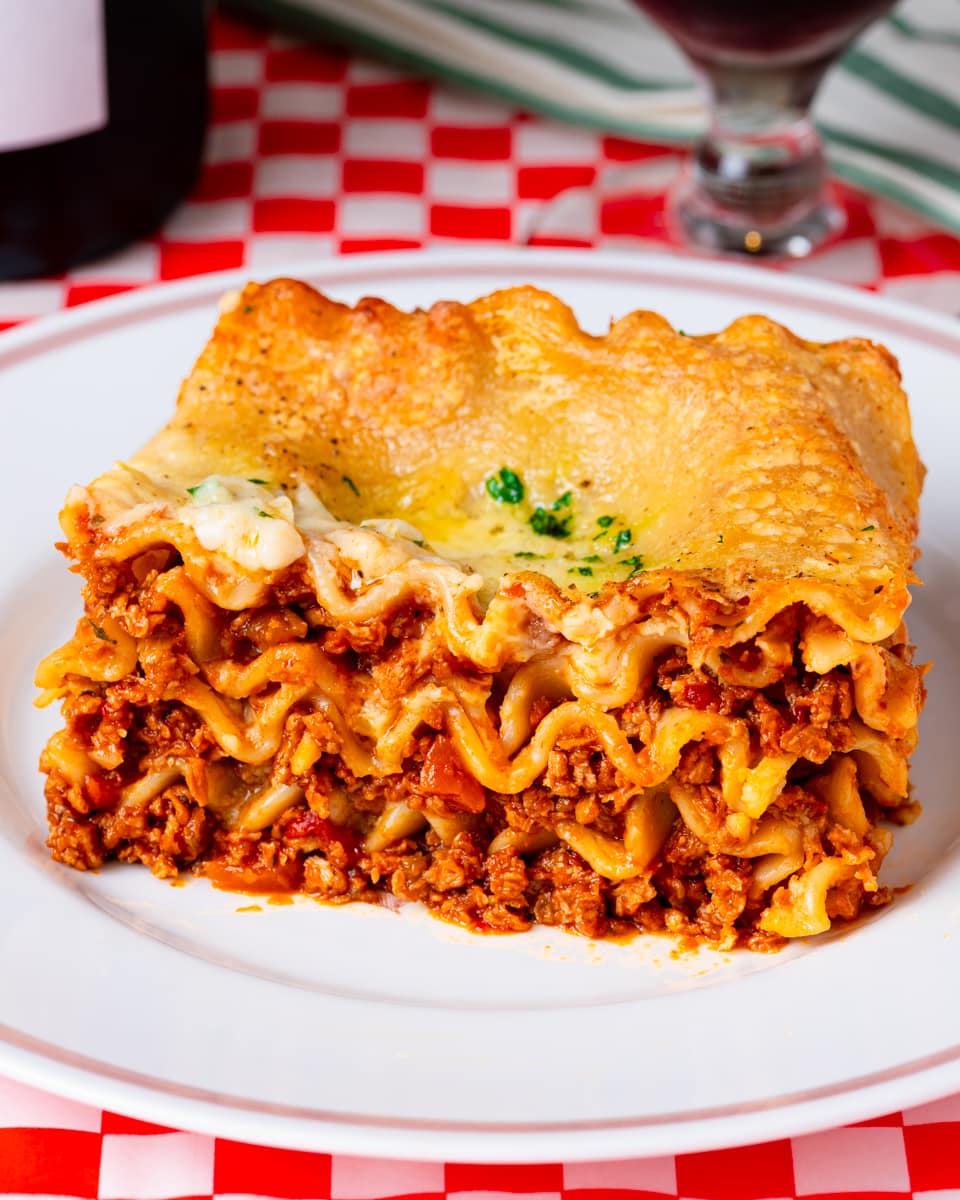 Aaah, the long awaited update to my vegan lasagna recipe! Ok maybe you weren't waiting - perhaps you didn't even know I had a vegan lasagna recipe, but guess what? YOU DO NOW, and it's a blummin brilliant one! Itt's packed with a delicious meaty ragu and layered with the silkiest, tastiest vegan bechamel sauce.
Sure, I'll bet there's a lasagna traditionalist out there who'll feel perturbed about the idea of a vegan lasagna which calls itself "meaty" and "creamy", but that's none of my business. I'm just here to deliver the news that your school-night lasagna recipe is ready for its makeover, whether you like it or not!
Jump to:
What's in a vegan lasagna?
I've had a good old rummage through my kitchen and grabbed all the things we'll need to get this vegan lasagna recipe on the road. The french call it mise en place, I call it "getting my sh*t together".
Obviously see the full recipe at the bottom of the page for quantities.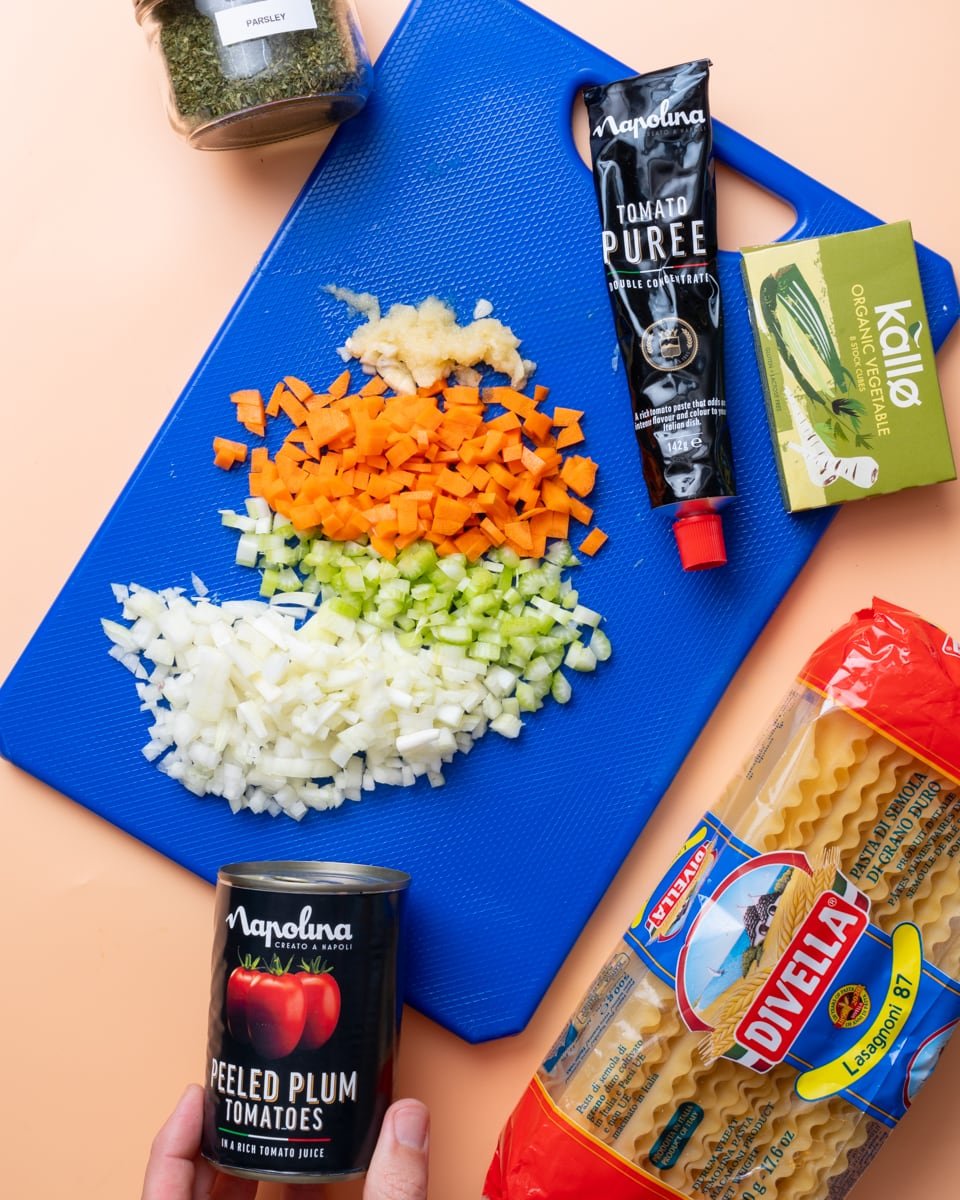 OK, to make this recipe you're gonna need:
Vegan bechamel sauce - This is your creamy filling. Make this first before you do anything else. You'll need it ready to go!
Onion and garlic - The start of your aromatics!
Vegan mince (aka ground) - I like to use the fresh stuff, like this variety from the Meatless Farm, but honestly any kind of vegan mince will do!
Carrot & celery - The second part of your aromatics!
Dried oregano and Parsley
Tomato puree (aka tomato paste), marmite & light soy sauce - The flavour bomb trio!
Dry white wine
Can peeled tomatoes - Always better than chopped tomatoes, but use what you have!
Vegetable stock
Lasagna sheets - make sure you're using a vegan variety without egg.
Before you panic, this is not the recipe: see the recipe card at the bottom of the page for quantities.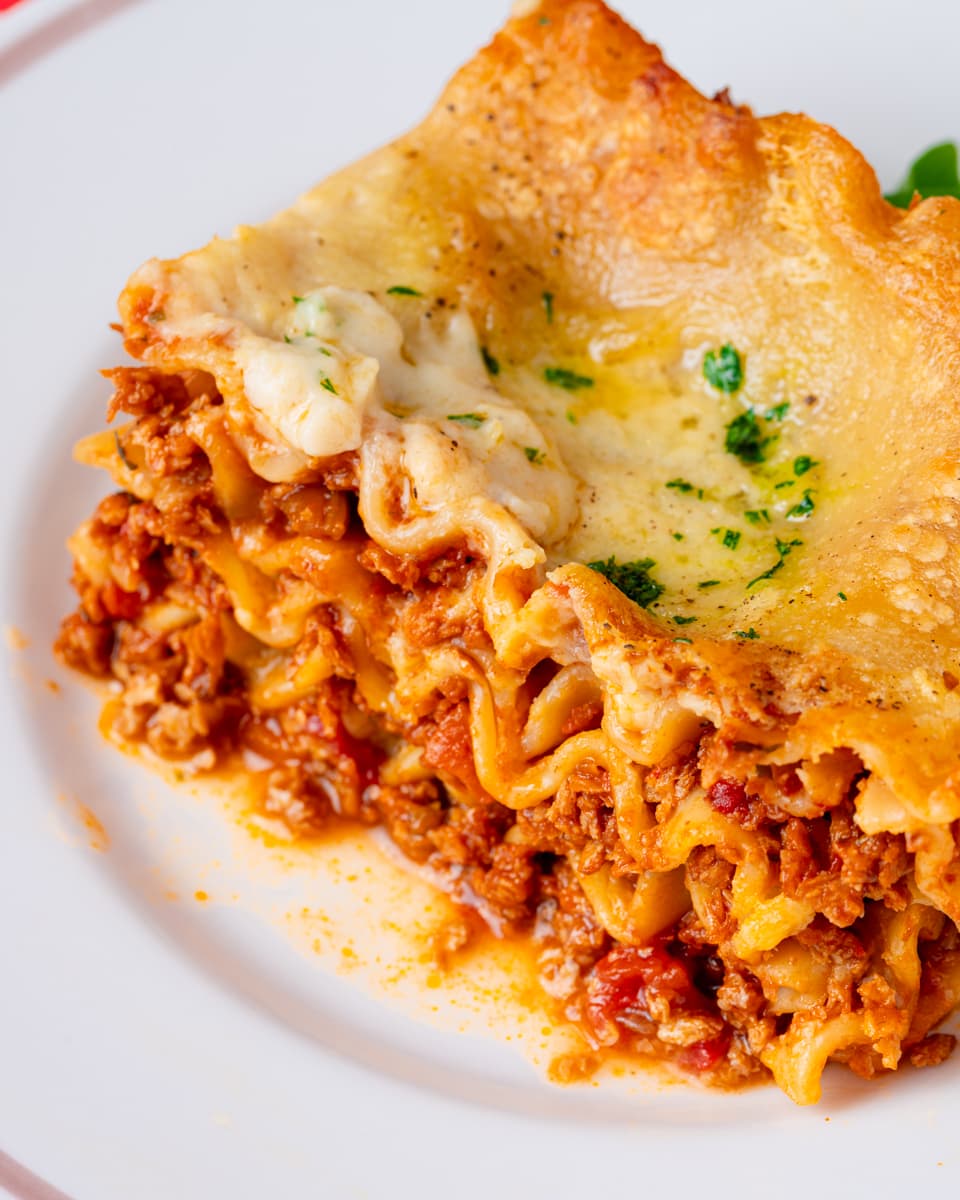 How do I make vegan lasagna?
I promised I wasn't going to bully you for not knowing how to make a lasagna, despite the fact that you're *insert your age here*. No, what I'm going to do instead is describe the process with illustrations so you can learn in a kind, nurturing environment. That's why we're friends!
1. Make the bechamel sauce! The method and ingredients for this part of the recipe are over here, so don't forget to make this before you even THINK about touching those lasagna sheets.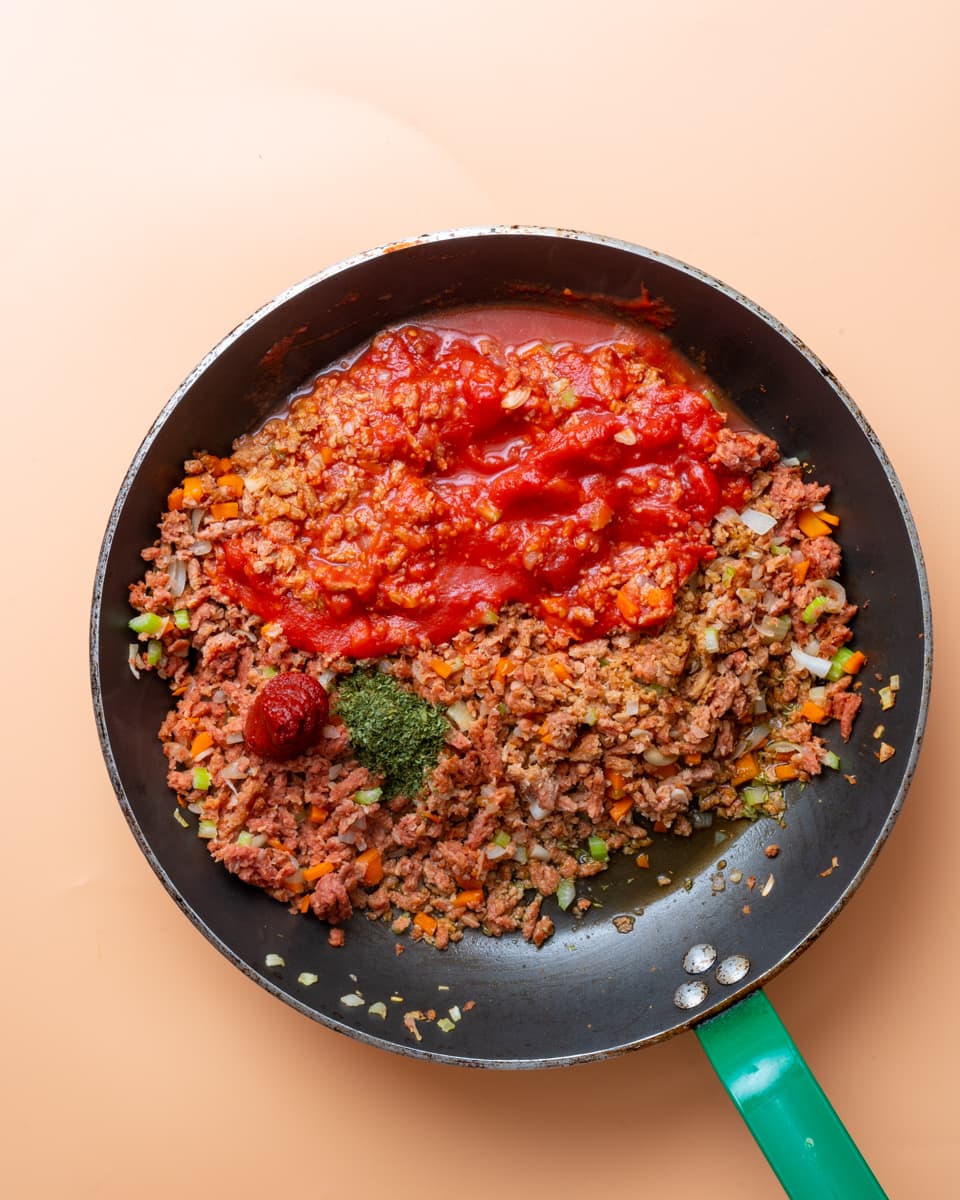 2. Make the meaty ragu! It's really very similar to a vegan bolognese sauce, just a little thicker. Make sure you don't rush this stage though. Nobody likes undercooked tomatoes in a vegan lasagna!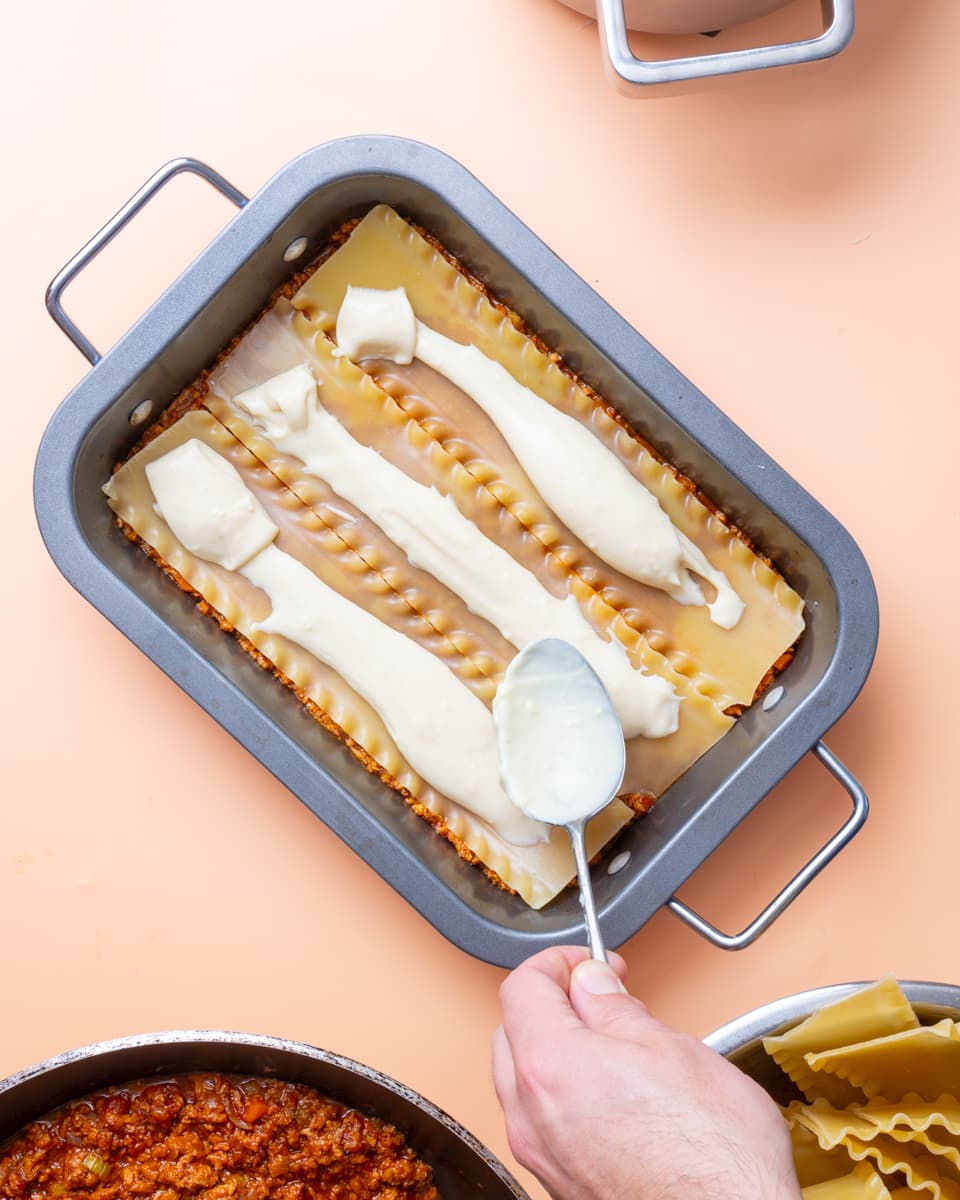 3. Assemble the lasagna! Always start with a layer of the ragu on the bottom of your dish, followed by a layer of pasta. Next goes a layer of bechamel and repeat until you run out! Oh but make sure you finish with bechamel on top - that's the only requirement here!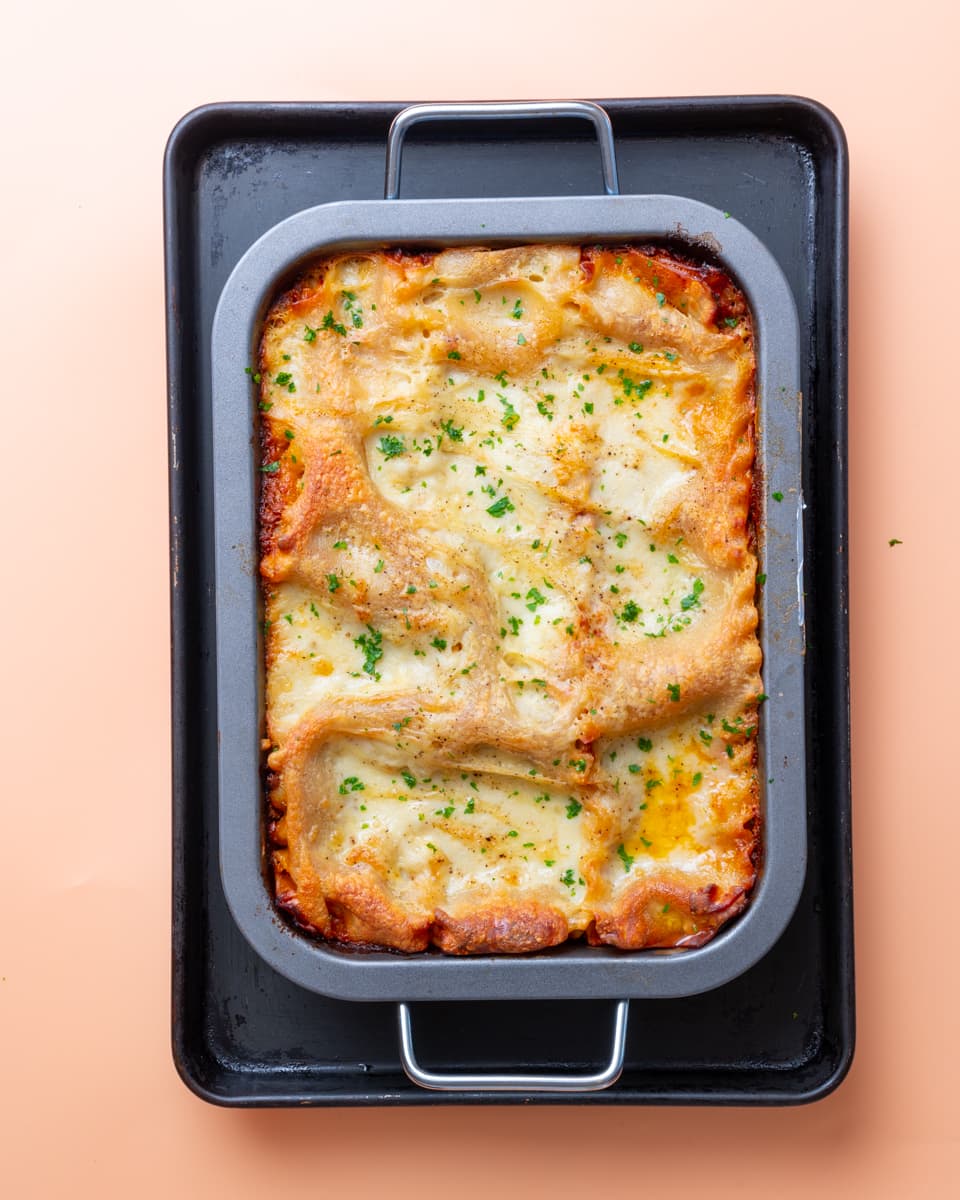 4. Bake the lasagna! I've left vegan cheese topping as an optional ingredient here, because I find that a decent amount of bechamel goes a long way to making this lasagna brown and bubbly. But of course, if you wanna cheese it up, go for it!
Hint: There's nothing worse than slicing into a lasagna only to find it's still uncooked in the middle. Crunchy pasta? No thanks! My tip is to wrap the lasagna in tin foil for the first 30 minutes of the bake, then remove the tin foil for the last 10 mins to allow the surface to brown.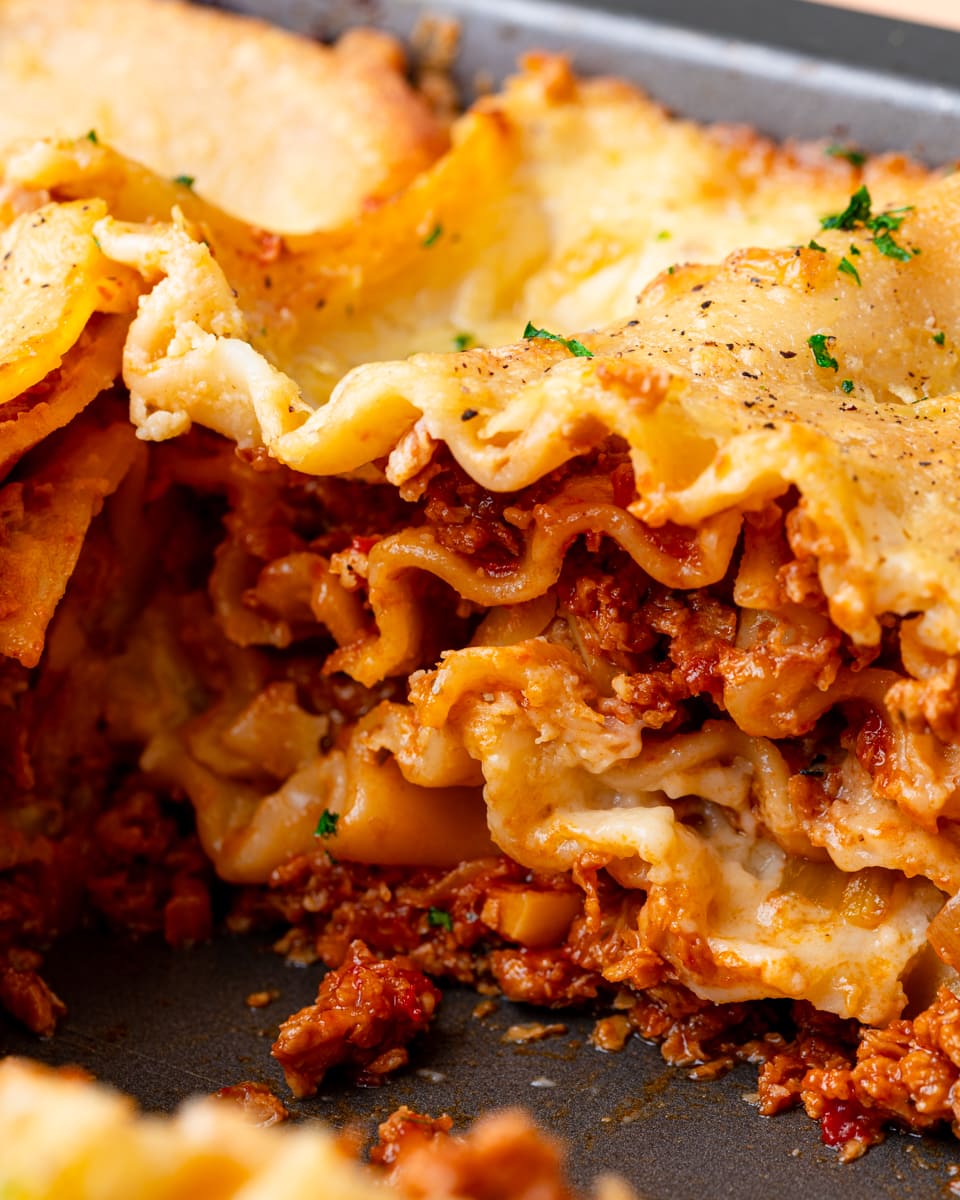 Subs and swaps
Would this be a 2022 vegan lasagna if I didn't provide some swaps for you?? Of courrrrse it wouldn't! Here are some things you might want to switch up to suit your diet.
Pasta - Obviously pasta contains gluten, so if you don't cope well with that stuff, then you'll need to find a sub. I've tried this recipe with brown rice pasta sheets and it worked beautifully, but you can also use super thinly sliced veggies, like aubergine or courgettes. Just be sure to grill them until soft before using as pasta sheets.
Vegan Mince/Ground - If you're following a whole food plant based diet, feel free to swap the mince for a tin of drained lentils. You can even mix in a few finely chopped shiitake mushrooms for extra flavour and bite. Remember you can also use minced up vegan burger instead of ground vegan mince. Beyond burgers work great!
Dry White Wine - If you don't drink, don't worry! This recipe calls for dry white wine but this can be easily subbed for either more veggie stock or simply water.
If you've made this recipe with some swaps, let me know how it worked out in the comments!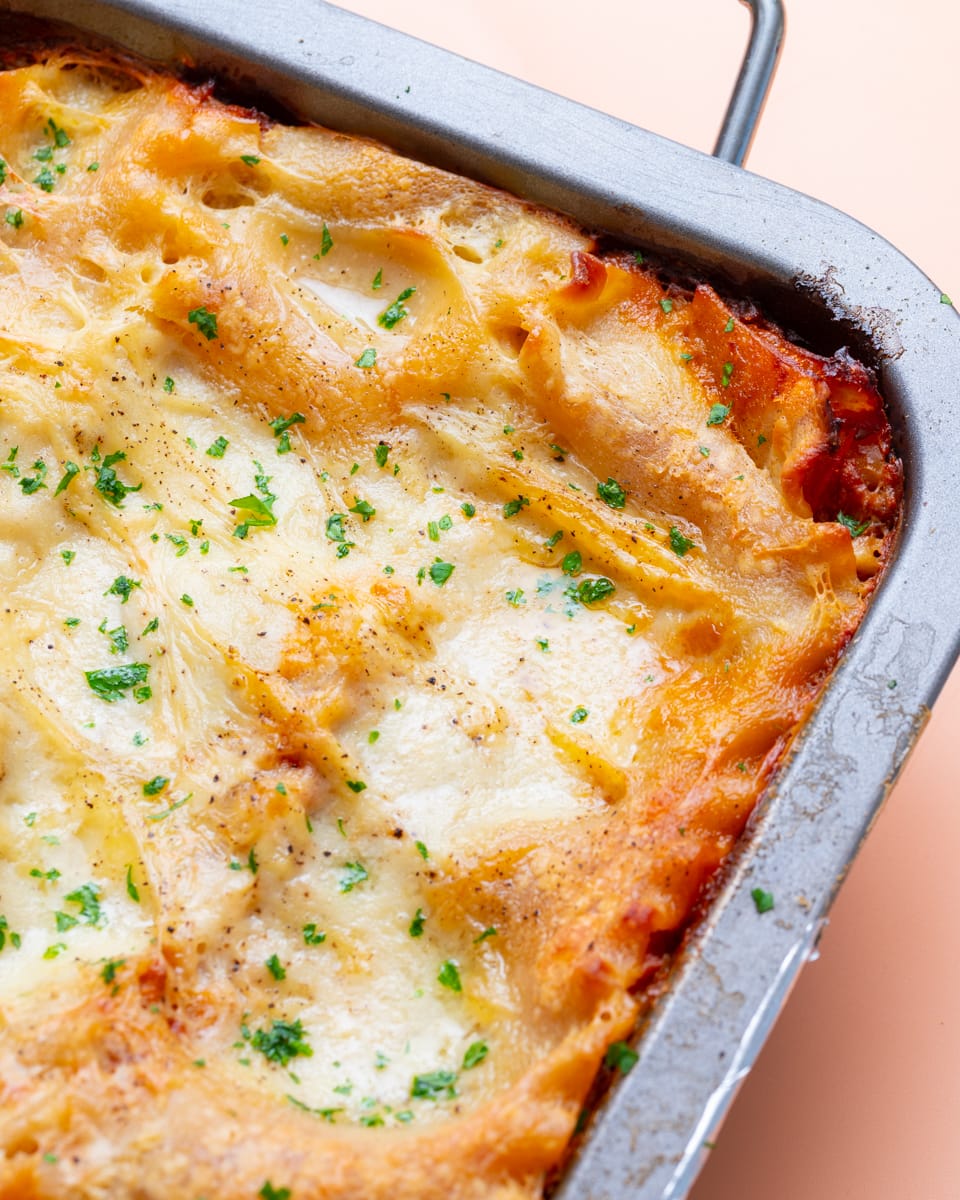 Jazz up your vegan lasagna!
Oh mate! This is the moment you've been waiting for! Time to go EXTRA on that lasagna! Make it your own - live your best laz life! Here are some tips:
Add some spice! - Definitely not a typical Italian tweak, but I love a bit of chilli in my lasagna. Why not do what I do and keep a few birdseye chillies in the freezer. When you want to add some spice, use a microplane grater to shred them right into that meaty ragu!
Popeye power! - Looking for a mean green lasagna instead? Why not shred some spinach into your bechamel sauce while it cooks? When you layer the pasta you'll get some lovely "spinach and ricotta" vibes!
Crisp it up! - Again, I'd go to Italian jail for this, but why not top your lasagna with some crunchy bread crumbs!? Panko work best!
Alternatively, if you're looking for a different mid-week crowdpleaser altogether, why not try my vegan cottage pie! It's a really special little number. OR you can do my vegan tikka masala! Wonderful, if I say so myself!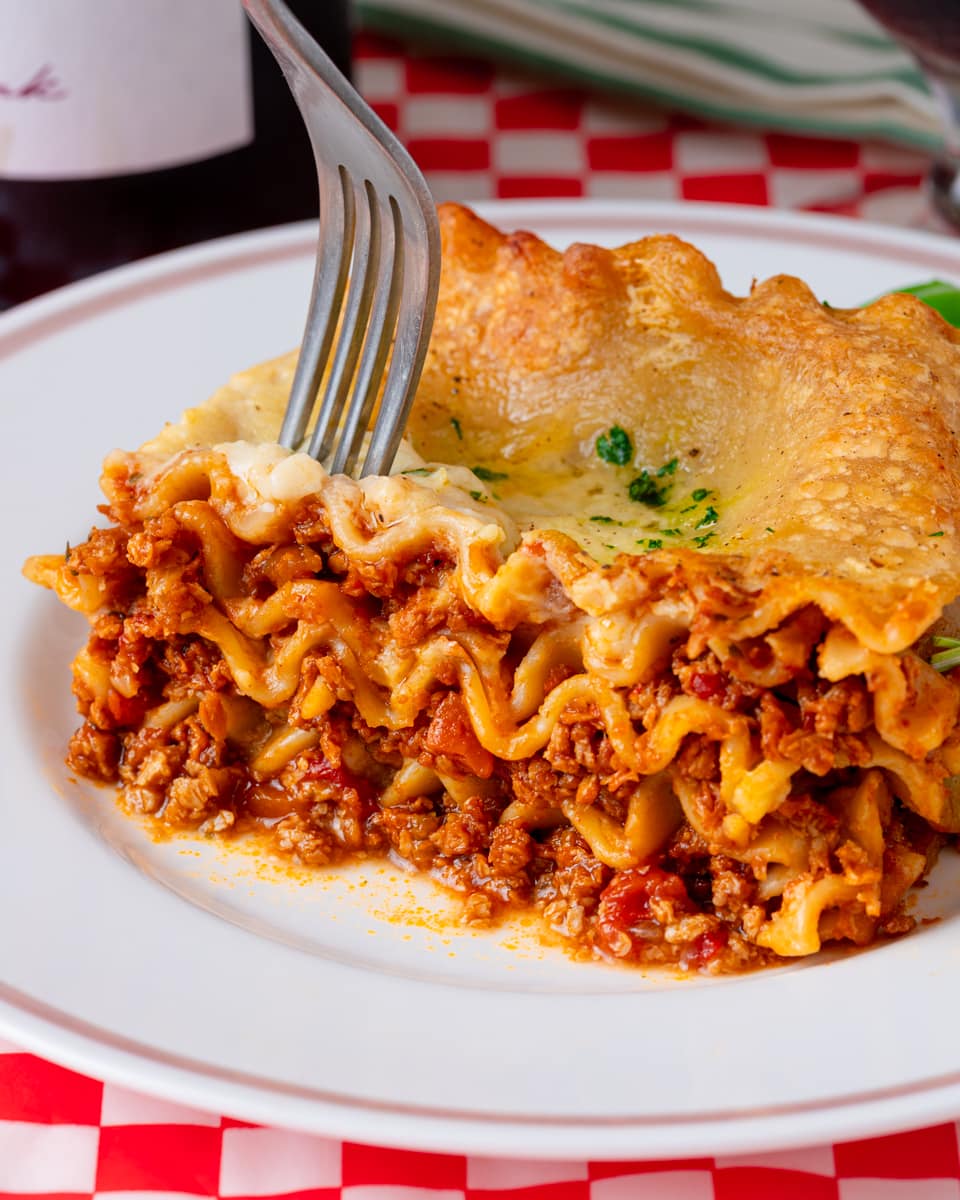 Do I need any specialist equipment?
Nope! Nothing super specialist, just the below bits and bobs:
1 x oven
1 x wide frying pan or low-sided saucepan
1 x spatula
1 x 22x33cm or 9x13 inch casserole or lasagna dish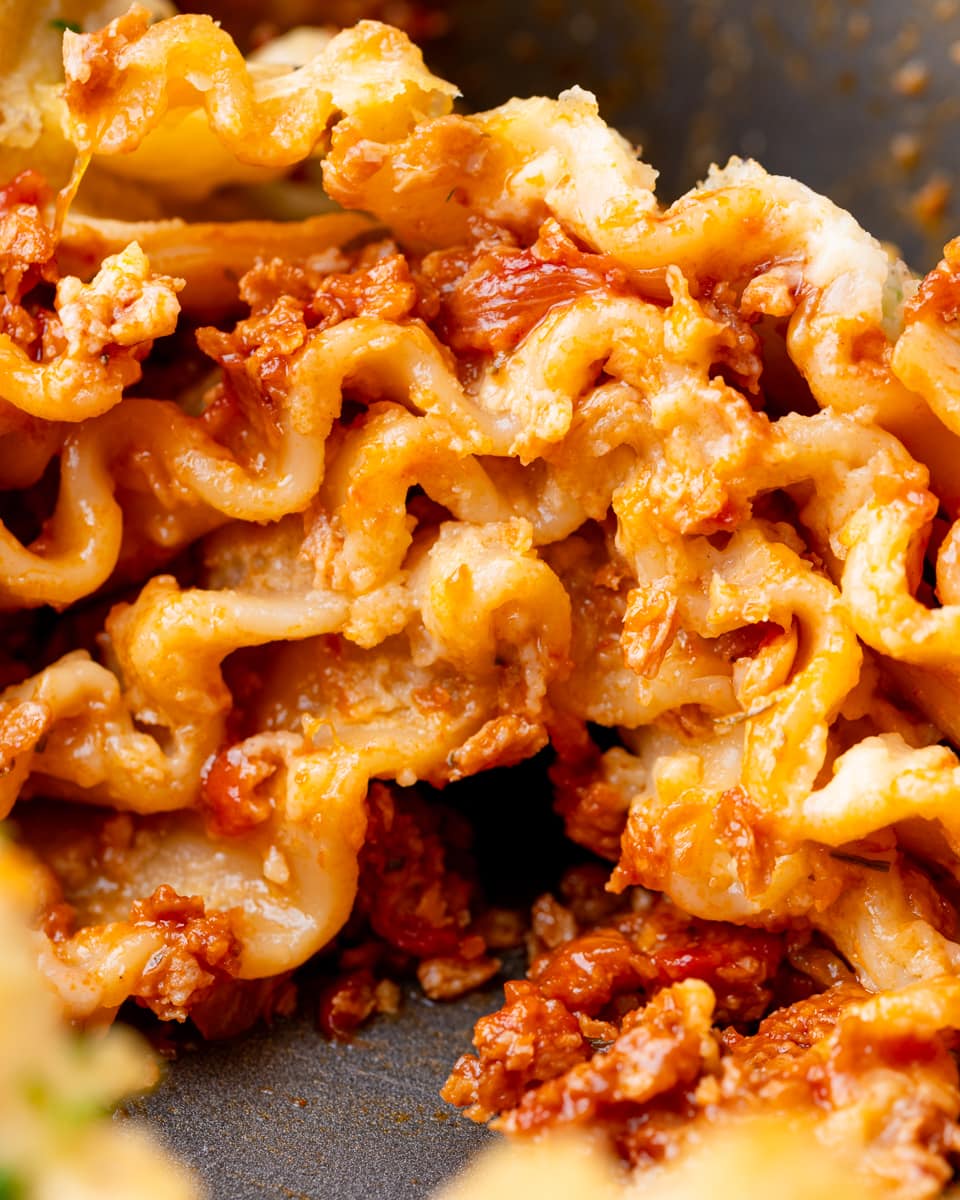 How can I store my vegan lasagna?
Lasagna stores great in the fridge. Just wrap the dish in tin foil and keep for up to 2 days. Day old lasagna is never incredible mind, but my tip for re-heating it is to do each portion individually. I take a portion, zap in the microwave for 2 minutes the stick under the grill/broiler to get piping hot and crispy!
Bonus Tip!
Immediately after baking, vegan lasagna will be SUPER sloppy inside. If you want a portion of lasagna which keeps its shape, I'd recommend letting the dish sit to cool/rest for 10 minutes before serving. If you're happy with a messy plate of lasagna, then serve up pronto! The choice is yours!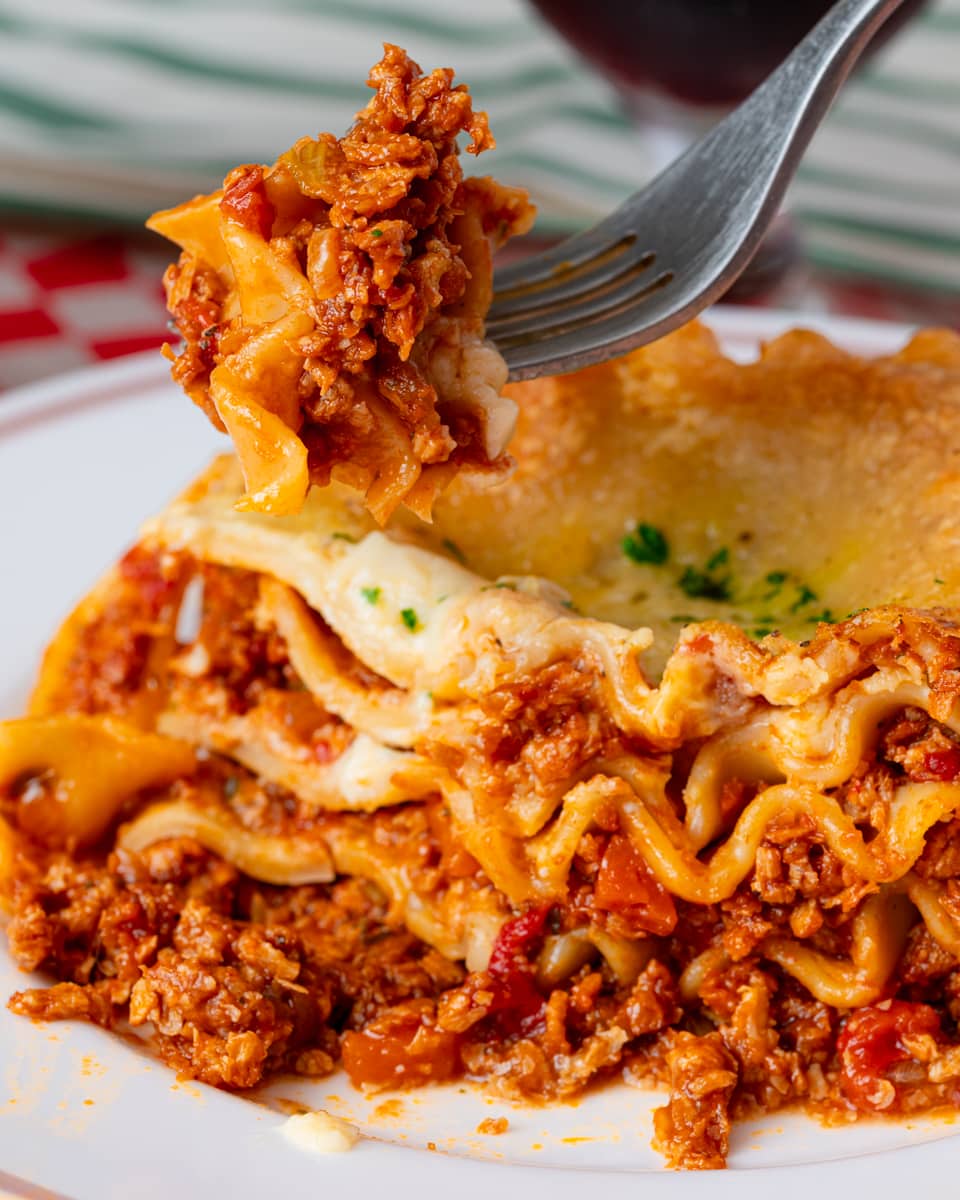 Vegan Lasagna FAQs
Q: What is vegan lasagna made from?
A: For the meaty ragu, vegan lasagnas can be made with a vegan meat alternative or simply with finely minced mushrooms and lentils. Crumbled tempeh works great too! For the creamy white sauce, the milk and butter can be replaced for non-dairy alternatives. Try soy milk and vegan butter instead.
Q: Can I freeze vegan lasagna?
A: Yes, absolutely! It's best to wrap the lasagna in tin foil before baking then placing in the freezer. This way you can simply pop it in the oven to bake when you're ready. I'd advise baking a frozen lasagna at 170c for 45 minutes before removing the tin foil and baking for a further 10 minutes.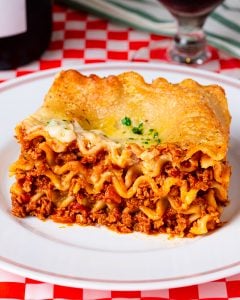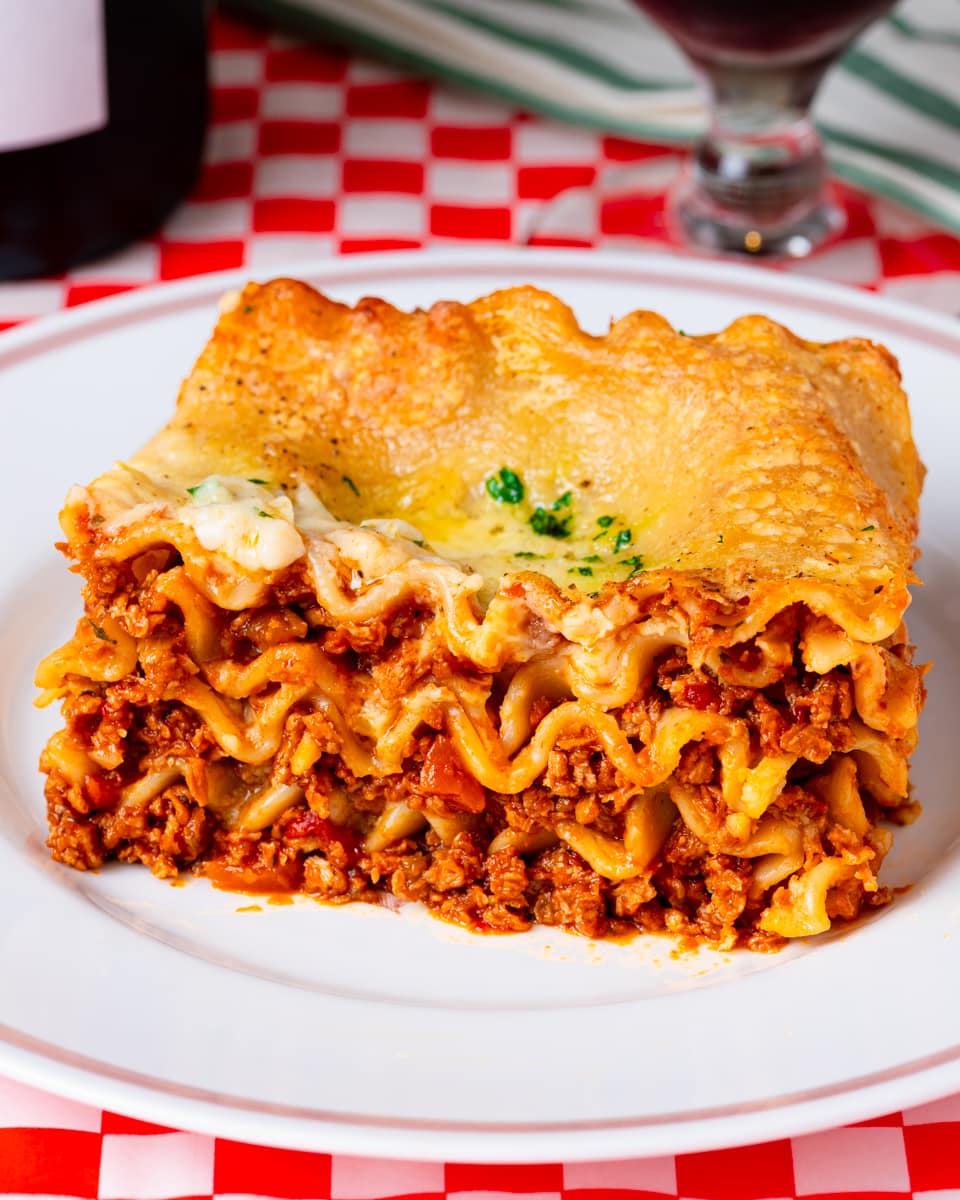 Vegan Lasagna
A classic vegan lasagna, packed with a rich meaty ragu and a silky aromatic bechamel sauce. A perfect crowd pleaser!
Equipment
1 x oven

1 x wide frying pan or low-sided saucepan

1 x spatula

1 x 22x33cm or 9x13 inch casserole or lasagna dish
Ingredients
1

batch

vegan bechamel sauce

1

tablespoon

olive oil

1

onion

(peeled and finely chopped)

4

cloves

garlic

(finely minced)

400

g

vegan mince (like Beyond Meat)

½

carrot

(peeled and finely diced)

1

celery stalk

(finely diced)

½

teaspoon

dried oregano

½

teaspoon

dried parsley

1

tablespoon

tomato puree

(aka tomato paste)

1

teaspoon

marmite

(optional)

1

teaspoon

light soy sauce

100

ml

dry white wine

400

g

can peeled tomatoes

200

ml

vegetable stock

sea salt and black pepper

12

lasagna sheets

(make sure they're vegan)

120

g

vegan cheese

(optional)

fresh parsley or basil

(finely chopped for serving)
Instructions
Preheat the oven to

180

°C

Place a wide frying pan or low-sided saucepan over medium heat and add the olive oil. Once hot, add the onion and fry for 2 minutes or until softened. Add the garlic and fry for a further minute.

1 tablespoon olive oil,

1 onion,

4 cloves garlic

Add the vegan mince and break up with a spatula. Fry off for a few more minutes or until the vegan mince is starting to brown. Add the carrot and celery along with a splash of water to deglaze the pan and cook for a further 2 minutes or until the carrots and celery are softening.

400 g vegan mince (like Beyond Meat),

½ carrot,

1 celery stalk

Add the dried herbs, tomato puree, marmite, light soy sauce, dry white wine, can of peeled tomatoes and vegetable stock. Use the spatula to break up the tomatoes then leave the sauce to come to a simmer.

½ teaspoon dried oregano,

½ teaspoon dried parsley,

1 tablespoon tomato puree,

1 teaspoon marmite,

1 teaspoon light soy sauce,

100 ml dry white wine,

400 g can peeled tomatoes,

200 ml vegetable stock

Once simmering, lower the heat and allow the sauce to cook for around 15-20 minutes, stirring occasionally to ensure the vegan mince doesn't burn. Test the sauce and season with sea salt and black pepper to taste.

sea salt and black pepper

If the lasagna sheets you're using require pre-cooking, do this now in a large saucepan of salted boiling water. Do not cook the pasta for the full amount of time stated on the packaging, only cook for half of the time stated.

In a 22x33cm or 9x13 inch casserole or lasagna dish, ladle a thin layer of the vegan ragu. Spread across the base then arrange a layer of the pasta sheets. Top with a layer of bechamel followed by another layer of pasta sheets. Repeat until the ragu has all been used up then top with a final layer of pasta followed by a final layer of bechamel.

1 batch vegan bechamel sauce

Wrap the lasagna in tin foil/aluminium foil and place in the oven to bake for 30 minutes. Remove from the oven and remove the foil then top with the vegan cheese (if using) and return the lasagna to the oven to bake for a further 15 minutes.

Remove from the oven and allow to rest for 15 minutes before sprinkling with the fresh parsley or basil and serving.
Nutrition
Calories:
350
kcal
Carbohydrates:
45
g
Protein:
18
g
Fat:
10
g
Saturated Fat:
2
g
Polyunsaturated Fat:
2
g
Monounsaturated Fat:
2
g
Trans Fat:
0.03
g
Cholesterol:
16
mg
Sodium:
809
mg
Potassium:
440
mg
Fiber:
6
g
Sugar:
5
g
Vitamin A:
1018
IU
Vitamin C:
9
mg
Calcium:
50
mg
Iron:
5
mg
Love this recipe?
Let me know on Instagram!