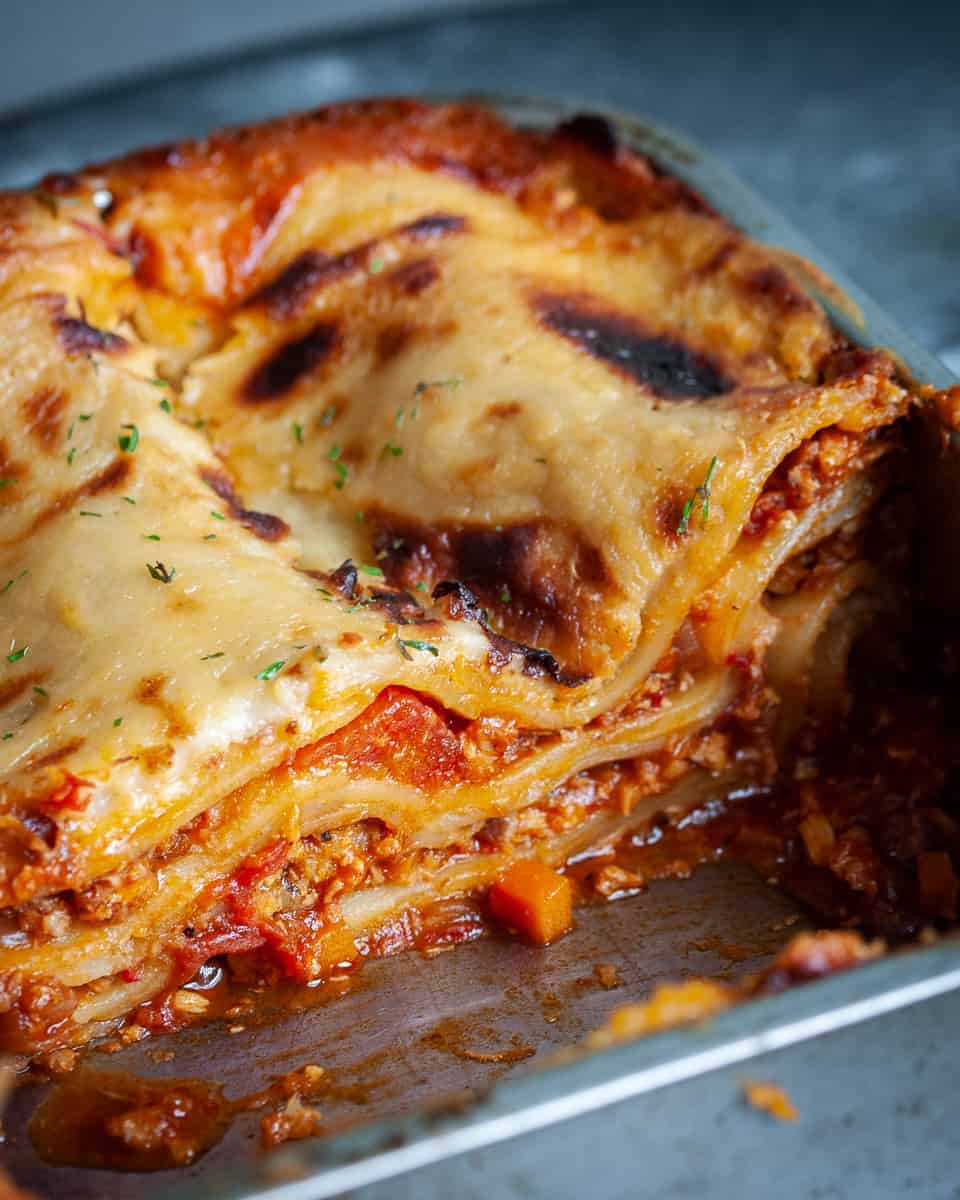 Vegan lasagna made from beyond burgers in a sweet tomato sauce with a rich creamy béchamel. Perfect for a lasagna emergency!
---
I know what you're thinking, and you're right, what could be classier than a VEGAN LASAGNA MADE WITH BEYOND BURGERS??

Just kidding – this vegan lasagna is strictly without class, culture or grace.
But let's be real here, who actually eats lasagna because they think its classy, cultured or graceful?? People eat lasagna because probably the densest form of pasta and they're in a carb emergency. 
That's why I'm now naming this vegan burger lasagna "THE EMERGENCY LASAGNA".
The origins of EMERGENCY LASAGNA
Let me set the scene of how this lasagna came into being. 
I wake up, it's Sunday. I'm stoked to do nothing, so for the first few hours of the day I do exactly that. Until, like a slap from a wet piece of tofu, I remember – WE HAVE FRIENDS COMING FOR LUNCH.

I sprint down the stairs to the kitchen, searching for something, ANYTHING, I can piece together that might resemble a meal.
Luckily I have all the ingredients for lasagna except THE MOST IMPORTANT BIT: the vegan mince! I move to the pantry to search for some TVP mince or some lentils which might work – but nothing.

Finally I turn to the bottom drawer of the freezer, and there, glowing faintly under the fluorescent light, are three beyond burgers! EUREKA!
I defrost them, tear them into small pieces of mince with two forks and go on to make THE BEST VEGAN LASAGNA OF MY CAREER. This, ladies and gentlemints, is that lasagna *bows down*. 
What's it like!?
First and foremost, this recipe is not sponsored by Beyond meat, however, if a representative from said meat analog manufacturer wishes to reach out to me, you can email me at BEYONDBURGERPIG@FEEDMEBEYONDBURGERS.ORG.
Now that's over with, let me describe this vegan burger lasagna. As you may already know, beyond burgers are the Roxxxy Andrews of the vegan burger world (that means thick and juicy).
I THINK this is why this vegan burger lasagna is so good. There's so much moisture and zingy sweet tomato flavour, mingling with that creamy vegan béchamel sauce. 
I've also used a version of my vegan mozzarella on the top to make sure it turns beautifully golden brown!
Swaps and Subs!
Obviously if you have vegan mince and you want to use it, feel free to replace the burgers. But I implore you, at least once in your life, to try making this vegan lasagna with beyond burgers. It really is a magical experience.


Much like my vegan cannelloni recipe, you can also very easily replace the mince for canned green lentils. It'll make the whole dish a lot less fatty but the flavour should still hit the spot!
I always put a tiny bit of smoked paprika in my lasagna. Controversial, I know, but for me it makes all the difference and takes things to the next level. Feel free to replace it for regular sweet paprika or just leave it out entirely. 


For the cheesy topping you really do need tapioca starch. Nothing else makes the béchamel react in quite the same way, however if you have a good vegan cheese at home, feel free to skip this step, top your lasagna with béchamel and then some vegan cheese and bake as instructed. 
Need more Italian dishes?
Why not try some of my other Italian inspired recipes!?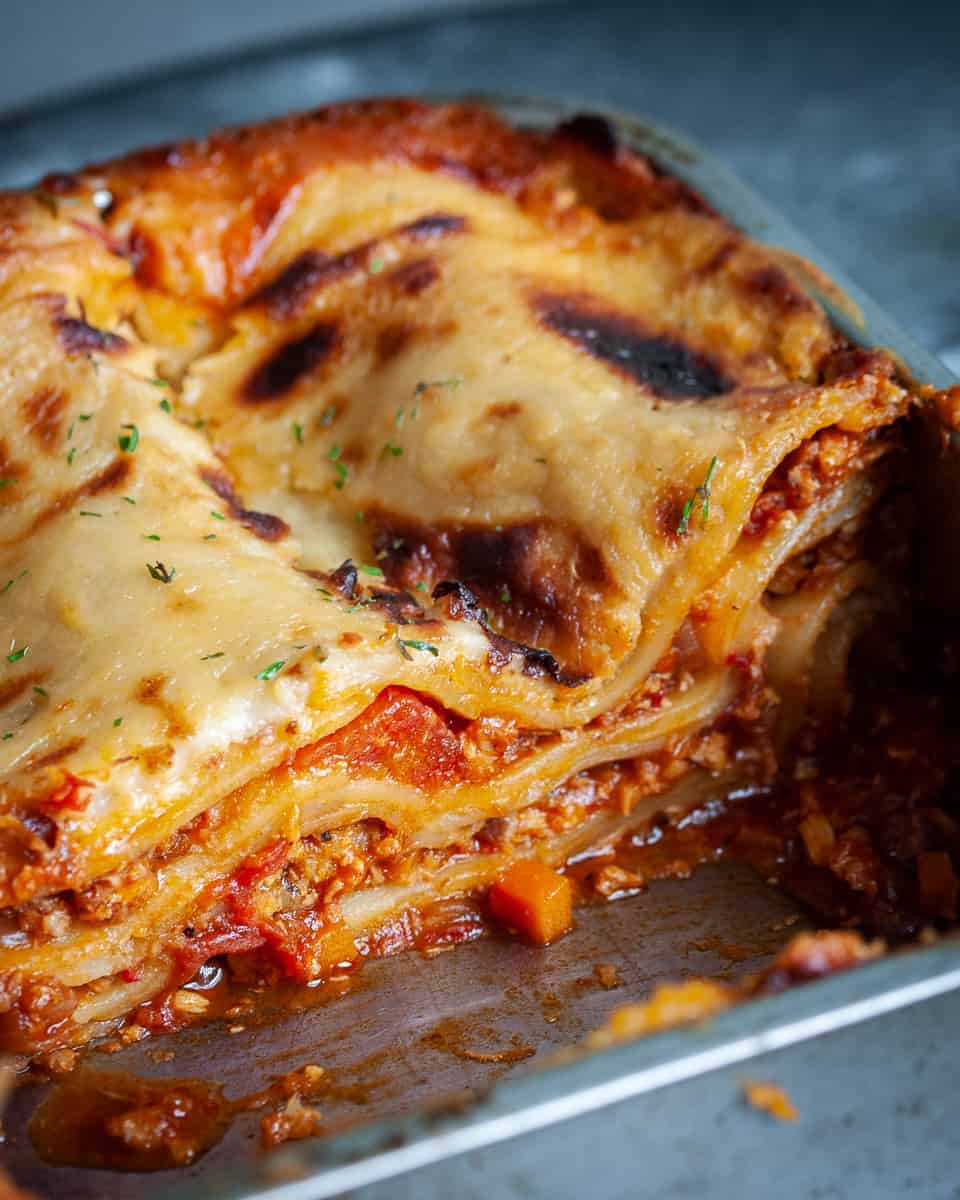 Vegan Lasagna
The perfect vegan lasagna – better than the original! Super cheesy with a sweet, tangy, meaty sauce!
Ingredients
For the "Meat" Sauce
1

red onion

((peeled and finely diced))

1

carrot

((finely diced))

3

cloves

garlic

((finely diced or crushed))

¼

tsp

smoked paprika

350

g

vegan burgers

((this equals about three beyond burgers, but feel free to use any good vegan burger!))

2

cans

peeled plum tomatoes

2

tsp

dried oregano

2

tbsp

vegan bouillon powder

½

tsp

sugar

200

ml

boiling water
For the Béchamel Sauce
70

g

vegan butter

60

g

plain white flour

600

ml

plant milk

1/2

tsp

garlic powder

1/2

tsp

onion powder

2

tbsp

apple cider vinegar
For the Assembly and Grilled Cheese Topping
1

tbsp

tapioca starch

2

tbsp

water

12

lasagna sheets
Instructions
To Make the "Meat Sauce"
If you're using frozen burgers, defrost them fully and either break them apart with your hands or pull them apart with a fork. You want this to look like mince.

In a large saucepan over medium heat, pour a drizzle of olive oil and bring to temperature. Once hot, add the onion, carrot and garlic. Sautee for three minutes until the onion is turning translucent. Add the paprika and stir to combine then fry for another minute or two.

Add the vegan mince and stir to combine. Fry for two minutes or until the mince is starting to brown (you may need to add a dash more oil at this stage). Once the mince is cooked, add the remaining "meat" sauce ingredients and stir to combine. Allow to simmer, stirring frequently until the sauce has thickened nicely and the tomatoes are cooked and broken down (around 10 mins). While the sauce is cooking, make the béchamel.
To Make the Béchamel
Place the vegan butter in a medium saucepan over medium/low heat. Allow the vegan butter to melt fully until it starts to bubble. Add the flour and stir to combine. Keep stirring to allow the flour to cook for around 30 seconds before adding a small drizzle of the milk and whisking vigarously until smooth. Add the rest of the milk in additions, whisking between each one to ensure the béchamel stays smooth.

Once all the milk is added, add the remaining béchamel ingredients and whisk to combine. Whisking frequently, bring the béchamel to a gentle simmer so that bubbles are rising to the surface – keep whisking until the sauce is thick (around 10 minutes).
To Assemble
Preheat the oven to 180c.

Reserve a quarter of the béchamel and set aside. In a lasagna tin wide enough to accommodate three pasta sheets width-ways, place a layer of the meat sauce. Top with three sheets of lasagna pasta, followed by a layer of béchamel and then three more sheets of pasta. Repeat the process until you have four pasta layers and a topping of béchamel sauce. Place in the oven for 20 minutes.

While the lasagna cooks, whisk together the tapioca starch and the water until smooth. Add the tapioca slurry to the rest of the béchamel and whisk to combine. Set aside.

Once the lasagna has been in the oven for 20 minutes, remove it, add the remaining béchamel and return to the oven for a further 7 minutes. Once 7 minutes are up, open the oven door and move the lasagna to the top shelf. Turn on the grill/broiler and grill until browned.
Love this recipe?
Let me know on Instagram!