Publised on 04/12/2019 by Richard. Last Updated on 13/11/2022 by Richard.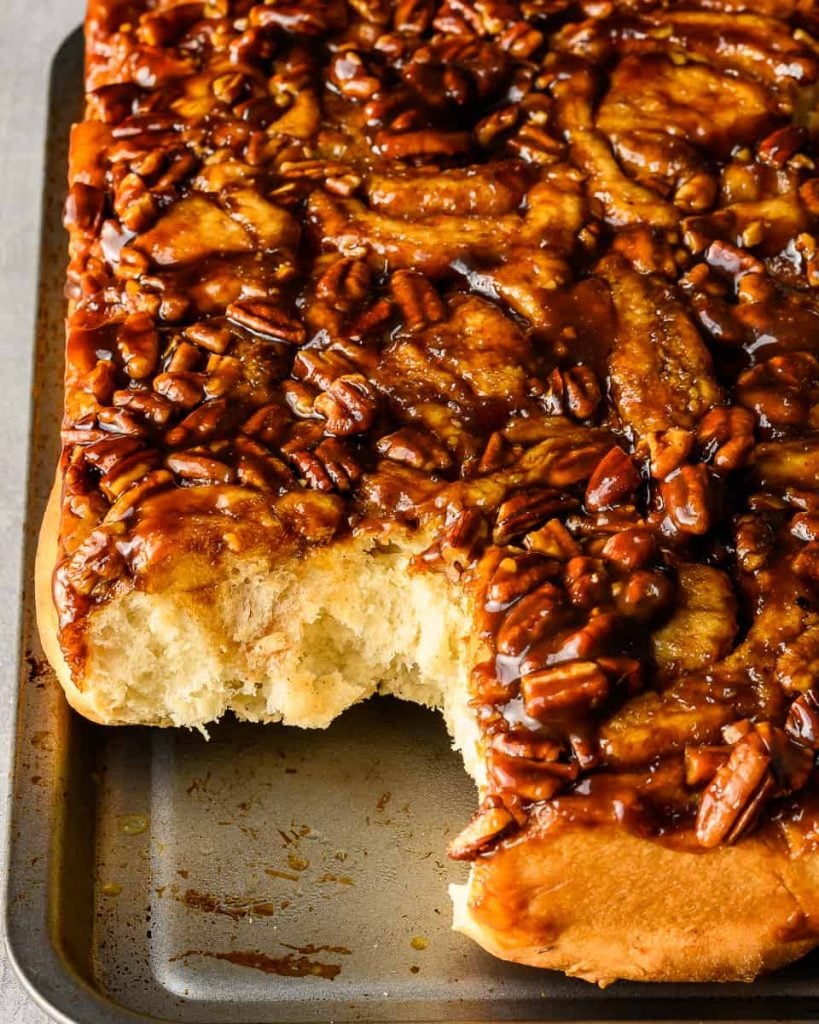 Deliciously soft, sticky vegan apple butter rolls. Packed with cinnamon and nutmeg and topped with a gooey pecan caramel.
---
Winter is officially here, which means you've probably already been craving something PRETTTY similar to these sticky vegan apple butter rolls. But trust me, you've never tried anything quite like these fellas.
It's a yeasted recipe, sure, but don't be put off. What it requires in patience, this recipe gives back as FLAVOUR! Just follow the instructions and then grab a blankie and curl up on top of the tray of warm rolls for a nap. Too sticky? Alright, just eat them instead.
What even are sticky vegan apple butter rolls??
These guys are essentially a hybrid of my two favourite winter treats. Cinnamon rolls x Apple butter! If you're in the US, you're probably already convinced, but Europe may not be quite as familiar with the concept of apple butter.
Apple butter is essentially what you get when you cook down fresh, bright, zingy apples with brown sugar and a load of spices over a long period of time. It's pureed until smooth and then cooked down EVEN FURTHER until it's spreadable.
It's perfect on toast, crumpets, scones - you name it. Which explains why it's so DANG spectacular in these here rolls!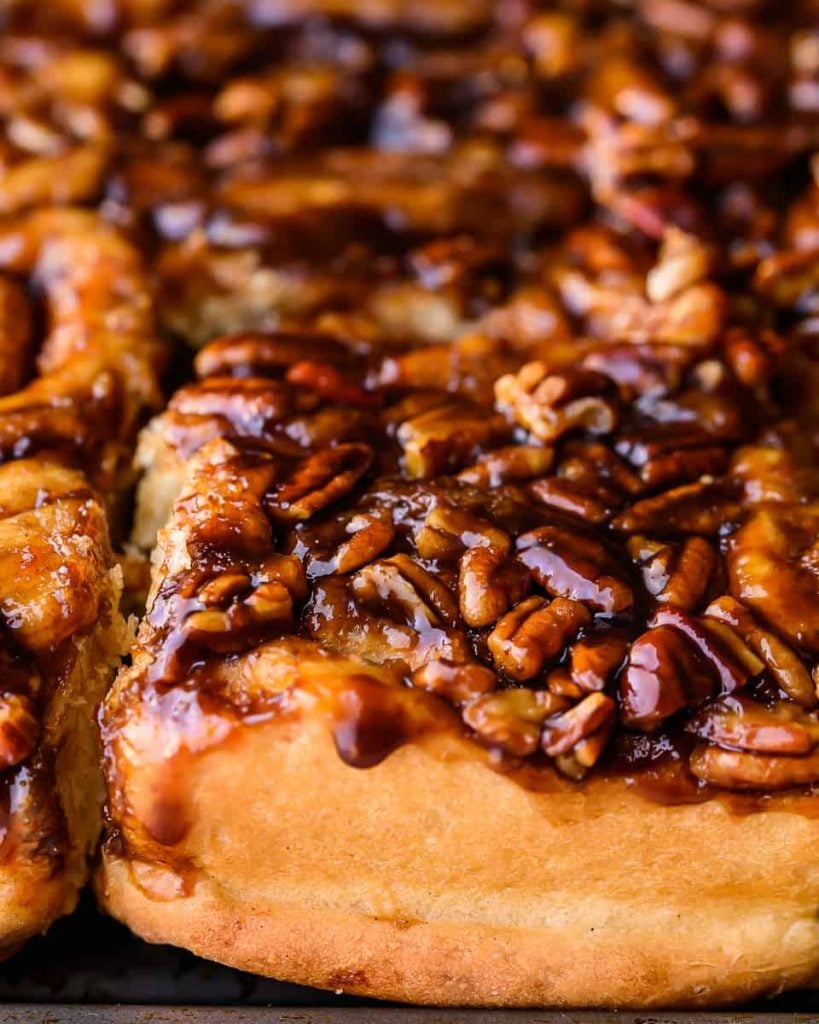 How do I make vegan apple butter??
Well, I'm glad you asked! As always, the full recipe is below in the pink box, but I'm gonna walk you through the process before you jump straight in.
1. Cook down the apples
The first step is to combine your peeled, cored, sliced apples in a saucepan with your sugar and spices and some good apple cider. You want to make sure the apples are good and soft before you puree them, so this may take a fair while - around an hour.
Just stick the lid on and let them simmer away, stirring occasionally.
2. Blend em up!
To get a nice smooth apple butter, use a stick blender to blend everything up once it's cooked. Return the smooth puree back to the same pan and cook it down even further, until you have a good, smooth, thick consistency.
3. Add the butter and lemon juice.
The vegan butter gives the puree a little richness and helps it to set up into a nice smooth, spreadable apple butter. The lemon juice returns some acidity to the mix, which has mostly been lost in the cooking process.
And that's it! The process is super simple. You can then jar up your apple butter like a jam or chutney or you can just pop it in a tub, ready to use. It's best to make sure it's well chilled before using in this recipe, so cool it down fully before refrigerating.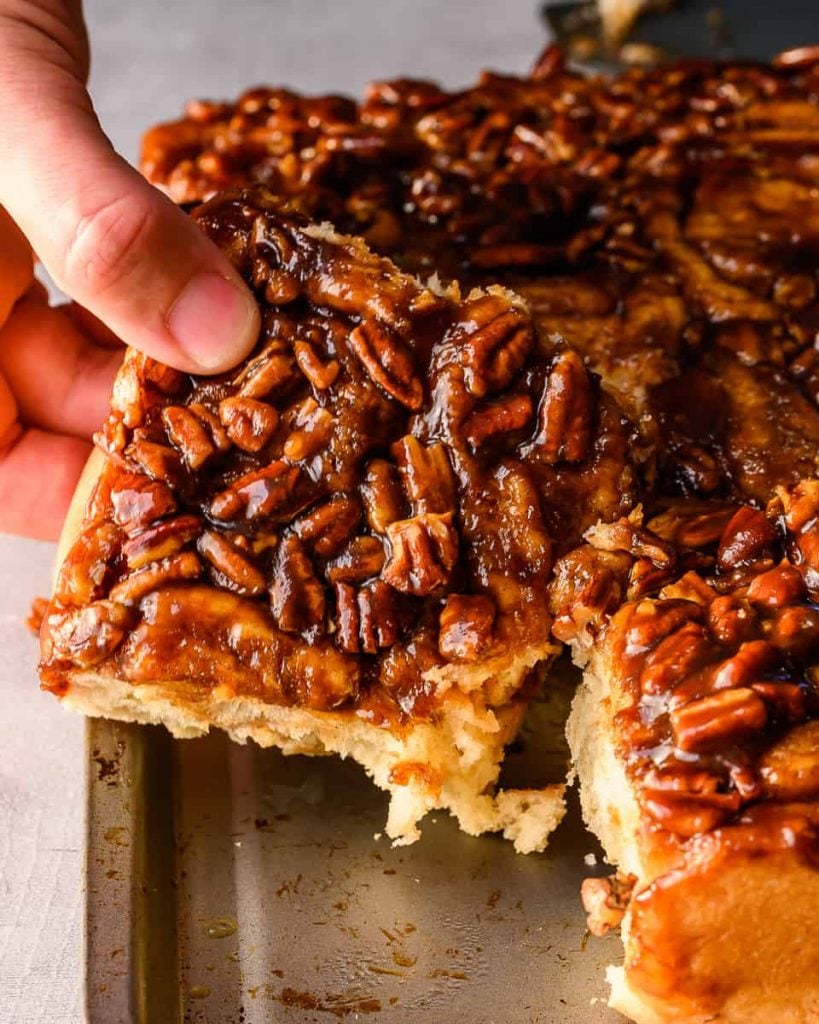 Do I need any specialist equipment?
Only one thing on this occasion!
Stick Blender
Some people call it a stick blender, some people call it a hand blender. The important thing is that it's not an ENCLOSED blender. Never use a nutribullet or smoothie maker to blend HOT things, because explosions can happen and that ain't pretty!
You can grab my fave stick blender here!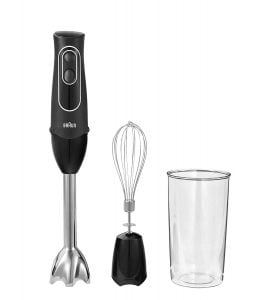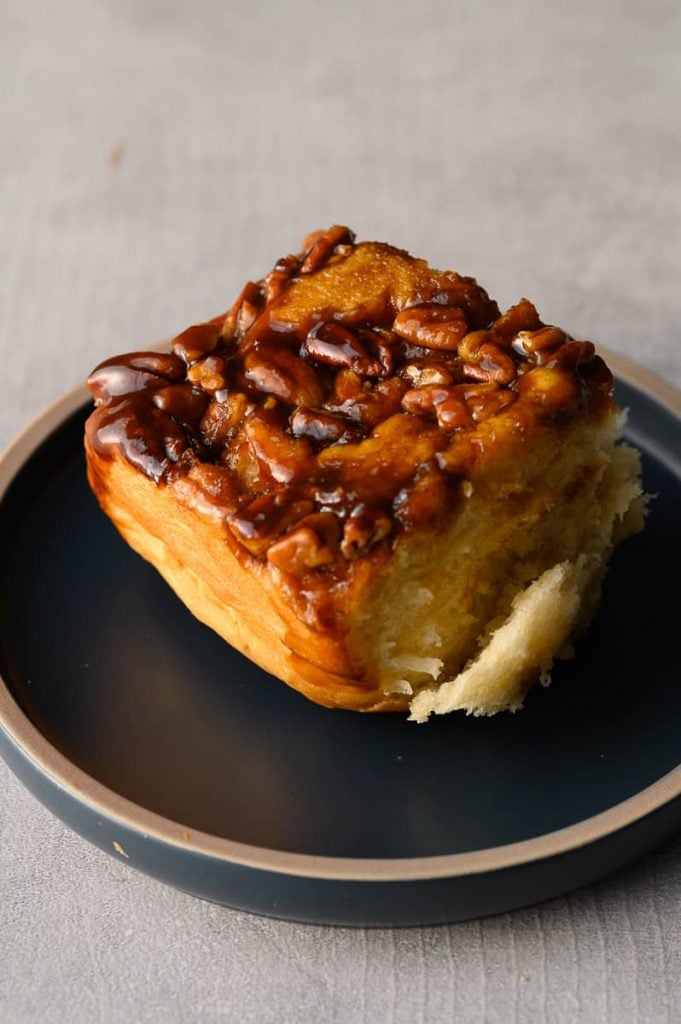 How do I make the sticky vegan apple butter rolls?
Now that you've made your vegan apple butter - please try not to spoon the entire jar directly into your mouth! Let it cool and start making your sticky vegan apple butter rolls.
1. Make the pecan caramel.
This caramel lines the bottom of your baking tray so that when you turn over the rolls after baking them, they're all beautifully topped with golden brown, gooey caramel!
The process is super simple, just combine the vegan butter and sugar in a saucepan and cook until everything is dissolved and smooth. Add the pecans and then pour into a greased baking tray. Set aside and make your dough!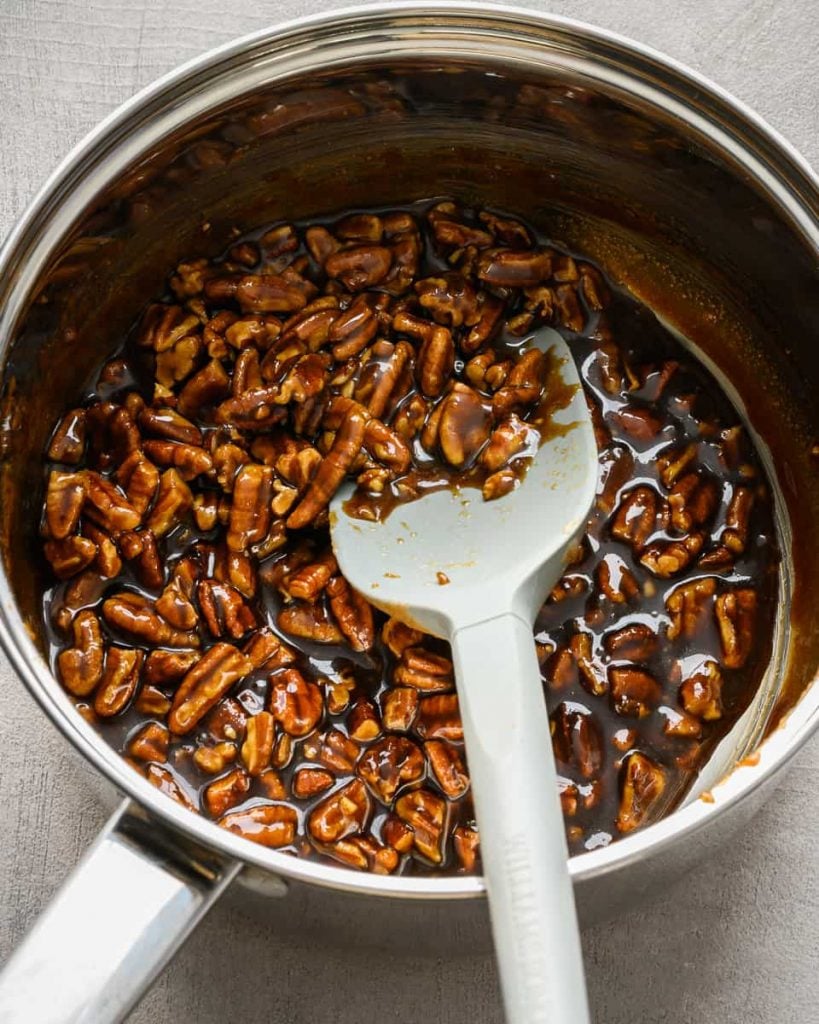 2. Make the dough.
Again, this process is super simple. Melt your vegan butter and combine it with the vegan milk and sugar. Check that it has a little warmth to it - not hot, just around body temperature, then sprinkle over your yeast.
Leave this bowl alone to allow the yeast to wake up for a few mins. While you wait, mix together your dry ingredients in a separate bowl. Once the milk mixture is foamy and frothy, add it to the flour mixture and mix well. Once you have a sticky mess, stop mixing.
3. Prove the dough.
Cover the dough with a damp tea towel and place somewhere out of direct sunlight. Prove the dough at room temperature for an hour. After an hour the dough should have puffed right up.
4. Knock back and shape.
Once proved, you'll need to knock most of the air out of the dough. To do this, just lightly flour a work surface and tip the dough out. Use your fingertips to push out most of the air bubbles and roughly pat the dough into an oblong.
Dust the top of the dough with flour and roll it out into a rectangle, around 60x30cm. It should be only around a cm thick at this stage.
5. Fill and roll!
Cover your rectangle of dough with around half of the apple butter, which should be nice and spreadable by now. Make sure you push the butter all the way to the edges of the rectangle of dough. Sprinkle withe the dark brown sugar.
Starting with the long side furthest from you, start rolling up the dough into a big long snake. Don't squeeze it too tightly or the apple butter might ooze out. Just keep it delicate.
6. Slice and bake.
Next you'll need to slice your dough snake into 16. It's best to slice in half and then to cut each half into 8. I like to use a piece of thread instead of a knife. Just work the thread gently under your dough and then bring the two ends over the top of the roll and past eachother before pulling tightly. The thread should slice through very neatly.
Once the dough is sliced, place the rolls onto the pecan caramel in the prepared baking tray. Place in a 180c oven for 25-35 minutes.
7. Flip, cool and serve!
Once baked, you'll have to work rather quickly to flip the rolls over. If you don't work fast, the caramel will set and they'll stick to the inside of the tin. Get a large plate or baking tray and place it on top of the rolls. Flip everything upside down and carefully remove the hot baking tray, leaving the rolls behind. They should be beautifully covered with caramel and pecans.
Be sure to leave them to cool for a while before serving. The texture will be best this way as some of the steam needs to evaporate. Serve with a side of the remaining apple butter and HEY PRESTO!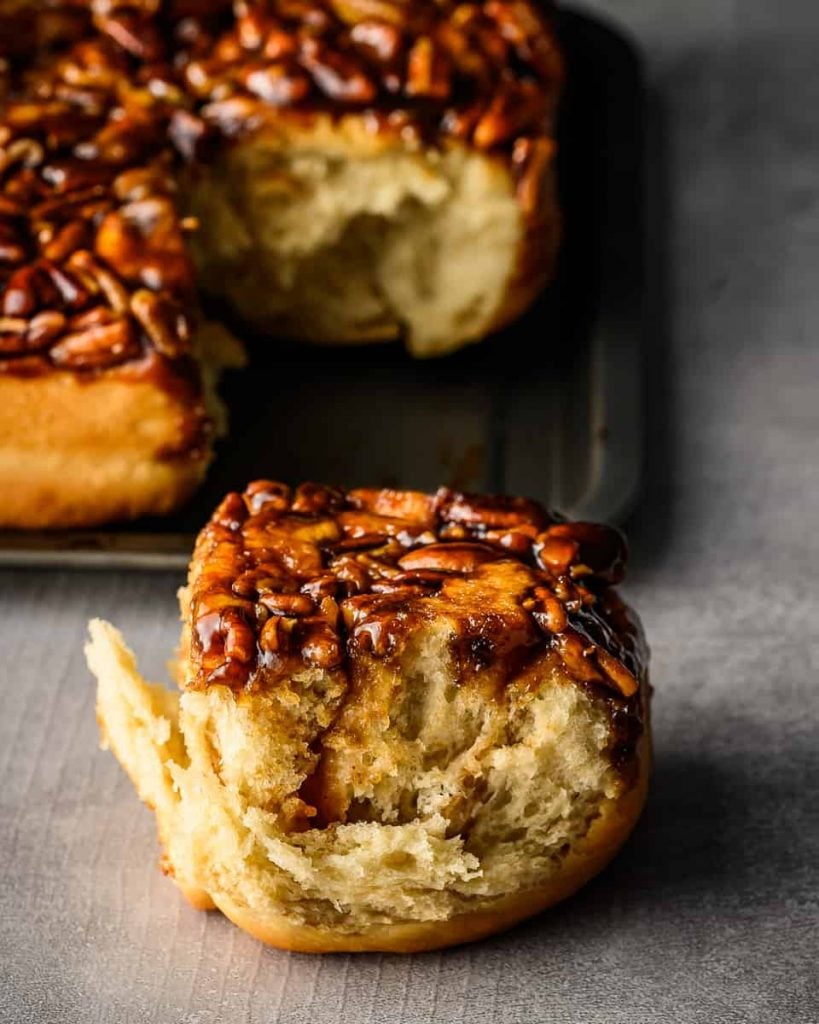 Need more rolls in your life?
You've come to the right place! Why not try these bad boys!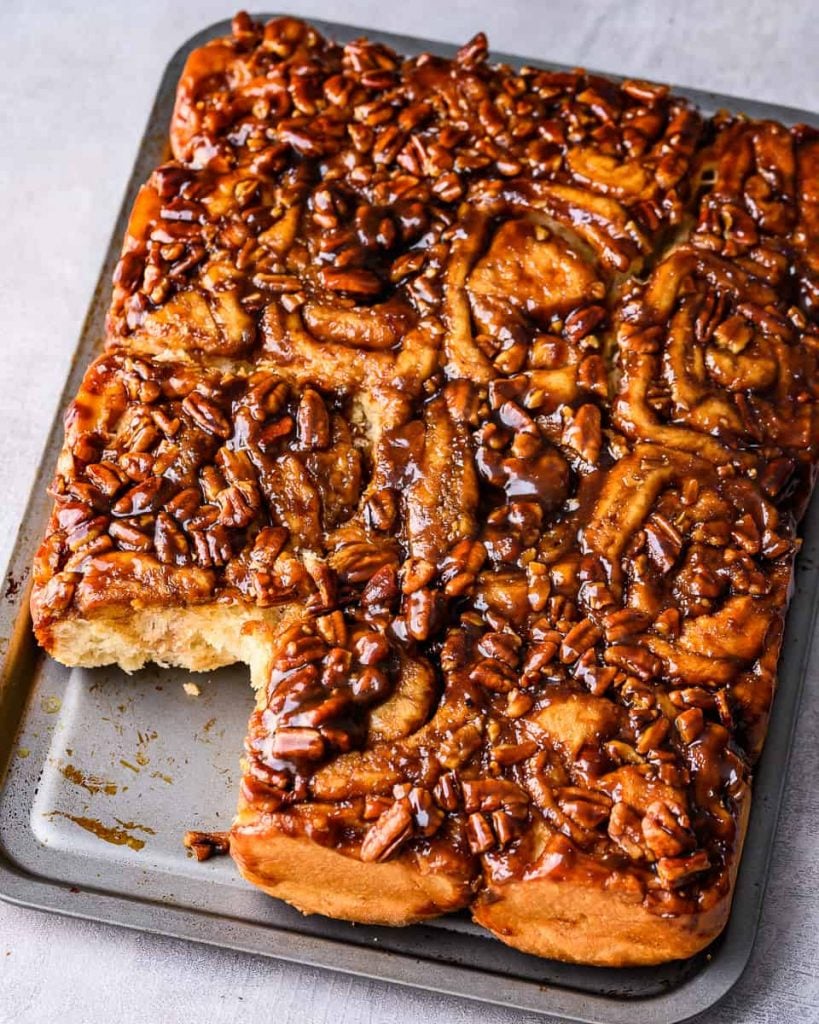 Disclosure: some of the links above are affiliate links, meaning at no additional cost to you, I may earn commission when you click through and make a purchase.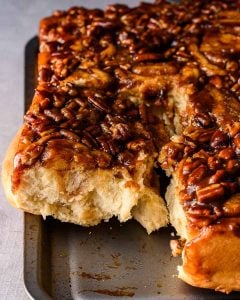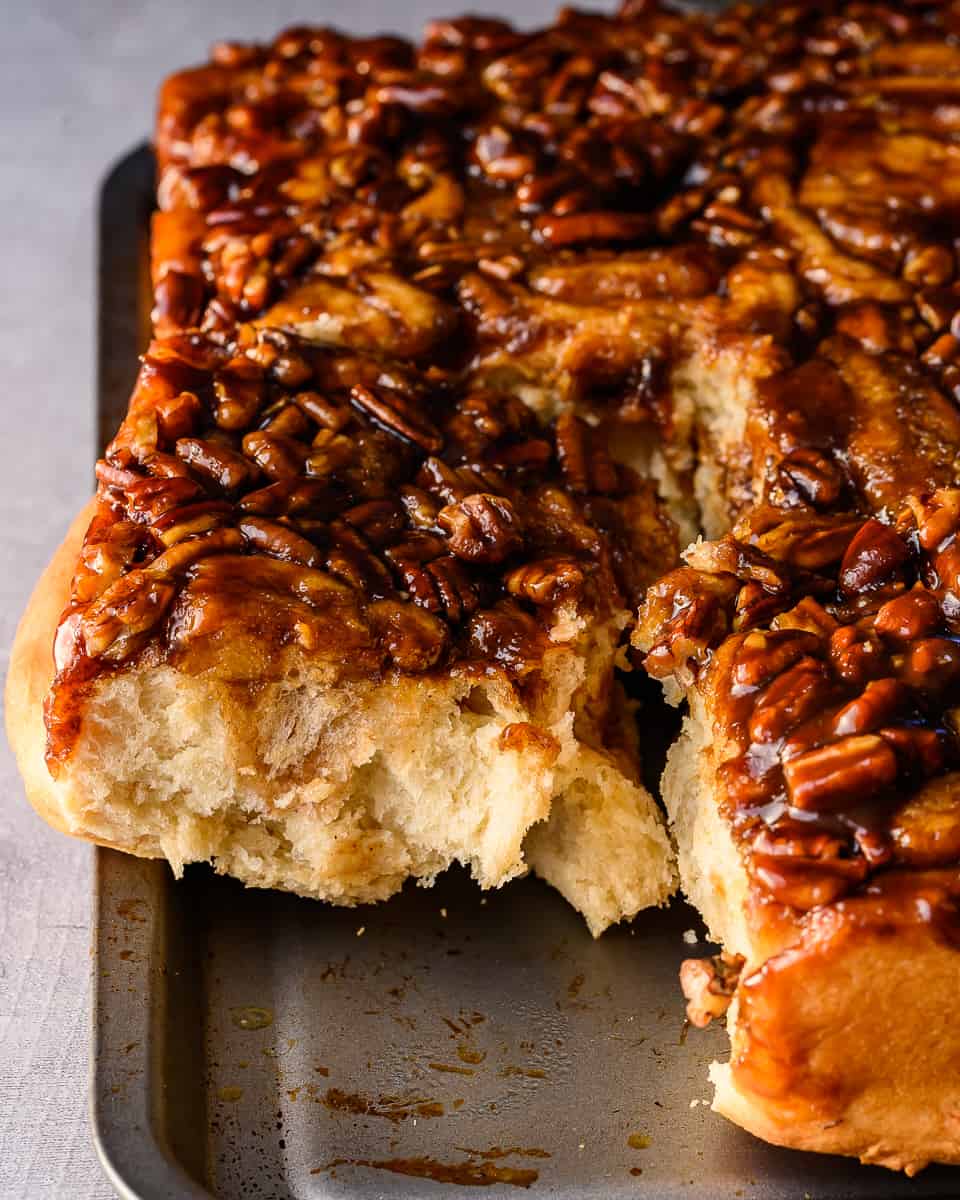 Sticky Vegan Apple Butter Rolls
Deliciously soft, sticky vegan apple butter rolls. Packed with cinnamon and nutmeg and topped with a gooey pecan caramel.
Ingredients
For the Apple Butter
4

granny smith apples

((peeled, cored and chopped roughly))

115

ml

vegan apple cider

75

g

light brown sugar

1

teaspoon

ground cinnamon

¼

teaspoon

nutmeg

¼

teaspoon

ginger

¼

teaspoon

ground cloves

pinch

fine sea salt

2

tablespoon

lemon juice

55

g

vegan butter
For the Pecan Caramel
175

g

soft dark brown sugar

85

g

vegan butter

100

g

pecans

((roughly broken or chopped))
For the Rolls
480

ml

plant milk

120

g

vegan butter

50

g

caster sugar

1

x 8g sachet of quick yeast

700

g

plain white flour

1

teaspoon

fine sea salt

100

g

soft dark brown sugar
Instructions
To Make the Apple Butter
Place all the ingredients except for the lemon juice and vegan butter into a medium saucepan. Mix together and cover with a lid. Place over a medium/low heat and cook, stirring occasionally, for one hour.

Once cooked for an hour, remove from the heat. The apple should be very soft. Transfer to a large measuring jug and blend until very smooth using a stick/hand blender.

Return the smooth apple butter back to the saucepan and place back over a medium/low heat. Do not replace the lid. Cook for a further 15 minutes, stirring regularly, until the mixture is reduced, thick and dark brown.

Once cooked, add the lemon juice and vegan butter. Stir to combine. At this stage, if you'd like to jar the apple butter, transfer it while hot into sterilised class jars. If you only plan to use this apple butter for this recipe, return the apple butter to the measuring jug and sit it in a bowl of ice water. Once the apple butter is only slightly warm to the touch, cover and transfer it to the fridge until needed.
To Make the Pecan Caramel
Grease a deep rectangular baking tin or roasting tray with some vegan butter or vegetable oil.

Combine the sugar and vegan butter in a small saucepan and place over medium/low heat. Cook, whisking often, until the sugar has completely melted and the two have formed a smooth caramel.

Remove from the heat and stir in the broken pecan pieces. Pour the caramel into the baking tray and use a spatula to spread out evenly. Set aside.
To Make the Rolls
Combine the vegan milk, vegan butter and sugar in a large bowl. Due to the melted butter, the mixture should be around body temperature so dip your finger to test – if it feels cool, give it a super quick zap in the microwave or in a pan to warm it up very slightly.

Sprinkle the yeast over the surface and leave to bloom for one minute.

Add the flour and salt, mix to combine until a sticky mess, then cover and leave for an hour. Note: when I say sticky mess, I mean sticky mess! You won't be able to handle it at this point but it'll be much nicer to work with once proved.

Once proved, preheat the oven to 180c.

Lightly dust a surface and turn out. Dust the top of the dough with flour and push out any large air bubbles with your finger tips before patting into a rough oblong.

Using a rolling pin, roll out the dough into a rectangle about 60cm x 30cm. Spread the dough with around half of the apple butter right to the edges then sprinkle with the dark brown sugar. Roll up along the length to form a big long snake.

Slice the rolled dough in half once and then divide each half into 8 discs so you have 16 swirls in total. Lay the rolls into the prepared baking tin with the pecan caramel at the bottom and cover. Leave to rise for 25 minutes at room temp.

Once risen, place in the oven for 25-35 minutes or until each bun is lightly golden on top. 

Before removing from the oven, make sure that you have a second baking tin or serving plate ready which is larger than the one holding the rolls.

Place the second baking tin on top of the hot, baked rolls and quickly invert. Lift the top baking tin away to reveal the rolls, topped with caramel and pecans. (If you don't do this immediately after baking, the caramel will set and the rolls won't come out of the tin).

Allow to cool for at least 20 minutes before serving. Serve with a side of the remaining apple butter.
Nutrition
Serving:
1
grams
Calories:
410
kcal
Carbohydrates:
61
g
Protein:
6
g
Fat:
16
g
Saturated Fat:
3
g
Sodium:
271
mg
Fiber:
3
g
Sugar:
25
g
Love this recipe?
Let me know on Instagram!