Vegan cinnamon swirls glazed with salted caramel and toasted pecans. Super soft and crazy delicious, just try to eat only one!
---
A jazzed up variation of my favourite dessert ever – vegan cinnamon swirls. They're deliciously soft in all the right places, with a slightly crisp outside. The cinnamon butter and brown sugar blend in the centre gives these guys a super fragrant kick. But the salted caramel glaze is what will keep you coming back for more! These ain't your grandma's cinnamon rolls!
Yes, yes, I know! Not EVERYTHING is in need of the salted caramel treatment, but these vegan cinnamon swirls REALLY do benefit. Oh, and don't even talk to me about pecans (as you may already know they're my spirit animal).
Why they so gooood?
Let me tell you why!
These are yeasted cinnamon swirls, which means they're soft as all heaven! They're pillowy and pull apart like a dream.
They're easy to bake AND, if you're really jazzy, you can slice them, stick them on a tray and freeze them, ready for baking WHENEVER YOU LIKE! Who says I'm not into convenience food!
They're technically perfect for both breakfast AND a mid afternoon coffee snack! There's just something so versatile about them.
I won't harp on about why I MAY have created the best recipe ever with these guys, but I will ask you to trust me. Especially if you're a yeast-phobe! Don't be afraid of baking with yeast. Here are a couple of tips!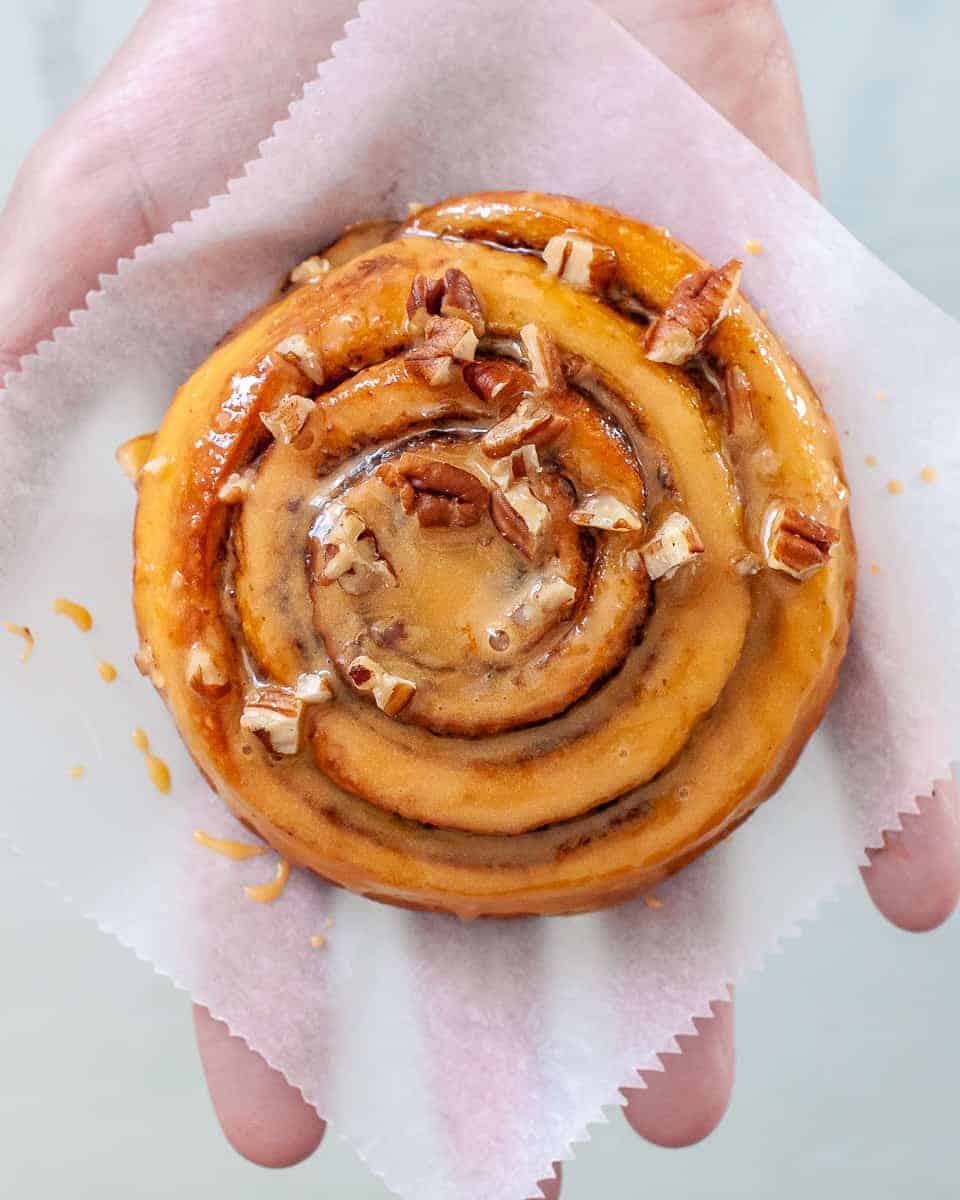 Tips for Yeast-phobes
So, if you're anything like me, making these vegan cinnamon swirls with salted caramel glaze is intimidating because of the yeast factor! But please don't fret! It's actually SUPER easy! Here are some tips for dealing with this yeasted dough:
Leaving dough to hydrate (i.e. letting the flour soak up the water) is a pretty big part of successful "bread" baking. Once you've mixed all your ingredients together, cover the bowl and leave to stand for 10 minutes. You'll find the dough is much easier to work with once it's fully hydrated!
If in doubt, prove for TOO long! I'll admit it – I'm impatient! But if you're not sure whether your dough has proved or not, it's best to leave it a little longer. In my opinion, overproved is always better than underproved! Once of the best ways to tell how much your dough has risen is to use a glass bowl and mark on the side with sticky tape where your dough started. When you come back in an hour you won't be guessing how much bigger your dough has become!
Let the gluten (and you) relax for a bit! When you knead dough for ages, the gluten becomes tense and the dough becomes hard to work with. You'll find the dough wants to spring back to its original shape when the gluten is too tense. In this case, cover the dough for ten mins and come back to it when its had chance to relax. The gluten will have chilled out and the dough will be much more malleable!
Not into salted caramel?
Then my first recommendation is for you to meet with a psychiatrist and have a quick chat about why that might be. SECOND recommendation is not to worry! You can glaze these vegan cinnamon swirls with anything! I've even posted a few variations of this recipe with unusual glazes elsewhere – such as these lime and and hibiscus swirls! But if you're determined to go rogue, feel free to just mix some icing sugar with vegan milk, for a super simple vegan glaze!