Publised on 29/03/2021 by Richard. Last Updated on 13/11/2022 by Richard.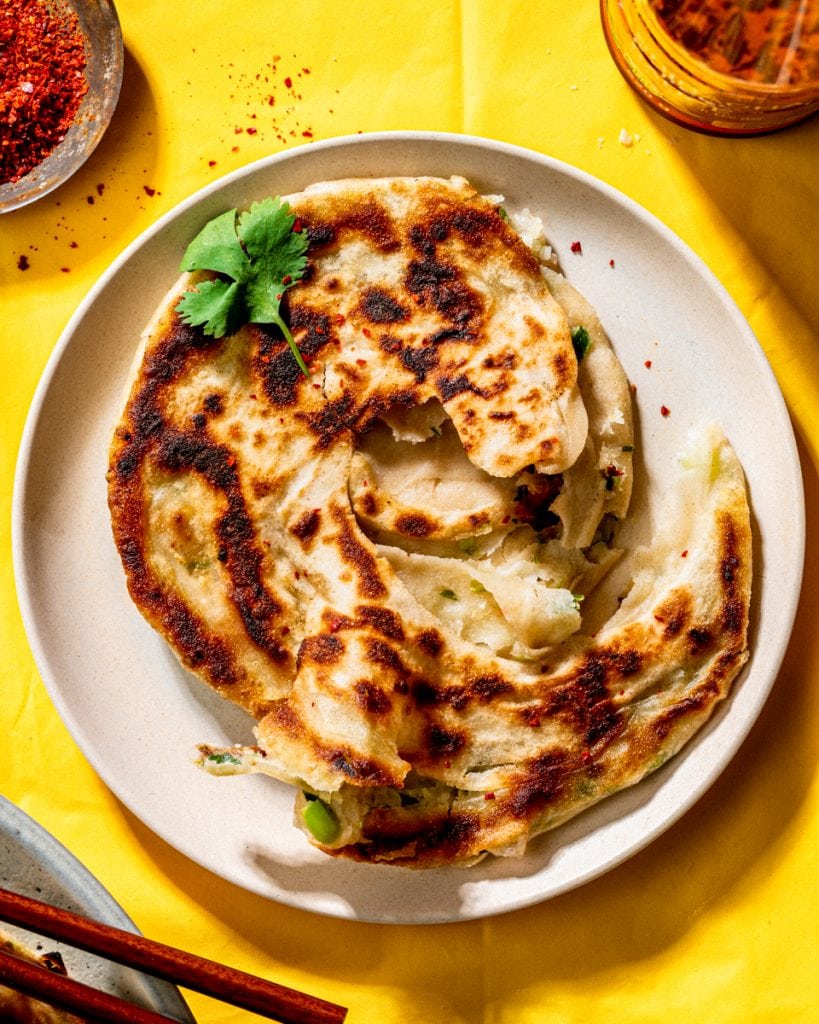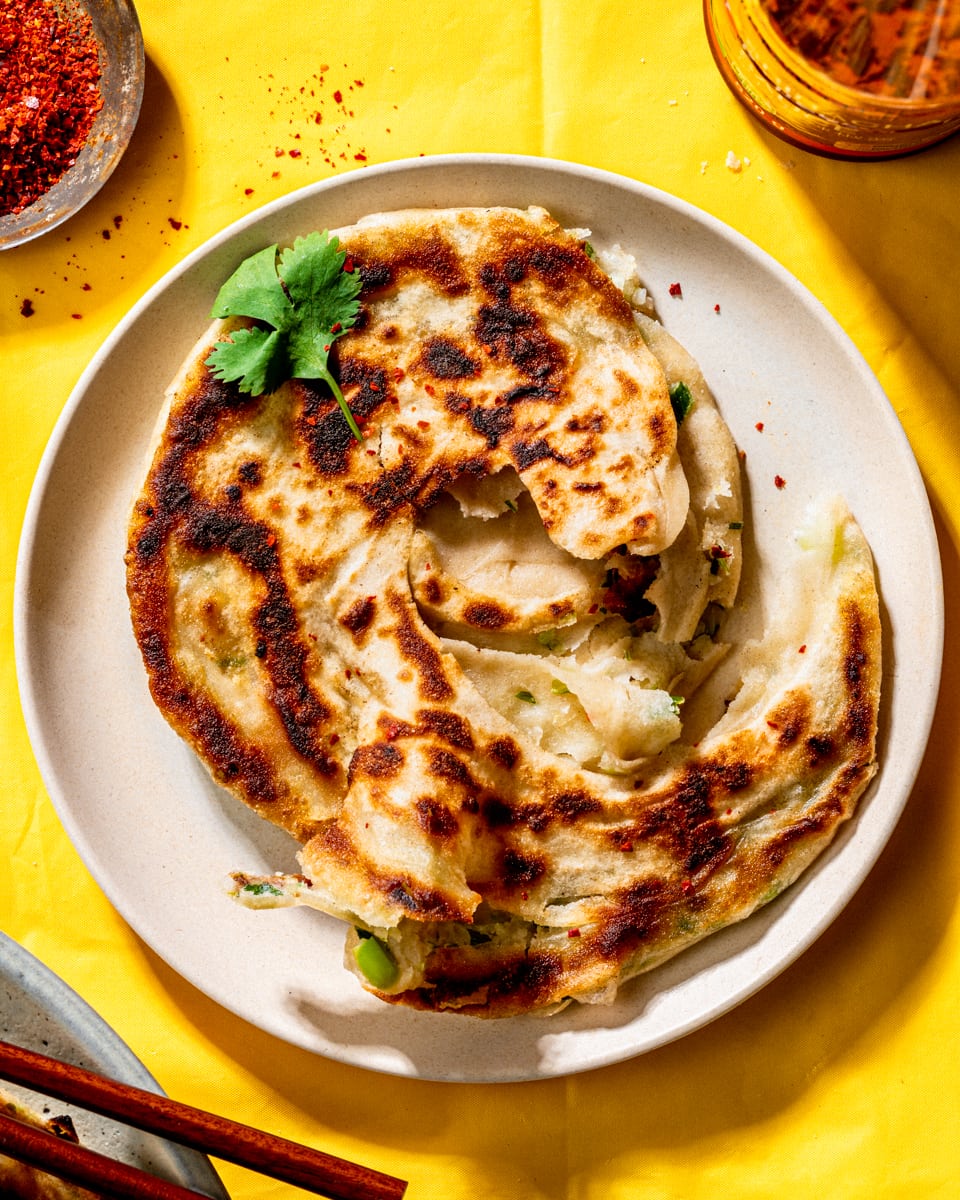 Super flaky, bonkers delicious Chinese scallion pancakes, packed with spring onions with an irresistible pull-apart texture.
---
So I've begun bulk buying spring onions (aka scallions) because I literally cannot stop making these vegan scallion pancakes. I'm about as English as you can get, so these delicious dudes aren't something I really experienced until later in life, so let's just say I'm making up for lost time by literally shoving as many vegan scallion pancakes as I possibly can into my face, all at the same time (today I've eaten 6).
I've been through some trials to get these fellas even close to the flaky, sexy pancakes I first tried at a vegan street-food market in LA, but I can safely say, we're there! These guys pull apart like a dream and are crispy and caramelised on the outside without being too doughy on the inside.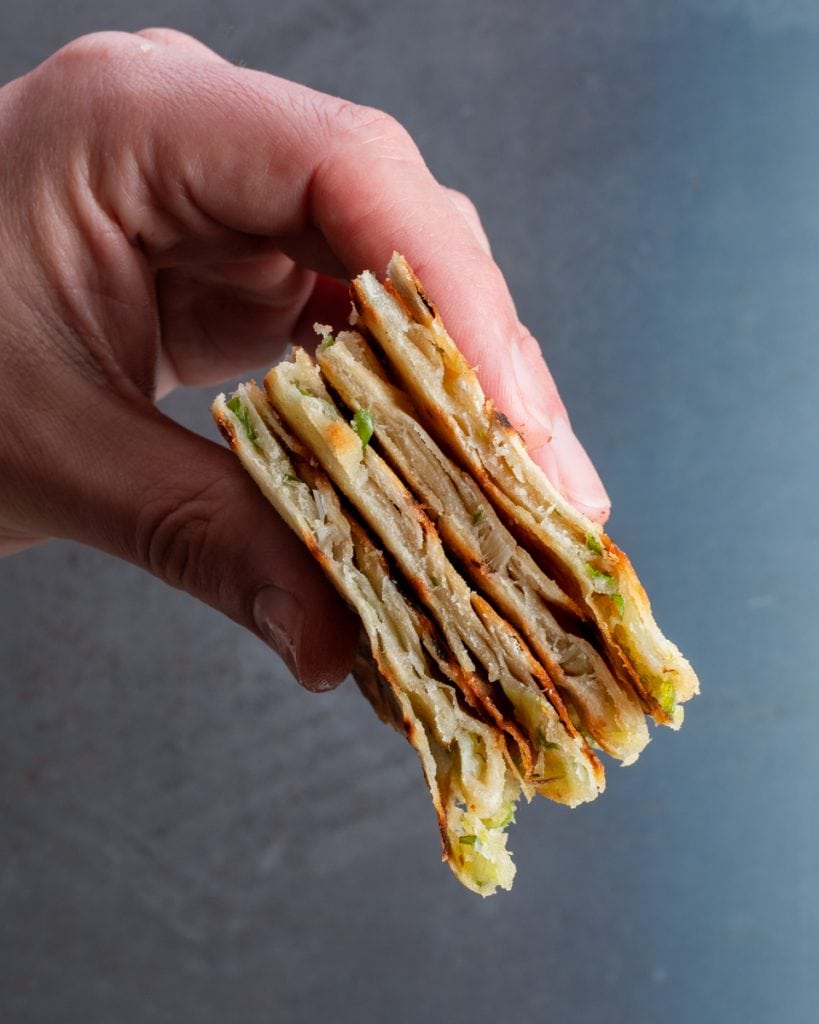 What Makes Vegan Scallion Pancakes Amazing?
OMG how long have you got?? I could talk about these angels all damn day long. These Chinese vegan scallion pancakes are made in a similar way to Indian parathas, whereby a simple wheat-flour dough is layered with oil and coiled up before being flattened into a disc and fried.
The coil structure and the layers of oil give the pancake beautiful flaky layers which pull apart beautifully and feel light rather than stodgy and doughy.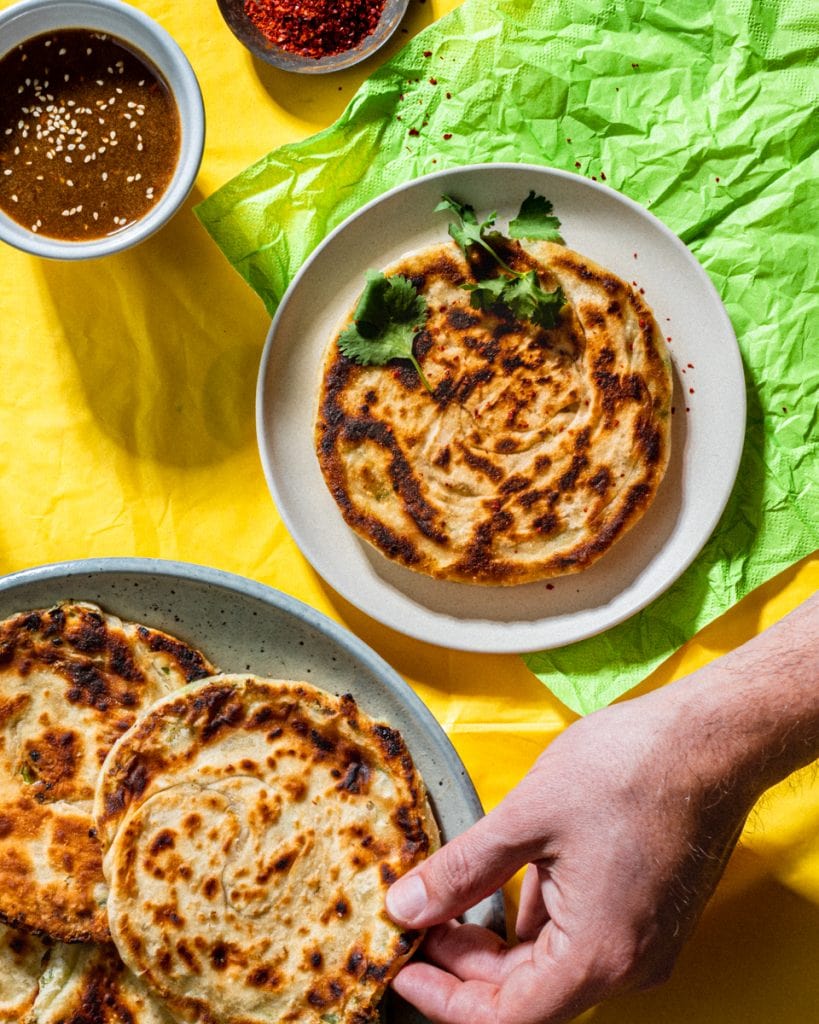 What's more, the oil we use to form the layers is packed full of fresh scallions (or spring onions, depending on where you're from) so they're truly one of the most aromatic, enjoyable things you've ever enjoyed.
I've included a quick recipe for a tangy, salty dipping sauce, but if you have a fave dipping sauce recipe which you use for dim sum, feel free to switch things up!
How Do I Make Vegan Scallion Pancakes?
As always, the recipe is down the bottom of the page, so scroll on by if you so choose! I've broken down the process with some images below though, and I worked very hard on it because I love you very much.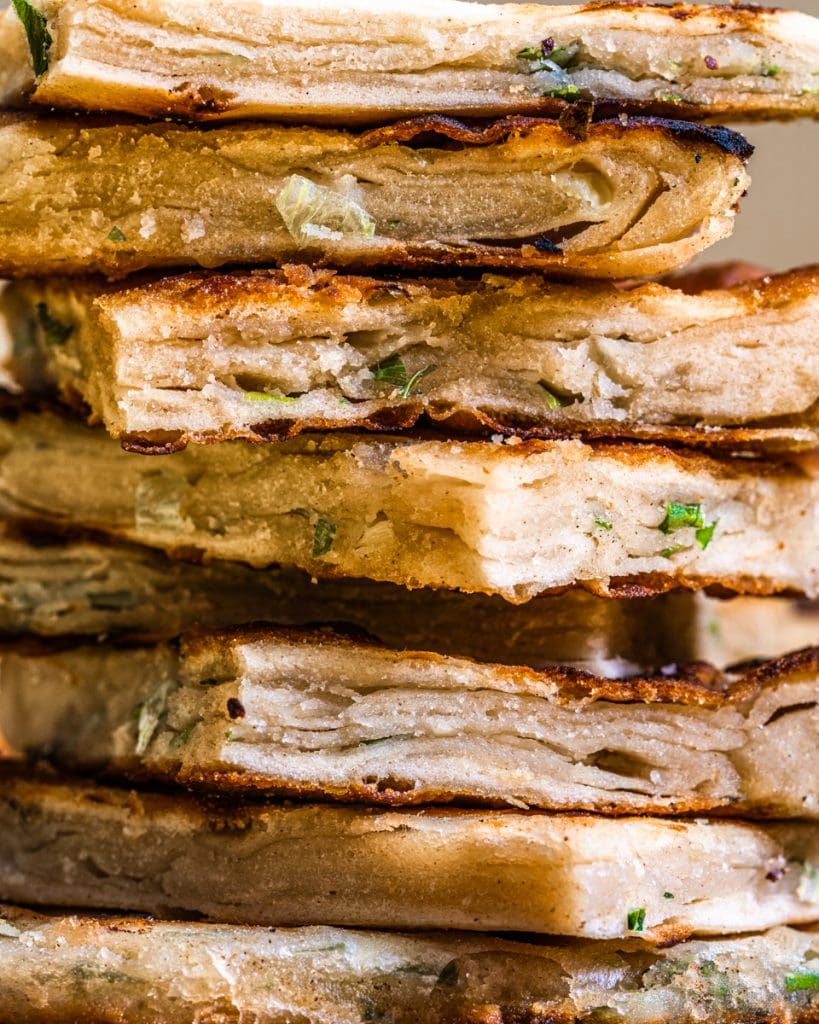 1. Make a simple pancake dough
When I say simple, I mean simple. It's just flour, salt and hot water. I found from my experiments that some people use boiling water, some people use cold water and some people use a blend. For me, the best result was when I used hot water, but not boiling. You don't need to use a thermometer, just make sure it feels hot to the touch.
The dough will be rough and shaggy to begin with, but keep kneading and it'll soon come together into a smooth, soft dough. My recipe uses a stand mixer, but you can absolutely make this recipe without. Just mix the dough with a spoon then knead by hand on a clean surface.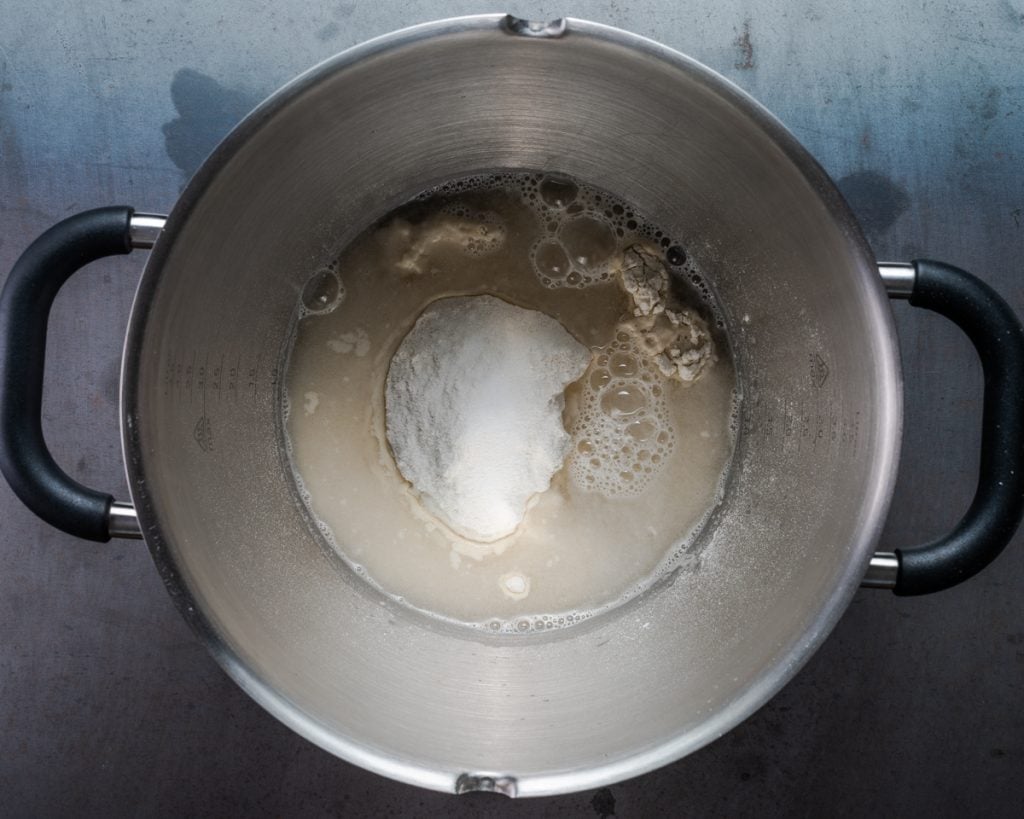 2. Rest the dough!
This is a tip I picked up from Chez Jorge's scallion pancake recipe (because he's a FRICKIN GENIUS). Wrapping the dough and leaving it to rest allows the gluten to relax which makes shaping the pancakes much easier. Just make sure the dough is completely covered otherwise it'll dry out.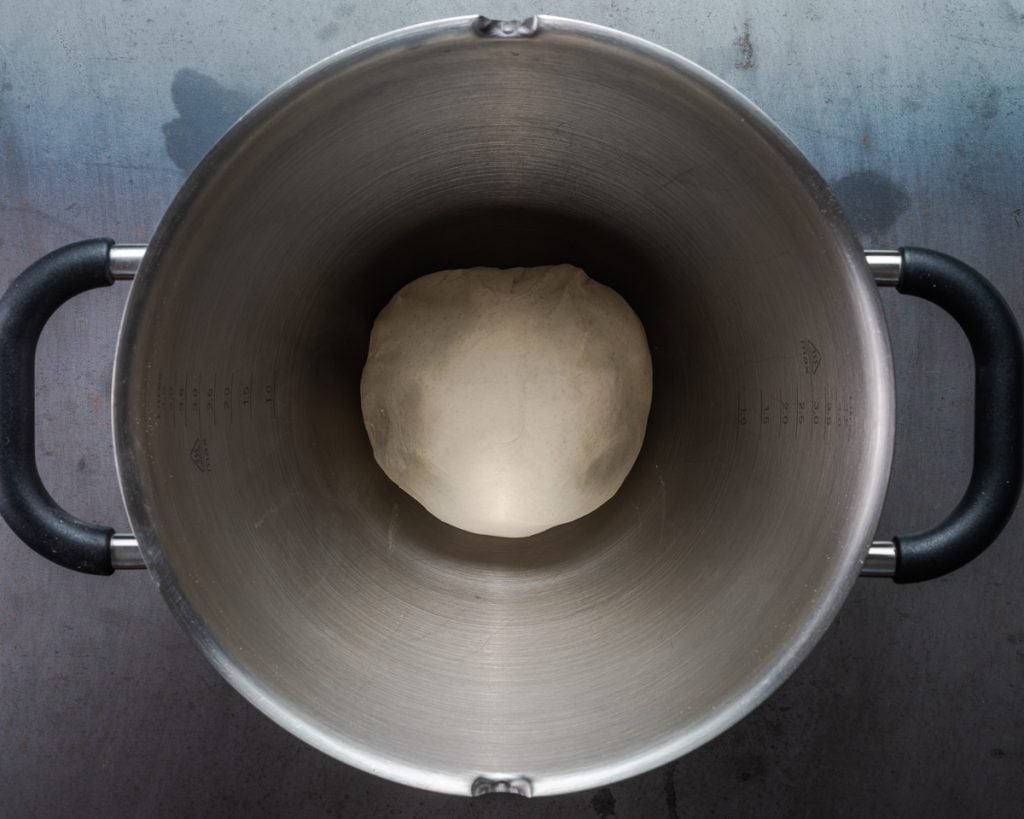 3. Make the Scallion Paste
Some recipes call for a simple mixture of oil and scallions, but I found the pancakes turn out best when you make a paste instead. The paste is much thicker and so it's easier to work with. I found it doesn't squidge out of the pancakes while you roll them up, so the end result is a lot less messy!
For this, you want to mix the finely chopped scallions with some flour, flaky salt and hot oil. Mix to form a paste and set aside to cool.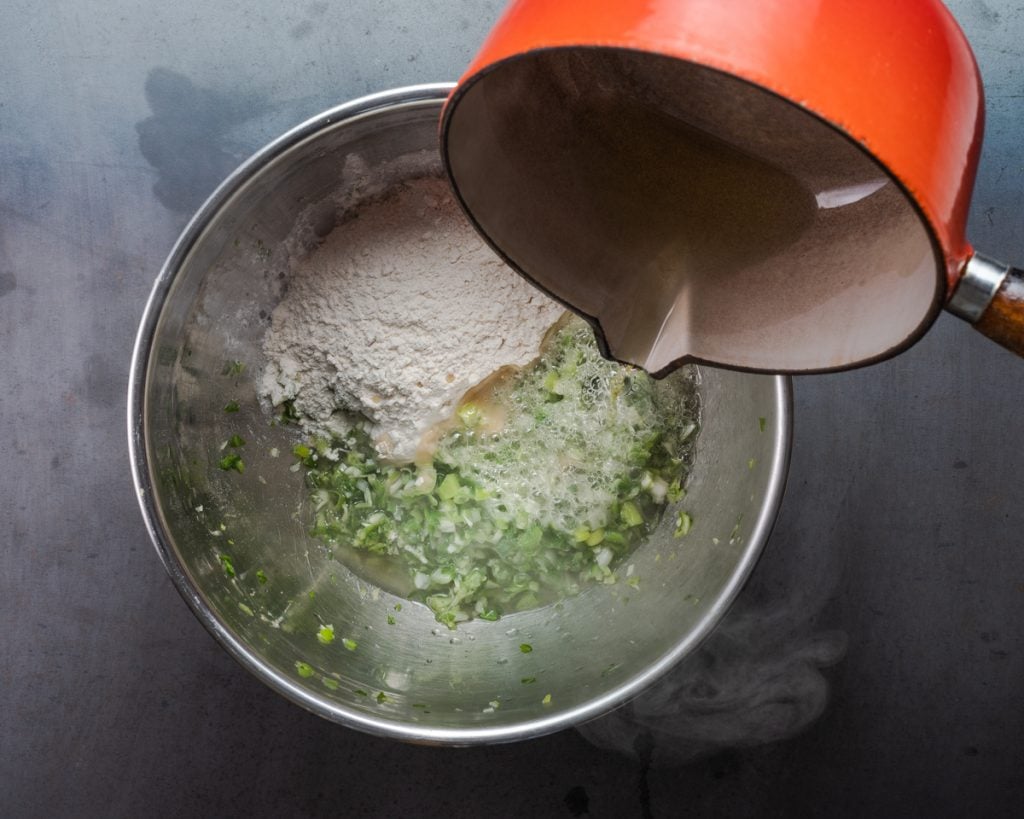 4. Form the Vegan Scallion Pancakes
This can be a little fiddly, so here's a step by step process. Firstly you'll want to divide your dough into 8 portions (mine weighed around 85g each).
Roll out one portion into a 20x8cm rectangle (roughly!). Be sure to keep the other pieces of dough covered to prevent them drying out.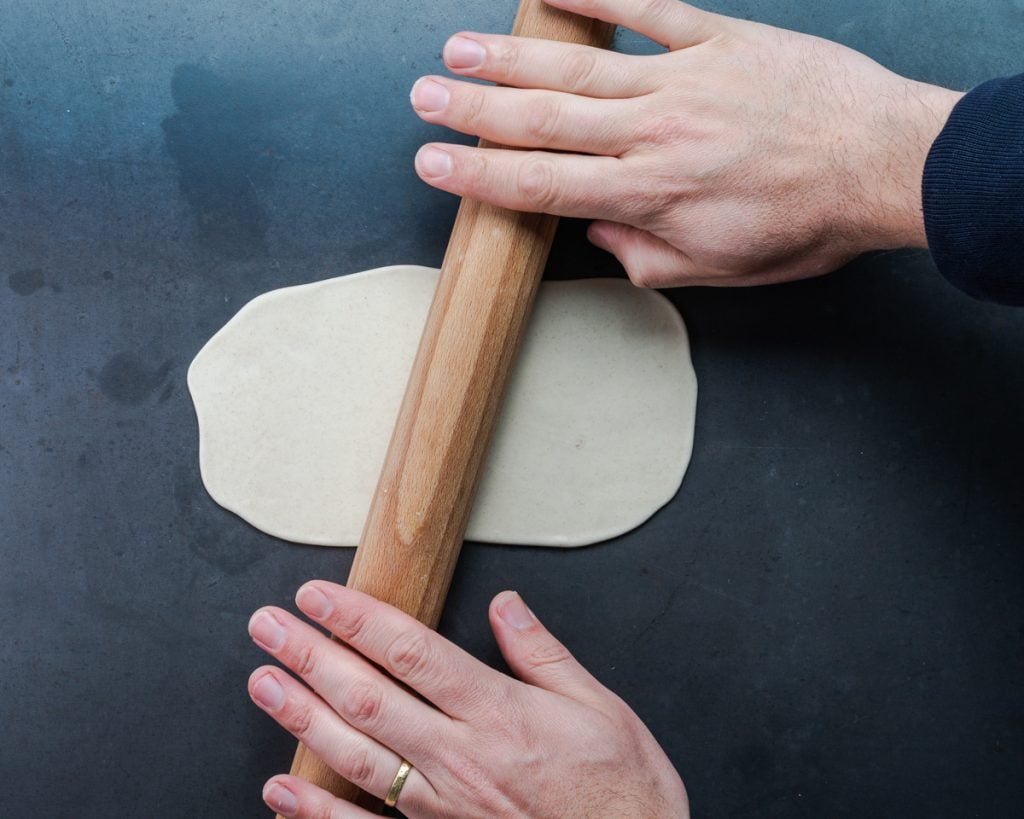 Brush the rectangle with the cooled scallion paste then fold over the two long sides to create a thin strip.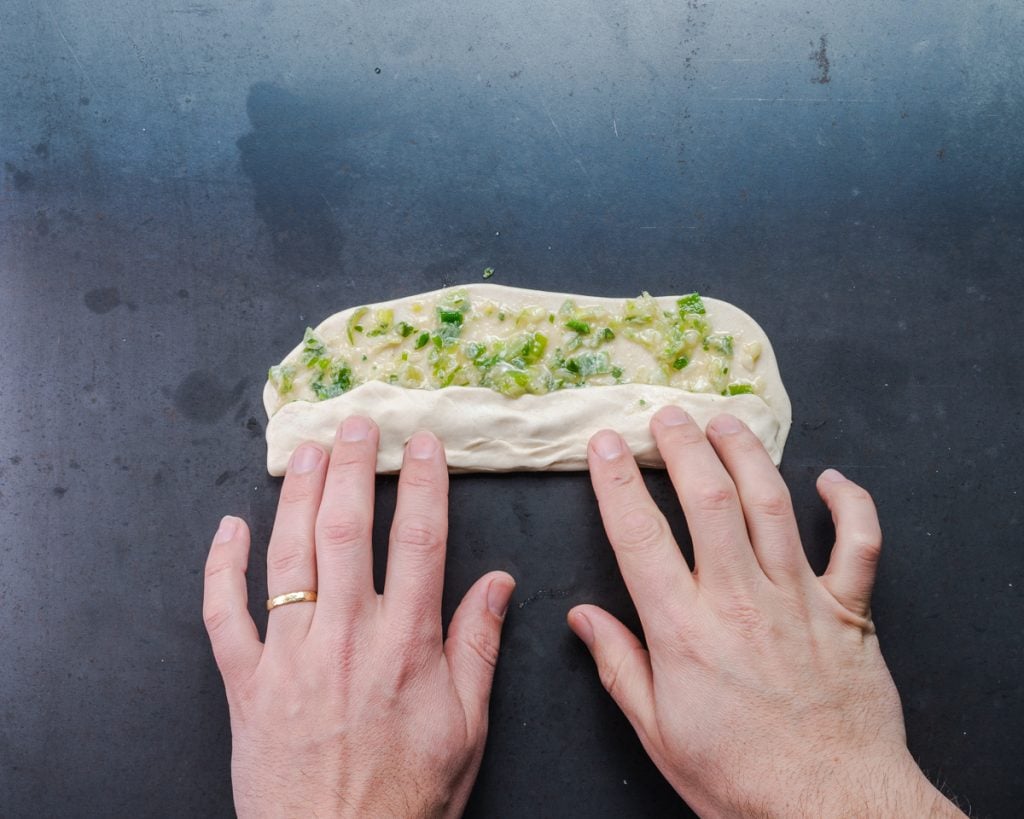 Roll the strip up starting at the short end until you've got a neat little snail. Tuck the end of the coil under and sit it with the swirl facing up.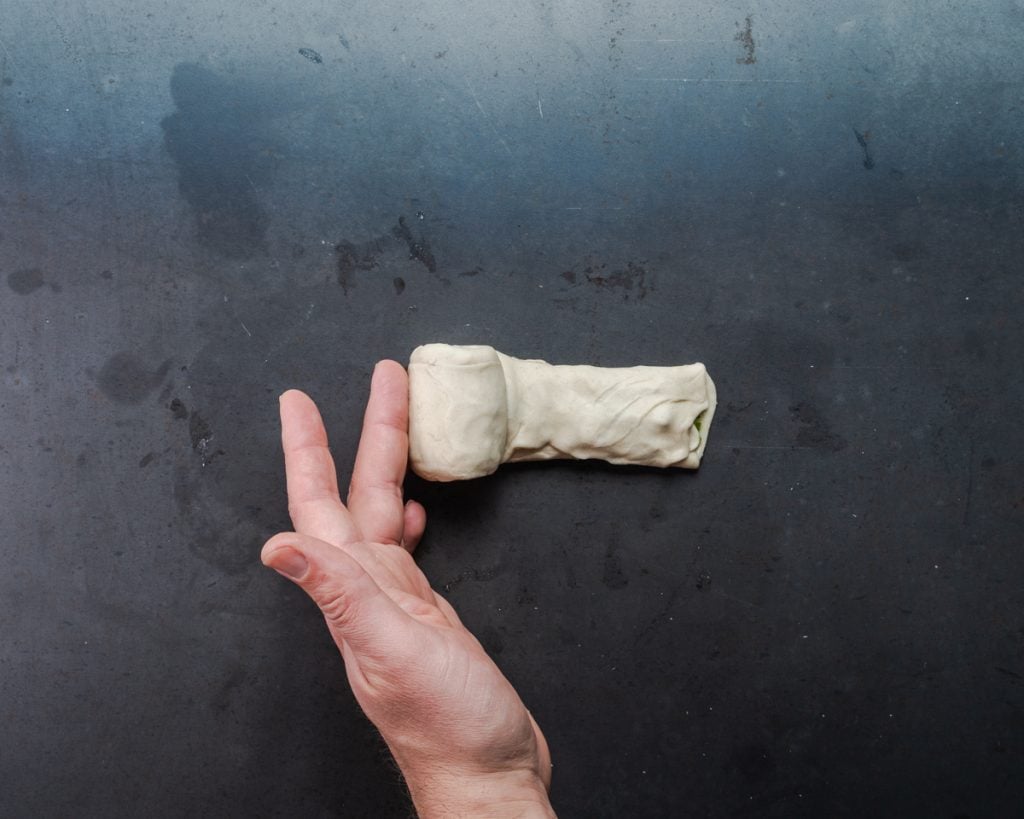 5. Rest the dough, AGAIN!
This is a tip I figured out sort of by accident! I found that the pancakes, once formed, were much easier to flatten into gorgeously neat little circles if they'd been rested for another 20 minutes. Again, be sure to cover them well so they don't dry out.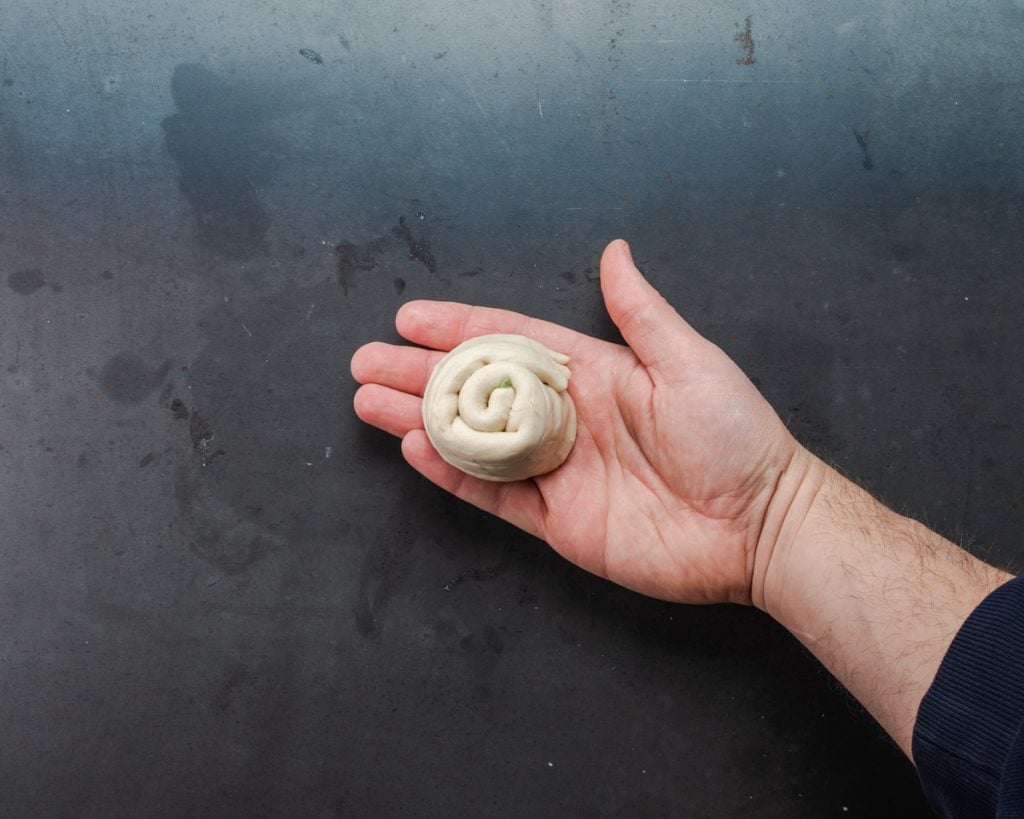 6. Flatten and Fry!
Again, a tip I figure out by accident, but I found it works far better to flatten the pancakes carefully with your hand. Many recipes use a rolling pin and on all occasions I found this way too intensive on the dough - the scallions ripped right through and everything became very messy!
Use the flat of your palm to carefully form a nice 15cm-ish circle then fry in a little hot oil! And that's it! Once fried, serve with your fave dipping sauce or give mine a try!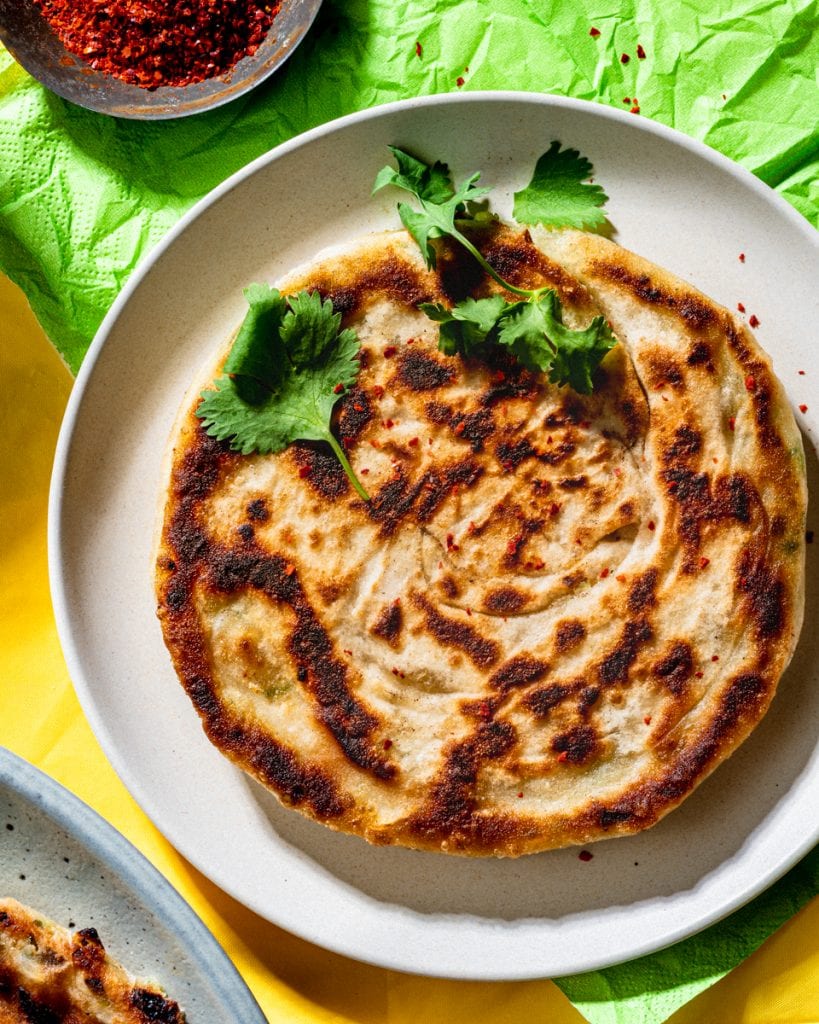 Some more of my faves!
If you loved this recipe, tell me on instagram! Then why not try out some of my other faves, like: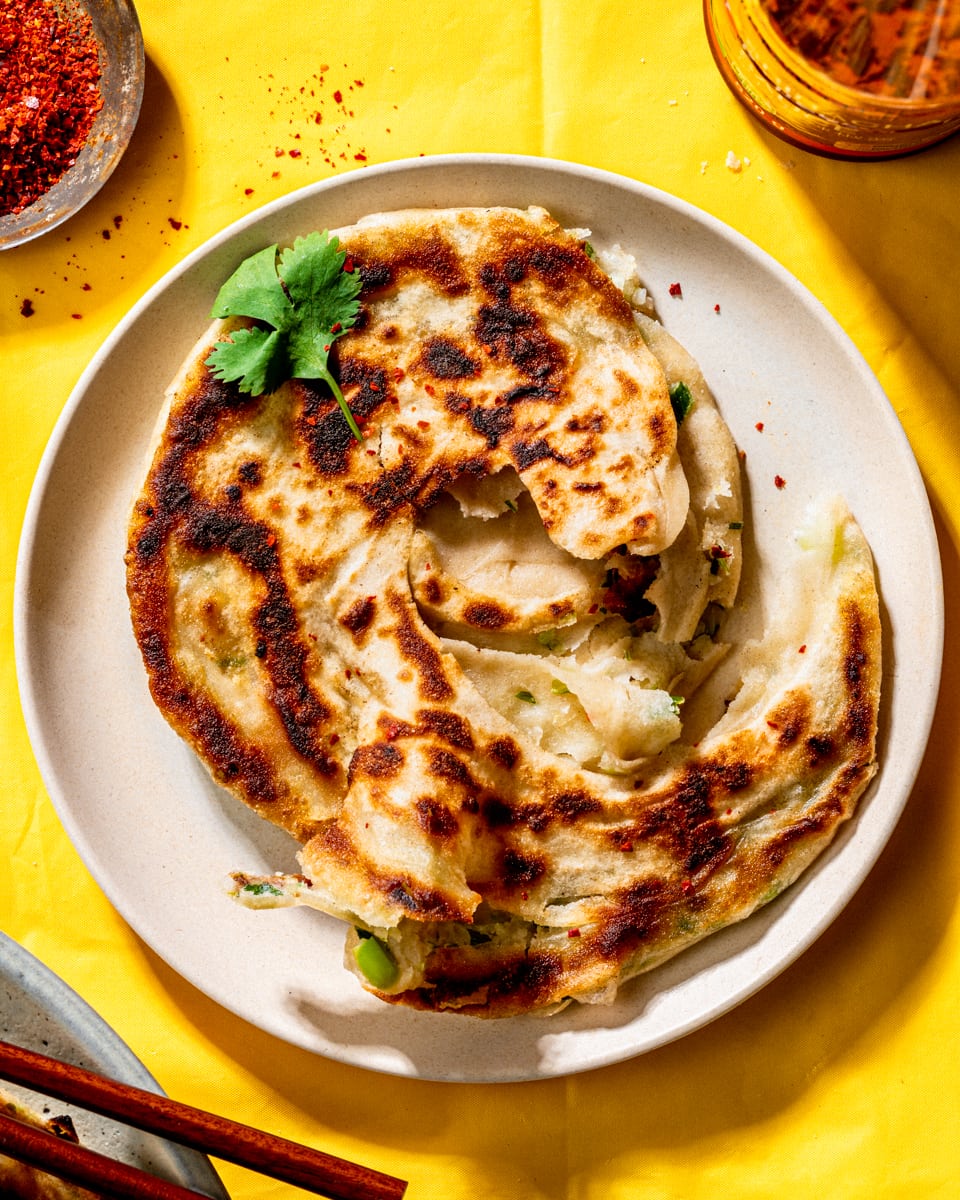 Vegan Scallion Pancakes
Super flaky, bonkers delicious scallion pancakes, packed with spring onions with an irresistible pull-apart texture.
Ingredients
For the Pancake Dough
440

g

plain white flour

1

teaspoon

fine sea salt

240

ml

hot water

(not boiling, around 60-70 degrees celsius)
For the Scallion Paste
140

ml

vegetable oil

10

scallions

(aka spring onions, very finely chopped)

125

g

plain white flour

(plus a little extra for dusting)

½

teaspoon

flaky sea salt
For the Dipping Sauce
2

teaspoon

soy sauce

1

tablespoon

chinkiang black rice vinegar

1

clove

garlic

(finely minced)

1

teaspoon

toasted sesame oil

¼

teaspoon

toasted sesame seeds
Instructions
To Make the Pancake Dough
Place the plain white flour, fine sea salt and hot water in the bowl of a stand mixer fitted with the paddle attachment. Mix on low speed until you have a rough, shaggy dough.

Swap the attachment for a dough hook and knead on medium speed for around 5 mins or until you have a very smooth, soft dough.

Remove the ball of dough from the stand mixer and place on a clean surface. Cover with an upturned mixing bowl or wrap in reusable wrap and leave to rest for 20 minutes. Meanwhile make the scallion paste.
To Make the Scallion Paste
Add the vegetable oil to a small saucepan and place over medium heat.

In a medium bowl, combine the scallions, flour and flaky sea salt. Once the oil reaches around 150-160c (this should take around 3 minutes and the oil should appear thin), carefully pour it over the scallion mixture and stir together to form a paste. Set aside to cool.
To Make the Dipping Sauce
Put all the dipping sauce ingredients in a clean jar, seal the lid and shake well to combine. Set aside.
To Make the Pancakes
Divide the dough into 8 equal pieces. Take one piece and cover 7 back up to stop them from drying out.

On a clean surface roll the piece of dough into a rough 20x8cm rectangle.

Brush the rectangle with around a tablespoon of the scallion paste.

Fold the two long edges of the dough over to the centre to create a long thin strip of dough with no scallions visible.

Roll the strip up, starting at the short edge, and tuck the bottom of the coil under the roll.

Place the roll of dough on a piece of baking parchment and cover to keep it from drying out. Repeat the process with the other 7 pieces of dough, make sure they're all covered and then set a 20 minute countdown timer while the rolls of dough rest.

NOTE: make sure you can remember the order you rolled the pieces of dough - you'll need to start the next step with the first piece of dough you rolled and work your way through.

Take the first piece of dough you rolled and place on a lightly dusted surface. Carefully use your palm to flatten the roll into a 15-20cm pancake.

Heat a large non-stick frying pan or cast-iron skillet over medium/low heat and add ½ teaspoon of oil. When hot, add on or two flattened pancakes (depending on the size of your frying pan) then cover with a lid. Leave to cook for 2 minutes before removing the lid and flipping the pancakes over. Fry for a further 2 minutes, making sure the underside doesn't burn.

Repeat with the remaining pancakes and serve with the dipping sauce.
Nutrition
Calories:
419
kcal
Carbohydrates:
55
g
Protein:
8
g
Fat:
19
g
Saturated Fat:
14
g
Sodium:
524
mg
Fiber:
2
g
Sugar:
1
g
Love this recipe?
Let me know on Instagram!