Sriracha tofu, baked until crispy and glazed in a deliciously sweet, tangy sauce. Top with toasted sesame seeds and Bob's your uncle!
---
Sticky, sweet, tangy! Everything you could want from tofu!
Let's imagine for a second that you'd never come across this post for my fully vegan sticky sriracha tofu. Let's imagine you'd never seen that gorgeously crispy tofu, baked until golden brown and then glazed with a sticky, sweet sriracha sauce. Is that a world any of us actually want to live in? DIDN'T THINK SO!
I've been working for a while on a recipe for a delicious but quick tofu dish. If you've been vegan for a while, chances are you've been served some pretty bland tofu. But it's 2019, which means there's no excuse any more! That's why it's so important that you make this sticky sriracha tofu!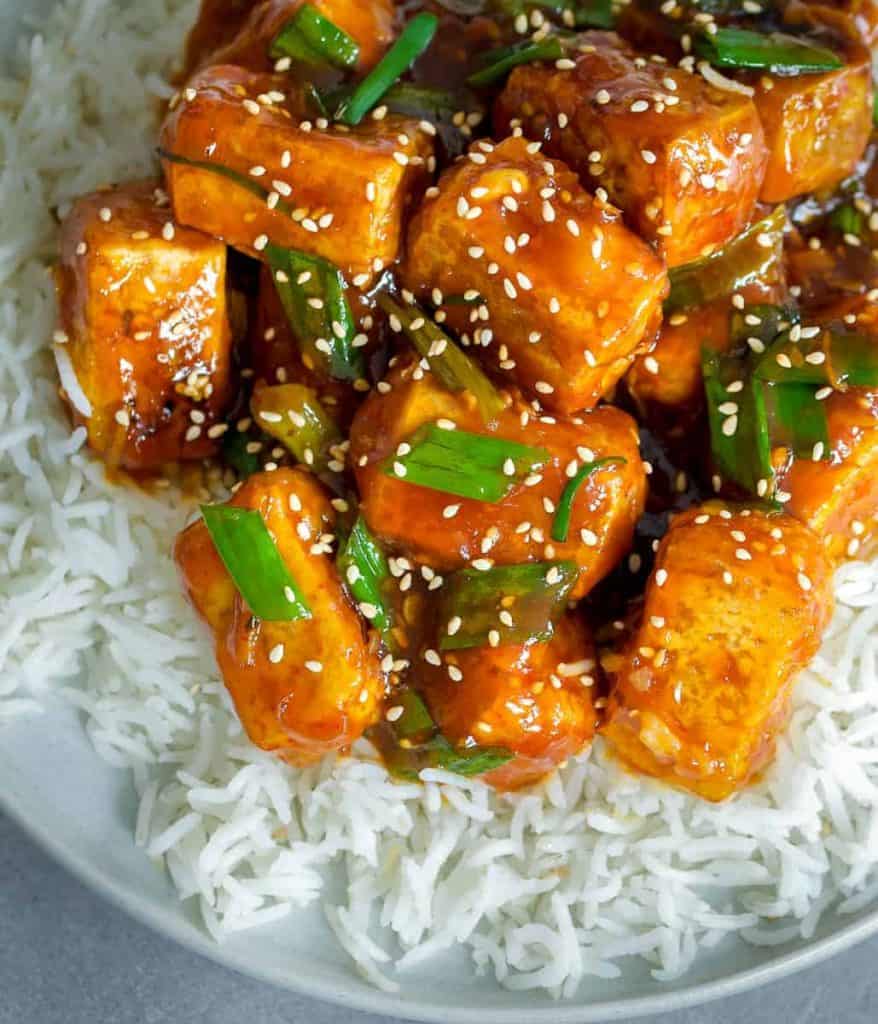 Everyone's fave hot sauce!
Sriracha is basically my second husband. Like Béyonce, I literally carry a small bottle around in my backpack because JEEBUS forbid I have to face a meal without it! So it was an inevitability that, given enough time, my fave protein would meet my fave hot sauce.
What makes this recipe so good is the added dimension that comes with sriracha's BBQ vibes! It's so much more than a hot sauce because it's also packed with umami smokiness and a beautifully sweet tang! It transforms this recipe and I can't tell you how grateful I am that sriracha exists. Thailand, for this I thank you!
Crispy, meet sticky!
The key to getting this recipe just right and really NAILING the insanely comforting vibe is to make sure you have a huge contrast between your crunchy crispy baked tofu and your next level sticky sriracha sauce!
Yes, it's possible to fry your tofu to get it nice and crispy, but I've been doing a fair bit of frying recently and I thought I'd give it a rest. Truth be told, I much prefer this dish with baked tofu over fried – the flavours are much more pure this way and the mouthfeel is way less greasy. The aromatics of the ginger and the spring onions are free to SING from the rooftops and you still have the beautiful crispy texture which makes this sticky sriracha tofu so appealing! Here are three steps to making sure your tofu is mega crisp!
Make sure each cube of tofu is coated in corn starch! The corn starch, when baked, forms a thin crispy batter on the outside of the tofu. I've also added some Chinese five spice to the equation but feel free to leave this out if you feel it over-complicates things.
Bake on a good high temperature. Like with frying, things only get seriously crispy when they get super hot! I suggest baking at 200c and keeping an eye on things to make sure they don't overcook!
It's all in the timings! Make sure your tofu isn't sat in the sauce for ages before you serve – it'll soak up all the moisture and the tofu will lose its crispiness. Stir it in at the last minute!
Need more Chinese food?
Why not try these recipes: