My all-time favourite tofu dish – vegan mapo tofu! It's packed with fragrant aromatics and Szechuan spice – it's perfect home-cooked comfort!
---
When I say vegan mapo tofu is my favourite tofu dish, I really mean it. I grew up in the north of England in the 1980s and, needless to say, authentic Chinese cuisine was hard to find. So for years, my understanding of Chinese food involved spring rolls, prawn toast and egg-fried rice.
Much later in life, when I lived in London, I became obsessed with a Chinese restaurant named "My Old Place". It serves some of the most beautiful no-nonsense authentic Chinese food I've ever tasted and here, ladies and gentlemen, was where I discovered ma po tofu!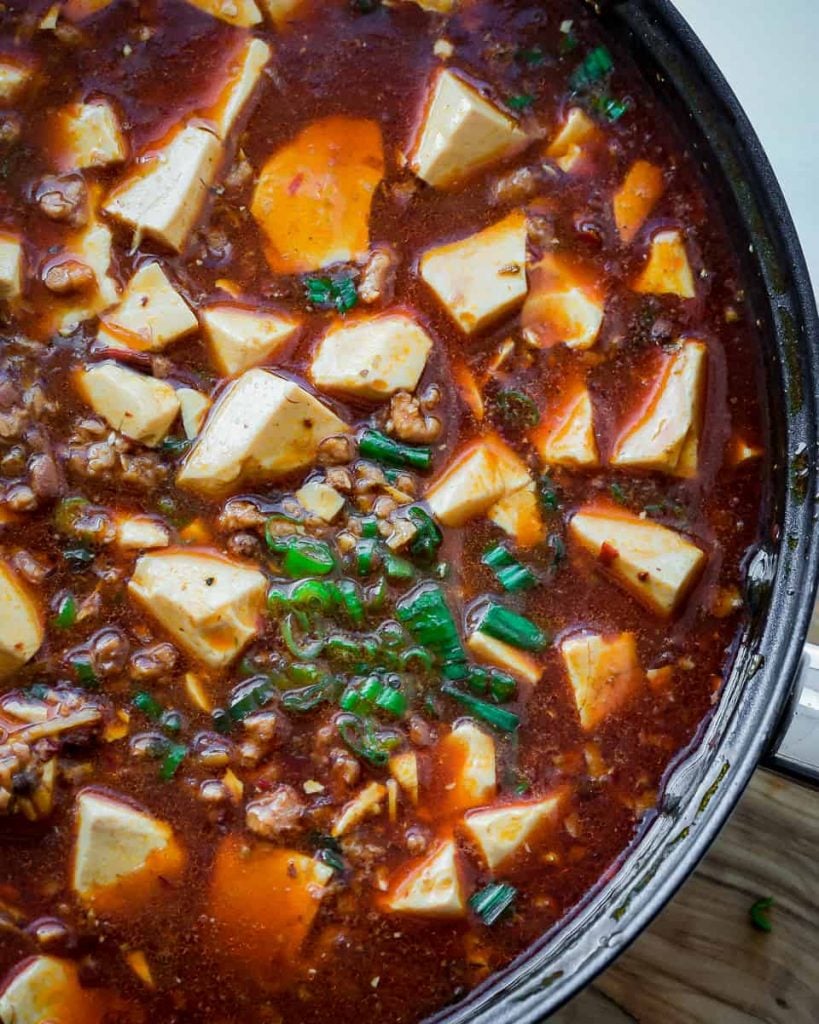 What is vegan mapo tofu?
Mapo Tofu (or Mapo Doufu, or mápó dòufu, or 麻婆豆腐 – thanks Wikipedia!) is a dish originating from the Sichuan province of China. The best way I can describe it is "THE ONLY WAY TO EAT SILKEN TOFU!".
The tofu isn't fried, so it's a super gentle, comforting texture. The tofu is gently simmered in a sticky sauce made from a type of chilli paste/oil called Douban and fermented black beans.
Traditionally it also involves minced beef, but this recipe is entirely vegan!
Any special ingredients?
This vegan mapo tofu is totally worth a trip to the Asian supermarket. You'll need some specialist ingredients to really make it pop, so don't just try to throw this one together with what you've got! Here are the things you 100% need!
Firm Silken Tofu

Yes! Silken tofu comes in firm and soft varieties, just like other tofu! Firm is important here because it doesn't break up so easily. It's also shelf-stable so it keeps for a long time, which is nice!

You can grab Firm Silken Tofu here!
How do you make vegan mapo tofu?
The process is honestly so easy and so rewarding! As always, the full recipe is at the bottom of this page, but I'm going to walk you through the steps involved before you get crackin!
1. Prepare the sauce ingredients
This is one of those recipes where it really helps to be prepared. Remove the tofu from the carton and slice into cubes. Make sure you've mixed together your corn starch and water and set it aside. You'll also want to prepare your garlic, ginger and spring onions in advance.
For the garlic, just peel and crush finely. For the ginger, peel with the back of a teaspoon then slice into tiny match-sticks. For the Spring onions, we need them finely chopped but make sure you separate the green end from the white end – they get used separately. You'll also want to grind your Szechuan peppercorns, if they're not already ground.
2. Start fryin'
Get your pan or wok nice and hot, add a bit of oil and start frying your vegan mince. The time involved will vary depending on which kind of mince you use. I used Naturli. Once browned, remove the mince from the pan and leave any residual oil in there.
Next add the doubanjiang and fry for a few minutes. Once it's nice and fragrant, add your aromatics (ginger, garlic and white bits of the spring onions) along with your Szechuan pepper and chilli flakes. Fry until nice and soft but don't let them burn!
Next in is your fermented black beans. You can chop them finely before they go in, or leave them chunky, it's up to you! After a couple more minutes, add your stock and give everything a good stir. Bring to a simmer.
3. Add the tofu and "beef"
Once everything is simmering, add the tofu, "minced beef" and soy sauce. You want to slide it from your chopping board into the sauce very gently so you don't break up the cubes of tofu! Allow to simmer for a good 8-10 minutes to allow that tofu to soak up the flavour!
4. Thicken it up!
Once you're happy with the flavour of the sauce, test a bit of tofu to see if you're happy. The spices should cling to the sides of the tofu gently. If you're happy, add the cornflour mixture and give everything a good stir. The sauce should thicken up quite quickly. Finish with the greens of your spring onions and hey presto!
Disclosure: some of the links above are affiliate links, meaning at no additional cost to you, I may earn commission when you click through and make a purchase.