Publised on 09/07/2019 by Richard. Last Updated on 12/10/2022 by Richard.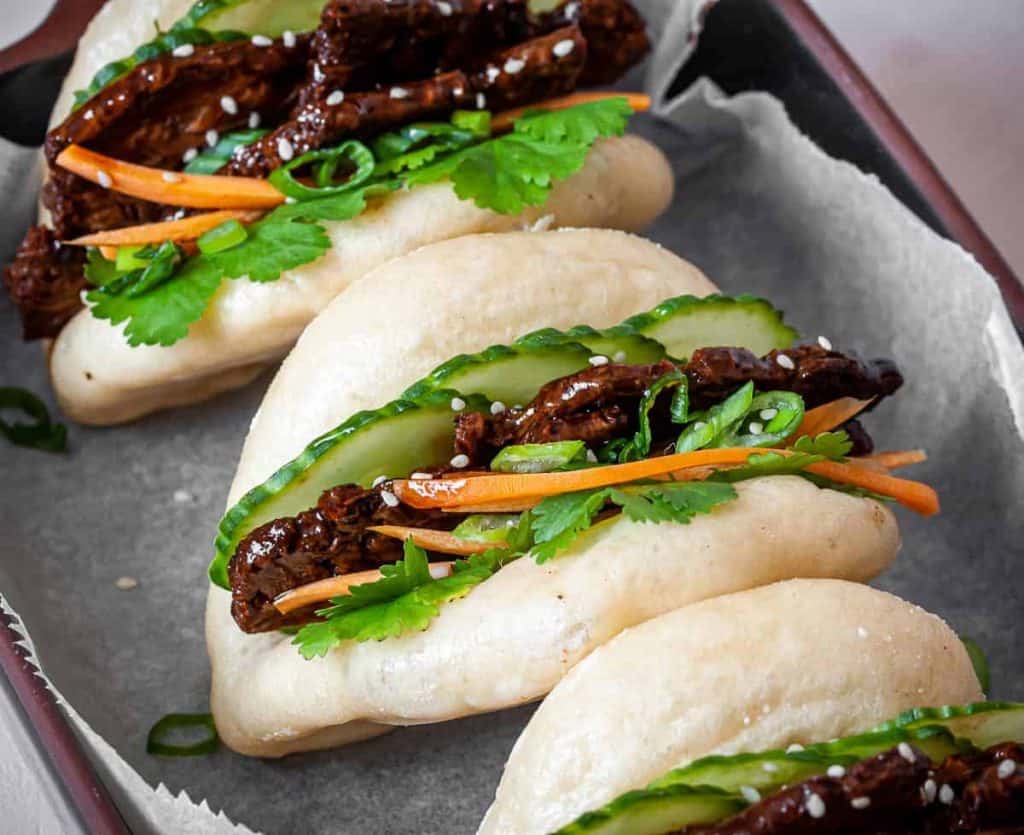 Vegan char siu bao buns for the win! They're the meatiest, stickiest, freshest little vegan bao buns you've ever tried. Say "goodbye" to bao FOMO and "hello" to char siu!
---
U OK BUN?
MORE than ok, we're talking about vegan char siu bao! Let's talk about bao! They're easily one of my favourite elements of Chinese food! Also known as lotus leaf buns, they usually involve a super soft white steamed bun packed full of flavoursome goodness. I first tried them at the uber trendy Momofuku in New York City, but they're super easy to find all over these days!
One of the best known variations on bao is "Char Siu Pork", made from pork belly - but as you probs know, we don't serve death around here - so these are VEGAN char siu bao!
What's so good about em??
Let me tell you, I LOVE this vegan bao recipe! I love how the buns are crazy soft - super delicate and not too sweet. I made the char siu "pork" from soy protein (also known as TVP) and it's super convincingly pork-y! But boy, the marinade is really what you're tasting and it's crazy special - bursting with hoi sin and chinese five spice but sweet with brown sugar, it's one of my all time faves!
Preparing the bao buns themselves take some time but it's so worth the wait. They're a lot softer than frozen store bought ones and I use pizza dough flour to give them an EXTRA SMOOTH delicate bounce. You're gonna love em.
Howd'ya make em??
There are a fair few steps involved in this process, but when everything comes together, your socks will be FULLY BLOWN OFF!
You want to start with making the buns because they're yeasted, which means they take some time to rise. Start by mixing the yeast with some warm vegan milk and leaving it to bloom. Throw all the remaining ingredients into a stand mixer and give it a good mix. It's super important at this stage to let the dough hydrate properly, so cover it and leave it for 10 mins.
Next you need to knead your dough, so return it to the mixer and use a dough hook to give it a good seeing to! Once kneaded let it rise until doubled in size. While it's proving, it's a good idea to make the char siu - so skip to this step in the recipe.
Next, you need to divide your dough, roll into ovals and then fold over a strip of baking parchment. Let them prove again and then steam in a bamboo steamer. You're gonna be blown away by how puffy and delicious they look once steamed!
Making the char siu is as easy as hydrating the TVP and preparing the glaze. Give it a good brush to coat and then stick it under the grill to cook!
Pack your steamed buns with your vegan "pork" and some fresh veggies and hey presto!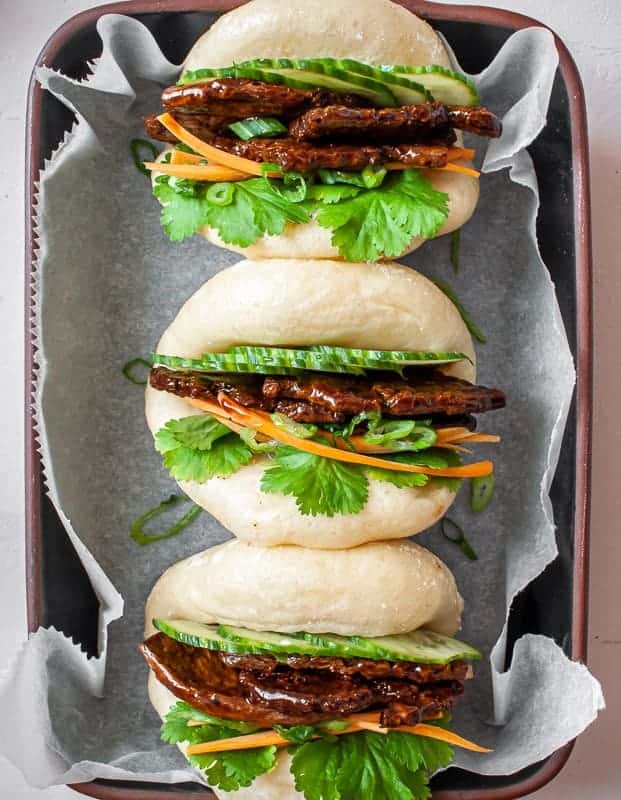 Still hungry?
Why not give these guys a go:
Vegan Char Siu "Pork" Bao
These completely vegan char siu "pork" bao buns are the meatiest, stickiest, freshest little bao buns you've ever tried. Say "goodbye" to bao FOMO and "hello" to char siu!
Ingredients
For the Bao Buns
1

teaspoon

instant yeast

235

ml

plant milk

((warmed in a pan to around 32c))

200

g

plain white flour

160

g

type "00" flour

((the type used for pasta and pizza dough))

5

tablespoon

caster sugar

60

ml

vegetable oil
For the Char Siu "Pork"
50

g

vegan Hoi Sin Sauce

50

g

soy sauce

2

tablespoon

shaoxing wine

2

tablespoon

brown rice syrup/fruit syrup/maple syrup

2

tablespoon

light brown sugar

2

cloves

crushed garlic

½

teaspoon

chinese five spice

170

g

boiling water

110

g

dehydrated soy slices

((sometimes called TVP, sometimes called soy slices. I use Longdan brand from my local asian supermarket))
For Serving
½

a cucumber

((thinly sliced))

1

carrot

((sliced into fine strips))

small bunch coriander

2

teaspoon

white sesame seeds
Instructions
To Make the Bao Buns
Pour the warm milk into a small bowl along with 2 tablespoon of the sugar - stir together until dissolved. Sprinkle over the yeast. Whisk lightly and leave to go slightly foamy.

Place the remaining ingredients in the bowl of a stand mixer fitted with the dough hook attachment. Knead for a minute or until you have a very sticky messy dough. Remove the dough hook and cover the bowl - leave for 10 minutes for the dough to hydrate fully. After 10 minutes return the hook to the stand mixer and knead for around 5 minutes or until you have a smooth ball of dough.

Cover the bowl with a damp cloth and place in a cold oven. Pour around 100ml boiling water into a baking tray and place at the bottom of the oven - beneath the dough. Leave until doubled in size (around 1-2 hours). While the dough is proving, prepare the Char Siu.

Once the bao dough is proved, remove the dough from the oven and push out any large air bubbles with your finger tips. Lightly flour a work surface and tip the dough out onto it. Divide the dough in half with a sharp knife then divide each half into 6. Form each piece of dough into a small ball and place on a baking tray. Cover with cling film and leave to relax for 10 minutes. While relaxing, cut out 24 squares of greaseproof paper around 3 inches in size.

Once the dough is relaxed, remove one ball from the tray and place on the floured surface, covering the rest of the balls back up. Dust the top of the ball lightly with flour and, using a rolling pin, roll out into a long oval. Place a greaseproof square on the bottom half of the oval and carefully fold over the top half. Carefully, transfer the folded bao bun onto another greaseproof square and place on a baking tray. Cover while you repeat the process with the remaining 11 balls of dough. Once all dough is prepared, turn on your steamer or place a bamboo steamer over a pan of boiling water.

Keeping the bao buns on their squares of greaseproof, place them in the steamer - allow room for the bao to expand when they cook (It's unlikely that your steamer will fit all the buns in one go, so you'll have to do them in batches - keep the excess buns in the fridge while the others are steaming).
To Make the Char Siu
Place all the ingredients for the Char Siu into a medium saucepan and place over a medium heat. Bring to the boil then turn off the heat immediately. Add your dehydrated soy slices, cover, and leave to rehydrate for at least 20 minutes. Once rehydrated, use a slotted spoon to remove the soy slices from the marinade and place them on a baking tray. Place the marinade back on the stove and cook over a medium heat, siring frequently, for around 5-7 minutes or until you have a nice, thick, glossy glaze. Remove from the heat and set aside.
To Finish off the Dish
Fire up the grill/broiler to full temperature. Using a pastry brush, brush some glaze over the slices of "pork". Place the "pork" under the grill/broiler for around 3 minutes on each side, brushing with glaze as you flip. Remove from the grill.

Once all the buns are steamed it's time to fill them. Add a few slices of the char siu, some finely sliced carrots, around 3 slices of cucumber and a good few leaves of coriander. If you have any excess marinade, brush or drizzle some onto the char siu. Serve and enjoy!
Nutrition
Serving:
1
grams
Calories:
248
kcal
Carbohydrates:
39
g
Protein:
9
g
Fat:
6
g
Saturated Fat:
4
g
Cholesterol:
1
mg
Sodium:
317
mg
Fiber:
3
g
Sugar:
12
g
Love this recipe?
Let me know on Instagram!