Vegan char siu bao buns for the win! They're the meatiest, stickiest, freshest little vegan bao buns you've ever tried. Say "goodbye" to bao FOMO and "hello" to char siu!
---
U OK BUN?
MORE than ok, we're talking about vegan char siu bao! Let's talk about bao! They're easily one of my favourite elements of Chinese food! Also known as lotus leaf buns, they usually involve a super soft white steamed bun packed full of flavoursome goodness. I first tried them at the uber trendy Momofuku in New York City, but they're super easy to find all over these days!
One of the best known variations on bao is "Char Siu Pork", made from pork belly – but as you probs know, we don't serve death around here – so these are VEGAN char siu bao!
What's so good about em??
Let me tell you, I LOVE this vegan bao recipe! I love how the buns are crazy soft – super delicate and not too sweet. I made the char siu "pork" from soy protein (also known as TVP) and it's super convincingly pork-y! But boy, the marinade is really what you're tasting and it's crazy special – bursting with hoi sin and chinese five spice but sweet with brown sugar, it's one of my all time faves!
Preparing the bao buns themselves take some time but it's so worth the wait. They're a lot softer than frozen store bought ones and I use pizza dough flour to give them an EXTRA SMOOTH delicate bounce. You're gonna love em.
Howd'ya make em??
There are a fair few steps involved in this process, but when everything comes together, your socks will be FULLY BLOWN OFF!
You want to start with making the buns because they're yeasted, which means they take some time to rise. Start by mixing the yeast with some warm vegan milk and leaving it to bloom. Throw all the remaining ingredients into a stand mixer and give it a good mix. It's super important at this stage to let the dough hydrate properly, so cover it and leave it for 10 mins.
Next you need to knead your dough, so return it to the mixer and use a dough hook to give it a good seeing to! Once kneaded let it rise until doubled in size. While it's proving, it's a good idea to make the char siu – so skip to this step in the recipe.
Next, you need to divide your dough, roll into ovals and then fold over a strip of baking parchment. Let them prove again and then steam in a bamboo steamer. You're gonna be blown away by how puffy and delicious they look once steamed!
Making the char siu is as easy as hydrating the TVP and preparing the glaze. Give it a good brush to coat and then stick it under the grill to cook!
Pack your steamed buns with your vegan "pork" and some fresh veggies and hey presto!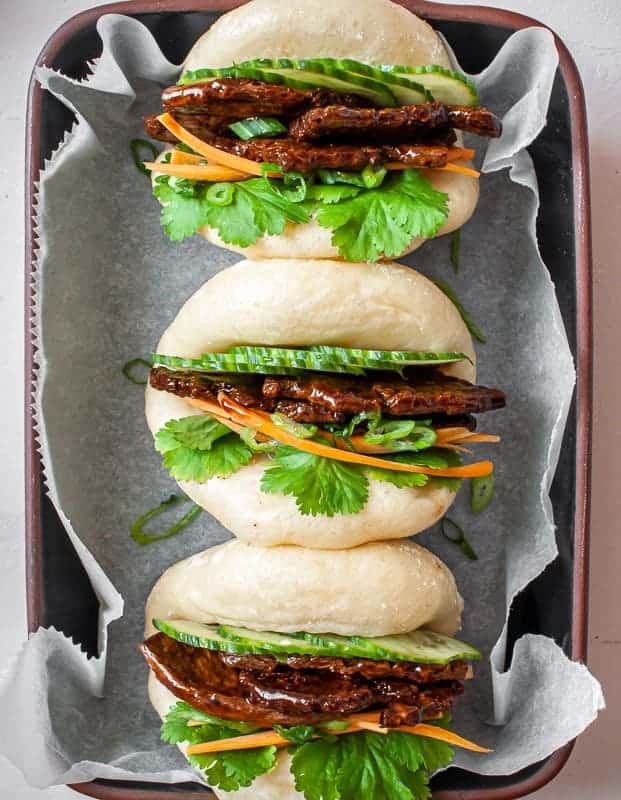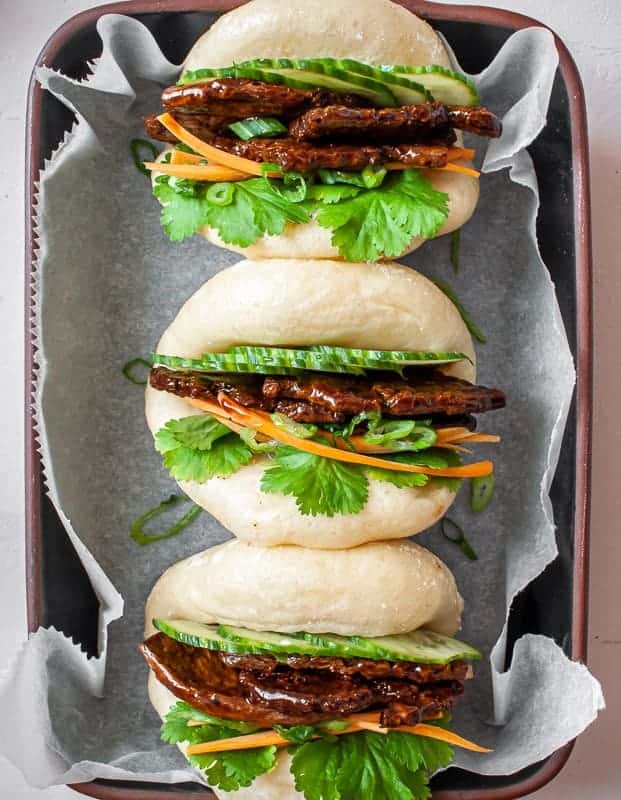 Still hungry?
Why not give these guys a go: