Vegan ricotta ravioli stuffed with sweet, roasted garlic and creamy, salty almond ricotta. They're smooth and so flavoursome they don't even need a sauce, just a little garlic oil and some fried sage leaves.
---
Trust me, you deserve these vegan ricotta ravioli. For a long time I assumed ravioli wasn't for me. Not just because it usually contained meat or dairy, but because it's TOO bougie!
I mean, pasta, with a sauce on the INSIDE?? Get you, mister big shot! But actually, turns out, it's just a case of perception. I started telling myself that I DO DESERVE ravioli and guess what? I suddenly FEEL like I deserve it!
So I made some! And you should too! Here's how!
Isn't pasta made with eggs??
Not this one! It also turns out that there are a bunch of different traditional ways to make pasta which have never involved egg. Pasta from Sardinia and southern Italy, for instance, tends to be made without eggs. Eggless pasta also became super popular in the war, when eggs became scarce.
The texture is delicate with a really gentle and satisfying chew, particularly if you choose to fry the ravioli. You can also use this dough recipe to make a whole host of pasta shapes – so bookmark this page for when you're feeling ready to experiment!
Do I need any specific kit to make vegan ricotta ravioli?
Unlike some more rustic kinds of pasta which are made by hand, you really do need a pasta machine for this recipe. I really wouldn't recommend using a rolling pin to get your dough thin, as you'll inevitably end up with a sheet of pasta which varies in depth.
You can grab the pasta machine I use here.
You'll also need to use a few bits and bobs in order to make the vegan ricotta. It uses a home-made almond milk (which is super easy to make). The ricotta in this recipe was inspired by my favourite pizza lover "Pizza is Lovely" who's a bit of a pro when it comes to plant based cheeses and meats – so shout out to him! 
You'll need one of these guys to help you make some almond milk which will ultimately become your ricotta. Make sure it's a high speed blender as you'll need to get things SUPER smooth.
You can grab the one I use here.
---
These guys are essential for straining out the almond milk. A sieve won't cut it – you really need a super fine material to strain out the fine ground almond and the almond curds.
You can grab the nut milk bags I use here.
---
These guys are essential if you really want your cheese to look like ricotta. They also allow the water to drain from the cheese better leaving you with a much creamier final product.
You can find the cheese moulds I use here.
How do I make vegan ricotta ravioli?
The process is actually surprisingly easy, and almost identical to the process of making dairy ricotta. In all honesty, I think this ricotta tastes even better than dairy stuff. It's much smoother in texture and the creaminess is just as satisfying.
1. Make the ricotta
Use your high-speed blender to blitz the almonds, water, salt and glucose until super smooth and white. Once strained through the nut milk bag, you have a nice smooth almond milk to work with. You now need to split the milk and separate the almond curds.
We do this by heating the mixture up and then adding an acid – in this case vinegar will do! Allow it to cool completely and then strain again. You'll be left with a collection of almond curds in the nut milk bag.
Transfer the curds to a cheese mould and place in the fridge to set.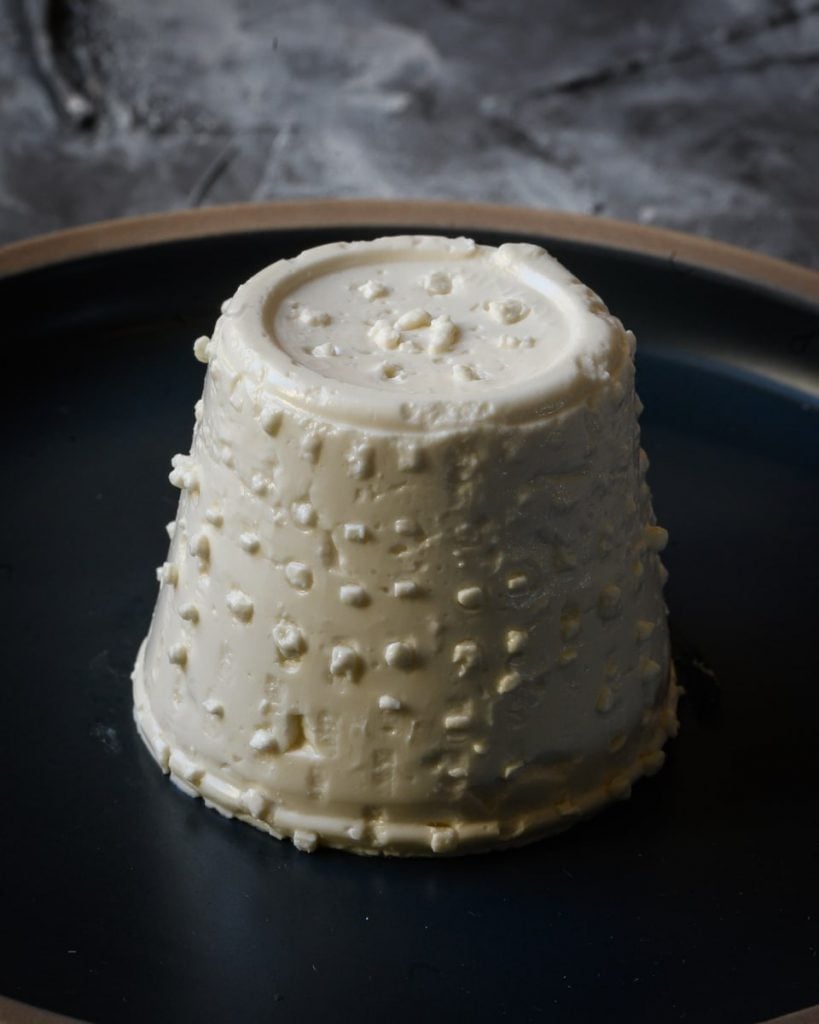 2. Roast the garlic
To really make the flavour of this filling hit the roof, I like to blend my ricotta with some roasted garlic. If you've never roasted a whole head of garlic in your oven, you've never lived. Your home will smell absolutely ridiculously tasty for the next few hours.
Its as simple as slicing the top few millimetres off the top of the head of garlic, drizzling with oil and roasting in the oven until soft enough to squeeze the garlic out of its skin. Once roasted, blend with the ricotta and refrigerate.
3. Make the pasta dough
As mentioned above, this is a super simple blend of flours, salt, water and olive oil. Nothing complicated. The only note I'd really push for this recipe is that you need to knead it. If you have a stand mixer, use that, with the dough hook, but before you start forming the ravioli, the dough should be smooth and springy.
4. Roll out the dough and fill
Now that you've got a super smooth pasta dough, you'll want to roll it out. When using a pasta machine it's important that you don't work with too much dough at one time. Start with the machine on the widest setting and gradually reduce until you're happy with the thickness.
Slice into two layers and start piping or spooning your filling in regular blobs along the bottom layer.
5. Seal the ravioli
Brush off any excess flour with a pastry brush before wetting the bottom layer of pasta slightly around the filling. This will mean the pasta forms a seal around the filling and you won't get any messy explosions.
Drape the top layer of pasta over the filling, very slowly, making sure you push out any air bubbles which might form. Air bubbles will expand when you boil the pasta which will lead to explosions and lost filling!
6. Cut out the ravioli and boil
Using either a ravioli stamp or a little pasta wheel, cut out the ravioli into whatever shape you'd like. I like to leave mine to dry out for a little while before boiling – I find it gives them a better texture, but this is definitely not essential.
7. Fry until golden and serve
Another non-essential step but I'd really recommend it. Before adding any sauce or dressing with oil, I'd recommend frying the ravioli. I like to flavour my oil with a little garlic and some fresh sage leaves and that way you don't even really need a sauce.
Need more Italian inspired vegan recipes?
Awesome! You've come to the right place! Why not try these guys?
---
Please keep in mind…
I love sharing my food with you – it seriously gives me so much joy! As a result, I put a huge amount of time and energy into creating these recipes. This recipe right here is my lil baby and I wouldn't change a single thing about it. As such, I won't give advice on any ingredient swaps, substitutions, omissions or changes to the method described above (how dare you talk about my baby like that!)
But seriously, if this recipe doesn't do it for you and you want to customise it – that's cool – no probs. Put that finely honed chef's intuition to good use and tailor the recipe to suit you! Regardless of whether you make any changes or not, let us know how you get on in the comments below.  
Disclosure: some of the links above are affiliate links, meaning at no additional cost to you, I may earn commission when you click through and make a purchase.