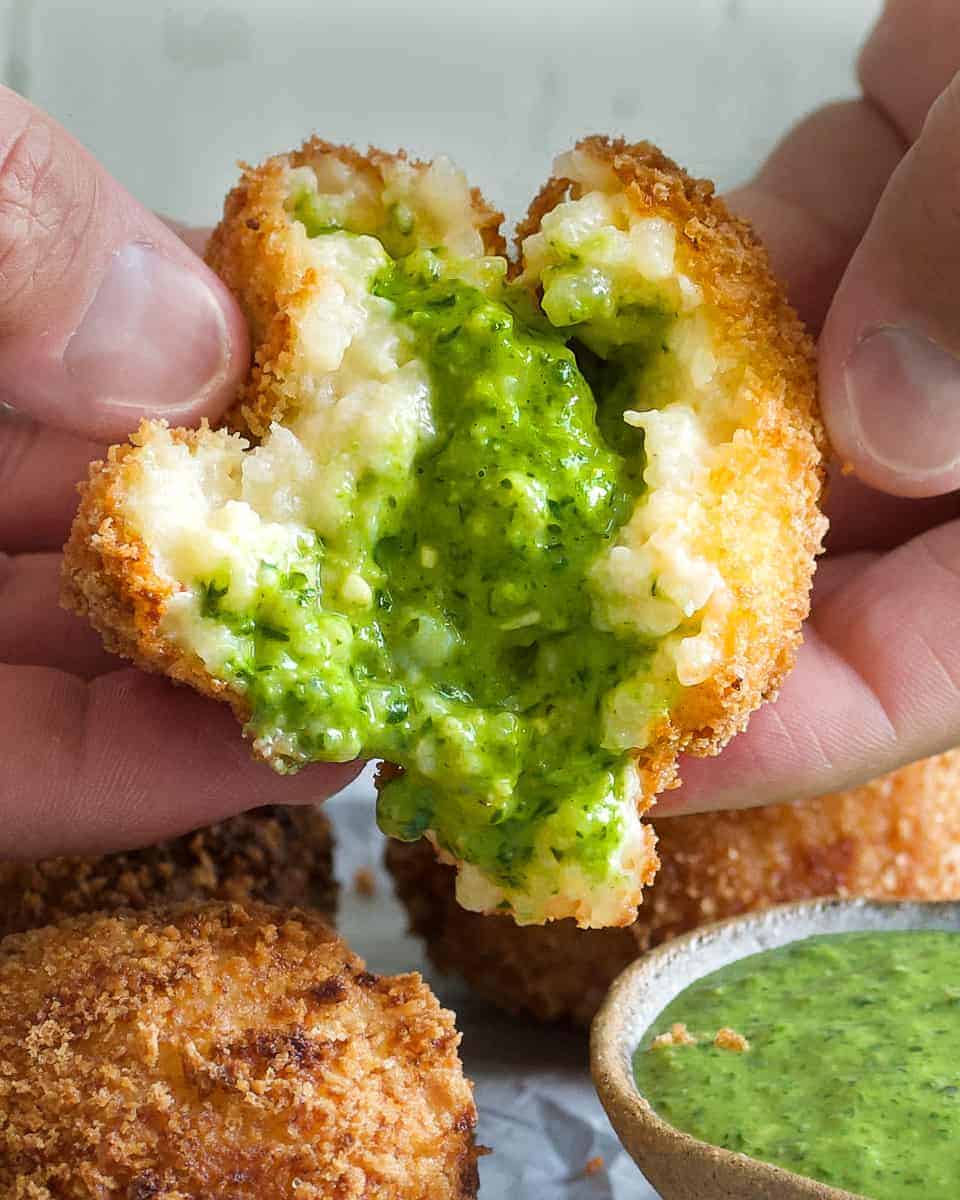 Vegan arancini packed with super stretchy vegan mozzarella, filled with fresh basil pesto. All covered in a crispy golden breadcrumb coating!
---
These vegan arancini are EMOTIONALLY and SPIRITUALLY very important to me. They're so fresh, with a delicious basil pesto filling. The rice itself is fragrant with lemon zest and creamy with super dramatic vegan mozzarella getting all stringy up in your face!
The coating is crispy perfection and that "wow moment" when you break one open is BORDERLINE SEXY! 
Why Arancini??
Here come the emotions. My first brush with arancini was a particularly sad one, many years ago in Boston's Little Italy. As a (then) lifelong vegetarian, I had come to rely of risotto being a pretty safe space on the menu of pretty much all restaurants.
It was to my delight, then, to learn of a magical appetiser made from cheesy risotto, rolled into balls, breadcrumbed and DEEP FRIED! (Imagine a very sweaty vegetarian me with wide eyes learning about arancini for the first time). 
I was visiting friends at the time in Boston, so the next morning I power walked over to little Italy with my guide-book in hand and straight into the first Italian bakery/restaurant I could find. They had, no joke, SHELVES of arancini, STACKED high, all glistening and freshly fried!
I used my school-boy Italian to translate the menu and, to my HORROR, realised that NONE of the arancini were vegetarian! I wen't from shop to shop that day, desperately searching for one I could eat, and I failed miserably. Unfortunately I went home empty handed and starving hungry.
Needless to say, if I returned to that same street today, I'd be EVEN LESS likely to find any VEGAN ARANCINI! So, this recipe is my attempt to absolutely nail a vegan arancini recipe (and I think I nailed it).
What are vegan arancini?
You've probably guessed from what I've written so far that vegan arancini (in fact all Arancini) involves risotto. 10 out of 10 for reading comprehension!
Arancini come from the south of Italy, namely Sicily. The name means lil' oranges (which is cute) and refers to how golden and round they look once fried! 
The challenges I faced with this recipe were as follows:
Make the vegan arancini taste CHEESY!
Make the pesto filling without using parmesan cheese!
Finally, to make these guys irresistible

without their usual meaty filling.
It wasn't easy but I'm happy to say I nailed it! I use a variation of my vegan mozzarella recipe for the cheesiness. The pesto is kept cheesy with nutritional yeast and sharp with lemon juice. And trust me, you won't even miss the meaty filling – the pesto is incredible. 
Made the Recipe?
Let me know what you think in the comments – and throw me a rating if you like!