Publised on 03/10/2022 by Richard. Last Updated on 20/11/2022 by Richard.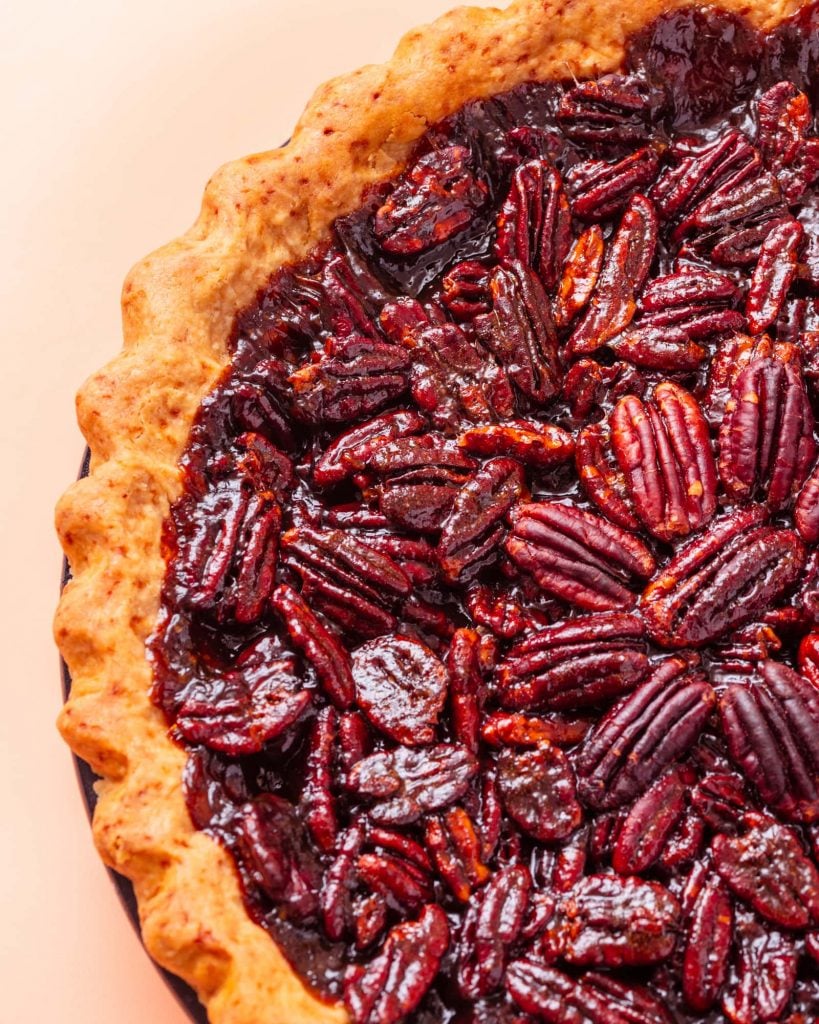 Deliciously gooey vegan pecan pie with crispy toasted pecans and golden caramelised filling. A perfect dessert for a vegan thanksgiving or fall feast!
---
Name a better pie than a vegan pecan pie! I bet you cant! OK maybe it's EQUALLY as good as my vegan pumpkin pie, but they're my two babies, I couldn't possibly pick a fave... But regardless, let me tell you about this one. I wanted a vegan pecan pie recipe which felt just as gooey, just as caramelised and just as crunchy as a regular pecan pie.
Traditional pecan pie contains a bunch of eggs and butter, and they're actually pretty integral to the texture of the pie filling, but guess what? I managed to find a very vegan solution. This pie stays gooey and sticky with a treacle-like texture and a whole bunch of super crunchy pecans. Intrigued yet?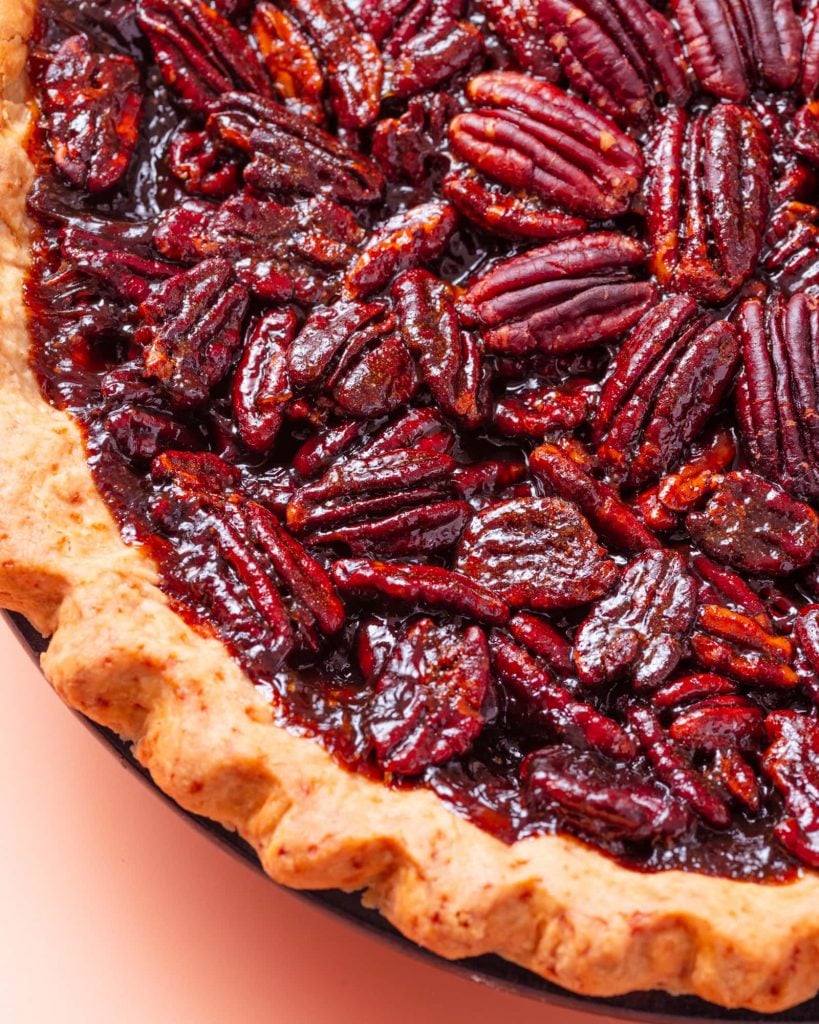 I've honestly been working on this recipe for about 4 years - almost the entire time I've been vegan. When I finally got it right, I declared to husband that vegan pecan pie is my absolute all time favourite dessert. Yes, I also said that about banana bread when I was developing that recipe last month, but that was last month! Things have changed!
This pie has more crunch than a banana bread could EVER dream of, plus it's actually super easy to make. You'll need a pre-baked pie crust to get started, so be sure to follow my recipe if you plan on making your own!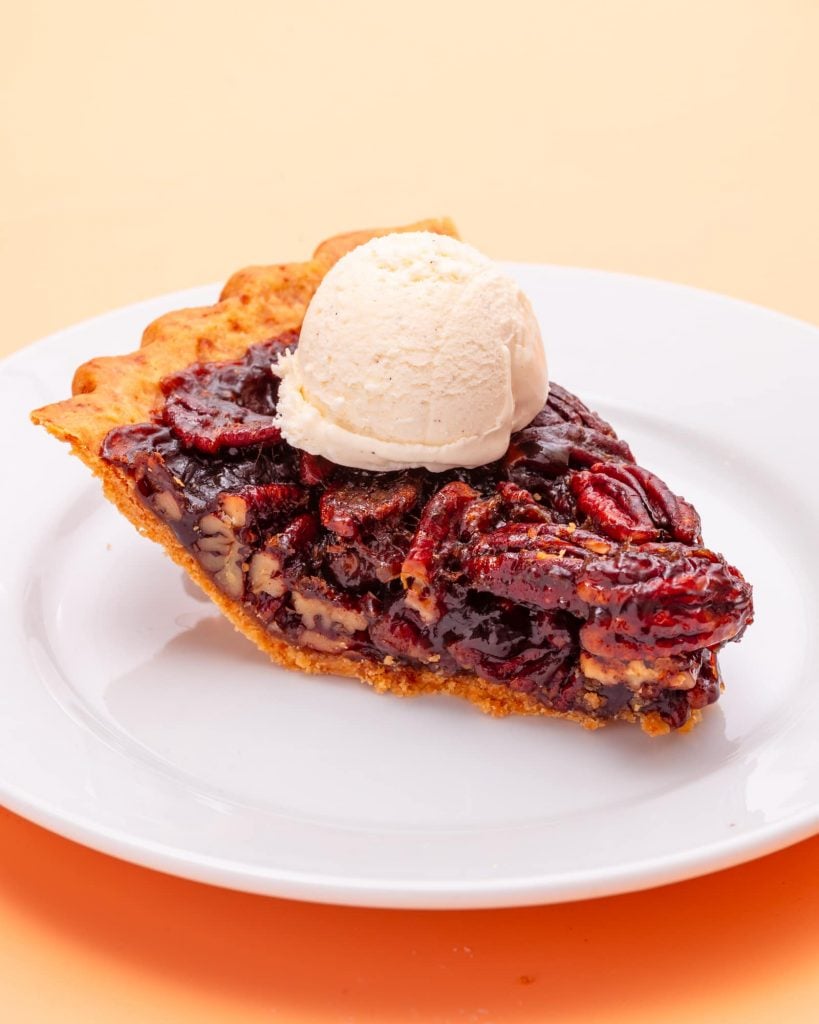 How do I make a vegan pecan pie?
OK, I get it, you wanna cut to the chase. If you're ready to dive straight into the recipe, scroll to the bottom of this page and get cracking. If you want to kill some time reading a step by step guide with some extra tips and tricks, keep reading!
1. Make your homemade egg replacement!
Because this recipe simply NEEDS to be gooey, it was essential to use a replacement for eggs. For our vegan pecan pie we're going to use psyllium husk powder as our egg replacement. Alternatively you can use flax seeds instead, but you'll need to adjust the amount slightly (see recipe for full details).
The reason I prefer psyllium husk powder over flax is that it has zero flavour, so you really can't tell it's there. I also find that ground flax seeds affect the texture of baked goods, since they're virtually impossible to grind finely. But like flax, our psyllium husk mixture needs to be hydrated in water before it's added to our vegan pecan pie.
2. Melt together the vegan butter and brown sugar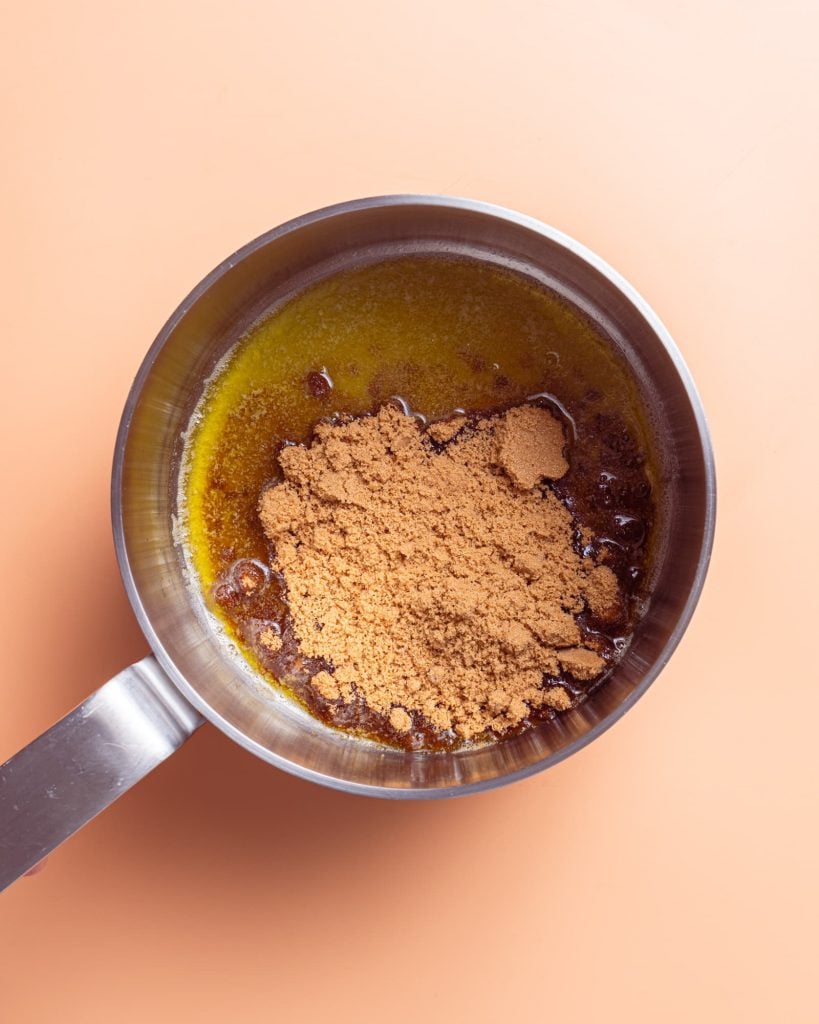 Now we're going to start making the caramel-y treacle-y filling for our vegan pecan pie. This filling starts with vegan butter and brown sugar, which we're going to melt together in a saucepan. It can be tempting to stop cooking this mixture too soon, but don't! You need to cook for long enough and whisk well to make sure the two ingredients come together as one, like the spice girls.
3. Add the cornstarch and vegan egg mixture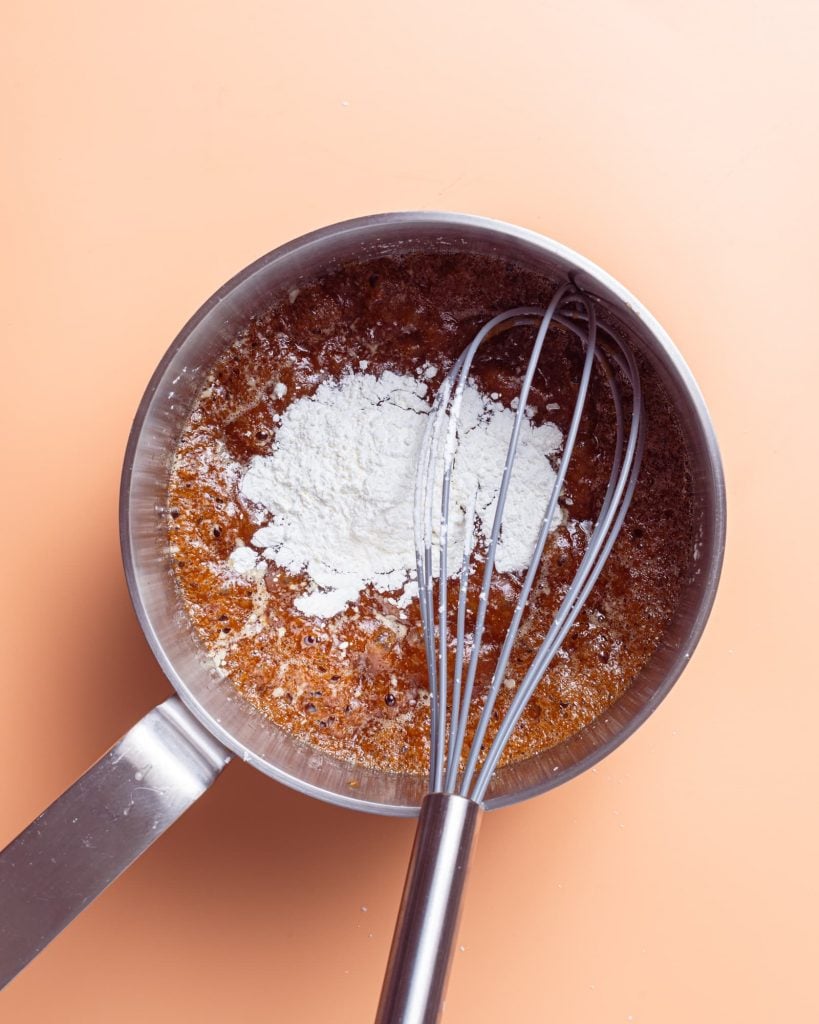 We add cornstarch at this stage and whisk well because it's technically the SECOND element of our vegan egg replacement. The cornstarch helps our filling to "set" as it bakes. We're also going to whisk in our psyllium husk mixture at this stage, so you now get to witness the filling become its gorgeous glossy peak self.
Once the cornstarch and psyllium husk mixture are added, it's time to add our remaining ingredients including our golden syrup. Golden syrup is replaceable with corn syrup, if you're in the US. You can also use brown rice syrup too!
4. Assemble the vegan pecan pie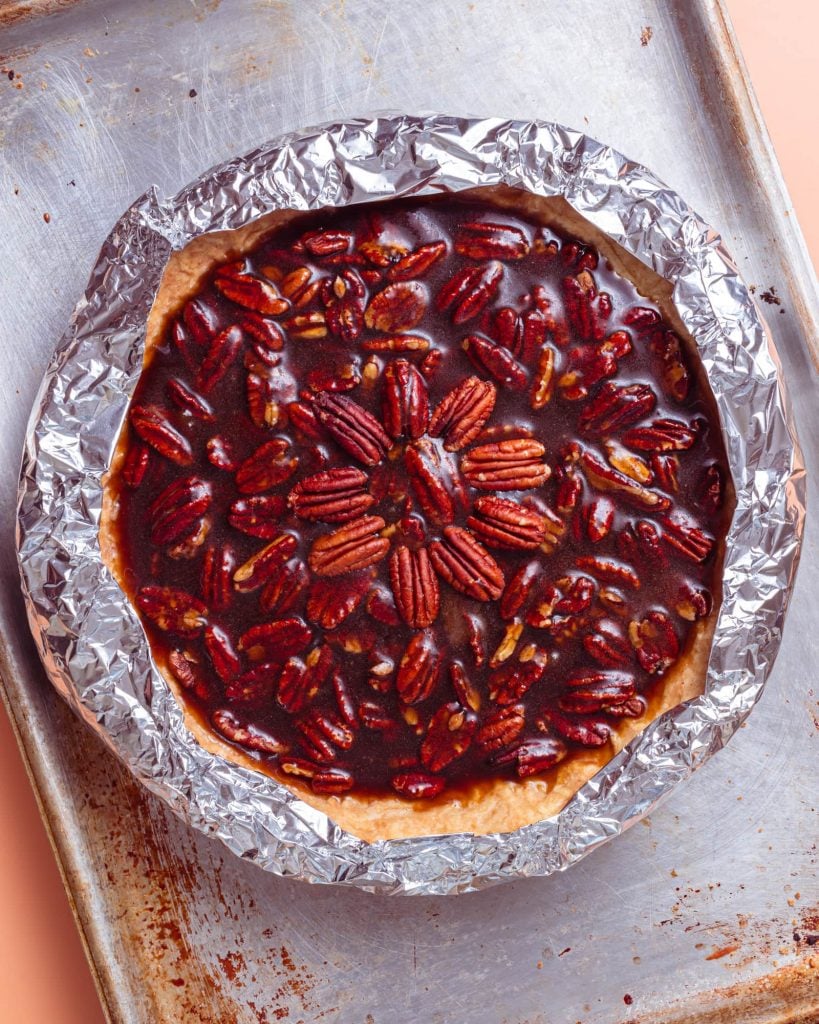 I like to add the pecans to the pre-baked pie crust after wrapping the edge of the pastry with aluminium foil. This helps the pastry not to burn (as it's already been baked once, remember!?) then all that's left to do is to pour the filling mixture in.
Don't worry if the pecans look like they've settled on the bottom of the mixture - they'll float to the surface in a minutes or two.
5. Bake the vegan pecan pie!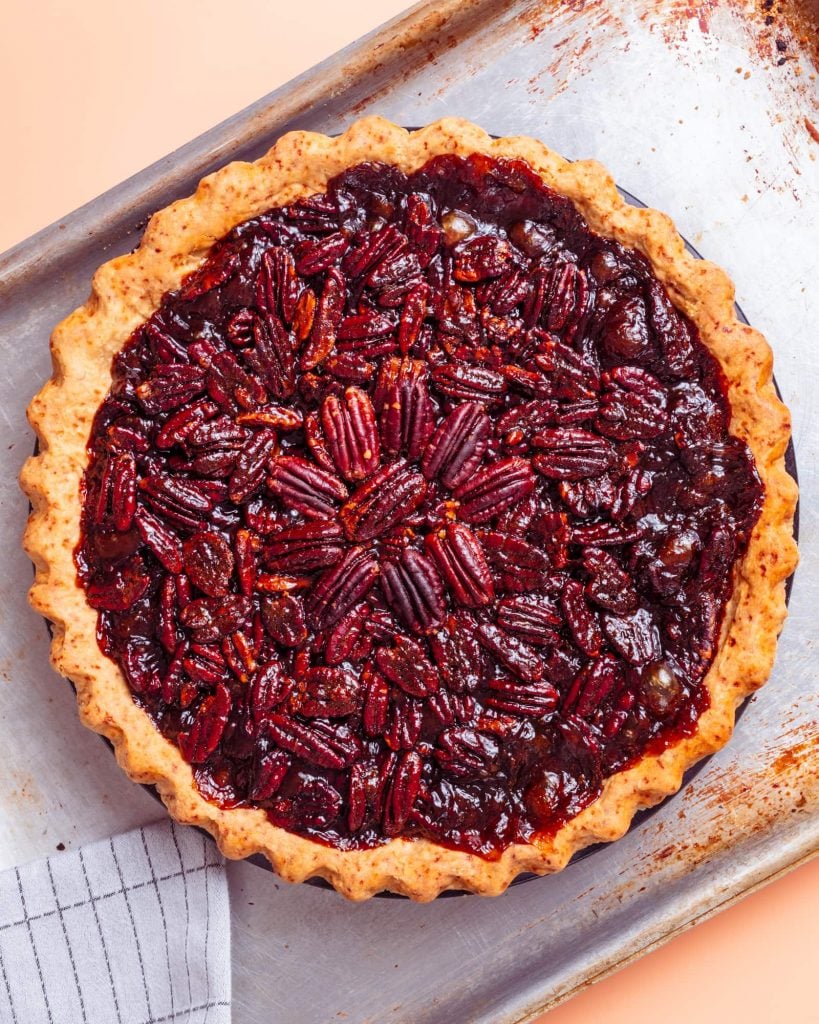 Can you believe it?? You're already at the baking part! Wasn't that easy?? It's a rather lengthy bake (at around 50 minutes) but it's truly worth it. If you're used to making regular pecan pies, you might be a bit shocked at how jiggly and liquid the pie looks when it comes out of the oven, but don't worry - it will set as it cools.
In fact, I find that this pie tastes and slices best straight from the fridge. But that's just my opinion 😉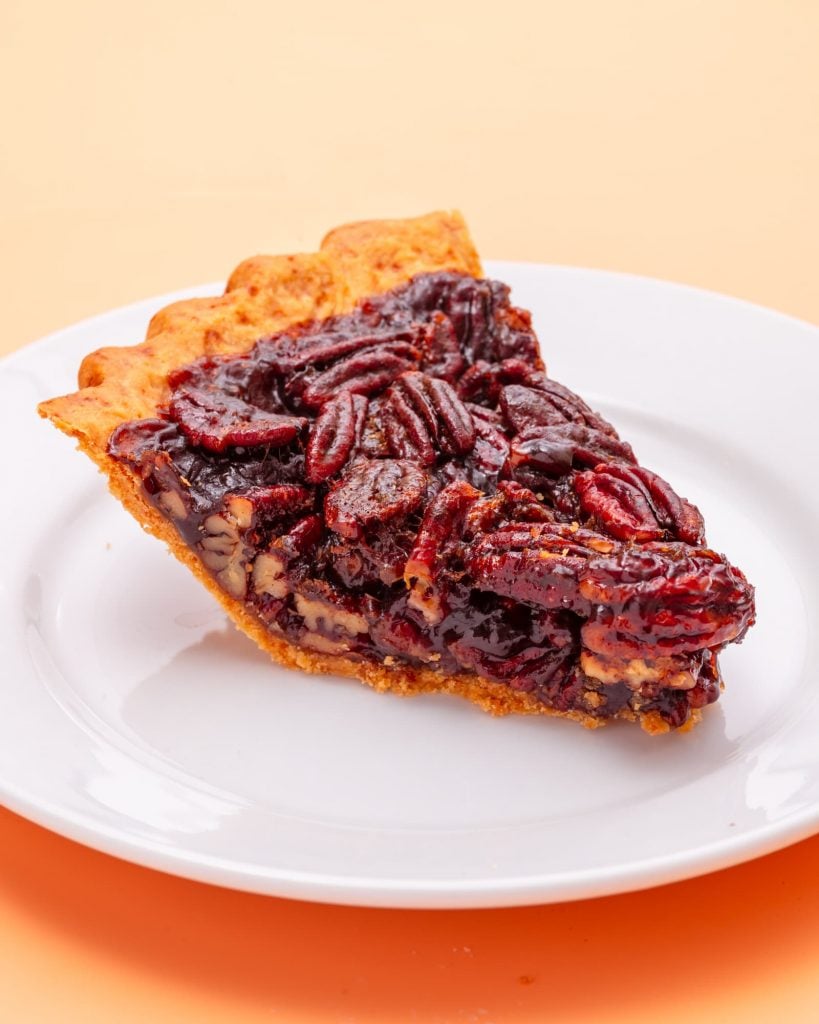 And that's it! Your vegan pecan pie is ready! I love pecan pie with a scoop of ice cream, but you could also happily serve with my vegan whipped cream - ooh a nice big dollop! I've also served this recipe with oatly creme fraiche, which introduces a nice tang to the arrangement. The world is your vegan oyster!
If you're not eating straight away, I'd advise you to store the pie in the fridge, wrapped up. It'll last a few days this way, but it's best to eat the day you bake it if possible.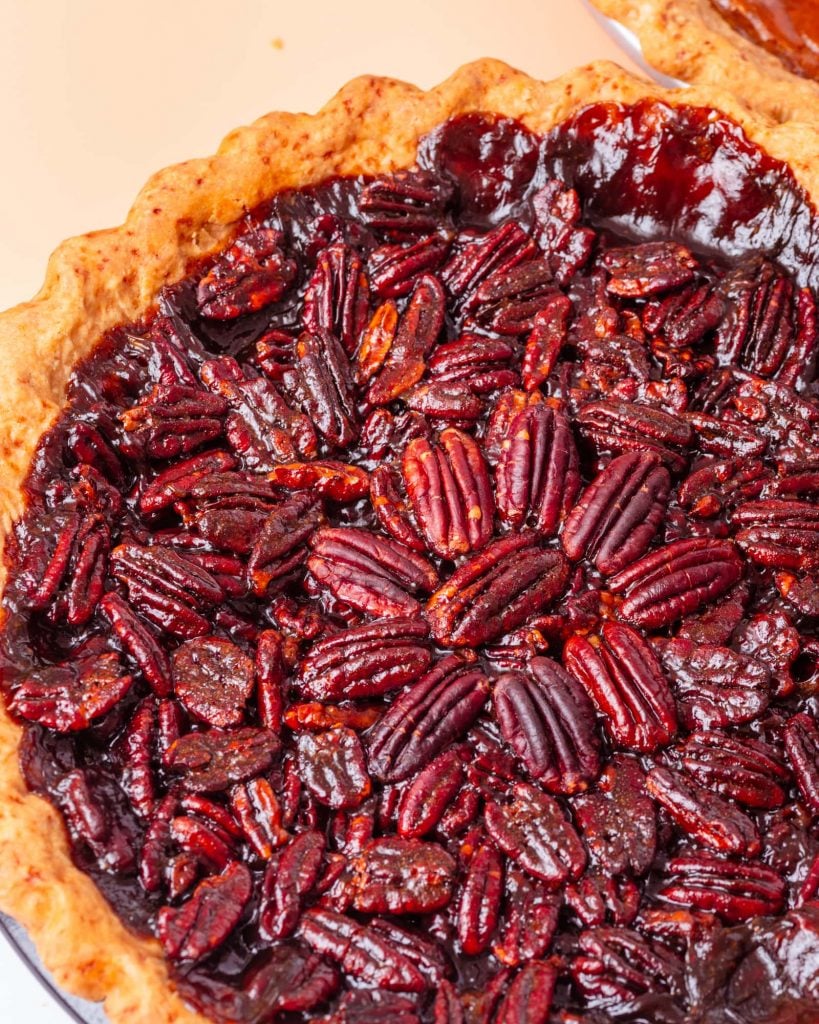 I say this every time, but here goes! It helps me MASSIVELY if you can rate and review this recipe below. This blog is here because people like you actually use it and cook these recipes!
Alternatively, take a picture and pop it on instagram! You can follow me here if you don't already, or use the hashtag #schoolnightvegan when you post!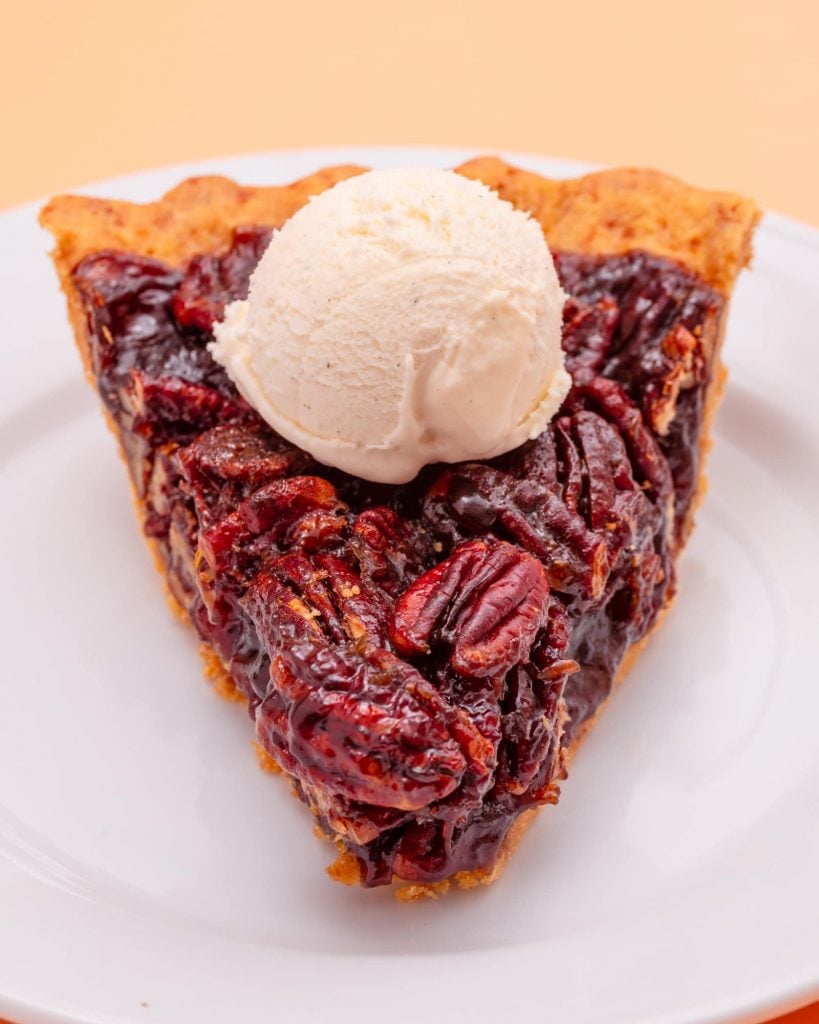 WANT MORE VEGAN PIES!?
Why not try:
Tahini and Dark Chocolate Fridge Pie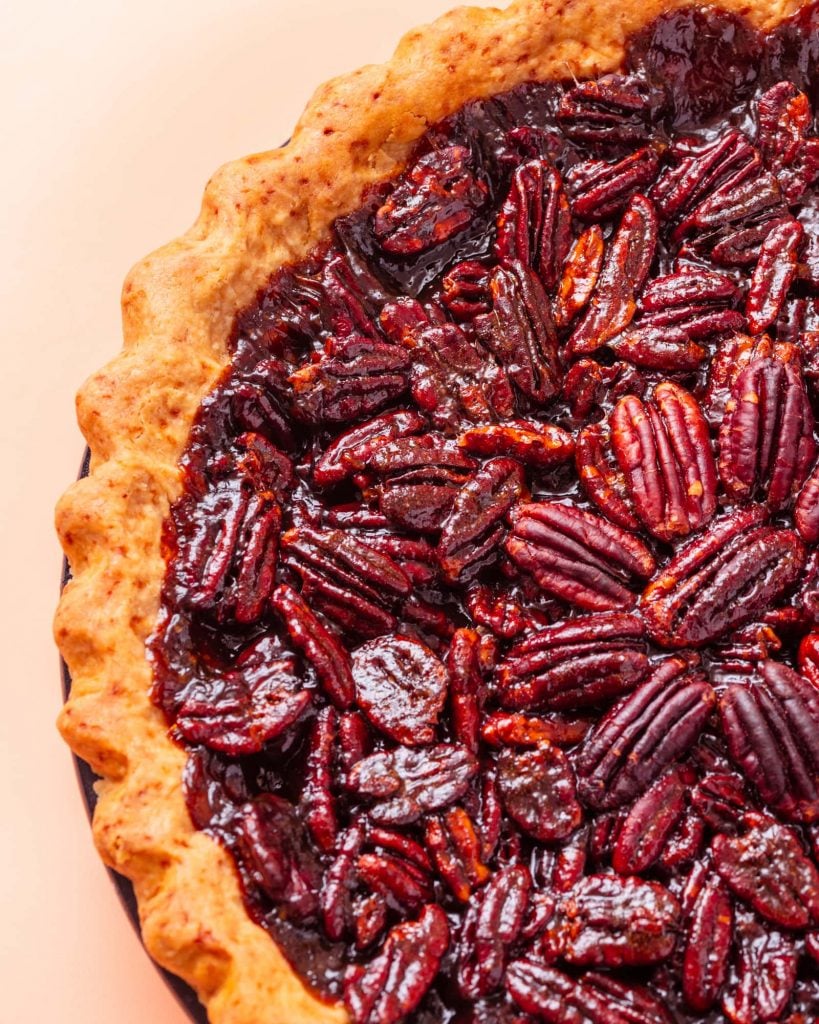 Vegan Pecan Pie
Deliciously gooey vegan pecan pie with crispy toasted pecans and golden caramelised filling. A perfect dessert for a vegan thanksgiving or fall feast!
Equipment
no specialist equipment required
Ingredients
150

ml

water

2

teaspoon

psyllium husk powder

(or 2 tablespoon ground flax seeds)

55

g

vegan butter

110

g

light brown muscovado sugar

2

tablespoon

corn starch

330

g

golden syrup

(or light corn syrup)

1

tablespoon

treacle

(or molasses)

½

teaspoon

fine sea salt

2

teaspoon

vanilla extract

280

g

pecan halves
Instructions
Preheat the oven to

175

°C

and place a baking sheet inside. Wrap the crust edges of the pre-baked pie crust with two thin layers of aluminium foil and set aside.

In a medium bowl, whisk together the water and the psyllium husk powder. Set aside until thickened and gelatinous.

150 ml water,

2 teaspoon psyllium husk powder

In a medium saucepan, place the vegan butter, then place over medium heat. Once the butter is melted, add the light brown sugar and whisk well until fully melted and smooth.  

55 g vegan butter,

110 g light brown muscovado sugar

Remove from the heat and add the corn starch and psyllium husk mixture. Whisk well to combine, making sure no lumps of the psyllium husk mixture remain, then add the golden syrup, treacle, salt and vanilla extract. 

2 tablespoon corn starch,

330 g golden syrup,

1 tablespoon treacle,

½ teaspoon fine sea salt,

2 teaspoon vanilla extract

Place the pecan halves in the prepared pie crust and pour the filling mixture over the top. Place in the oven on the hot baking sheet to bake for 50 minutes.

Remove from the oven and leave to cool fully on a wire cooling rack before slicing and serving.
Notes
1. You can find my recipe for the perfect vegan pie crust here. For this recipe it's important to blind-bake the pastry before adding the filling, so follow the instructions in my recipe. Alternatively you can use a store bought pie crust but just make sure it's a vegan one and doesn't contain butter.
2. Since the pastry is already pre-baked, it's important to use a crust protector to stop the edges from burning. No need to buy a fancy silicone one, just fold over a sheet of aluminium foil to form two layers and wrap it around the pre-baked crust. This should reflect some of the heat away from the pastry, ensuring the filling has time to cook, but the pastry doesn't have time to burn.
Nutrition
Calories:
495
kcal
Carbohydrates:
55
g
Protein:
4
g
Fat:
30
g
Saturated Fat:
4
g
Polyunsaturated Fat:
8
g
Monounsaturated Fat:
16
g
Trans Fat:
0.02
g
Sodium:
236
mg
Potassium:
183
mg
Fiber:
3
g
Sugar:
39
g
Vitamin A:
226
IU
Vitamin C:
0.3
mg
Calcium:
44
mg
Iron:
2
mg
Love this recipe?
Let me know on Instagram!