Publised on 27/11/2022 by Richard. Last Updated on 07/11/2023 by Richard.
Ultimate loaded vegan nachos with pico de gallo, nacho cheese, sour cream and gently spiced vegan ground/mince.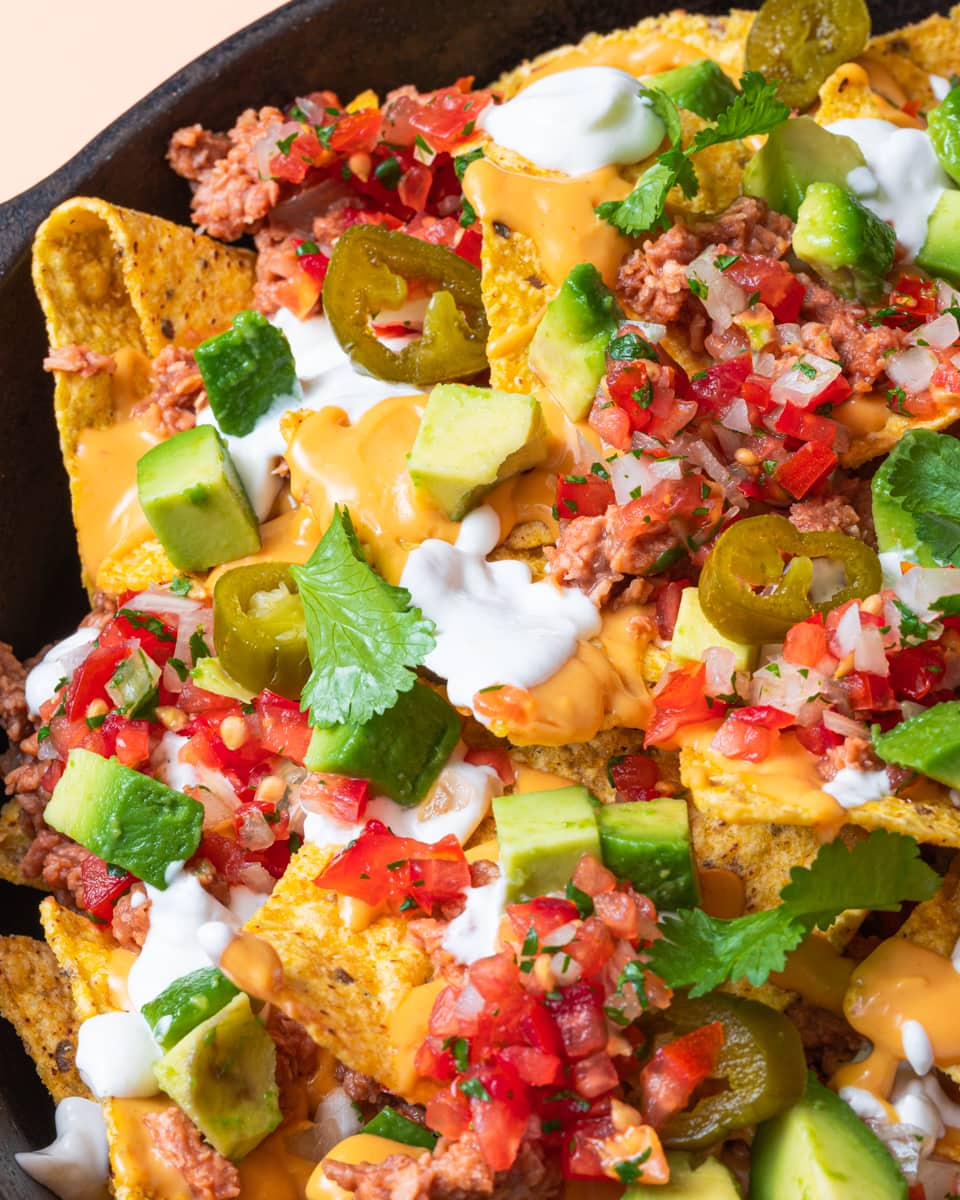 You guessed it, we needed a vegan nachos recipe and it was an inevitability after my vegan sour cream and vegan nacho cheese recipes were such a smash hit! And how better to use them than to layer up a heavenly chip salad aka nachos! Heck, why not throw together a full Mexican style feast with my vegan Mexican rice!
In addition to the vegan sour cream and vegan nacho cheese, you've also got gorgeously spiced vegan mince or ground (whatever you call it). You've got pico de gallo AND all the nacho big boys like avocado and jalapeños!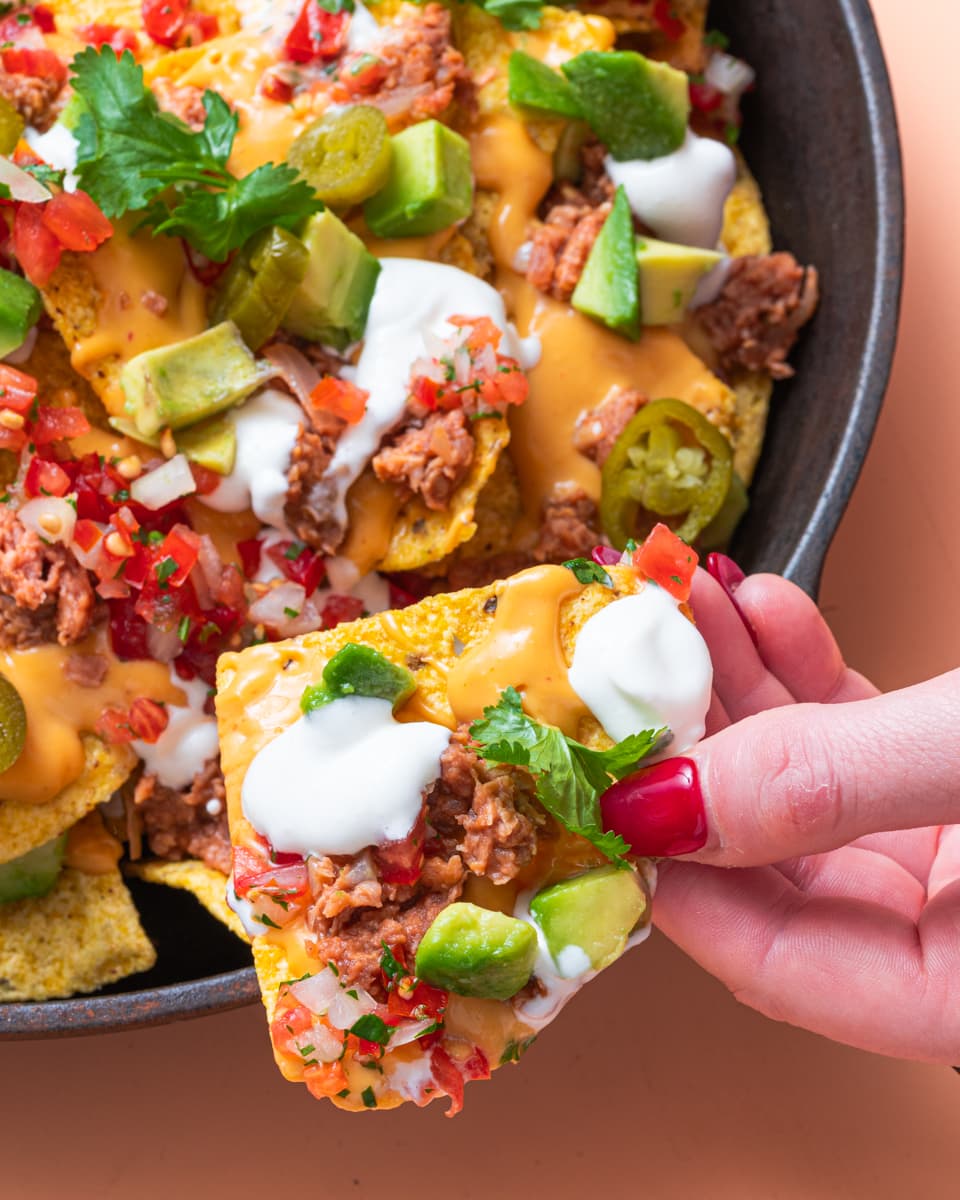 Jump to:
🧈 Vegan Nachos Ingredients
Vegan nachos: easy to eat and also surprisingly easy to make! Before you get started here's everything you're gonna need! Anything listed below with a link to another recipe should be prepared before you even start this recipe.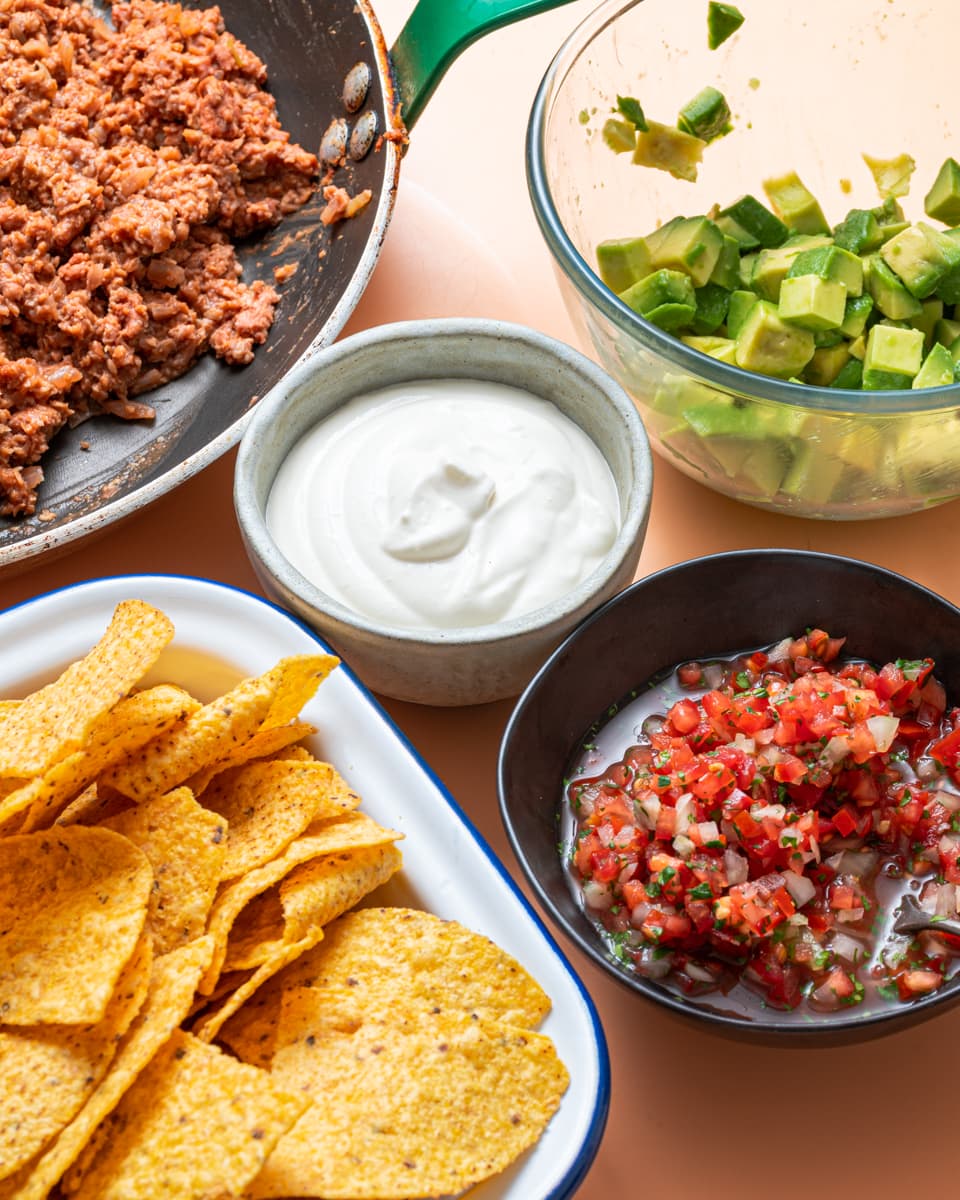 For the Ground/Mince
Onion (finely chopped)
Garlic (finely minced)
Vegan mince
Paprika, ground coriander and cumin
Dark soy sauce
Refried beans
For the Pico De Gallo
Onion (very finely diced)
Juice of 1 lime
Tomatoes (very finely diced)
Coriander (very finely chopped)
For the Nachos
Tortilla chips
Avocado (peeled, stoned and diced)
Juice of half a lime
Pickled jalapeños (for serving)
As always, the full recipe is at the bottom of the page - don't panic! Check there for quantities.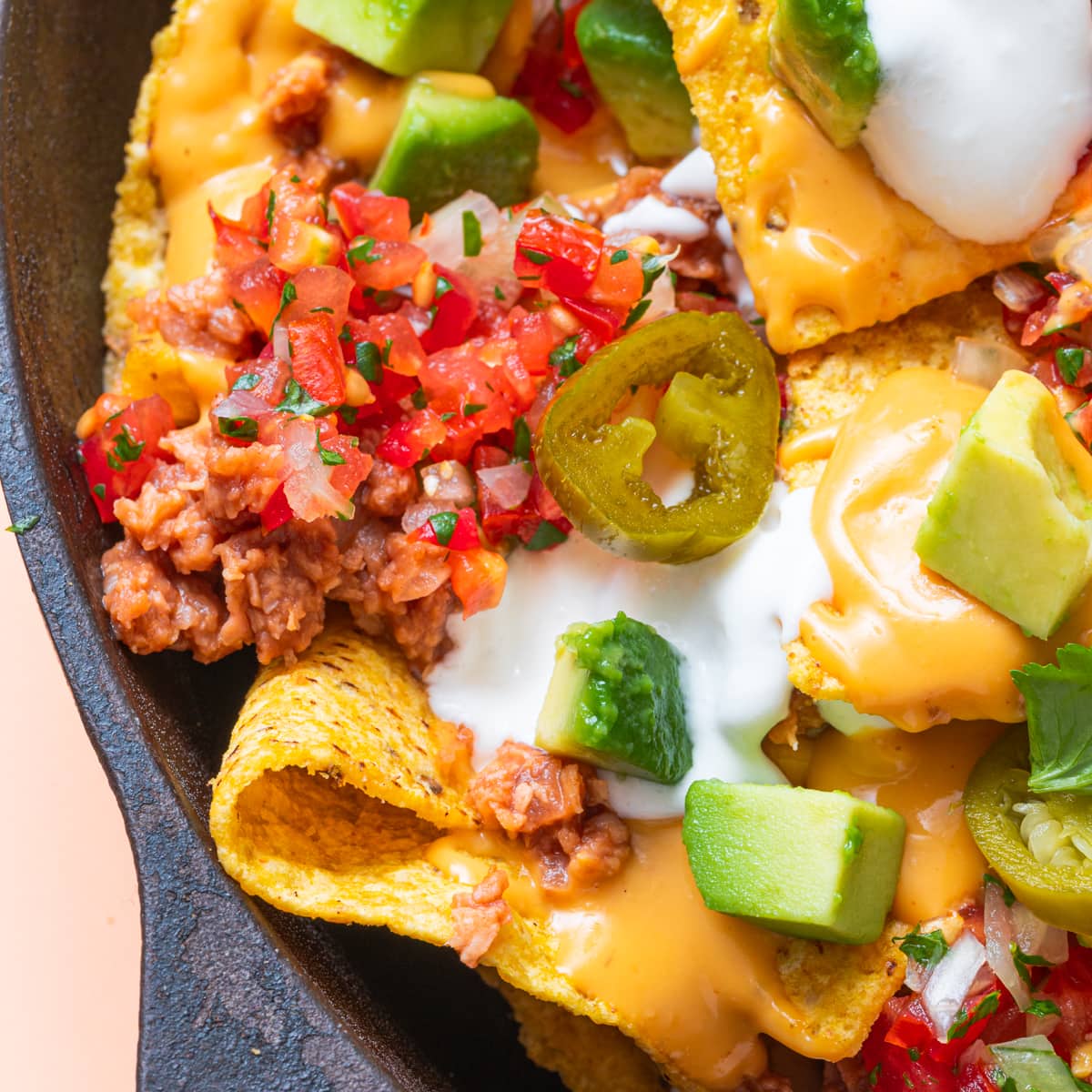 🥣 Method
Look, I know you think everyone knows how to make vegan nachos, BUT DO THEY?? Would you be here if you knew?? The answer is no, so silence from now on. Also I once attended a blog writing workshop hosted by a guy called Jeremy and he told me to write for the LEAST experienced reader, and that's exactly what I'm doing here. Jeremy, do I make you proud?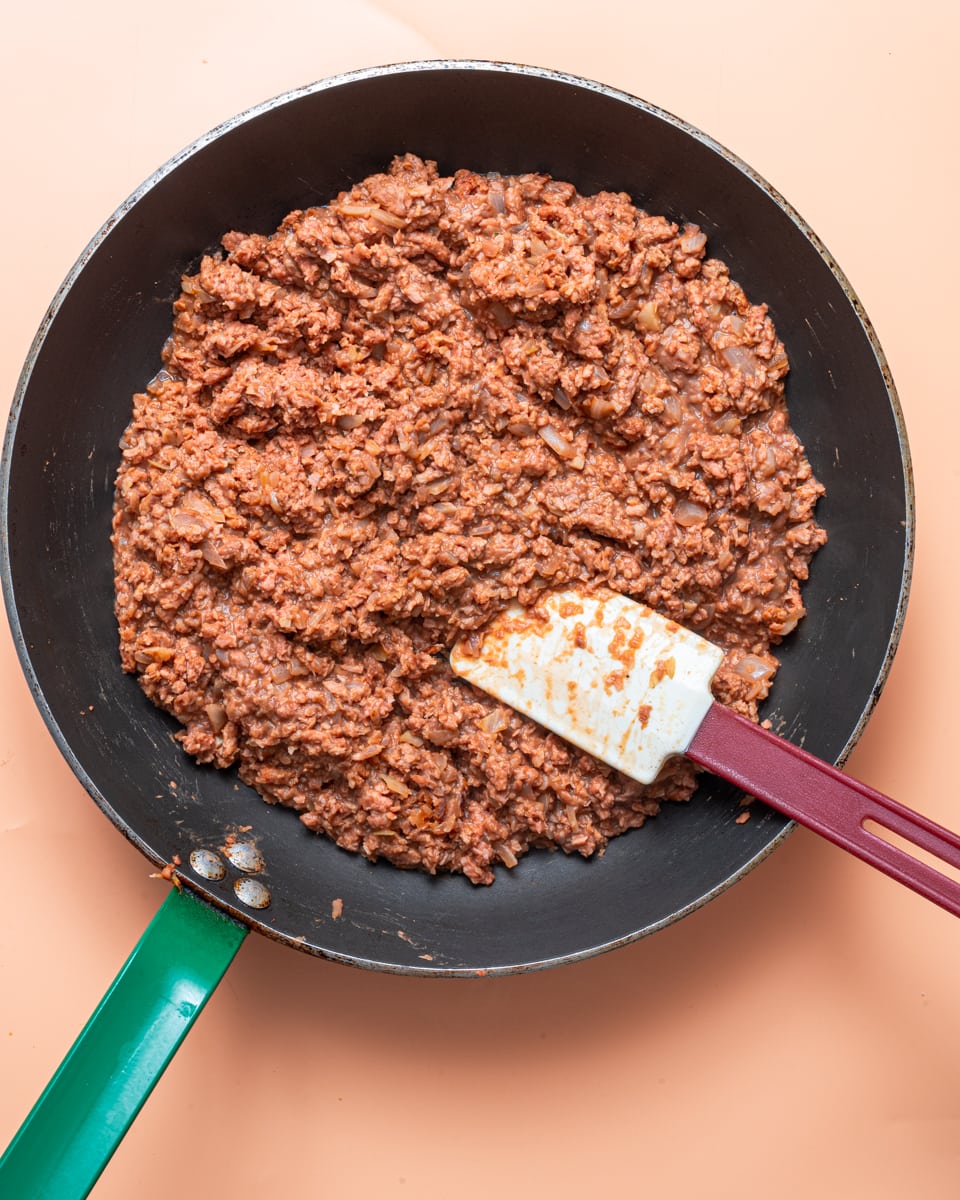 1. Cook the vegan meat! Americans call it ground, I call it mince, but who cares! We're going to cook it with some spices and refried beans to get a delicious meaty sauce. Keep it warm while you get everything else ready! I use mince from The Meatless Farm but any variety is great!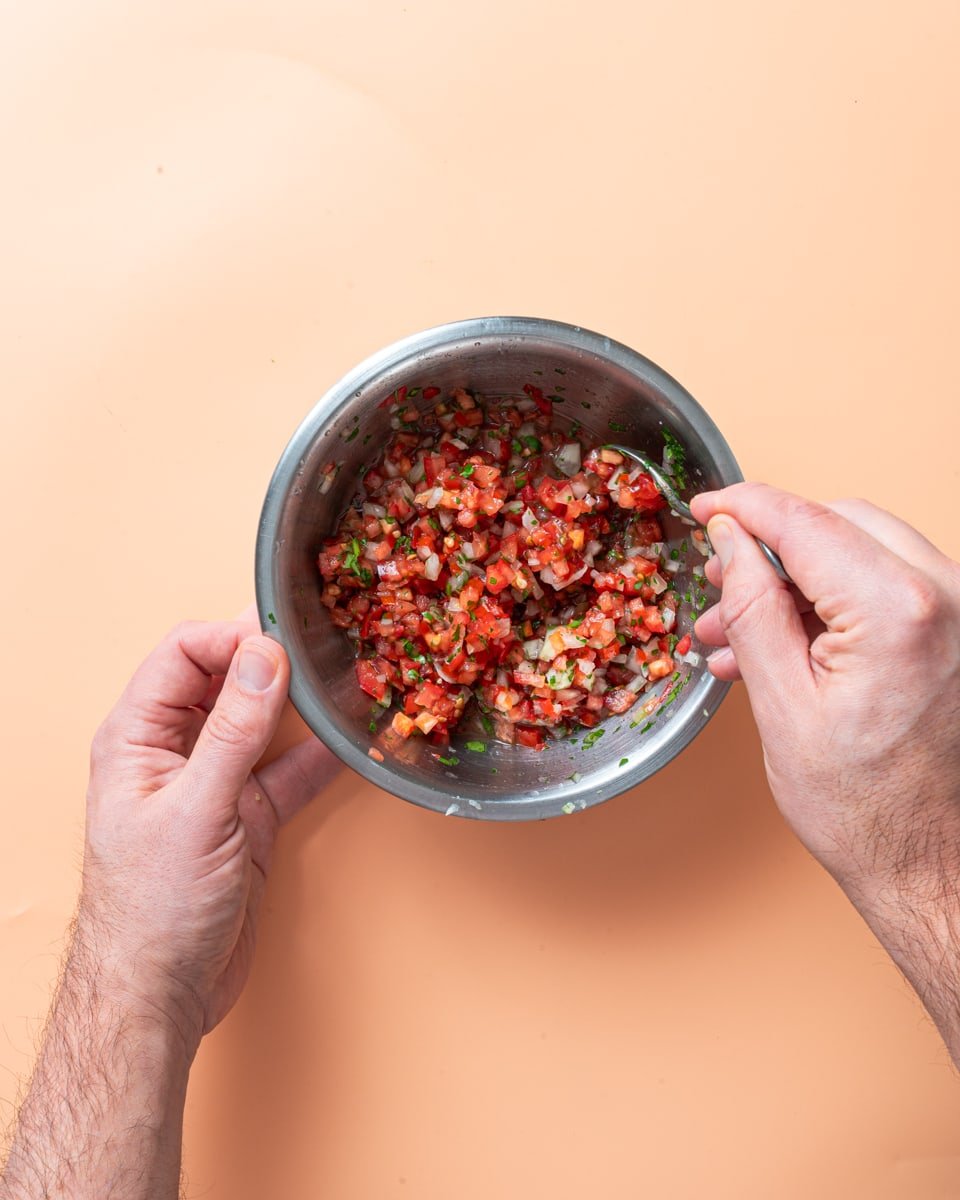 2. Make the pico de gallo! Obvs you can also buy salsa for this purpose, but is that REALLY how you imagine you'll make the best vegan nachos on planet Earth? It sure as hell aint! Finely dice tomatoes, onion and coriander then squidge over a good splash of lime juice.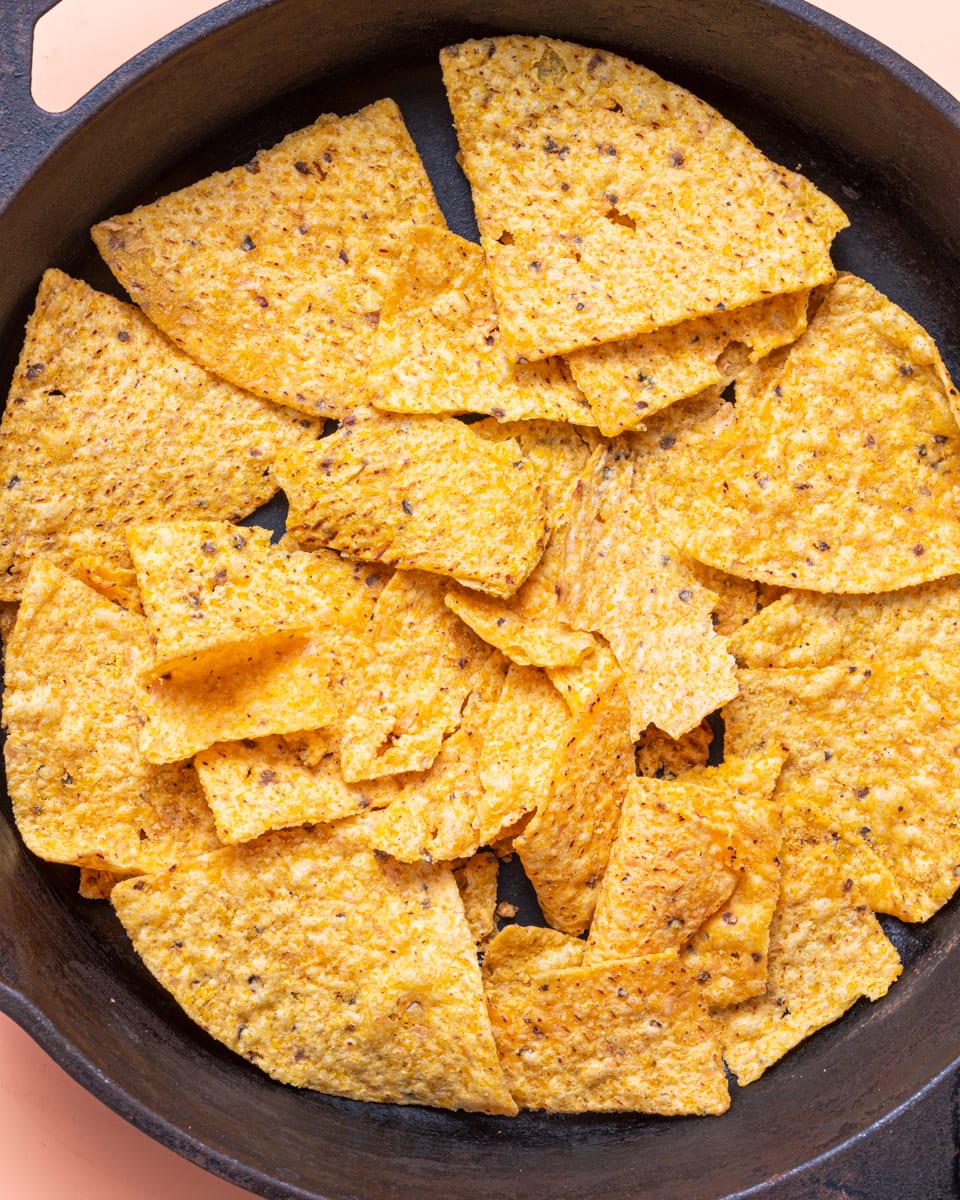 3. Toast the tortillas! If you want hot nachos, it's time to get toasting! Stick your tortilla chips in a skillet or a baking tray and toast in the oven for 5-10 mins. Watch them like a hawk though, as they'll burn easily!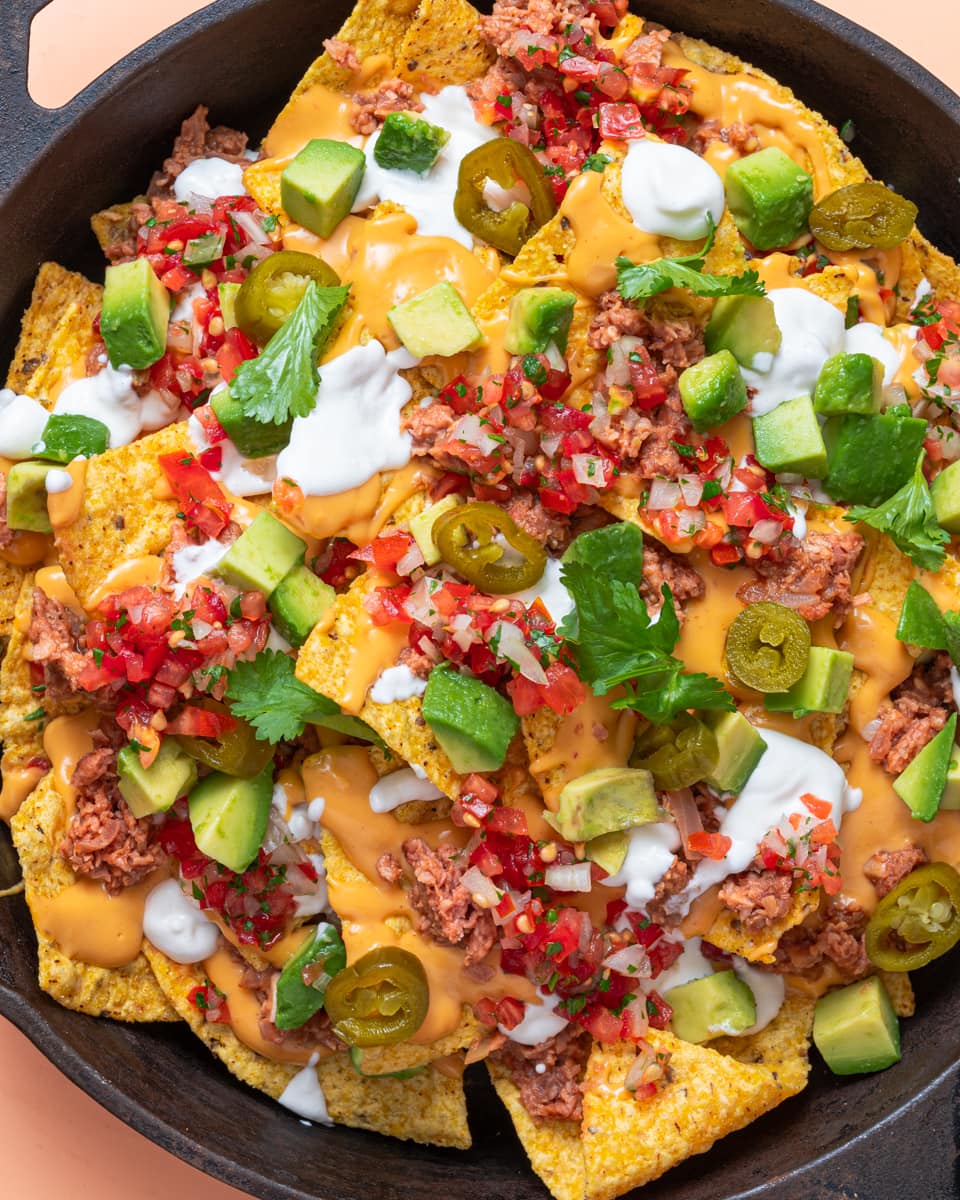 4. Layer your nachos! I like to stack my nachos in layers, but if you're spreading in one flat layer, there's no need. I like to start with the nacho cheese and the vegan meat and work my way through the remaining layers! Oh, and don't forget to serve with hot sauce!
🧞‍♂️ Hint
This vegan nachos recipe works both hot or room temp! The vegan nacho cheese and the ground/mince is enough to warm the tortilla chips lightly, but if you want HOT nachos, just toast the naked tortilla chips in a warm oven for 5-10 minutes before topping with the toppings!
🔄 Subs and swaps
Here's how to make vegan nachos that works for everyone! No matter the dietary requirement! Because inclusion is sexy!
Vegan Mince - If you don't wanna use vegan mince (which often contains soy or wheat) you can replace it for lentils and mushrooms. Full quantities are suggested in the recipe card.
Soy Free - This recipe can easily be made soy-free. Just be sure to use a different plant milk when making the vegan sour cream and nacho cheese.
Let me know if you make any subs or swaps of your own - I'd love to hear how they turned out!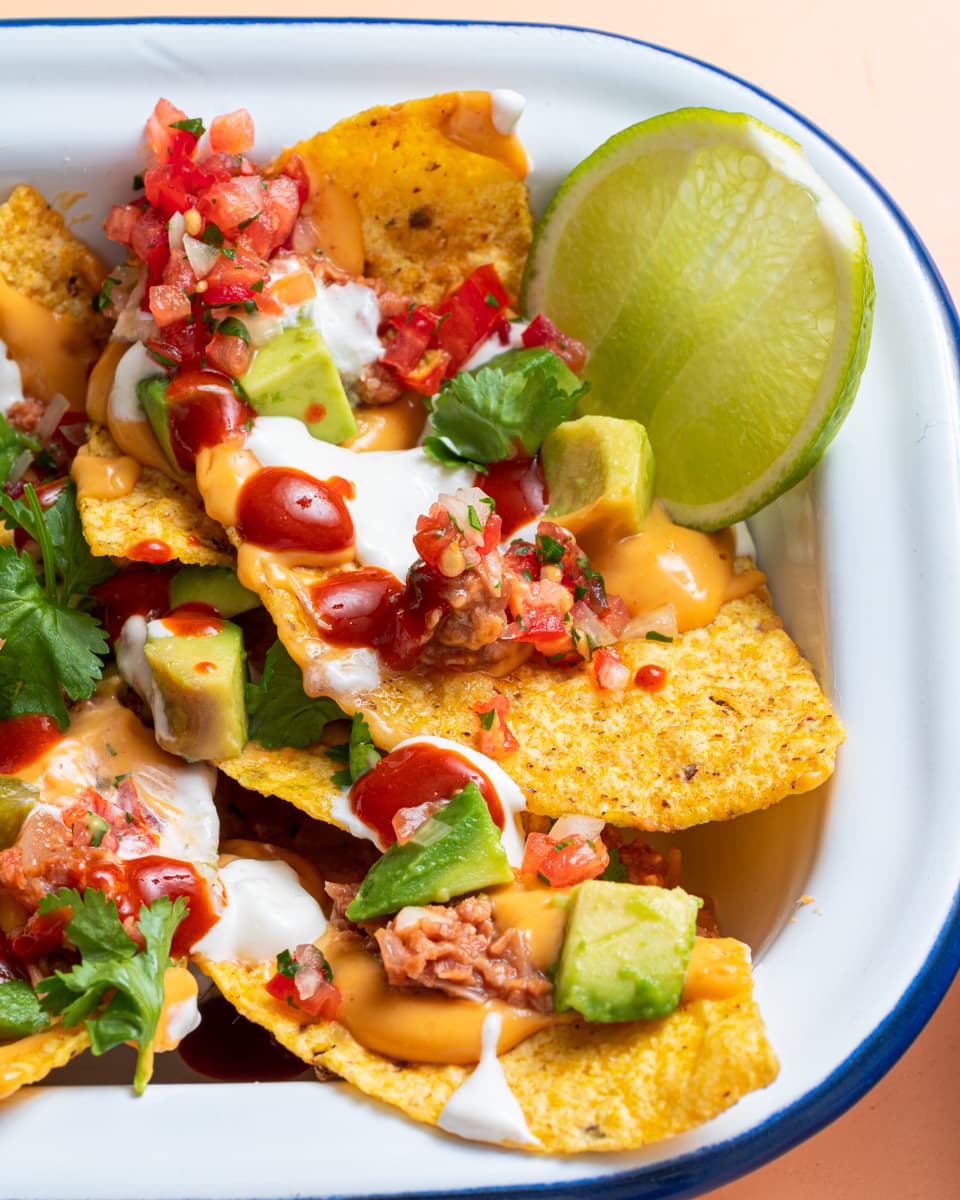 🍪 Alternative Vegan Nachos Toppings
Looking to take things a step further with your vegan nachos? Here are my suggestions for putting your thang down, flipping it, and then subsequently reversing it.
Mango- As we all know, mango is the best fruit. Cube one finely and toss with some lime then spoon over your nachos!
Shredded cheese- Yeah you got vegan nacho cheese up in this joint, but isn't more vegan cheese even better?? Why not use my shreddable vegan cheese recipe!
Hot sauce- I know you're probs gonna do this anyway, but just so that I can say I got there first PUTHOTSAUCEONTHEM!
And hey, if this vegan nachos recipe isn't for you, don't worry! I've got loads of other gorgeous heavenly recipes for you! Try my Chorizo Spiced Rigatoni Bake for a wintery spicy vibe. Or you could try my Vegan Fish Tacos (with Banana Blossom!)
🔪 Equipment
Here's everything you'll need to make the best vegan nachos and oh boy are you gonna feel glad when you see how easy these vegan nachos are to make!
1 Medium Frying Pan
1 Medium Bowl
oven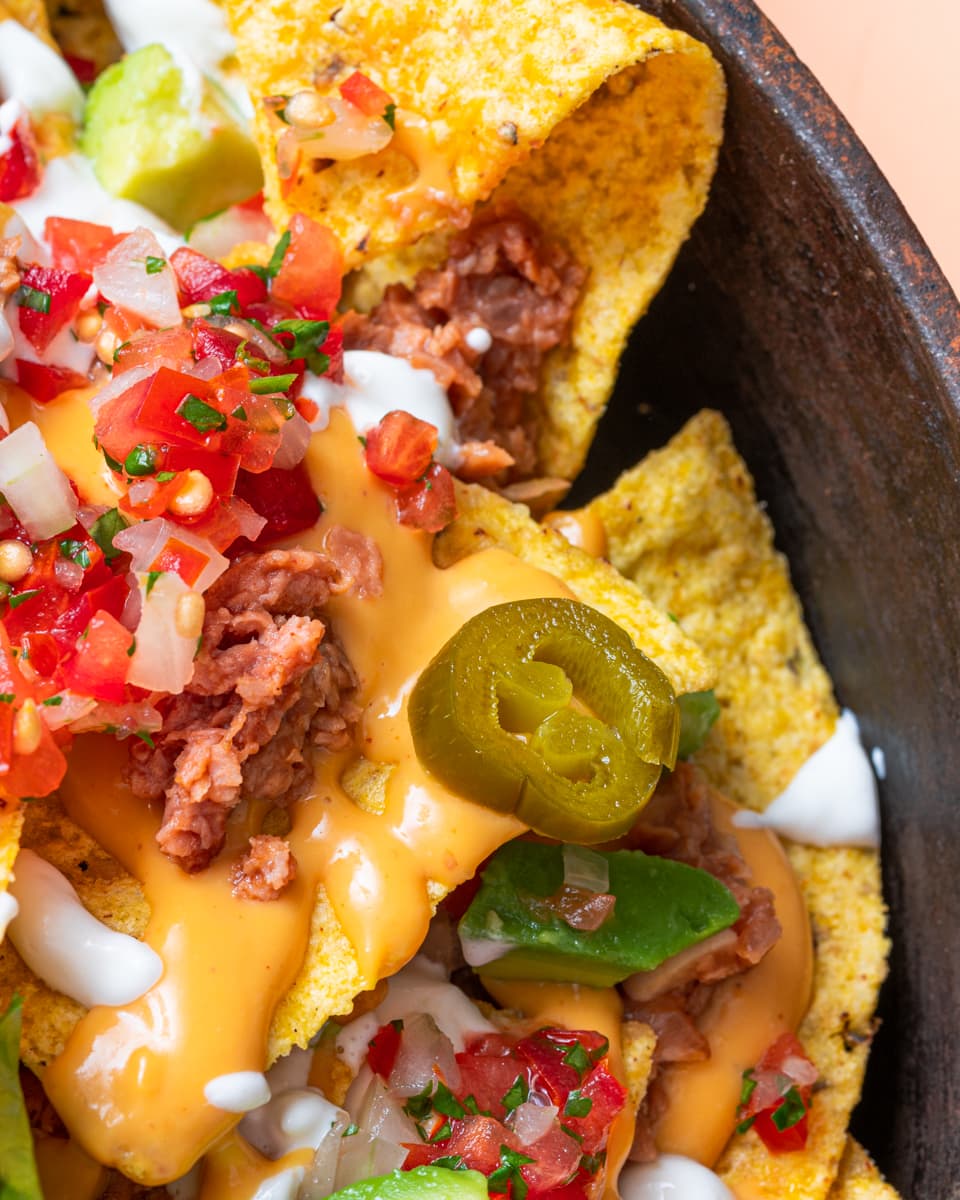 🤷‍♀️ Vegan Nachos FAQs
Q: Are nachos vegan?
A: Traditionally nachos aren't vegan! They're made with cheese, meat and sour cream. This recipe is completely vegan though, and only uses plan-based products.
Q: Are tortilla chips vegan?
A: Corn tortillas are usually vegan however flour tortillas are sometimes made with lard. Be sure to check the ingredients for whichever brand you use!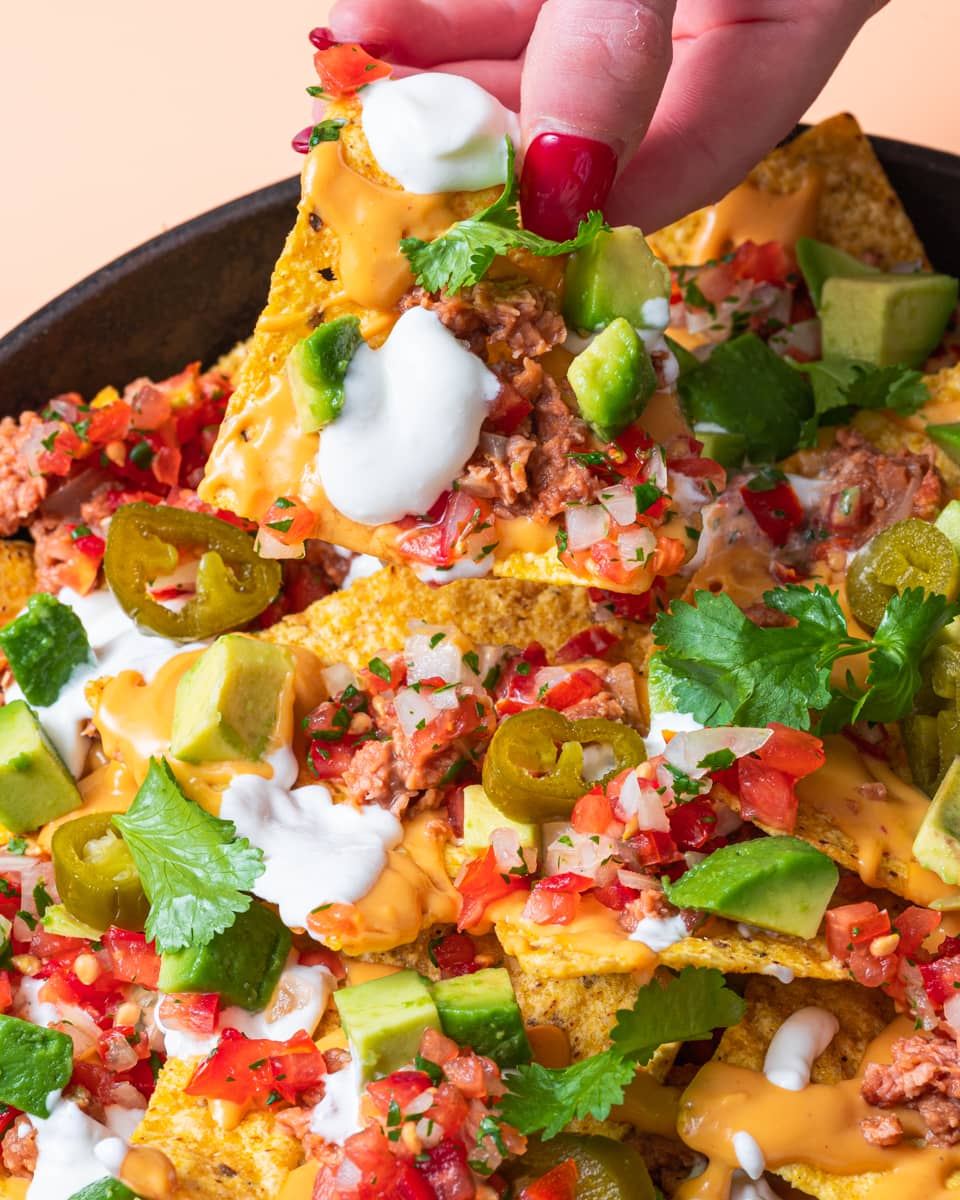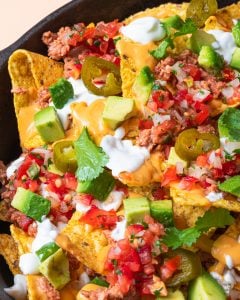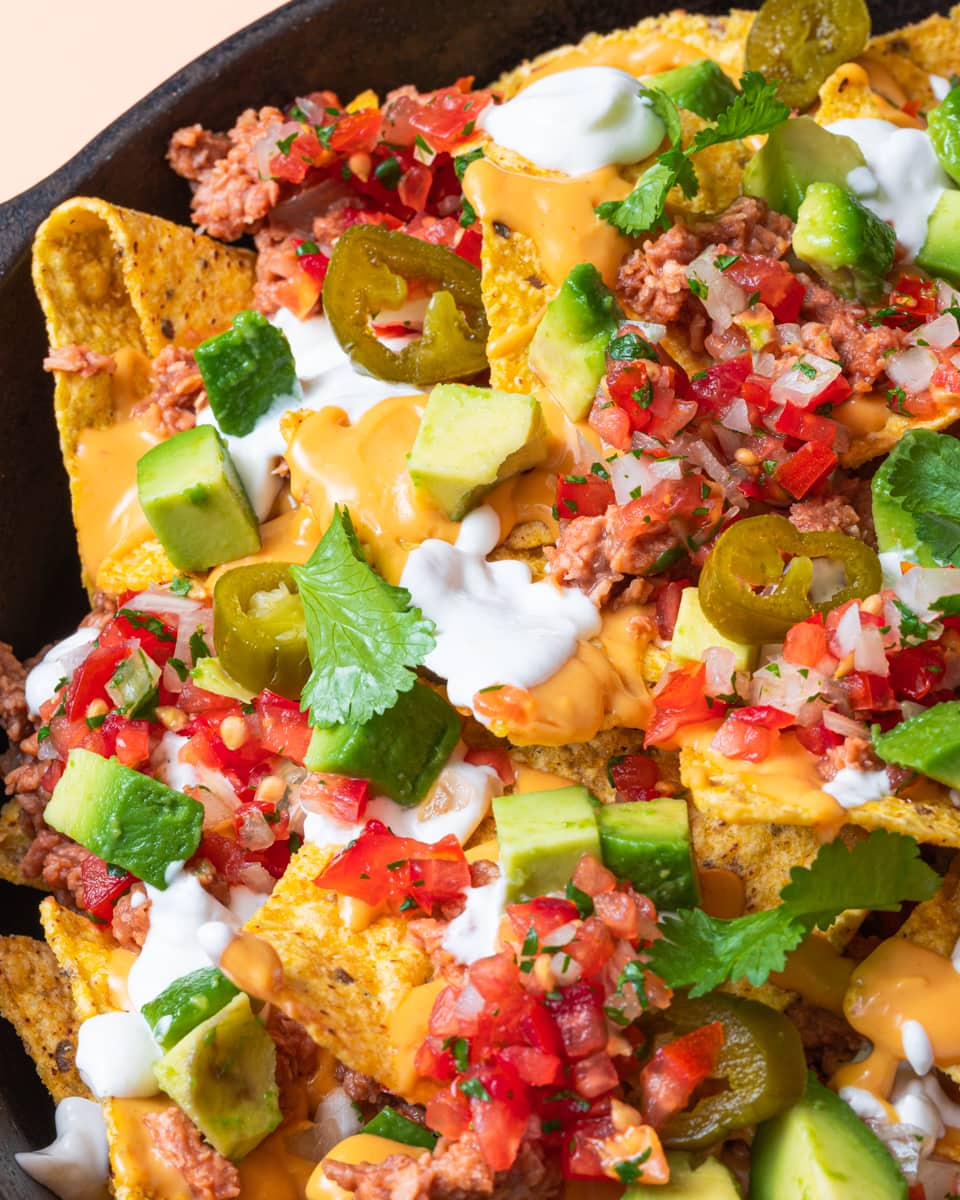 Vegan Nachos
Ultimate loaded vegan nachos with pico de gallo, nacho cheese, sour cream and gently spiced vegan ground/mince.
Equipment
1 Medium Frying Pan

1 Medium Bowl

oven
Ingredients
For the Ground/Mince
1

tablespoon

vegetable oil

1

onion

(finely diced)

2

cloves

garlic

(finely minced)

400

g

vegan mince

(or sub for 1 x 400g can of lentils, drained + 100g finely chopped mushrooms)

1

teaspoon

paprika

½

teaspoon

ground coriander

½

teaspoon

cumin

1

teaspoon

fine sea salt

½

teaspoon

ground black pepper

2

teaspoon

dark soy sauce

200

g

refried beans

150

ml

water
For the Pico De Gallo
½

onion

(very finely diced)

juice of 1 lime

3

tomatoes

(very finely diced)

small bunch of coriander

(very finely chopped)

pinch

fine sea salt
Instructions
To Make the Ground/Mince
Place a medium frying pan over medium heat and add the vegetable oil. Once hot, add the onion and garlic and fry for 2 minutes. Add the ground/mince, spices, salt, pepper and dark soy sauce. Fry until lightly browned.

1 tablespoon vegetable oil,

1 onion,

2 cloves garlic,

400 g vegan mince,

1 teaspoon paprika,

½ teaspoon ground coriander,

½ teaspoon cumin,

1 teaspoon fine sea salt,

½ teaspoon ground black pepper,

2 teaspoon dark soy sauce

Add the refried beans and the water, stir and cook for a further 2-3 minutes or until most of the water has disappeared. Reduce the stove to the lowest heat possible while you assemble the nachos.

200 g refried beans,

150 ml water
To Make the Pico De Gallo
In a medium bowl, mix together all the ingredients and set aside.

½ onion,

juice of 1 lime,

3 tomatoes,

small bunch of coriander,

pinch fine sea salt
To Assemble the Nachos
For hot nachos, preheat the oven to

180

°C

and spread the tortilla chips on a baking tray or in a large cast-iron skillet. Place the chips in the oven to toast for 5-10 minutes, watching them closely to make sure they don't burn. Remove the chips from the oven. For warm nachos, skip this step.

Top first with a drizzle of the nacho cheese, followed by some spoonfuls of the ground/mince, some dollops of the sour cream, the pico de gallo, the cubed avocado a good squeeze of lime and the jalapeños.

1 batch vegan nacho cheese,

1 batch vegan sour cream,

1 avocado,

pickled jalapeños
Nutrition
Calories:
483
kcal
Carbohydrates:
56
g
Protein:
19
g
Fat:
22
g
Saturated Fat:
3
g
Polyunsaturated Fat:
10
g
Monounsaturated Fat:
8
g
Trans Fat:
0.1
g
Sodium:
1059
mg
Potassium:
597
mg
Fiber:
11
g
Sugar:
5
g
Vitamin A:
758
IU
Vitamin C:
14
mg
Calcium:
95
mg
Iron:
5
mg
Love this recipe?
Let me know on Instagram!