Vegan fish tacos (crispiest ever!) with baja slaw, lime pickled onions and spicy mayonnaise. Made with beer battered banana blossoms!
---
I never thought I'd be able to nail vegan fish tacos until I found this one incredible ingredient.

You may have heard of it before, but it's pretty much revolutionised my life: BANANA BLOSSOMS!
It was my sister who introduced me to this vegan fish taco game-changer. She took my mum for a birthday meal to a vegan restaurant and shared photos with me of their fish goujons, made with banana blossoms!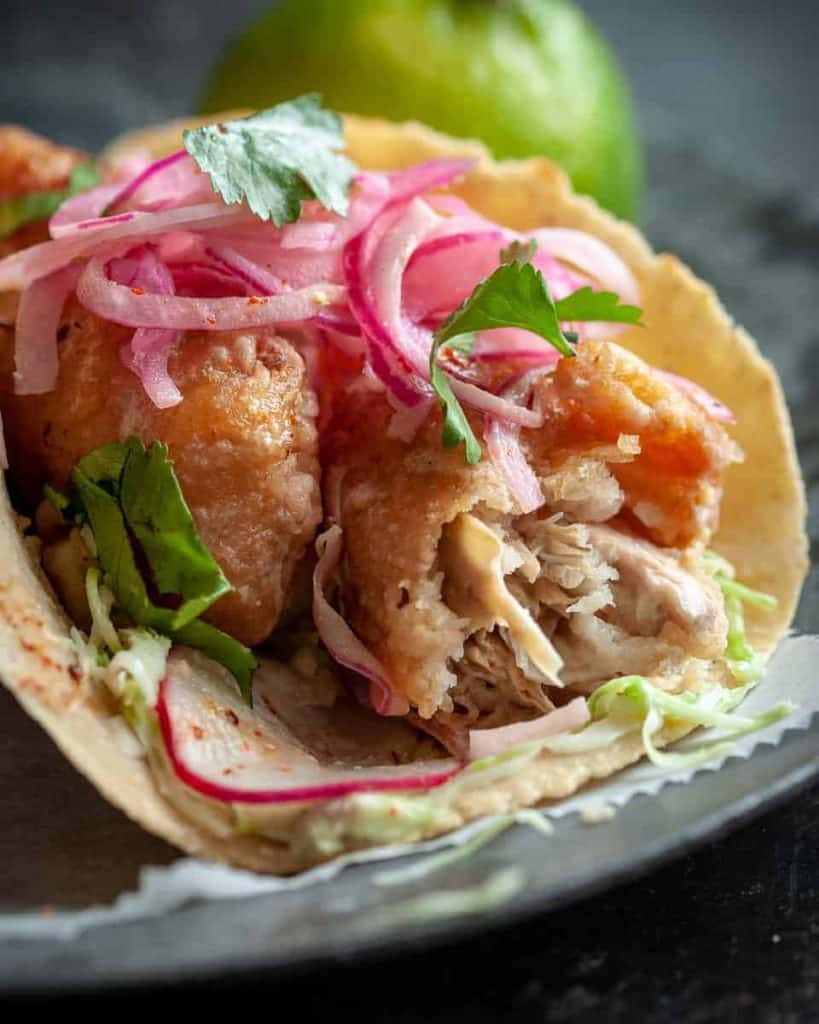 They looked like little flaky fillets of fish and my mind was OFFICIALLY BLOWN! Immediately my brain started whirring, trying to figure out how to use this vegan wonder ingredient. And then it hit me! My favourite thing ever! VEGAN FISH TACOS!

I have super happy memories of eating tacos on a pier in Ventura, California with my Husb and as soon as I started to work on this recipe I got really rather excited!
What are Banana Blossoms?
Banana blossoms are sort of exactly what they say on the tin…literally. They're the flowers of the banana plant which would ordinarily go to waste. Instead, they're picked and either sold fresh, or canned in brine to improve their shelf-life. 
There are many traditional recipes which make great use of banana blossoms and it's important to note that these are not a new ingredient, discovered by western vegans!
Mochar Ghonto, for instance, is a delicious traditional banana blossom curry from West Bengal.  
Because of their flaky, somewhat fibrous texture, they also make an absolutely awesome fish replacement for many recipes. I've seen them used for fish and chips, which I'm also desperate to try, but my favourite ever has to be fish tacos. 
What makes it a Baja fish taco?
I'm definitely not an expert on this, since I've never been to Mexico and I don't eat fish! However, quite a few years ago I'll admit that I dabbled with eating some fish (in a large part my switch to vegan was in response to this). My husband an I were driving around California, trying the wares of as many taco stands as we could find. 
I tried a fair few fish tacos and, strangely, found that consistently the fish made very little impact on the overall flavour of the taco.
The majority of the flavour came from the cabbage slaw, the spicy mayonnaise and those lime pickled red onions. The fish was almost exclusively a textural experience (flaky inside, crispy outside). 
I'm proud to say that these vegan fish tacos absolutely NAIL the flavour AND TEXTURE of a non-plant-based version!  
What makes them FISHY?
So, I wanted to make these vegan fish tacos SLIGHTLY fishy. As mentioned above, there isn't usually an overwhelmingly fishy flavour to fried fish tacos, so I've deliberately kept things subtle. 
I've used a combination of old bay seasoning, lemon juice and kombu (a type of sea kelp) to bring flavours of the seaside!
The banana blossoms are marinated in these guys and soak up the flavour like you wouldn't believe. 
They're a fantastic trio for any fish replacement recipe, so make sure you've got them in the pantry/fridge. 
Finding Vegan Fish Taco Ingredients
Sourcing some of these specific ingredients can be a little tricky, so I've hunted down some of the essentials for you! Tap the link to view my choices on Amazon.