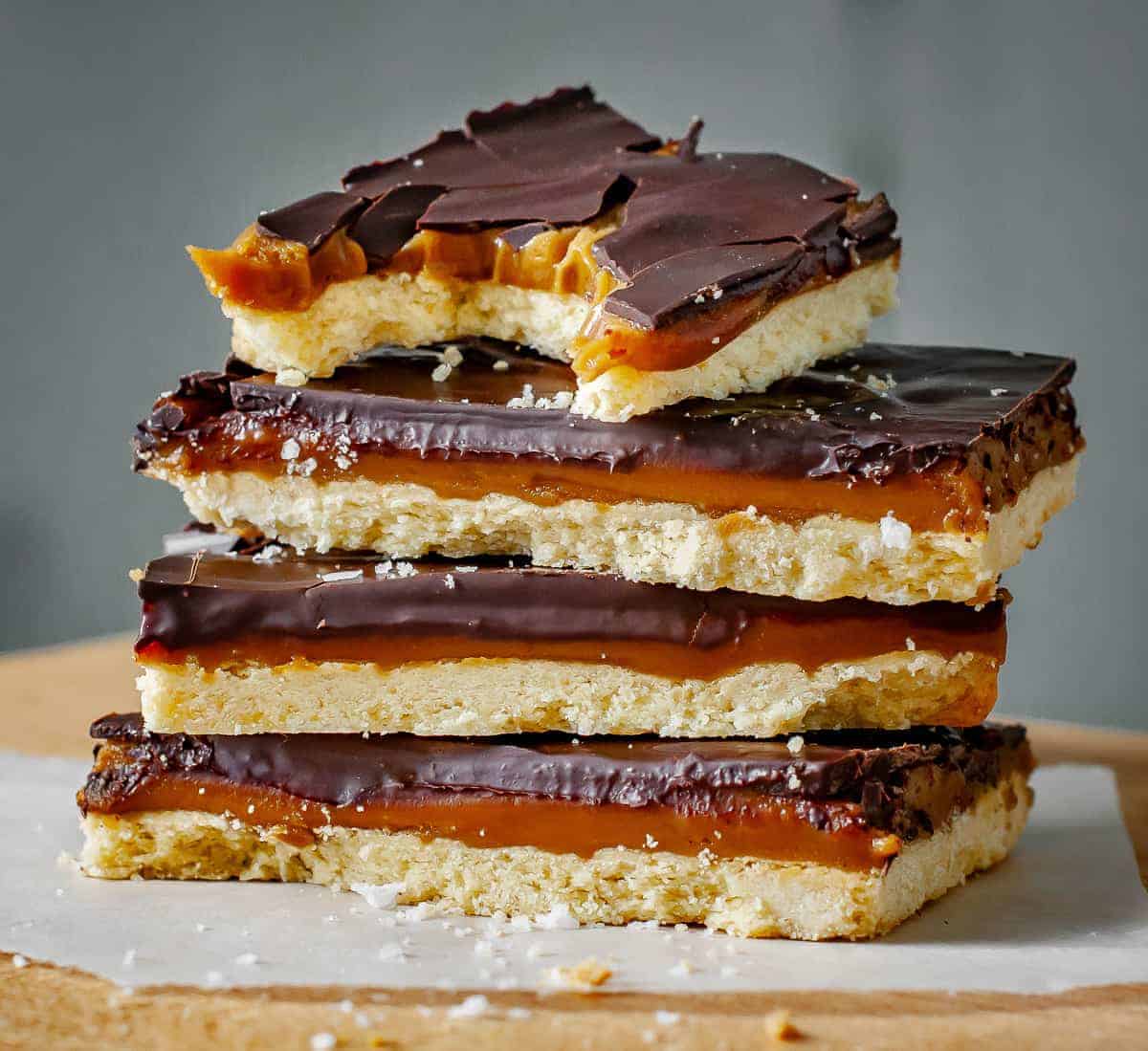 Vegan millionaire shortbread like no other! Crumbly shortbread biscuit topped with smooth caramel enrobed in dark chocolate.
---
Every day I've spent not eating vegan millionaire shortbread has been a day wasted! It's such a nostalgic treat for me and yet, now that I'm eating it, it's also a pretty grown-up dessert!
When I was growing up, my brother would ALWAYS ask for millionaire shortbread at the bakery. He doesn't have much of a sweet tooth, and I honestly don't think he even liked millionaire shortbread very much – he just liked the notion that eating like a millionaire might make him a millionaire.
I, on the other hand, LOVE millionaire shortbread and couldn't care less about being a millionaire (give me an oven and a well stocked pantry and I'm happy!).
What even is a millionaire shortbread?!
Put simply, it's a slab of shortbread – but EXTRA! You know that friend who's actually pretty boring, but they wear the EXCITING CLOTHES and always have GREAT HAIR… thats what a millionaire shortbread is like!
The variety I ate as a kid was always from Sayers bakery (a northern UK chain bakery) and weirdly it was actually super delicious. So this recipe for vegan millionaire shortbread is designed to taste just like those guys!
The dark chocolate balances the sweetness of the caramel which is followed by the richness of the shortbread. Add some flaky sea salt in there and you've got yourself a masterpiece! This recipe makes a pretty big tray of MS so pace yourself, ok? Don't eat it all in one hour (like I did).
Any tips?
If you want these guys to work – WITHOUT FAIL, you'll need a candy thermometer or a probe thermometer. It's super important you bring your sugar mixture to exactly 115 degrees celcius, otherwise your caramel won't set! Grab one from amazon!
I'd also suggest not handling your shortbread dough too much. You don't want to overwork the flour and activate the gluten, for one thing. You also don't want melt the butter, so unless you have ice cold hands, don't go using it like modelling clay!
What's the process?
The process for this vegan millionaire shortbread is really quite simple. Follow these steps and you'll have the most delightful bars of heaven in no time!
Make the shortbread. This is mega easy and because you're using a baking tray, there's no need to roll out the dough – you just press it into the tray and hey presto! Be sure to prick it with a fork before baking to stop it from puffing up!
You'll need to whip up some caramel. This takes a little longer and is a little more complicated than the shortbread, but just follow the recipe to the letter and you'll nail it!
Top with vegan chocolate! The super easy bit! my only advice here is to make sure the caramel AND the shortbread are completely cool before moving onto this stage. You don't want a melty mess!
Want more snacks?
Why not try my best ever vegan chocolate chip cookies or my soft batch pecan and chocolate cookies!
Please keep in mind…
I love sharing my food with you – it seriously gives me so much joy! As a result, I put a huge amount of time and energy into creating these recipes. This recipe right here is my lil baby and I wouldn't change a single thing about it. As such, I won't give advice on any ingredient swaps, substitutions, omissions or changes to the method described above (how dare you talk about my baby like that!)
But seriously, if this recipe doesn't do it for you and you want to customise it – that's cool – no probs. Put that finely honed chef's intuition to good use and tailor the recipe to suit you! Regardless of whether you make any changes or not, let us know how you get on in the comments below.