Publised on 18/09/2023 by Richard. Last Updated on 20/09/2023 by Richard.
The perfect batch of gooey, fudgy vegan blondies, rich with butterscotch flavour and packed with dark chocolate chips.
This vegan blondies recipe has been on the back burner for a while now, but finally it's her time to shine! These are for everyone who adores gooey, fudgy vegan blondies with plenty of chocolate and a good kick of butterscotch vibes.
If you're a brownies person - that's cool! I have a recipe for you! But if you're ready to branch out to a vegan blondie recipe, then you've come to the right place! I'm talking dairy free blondies, eggless blondies and easily adaptable gluten free blondies! Dream scenario for me, I tell ya!
Jump to:
🧈 Vegan Blondies Ingredients
Unless you're new here, you'll know that I like to take a closer look at the ingredients required before diving into a recipe. These vegan blondies are similar to brownies in that they're super buttery and dense, rather than light and cakey.
Oh and don't forget this is a recipe for eggless blondies that's also dairy free, so we're achieving all that fudgy texture WITHOUT animal products! The ingredients are a huge part of why these vegan blondies kick butt, so read below before jumping to the recipe.
Plain white flour - aka all purpose flour. Can easily be subbed for your favourite gluten free blend of flour if you'd like to make gluten free blondies.
Fine sea salt - kosher will work great!
Vegan butter (melted) - try to use a brand of "block" style vegan butter. This will give the blondies a fudgy texture.
Plant milk - any will do, just make sure it's unflavoured and unsweetened.
Vanilla extract - or vanilla bean paste if you're fancy!
Light brown sugar - muscovado works great
Boiling water
Dark chocolate chunks - most dark chocolate over 64% cocoa is vegan, but be sure to check the label.
📝A Quick Note!
I adore fudgy vegan blondies, but if you're a fan of cakey blondies, don't worry! There's a way to fix this recipe for your predilections! Just add ¼ teaspoon of baking powder to the dry ingredients and sieve then stir together.
The baking powder will give the batter some rise when it comes in contact with the heat of the oven and your easy vegan blondies will end up lighter and fluffier than you'd ever imagined!
🍊 Making the Vegan Blondies
Here's a little breakdown of how to make the best plant based blondies on the planet! (If I say so myself).
1. Firs prepare your dry ingredients. For me, I always sift together my flour and other dry ingredients because it not only helps to remove lumps, but also helps to combine them. However, this super easy vegan blondies recipe only uses two dry ingredients: Flour and salt. So if you want to skip the sifting process, feel free! But only this once! I'm watching you!
2. Combine your wet ingredients! To get the perfect plant based blondies, it's important to dissolve your sugar before adding any fat. We do this by adding boiling water to our sugar then whisking in our remaining wet ingredients. Once you've got a mixture which resembles a dark, thin caramel, we're going to add this to our dry ingredients and finally stir in the chocolate chips!
3. Before baking, I like to top my blondies with a handful of extra chocolate chips. This helps with the visual but also makes sure there's a nice even distribution of chocolate chips throughout each blondie after they've been sliced.
4. Finally we bake out blondies! We want them to look a LITTLE under-baked when they come out of the oven. This guarantees that the centre is lovely and gooey. But don't slice just yet! For the perfect fudgy texture they need to chill completely to room temperature before serving.
🤷‍♀️ Vegan Blondies FAQs
Q: What's the difference between blondies and brownies?
A: Blondies are essentially brownies but without any cocoa powder. The flavour of blondies mostly comes from their combination of vanilla and brown sugar which gives them a butterscotch taste. Sometimes people add nuts or white chocolate chips to blondies.
Q: Is chocolate vegan?
A: Most chocolate over 60% cocoa is vegan, but always check the packet before purchasing.
Q: Should blondies be fudgy?
A: Blondies should be fudgy in the middle but with a light crumb on the edges. The texture is similar to brownies but slightly less dense.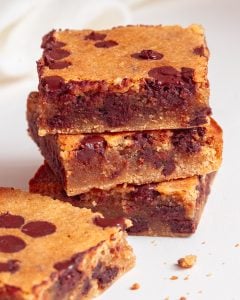 Vegan Blondies
The perfect batch of gooey, fudgy vegan blondies, rich with butterscotch flavour and packed with dark chocolate chips.
Equipment
1 20x20 brownie pan

1 Medium Bowl

1 heat proof bowl

1 Measuring Jug
Ingredients
170

g

plain white flour

(aka all purpose flour)

¼

teaspoon

fine sea salt

150

g

vegan butter

(melted)

60

ml

plant milk

(at room temperature)

2

teaspoon

vanilla extract

200

g

light brown sugar

60

ml

boiling water

150

g

dark chocolate chunks

(be sure to use a vegan variety)
Instructions
Preheat the oven to

175

°C

(fan). Line a 20x20cm brownie pan with greaseproof paper. Set aside.

In a medium bowl sieve together the flour and sea salt then mix until combined. Set aside.

170 g plain white flour,

¼ teaspoon fine sea salt

In a measuring jug, whisk together the melted vegan butter, plant milk and vanilla extract. Set aside.

150 g vegan butter,

60 ml plant milk,

2 teaspoon vanilla extract

In a heatproof bowl, whisk together the light brown sugar and boiling water until smooth with no lumps of sugar remaining. Add the melted butter mixture and whisk until smooth. Finally add the wet ingredients to the bowl of dry ingredients and mix until combined.

200 g light brown sugar,

60 ml boiling water

Stir in the chocolate chunks, reserving a handful to sprinkle on top. Transfer the batter to the brownie tin and top with the remaining chocolate chips. Place in the oven and bake for 22-25 minutes.

150 g dark chocolate chunks

Remove from the oven and allow to cool completely in the tin before slicing and serving.
Nutrition
Calories:
344
kcal
Carbohydrates:
45
g
Protein:
3
g
Fat:
18
g
Saturated Fat:
7
g
Polyunsaturated Fat:
3
g
Monounsaturated Fat:
7
g
Trans Fat:
0.1
g
Sodium:
183
mg
Potassium:
65
mg
Fiber:
2
g
Sugar:
27
g
Vitamin A:
663
IU
Vitamin C:
0.5
mg
Calcium:
31
mg
Iron:
1
mg
Love this recipe?
Let me know on Instagram!