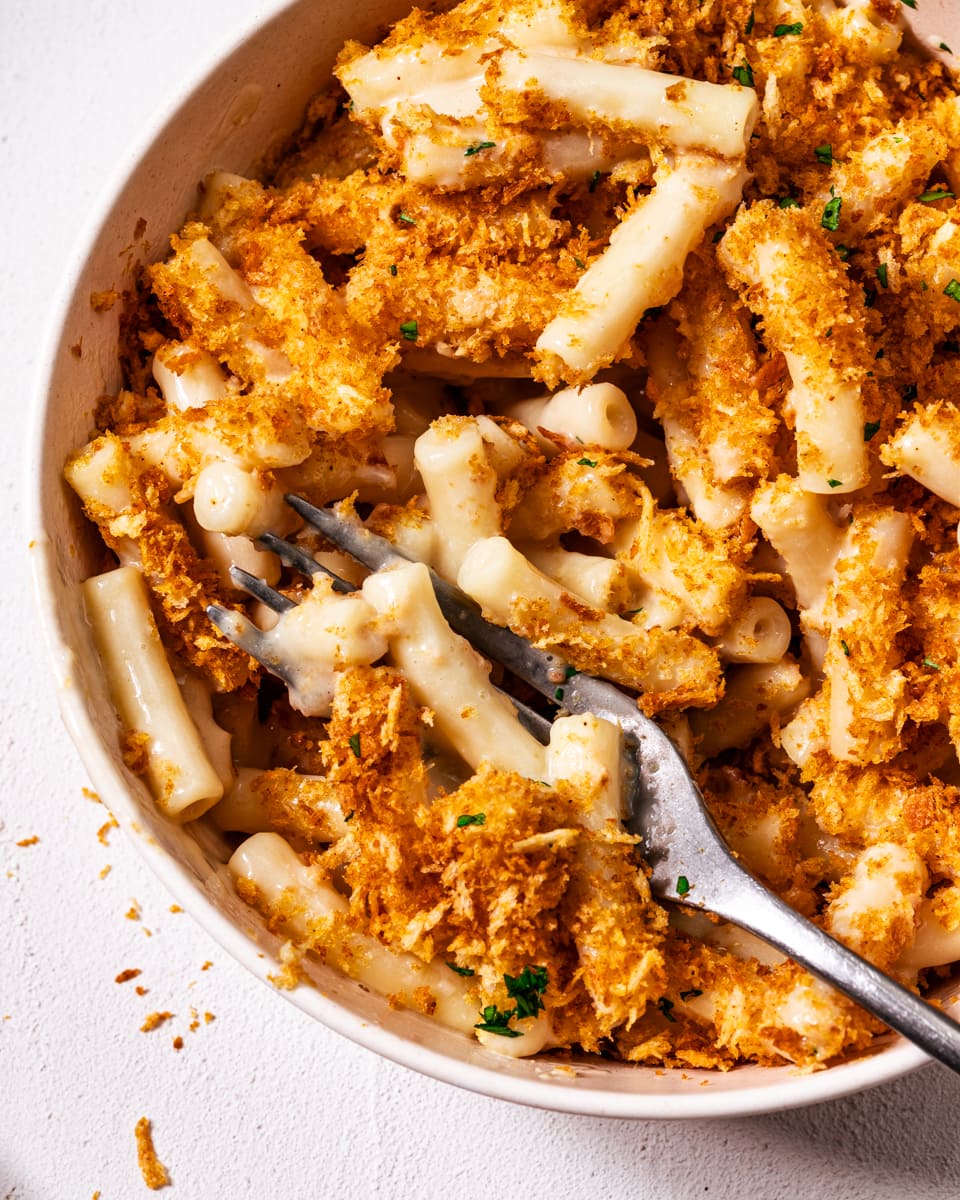 Instant vegan mac and cheese powder with a big ol' punch of cheesy flavour! Ready in a pinch and ALWAYS satisfying – it's your new fave mac and cheese recipe!
---
Calling all vegan former latch-key-kids: it's INSTANT VEGAN MAC AND CHEESE! The PERFECT snack to send you back to those peckish post-school hours before mum and dad get home from work. I still get peckish from time to time AND YEAH I STILL WATCH POKEMON, WHAT ABOUT IT??
It's my proprietary blend of magical powders which literally just require plant milk, a little vegan butter and some gorgeous lil pasta tubes – and hey presto! You've got a delicious snack/mini meal. I've also thrown in my magical tip for getting crispy breadcrumb-topped mac WITHOUT EVEN BAKING ANYTHING! INTRIGUED?? You SHOULD be bestie!
What is Instant Vegan Mac and Cheese Powder??
Ahhhhh, that would be telling! Oh, you came here for the recipe? OK then, you wore me down. I'll tell you. IT'S BASICALLY FLAVOUR DUST AND YOU'RE NOT GONNA BELIEVE THE TEXTURE YOU'LL BE DEALING WITH IN LIKE TWO MINUTES FLAT! Here's the breakdown:
FOR FLAVOUR
– Nutritional yeast: ideal for that nutty, umami, cheesiness.
– Onion powder: because weirdly I found anything with onion powder tastes MORE cheesy! Go figure!
– Garlic powder: because we stan.
– Vegan lactic acid: for the TANGY sharp cheddar vibe
– Mustard powder: again, it weirdly makes stuff taste a little cheesy – it also give a mild yellow colour wihtout the dayglo yellow of turmeric.
FOR TEXTURE
– Corn starch: helps the mixture to thicken into a super glossy, smooth sauce.
– Tapioca starch: gives that stretchy, stringy, cheesy texture.
How Do I Make Instant Vegan Mac and Cheese??
It's PROPER easy right! I've put the full recipe at the bottom of the page (as always) but here's a full breakdown of the steps:
Blend the Powder Together
First we're gonna blend up our instant mac and cheese powder. This recipe makes more than you'll need for one portion (because trust me, you'll be making this again and again) but don't worry, the instant vegan mac and cheese powder keeps for AGES. Just stick it in a sealed jar or airtight container and keep in the cupboard or pantry if you're fancy.
The reason we blend everything together is down to nutritional yeast (aka The Mighty Nooch). It doesn't tend to dissolve fully in a sauce unless in powder form, so use a high-speed blender or even a coffee grinder to get it nice and fine.
Milk it Up!
From here, you're ready to make mac and cheese AT ANY TIME! Just pop 350ml plant milk (I use soy) in a medium saucepan and add around 3 tbsp of your instant vegan mac and cheese powder. Whisk well to dissolve then stick over a low heat.
The mixture will thicken beautifully and will be gorgeous and glossy in no time!
Add your Pasta!
I'm not averse to people using ANY kind of pasta for this recipe, but in the interest of not getting trolled, I've used actual macaroni today (I just can't take any more trolling this afternoon). Cook it up good in some lovely salty water, drain it and then add straight to your sauce.
As the macaroni cools ever so slightly, you'll notice the sauce gets stringier and stretchier with every passing second!
And THAT'S IT!
This guy can be served with just about ANYTHING but I love a nice side of green beans and maybe some of my crispy tofu nuggets! It's like I'm 10 again and it feels very nice! BUT WAIT! I hear you screaming for something else…I squint and cup my ear to hear what you're chanting: "WHAT ABOUT THE CRISPY VERSION!!??" Oh sis, I've got you!
Oven-free Breadcrumb Topping!
I didn't forget! I promise! This is one of my fave things to do to mac and cheese, besides inhale it.
Take 60g of panko breadcrumbs and place in a medium bowl. Add 1/2 tsp smoked paprika, 1/4 tsp turmeric and 1/2 tsp flaky sea salt.
Add 2 tbsp vegetable oil and then rub everything together with your fingers until all the breadcrumbs are coated.
Heat a large frying pan over medium heat and add the breadcrumbs. Toast carefully until golden brown, stirring constantly. Remove from the pan and sprinkle onto cooked mac and cheese.
Live your best life xoxo
Oh and one last thing!… Doris Day. You know what to do by now…