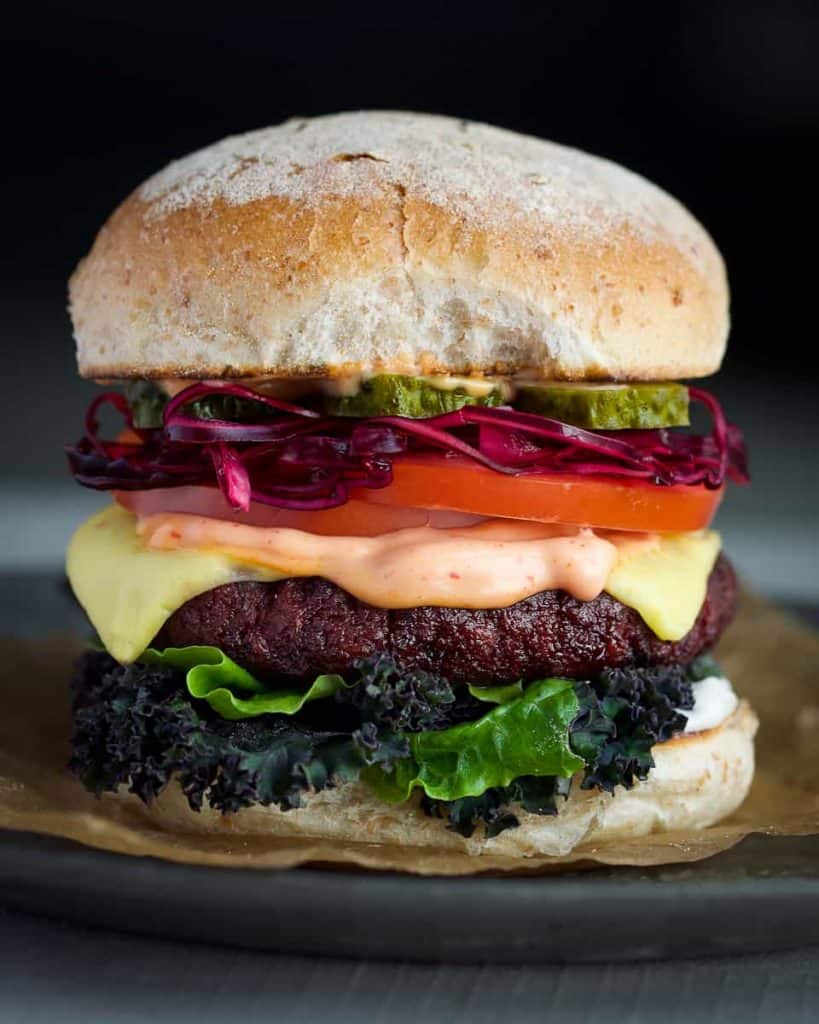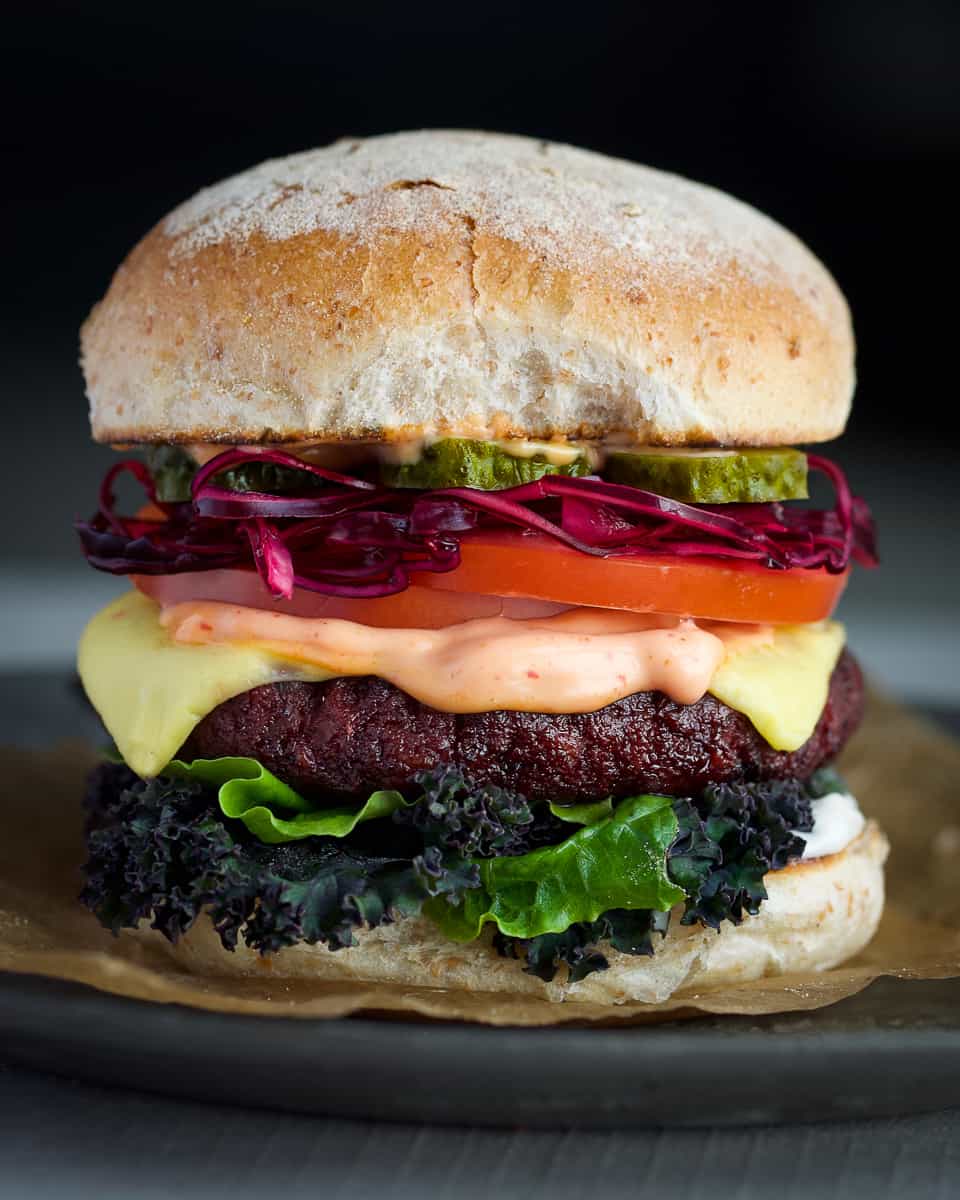 My classic vegan burger recipe! Super high protein and packed with flavour! Super convincing texture thanks to wheat gluten and soy with beetroot for colour!
---
Let's talk about, my gosh-darn classic vegan burger recipe. It's an ABSOLUTE classic at my house ever since I developed this recipe and I reckon you'll find the same happens in your house!
They have a beautifully tender, meaty texture. A deep, complex flavour profile and a satisfyingly meaty colour which actually changes as you cook them! Here's why they're so awesome:
Magic Ingredients!
Sure, they look FRICKIN gorgina but let's talk about what goes into making this vegan burger recipe absolutely next level!
For Texture!
For Flavour!
For Mouthfeel and Beauty!
Totally worth the effort!
OK, this might be a classic vegan burger recipe for those with a bit of spare time and a real taste for burgers! The process is quite lengthy, so here's a quick breakdown for you!
Prepping the Mince
First you're going to need to cook your soya mince. This stuff is magical but not when it's raw – it'll break your teeth it's so crunchy, so let's make sure it's fully hydrated first yeah??
All you need to do is boil it in water for around 10 minutes until it's nice and soft. Be careful not to let your water boil off or get soaked right up – this stuff really drinks up moisture so keep an eye on the pan.
Once your soya mince is cooked, you'll need to squeeze out some of the excess water before mixing in your extra ingredients. The beetroot will change the colour of the mixture and it'll suddenly start looking super meaty!
I Like to blitz my extra ingredients before they go in, but you can easily just chop everything up finely and it'll be just as tasty!
Kneading and Steaming
Next up you'll add your wheat gluten and give everything a good knead. This helps to bring everything together into a decent textured vegan burger mix! It should also be smelling pretty great by now!
Once everything just about holds together you'll need to divide your burger mix into 8 patties and wrap them in greaseproof paper before steaming them for a good hour and 20 minutes. Once the patties are steamed it's a good idea to test the texture. They should hold together well but still be nice and soft – not too firm.
Cooling and Grilling
At this stage you should let your burgers cool slightly, which will help to firm up their texture a little. You can now store them in the fridge or even in the freezer until you need to grill or fry them.
When you're ready to grill/fry, mix up your glaze ingredients and grab a pastry brush. While the burgers are cooking, baste them with the glaze for that extra kick of smokiness! Flip and cook on the second side and you're all set to stick them in a bun and eat!
Classic Vegan Burger Sides?
You're gonna need some classic vegan sides to go with this classic vegan burger recipe, right? Why not whip up some:
Disclosure: some of the links above are affiliate links, meaning at no additional cost to you, I may earn commission when you click through and make a purchase.