Publised on 09/03/2022 by Richard. Last Updated on 27/10/2022 by Richard.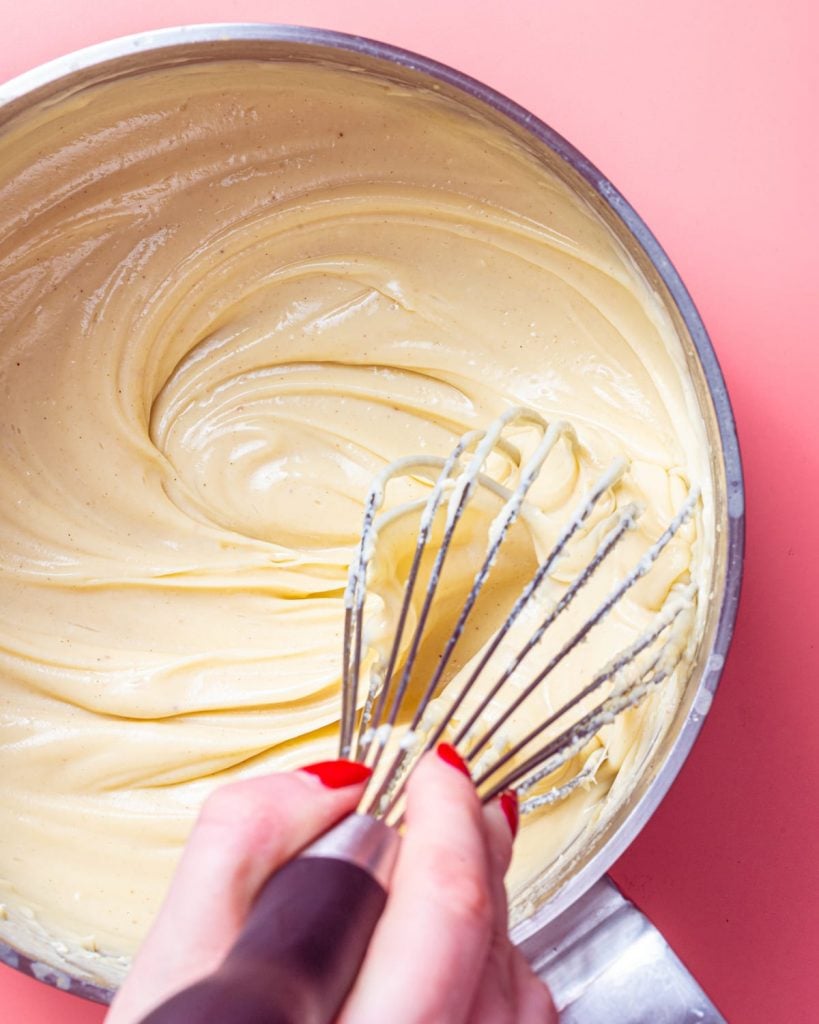 Smooth, delicious vegan bechamel sauce (aka vegan white sauce) with a whole bunch of uses! Ideal for moussaka, lasagna and even baked mac and cheese!
---
How can we even START to talk about veganising the CLASSICS without a decent vegan bechamel sauce (or vegan white sauce if you're classy)!? I've mentioned before that I often overlook the recipes I use the most and forget to share them with you, and this is one of em! I use this recipe about seventeen times per hour (slight exaggeration but actually pretty accurate).
A decent bechamel unlocks SO many recipes for ALL cooks, so likewise, a VEGAN bechamel does the same! Think about the moussaka you could make!? Or the improvised but irresistible pasta bakes, thrown together and topped with, you guessed it, VEGAN BECHAMEL! The possibilities are endless! Here I come vegan white sauce heaven!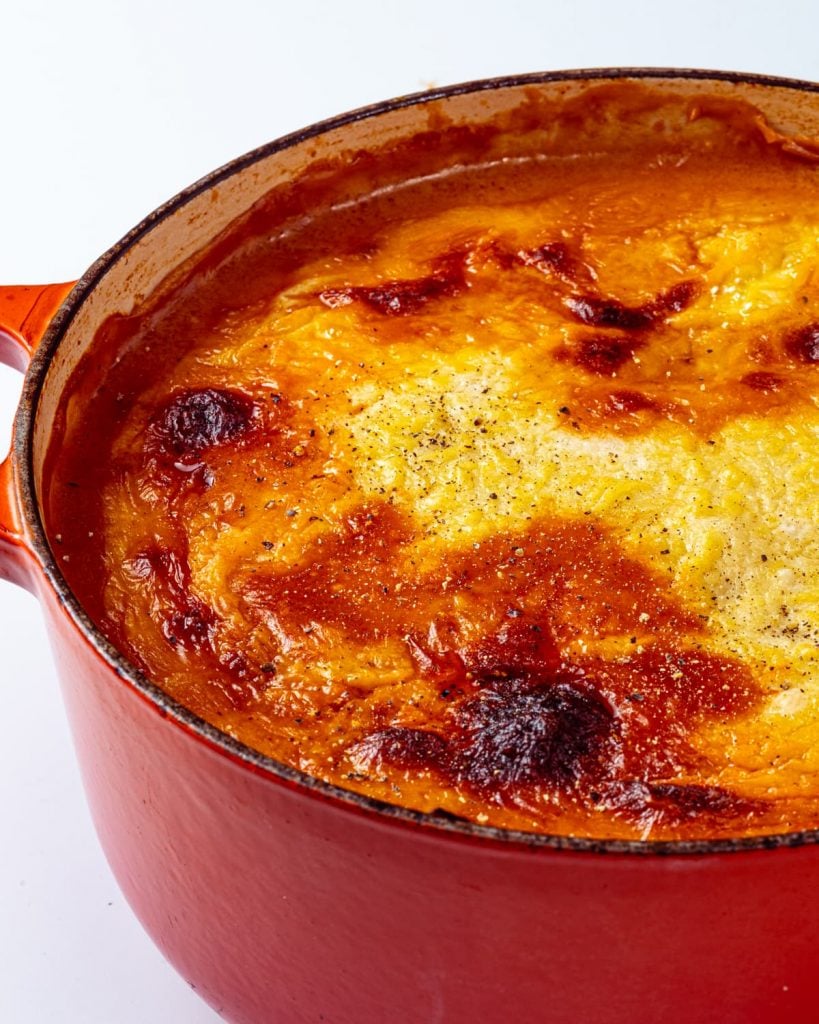 Obviously I love how versatile this recipe is, but the true magic of this vegan white sauce comes when you BAKE IT! It almost doesn't matter what you put it on. In the picture above it's on spaghetti bolognese and I DON'T CARE WHO KNOWS IT!
It takes ANY pasta dish and makes it SPECTACULAR! Same goes for any chunky stew or moussaka - vegan bechamel TRANSFORMS things before your very eyes. It's amazing how cheesy it makes things look, despite there being ZERO cheese involved!
How do I make vegan bechamel sauce!?
As always, the FULL RECIPE is at the bottom of the page - scroll on down if you're in a hurry. If not, hey! Welcome! You're the best!! I'm gonna talk you through the process behind a perfect vegan white sauce right now!
1. Infuse your milk!
Part of me wants to describe this as an optional step, but the flavour benefits of this extra 10 minute process just really take things to the next level. We're going to carefully bring out plant milk of choice (I suggest soy) ALMOST to the boil. Then we switch off the heat and add half an onion, some nutmeg and a bay leaf.
We then leave this all to infuse for a good 10 mins. The plant milk is the main body of this sauce, so this is really where most of your flavour is coming from. For a cute variation, if you want your sauce super cheesy flavoured, whisk in 2 tablespoon nutritional yeast and ½ teaspoon mustard powder at this stage.
2. Melt your vegan butter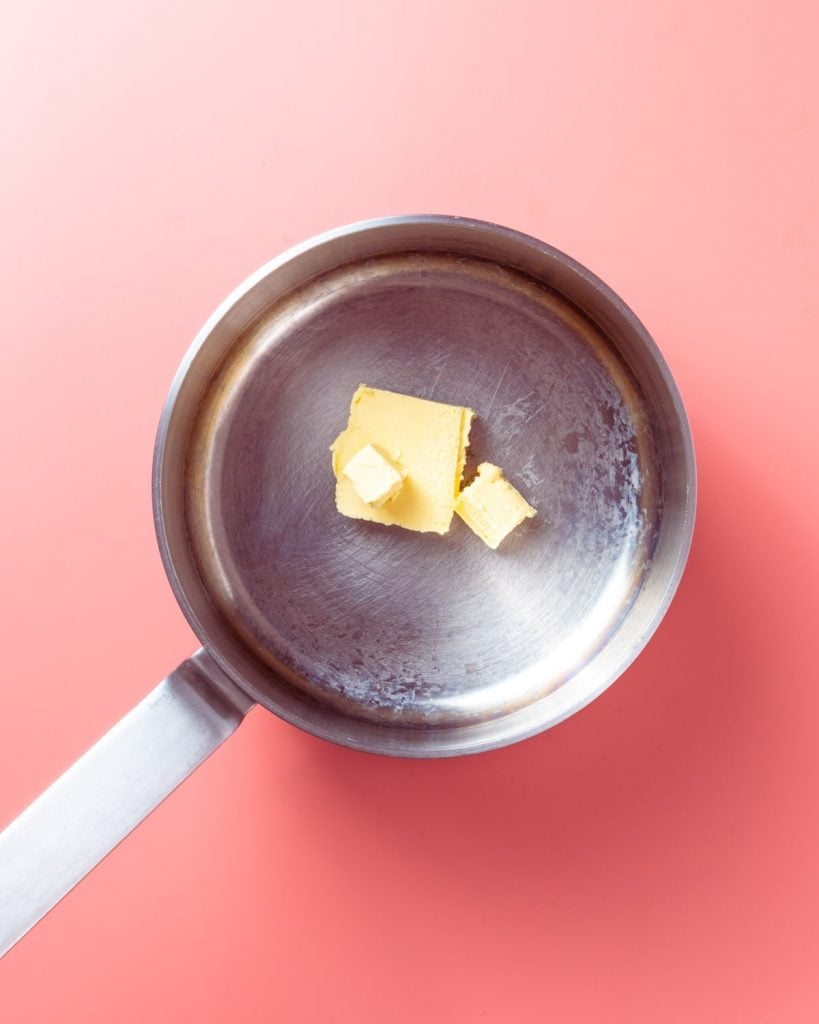 Ok let's start this roux rolling! To make our roux (the paste that makes our sauce beautifully thick and creamy) we're going to melt some vegan butter. It can be margarine or even vegetable oil if you don't have access to vegan butter - I just find that vegan butter makes the final dish a little creamier.
3. Add your flour!
Next we add our flour and give things a really good whisk. Be sure to use plain white flour for this recipe. Don't be alarmed if the butter appears to split at this stage, it's just the flour soaking up the moisture. Things will become smooth and delicious later on in the process - I promise (and have I EVER let you down!?).
4. Cook off the flour!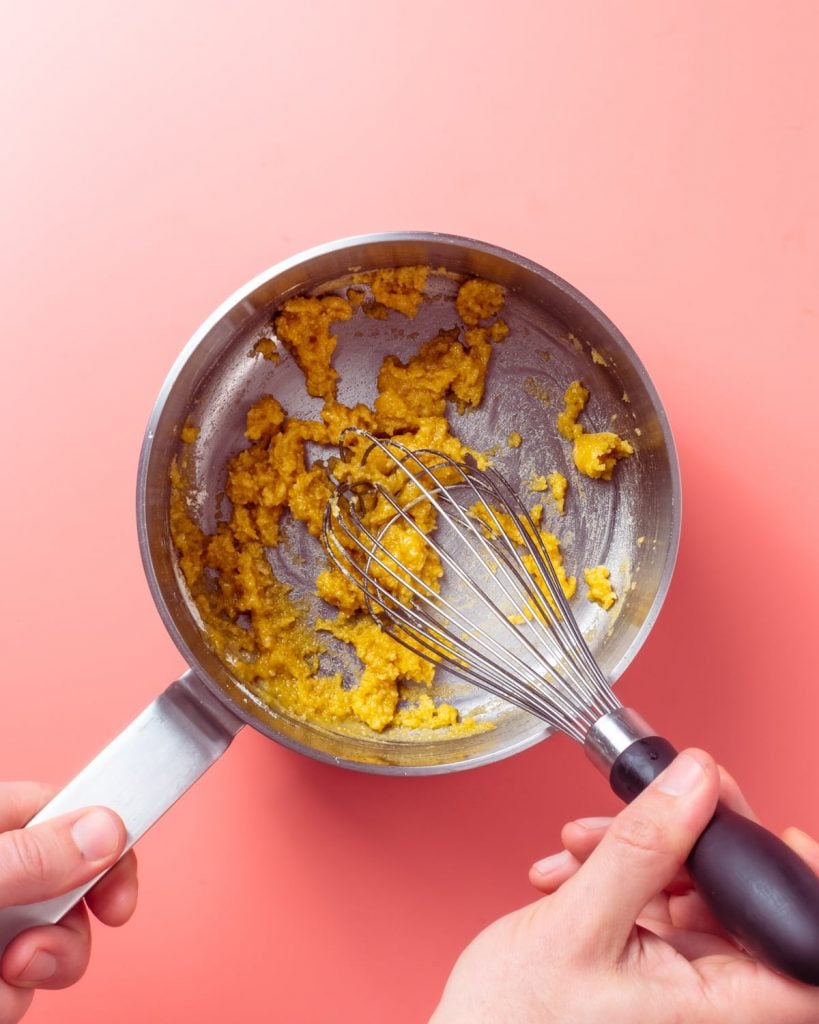 Here's the part MOST people skip when making a vegan bechamel or vegan white sauce - you need to cook off the flour you added to the roux! This isn't tricky, you just need to keep whisking the roux. The flour will catch to the bottom of the pan, but that's ok. Don't worry, it'll come off when we add the mnilk in the next step.
5. Add the infused milk!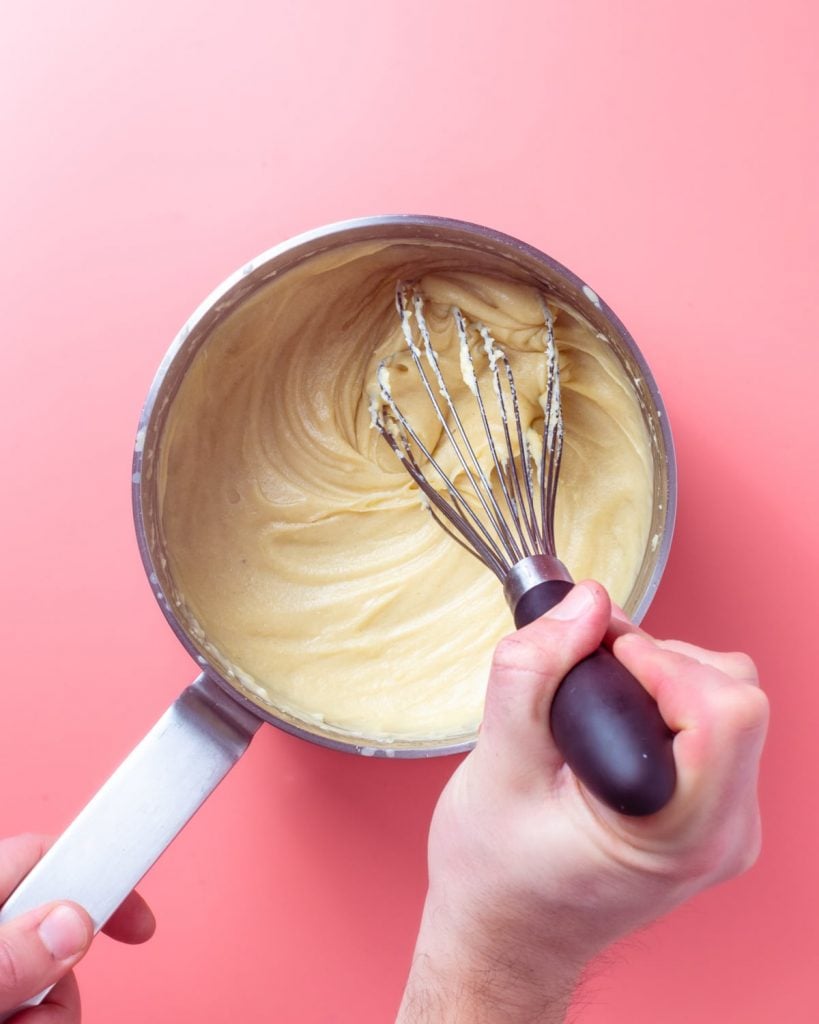 Now, little by little, we're going to add our soy milk. Remember, it's been infused with onion and bay etc so be sure to strain these out before adding to the roux. Whisk until smooth. If you like your roux a little thinner, just add a splash of extra vegan milk, and bingo! A sprinkle of seasoning and you're done!
Your sauce is now ready! Stir into pretty much anything to make it deliciously creamy OR top some pasta and bake until golden brown! Gorgeous!
And that's how to make vegan bechamel or vegan white sauce!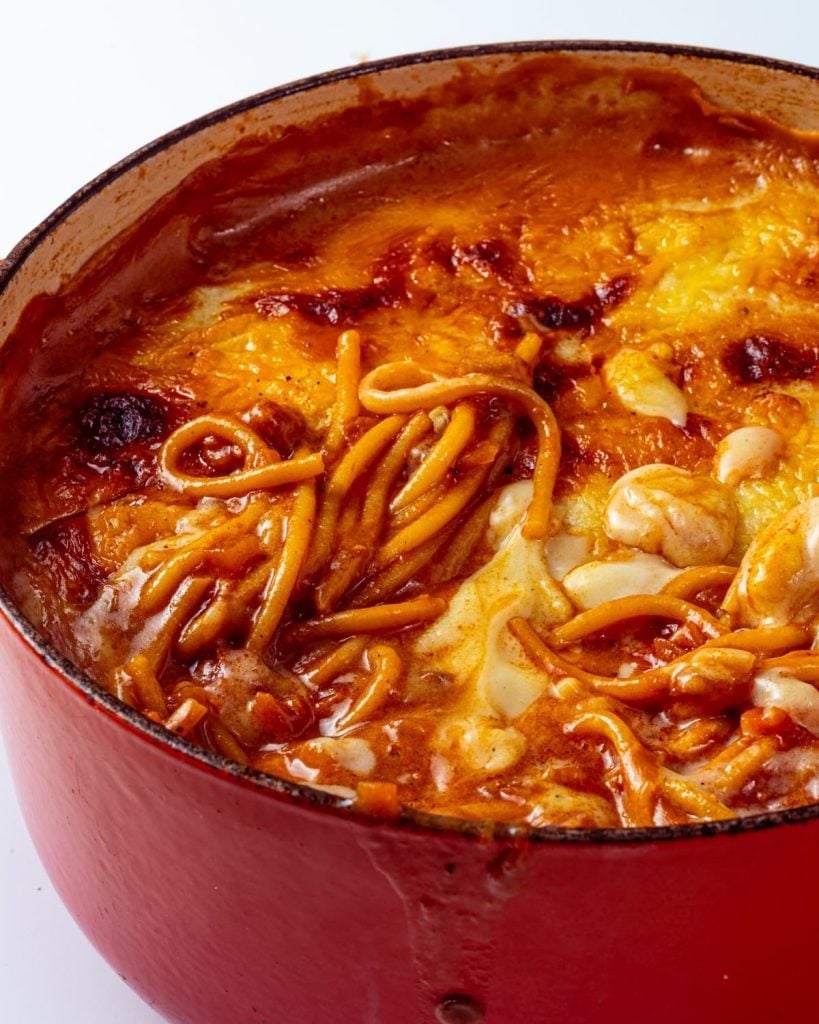 What a perfectly easy switch for you! Now you can make all your fave dishes from yesteryear or pre-vegan days! Lasagna!? You got it! Moussaka?? YES queen! Vegan bechamel for the win!
WANT MORE EASY DINNERS!?
Why not try: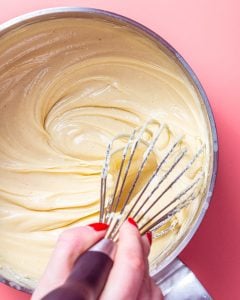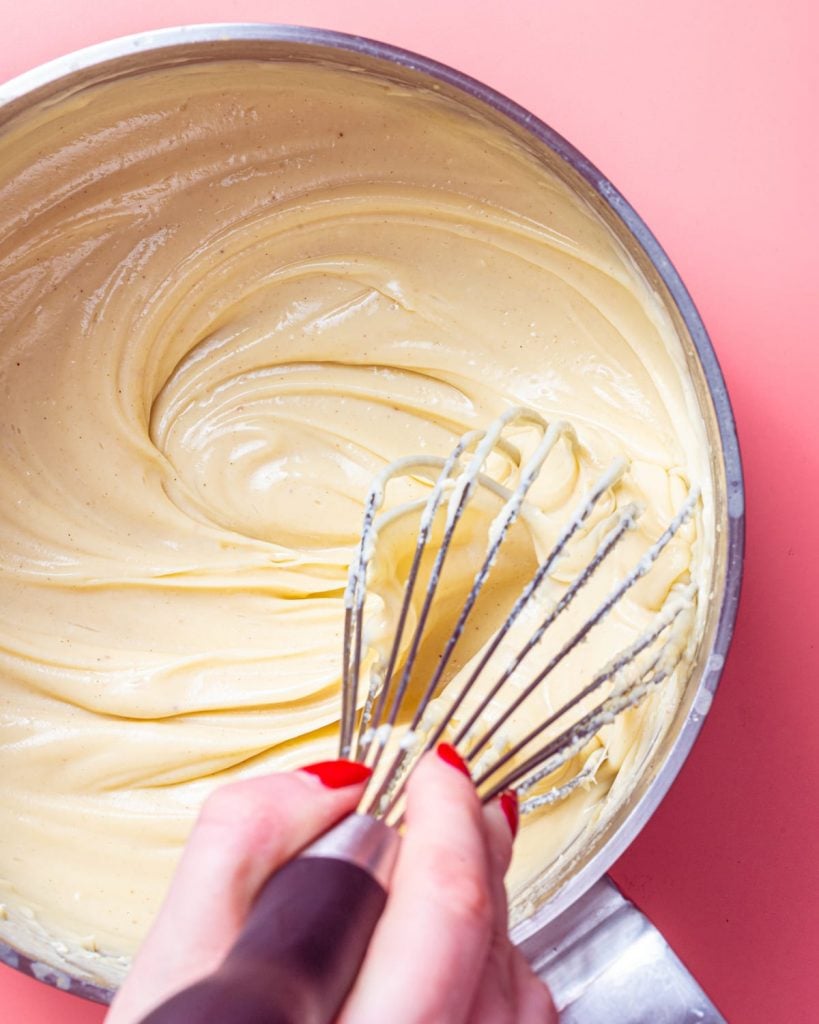 Vegan Bechamel Sauce
Smooth, delicious vegan bechamel sauce for all your vegan bechamel sauce needs! Ideal for moussaka, lasagna and even baked mac and cheese!
Ingredients
½

onion

(White or brown)

2

cloves

1

bay leaf

550

ml

soy milk

(unsweetened and unflavoured)

60

g

vegan butter

(or 5 tablespoon vegetable oil)

50

g

plain white flour

(aka all purpose flour)

pinch

ground nutmeg

salt and pepper to test
Instructions
Place the onion, cloves, bay leaf and soy milk in a medium saucepan and place over medium/low heat. Once steam starts to rise from the soy milk (but before it starts to boil) turn off the heat, cover with a lid and leave to infuse for a minimum of 10 minutes. Once infused, remove the onion, cloves and bay leaf from the soy milk and discard.

½ onion,

2 cloves,

1 bay leaf,

550 ml soy milk

To make the roux, place a separate medium saucepan over medium/low heat and add the vegan butter. Once melted, add the plain white flour and whisk until a paste forms. Keep whisking for a further minute.

60 g vegan butter,

50 g plain white flour

Little by little, add the infused soy milk to the roux, whisking constantly until all the soy milk is added. Keep whisking until you have a smooth sauce. Continue to cook for 5-10 minutes or until the sauce has thickened.

Finally whisk in the nutmeg and season with salt and pepper to taste.

pinch ground nutmeg,

salt and pepper to test
Nutrition
Serving:
1
grams
Calories:
201
kcal
Carbohydrates:
16
g
Protein:
6
g
Fat:
13
g
Saturated Fat:
3
g
Polyunsaturated Fat:
4
g
Monounsaturated Fat:
5
g
Trans Fat:
0.1
g
Sodium:
167
mg
Potassium:
232
mg
Fiber:
1
g
Sugar:
4
g
Vitamin A:
1114
IU
Vitamin C:
11
mg
Calcium:
198
mg
Iron:
1
mg
Love this recipe?
Let me know on Instagram!