Publised on 16/02/2022 by Richard. Last Updated on 07/11/2023 by Richard.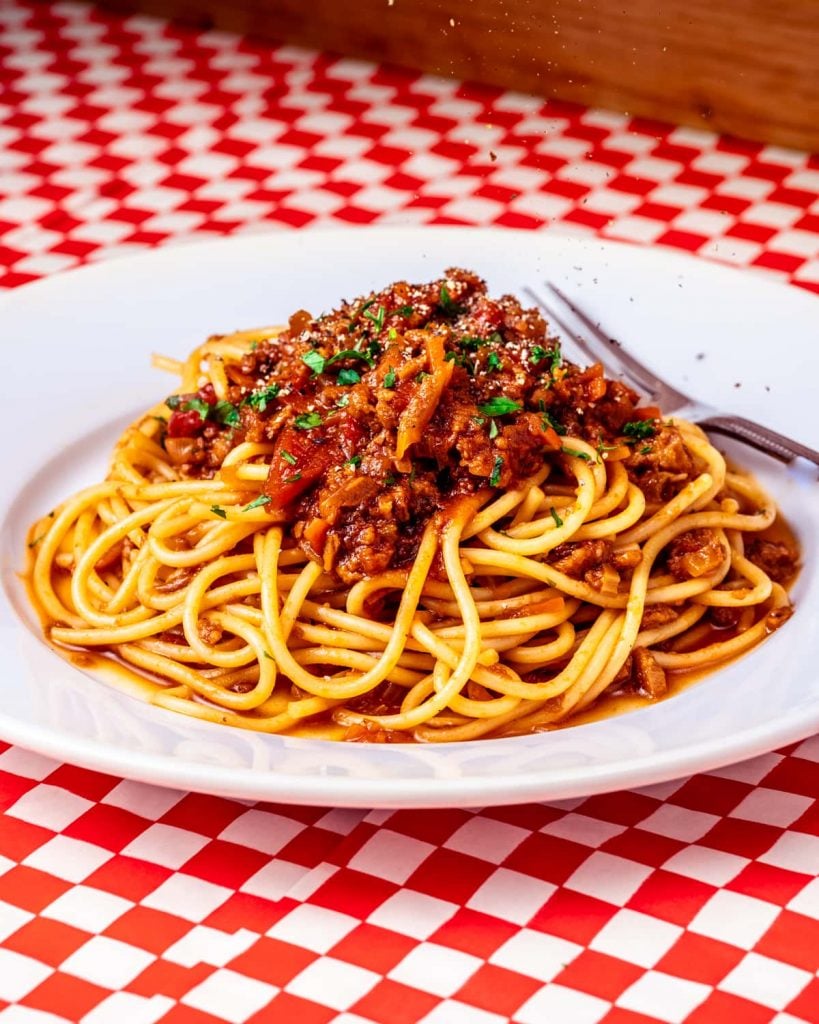 My super simple vegan bolognese is your new go-to for a dreamy, meaty pasta sauce, ideal for a quick school night dinner!
---
Oooh I WISH I'd had this vegan bolognese sauce recipe twenty years ago! I grew up eating bolognese for dinner on the REGULAR (and we're not talking a classy authentic Italian ragu - I'm talking the kind of bolognese that English kids eat and end up destroying their school uniform with permanent tomato stains because they eat it like some sort of feral animal).  
Yep, this is another super easy, classic SCHOOL NIGHT recipe but flipped on its head and made vegan AF. It's going to be your new fave dinner, I can feel it in my waters. 
And hey, if you love bolognese but don't love using store-bought vegan meat alternatives, why not try my vegan tofu bolognese? It's legit!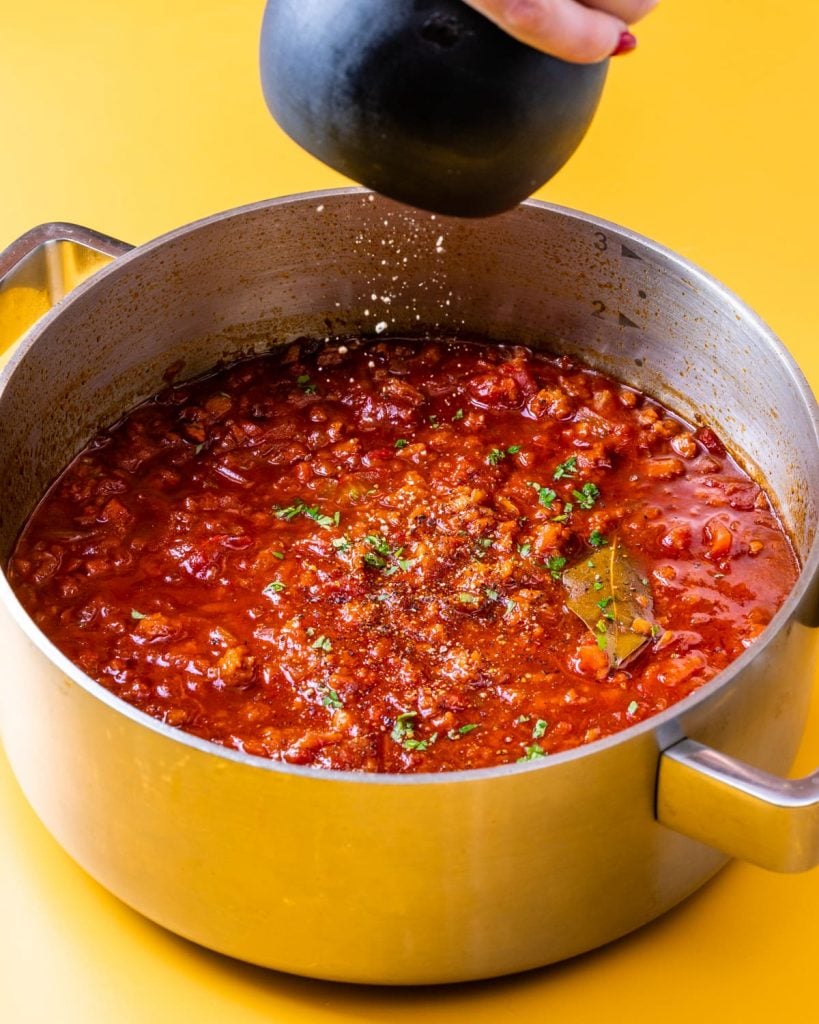 If you ask an Italian, this vegan bolognese isn't actually a bolognese. Traditional bolognese, for instance, usually doesn't have any tomato in it. It's a slow-cooked ragu made from beef with a blend of vegetables called a "soffritto" and a splash of milk for good measure (which blows my mind!). Some recipes on this blog are focussed on keeping things as authentic as possible, but this recipe aint one of em.
With all due respect, this vegan bolognese recipe isn't an attempt to emulate the traditional bolognese AT ALL. Most of my cooking is about nostalgia and I feel like the magic of vegan cooking is being able to unlock those recipes you loved as a kid or before you went vegan. So the vegan bolognese my recipe is based on is the bolognese I used to eat as a kid - and hopefully that hits some nostalgia points for you too!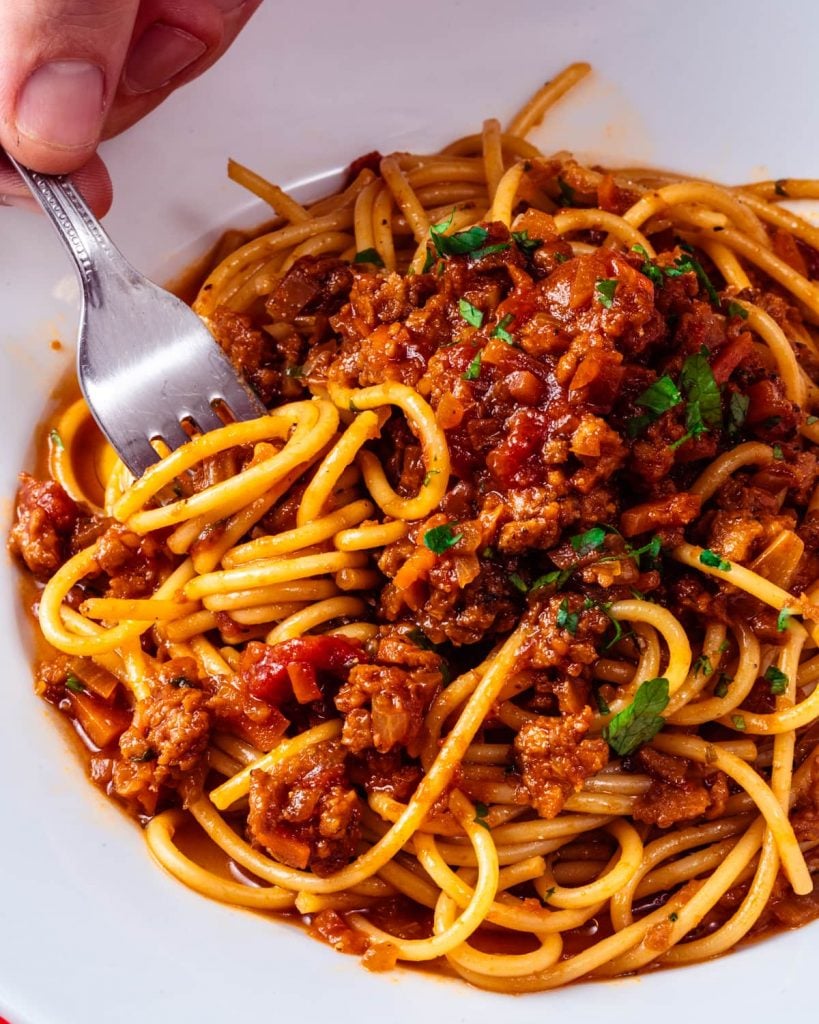 What's in MY vegan bolognese?
This vegan bolognese still uses a soffritto (onion, garlic, celery and carrot) which gets cooked down until it's buttery and nice and three dimensional (sounds snobby, but I can't think of how else to describe it - it genuinely goes from being 1D vegetable flavours to a 3D medley).
But we're gonna replace the beef with vegan mince or "ground" if you're American (more on that later) and get the sauce all tomato-ey! For me, that's where the magic of vegan bolognese comes in - the sweet, salty, umami tang of tomatoes. Some people in the UK cook bolognese with diced bacon, so I finish my recipe off with a dash of liquid smoke, just to give it that bacon-y hit!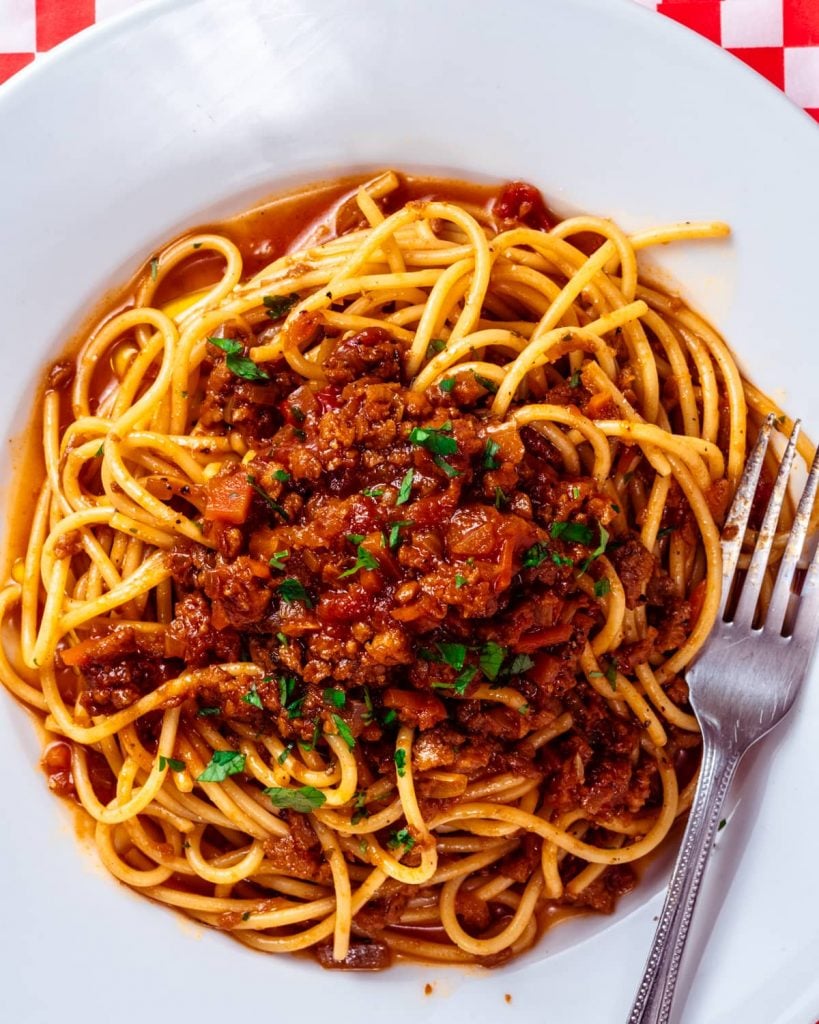 How do I make a killer vegan bolognese!?
As always, the FULL RECIPE is at the bottom of the page - scroll on down if you're in a hurry. If not, hey! Thanks for sticking around - I've got a little step by step recipe breakdown for you, so let's do this!
1. Make your soffritto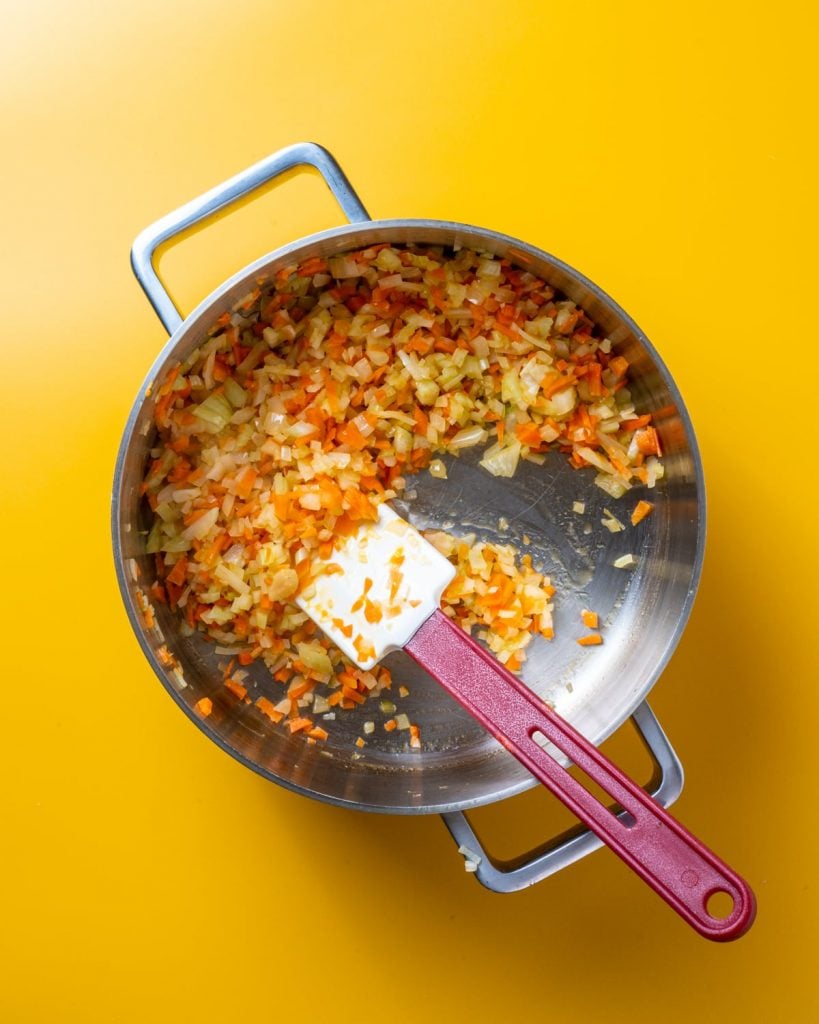 First, to get the vegan bolognese going, we're going to fry up our soffritto. Remember, this is just a fancy word for a mix of veggies. It starts with onions, then garlic and then followed by carrot and celery. I recommend cooking them for at least 5 minutes, but if you have time, give them a bit longer. The longer you cook, the more 3D the veggie flavour will become!
2. Add the vegan mince/ground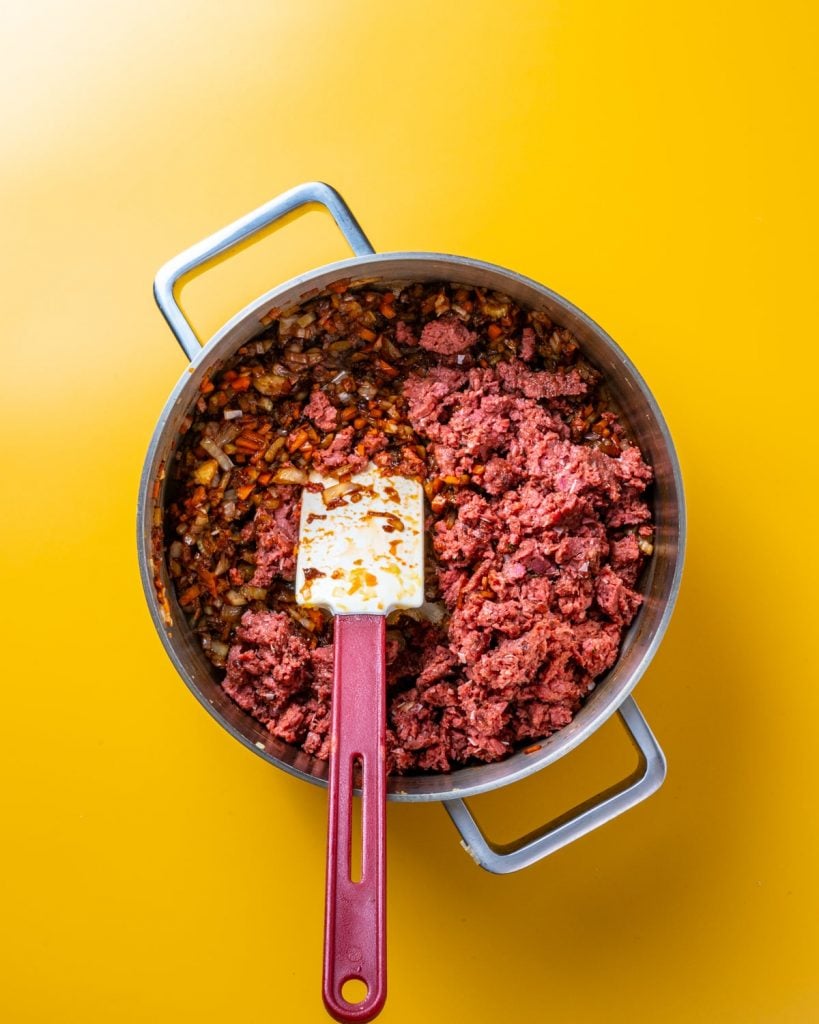 Here's where this becomes a choose your own adventure recipe! There are two ways to continue with this vegan bolognese recipe. You can either buy some delicious store-bought vegan mince/ground OR you can sub for a can of lentils (green or brown work great but beluga are my faves).
If you use store-bough vegan mince/ground, my favourites are either Naturli, Meatless Farm or Beyond Mince. These guys have a great fat content balanced with a good protein content so it behaves a lot like real mince. But honestly, even simple frozen soya mince will work great.
3. Add your flavour bombs
These guys will take your vegan bolognese to the next level. My Mam always used to use Worcestershire sauce in her bolognese because it adds some much-needed tang and piquancy! Unfortch, "Wuzzy Sauce" as Mam calls it contains fish, so we'll be replacing it with a vegan alternative. My fave is Mushroom Ketchup but you can also use Henderson's Relish, which is totes vegan.
We're also adding some dark soy sauce, tomato puree and our chopped tomatoes at this stage.
4. Cook the vegan bolognese on down!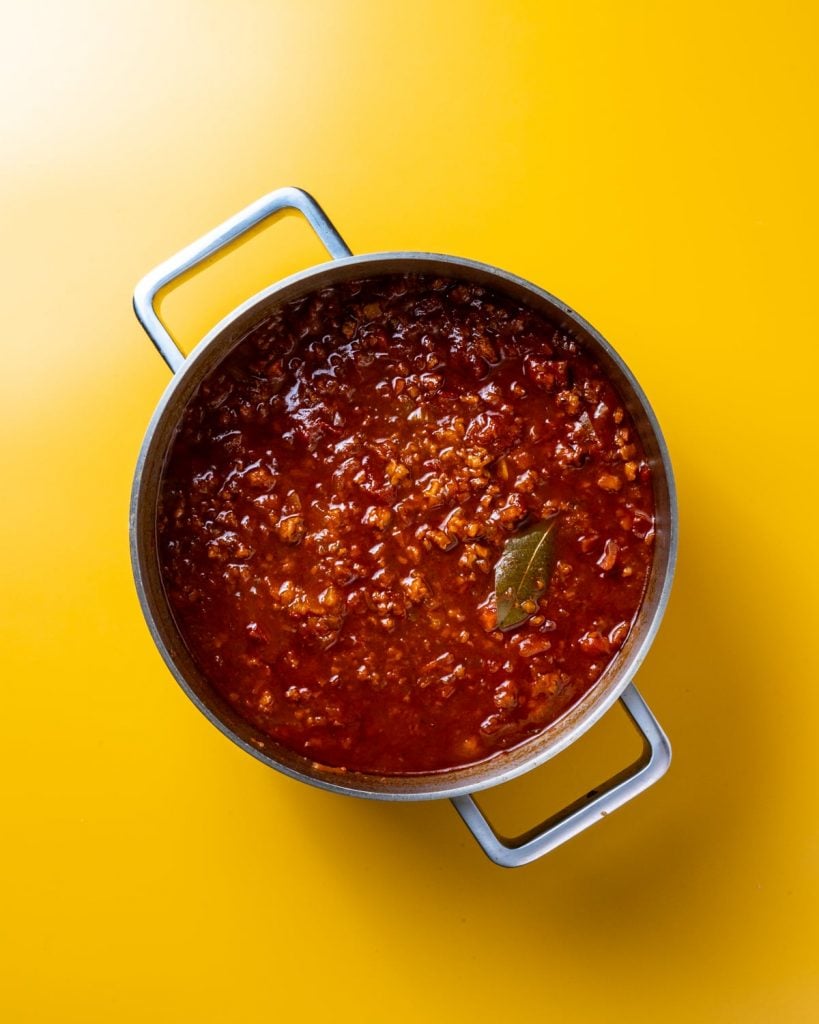 People ALWAYS underestimate how long it takes to properly cook down tomatoes. You ever been to a cafe where they cooked their own baked beans or chilli and it arrives all gross and watery? That's because they DIDN'T COOK THE TOMATOES LONG ENOUGH!
Give the vegan bolognese a good 30 mins to simmer down, but make sure you cover it with a lid, so all the moisture doesn't evaporate.
And that's how to make vegan bolognese!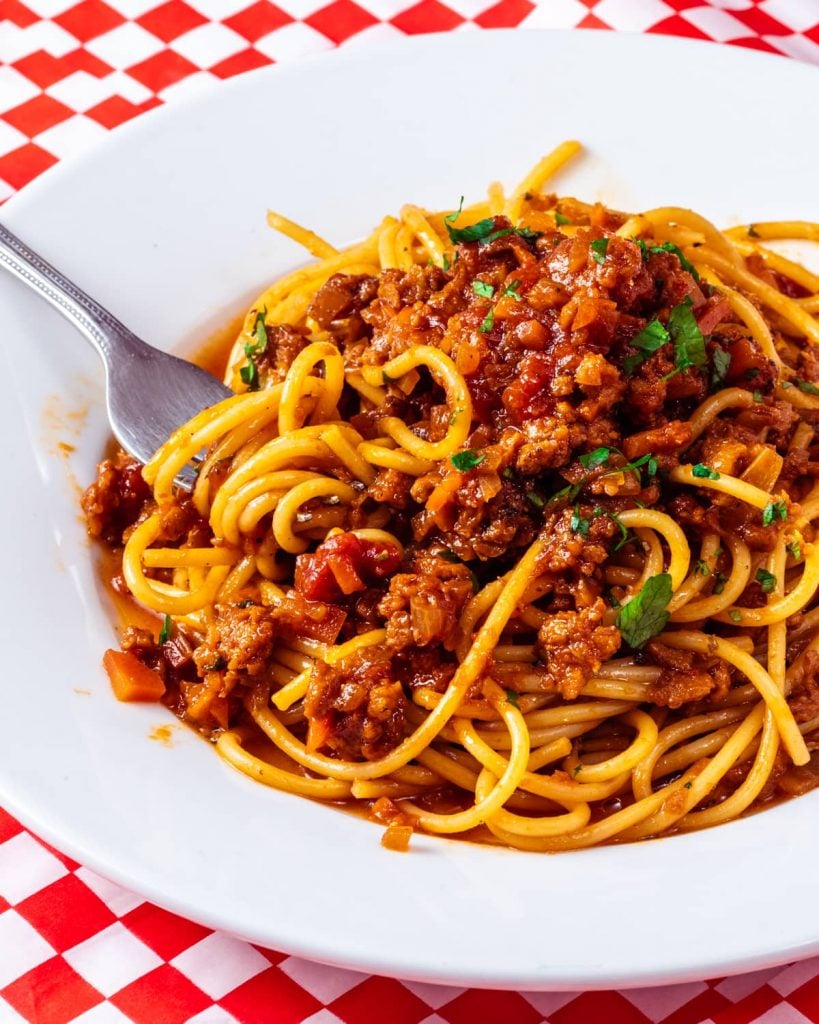 It's a super simple recipe and all you gotta do now is cook up some pasta and give everything a mix together! Excited?? You SHOULD BE!
WANT MORE EASY DINNERS!?
Why not try:
Spicy Peanut Noodles with Crispy Tofu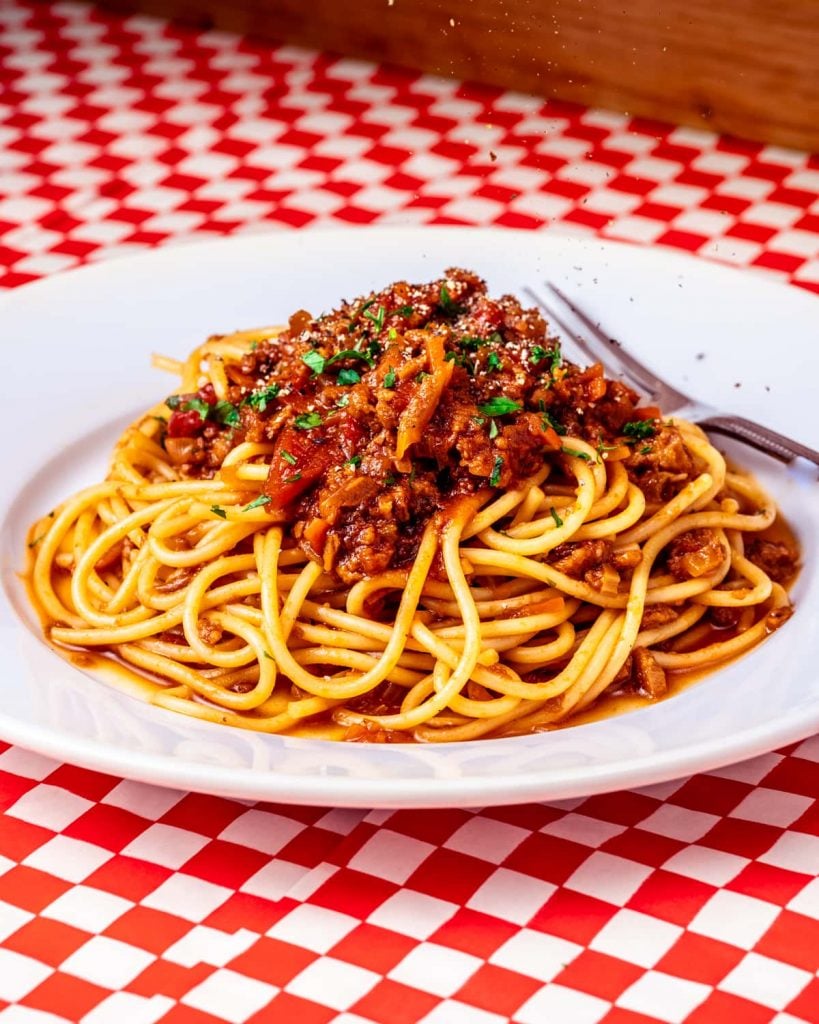 Vegan Bolognese Recipe
My super simple vegan bolognese is your new go-to for a dreamy, meaty pasta sauce, ideal for a quick school
Ingredients
2

tablespoon

olive oil

(or sub for rapeseed, vegetable oil or any neutral oil)

1

onion

(peeled and finely diced)

1

carrot

(peeled and finely diced)

1

stick celery

(finely diced)

1

cloves

garlic

(finely minced or crushed)

300

g

vegan mince (like Beyond Meat)

(frozen or fresh, aka "ground" (or sub for 1 x drained 400g can of green, brown of beluga lentils))

1

tablespoon

tomato puree

(aka tomato paste)

2

teaspoon

dark soy sauce

400

g

can of chopped tomatoes

1

teaspoon

vegan Worcestershire sauce

(I use a brand called "Mushroom Ketchup")

2

teaspoon

vegan beef flavour stock powder

(I use "Massel" brand, but any vegan stock powder or bouillon will do)

1

bay leaf

2

teaspoon

sea salt

½

teaspoon

ground black pepper

1

teaspoon

sugar

220

g

pasta

(I used spaghetti)

2

teaspoon

liquid smoke

(optional)
Instructions
Place a large, open saucepan over medium heat and add the olive oil. When hot, add the onion and fry for two mins or until turning soft. Add the carrot and celery then fry for a further two minutes.

Add the garlic and fry for a further two minutes then add the vegan mince and fry for 5 minutes. Stir in the tomato puree, dark soy sauce, vegan Worcestershire sauce and can of chopped tomatoes.

Fill the empty can of chopped tomatoes up with just boiled water and stir in the vegan beef flavour stock powder. Add to the saucepan and stir to combine. Bring the sauce to a simmer then stir in the bay leaf, salt, pepper and sugar. Cover with a lid and leave to simmer for 30 minutes, stirring occasionally.

While the sauce cooks, place a large saucepan of salted water over medium heat and bring to the boil. When 10 minutes of sauce cooking time remain, cook your pasta according to the packet instructions or until al dente.

Drain the pasta but reserve around 200ml of the pasta water. Check the sauce, it should be reduced and very thick. Add a dash of the pasta water to the sauce and stir to loosen things up. Finally stir through the liquid smoke.

Return the cooked pasta to its saucepan and dress with a little sauce. Divide the pasta between 4 plates and top with the remaining sauce. Serve with extra black pepper, a sprinkle of fresh parsley or your favourite vegan parmesan.
Nutrition
Serving:
1
grams
Calories:
228
kcal
Carbohydrates:
20
g
Protein:
16
g
Fat:
11
g
Saturated Fat:
1
g
Polyunsaturated Fat:
9
g
Trans Fat:
1
g
Cholesterol:
1
mg
Sodium:
2383
mg
Fiber:
7
g
Sugar:
9
g
Love this recipe?
Let me know on Instagram!