Publised on 11/04/2020 by Richard. Last Updated on 12/10/2022 by Richard.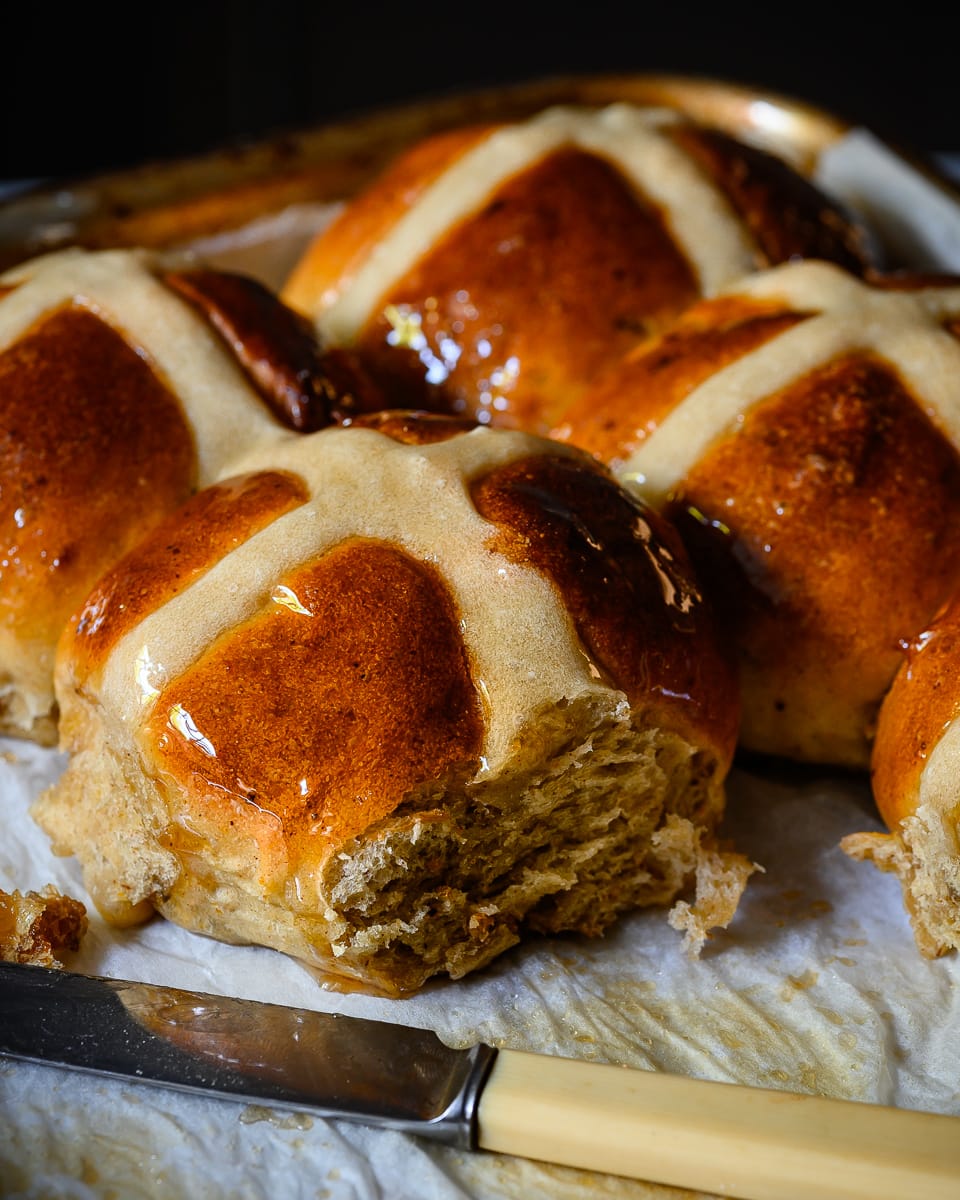 Insanely soft vegan hot cross buns, packed with fruit, cardamom and rum. Perfect with a cup of tea - preferably in bed!
---
Taking vegan hot cross buns to the next level has been a plan of mine for a fair while. But for some reason I've found them intimidating! Is it because they're fruitier than I? Is it because they're softer than I? Maybe it's because they pack more flavour than I can ever dream of packing?? Probably, yes.
If you've been here a while you'll probably know that I'm obsessed with cardamom, and where better to stick my favourite spice than inside a hot cross bun!!? Oh and rum! Lots of rum!
Why vegan hot cross buns?
These guys hold a very sacred place in my food memories. Since I was a kid we've eaten hot cross buns in some form every year of my life. Although I'm from a rather atheist family, it became ritual to eat these guys around Easter and traditionally I believe they were eaten on good Friday.
When I was a kid, we'd always spend Easter at our caravan on a little island off the north coast of wales named Anglesey. I have such vivid memories of waking up to the smell of mum toasting (and sometimes burning) hot cross buns under the (very temperamental) caravan grill. It 100% didn't matter that they were sometimes a little "over-browned" because they were just so special.
As a vegan, hot cross buns became even more special. The good ones are usually made with eggs, butter AND milk, so they're definitely not vegan friendly (although recently some supermarkets have started making fairly decent vegan alternatives). This is why it's been my mission to make these guys for so long!
What is a vegan hot cross bun?
Hot cross buns are essentially an enriched bread dough bun, packed with spices and fruit. Before baking, a simple white cross is piped on top of the bun (traditionally to symbolise the crucifixion). They're lightly sweetened with sugar but mostly the sweetness comes from the fruit which is kneaded into the dough before shaping the buns.
They can be eaten fresh from the oven when warm and soft, or sliced in half and toasted! Traditionally they'd be made with butter, eggs and milk, but here's how we're going to transform hot cross buns into VEGAN hot cross buns.
What makes them vegan?
Eggs → Psyllium Husks
The roll of eggs in this recipe is to add fat (from the yolks) moisture and to bind the dough together. Instead of eggs we're using psyllium husks, or alternatively linseed/chia seed if you don't have any to hand. When mixed with water, psyllium husks/linseed/chia seeds form a sort of jelly like texture, very similar to egg white. The water helps to add moisture to the mix and the jelly-like substance helps to bind the mixture together.
I like to grind my psyllium husks/seeds before using as an egg replacer. I find they're much more effective this way and the texture is much finer in the final product. If using psyllium husks, just be sure to really beat the thickened psyllium mixture into the dough REALLY well. Psyllium loves to clump together, so be sure it's evenly incorporated before moving on!
Milk → Plant Milk
This is a rather obvious one but just a few tips. When making vegan hot cross buns, we have to account for the extra fat which would otherwise have been introduced by the eggs - this is an enriched dough after all. One way to solve this problem is to ensure you're using full-fat plant milk.
I like to use either soy or oat milk for this recipe, wherever possible. IF you can find it, I'd recommend using a "barista" variety, since they're usually relatively high in fat content.
Butter → Vegan Butter
Again, this seems like a rather obvious substitution, but it's important to note one thing. Try to make sure your vegan butter/margarine is completely melted before adding it to the mixture. It will incorporate much more easily this way.
Both vegan block style butters and vegan margarines work well in this recipe, so don't worry too much about which one you use.
Need more baking projects?
You've come to the right place! Why not try some of these bad boys out!
Oh, and keep in mind
I love sharing my food with you – it seriously gives me so much joy! As a result, I put a huge amount of time and energy into creating these recipes. This recipe right here is my lil baby and I wouldn't change a single thing about it. As such, I won't give advice on any ingredient swaps, substitutions, omissions or changes to the method described above (how dare you talk about my baby like that!)
But seriously, if this recipe doesn't do it for you and you want to customise it – that's cool – no probs. Put that finely honed chef's intuition to good use and tailor the recipe to suit you! Regardless of whether you make any changes or not, let us know how you get on in the comments below. 
---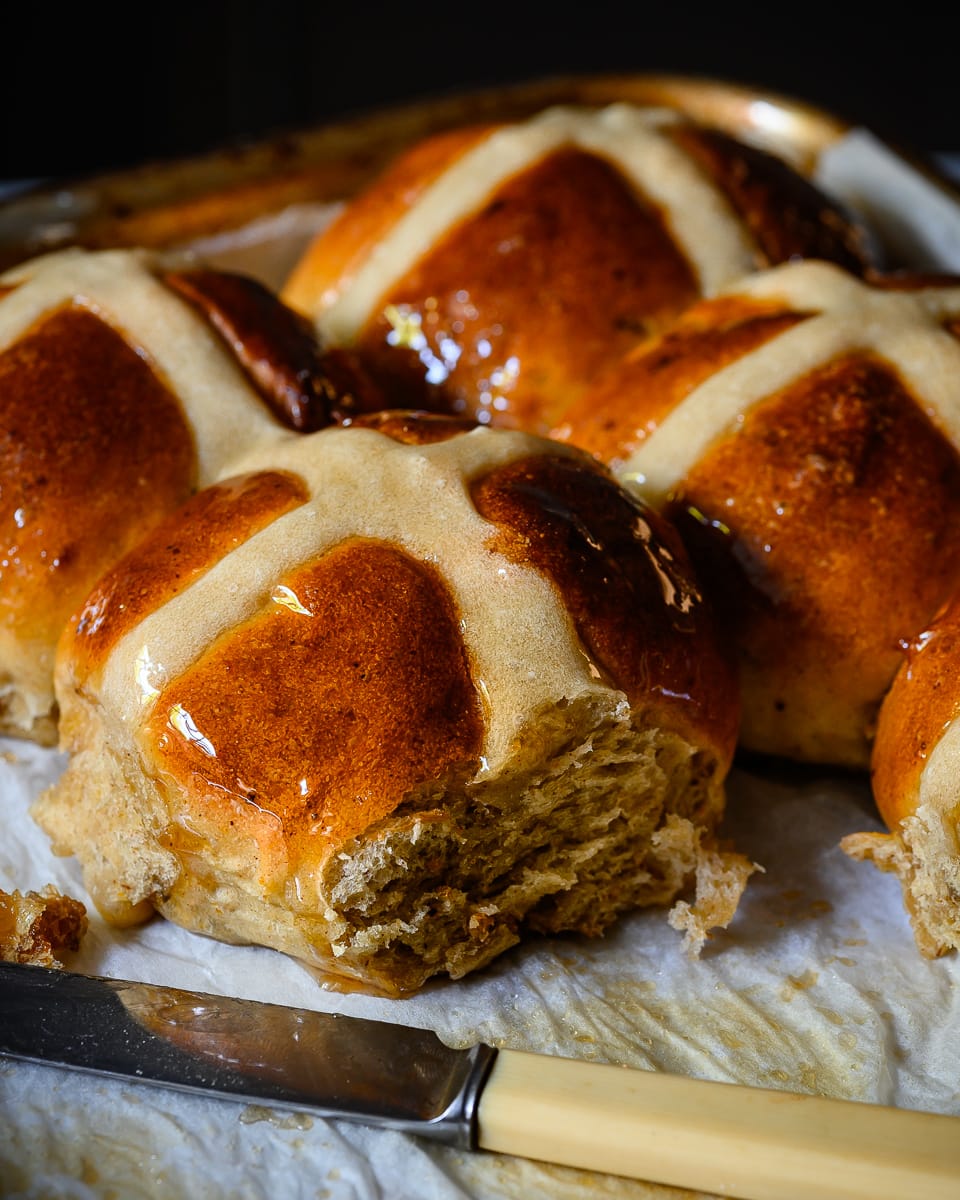 Vegan Hot Cross Buns with Cardamom and Rum
Insanely soft vegan hot cross buns, packed with fruit, cardamom and rum. Perfect with a cup of tea - preferably in bed!
Ingredients
For the Buns
150

g

sultanas

150

g

raisins

45

ml

dark rum

2

teaspoon

psyllium husks

((or 2 tablespoon flax/linseed or chia))

65

g

vegan butter

((vegan margarine works well too))

300

ml

plant milk

2

teaspoon

dried yeast

525

g

strong white bread flour

50

g

caster sugar

10

cardamom pods

1

teaspoon

ground cinnamon

¼

teaspoon

ground cloves

¼

teaspoon

ground nutmeg

2

tablespoon

orange zest

¼

teaspoon

flaky sea salt
For the Cross Mixture
65

g

plain white flour

5

tablespoon

water
For the Glaze
40

ml

water

40

ml

spiced rum

4

tablespoon

caster sugar

5

cardamom pods

((cracked open))
Instructions
To Make the Buns
Place the sultanas and raisins in a medium bowl. Add the rum and stir to coat. Add 75ml of just boiled water. Stir, cover and leave to soak.

Grind the psyllium husks into a sandy powder using a blender or a mortar and pestle. Place in a small bowl and mix in 6tsp water. Leave to thicken.

In a microwaveable bowl, place the vegan butter. Heat in the microwave until just melted. Add the milk and stir to combine. Add the yeast and whisk. Leave for the yeast to bloom for 5 minutes or until a little frothy on the surface.

In the bowl of a stand mixer fitted with a dough hook attachment, add the strong white bread flour, caster sugar and the thickened psyllium husk mixture. Add the yeast/milk mixture. Beat on low speed until the dough is combined and smooth but very sticky. Note that psyllium husks like to clump together, so you'll need to knead well to ensure they're incorporated throughout the dough.

Remove the dough hook and transfer the dough to another, medium bowl greased with a little neutral oil. Cover with reusable wrap or a damp tea-towel and leave to proof at room temperature for an hour.

While the dough proofs, crack open the cardamom pods and transfer them to a mortar and pestle. Grind them roughly.

Once the dough is proofed, return it to the bowl of the stand mixer and add the cardamom and other spices along with the orange zest and flaky sea salt. Drain the raisins/sultanas but reserve the liquid. Add the raisins/sultanas to the dough. Attach the dough hook and knead on low speed for a few minutes or until the fruit is all incorporated. If the fruit doesn't want to stay in the dough, transfer the dough to a clean surface and knead by hand instead. This should help.

Transfer the dough back to the oiled bowl, cover well and leave to proof for another hour.

Once proofed number 2 is over, It's time to shape the dough. Line a baking tray with baking parchment and set aside. Transfer the dough to a clean surface and push out any large air bubbles with your finger tips.

Using a bench scraper or sharp knife, cut the dough into 15 portions. If you'd like to be accurate, you can weigh the dough. When I made these, each bun weighed 90g.

Once the dough is divided, take one piece of dough and gently push it into a flat square with your fingertips. Fold the edges over to make a little pouch shape and then flip upside down to the smooth side is facing up and the folded side is on the counter. Make your hand into a concave dome and place over the dough. Move your hand in a circular motion, applying light pressure to the ball of dough beneath. This should form a ball of dough with a tight, smooth surface. Place the ball of dough on the tray and repeat the process with the remaining portions of dough. Ensure the balls of dough are evenly spaced apart.

Cover the balls of dough and leave to proof for their third and final hour. 30 minutes into their final proof, preheat the oven to 200c and prepare the mixture for the cross.
To Make the Cross Mixture
In a medium bowl, place the flour and water. Mix well with a spoon until you have a thick, runny paste. Transfer the mixture to a piping bag and cut off the tip. Set aside until the buns are finished proofing.

Once the buns are proofed, carefully pluck any raisins or sultanas which are poking through the surface out (otherwise they will burn). Carefully pipe the cross mixture in a straight line down the centre of the buns. Spin the baking tray and repeat to make a cross. Repeat until all the buns are topped with a cross.

Place in the preheated oven and bake for 20 minutes, rotating the tray half-way through to encourage even browning. While the buns are baking, make the glaze.
To Make the Glaze
Place all the ingredients in a small saucepan and place over medium heat. Bring to a simmer and allow to bubble gently for 3-5 minutes. The volume of the mixture should drop by at least half. Once nicely reduced, pour the glaze through a sieve to remove the cardamom pods. Set aside.

Remove the buns from the oven once baked and set the tray on a wire cooling rack for 10 minutes. After ten minutes, take a pastry brush and apply the glaze to the top of each bun. If serving straight away, leave to cool for another 10 minutes. Store in an air-tight container once cooled. Slice in half, toast and spread with vegan butter. If freezing is necessary, slice in half, wrap tightly and freeze for up to a month.
Nutrition
Serving:
1
grams
Calories:
4348
kcal
Carbohydrates:
820
g
Protein:
101
g
Fat:
63
g
Saturated Fat:
14
g
Sodium:
1250
mg
Fiber:
56
g
Sugar:
196
g
Love this recipe?
Let me know on Instagram!