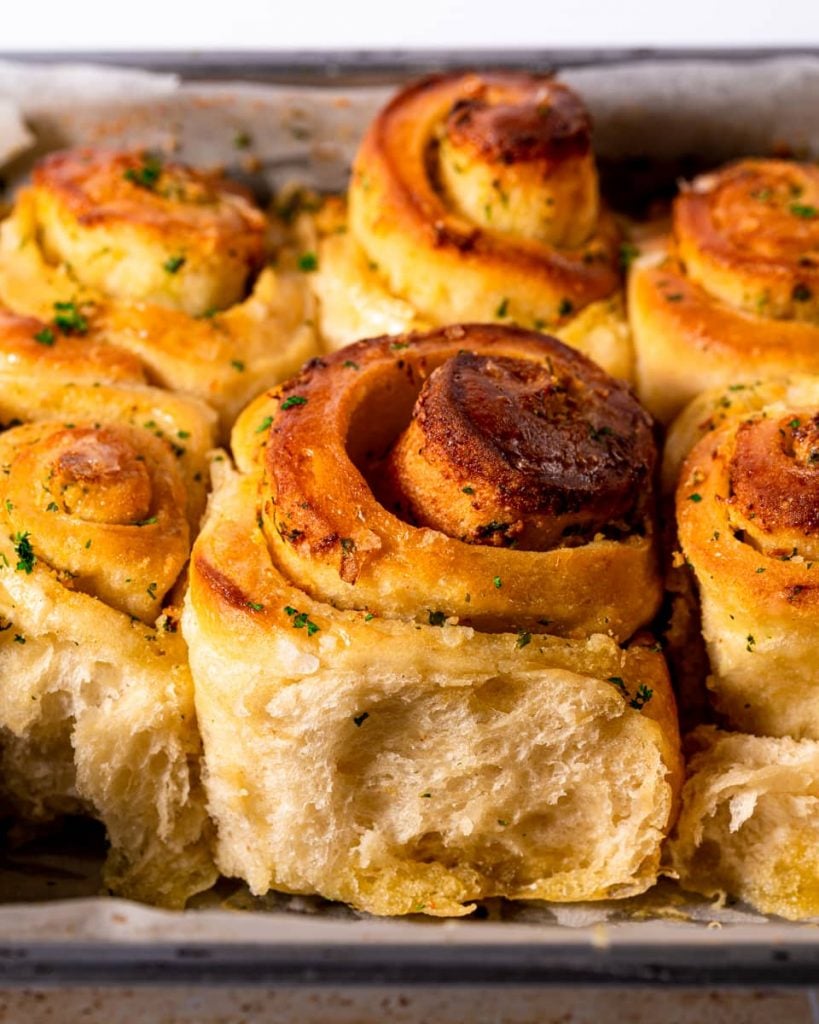 Beautifully soft vegan garlic butter buns, baked to perfection with a golden brown top and pull-apart middle.
---
Look, there's no need to explain how you found these vegan garlic butter rolls! It's been 2021 for six years and yet somehow it's only February??? Who can blame you for typing your deepest desires into google and hitting search in a fit of desperation. 
All I can say is, one, I'm glad you're here, and two, you won't be disappointed. These guys are THE SOFTEST ROLLS you're ever going to experience. AND WHAT'S MORE, they're PACKED with more vegan garlic butter than you can dream of! So let's get started!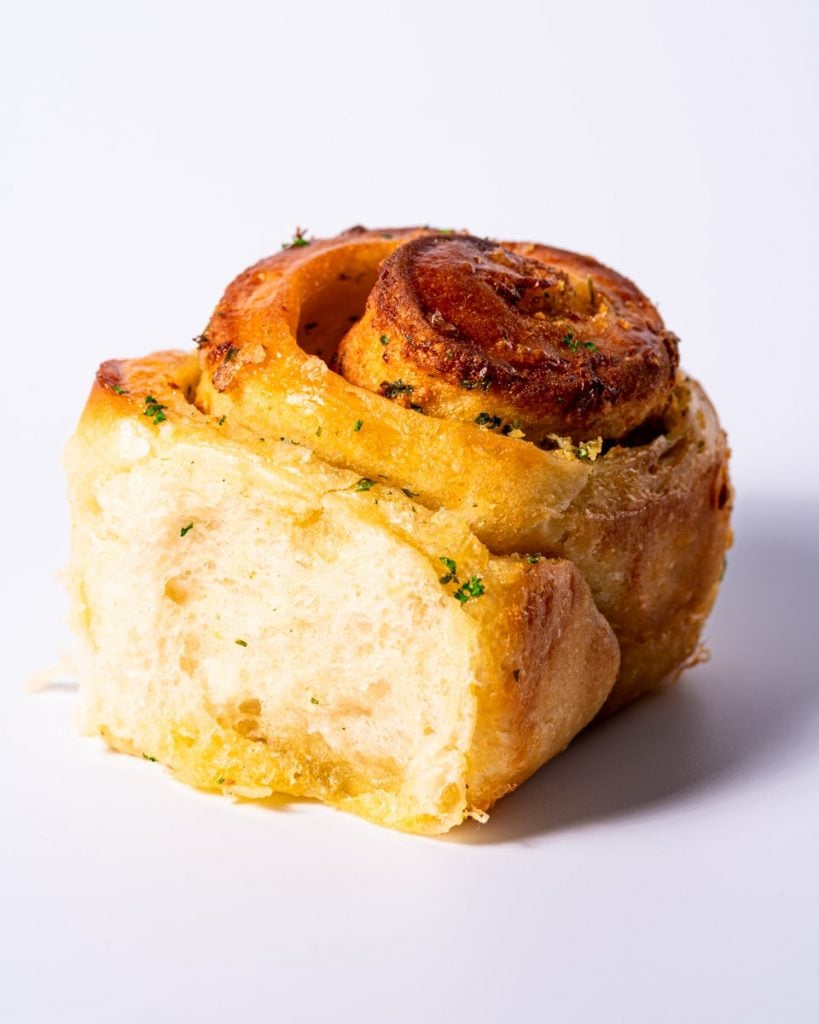 What Are Vegan Garlic Butter Rolls
A real basic explainer for anyone lucky enough to have stumbled across this by accident. Vegan garlic butter rolls are the savoury love-child of cinnamon buns and garlic bread. These particular beauties are made from an INSANELY soft "Hokkaido" style milk bread dough (which I'll explain below) meaning they're soft from the minute they leave the oven and will stay soft for at least 2 days. 
Each roll is layered with vegan garlic butter which INFUSES into the dough for a mellow garlicky KICK right the way through.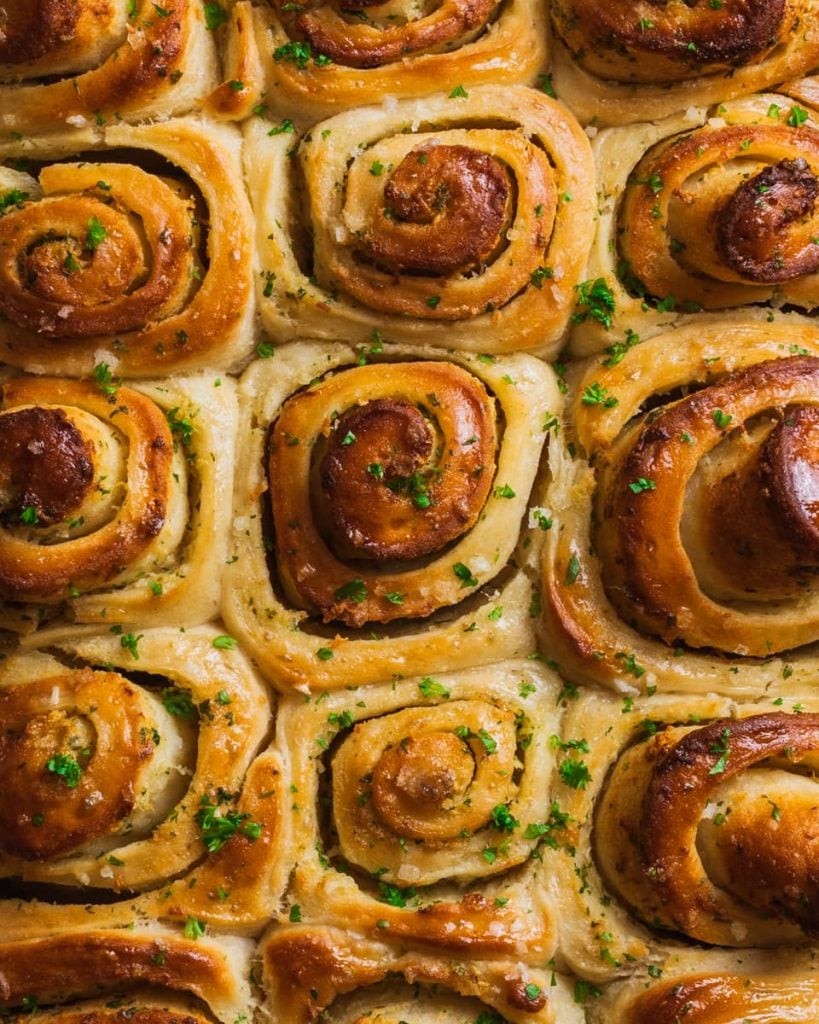 How To Make PERFECT Vegan Garlic Butter Rolls
A couple of tips which I STRONGLY advise reading through before starting.
What on EARTH is a "Tangzhong"?
If you scrolled right to the recipe and have never made Japanese-style milk bread before, chances are you saw the world Tangzhong and got spooked. BUT DON'T BE! The Tangzhong is your friend - I promise!
Without turning into a bread nerd, I'll tell you that a Tangzhong is simply a bread-making technique where you cook some of the flour with milk (in this case plant milk obvs) before forming the dough. This portion of pre-cooked dough looks like a thick, sticky paste. 
You can read more about the science of a Tangzhong here, but long story short, it helps to give your bread a better rise, a softer crumb, and a moist texture which stays fresher longer. So DO NOT skip this step...OKrrrr??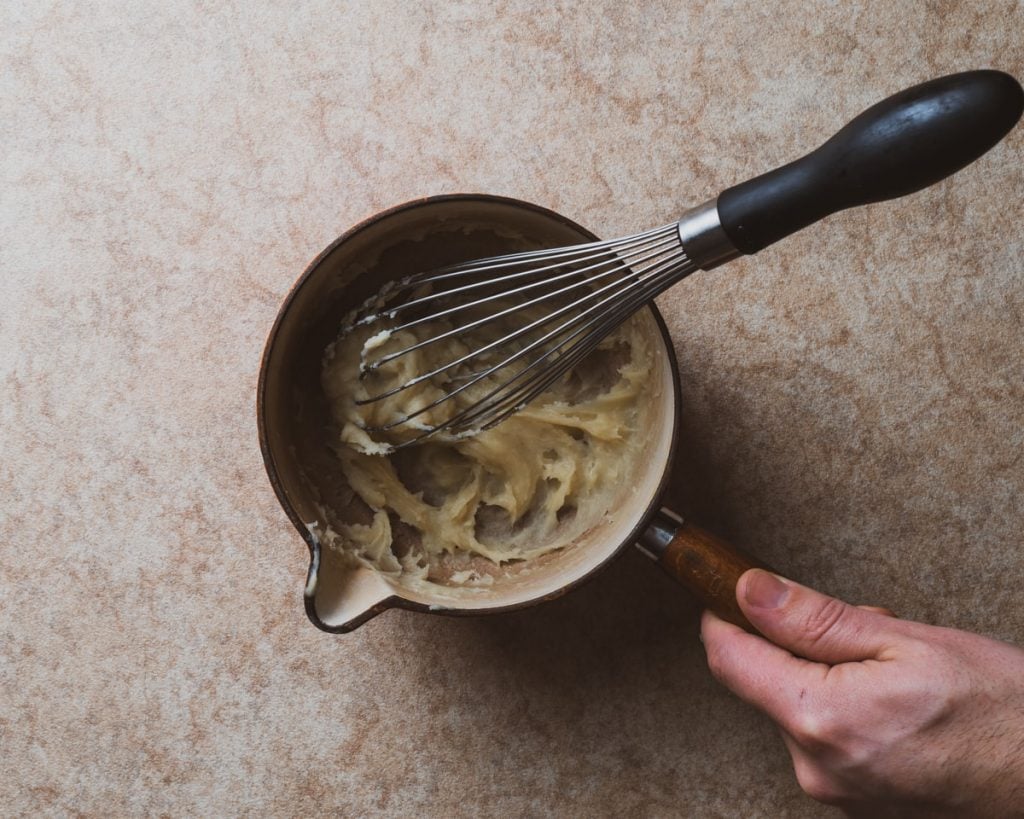 What if I have no stand mixer!?
You can absolutely make these vegan garlic butter rolls without a stand mixer. The process is a little different though. This dough can be quite sticky to work with and so kneading by hand can get a little stressful! My advice is to follow the 10 min rest rule.
All this means is, once you've mixed together your ingredients (using a spatula or wooden spoon) instead of kneading the dough straight away, you cover it and let it rest for 10 mins. This allows the dough to hydrate fully, meaning the overall texture is less sticky and easy to handle. 
You can also grease your hands and the counter with a tiny bit of olive oil before kneading, but don't go overboard as it'll make the dough greasy.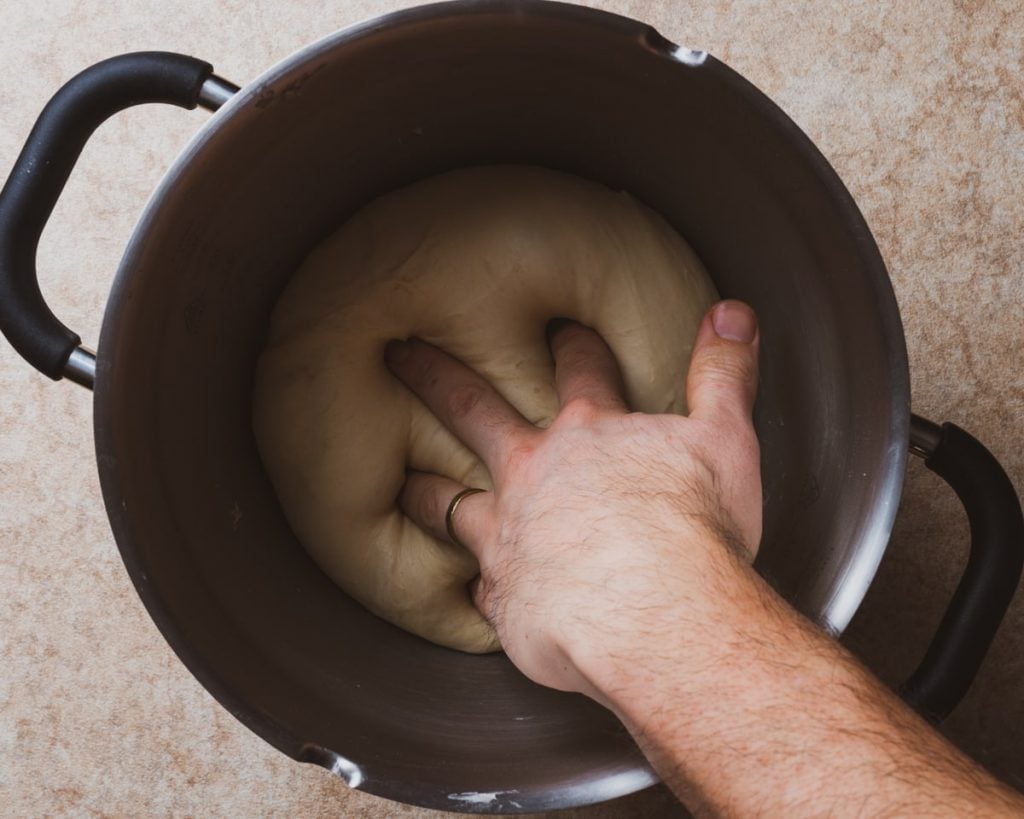 How do I Make Vegan Garlic Butter?
It really is super easy to make vegan garlic butter! Also it's a great thing to have in your fridge, even if you're not making this recipe, as you can slice a baguette, spread some in and HEY PRESTO - vegan garlic bread. 
The full instructions are in the recipe below, but my main advice is this: USE DECENT VEGAN BUTTER! At least make sure you use a "block" style butter rather than a margarine, as they melt very differently and I've found block style vegan butters to be far superior!
I like to use Naturli when I'm in the UK and Miyokos when I'm in the US. It's also important to make sure your vegan butter is at room temperature - otherwise it may split!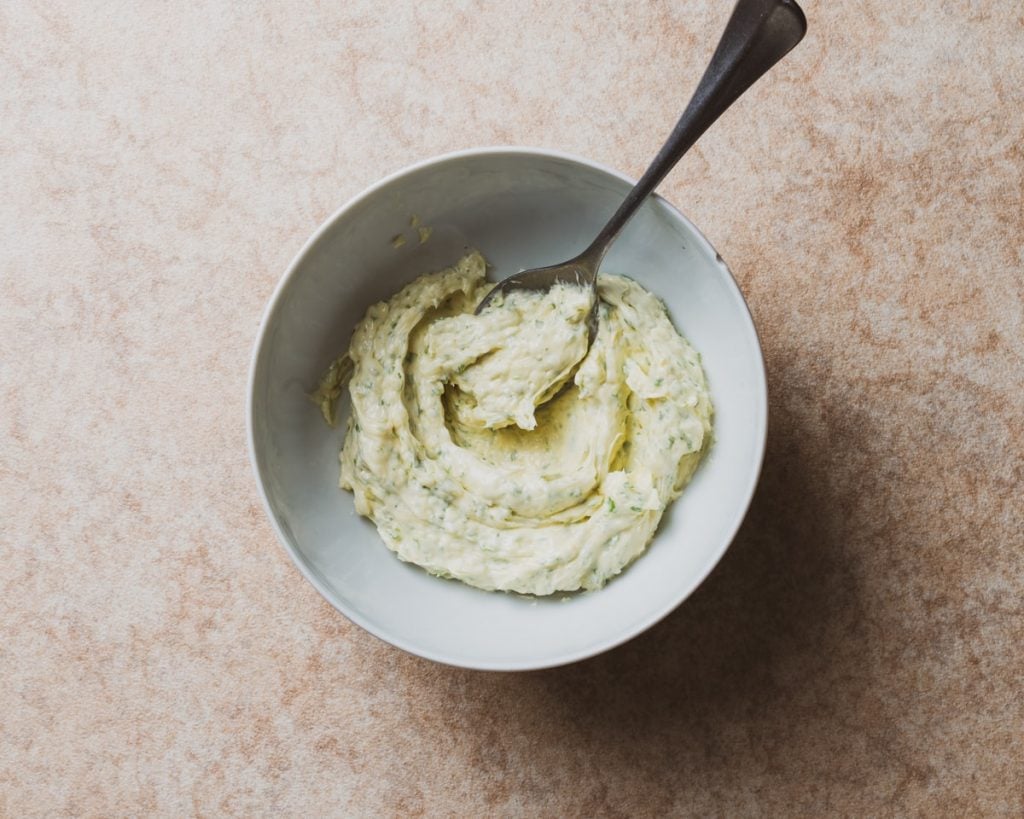 A Litte Test
So, I'm currently locked in the house thanks to the UK's third national lock-down, so humour me. I'd LOVE to know how many people ACTUALLY read this far in my pre-amble, so I have a little game for you. 
If you've read this far, do me a favour and head over to my instagram, tap the latest picture and leave the comment "Jane Fonda". Doing this will serve three purposes:
It'll help me figure out how many people scroll right to the recipe
It'll confuse everyone who DIDN'T read this far
I'll be entertained
Thank you 🙂
And that's basically it!! If you have a favourite vegan cheese, feel free to grate some into the rolls when you spread on the garlic butter. Otherwise, ENJOY!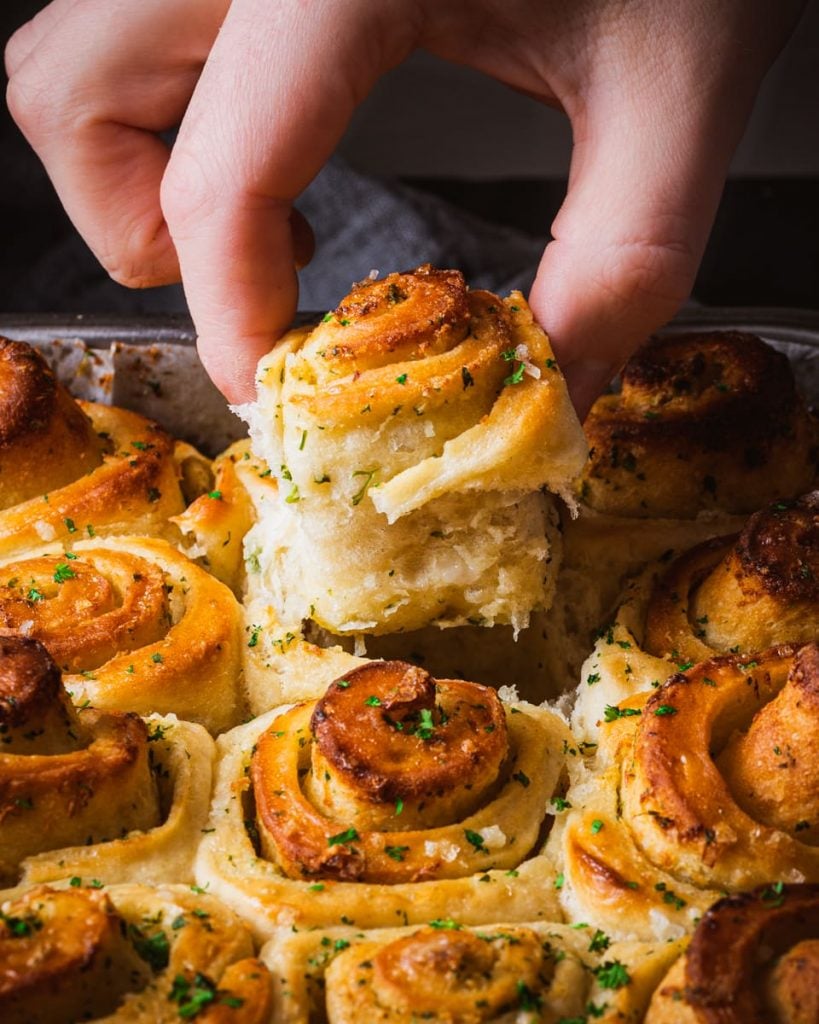 Need some more vegan recipes?!
Then you came to the right place! Why not give these bad boys a try!?
Ricotta Stuffed Vegan Pasta Shells with Chive Pesto
Vegan Garlic Butter Buns
Beautifully soft vegan garlic butter buns, baked to perfection with a golden brown top and pull-apart middle.
Equipment
Stand Mixer with dough hook
Ingredients
For the Tangzhong
30

g

strong white bread flour

((aka bread flour))

100

ml

unsweetened plant milk

((I used soy))
For the Bun Dough
2

teaspoon

instant yeast

1

teaspoon

caster sugar

((aka super-fine sugar))

100

ml

unsweetened plant milk

(lightly warmed but no more than 30c (I used soy))

300

g

strong white bread flour

((aka bread flour))

20

g

caster sugar

((aka superfine sugar))

1

teaspoon

fine sea salt

1

teaspoon

garlic powder

4

tablespoon

aquafaba

((the liquid from a tin of unsalted chickpeas))

30

g

vegan butter

(at room temperature (I used Flora))
For the Garlic Butter
120

g

vegan "block" butter

(at room temperature (I used Naturli))

5

cloves

garlic

((peeled and finely crushed or grated))

1

teaspoon

flaky sea salt

2

tablespoon

finely chopped parsley
Instructions
To Make the Tangzhong
Place the tangzhong ingredients in a small saucepan and place over medium heat. Whisk constantly until the mixture thickens to a strong paste (around 3 minutes). Remove from the heat.

Transfer the tangzhong to a bowl while hot and cover with a piece of greaseproof paper/baking parchment to prevent a skin from forming. Set aside on the counter to cool and move onto the next step.
To Make the Bun Dough
In a measuring jug, mix together the instant yeast, caster sugar and warmed plant milk. Whisk well then set aside on the counter to "bloom" (around 3-5 minutes).

While the yeast blooms, place the strong white bread flour, caster sugar, fine sea salt, garlic powder, aquafaba and bloomed yeast mixture in the bowl of a stand mixer fitted with a dough hook. Add the slightly cooled tangzhong and knead on medium speed for around 5 minutes.

By this point, you should have a sticky, stretchy dough which doesn't form a ball and sticks to the sides of the bowl. Add the 30g of soft vegan butter and knead on medium speed for a further 3-5 minutes. When done, the dough should still be sticky and stretchy but also very smooth.

Cover the bowl with reusable wrap or a damp teatowel and leave at room temperature (or slightly above) to proof for 1 hour.
To Make the Garlic Butter
Place the garlic butter ingredients into a medium bowl and whisk well by hand until fully combined. Set aside. Meanwhile, line a 26 x 20cm deep baking tray with greaseproof paper and set aside.

Once the dough has proofed and doubled in size, lightly flour your hands and knock down the dough to remove any large air bubbles. Turn out the dough onto a lightly floured surface and sprinkle the top of the dough with a little more flour. Roll out into a roughly 35 x 25cm rectangle with the long edge closest to you.

Spread the garlic butter over the dough in an even layer then roll it up gently, starting with the long edge closest to you and rolling away from you. You should now have a 35cm long roll of dough.

Measure roughly the half-way point on the roll and slice. You should now have two shorter rolls. Divide each roll into 6 equal sized discs so you're left with 12 rolled discs of dough. TIP: if you're struggling to slice the dough with a knife, pull a thin piece of thread under the dough and bring the two ends up and over, crossing them to slice the dough.

Arrange the discs of dough neatly spaced in the prepared baking tray and cover with reusable wrap or a damp teatowel. Leave to proof for a further 30-45 mins. Preheat the oven to 170c/340f (fan).

Once proofed, place the tray in the pre-heated oven and bake for 20-25 minutes or until the tops of the rolls are golden brown. Remove from the oven and allow to cool to room temperature before serving.
Nutrition
Calories:
199
kcal
Carbohydrates:
22
g
Protein:
4
g
Fat:
11
g
Saturated Fat:
2
g
Trans Fat:
2
g
Sodium:
477
mg
Potassium:
75
mg
Fiber:
1
g
Sugar:
2
g
Vitamin A:
131
IU
Vitamin C:
1
mg
Calcium:
28
mg
Iron:
1
mg
Love this recipe?
Let me know on Instagram!