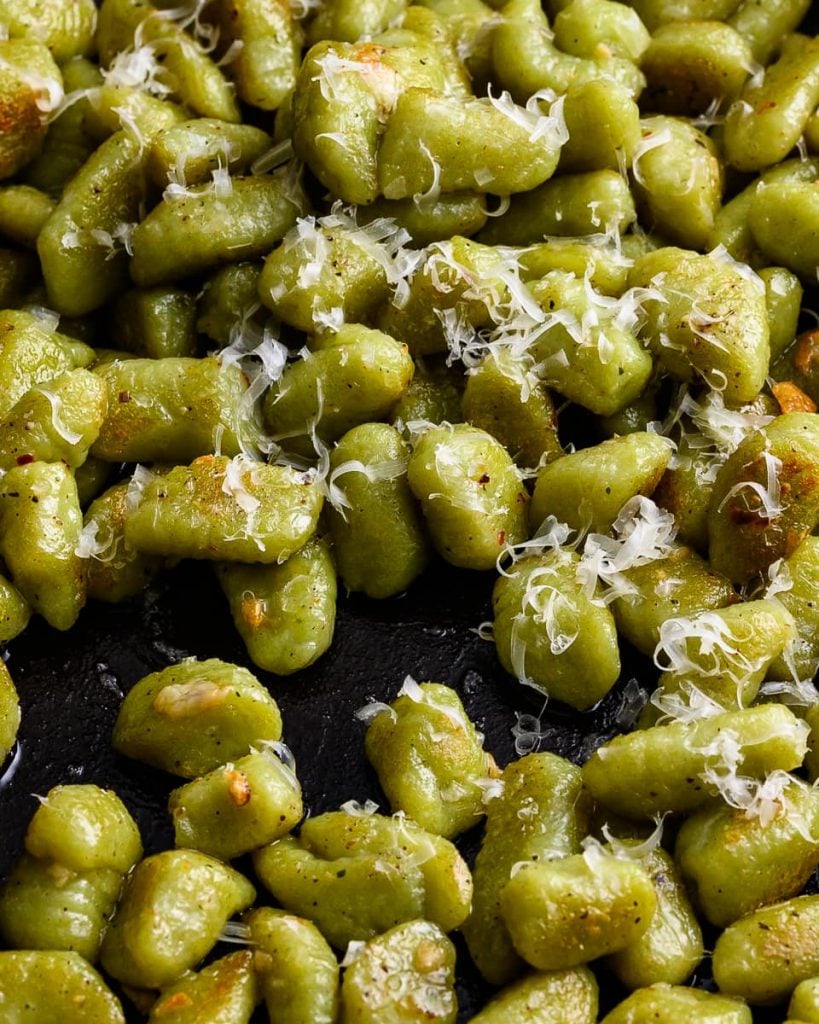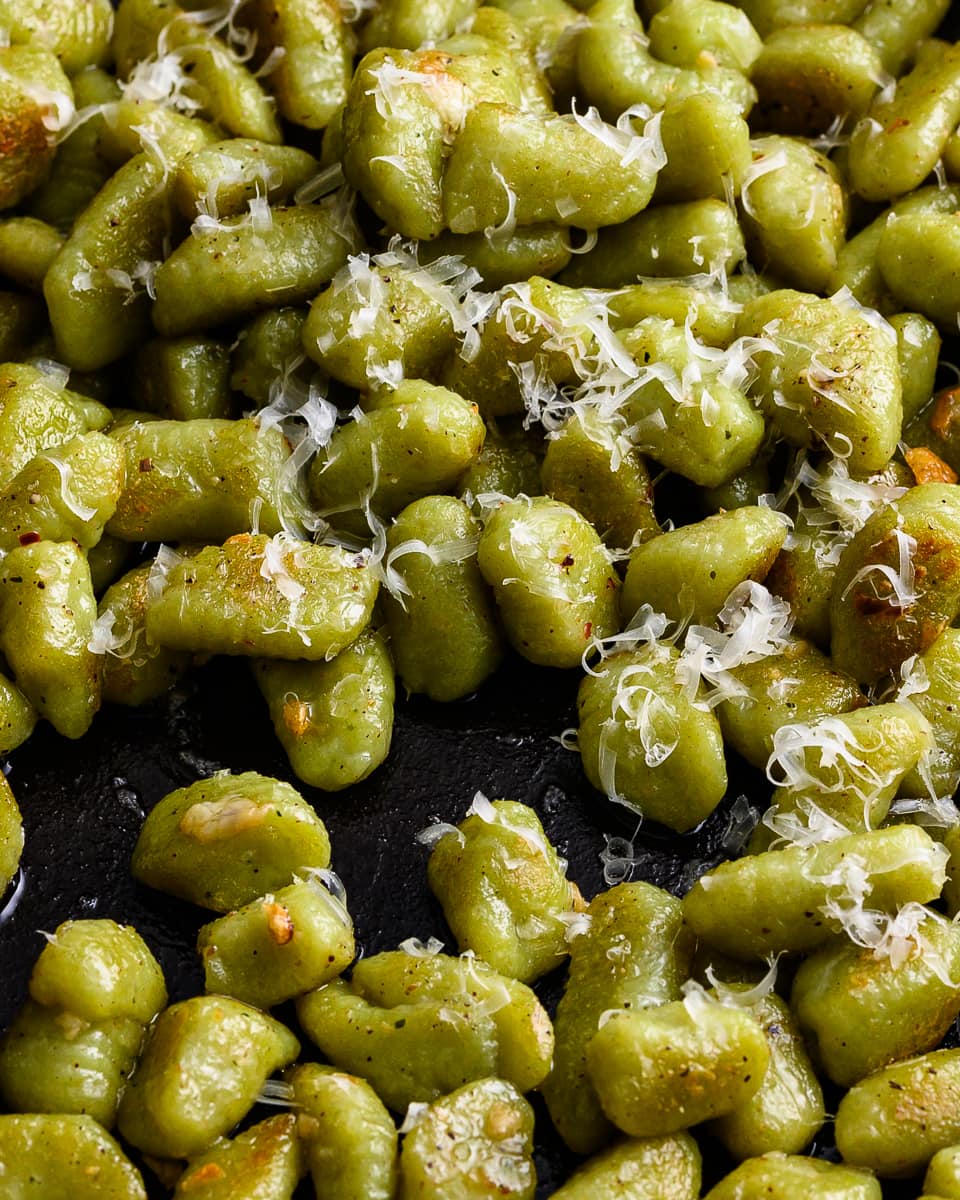 Delicate little vegan gnocchi verdi that'll melt in your mouth like a dream! Made with rocket and wild garlic, they have just enough chew and a gently caramelised exterior. It's vegan gnocchi heaven!
---
There's something about these vegan gnocchi verdi. In fact, there's something about any food that's usually beige turning GREEN! It's so much more exciting, not to mention the fact that they even TASTE more interesting.
Traditional gnocchi verdi are made using spinach, but at the time of writing, we're still in Lock Down and I'm avoiding supermarkets. It's also a beautifully sunny spring this year, which means we have LOADS of wild garlic nearby and handfuls of rocket (aka arugula) in the back garden!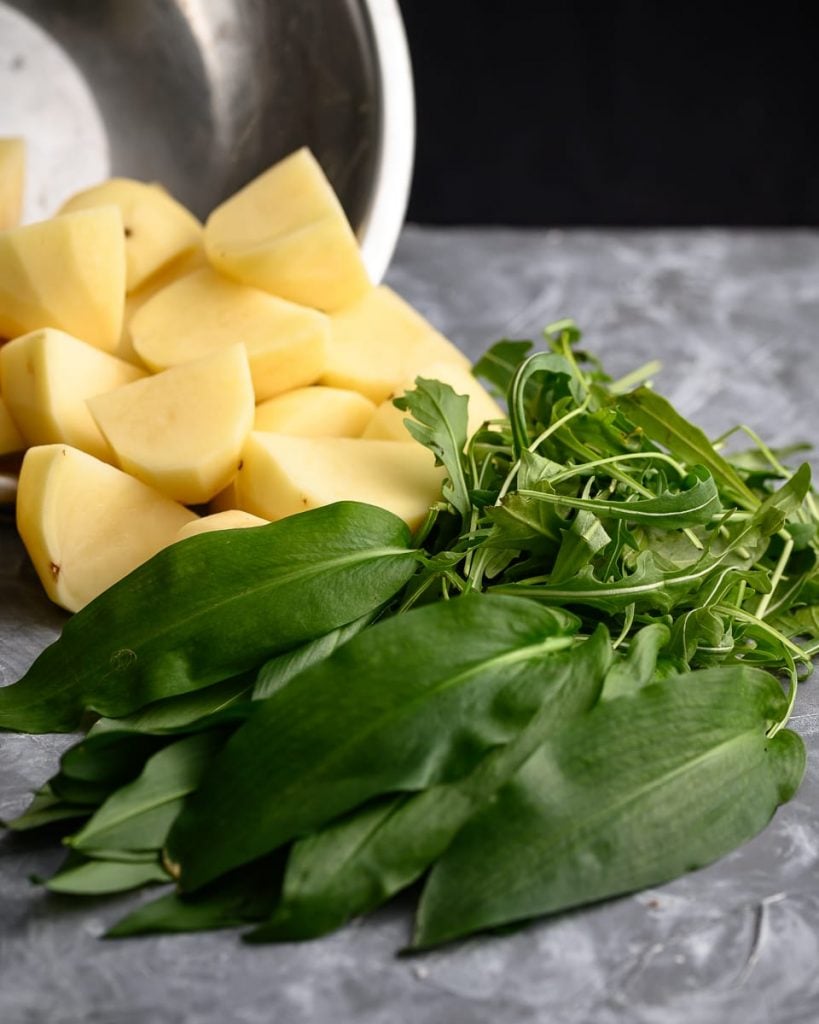 I'd never normally suggest mixing things up with such a traditional Italian recipe, but at times like these, we have to be flexible. I also understand most of you won't have access to rocket and wild garlic either, so here's my solution. USE WHATEVER!
I mean it. Spinach, as we know, works great (even frozen spinach)! You could also try kale or how about chard? My brother has recently been cooking with lots of nettles! Why not give that a go (but be careful of stings!).
So yeah, forgive me for going rogue on this one, but these are my quarantine friendly gnocchi verdi which means YOU DO YOU!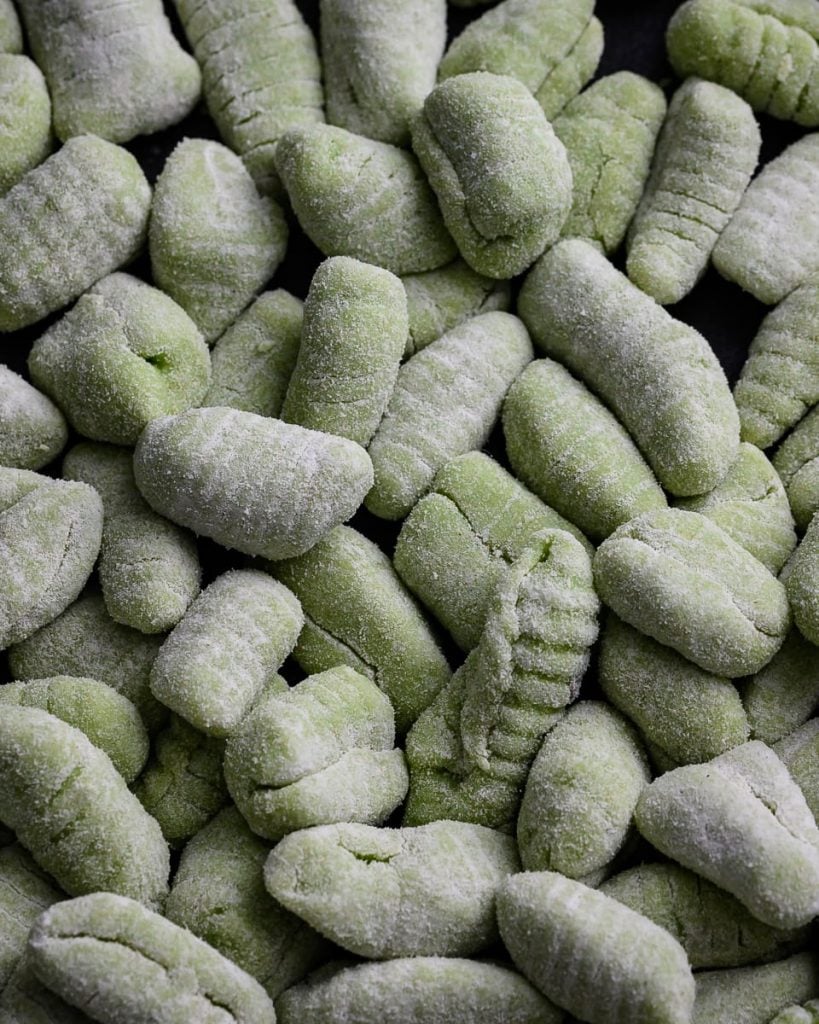 ---
How to Make em!
As always there's a full recipe at the bottom of this page, but here's an illustrated step-by-step with some extra tips.
1. Boil and Mash Your Potatoes
Start by boiling and mashing your potatoes. We don't want our mixture to be too wet (as we'll need to add lots of flour to counter-balance later on) so try to use a floury variety of potato. Also, once boiled, allow the potatoes to steam for a while before mashing.
I like to mash with a bog standard potato masher but if you have a fancy potato ricer then you do you!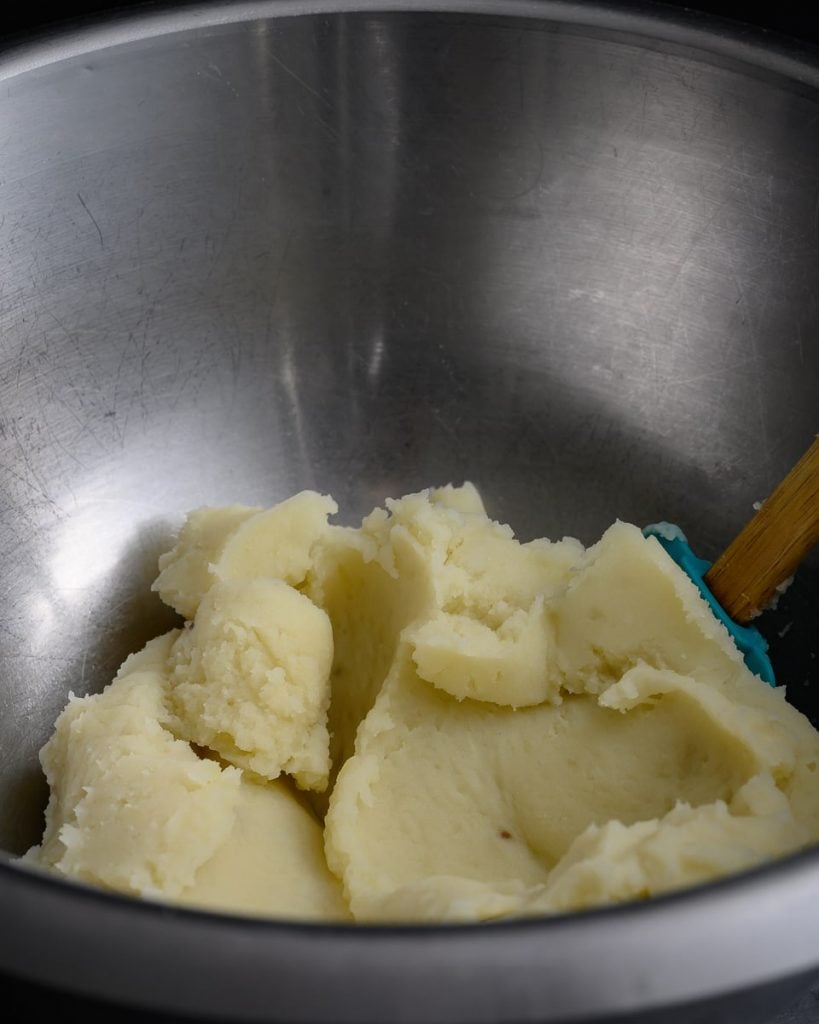 2. Cook, Blend and Add your Leaves
I say "leaves" here instead of rocket and wild garlic because this recipe is super versatile and I want to encourage you to use what you have access to! Use the leftover potato boiling water to cook the leaves for a few seconds and then cool them in some cold water. Blitz them up and add to your mashed potato.
I mean, just look at the colour! How could this be wrong?? Mix everything up and move on!
3. Add Your Flour and Salt
Things are gonna get super sticky right now, but don't worry. Just mix it good! Once you have a sticky ball of dough, wrap it in cling film and place it in the fridge. Leaving it to sit in the fridge for 30 mins will allow all that excess sticky moisture to be absorbed by the flour. When you take it out, it should be far less sticky!
If you have a decent vegan parmesan to hand, you can also add a good grating of this at this stage. It'll help kick that flavour up a notch!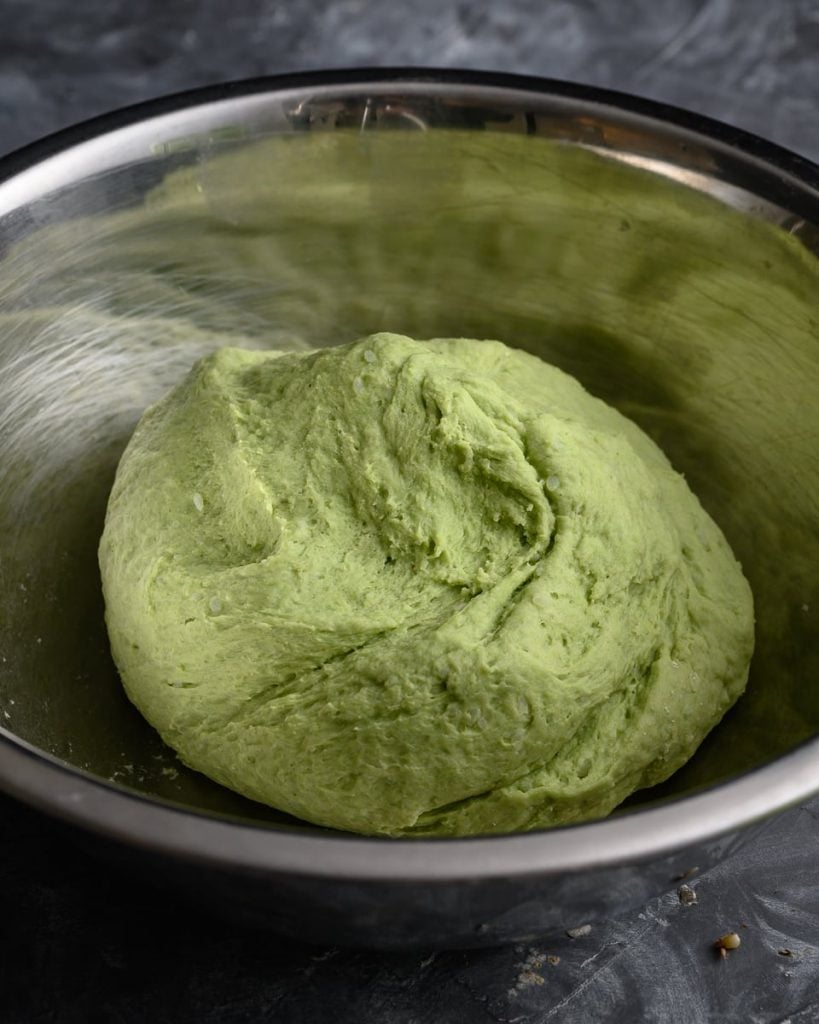 4. Roll and Shape Your Dough
Start by flouring the surface a little to stop the dough sticking. Quarter your dough and roll each quarter into a long snake. Then, with a knife or dough scraper, cut the dough into little pillows, around the size of almonds.
To stop them sticking together when you transfer them to a bowl, be sure to dust the gnocchi in flour. At this stage you can either leave them this way, or you can roll each gnocchi down a fork to make those cute little ridges on the back. Either way, they'll still be delicious!
5. Boil the Gnocchi
Bring a good sized saucepan of water to the boil and salt it well. Divide your gnocchi into 4 portions and carefully lower one portion into the boiling water. Let the gnocchi boil until they bob to the surface of the water. Use a slotted spoon to scoop them out and set them aside in a bowl. Drizzle with a little olive oil to keep them from sticking.
Repeat the process with the remaining gnocchi.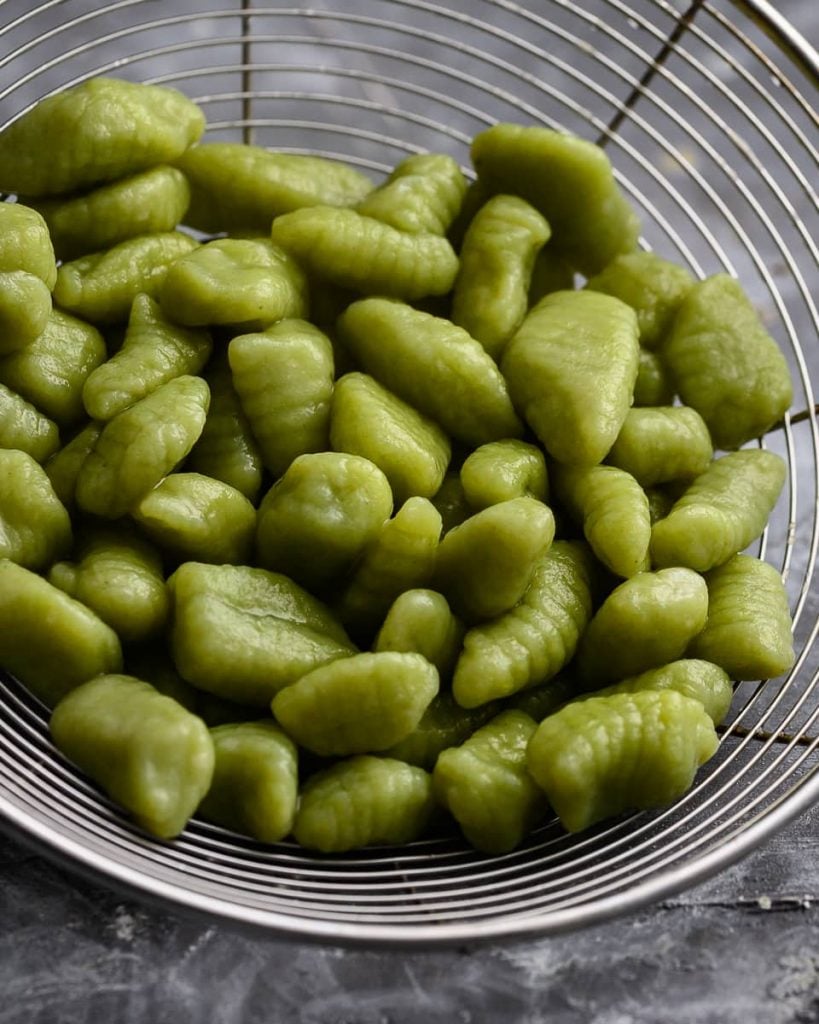 6. Fry up Your Vegan Gnocchi Verdi
Heat a large frying pan with some olive oil and a couple cloves of crushed garlic. Cook the garlic off but don't let it burn. Add the gnocchi and fry them well until they're starting to brown on the edges. Be sure to flip them every now and then so they don't burn.
Add a little sprinkle of black pepper, sea salt and chilli flakes for seasoning.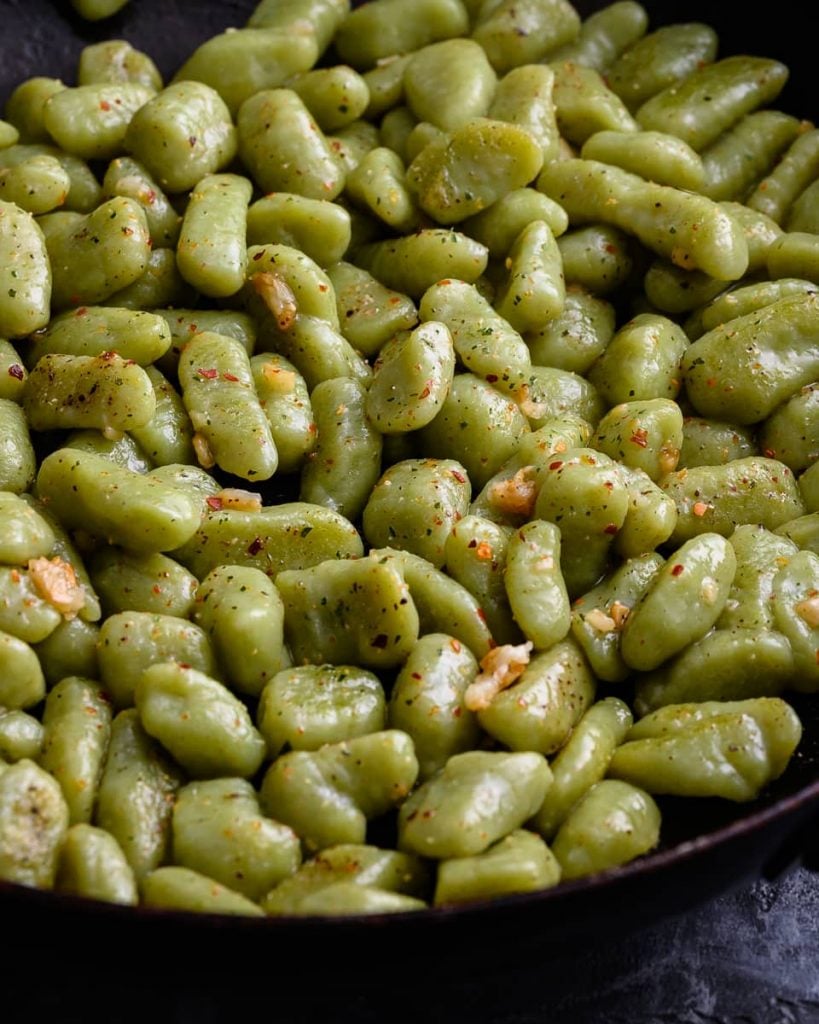 7. Serve and Enjoy!
I love to eat mine just like this with a good grating of vegan parmesan, a drizzle of EVOO and a squeeze of lemon! Alternatively you can top with your fave pasta sauce - like this vegan bolognese pictured below!
They also work amazingly with the sauces in these recipes:
Vegan Wild Mushroom Fusilli
Stuffed Pasta Shells with Chive Pesto
Vegan Pesto Recipe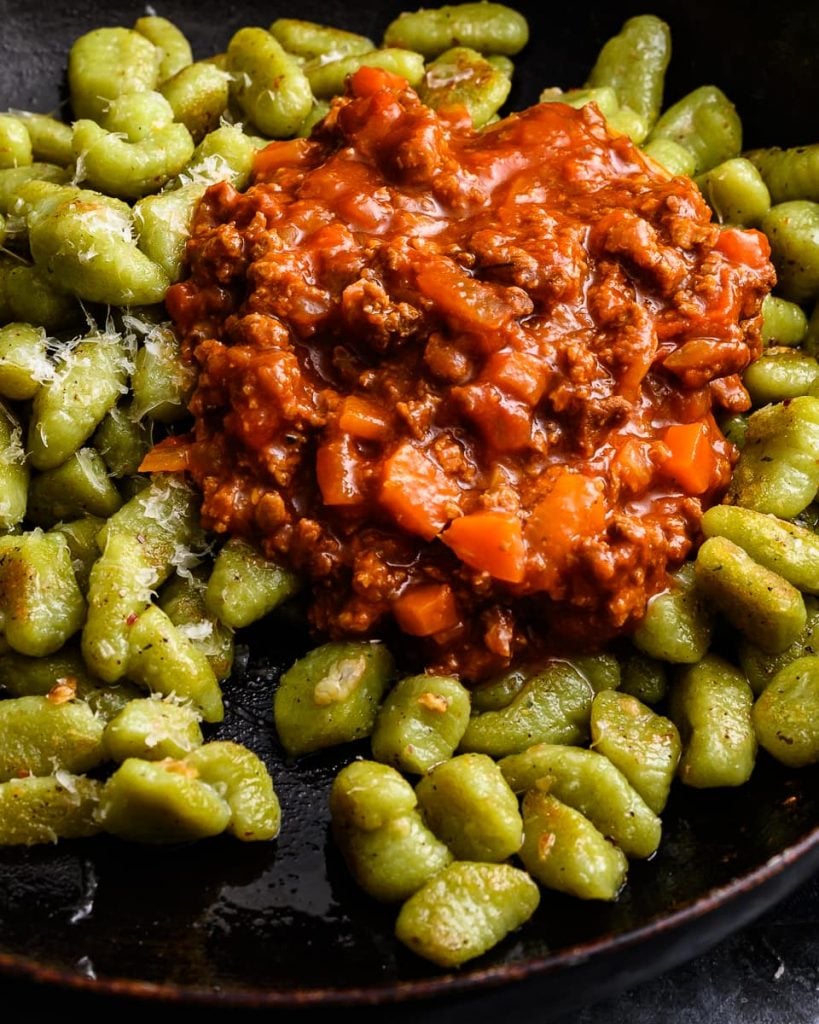 OH, AND KEEP IN MIND
I love sharing my food with you – it seriously gives me so much joy! As a result, I put a huge amount of time and energy into creating these recipes. This recipe right here is my lil baby and I wouldn't change a single thing about it. As such, I won't give advice on any ingredient swaps, substitutions, omissions or changes to the method described above (how dare you talk about my baby like that!)
But seriously, if this recipe doesn't do it for you and you want to customise it – that's cool – no probs. Put that finely honed chef's intuition to good use and tailor the recipe to suit you! Regardless of whether you make any changes or not, let us know how you get on in the comments below.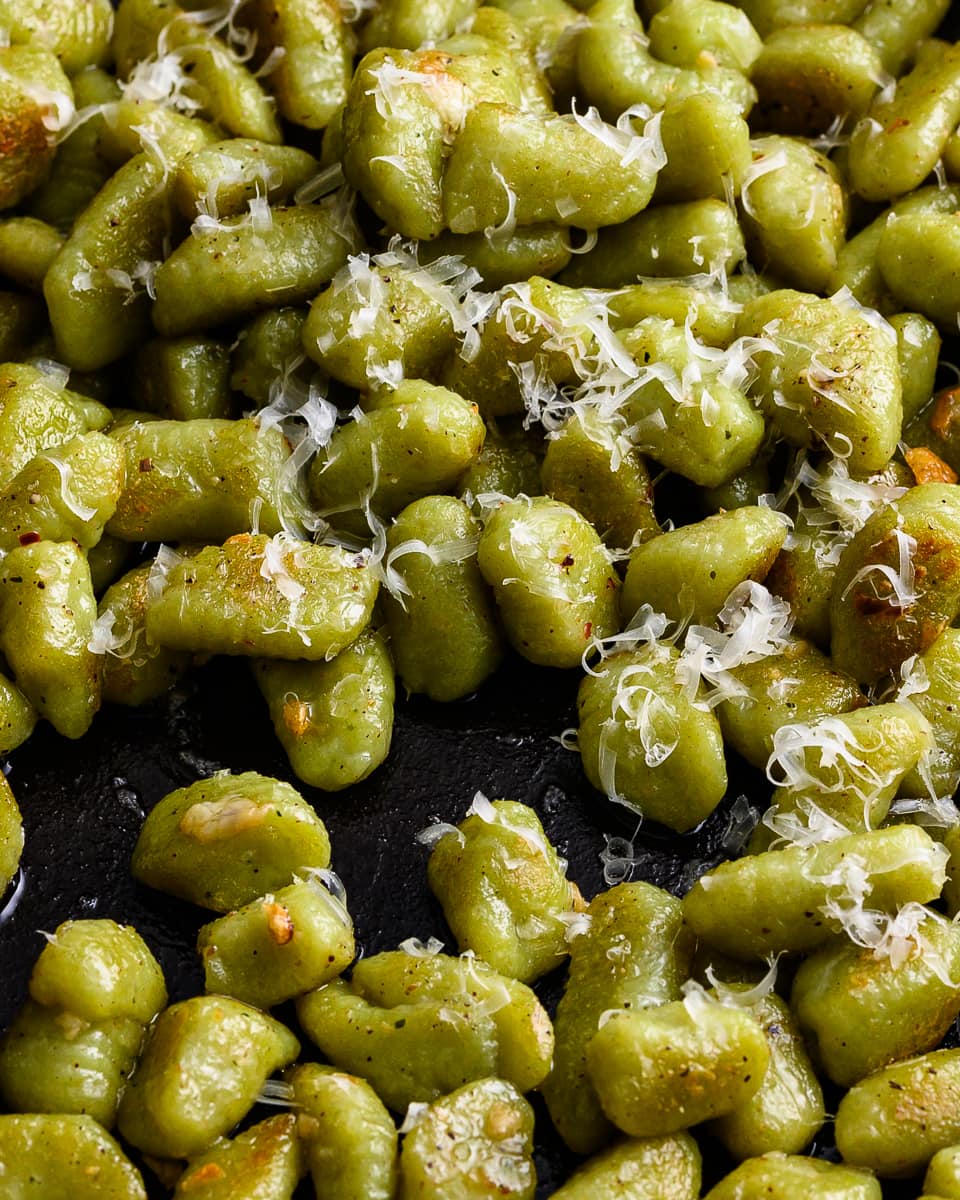 Vegan Gnocchi Verdi
Delicate little vegan gnocchi verdi that'll melt in your mouth like a dream! Made with rocket and wild garlic, they have just enough chew and a gently caramelised exterior. It's vegan gnocchi heaven!
Ingredients
450

g

potatoes

((peeled - use a floury variety))

20

g

rocket

((aka arugula))

20

g

wild garlic leaves

40

ml

water

275

g

plain white flour

((aka all purpose flour))

½

teaspoon

fine sea salt

2

tablespoon

olive oil

2

cloves

garlic

((crushed))

pinch

ground black pepper

pinch

flaky sea salt

pinch

chilli flakes
Instructions
Fill a large saucepan with boiling water and place over high heat. Chop the peeled potatoes in half and place in the boiling water. Boil until just cooked.

Remove the potatoes and reserve the cooking water. Allow the potatoes to steam in a bowl for 10 minutes. Once steamed, mash well or use a potato ricer. Set aside.

Place the rocket and wild garlic (or whichever leaves you're using) into the potato cooking water and leave to cook for 30 seconds before transferring to a bowl of cold water. Once cool, drain the water off the leaves and transfer them to a high speed blender. Add the 2 tablespoon water to make sure they can blend properly and blitz until completely smooth and bright green.

Pour the pureed leaves onto the mashed potato and mix well to combine. Add the flour and salt and mix well until you have a sticky ball of dough. Wrap in cling film and leave in the fridge f0r 30 minutes.

Once refrigerated, remove from the fridge and slice the dough into quarters. On a flour-dusted surface, roll each quarter out into a long snake and, using a dough cutter or knife, slice the dough into small pillows around the size of almonds.

At this stage, you can either leave the gnocchi in this shape, or roll them down the reverse side of a floured fork or gnocchi board to leave ridged edges. Either is fine.

Toss the little gnocchi in some flour and repeat with the remaining dough.

Bring a medium saucepan of water to a boil and add a pinch of sea salt. Carefully, working in quarter batches, boil the gnocchi until they bob to the surface of the water. Remove from the water with a slotted spoon and toss in a little oil to prevent them sticking together. Repeat with the remaining gnocchi.

Heat a large frying pan over medium heat and add the olive oil. Once hot, add the crushed garlic and fry for 30 seconds, making sure it doesn't burn. Add the gnocchi to the pan and fry, tossing occasionally, until the gnocchi are starting to brown.

Add the black pepper, sea salt and chilli flakes and stir to coat.

Either serve with a good grating of vegan parmesan or with your favourite vegan pasta sauce.
Love this recipe?
Let me know on Instagram!