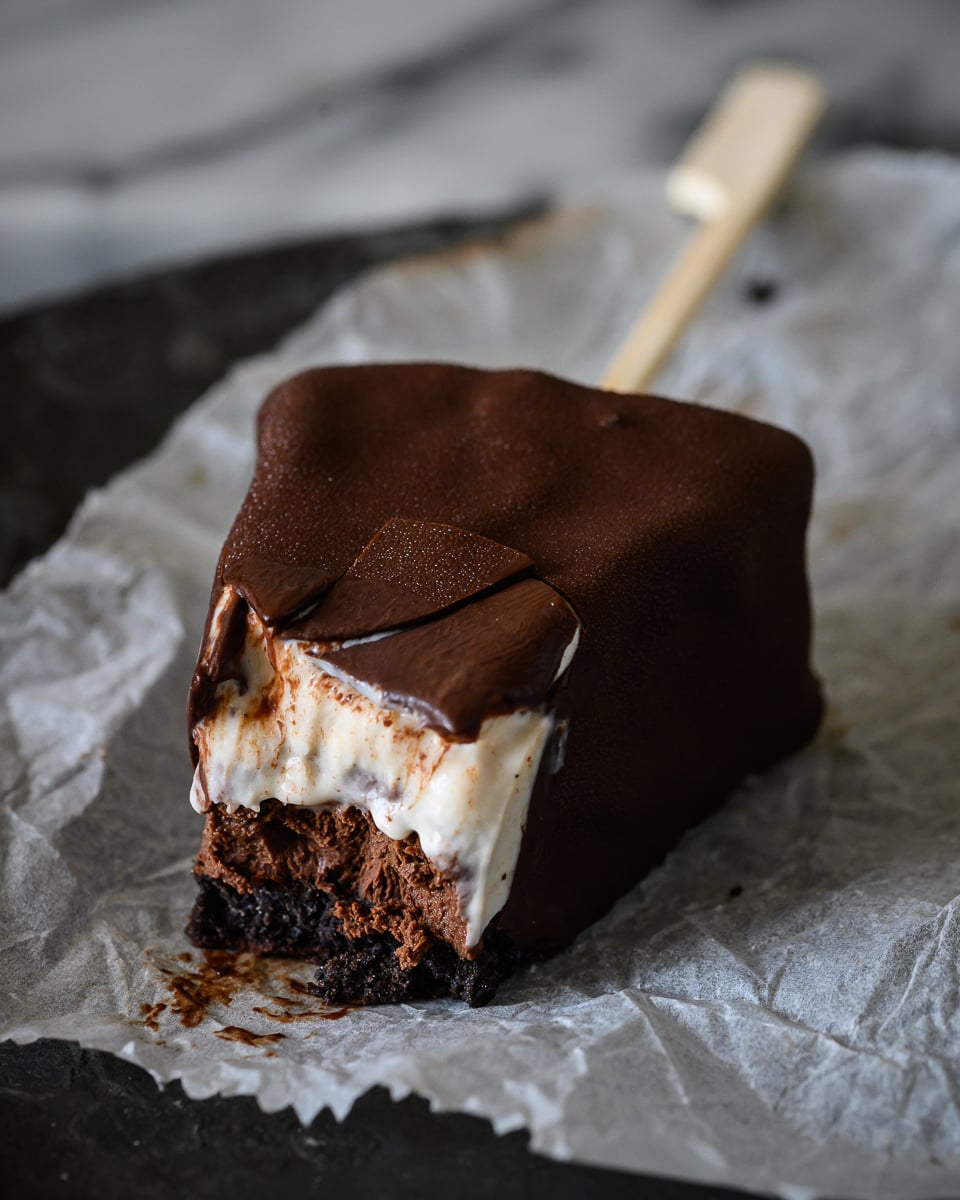 Chocolate and toasted coconut vegan frozen cheesecake DUNKED in chocolate! It's easy, no-bake and the most luxury experience of ya loiffe! Perfect for a sunny day (or also any other day ever).
---
Yeah, I know you've had a cheesecake before but have you ever had a VEGAN FROZEN cheesecake?? Neither had I, UNTIL TODAY! I'm going to stick a little glittery, puffy cheesecake sticker in my file-o-fax for 8th August so that every year from now on I REMEMBER THIS DAY!
"What's so special about a vegan frozen cheesecake" I hear you ask?? Ohhhhhhhhh hoooohooooooo are you in for a treat.
Think about how important ice cream is to you, right? Now think about if that ice cream were actually A CHEESECAKE which had been dunked in CHOCOLATE. Would it be more or less important to you?? Your honour, I rest my case. Ready to make some magic? Let's go!
What Flavour Vegan Frozen Cheesecake??
This guy is a super hybrid cheesecake. First we got an oreo crumb base (more like oreo YUM base am I right??). Then we got a beautifully bittersweet dark chocolate cheesecake layer, which is "smooth as a monkey's tit" (as my mum would say). And finally we have a toasted coconut cheesecake layer – mildly tropical, HEAVILY delicious!
Don't forget, these layers are ALSO dunked in dark chocolate. If I were a swanky chocolatier I would use the adjective "enrobed" or "ensheathed" or "ensconced" but I'm not so I won't.
Vegan Frozen Cheesecake in FOUR Steps??
YESSIR! Despite its beauty, this vegan frozen cheesecake is actually deceptively SIMPLE to make. Here's how:
1. Oreo Crumb Base
You've probably made something similar before – this part is mega lemon squeezy (which means easy). Just blitz up the cookies in a blender or food processor and add some melted butter. It's that simple.
We're going to be forming the cheesecake in a sheet tin, so be sure to line it with baking parchment before filling with the base. You need to be able to lift this bad boy out easily, so don't skip this step! Press the oreo crumbs into the base and form a nice, flat, even layer. Bingo!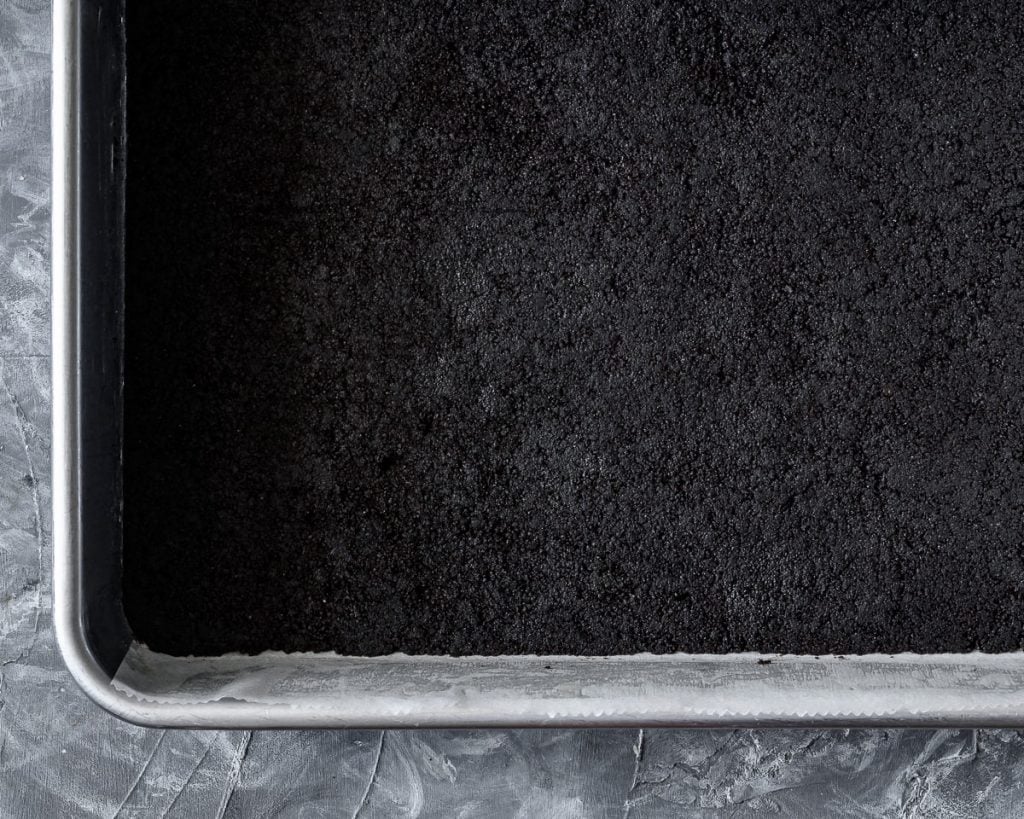 2. Chocolate Cheesecake Layer
If you've made my classic Easy Vegan Chocolate Cheesecake, things will be getting a bit Groundhog Day at this stage. This step is ALSO SUPER EASY, which is great because I HATE doing stuff. Just melt the chocolate and coconut oil, blend all the ingredients and pour straight onto the oreo base.
You'll need to let it freeze before moving onto the next step, but this should happen fairly quickly – around an hour or so. Once you've got a nice firm chocolate layer, move onto the next step.
3. Toasted Coconut Cheesecake Layer
You're almost there, I promise! This step is super similar to the last one, with one small difference. We're going to brown the coconut butter before adding it to the cheesecake mix. Don't get spooked – there's nothing fancy about this – it's just like the browning butter stage for my vegan chocolate chip cookies.
Remember, coconut butter is NOT cocoa butter – they're two different things! Coconut butter (or coconut manna) is more like peanut butter but made from coconuts. It's also not the same thing as coconut oil – thats literally just the oil extracted from coconuts. Make sure you're using the right thing OR ELSE ON YOUR HEAD BE IT!
Once the layer is blended and poured over the chocolate layer, freeze it up again for a good few hours – ideally overnight. You can then slice it up, ready for dunkin!
4. Dunk that Mutha!
The step you've all been waiting for! We're gonna DUNK our vegan frozen cheesecake slices in melted chocolate! We'll make our life a little easier by whipping up a "chocolate shell" though, rather than using straight up chocolate. Chocolate shell is like that amazing sauce you had as a kid which is basically liquid chocolate until it hits cold ice cream, and then it solidifies instantly!
It's easier to work with because it's much runnier, so you get a nice thin coat of chocolate – plus you don't have to worry about tempering it! Just melt together the chocolate and coconut oil in a double boiler and transfer to a long, thin glass, making sure your cheesecake slices will fit in the glass.
Insert a bamboo skewer into the slice of cheesecake and dunk away! Be sure to place the dunked slice down on a cold surface lined with greaseproof paper. I use the frozen sheet tin.
It's that easy! You can either choose to eat the vegan frozen cheesecake slices straight away, or place them in the freezer for a later date! If you wrap them well or store them in a tub, they'll last in the freezer for a good 2 weeks. But seriously. Try not eating these guys for tWO WEEKS! Good luck!
Need more CAKE??
Then you came to the right place! Why not give these bad boys a try!?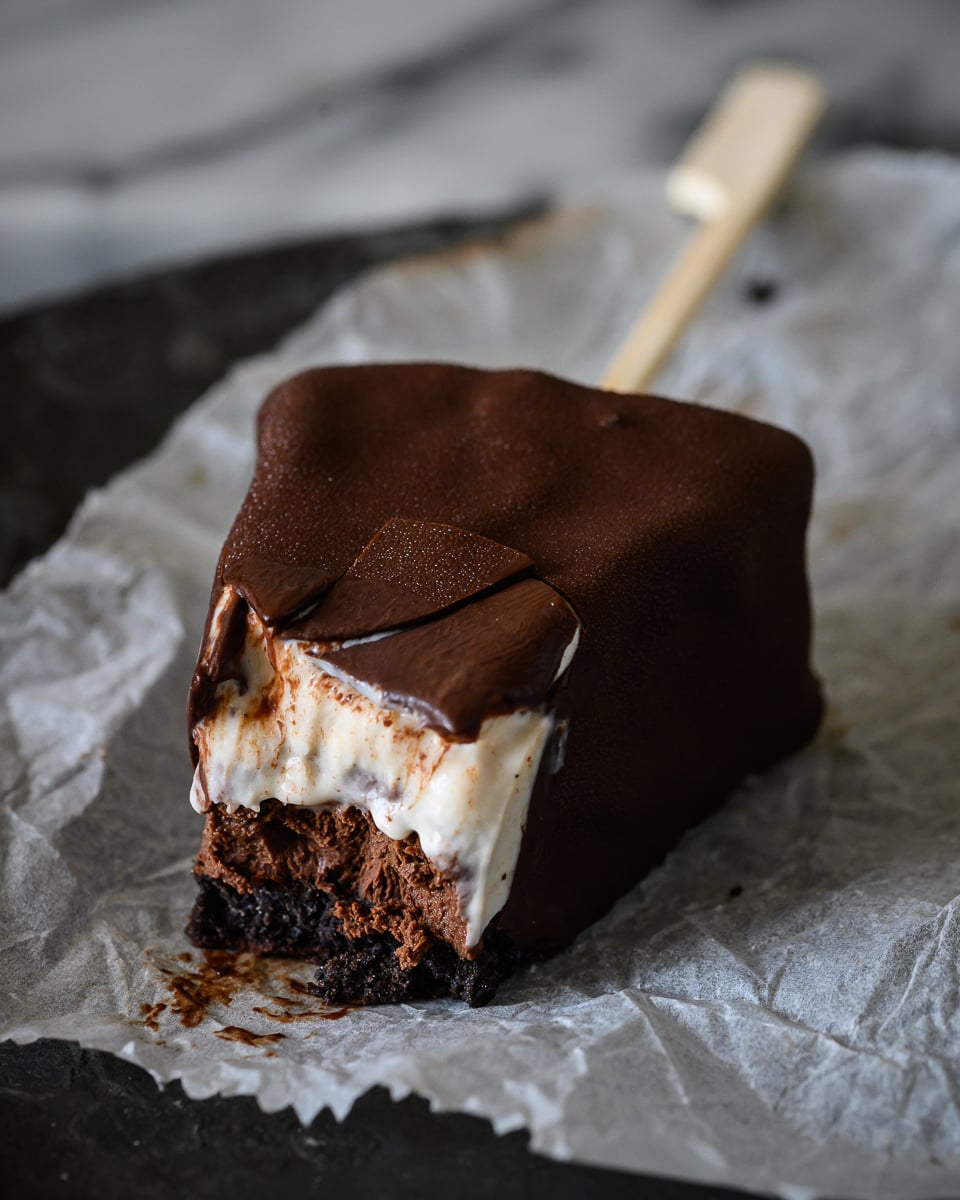 Equipment
High Speed Blender

Bamboo skewers

32 x 24cm sheet tin

Greaseproof paper/baking parchment
Ingredients
For the Base
200

g

oreos

(or other vegan cookies)

65

g

vegan butter

(melted – coconut oil works too)
For the Chocolate Cheesecake Layer
300

g

silken tofu

300

g

dark chocolate

(make sure it's a vegan variety which is over 70% cacao)

70

g

coconut oil

(melted – make sure it's the "deodorised" variety)

200

ml

plant milk

(I used soy)

2

tbsp

cocoa powder

6

tbsp

icing sugar

2

tsp

lemon juice
For the Toasted Coconut Cheesecake Layer
40

g

coconut butter

(also known as coconut manna – not the same thing as "cocoa butter")

70

g

coconut oil

150

g

icing sugar

300

g

silken tofu

170

g

coconut milk

(the kind in a can – full fat)

1

tsp

vanilla bean paste
For the Chocolate Coating
400

g

dark chocolate

(make sure it's a vegan variety which is over 70% cacao)

90

g

coconut oil
Instructions
To Make the Base
Line the base of a 32 x 24cm sheet tin with greaseproof paper.

Place the oreos in a food processor or blender and pulse until roughly ground. Transfer to a medium sized bowl. Pour the melted vegan butter over the top and mix until the crumbs are evenly coated.

Transfer the oreo crumbs to the lined sheet tin and press into a single, even layer using a flat, silicone spatula. Place the sheet tin in the freezer for at least 15 minutes while you prepare the next layer.
To Make the Chocolate Cheesecake Layer
Place all the ingredients into a high-speed blender and run until smooth. Turn off the blender, scrape down the sides with a spatula and run the blender again to ensure there are no lumps.

Pour the mixture onto the chilled oreo base and spread out smooth with a spatula. Place in the freezer and allow to chill for at least an hour or until the layer is set firm.
To Make the Toasted Coconut Cheesecake Layer
Place a small saucepan over medium/low heat. Chop the coconut butter into small pieces and place in the pan. Allow to melt, stirring constantly. The coconut butter will start to brown rather quickly. Keep stirring until the coconut butter is the colour of caramel and super fragrant. Remove from the heat.

Straight away, while the coconut butter is still hot, add the coconut oil to the pan. Stir until the coconut oil is completely melted, placing back over a low flame if necessary.

Pour the coconut butter and oil mixture into the cup of a high speed blender along with all the remaining ingredients and blend on high speed until smooth. Turn off the blender, scrape down the sides with a spatula and run the blender again to ensure there are no lumps.

Pour over the set chocolate cheesecake layer. Tap the sheet tin on a work surface to get rid of any surface bubbles on the top layer. Place in the freezer until the cheesecake is completely set (around 5 hours or overnight)

Remove the cheesecake from the freezer and carefully lift out of the tin using the baking parchment (you may need to loosen the sides with a knife first). Place on a chopping board.

Leave the cheesecake to sit for 5-10 mins at room temperature before slicing. Using your sharpest knife, divide the cheesecake in half down its length, so you are left with two long thin strips of cheesecake.

Using a ruler or tape measure, measure 5cm increments along the side of each strip of cheesecake. Slice the cheesecake either into triangular "slice" shapes or into simple rectangles. To make life easier, you can heat your knife before slicing over the stove flame or in a cup of boiling water.

Insert a sharp, bamboo skewer into each slice of cheesecake.

Return the slices of cheesecake to the tin, making sure it's still lined with greaseproof paper) and place in the freezer to firm up fully again (around 30 minutes).
To Make the Chocolate Coating
Meanwhile, place the chocolate and coconut oil into a heat-proof bowl and place over a medium saucepan of boiling water. Stirring constantly, allow the chocolate and coconut oil to melt together. Remove from the heat and allow the mixture to cool at room temperature, for around 10 minutes.

Pour the chocolate dip into a tall, thin glass – making sure the glass is wide and long enough to be able to dip your entire slice of cheesecake in.

Remove your cheesecake slices from the freezer and life carefully out of the tin using the greaseproof paper. Place them on the counter and line the sheet tin with a new piece of greaseproof paper or baking parchment.

Pick up one slice of cheesecake by the stick and dunk it carefully into the chocolate (you may need to tip your glass to make sure the slice gets completely covered). Remove the slice from the chocolate dip and let the excess chocolate drip back into the glass. Place the cheesecake slice back onto the lined sheet tin. The chocolate should set almost immediately. Repeat with all slices of cheesecake.

Once all slices of cheesecake are dipped and on the sheet tin, either serve immediately or place back in the freezer until ready to serve.
Nutrition
Nutrition Facts
Vegan Frozen Cheesecake
Amount Per Serving
Calories 466
Calories from Fat 306
% Daily Value*
Fat 34g52%
Cholesterol 1mg0%
Sodium 71mg3%
Potassium 354mg10%
Carbohydrates 36g12%
Protein 5g10%
Vitamin A 177IU4%
Vitamin C 1mg1%
Calcium 54mg5%
Iron 5mg28%
* Percent Daily Values are based on a 2000 calorie diet.